RV Gifts Christmas Wish List 2022
Our RV Gifts 2022 Christmas Wish List has inspiration and ideas to help you find the perfect gifts for RV owners and gifts for RV campers.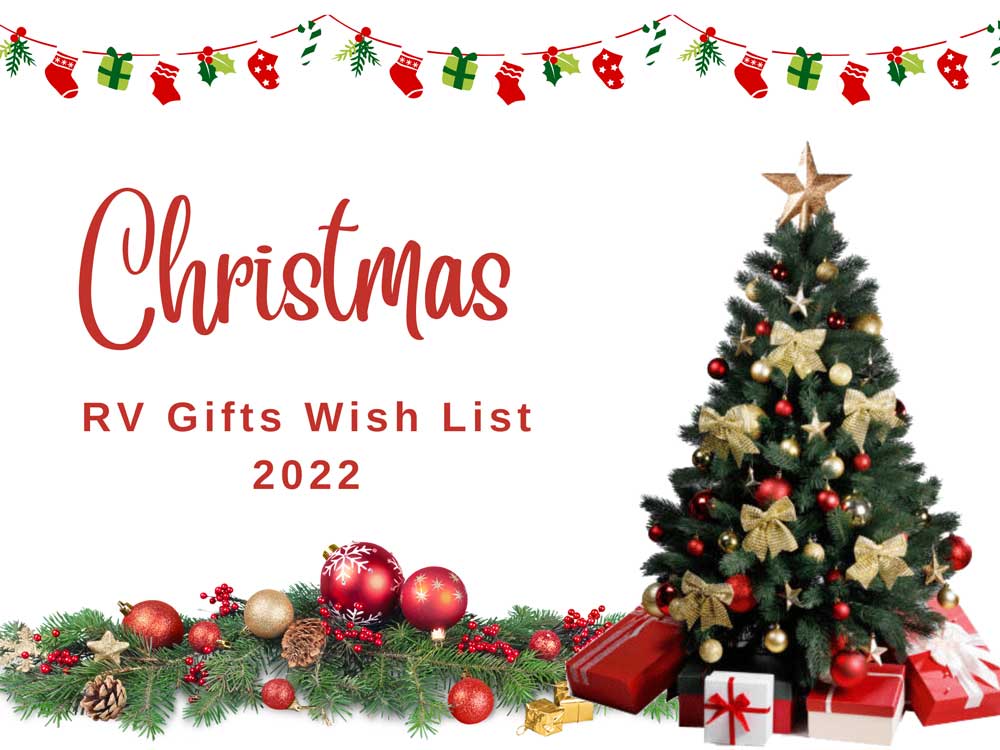 It has become an annual tradition for us to share ideas to help you find the perfect gift for your RV camping friends and family. Sometimes we share something we have tested and love. Other items are things we wish we could add to our camper. Whether you are shopping for your favorite camper or for yourself, we've put together a list we hope makes it easier to find just the right thing. We tried to include a mix of practical and fun, big and small, so that you are sure to find a great RV gift.
It's hard to believe, but this is our fourth year of creating a gift wish list. If you are looking for even more inspiration, check out our 2021 RV Holiday Wish List, 2020 RV Holiday Gifts Wish List and 2019 RV Camper Holiday Wish List.
We've added links to products to make your gift buying easy. Links are to Amazon and TechnoRV. These are affiliate links. If you choose to purchase from them there is no additional cost to you, but we earn a commission that helps enable us to continue sharing helpful information.
RV Accessories RV Gifts
Here are some RV accessories that any camper would love to receive. These will definitely improve RV life.
We wanted a dash cam to use on our travels. We had the chance to try the Garmin Dash Cam 57. It works great and we like it. If your RVer is looking for a dash cam, consider this as a nice holiday gift. Check out our Garmin Dash Cam 57 review. We recommend purchasing the Garmin Dash Cam 57 at TechnoRV (affiliate link)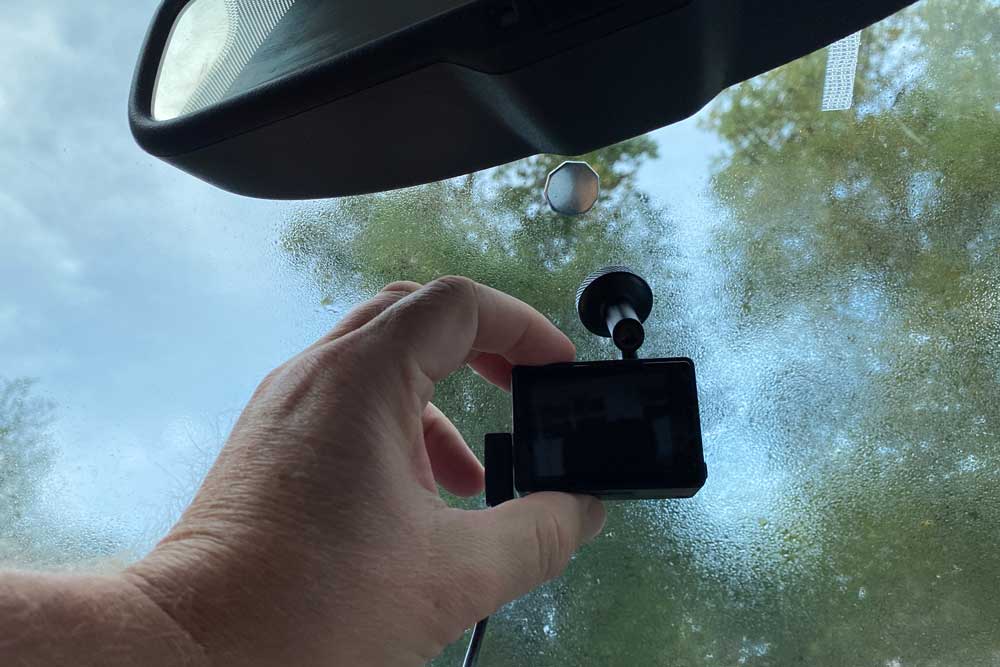 If you like the idea of having a dash cam but also want a good RV GPS, consider the Garmin RVcam 795 (affiliate link). This looks like a great GPS with a built in dash cam. We are still trying to decide which GPS to use, but this one is tempting. You might find it is the perfect gift for your RVing friends or family.
Around the Campsite RV Gifts
We love spending time outside the camper. We enjoy relaxing in our Kijaro camp chairs. This year, we added a portable table. It is nice to have a place to set your cup of coffee or a plate of snacks. The Coleman camping table folds up and stores nicely in a bag that comes with the table. You can find the Coleman folding camping table at Amazon.
Camp Cooking RV Gifts
We do a lot of cooking in our RV. One thing that is helpful is to have a good set of sharp knives. This year, we tried a new set of Cuisinart knives and were impressed. One nice thing is that they each have a knife guard which helps protect the knives when you travel.
We try to eat outside when we can. You want to make it easy to bring what you need to the picnic table. And, it's nice to stay organized inside the RV, too. One of the best things we ever bought for our camper is a cutlery caddy. This allows you to have your forks, knives, spoons, and napkins organized and easy to carry.
We find that when we are eating at the camper's dinette table, having placemats is a nice touch. We have a set that is sailing themed. There are some great camping themed placemat sets, too. Consider gifting the ones you love a fun set of placemats for the RV.
We have been enjoying having better coffee this year. Erling has been roasting beans so we get to enjoy the freshest roast. Check out more information at Roast Your Own Coffee. But, we haven't found the perfect way to roast while camping. This year we are adding a portable coffee roasting tool to our Christmas Wish List.
We'd also like to try brewing coffee differently. One thing that we have been hearing great things about is an AieroPress Portable Coffee Press. This might make the perfect gift for your camping friends & family who also enjoy a great cup of coffee.
We love cooking outside. We usually have our Weber Grill and Blackstone Griddle along on our camping trips. One thing we don't love is having to use the small green propane tanks or having to lug a large propane tank along. This year, we are adding a small refillable propane tank to our wish list. This 5 pound propane tank would be a nice addition to anyone's camping kitchen setup.
Games & Entertainment RV Gifts
We have been enjoying our Amazon Fire Stick to stream video while in our RV. It usually works pretty well, assuming you have good wi-fi or a strong cellular signal. We wrote a lot more about how streaming TV works in our post Cut Cable TV for Camping and Home.
Of course, you might want to pack a few DVDs and some games along to provide some alternatives. In last year's holiday wish list, we provided a great set of portable board games for 2-4 players.
RV Exercise Gifts
You know we like to try to stay fit. How else would we be able to get out and enjoy our outdoor adventures. Of course hiking & biking are great exercise. It can also be good to include some resistance training. We'd like to try TRX Bands as a way to introduce some new exercise moves. They are very portable and we've heard they can provide a great workout.
A Few More RV Gift Ideas
We've been working to get better at making YouTube videos. This year we have been trying a GoPro. It works great and has enabled us to get some video we otherwise would have a hard time getting.
However, one thing that is challenging with a Go Pro is capturing good video after dark. To help solve that, we created a custom profile on the Go Pro using after-dark settings. To use it, we also need to have a gimble to help stabilize the Go Pro. We tried this inexpensive Go Pro gimble from hohem and it works well. You can see what were able to do with it in our Busch Gardens Howl-O-Scream video. We can't wait to try capturing Christmas lights, too.
What We Got From Our RV Christmas Wish List
We have been enjoying our gifts from last year. Our Pelican Kayaks are awesome. And the Adarac truck rack to carry them has worked very well.
We are glad we got a tire pressure monitoring system. It was on our list last year and we have appreciated having it. Check out our TST 507 Tire Pressure Monitoring System review.
We have been enjoying the new games from last year. And, after testing ideas on how to have a more stable camper, we really appreciate the gear we purchased for stabilization. The Super Grip Chocks are great.
Thanks
Thanks for checking out our 2022 RV Christmas Gifts Wish List. I hope it was helpful. Need more RV Gifts inspiration? Check out our 2021 RV Holiday Wish List, 2020 RV Holiday Gifts Wish List and 2019 RV Camper Holiday Wish List. If you want even more ideas, check out our post RV Essentials for Outfitting a Camper.
What's on your wish list? We'd love to hear what you think are the best RV camper gifts. Leave a comment to let us know.
Copyright 2022 Travel Trail Sail. All Rights Reserved.