TST 507 Tire Pressure Monitor Review
For safety, we wanted a TPMS on our travel trailer. We selected the TST 507 Tire Pressure Monitor. Check out our review of the TST 507 Flow Thru System.
Why Buy an RV Tire Pressure Monitoring System
An RV Tire Pressure Monitoring System (TPMS) can be a useful safety improvement. When you are travelling down the road at 60 miles per hour, an issue with your tires could have a bad outcome. While we have been pretty lucky in our travels, we have heard stories of tires coming apart and hitting an RV or camper. It can cause serious damage. A sudden loss of tire pressure could cause you to lose control of the vehicle. With that in mind, we decided to add a TPMS to our Grand Design Transcend this year.
A TPMS enables you to monitor the pressure and temperature of your tires. If it detects that something is going wrong, it will alert you. While they aren't perfect, tire pressure monitors can reduce the chance of a serious tire-related issue.
How Does a TPMS Work
Most tire pressure monitoring systems consist of sensors on the tires and a monitoring unit kept near the driver. The sensors can be mounted inside the tire or added to the valve stems. Many RVers use systems which have valve stem sensors. To ensure the sensor signal reaches the monitor, a sensor signal repeater is often installed somewhere between the sensors and monitor.
Why Did We Buy the TST 507
Several manufacturers make good tire pressure monitoring systems. In addition to the TST, we considered systems from TireMinder and Lippert. They all had good features and positive reviews. In the end, we selected the TST 507 TPMS (TST-507-04-FT).
There were three main features we liked about the TST. Probably the most important differentiator for us was the flow thru sensors. On some models, you'll have to remove the sensors in order to add air to your tires. With the TST flow thru sensors, you can add air to the tire without removing the sensors.
Be aware that the flow thru sensors are relatively heavy. They should be installed on tires with metal valve stems. We had recently upgraded our tires and had metal valve stems installed. If you have rubber valve stems, you may want to consider a different model with lighter sensors.
The second feature we liked was that the small antenna on the monitor. On some units, you'll have to extend the antenna like on an old radio. Thinking of how that would fit in the cab of our truck, an extending antenna didn't seem like a good fit.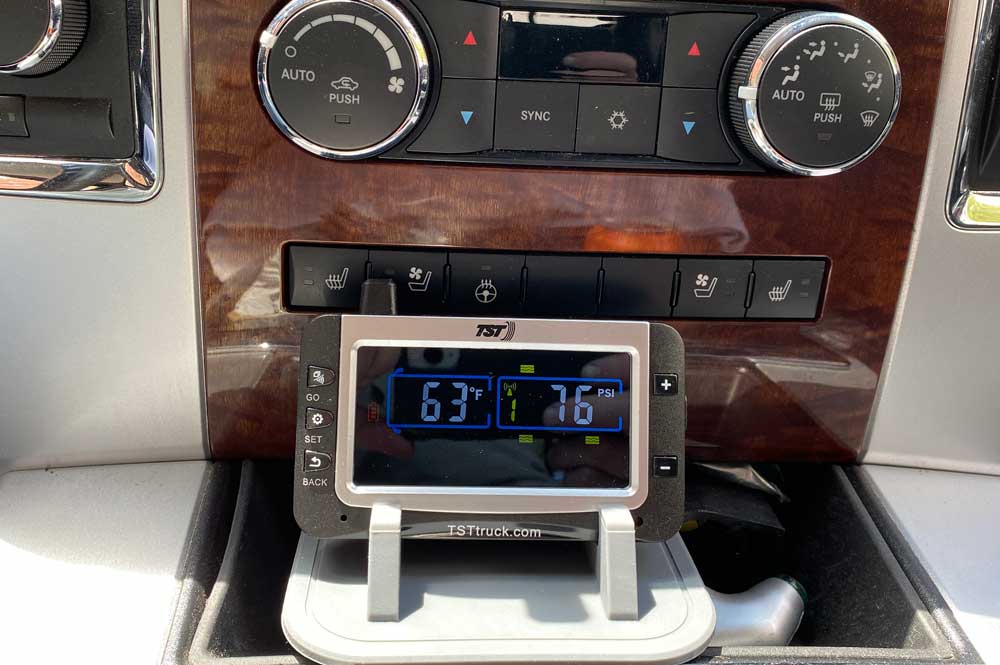 Finally, it was nice that the TST monitor stays on, cycling through each tire every few seconds. On some brands, the monitor display will shut off. It's nice to be able to keep an eye on the tire pressure as we go.
One other thing to note is that the TST 507 can be used with multiple trailers. While we mainly tow our camper, it is good to know that we have the flexibility to use this system with other towables such as a boat or another RV.
We read and watched a lot of reviews prior to making our purchase. Among the most helpful reviews were those by TechnoRV. You may want to check out the information and videos about the TST 507 on the TechnoRV site. <affiliate link>
TechnoRV has several good videos about the TST. Here are two you may want to check out.
Why I Choose the TST RV TPMS over the TireMinder RV TPMS
TST 507 Tire Pressure Monitoring System Flow Thru Sensor Info Video
How to Install the TST 507 TPMS
The TST 507 is relatively easy to install. Here are the basic steps.
Remove the components from the package
On the monitor, set the tire positions and then set the pressure and temperature ranges
Pair the sensors to the monitoring unit
Install sensors on your tires
Install the repeater by connecting it to the battery then mounting the sensor repeater using the provided Velcro tape.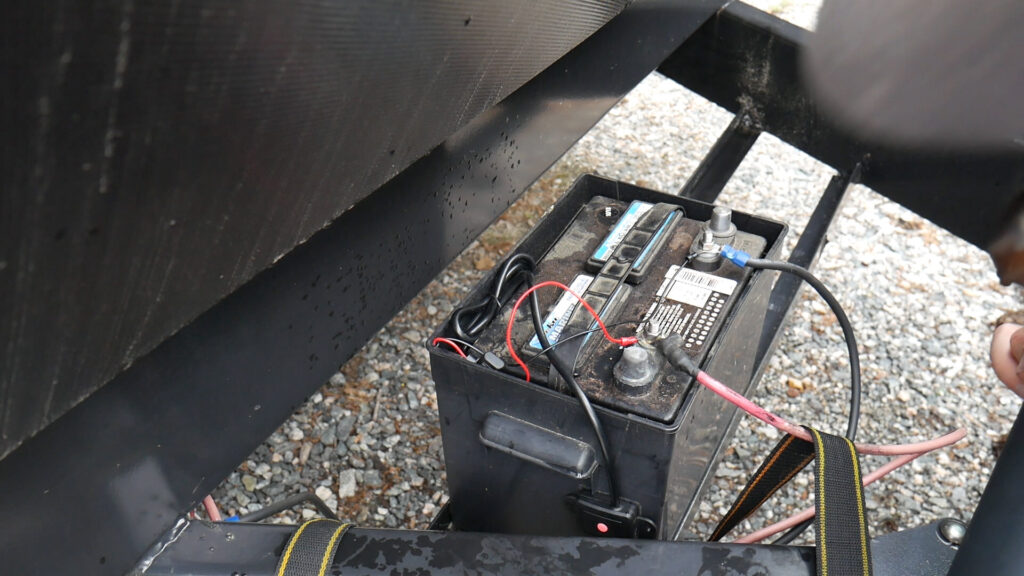 How Well Does the TST 507 Work
We've had the chance to use the TST TPMS on several trips. So far, it works great. The monitor display is clear, although it can be a bit hard to read if I am wearing sunglasses on a bright day. The battery on the monitor seems to last a long time. It can be easily charged using a USB connection, with or without the cigarette lighter adapter.
About the only improvement we would like to see is a way to turn off the power for the sensor repeater when we aren't travelling. It would be great if it had an on/off switch. Or, even better, if it could be installed in such a way that using the RVs power shut-off would also turn off power to the sensor repeater.
Our TST 507 Review Video
Check out our review of the TST 507 on YouTube.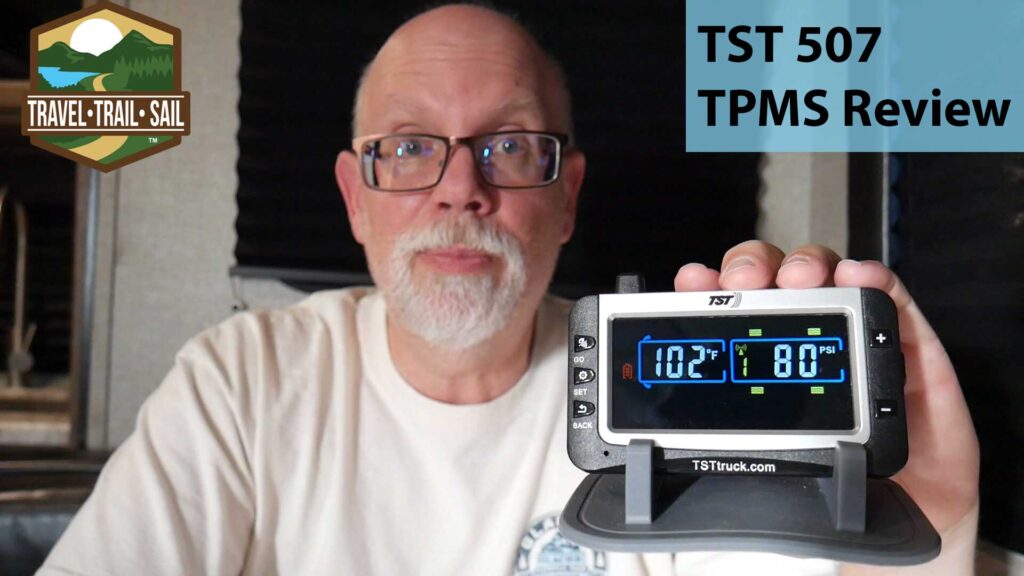 Where to Buy a TST 507 Tire Pressure Monitoring System
TechnoRV
We found the information provided by Eric at TechnoRV to be very helpful. Eric and Tammy are RVers so it's nice to know that they actually use the products that they are recommending. We liked their approach so much, we became TechnoRV affiliates. If you choose to purchase from them, it won't cost you anything extra. However, we'll earn a small commission that helps us continue to provide you with helpful content.
We recommend purchasing the TST 507 Flow Thru TPMS from TechnoRV.
Amazon
We understand the convenience of purchasing from Amazon and you can buy your TST Flow Thru System with 4 Sensors there. Note that there is an option to select to purchase from TechnoRV's Amazon store once you are on the product page. As an Amazon affiliate, we'll earn a small commission that helps us continue to provide you with helpful content.
Thanks for Reading
Thank you for checking our our review of the TST 507 Flow Through TPMS. I hope you found it helpful. Do you have a RV tire pressure monitoring system? We'd love to hear your experience. Please leave a comment to share.
Copyright 2021 Travel Trail Sail. All Rights Reserved.