How to Stabilize Your Travel Trailer
When you move in your camper, it moves, too. How to stabilize your travel trailer to make it feel more comfortable when parked.
A travel trailer sits on wheels and a suspension system. The suspension has an important purpose in absorbing bumps and smoothing out the ride. But when you are parked, you might prefer it to feel more stable when you move around in it. The longer the camper, the more likely you are to feel movement.
What can you do to stabilize your travel trailer? There are a number of good options. We have been experimenting with some of them and want to share what we have learned so far. Let's work from the front of the camper to the back.
Tongue Jack
The tongue jack is the part at the front of the camper that connects to the ball on your tow vehicle's hitch. The tongue jack enables you to raise or lower the travel trailer to level the camper front to back when you aren't hitched. The more you raise the tongue jack, the more likely you are to feel the camper rock when you move.
It's a good idea to put something under the tongue jack. A wider support can help provide better support for the jack. People often put wood under the jack. That's what we have been doing for years.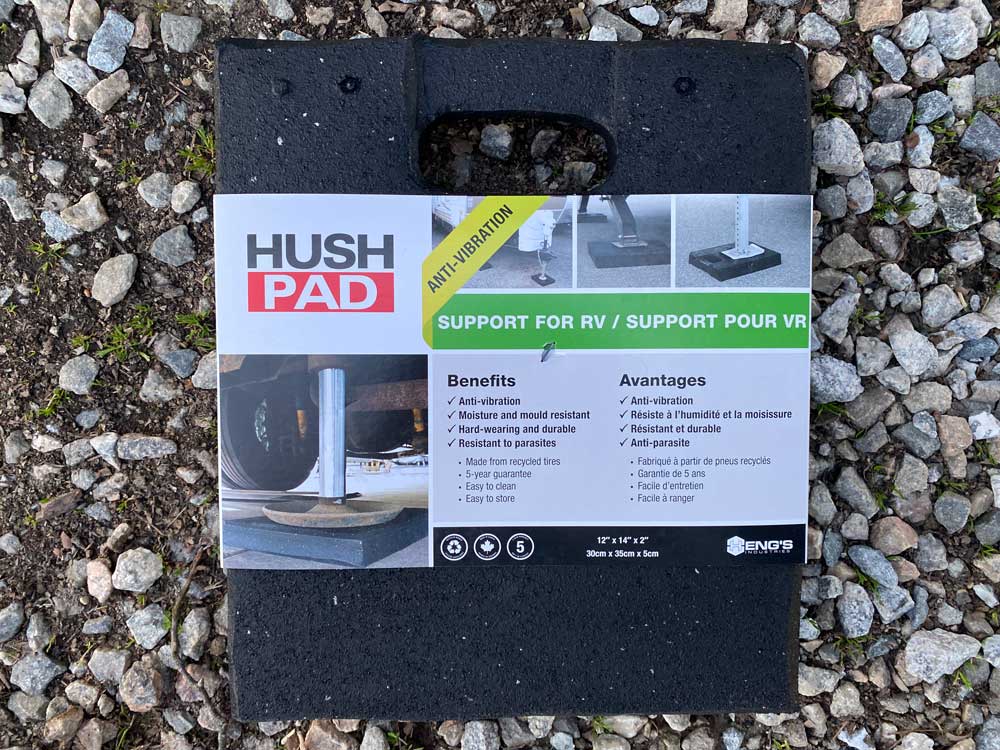 This year, we decided to try a Hush Pad. The Hush Pad is made in Canada from recycled tires. It is sold as a solid support that can help reduce vibration. We have tried a Hush Pad for a season and really like it. It is in many ways better than using wood.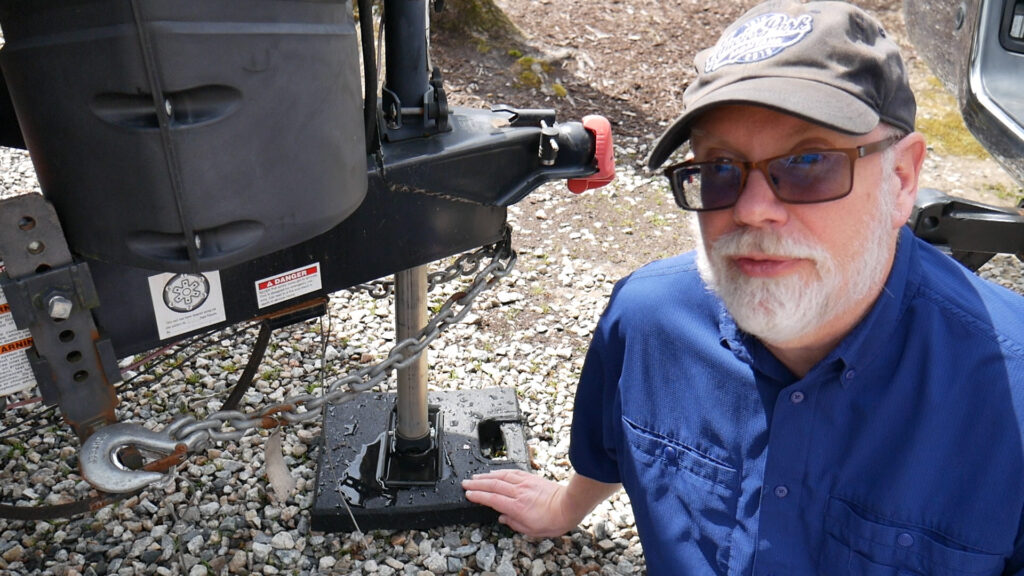 However, we did not find that the Hush Pad significantly improved the feel of motion in the travel trailer. So, it's a great product, but you may need to look for other options if you want to be more comfortable in your camper.
Scissor Jacks
Most travel trailers come with scissor jacks installed on each corner of the RV. These are cranked down until they touch the ground so that they can support the camper and improve stability. Note that you aren't trying to lift the camper. Rather, you need to extend the jacks enough to stabilize the camper without overextending them.
You can improve scissor jack performance by using a jack pad. While you can use wood, many people use a plastic pad. These are usually made with a pattern to improve their strength while keeping them light.
This year, we tried several types of jack pads. The one we prefer is the Camco Large Stabilizing Jack Pad. It seems to provide better support than the others we tried. However, it did not have a significant impact on reducing the feel of motion in the camper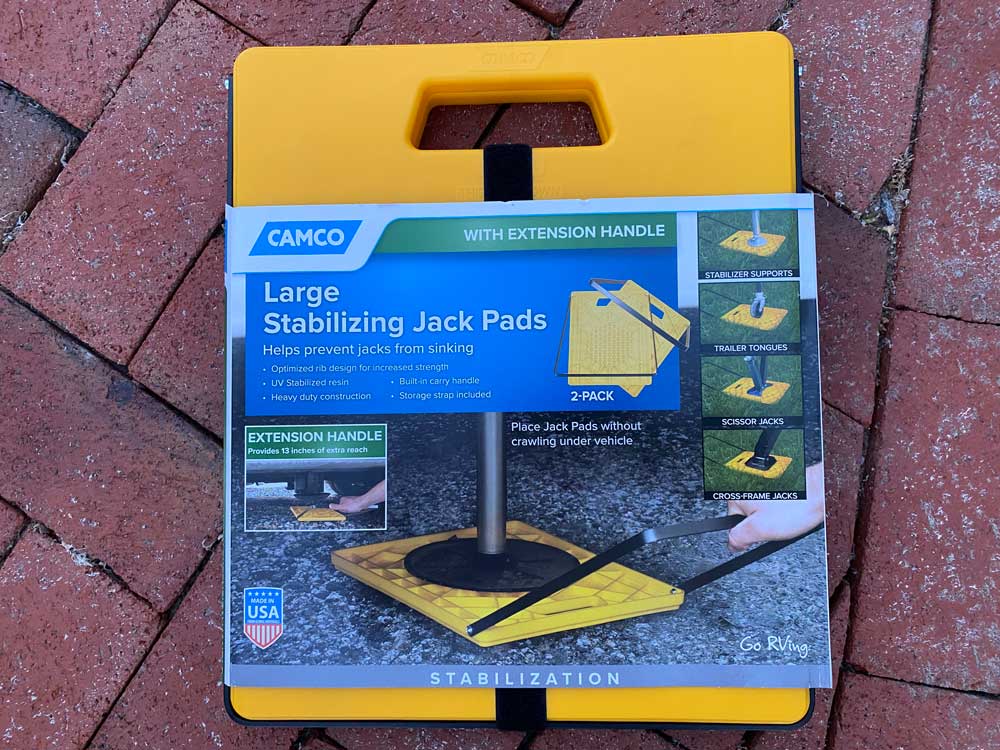 The more a scissor jack is extended, the less stability it provides. Many people recommend not extended them more than halfway. If you are at a campsite where you need to extend your stabilizers more than that, consider supporting them with blocks.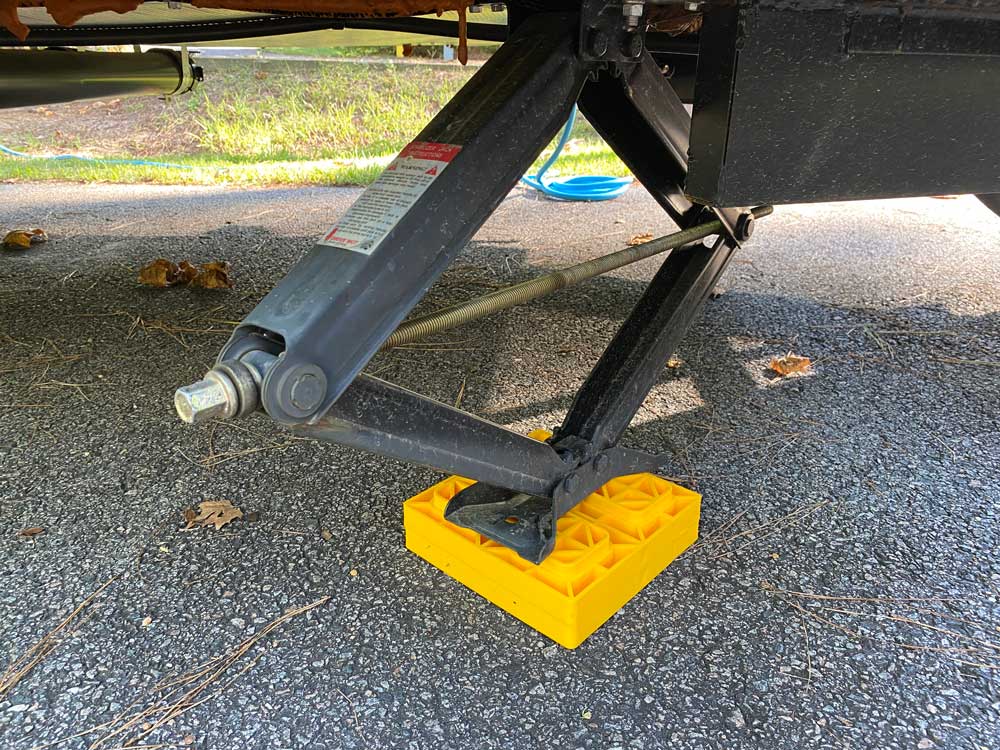 Jack Stabilizers
Another possible method for adding stability is to install a jack stabilizer system. One example that we have heard good things about is the JT Strong Arm. This unit is permanently installed on the camper. When you extend the scissor jacks, stabilizer arms go from the camper to the base of the jack. That can provide extra stability. We have not yet tried these as we have been experimenting with things that don't require permanent installation. Have you tried them? If so, we'd love to hear your experience with them.
Portable Jack Stands
If you have a long travel trailer, this might be worth trying. The scissor jacks that come with campers are usually installed on the ends of the camper. For a long travel trailer, that might not be sufficient. We have heard that some people install portable jack stands at the mid-point of the camper. In that way, there is one more point of stability. And, since these are near the wheels, they might provide better stabilization than those at the camper ends. We haven't tried this method yet. If you have, we'd love to hear your thoughts.
Chocks
The main purpose of chocks are to keep your camper from rolling away. We tried a set of Camco chocks this year that have some nice features. For example, they come with a rope that keeps them in pairs.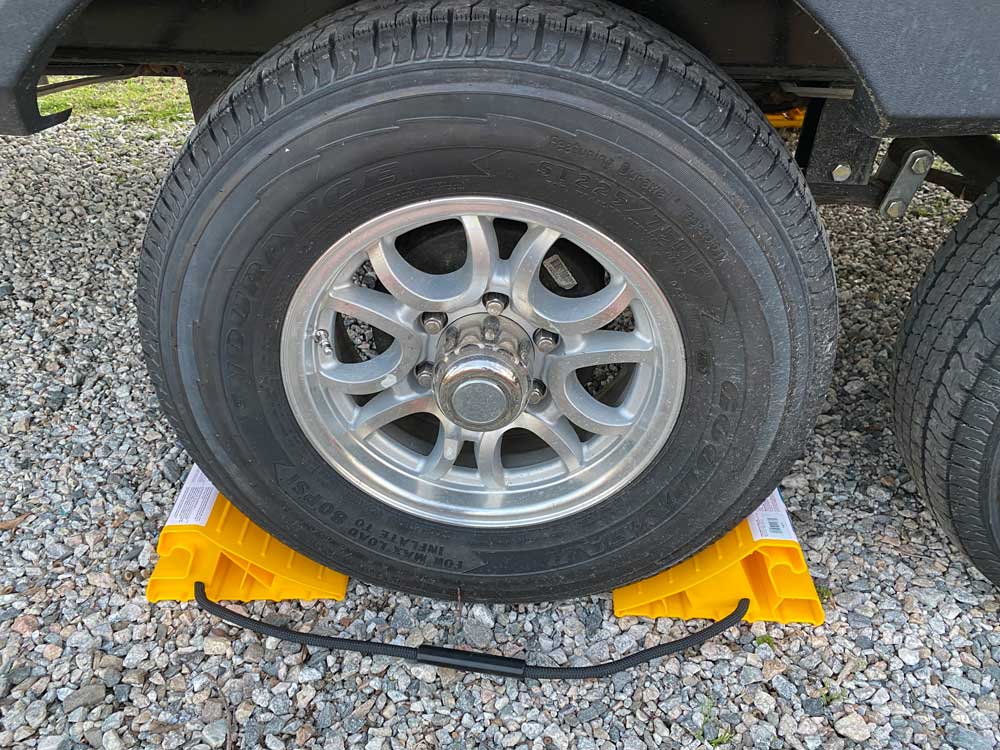 One way to help improve stability is to reduce wheel motion. While these are nice chocks, they don't fit tightly with the wheels or reduce wheel motion. For improving stability, a set of hard rubber chocks might be a better choice.
Super Grip Chock
Super Grip Chocks are installed between the wheels of your travel trailer. They have metal pads that grip the tires and keep them from rolling. You install them by turning a bolt with a ratcheting wrench. That extends the chocks until they are securely in place.
In terms of improving stability, the Super Grip Chocks provided a significant improvement. If you are looking to stabilize your travel trailer and reduce the feeling of motion, we can recommend Super Grip Chocks.
They do take a few extra minutes to install when you are setting up camp. However, if you are going to be staying in place for more than a day, you will likely appreciate the improved camping experience.
Stabilizing Your Travel Trailer Video
We created a YouTube video with a walkthrough of everything covered in this post.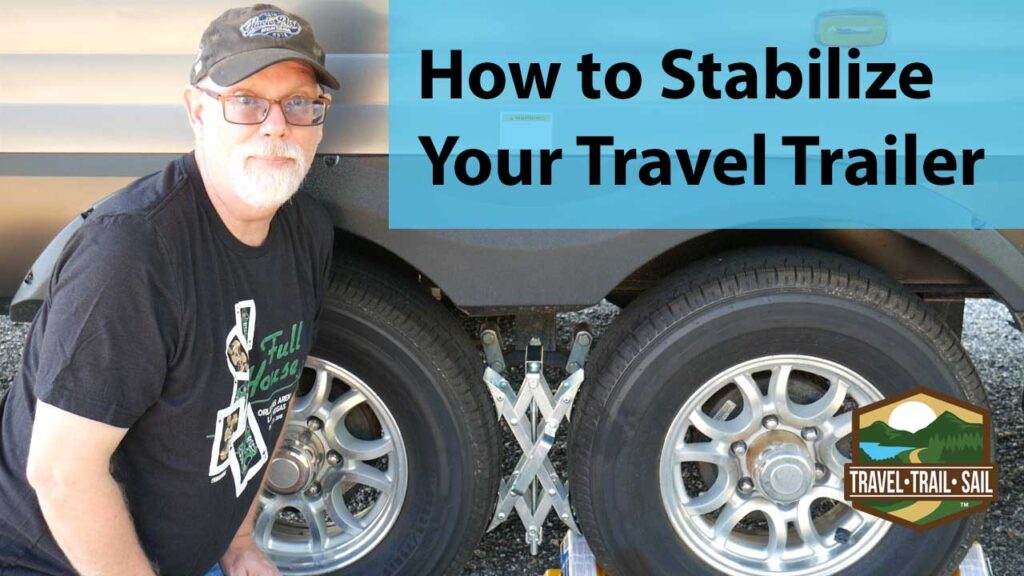 Stabilizing Your Travel Trailer Summary
I hope the tips we shared here are helpful. We are constantly learning new ways to improve our camping experience and would love to hear your tips. What do you do to to reduce motion in your travel trailer? If you have tips for stabilizing your travel trailer, we'd love to hear them. Thanks.
The one thing we found that has provided the most impact on stability for our travel trailer is the Super Grip Chocks. We liked them so much that we added them to our annual RV Gifts Holiday Wish List.
You can find them at a number of retailers. For your convenience, I'm adding Amazon links here. Note: these are affiliate links. If you choose to purchase by using the link there is no additional cost to you, but we earn a commission that helps enable us to continue sharing helpful information.
Copyright 2021 Travel Trail Sail. All Rights Reserved.