You are arriving to your campsite later in the day and it will be getting dark soon. You could keep dinner simple, maybe some cheese and crackers. But you really want a nice burger or some tasty grilled chicken. You need an easy camping grill setup.
I have a more deluxe camp kitchen that I can setup with a folding camp kitchen table. But, when I need to setup a camp kitchen late in the day, here is what I do.
Note that I've added Amazon links for your convenience. If you choose to purchase from them there is no additional cost to you, but we earn a commission that helps enable us to continue sharing helpful information.
Plan ahead to make grilling simple. You can put chicken in a bag with an easy marinade so that it is ready for grilling when you get to your site. Another option is to prepare burger patties and keep them in the fridge or get the pre-seasoned kind that can go directly from the freezer to the grill.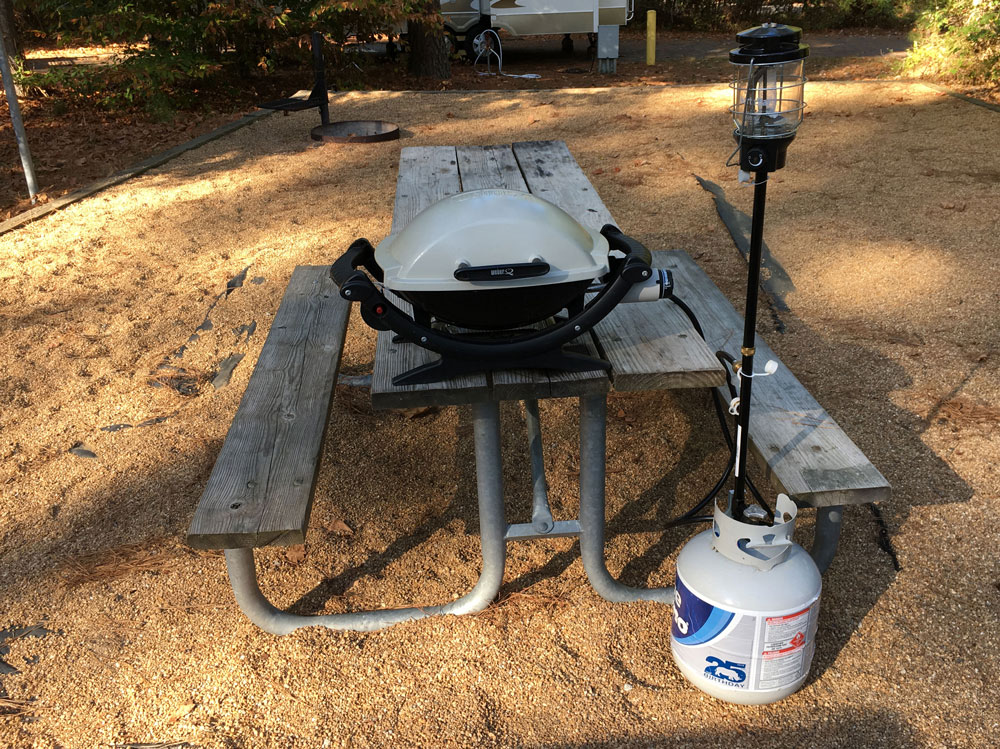 I like using our WeberQ. Its a great Weber portable grill. You could use this setup with any small gas grill or camping stove. Many grills can be used on a picnic table with no trouble. Be sure to check yours to be sure it will be safe. Another option is to place the grill directly on the ground.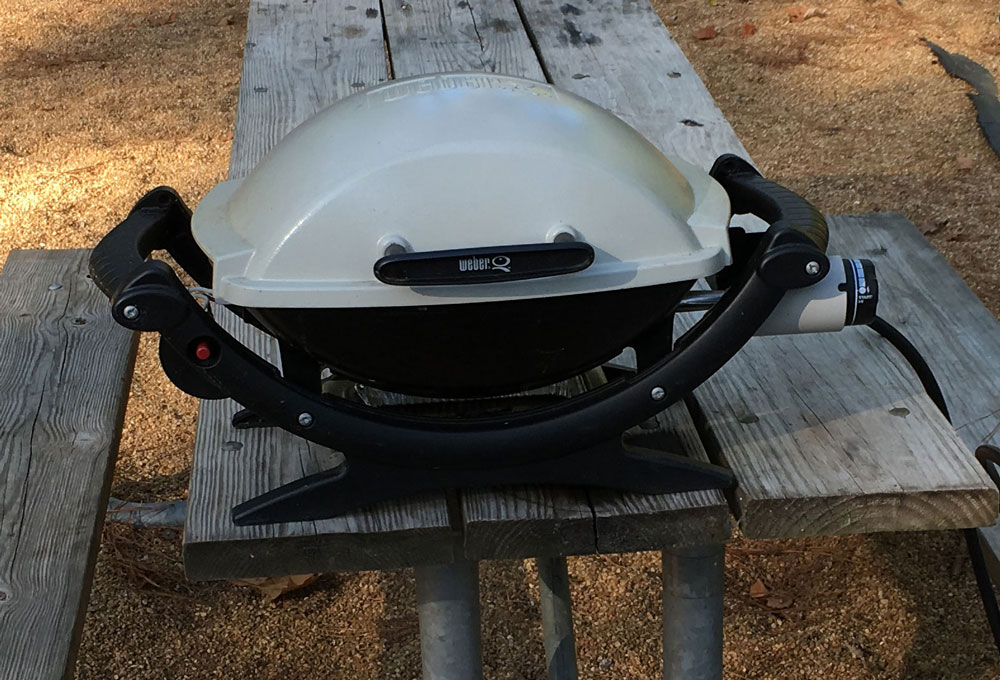 The small green cans of propane are OK. But, they aren't really very convenient. Refilling them is challenging and there isn't a convenient way to recycle them. I prefer to use a larger propane cylinder.
You can connect your grill or stove directly to the propane cylinder as long as you have the correct hose. Be sure to look for the one that has the large fitting needed to connect to the propane cylinder. This Weber Q-Series Hose has worked well for us.
Another option is to use a propane tree. This connects to the propane cylinder and enables you to connect multiple devices. The tree we use comes in two parts that connect together. It has a storage bag that helps keep the tree safe while we travel.
In our setup, I have a Coleman NorthStar lantern that attaches to the top of the distribution tree. The NorthStar lantern puts out a lot of light. It's great if you are grilling after dark. Mine came with a sturdy lantern case. Sometimes they sell the lantern and case separately but I would definitely recommend having a case. I appreciate how it keeps the glass lantern globe protected during our travels.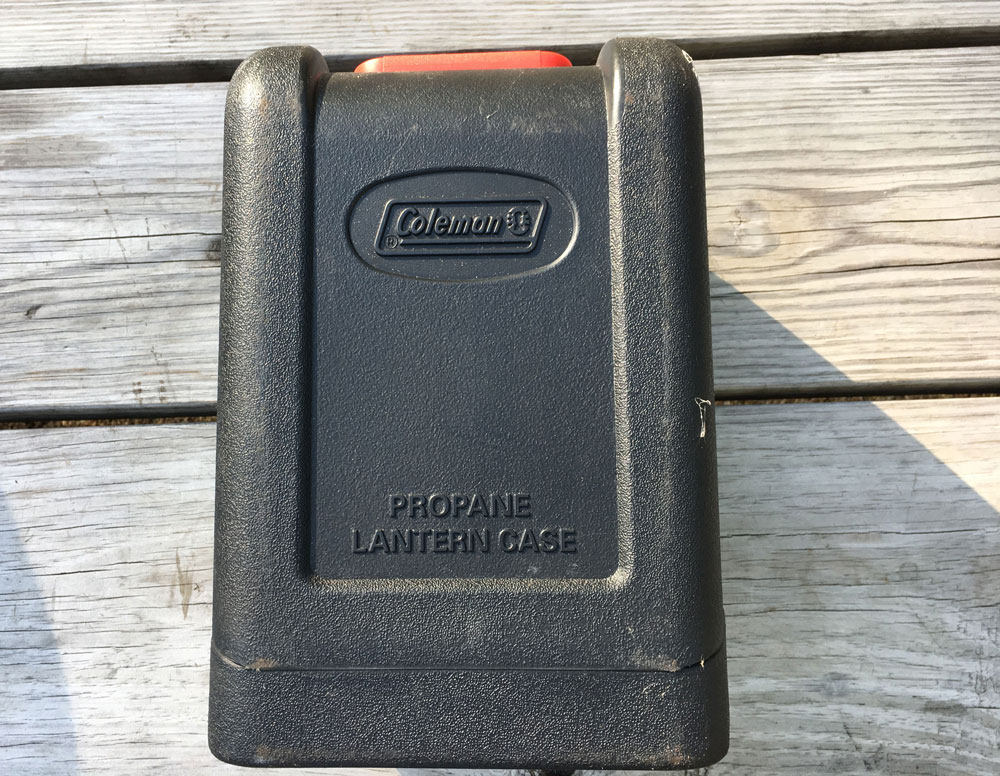 On the propane distribution tree, there are places to connect two more propane hoses. If you are going to use a propane tree, be sure to have the correct hose to connect to it as they are different than the hose needed to connect to the propane cylinder. It will have a round connector with a pin in the middle like this Coleman propane hose.
Here is a tip that might be helpful. The propane tree and hoses hold more propane that you might expect. When you disconnect them, you might release gas. To avoid that, turn the gas off at the tank and allow the grill or lantern to burn until the gas has been used. Remember, these items may be hot so you'll want to let them cool before you pack them back up again.
Thank You
That's our approach for an easy camping grill setup. How do you do your camp cooking? Leave us a comment and let us know your best tips.
I hope you found this information helpful. If you want to learn more about the things we think are must-have items for RV camping, check out RV Essentials for Outfitting a Camper.
Products Mentioned
The products mentioned in this post available at Amazon and other outdoor retailers. Note: these is an affiliate links. If you choose to purchase by using the link there is no additional cost to you, but we earn a commission that helps enable us to continue sharing helpful information.
Copyright 2019 Travel Trail Sail. All Rights Reserved.