RV Gifts 2021 Holiday Wish List
Our RV Gifts 2021 Holiday Wish List has inspiration and ideas to help you shop for your favorite RVer. Gifts for campers that are sure to please.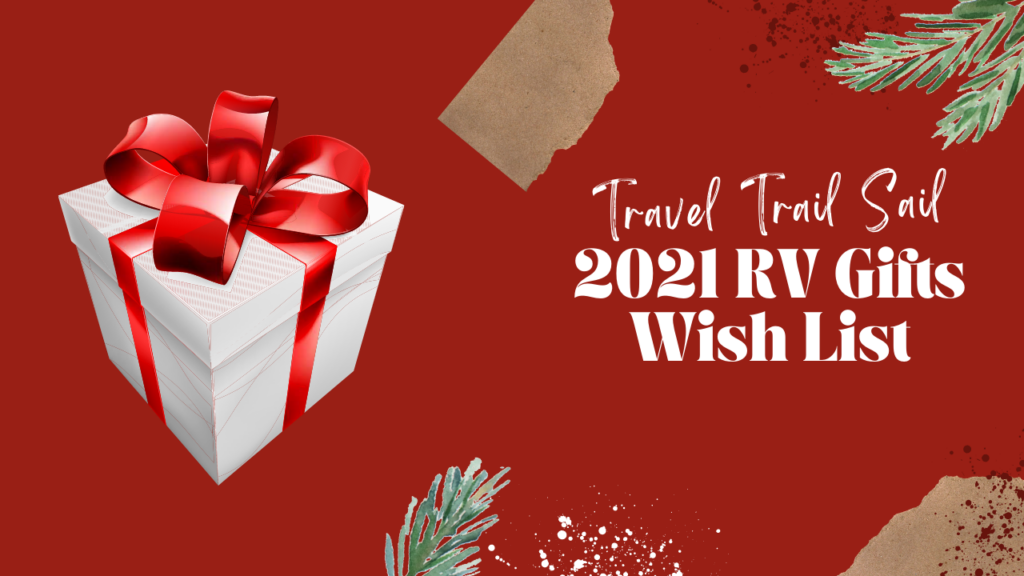 It's become an annual tradition for us to share some RV gift ideas. Sometimes we'll share something we have tested and love. Other items are things we wish we could add to our camper. Whether you are shopping for your favorite camper or for yourself, we've put together a list we hope makes it easier to find just the right thing. We tried to include a mix of practical and fun, big and small, so that you are sure to find a great RV gift.
We share some of the things we love in our camper. And, a we have included a few things we wish we would get for Christmas. For more inspiration, check out our 2020 RV Holiday Gifts Wish List and 2019 RV Camper Holiday Wish List.
We've added links to products to make your gift buying easy. Links are to Amazon and TechnoRV. These are affiliate links. If you choose to purchase from them there is no additional cost to you, but we earn a commission that helps enable us to continue sharing helpful information.
RV Accessories RV Gifts
Here are some RV accessories that any camper would love to receive. While they may not seem exciting, they will definitely improve RV life.
We had a tire pressure monitoring system on our 2020 wish list. It was great to be able to get one this year. We went with the TST 507. So far, it works great. For more information, you can check out our TST 507 Tire Pressure Monitoring System review.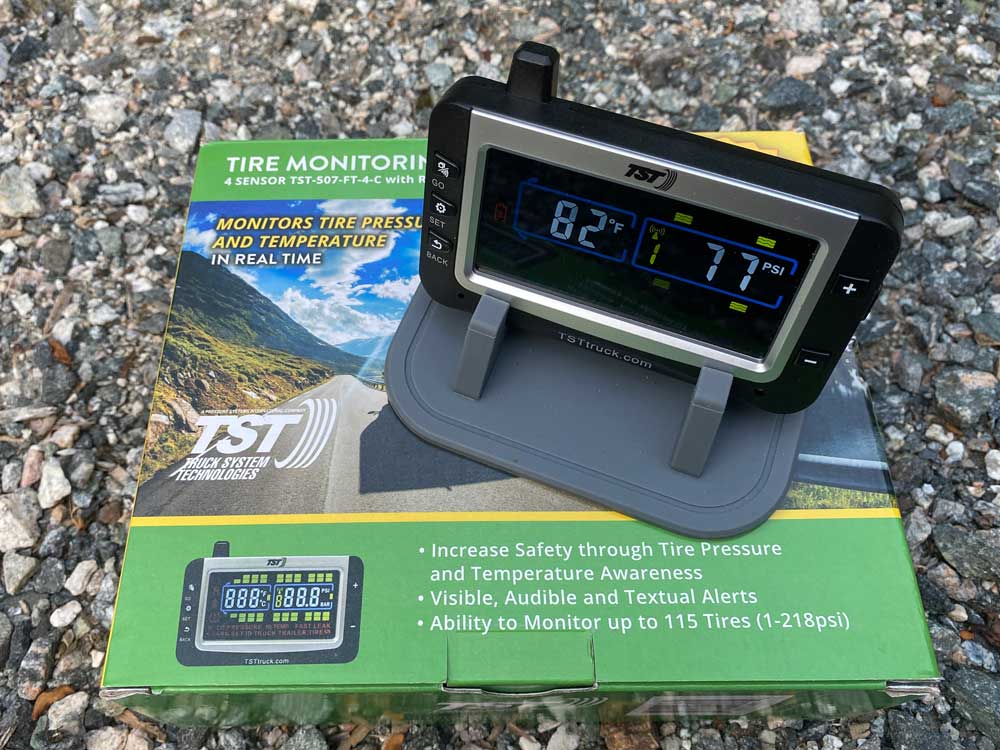 One practical RV accessory is an air pump. It is always a good idea to maintain your tire pressure. With some RVs, it takes more to fill the tires than some pumps can provide. We hope that Santa brings us a VIAIR 400P RVS from TechnoRV. If you aren't sure which VIAIR model to buy, check out the video How to Choose the Correct VIAIR RVS Air Compressor Kit for your RV
Another great RV accessory is a between the wheels chock system. These help improve stability so it is more comfortable to move around in your travel trailer. We tested the Ultra-Fab Super Grip Chocks this summer. Of all of the stability products we tested this was the one that actually made a difference.
Around the Campsite RV Gifts
We love a campfire. The flickering light, the smell of wood burning, how can you beat it. Well sometimes campfires aren't allowed. But, we have heard great things about portable propane campfire systems. If you want to enjoy a campfire but with a bit more convenience, it might be worth trying.
>
Camp Cooking RV Gifts
We tried some new RV cooking accessories in 2021. We were able to use the oven better with two key items; a pizza stone and a thermometer. With these, we can make a pizza in the oven without burning the crust. And, our camper cookies turn out better. If you use your RV oven, these are two items to get.
We've also been experimenting with cooking outside. This summer, we made the best bacon we have ever made. We cooked Neuske's thick cut bacon in a Lodge cast iron skillet. Amazing.
Games & Entertainment RV Gifts
Here are a few small or inexpensive RV gift ideas. We like playing games and always bring a few easy-to-pack options along.
In 2021, we upgraded our RV games. We had to find two-player games that were fun and easy. Here is what we chose. We've tried them all and can definitely recommend them.
Archaeology is an easy to play card game for two players. Up to five people can join in. It's fun and has an interesting theme.
An easy to play game, Patchwork has two options for the game board to help add some variety. We really enjoy this one.
Kingdomino is another fun game. This one is tile based strategy game and is great for ages eight and up.
Santorini is fun. It does require a bit more space than the other games so you may opt for one of the other games if you have limited storage. When you start playing, it won't feel like a great game for two as whoever goes first will win. However, there are challenges that make it interesting to play and suitable for two players. This one would likely be a fun one for younger players.
Parks is a beautifully designed card game with art created by several artists. However, we found that the learning curve on this one is a bit higher than the others. We'd rate it an intermediate. However, if you are willing to put in a bit of effort to learn it, this is a fun game.
If you are looking for a different kind of entertainment in the RV and you can get a decent WIFI signal, consider an Amazon Firestick. We have friends who use their phone as a hot spot and love to stream shows with their firestick. We plan to add one and test it out, too.
RV Exercise Gifts
You know we like to try to stay fit. How else would we be able to get out and enjoy our outdoor adventures. Of course hiking & biking are great exercise. It can also be good to include some resistance training. If you have the space & carrying capacity, consider getting a set of weights. We'd like to try these adjustable dumbbells.
If you need to travel light, consider a set of exercise bands. These are something we are hoping to add to our workout gear soon.
A Few More RV Gift Ideas
If you drive a lot, you may want to have a hands-free way to securely hold your phone. We got this one in 2021 and it is great. There are two mounting options. You can use a suction cup to attach it to the window. This actually works well if you want to get some driving videos. I used it when we recorded our trip to Good Luck Cellars. You can also mount it to an air vent. This phone holder would make a good stocking stuffer.
We've been working to get better at making YouTube videos. And it would be nice to have a waterproof camera to get some shots on the water. You might be interested in capturing your adventures, too. We'd love to have a Go Pro show up under the tree. How about you?
The Extended RV Wish List
There are so many more things we'd like to add to the list; kayaks, a small sailboat, and a new RV bike rack. If we really want to dream, how about the ability to get a campsite reservation without booking six months in advance. Or, maybe the ability to get a service appointment when you need one. In the end, we are just glad to be able to go camping and enjoy outdoor time together.
Thanks
Thanks for checking out our 2021 Holiday RV Gifts Wish List. I hope it was helpful. If you are looking for more gift inspiration, check out our post RV Essentials for Outfitting a Camper.
What's on your wish list? We'd love to hear what you think are the best RV camper gifts. Leave a comment to let us know.
Copyright 2021 Travel Trail Sail. All Rights Reserved.