How to transport kayaks. We provide 3 easy steps for loading kayaks on a rack.
We recently purchased two Pelican kayaks and added an Adarac truck rack so that we could easily transport them. We camp often and love having our kayaks along so that we can have fun adventures on the water. We found that the best option to transport kayaks while towing a travel trailer was to add a rack. The nice part is that with our Arvika bike rack mounted to the camper, we can bring both our kayaks and bikes along.
At first, it was a bit intimidating to determine how to load kayaks on truck rack. I wanted to ensure the kayaks were strapped down securely so that we could travel safely. However, it turns out that tying kayaks down is pretty easy. The same approach could be used to load kayaks on a roof rack, too.
How to Transport Kayaks YouTube Video
In our video How to Transport Kayaks, I walk you through all the steps you need to load your kayaks on a truck rack.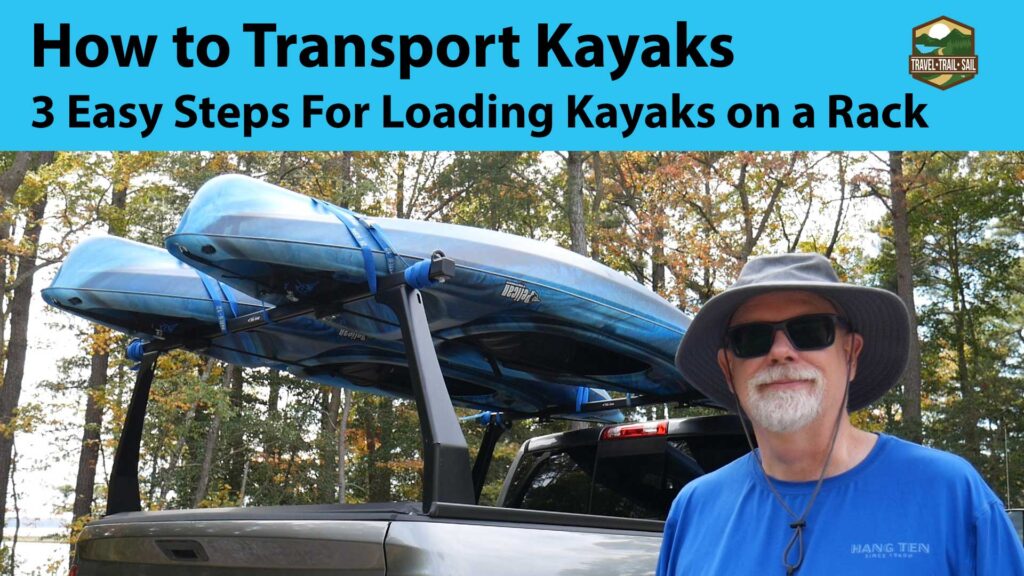 Steps to Load Kayaks Onto a Rack
Loading Kayaks Step 1: Prepare the Kayak
Before you load your kayaks, you'll want to ensure that the seat back is secured as low as it can go. The seat back can get caught on the truck rack crossbars so it helps to have it down.
This is a good time to ensure you haven't forgotten anything in the kayak. Check for your keys or anything else you brought along. You can also store your paddles and life jackets.
Loading Kayaks Step 2: Lift Kayak Onto Rack
Next, you'll need to lift the kayaks onto the rack. We find it easiest to load and secure the first kayak before loading a second one.
While many kayaks are in the 40 pound range and you may be able to lift it by yourself, having a second person to assist can be a big help. You'll need to be able to raise the kayak over your head and place it on the rack. The second person can help lift or guide the kayak as needed as you move it into position.
Loading Kayaks Step 3: Secure With Buckle Straps
To secure your kayaks on the rack, use buckle straps. You'll place the strap under the rack and over the kayak. Then, press the buckle and guide the strap into it. Finally, pull on the strap to tighten it onto the kayak without overtightening it.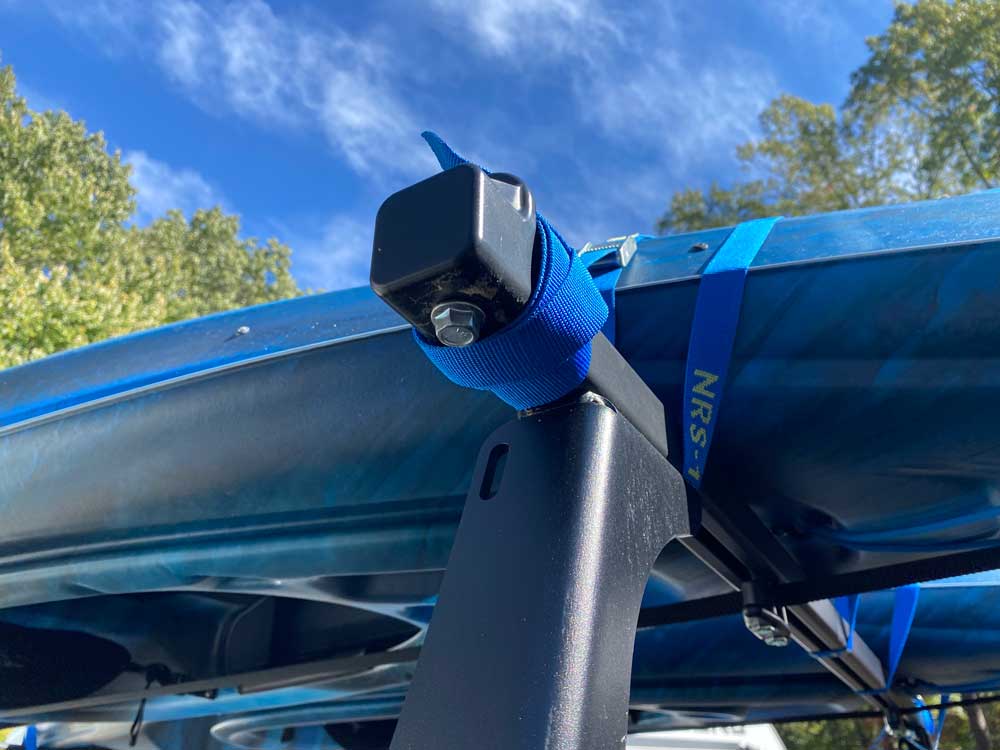 There will likely be some excess strap left. This can be secured by winding it around the rack. When you reach the end of the strap, simply pull a bit of the last loop away from the rest, place the end of the strap through it, then snug it down. This should prevent the strap from coming loose or flapping in the wind.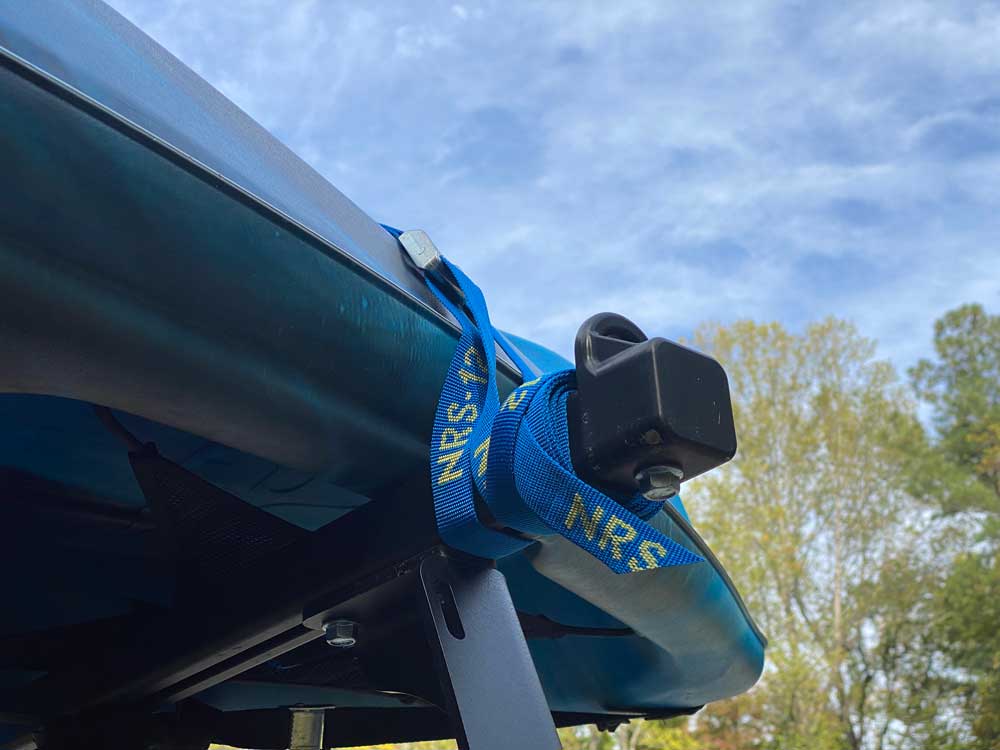 To help ensure easy access to your straps when you need them, roll them up and place them in a storage bin. When you get back from kayaking, you'll be glad you did.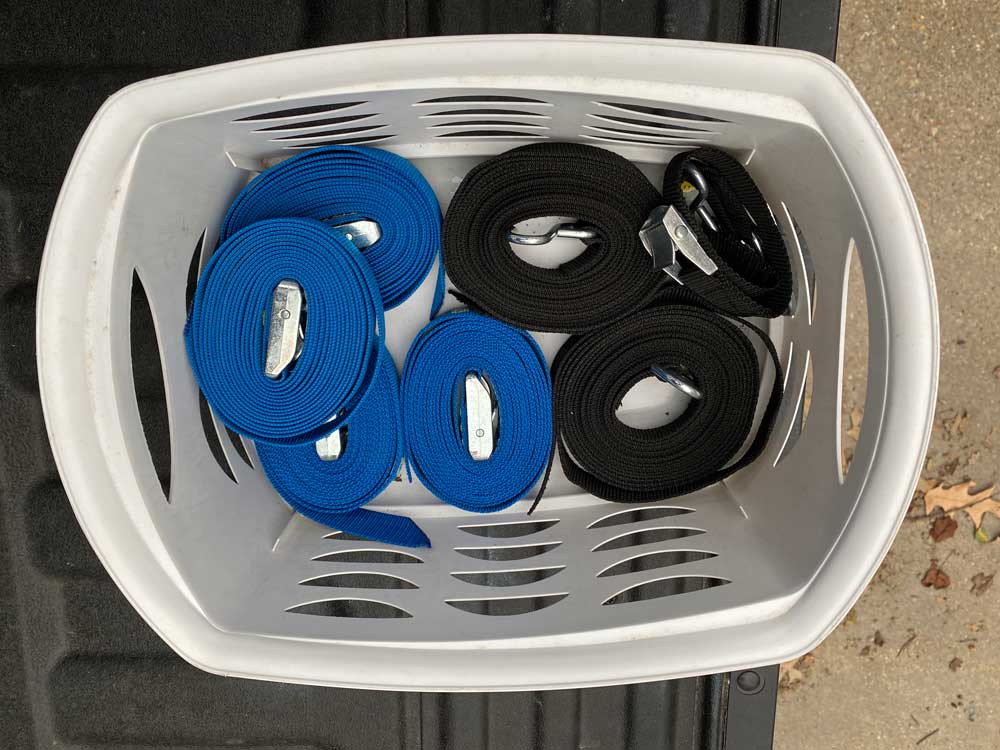 Many kayaks have removable handles. You'll want to remove them when driving so that they don't damage the kayak or your vehicle. Fortunately, removing the handles is pretty easy. Simply loosen the loop and slide the handle through it.
Our kayaks came with a long buckle strap. We like use this as an extra security strap. We place the hook in the end of the strap in the spot where the handles connect. Then, we run it through the cleats that we added to the truck track. We wrap the extra strap around the cleat and then secure it.
How to Transport Kayaks Wrap Up
I hope this information on how to load and secure kayaks on a truck rack was helpful. Do you have any tips for transporting kayaks? I'd love to hear them. Please leave a comment.
You might also be interested in our posts on the Adarac truck rack and Pelican kayaks.
We wrote about the Adarac truck rack and created a video showing how we upgraded our Access roll cover and installed the Adarac Truck Rack.
We also created a Pelican Kayak post post and video for our Pelican kayaks. Pelican Kayak video
As we mentioned in the post, we use NRS buckle straps. These are available from popular outdoor retailers like REI. For your convenience, I'm adding an Amazon link here. Note: this is an affiliate links. If you choose to purchase by using the link there is no additional cost to you, but we earn a commission that helps enable us to continue sharing helpful information.
Copyright 2022 Travel Trail Sail. All Rights Reserved.