Cut Cable TV For Camping and Home
Cut cable TV for camping & home. We recently cut the cord and dropped cable TV. How to use an antenna and streaming device to watch the same TV shows at home and on the road.
Last year we dropped our home phone line. Thanks to Our Old Number, we still have the phone number, it just forwards to our cell phones. That way, we can be reached wherever we are.
We wanted the same flexibility to watch TV at home or on the road. What if we could have the same channels and shows wherever we travel? Here is how we cut cable TV to save money and get a more consistent TV experience.
Our Cable TV Experience
Cable TV can be expensive. We had just a basic package. Even with that, there were only a few channels we watched. Channels would often have a marathon, showing back-to-back episodes of the same show for hours. In the end, we weren't getting good value from having cable. When our cable provider decided to raise prices significantly, we knew it was time to cut the cord and drop cable TV.
But streaming seemed confusing. There are so many options. And, when we added up what we wanted, it seemed like it would be just as expensive as cable.
Our Camping TV Experience
We know from camping that we could get some free TV. We mostly camp in state parks. While watching TV isn't a huge part of our camping experience, it can sometimes be nice to watch a movie on a rainy day. Using our antenna, we can usually get a good TV signal. In many places, you'll be able to get ABC, NBC, CBS and PBS. You can also usually get channels like MeTV, Laff, and additional PBS channels like Create. We usually bring along a few DVDs for when we can't get TV reception.
Would Streaming TV Work
We had several friends share their experiences with streaming TV. Using a Firestick or Roku connected to the internet, there are quite a few options available. While some are expensive, there are streaming options available for free or at low cost. We decided to see if we could put a combination together that would work for us. So far, the answer is yes. Streaming TV at home and in the camper works pretty well.
Our Streaming TV Setup
To cut cable TV, we opted for an Amazon Firestick. With Amazon Prime, you get streaming TV and music. It's a good start toward building your streaming package.
The Firestick installs behind the TV. Once installed, it is not visible from the front of the TV.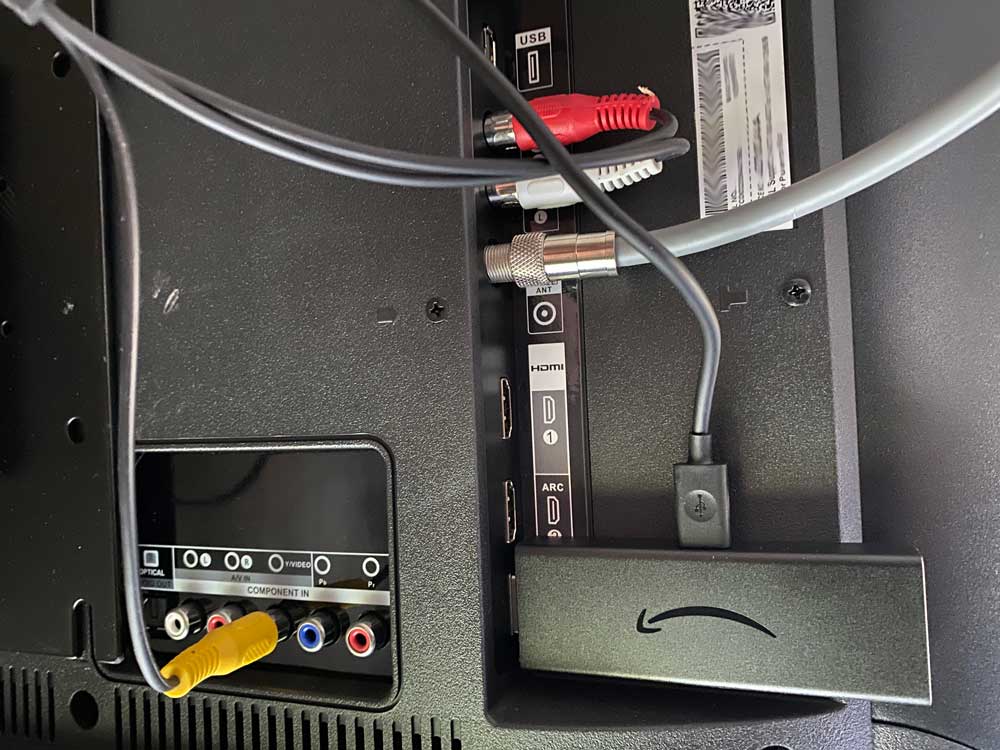 There are many streaming services available. Here are a few that we are trying.
Disney+. If you enjoy classic Disney, Marvel, or Star Wars content, this is a good choice. Disney+ has created some good original series. You can find good nature content from National Geographic and Disneynature. And there are older, but still fun, shows like the original Muppet Show. $8 per month
Netflix. This service offers a large number of original shows across many categories. You might enjoy historical fiction, comedy, action, or documentary. If you are looking for popular content, Netflix is a good choice. Pricing varies depending on how many people can watch at the same time. $10-$20 per month.
Hulu. Owned by Disney but offers content from multiple sources including ABC, CBS and NBC. You'll find lots of older shows – think Cheers, A-Team… Pricing varies depending on if you get ads or not. Hulu also offers a streaming package with live channels. A basic option with ads is $7 per month. However, we got ours on Black Friday for only $1 per month.
Peacock has lots of NBC content. There are also some live channels that work similar to live TV. You can get a free version, though you'll be limited to seeing only the first few episodes of any series. To be able to watch full series or major events like The Olympics, you need a premium version of Peacock. Free.
IMDB TV. A variety of shows and live TV channels with ads. Comes with a Firestick. Free.
NCHC Hockey. The NCHC season pass includes almost every college hockey game from the NCHC including teams like Colorado College, Minnesota Duluth, North Dakota, and Western Michigan. $115 per year.
Learn Something With Streaming TV
With a streaming device, it's easy to access YouTube. Consider using some of your viewing time to lean something. You can learn about travel destinations, ballroom dancing, making cocktails, roasting coffee, and so much more.
Here are a few of our favorite YouTube channels.
Of course, we also hope you check out our YouTube channel Travel Trail Sail. We offer RV tips and travel adventures with a focus on Virginia State Parks.
Tips for Using Streaming TV to Cut Cable
Our first tip is to get two Firesticks, one for home and one for your RV TV. After you configure the first, then plug in the second. It will match the apps installed on the first. Then you can have one for home and one for the RV. Note: still have to sign in to your accounts.
Drop cable TV tip number two, check out Antenna Web to see what you might get at your home. Get an inexpensive TV antenna and give it a try.
Camping TV tip number three, buy or borrow a few DVDs for those times when there is no TV available. Your local library may have a selection of DVDs to borrow for free.
Streaming TV tip number four, find some inspiration. Unless you know what you want to watch, it can be hard to use streaming. While you can scroll through content to find things, it isn't as simple as scrolling through cable TV to see what's on. As friends what they are watching. Find a show you used to watch and see it again. It helps to have something in mind before turning the TV on.
Camping TV tip number 5, use your phone as a wi-fi hotspot for your streaming device. The wi-fi available in most camping locations isn't great. For most shows, using your phone is sufficient. However, in some locations, you won't get a great signal. Watching some things like live sports can also be a challenge.
What Comes With a Firestick
The Firestick comes with the stick itself, which is a small device that plugs into an HDMI port. The Firestick is powered by a USB cable that includes a power adapter. Finally, you get a small remote control that enables you to control the Firestick as well as the power & volume on the TV.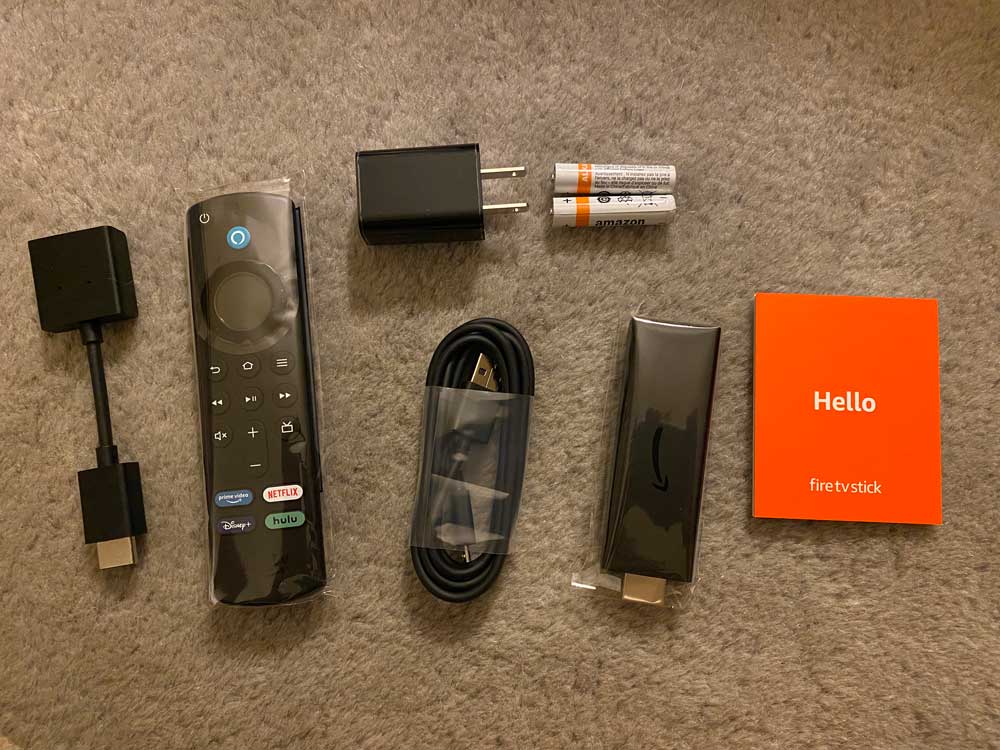 Thank You
Hope our overview of how to drop cable and watch streaming TV in your RV or at home was helpful. We'd love to hear your stories of how you cut the cable TV cord. How do you stream and what are your favorite streaming TV options? Leave us a comment to let us know. Thanks.
Purchase a Firestick
The products mentioned in this post are available at Amazon Note: these is an affiliate link. If you choose to purchase by using the link there is no additional cost to you, but we earn a commission that helps enable us to continue sharing helpful information.
Copyright 2022 Travel Trail Sail. All Rights Reserved.