Blackstone Griddle Review
After seeing portable griddles at the RV show this year, we wanted to try one. Is Blackstone the best propane griddle. Here is our Blackstone Griddle review.
Why We Wanted a Blackstone Griddle
You know we love cooking while camping. Whether it's making burgers on our portable Weber grill or creating a tasty cobbler in a dutch oven. One thing has been an issue, though. Making pancakes. The two burner stove in our outside kitchen is too small for a rectangular griddle. Making breakfast on the stove inside the camper often sets off the smoke detector, even with all the windows open.
Judy and I had a great time checking out the RVs at the RV shows earlier this year. One of the things we noticed was that some manufacturers were including griddles rather than stoves in their outside kitchens. I was interested. With an outside camping griddle, you can cook a large batch of pancakes or French Toast without having to worry about setting off the smoke alarm.
After seeing the griddles, I was really interested in trying one. It seemed like it might be the perfect addition to our camp kitchen. Lucky me. Judy got me a Blackstone 17 table top griddle for Father's Day. I had heard that this was the best propane griddle and was really looking forward to trying it.
We saw some other great ideas at the RV show. Check out our post 7 Innovations at the Tidewater RV Show and check out all of the outdoor kitchen grills & griddles we saw at the Richmond RV Show.
Blackstone Griddle Pancake Breakfast
I tried our Blackstone Griddle. Of course the first thing I made was pancakes and sausage. The griddle was a good tool for making a tasty breakfast.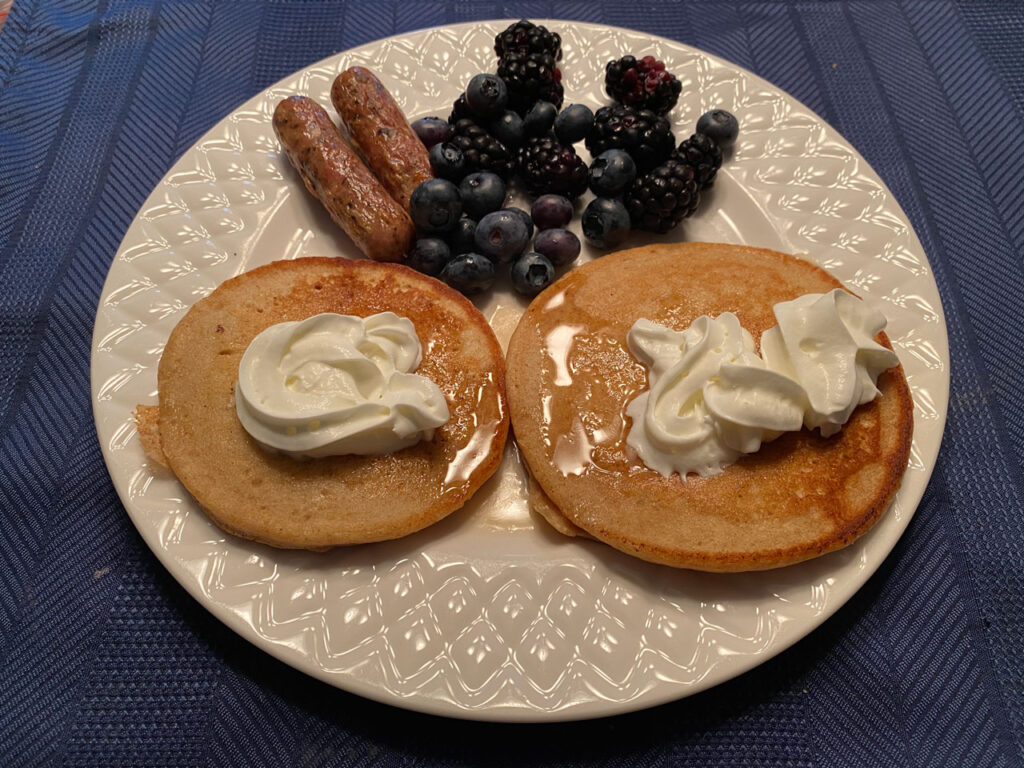 The Blackstone is a great size for cooking for anywhere from two to five people. A larger griddle is available if you need to cook for bigger groups. While we make four pancakes at a time, the griddle could have easily held six. I added 18 sausage links and there was plenty of room.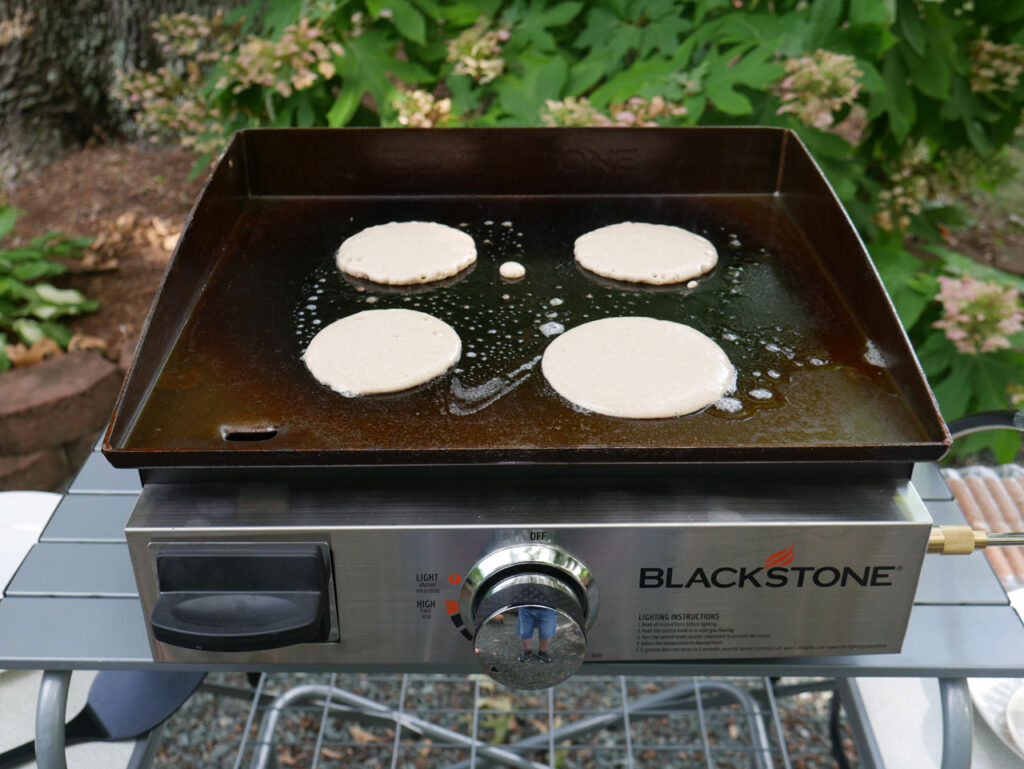 You may need to experiment a bit to find the right temperature. We found that it needed to be set just above the two bar mark to get the right temperature for pancakes. You'll also note that there are some parts of the grill that get hotter than others. Directly over the H-burner is the hottest. The area toward the front of the griddle is the coolest. This image from during the seasoning process should help you identify the hot spots.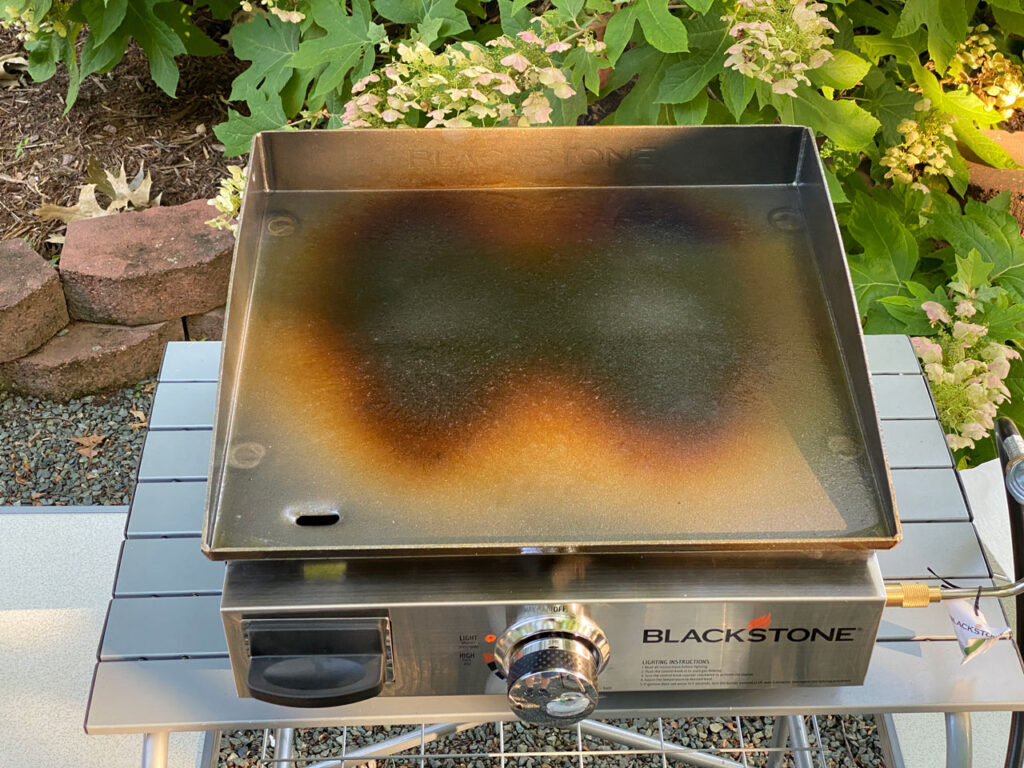 Blackstone Griddle Unboxing, Setup and Seasoning
I'll share with you the steps to get your griddle ready to cook some tasty meals. To demonstrate the process of getting a Blackstone griddle ready to use, we made a video covering unboxing, setup and seasoning. Check out our Blackstone Griddle Unboxing & Seasoning YouTube video.
The Blackstone griddle has three main parts. A base with an H-burner, the griddle top and a gas regulator.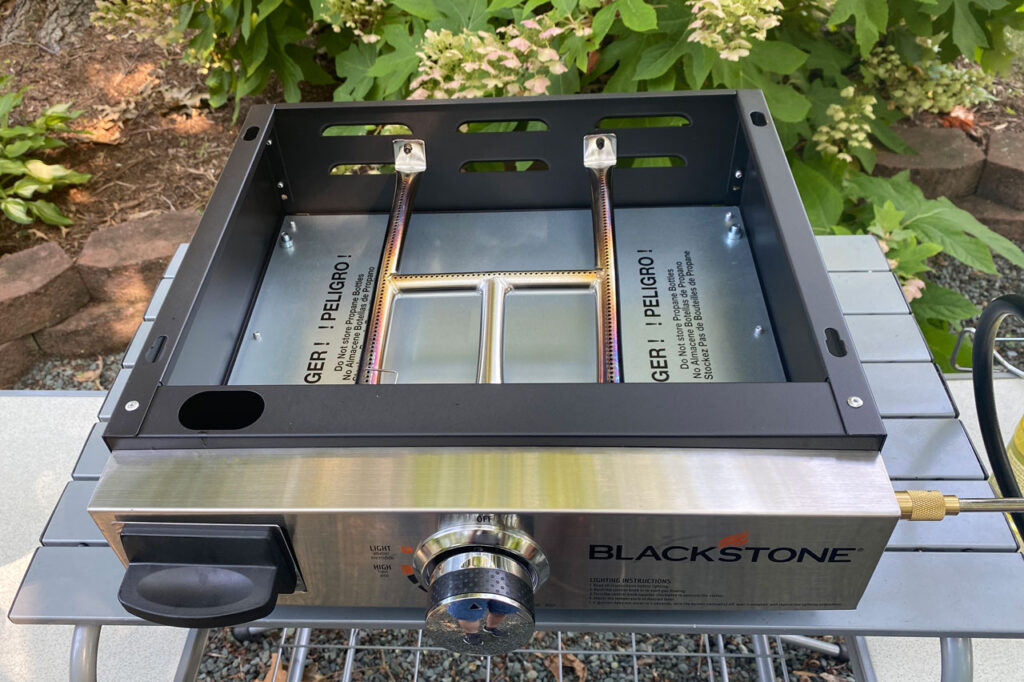 Setup is pretty easy as there are few parts. You just need to screw in four legs. The main task in getting the griddle ready is to clean and season the top.
Cleaning the top is easy. Just use a cloth rag and some lightly soapy water. The griddle top will likely be a bit sticky when you take it out of the box. Just rub it until it is no longer sticky, then wipe it dry with a fresh cloth.
Once it is clean, you need to add a thin layer of oil. Just about any kind of cooking oil will work. To season ours, I used canola oil. Blackstone makes a special seasoning and conditioning oil. I'm sure it works great. But they do note that you can also use any cooking oil.
Once the griddle is oiled, put the griddle top on the base and turn the temperature to high. It should start to smoke. The griddle surface will darken, turning to brown and black. You will likely need to repeat the oiling and heating process several times. The key is to add multiple thin layers of oil – it's better to repeat the process multiple times rather than try to add one thick layer of oil. A thicker layer may not be as even or perform as well as what you get by using thin layers. Note that the parts of the grill directly over the H-burner get much hotter.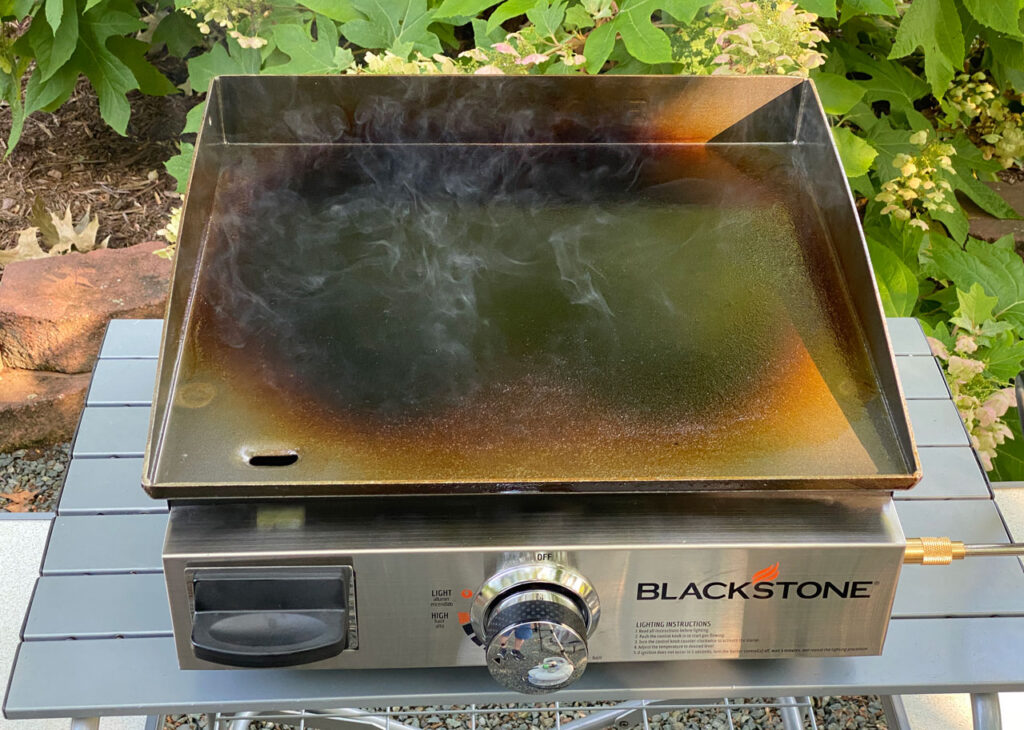 Another way to season it is to use a gas grill. Once the griddle is oiled, put it in your grill, raise the temperature and close the lid. This will add heat more evenly, helping to ensure the griddle top is well seasoned.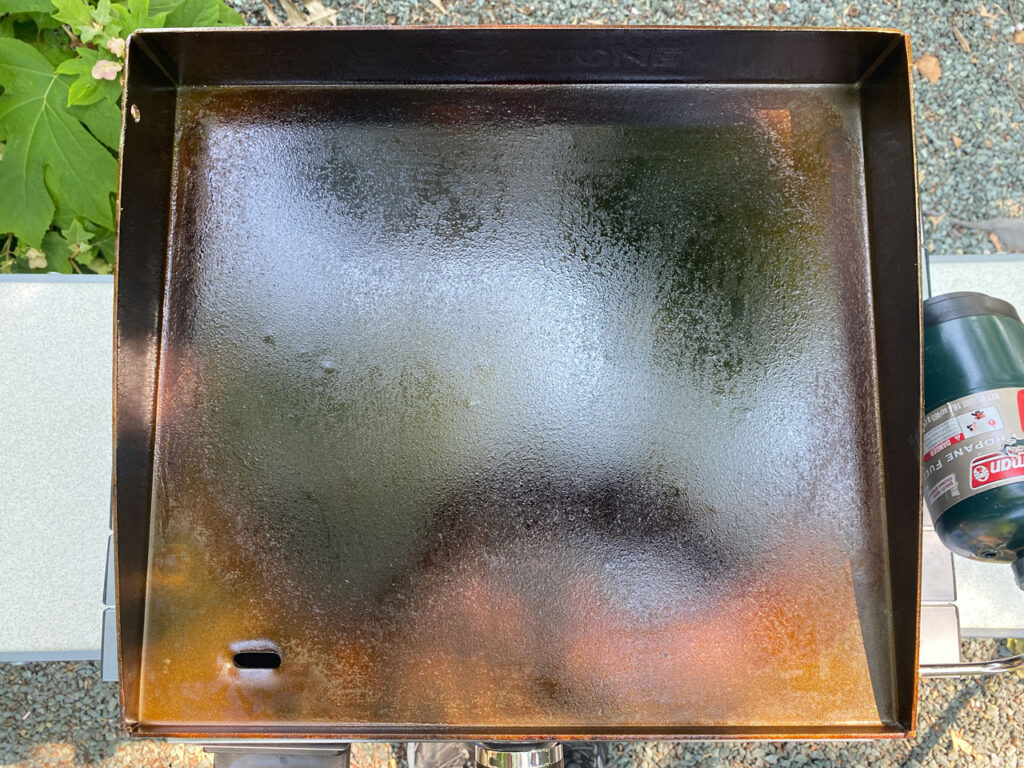 Once seasoned, add a small layer of oil after using the griddle to protect the surface and ensure it remains ready for use.
How to Connect Your Blackstone Griddle to Propane Gas
There are two ways to connect your griddle to gas. The first is to use a small propane gas cylinder. These are usually green. While portable, there are few options to recycle them and they can be challenging to refill.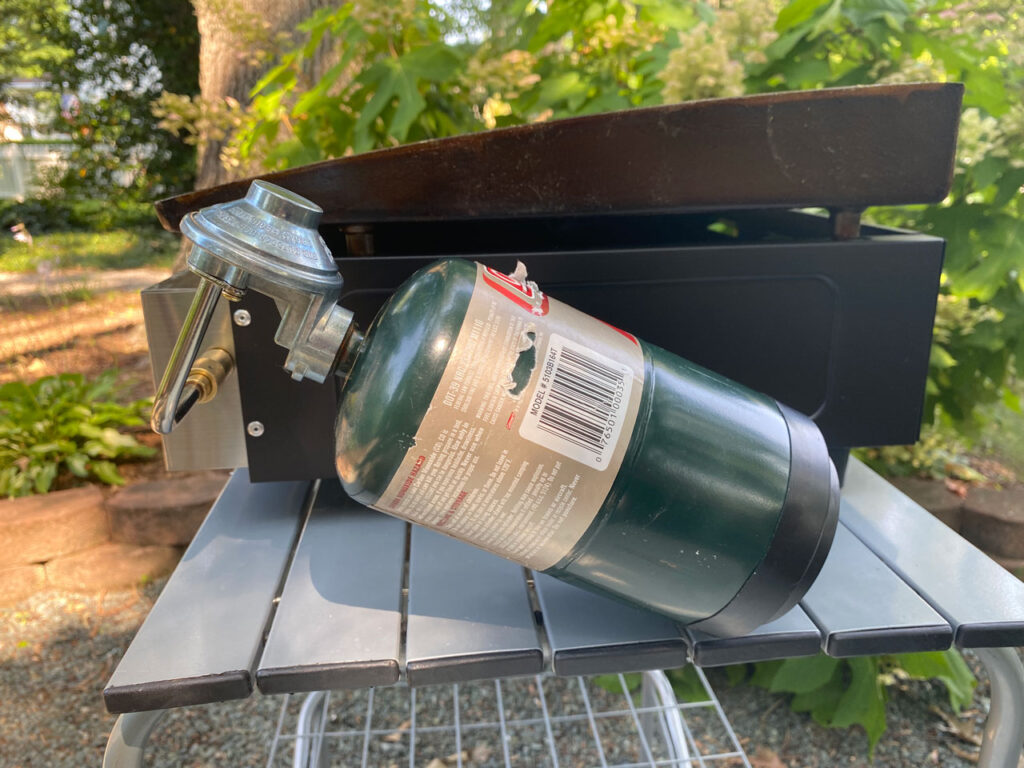 The other way to connect your Blackstone to propane is to use a hose to connect it to a large propane gas cylinder, the kind you find on the front of your travel trailer or used in a gas grill.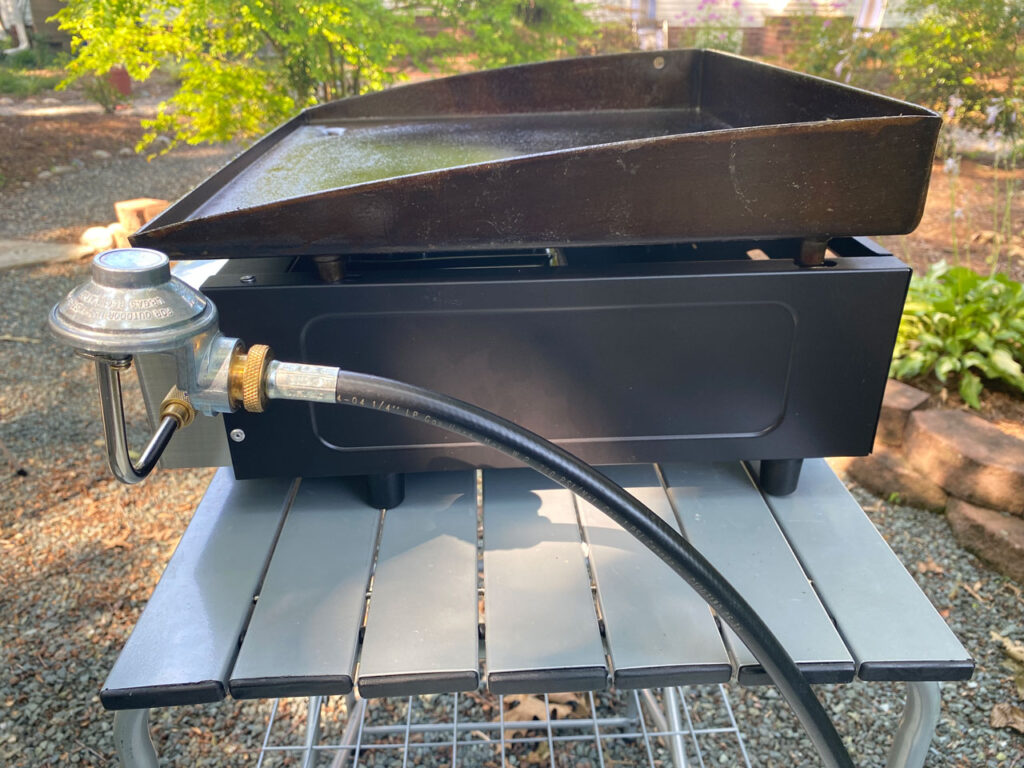 If you are going to connect your griddle to a large propane cylinder, you need to have the right hose. There are two kinds of propane hoses available. One style has a large connection on one end that connects directly to the propane tank. The other has a smaller end that can connect to a propane tree, enabling multiple devices to connect to the tank.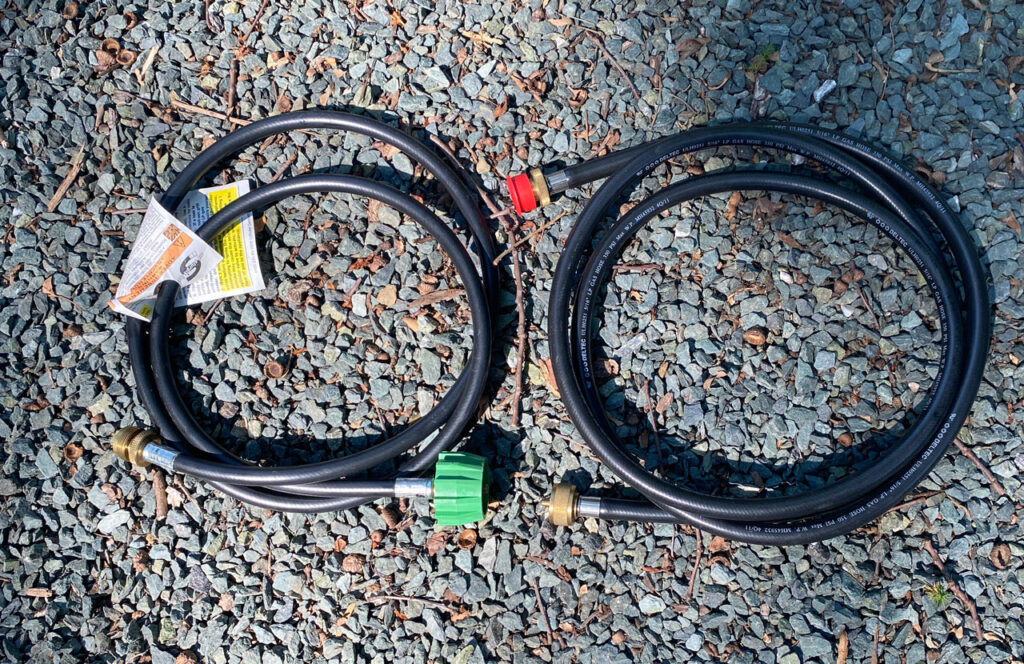 Blackstone Griddle Accessories
There are a few things that you'll need that don't come with the grill. At a minimum, you'll need a spatula, a portable propane cylinder or propane gas hose, and large propane cylinder. You may also want to consider a travel bag, griddle cover and table.
There are many additional accessories available. Whether you need them will depend on what you want to cook on your griddle. If you plan to make burgers, you may want a hamburger press. For eggs, consider egg rings.
We have been testing a few accessories to see what works best. You can check out our comparison of the Blackstone and Cuisinart spatula sets at Best Griddle Spatula Set.
Be sure to check back here for future reviews and updates. Or, subscribe to our email list so you won't miss a thing.
Where to Buy a Blackstone Griddle.
You can buy a Blackstone Griddle just about anywhere; on Amazon, at a hardware or big-box store. For your convenience, I'm adding links to a few buying options here. Note: these are affiliate links. If you choose to purchase by using the link there is no additional cost to you, but we earn a commission that helps enable us to continue sharing helpful information.
Amazon Links
Camping World Links
Coleman Propane Gas Hose at Camping World
Blackstone Griddle Review Summary
Overall, I like the Blackstone Griddle. I think it will be a nice addition to our camp kitchen. Setup was easy, though it was a bit of work to get it seasoned and ready for use. I was able to cook a tasty pancake and sausage breakfast. I also prepared some amazing hamburgers on the griddle. Find details for how to make them at Wisconsin Smashburger Recipe and the Smashburger YouTube Video. I'm looking forward to trying other things on the griddle. What's next? I guess you'll have to come back to find out.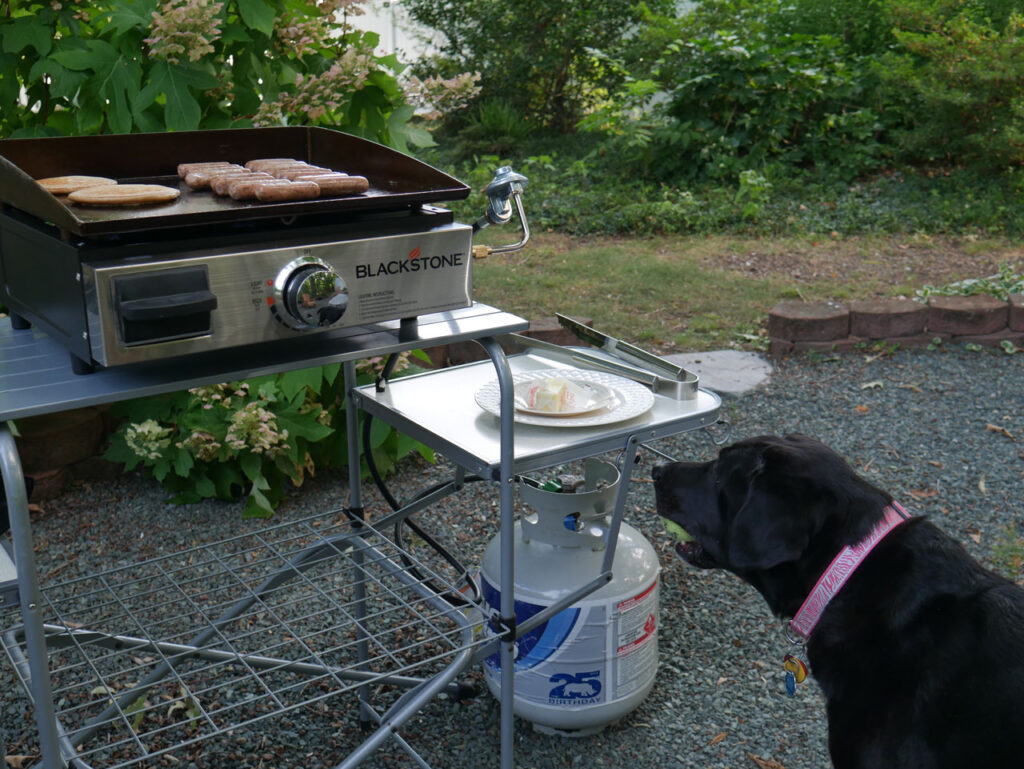 What do you have in your camp kitchen? Have you tried a Blackstone griddle? We'd love to hear your thoughts. Leave a comment and let us know what you think.
If you liked this Blackstone Griddle Review, you might also be interested in our Easy Camping Grill Setup post that describes a quick way to setup a portable Weber grill.
Copyright 2020 Travel Trail Sail. All Rights Reserved.