RV Gifts 2020 Holiday Wish List
Shopping for an RVer? Our RV Gifts 2020 Holiday Wish List provides inspiration. Gifts for RV owners and gifts for camper owners that are sure to please.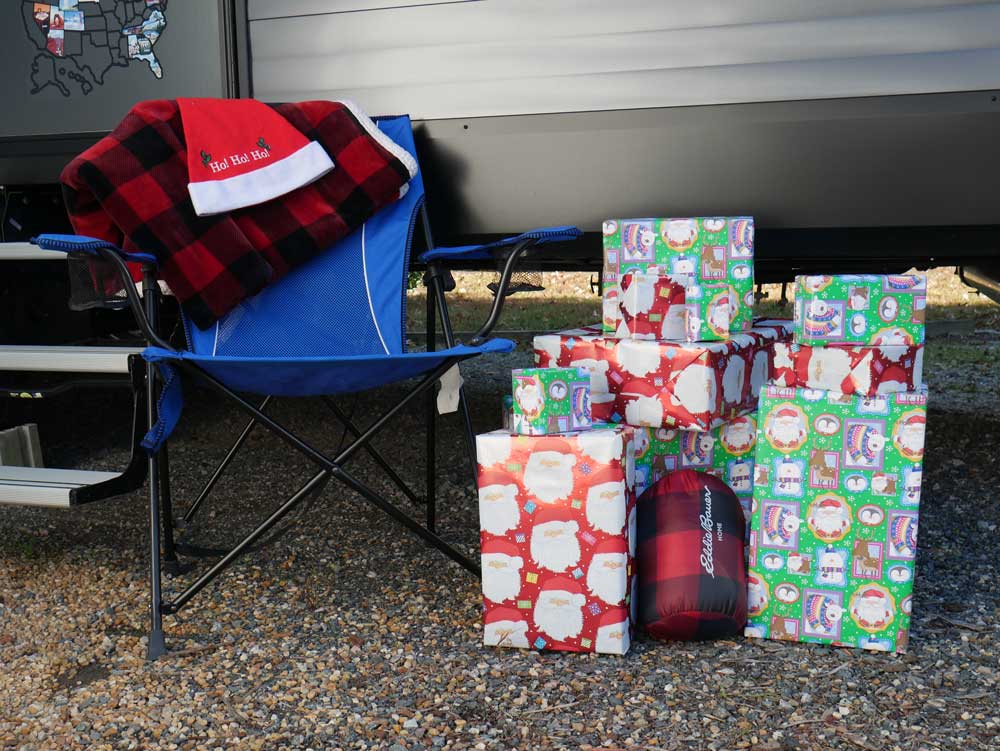 OK. I'll admit it. It can be fun to get some new items for the camper. Whether you are shopping for your favorite camper or for yourself, we've put together a list we hope makes it easier to find just the right thing. We tried to include a mix of practical and fun, big and small, so that you are sure to find a great RV gift.
We share some of the things we love in our camper. And, a we have included a few things we wish we would get for Christmas. This is a new and expanded list from our 2019 RV Camper Holiday Wish List.
We've added Amazon links to make your gift buying easy. If you prefer, many of these items may also be available at Camping World. These are affiliate links. If you choose to purchase from them there is no additional cost to you, but we earn a commission that helps enable us to continue sharing helpful information.
Games & Entertainment RV Gifts
Here are a few small or inexpensive RV gift ideas. We like playing games and always bring a few easy-to-pack options along.
We love the card game version of classic board games like Monopoly Deal, Clue Suspect, Life Adventures or Scrabble Slam. You can usually play a round in about 15 minutes. They don't take up much space in the camper so you can bring along several. We love playing these games. They would make a great stocking stuffer for your favorite game-playing camper. Even a deck of cards like these Bicycle Standard Face Playing Cards can be a good option. If you don't yet know a lot of card games, maybe a card game book would be a good idea.
Of course, it can be fun to have some games for outside the camper, too. Here are a few recommendations for popular RV camping games.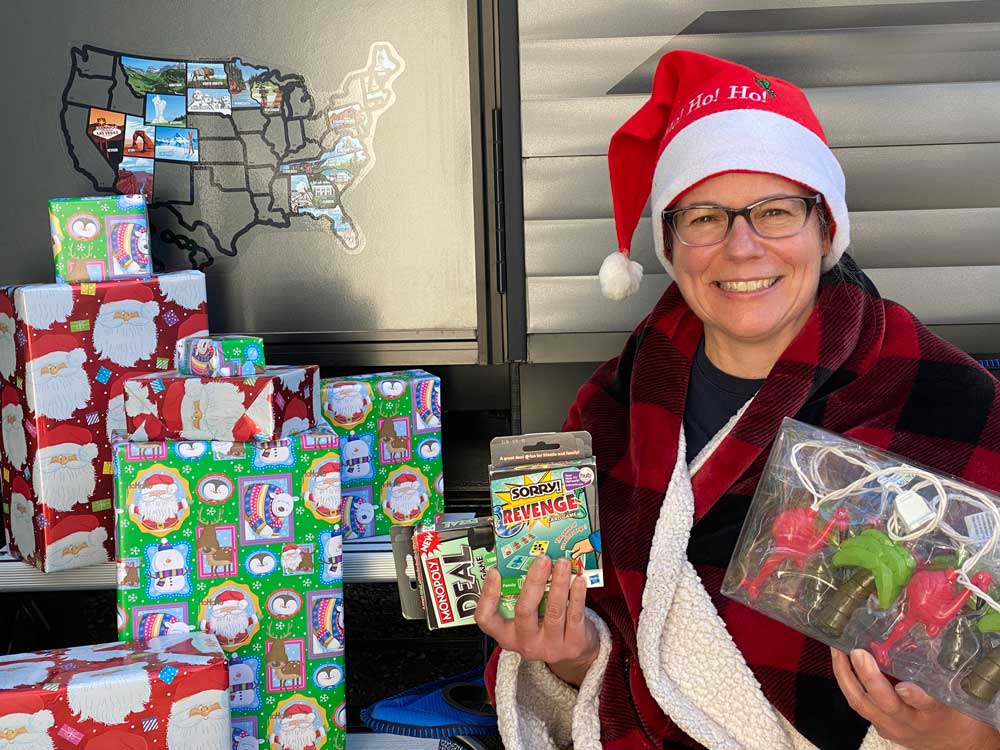 RV Accessories RV Gifts
Here are some RV accessories that any camper would love to receive. While they may not seem exciting, they will definitely improve RV life.
Around the Campsite RV Gifts
Imagine a night spent around the campfire. Roasting marshmallows, telling stories and enjoying time with family & friends. Here are a few things that might make the night better.
Camp Cooking RV Gifts
We love camp cooking. Our favorite grill is the Weber Q portable propane grill. Imagine gathering at the picnic table to enjoy your favorite chicken or burgers. You may want to add the right propane hoses so you can hook up to a larger propane tank. A grilling table is nice to have. Consider adding Coleman Northstar lantern in case you need to grill after dark. For a complete list of what to consider, check out our post Easy Grill Setup.
This year, we added a Blackstone Griddle to our camp kitchen. It's a great way to prepare pancakes, French toast or Smashburgers. We have been enjoying our Blackstone and I'm sure your favorite RVer will, too. If they are new to griddling, consider adding a good set of spatulas. We reviewed the Blackstone and Cuisinart spatulas which are both great options. Check out our Blackstone Griddle and Spatula Reviews. And, if you want a sample of what you might cook, check out our Wisconsin Smashburger recipe.
Some days you need to be able to cook inside the RV, too. On our wish list is a good instant pot. We have heard the best one is Breville Fast Slow Pro. A slow cooker is always a great way to cook. Crock Pot now makes one with a locking lid that might come in handy as you carry your cooker out to the picnic table. We love our Cuisinart stacking cookware set. A similar set is available from Magma. If you like having smoothies like we do, consider a lightweight blender for the camper.
Thanks
Thanks for checking out our 2020 Holiday RV Gifts Wish List. I hope it was helpful. If you are looking for more gift inspiration, check out our post RV Essentials for Outfitting a Camper.
What's on your wish list? We'd love to hear what you think are the best RV camper gifts. Leave a comment to let us know.
Copyright 2020 Travel Trail Sail. All Rights Reserved.