We added an ADARAC Truck Rack to bring Kayaks when we camp. It pairs nicely with our Access tonneau cover.
Kayaks and Camping
We love to get on the water. It's especially fun to be able to get some time on the water when camping. Imagine camping alongside a beautiful lake. Now, wouldn't you want to get on the water?
Some state parks and campgrounds rent kayaks. It's a great way to see if you enjoy paddling. We discovered that it was really fun. We decided to get a pair of kayaks.
The question was how to bring them along. We have a tonneau cover over the bed of our truck. It's great. It protects items in the bed of the truck. Many truck racks aren't compatible with a roll cover. Agricover makes racks and covers that work together. It made sense to get an ADARAC rack for our truck to pair with the Access roll-up cover.
Updating the Access Cover
When we started camping, we bought a Ram pickup as our tow vehicle. It has worked great. One of the first things we added to our truck was an Access roll cover. It has held up well and we really like it. However, it was starting to show its age. Step one of this project was to update the cover.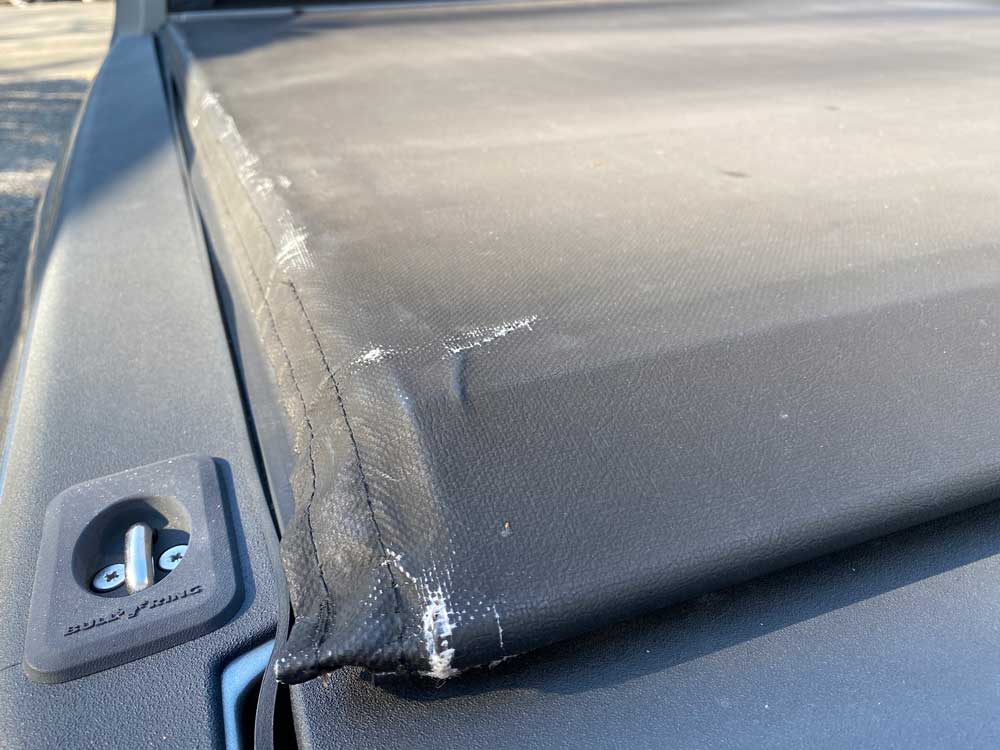 The project was fairly easy. We purchased a new cover and Velcro strips.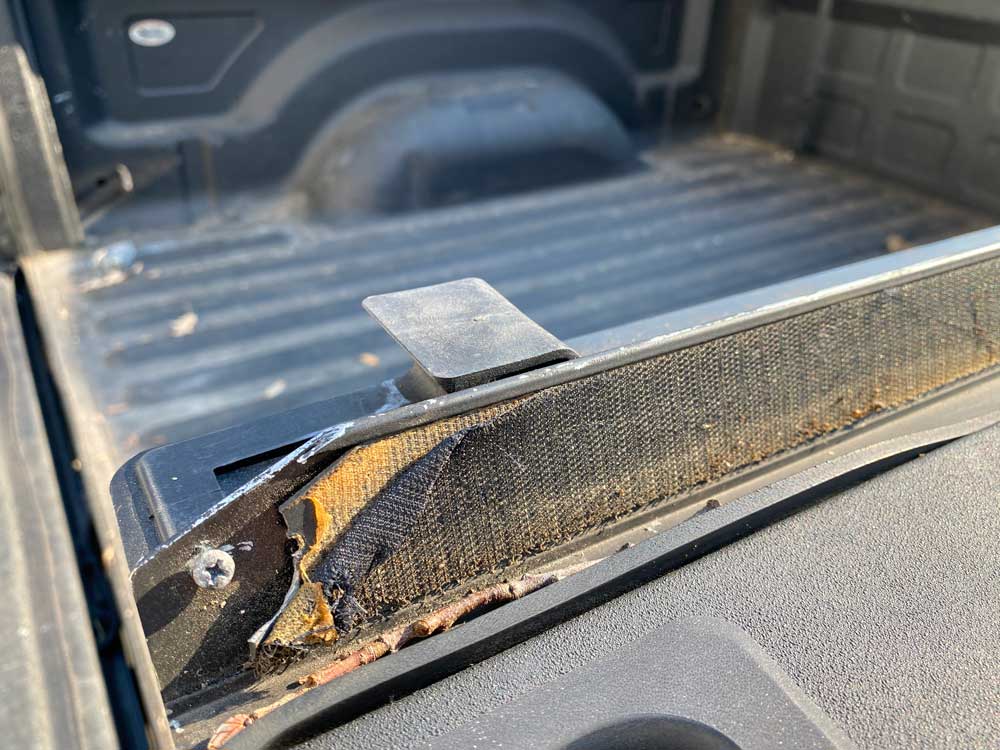 The rest of the parts transferred from the existing cover.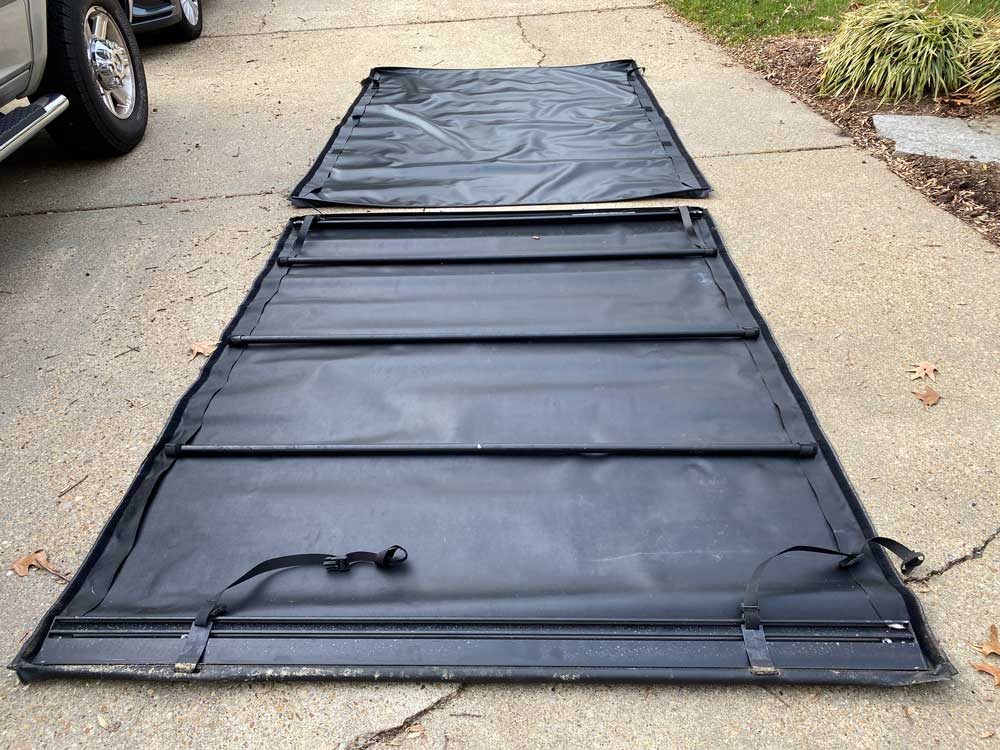 The biggest challenge was removing the front and rear bars. Rather than sliding the front bar off easily, I had to cut it off. The rear bar slid off fairly well. The center bars, or bows, are held on by Velco strips and transferred easily.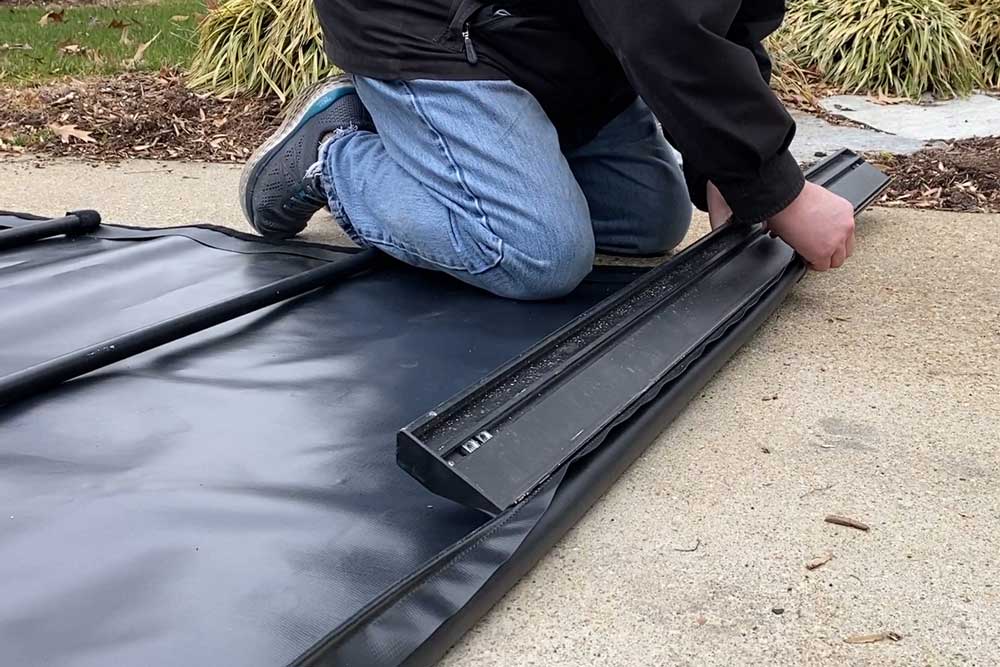 The cover is held to the truck by a series of clamps. If you use spring clamps to hold the side bars in place, it makes installing the cover much easier.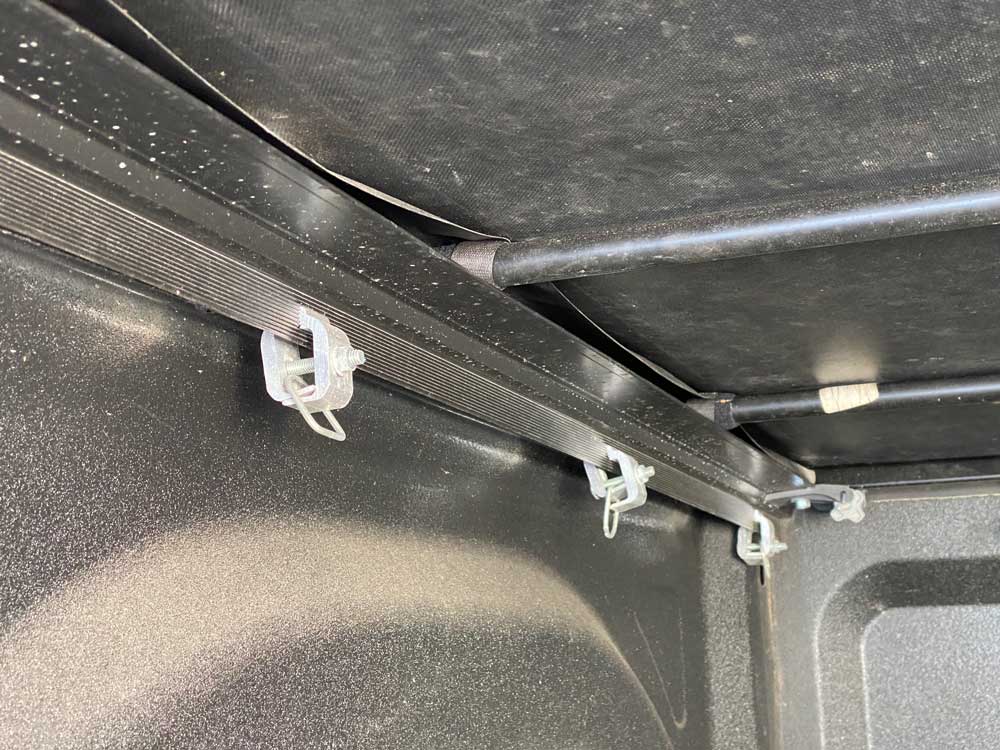 Choosing a Truck Rack
We liked our Access roll cover. We needed a rack that would work with it. However, many truck racks aren't compatible with a roll cover. Fortunately, Agri-cover makes covers and racks that work together. They make several racks. We opted for the aluminum ADARAC.
The kayaks we purchased are 29 inches wide. The ADARAC Aluminum Series measures 63 inches wide so it should accommodate the kayaks. The kayaks are 40 pounds each. The rack supports up to 500 pounds. Someday soon, we may also get a sailboat. The ones we are considering are less than 150 pounds, so the rack should work for that, too.
One thing that we like about the ADARAC aluminum are that the vertical posts are shaped to better match the shape of the truck's cab. The black version matches our gray truck well.
Installing the ADARAC Truck Rack
The installation was fairly easy. ADARAC provides good videos that cover the installation process. The main steps are to install side rails that are secured into the truck's state pockets. After that, you assemble the side posts and cross bars. These are attached by bolting them into sliding nuts that are in a track in the side rails.
I added a few accessories including tie-downs and cleats. These are easy to add during installation by sliding them into the tracks in the side rails and cross beams.
To install, I followed the steps outlined in their video. One challenging part of the installation is to prepare the stake pockets. These are covered by plastic trim which has an outline of the stake pocket in it. However, the stake pocket is not the same size as the outline. Be careful in cutting the trim so that you only remove what you need.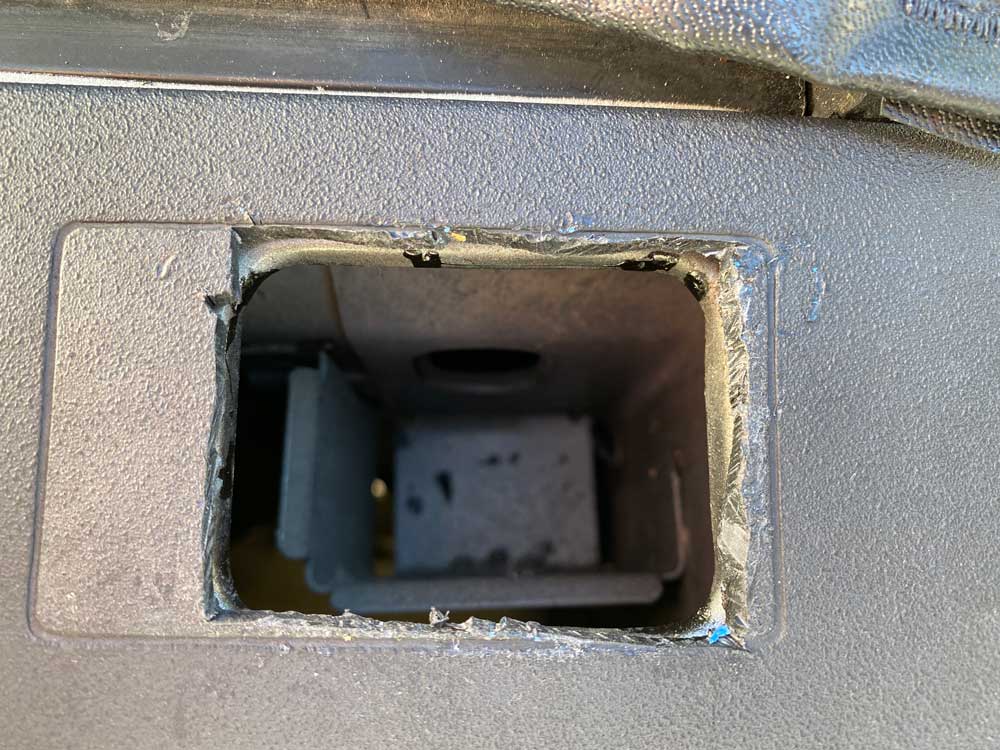 Side rails are held in place by metal plates that go in the stake pockets. To install, you hold them in place with a cord, then insert a bolt.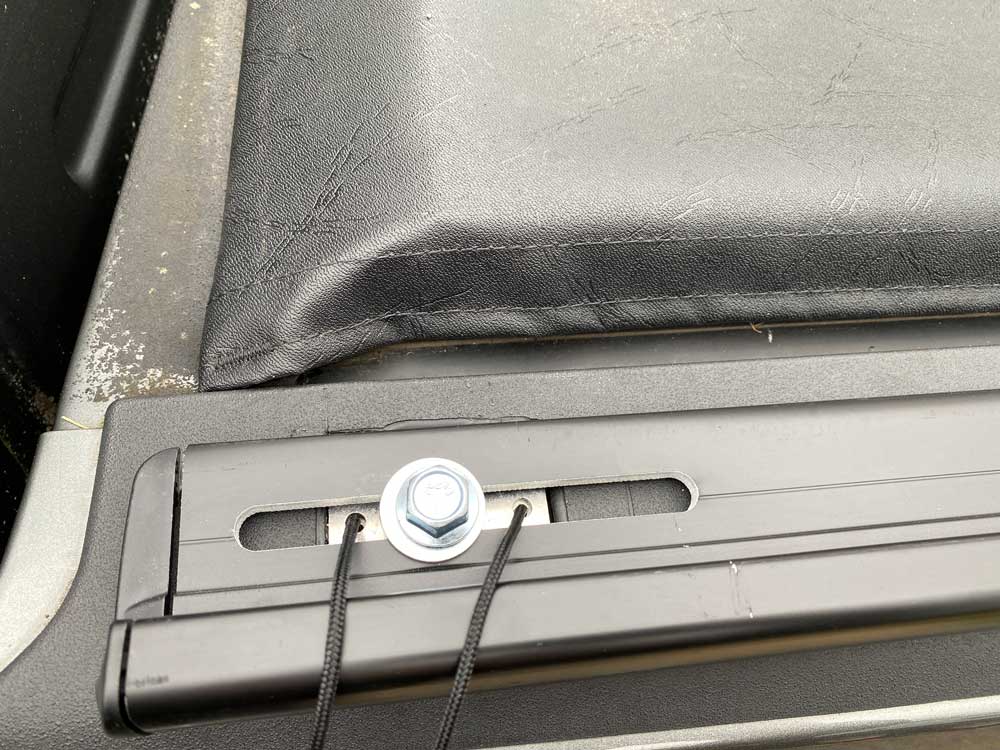 Uprights and cross bars are secured to the side rails by bolting them into sliding nuts that are in a track on the side rails. Note that accessories like tie downs are also inserted using these tracks.
ADARAC Truck Rack YouTube Video
Agri-cover provides good videos for installing an ADARAC rack and for installing an Access tonneau cover. If you want to see the process of updating an Access roll-up cover and get a few tips for installing an ADARAC truck rack, check out our Adding an ADARAC YouTube video.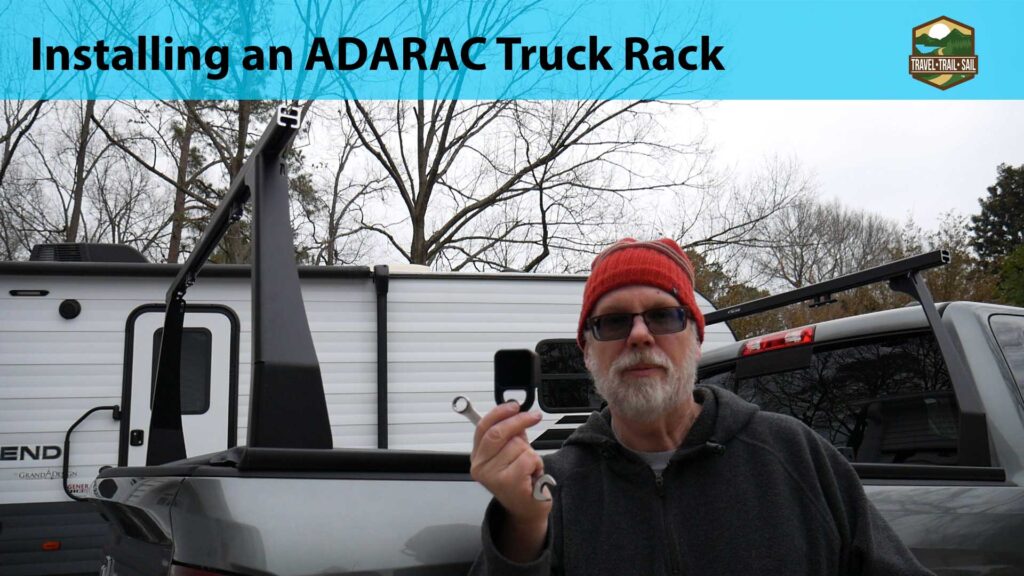 Completed ADARAC Truck Rack and Access Cover Project
We are pleased with the rack and replacement cover. Using just a few tools, I was able to complete the project. I can't wait for camping season to start so we can try out the new rack. We are looking forward to bringing the new kayaks with us on our next camping trip.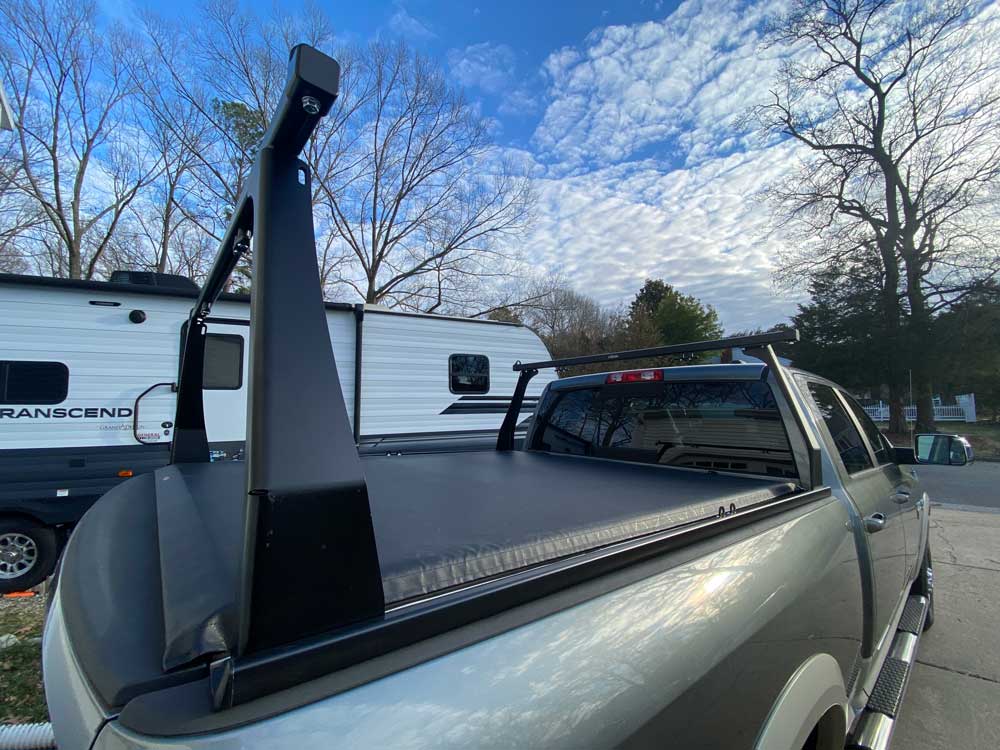 How to Transport Kayaks
If you are wondering how to load and tie down your kayaks on your Adarac truck rack, check out our post How to Transport Kayaks. We offer step by step instructions so you can bring your kayaks on your next adventure.
As we mentioned in the post, we use NRS buckle straps. These are available from popular outdoor retailers like REI. For your convenience, I'm adding an Amazon link here. Note: this is an affiliate links. If you choose to purchase by using the link there is no additional cost to you, but we earn a commission that helps enable us to continue sharing helpful information.
Thanks
Thanks for checking out our ADARAC truck rack and Access roll-up cover post. Do you bring kayaks or a sailboat camping? What tips or tricks can you share? Please leave a comment.
Copyright 2022 Travel Trail Sail. All Rights Reserved.