Busch Gardens Williamsburg Review
You'll love your visit to Busch Gardens Williamsburg. Its a beautiful theme park. This article will help you plan to get the most out of your visit.
I have been going to Busch Gardens Williamsburg for years. My family and I enjoy spending time in this beautiful theme park. I wanted to share some information and tips to help you plan your visit. I'll cover everything you need to know including tickets, parking, dining, rides, and shows.
Posted June 11, 2019. Updated May 24, 2023.
Busch Gardens Williamsburg Overview & Theme
Not all theme parks are the same. Every year since 1990, Busch Gardens has been named the world's most beautiful theme park by the National Amusement Park Historical Association.
Busch Gardens Williamsburg is themed to match several European countries. In fact, when it opened, it was named Busch Gardens: The Old Country. It was later renamed to Busch Gardens Europe. The almost 400 acre theme park is organized as a large circle divided into sections themed to feel like villages from England, Scotland, Ireland, France, New France, Germany, and Italy.
As you walk through the lands, check out the beautiful landscaping. The plants are always up to date for the season and are always kept in perfect condition. You'll find that you want to come back every season just to see the latest flowers.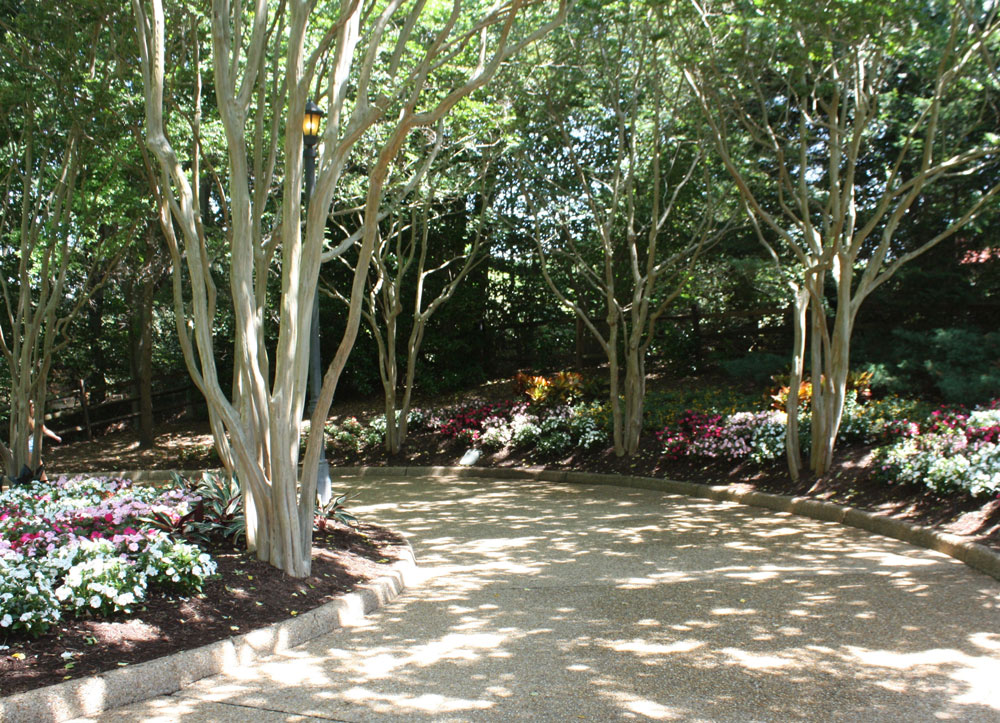 Also notice the style of the buildings, rides, music, and food. It is fun to observe how the different elements support the Europe theme. Of course you'll find shops along the way for souvenirs or those things you forgot to bring like a hat or sunscreen.
In England, you'll see the distinctive red phone booths and the Globe Theater. the music is sometimes classical but often features songs by the Beatles, Moody Blues and Hermans Hermits.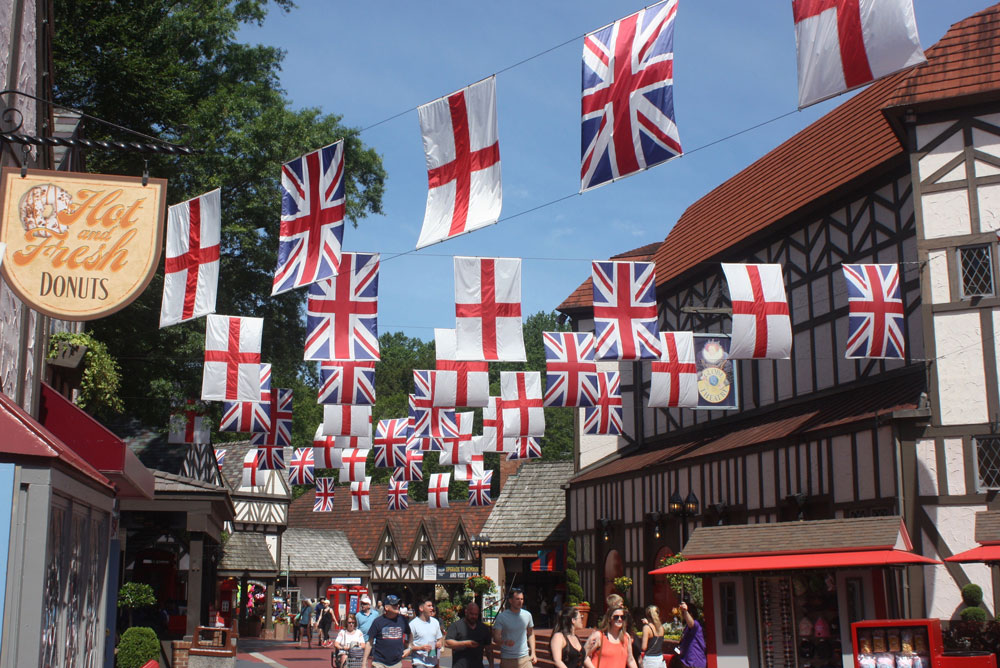 Scotland is themed to look like a Scottish hamlet. There is a pasture with grazing sheep. The music is often bagpipes and you may hear Auld Lang Syne. From here, you need to decide if you are heading clockwise toward Italy or counter-clockwise toward Ireland.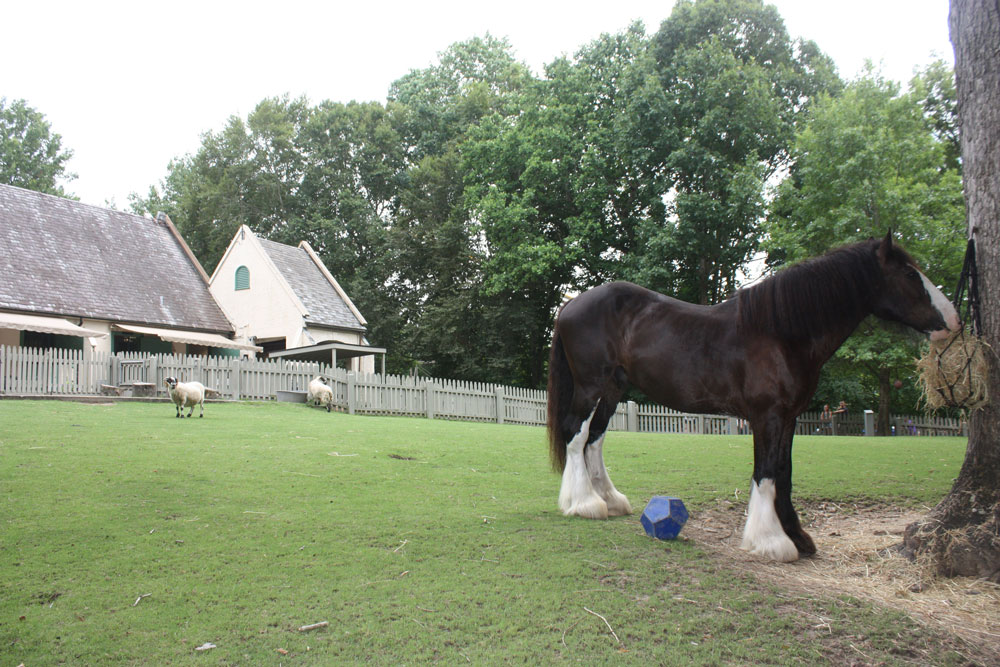 Ireland features the village of Killarney and the Castle O'Sullivan. The Abbey Stone Theater is the home of Celtic Fyre and other shows depending on the season. There are several animal sanctuaries and exhibits in this part of the park.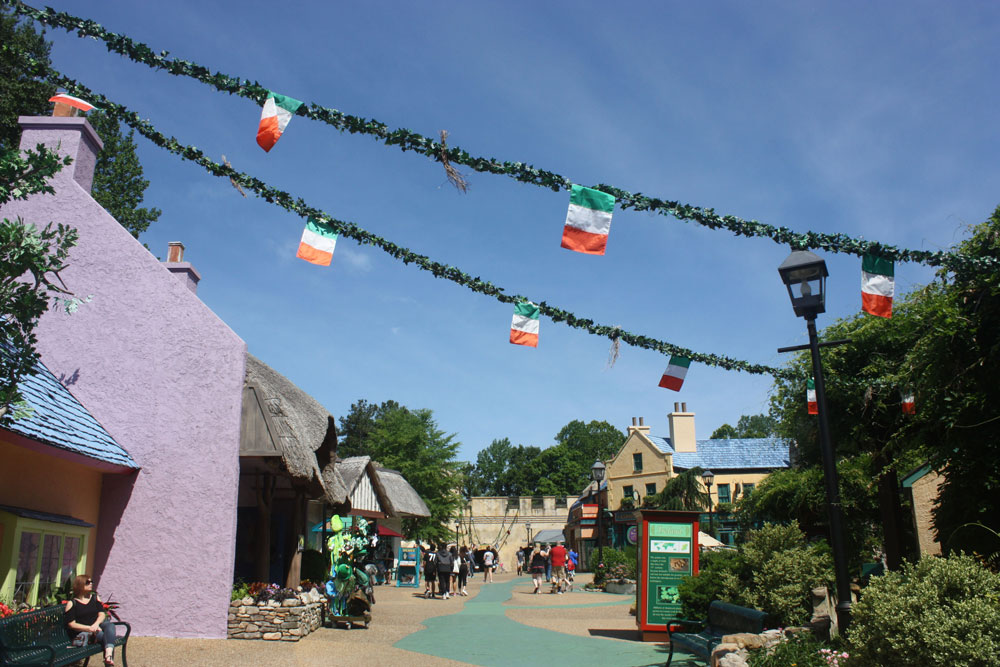 If you went clockwise, you'll find yourself at the Sesame Street Forest of Fun which is one of the two children's areas in the park. This area is brightly themed and filled with fun rides for younger visitors.
Then its on to Italy where you'll find a Renaissance inspired landscape.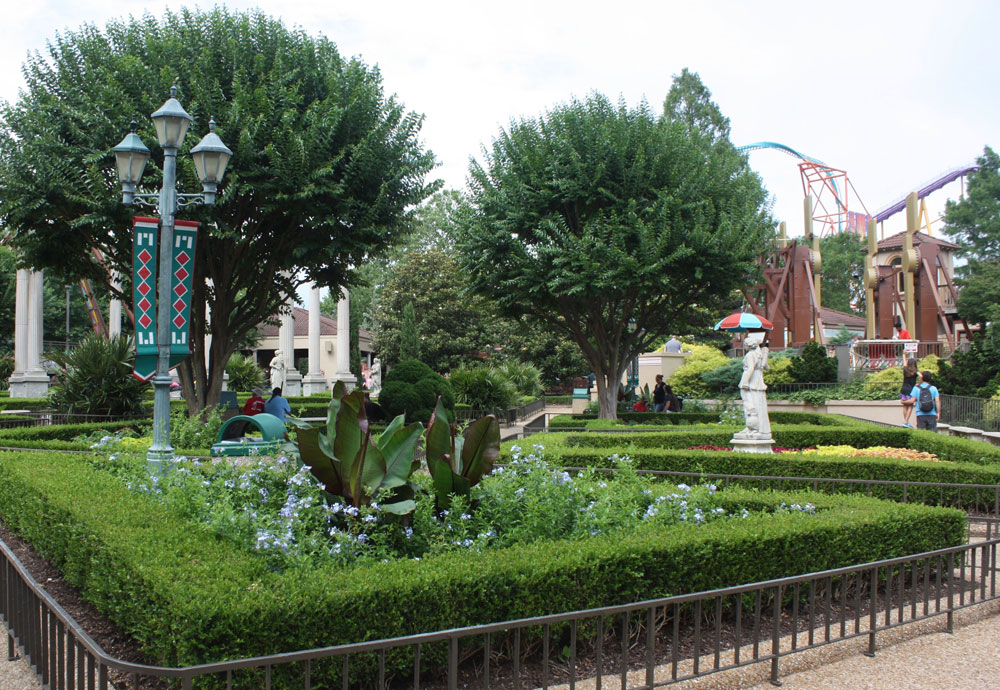 In Germany, you'll encounter a small town that looks like it came straight from the Alps. The German theme is supported in the area with music like the Fulenbacher-Marsch. Das Festhouse is a central location with restaurants serving German food and fun polka show. Expect to hear favorites like Auf Du lieber Augustin and Roll Out the Barrel. Kids can join in when they do the Chicken Dance. In Germany is one of the main children's areas The Land of the Dragons. There is a path that connects Scotland and Germany. Keep in mind that there is a fairly steep hill and lots of stairs. I recommend avoiding this path and continuing on to France.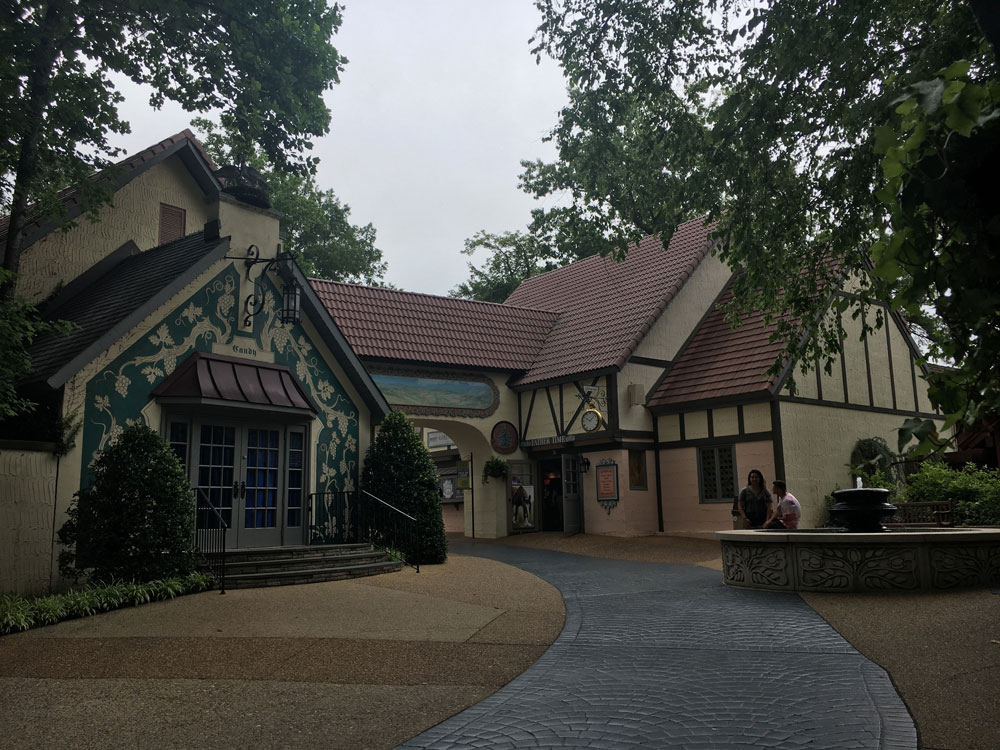 Next you'll come to New France which is themed to feel like Canada during the time when Trappers were exploring the area. Of course this is where you can find a log flume ride and dine at Trapper's Smokehouse. Music in New France is often from Canadian performers like Gordon Lightfoot.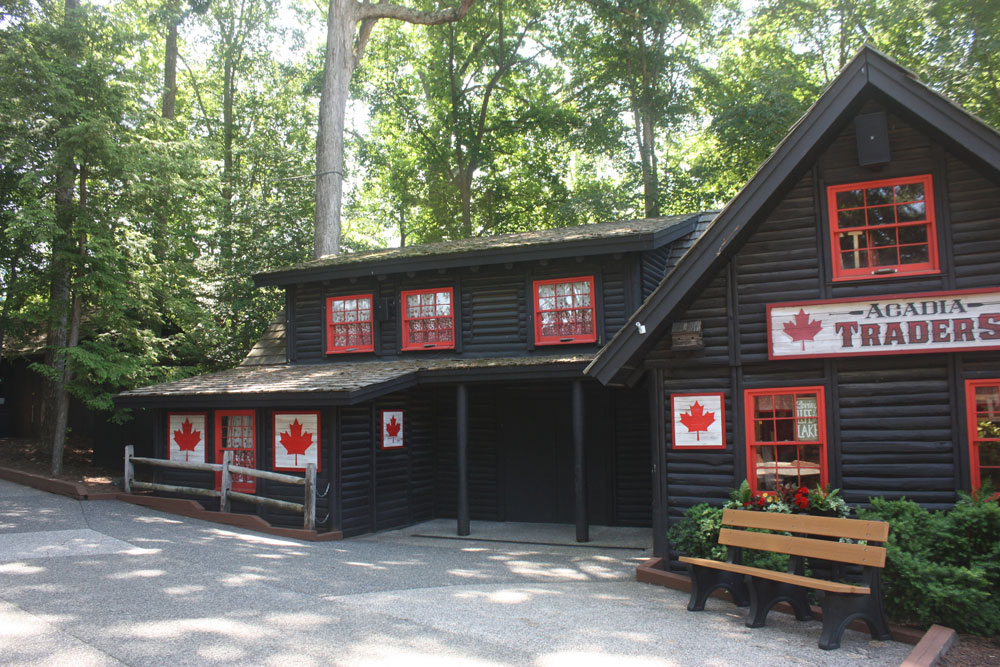 Your final country is France where you'll find the village of Aquitaine along with its shops, rides and restaurants. Music here will be a mix of classic and contemporary French songs including Fantasie D'amour.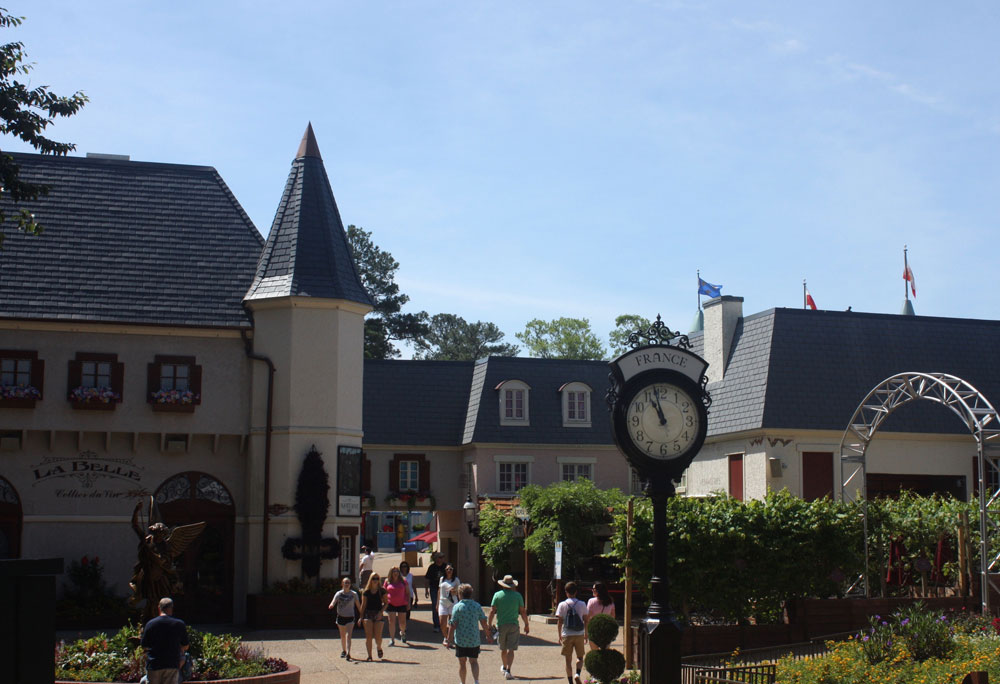 Before you know it, you'll have had a great walk, working toward your 10,000 steps a day. But, there are other ways to get around the park. When you need a break from walking, consider riding on one of the steam engines that circle the park. There are three trains, the Alpen Express, Balmoral Castle, and Der Hochbeinige and there are three train stops; Scotland, Italy, and New France. Riding the train is relaxing and provides some great views of the park. You can get off at any station or stay on the train for the full 20 minute ride.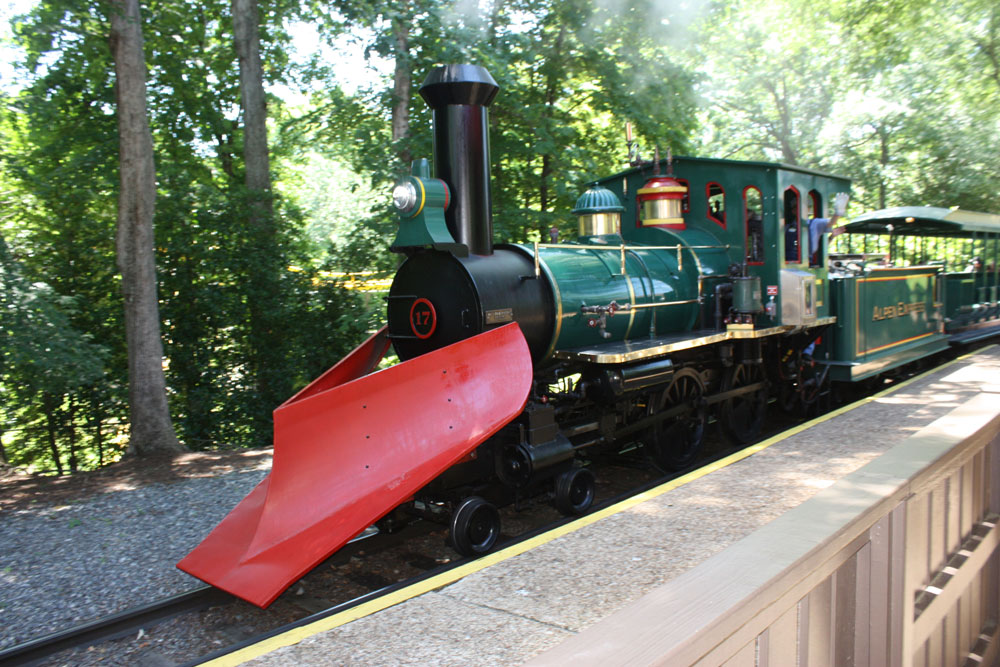 Another way to get around is by riding the sky ride. There are three sky ride stations; In Sesame Street Forest of Fun, in Germany next to the Land of Dragons, and in France. You can take a one-way ride from one land to another. However, you have to exit after each one-way segment. To make the full circle, you would need to board again at each stop.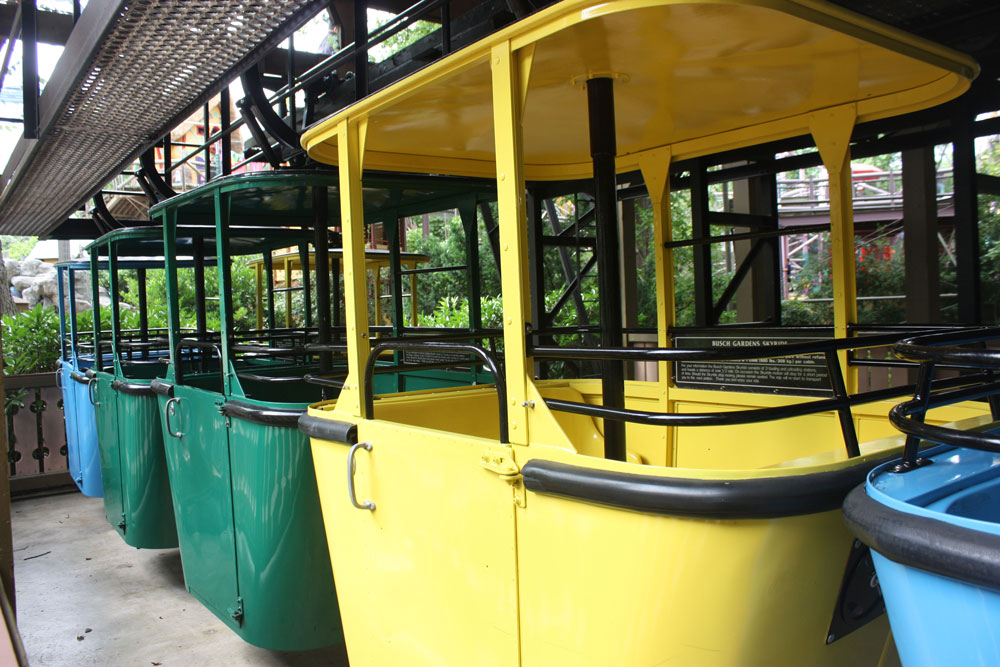 Visiting Busch Gardens Williamsburg With Children
Visiting Busch Gardens Williamsburg with children can be a lot of fun. Many of the rides are perfect for the younger riders who are 36-56 inches tall. There are two large sections of the park designed just for kids.
The Sesame Street Forest of Fun near England has several rides and also a photo opportunity to get your picture taken with Sesame Street characters like Elmo or Grover. Kids can ride junior versions of thrill rides like the Grover's Alpine Express roller coaster or the Elmo's Spire free fall tower.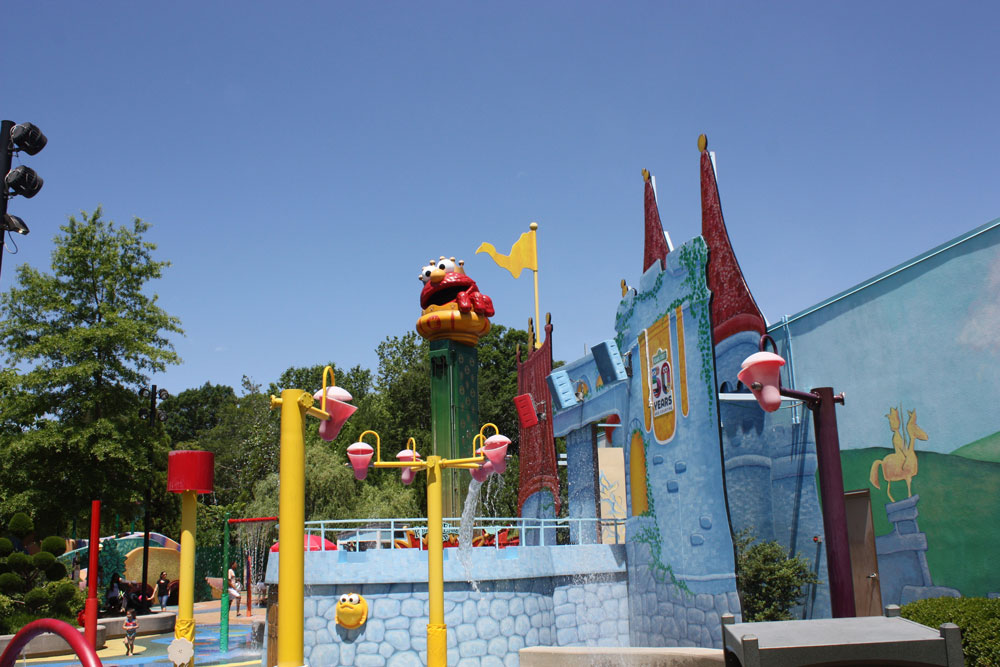 In Germany, there is the Land of the Dragons where kids can ride on flying dragons or on a ride with ladybug cars. There is also a large climbing tower with rope bridges. Next to Land of the Dragons is a beautiful carousel. In other parts of Germany, kids can ride an airplane ride, junior bumper cars, or a swing ride.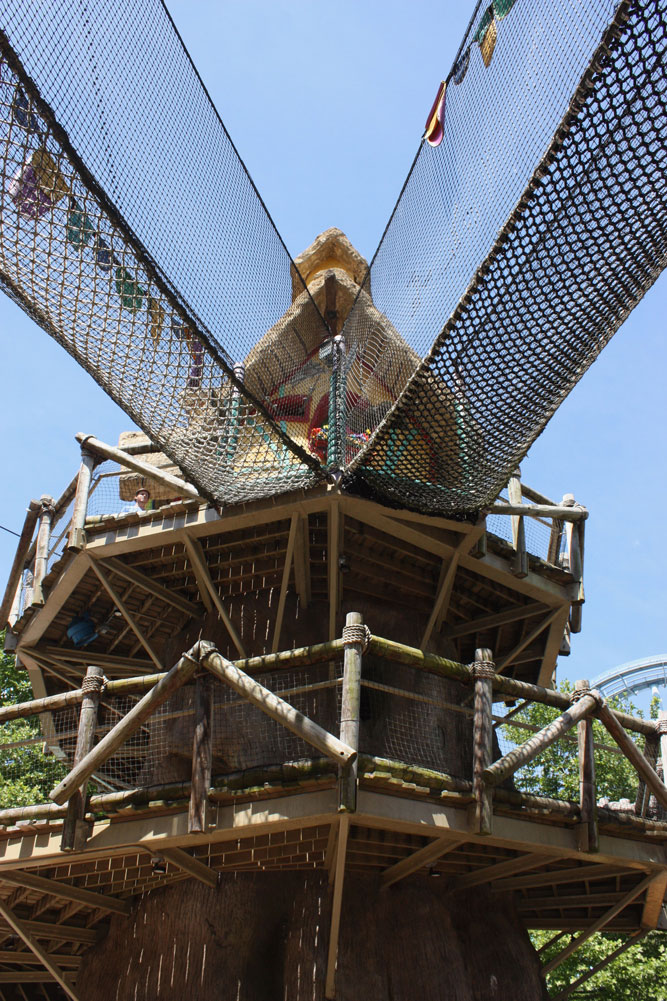 There are many other rides available throughout the park for kids. In Scotland, kids can ride the Li'l Clydes horse ride. In Italy, there are the Little Balloons and Little Gliders rides.
Many of the children's rides at Busch Gardens Williamsburg are just for kids. However, on some of the rides, an older sibling or parent can also ride.
Many attractions are fun for the whole family. Be sure to check out the animal sanctuaries and Pet Shenanigans show in Ireland. Children will also enjoy some of the animal attractions like the aviary or Pet Shenanigans show. Everyone will also likely enjoy riding the train. The skyride entrances are conveniently located right next to Sesame Forest and The Land of the Dragons.
There are some things your kids will likely want at Busch Gardens. A frequent request is for face painting. There are some great designs available and kids seem to really enjoy having their face painted.
There are fun t-shirts, hats, and stuffed animals in the gift shops. Another popular request is for Dippin Dots ice cream.
While there can be a lot of walking involved for younger children, with a little planning, a visit to Busch Gardens Williamsburg with children can be a great day.
Busch Gardens Williamsburg Rides
If roller coasters and thrill rides are what you are looking for, Busch Gardens Williamsburg has a lot to offer. There are eight roller coasters. The iconic coaster is the Loch Ness Monster. Its been a signature ride since it was added in 1978. Other coasters range from moderate like Invadr and Verbolten to high thrill coasters like the floorless Griffon coaster with a 205 foot drop or Apollo's Chariot with a 210 foot drop.
Ride along on the Busch Gardens Williamsburg Roller Coasters YouTube video. We also have a roller coaster post that shares ride highlights.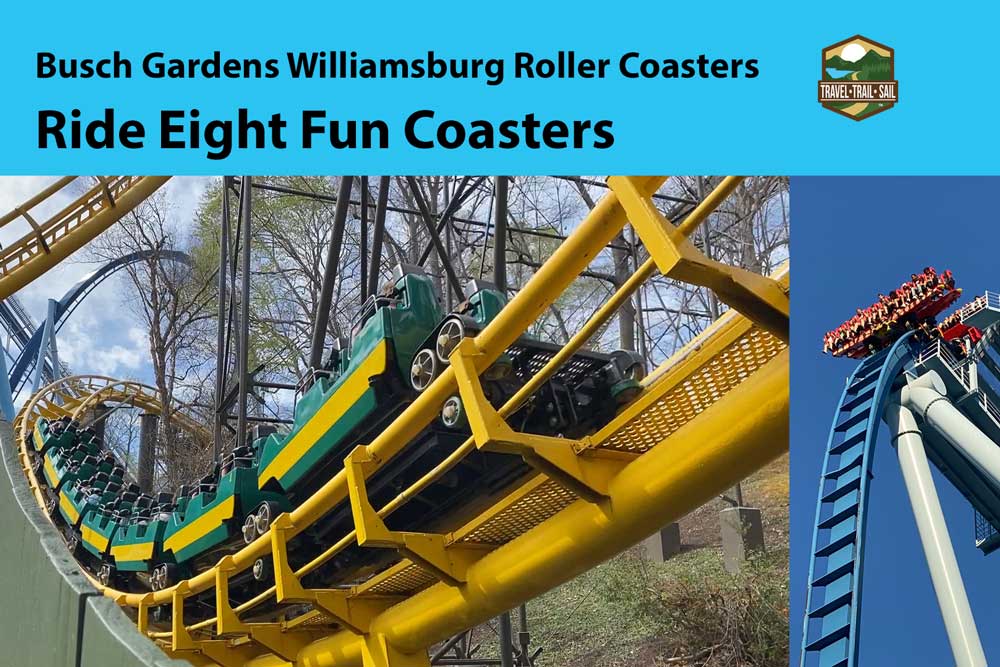 The newest thrill ride is DarKoaster. It's a straddle roller coaster built inside a castle that opened in May 2023.
There are plenty of non-coaster rides, too. For example, you can swing high on Finnegan's Flyer.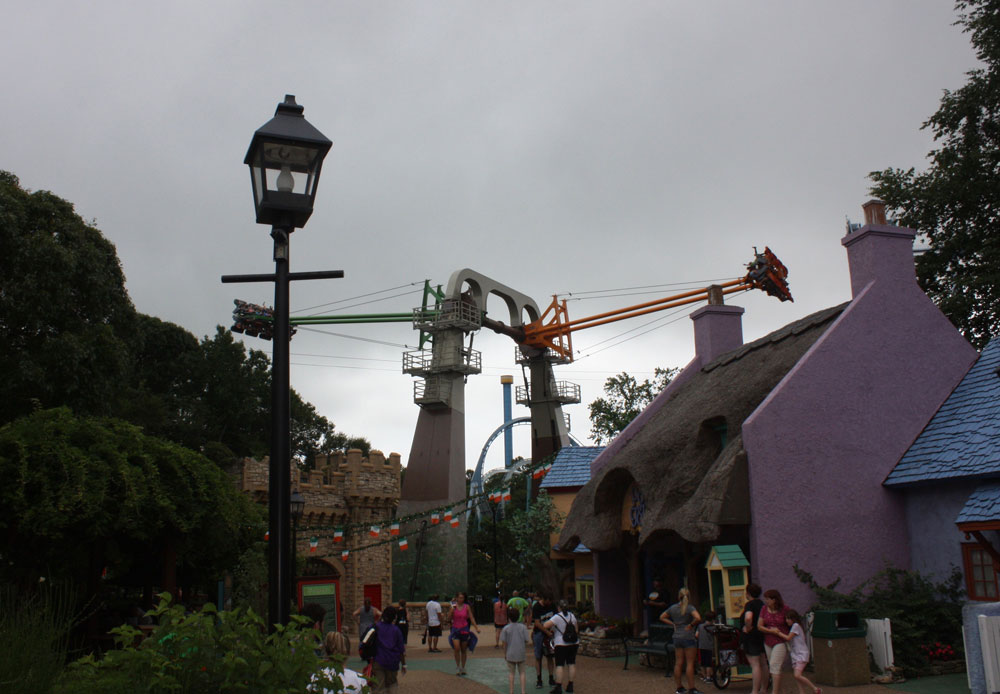 Of course there are spinning rides. There is a high swing ride, Der Wirbelwind, that tilts in addition to spinning – sure to make you dizzy. Turkish Delight is a tea-cup style spinning ride. Le Catapult gives a good spin while The Flying Machine also adds a twist.
Virginia can get hot in the summer. Many like to cool off with a water ride. In France, Le Scoot is a traditional log flume ride. In Italy, you can Escape From Pompeii. Its a flume ride with an ancient ruin theme. Roman Rapids is a white water rafting ride where you are guaranteed to get soaked.
If you plan to ride any of the water rides, you may want to bring along a change of clothes and wear water shoes. Lockers are available for rent to keep things dry. Lockers are available at multiple locations throughout the park. Note that locker pricing varies by location and can be a bit confusing. At one locations, it was $2 for the first hour and $1 for each additional hour. For $8 you could get all day use of lockers at multiple locations. However, at another location, a standard size locker was $15 for the day.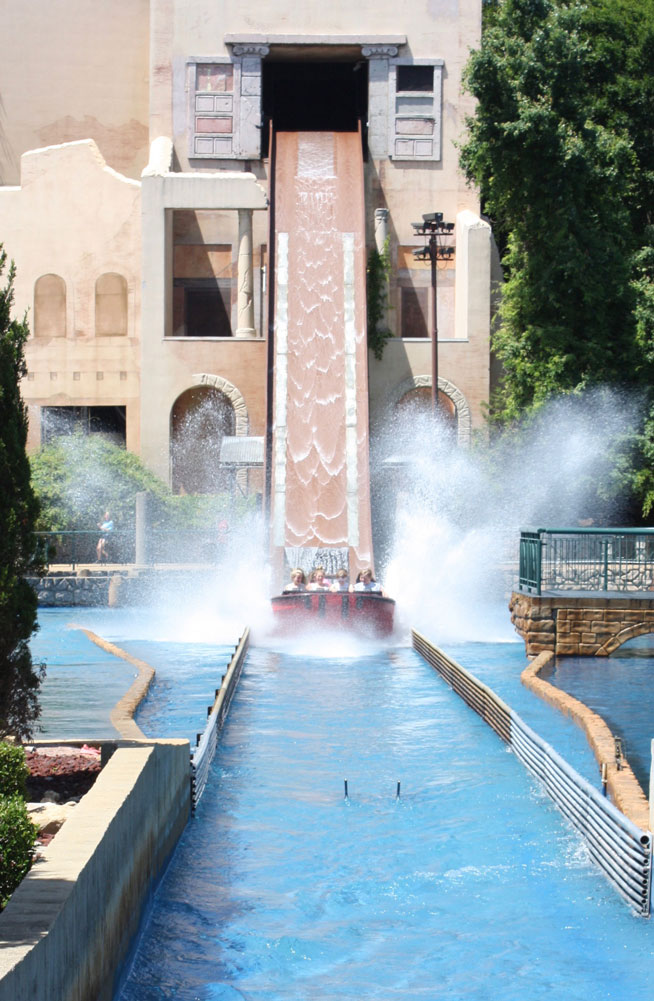 Animals at Busch Gardens Williamsburg
As you start your walk around Busch Gardens, check out the animal attractions in Scotland and Ireland. In Scotland, you'll find the Highland Stables, home to some beautiful Clydesdale horses. In the pasture behind the stables, you can often find sheep grazing. You can find a pair of Highland Scottish Cattle with their shaggy coat and long horns grazing in another pasture.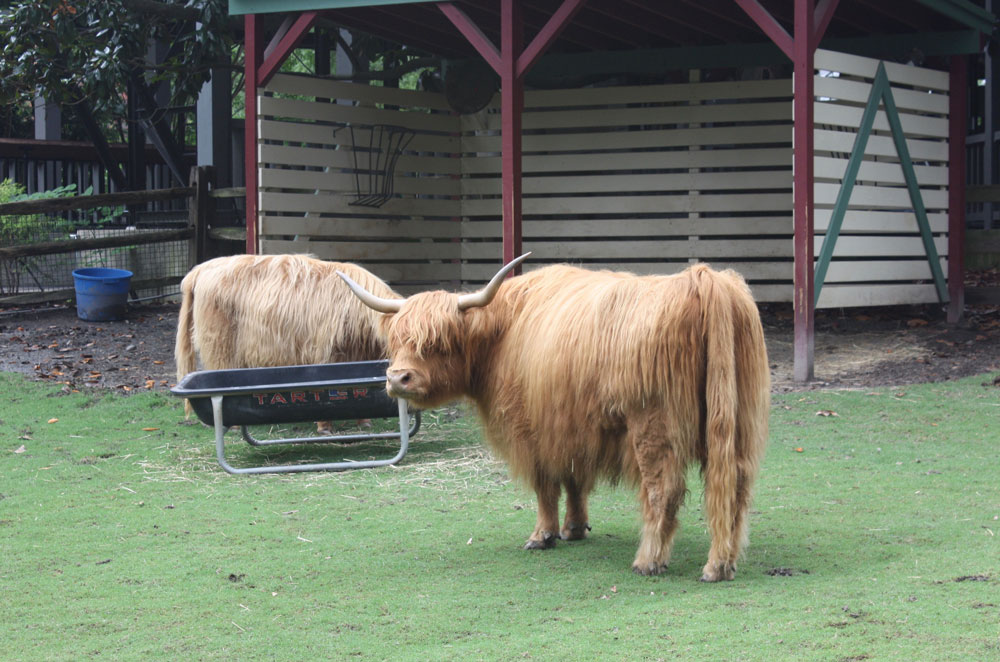 In Ireland, there is a bald eagle sanctuary Eagle Ridge. Eagles that have been injured and cannot live in the wild stay in the sanctuary. You can get a close up look at these amazing birds.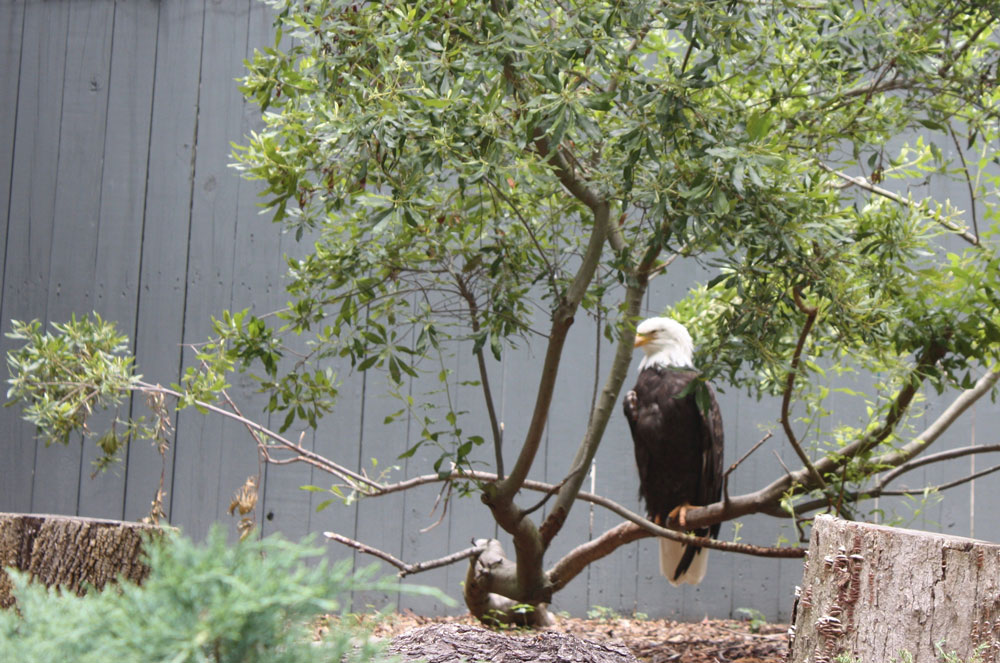 If you are lucky, you might also see wolves in Wolf Haven. The brother and sister pair of wolves were taken in here when they were young and couldn't live in the wild. They tend to be pretty shy but I have had the chance to see them up close a few times. At Wolf Haven, there is also an educational show available, Howl to Coexist with information on wolves, fox, owls, and hawks.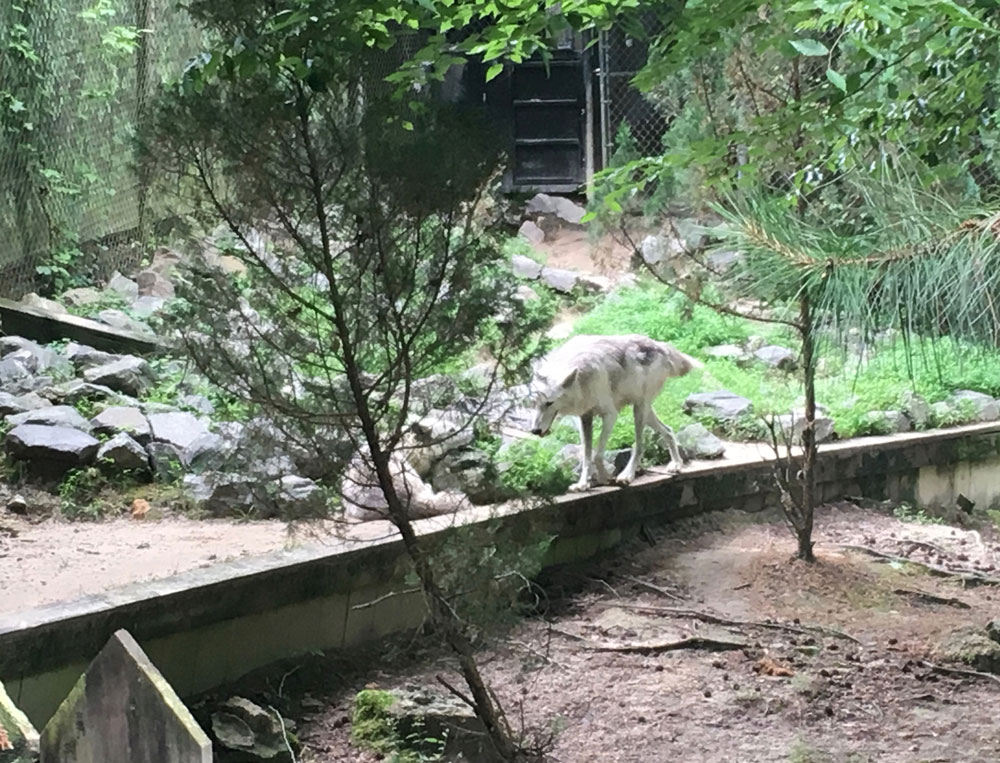 Also in Ireland is Lorikeet Glen, an aviary where you can see a variety of colorful birds. You can enter the aviary and see the birds up close. If you want a better chance for the birds to land on your arm, they sell a small cup of nectar for $5 which the birds seem to love.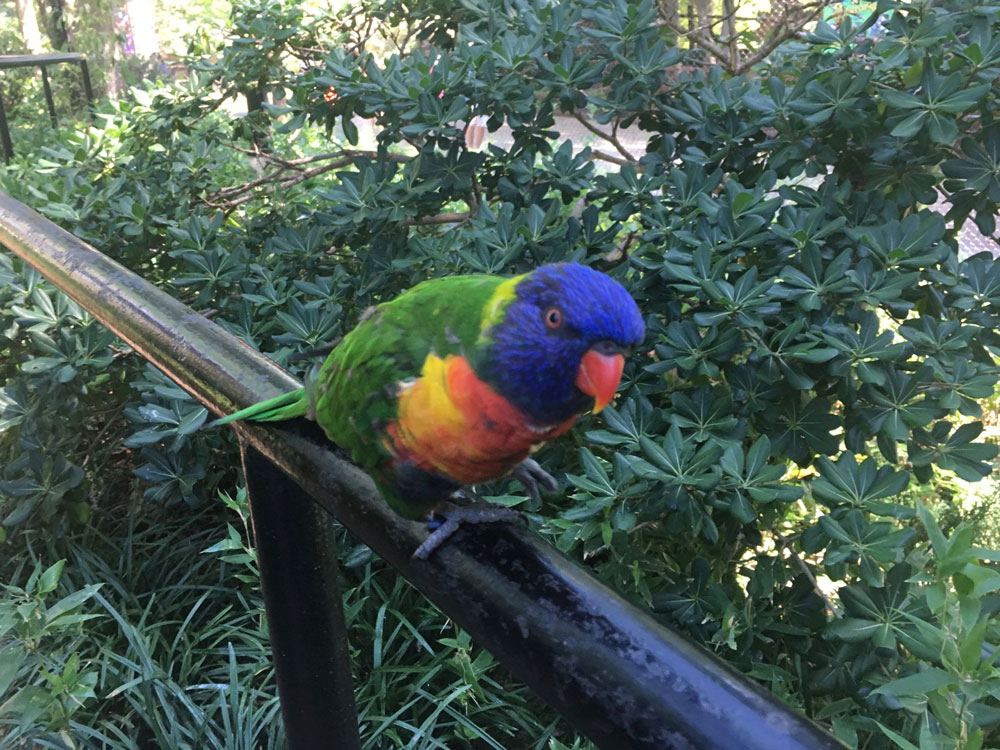 Pet Shenanigans is a trained animal show with dogs, cats, birds, and a pig doing a variety of tricks.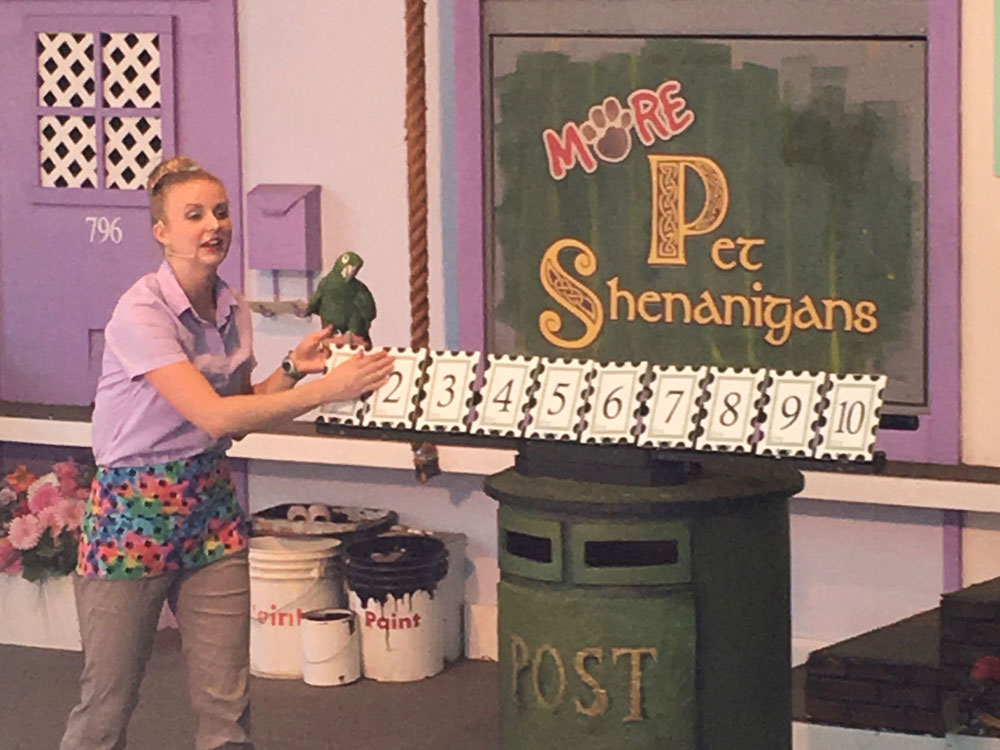 Busch Gardens Williamsburg Shows
There are several good shows at Busch Gardens. In Ireland, Celtic Fyre tells a great story through Irish dancing and music. In Octoberfest, the show features traditional German songs and dances. The crowd gets a chance to join in for the Chicken Dance.
Busch Gardens Seasonal Events
Busch Gardens Williamsburg offers different events throughout the year. The park is decorated for the season and special shows and concerts are included.
There are special food, beer, and great concerts during Bier Fest.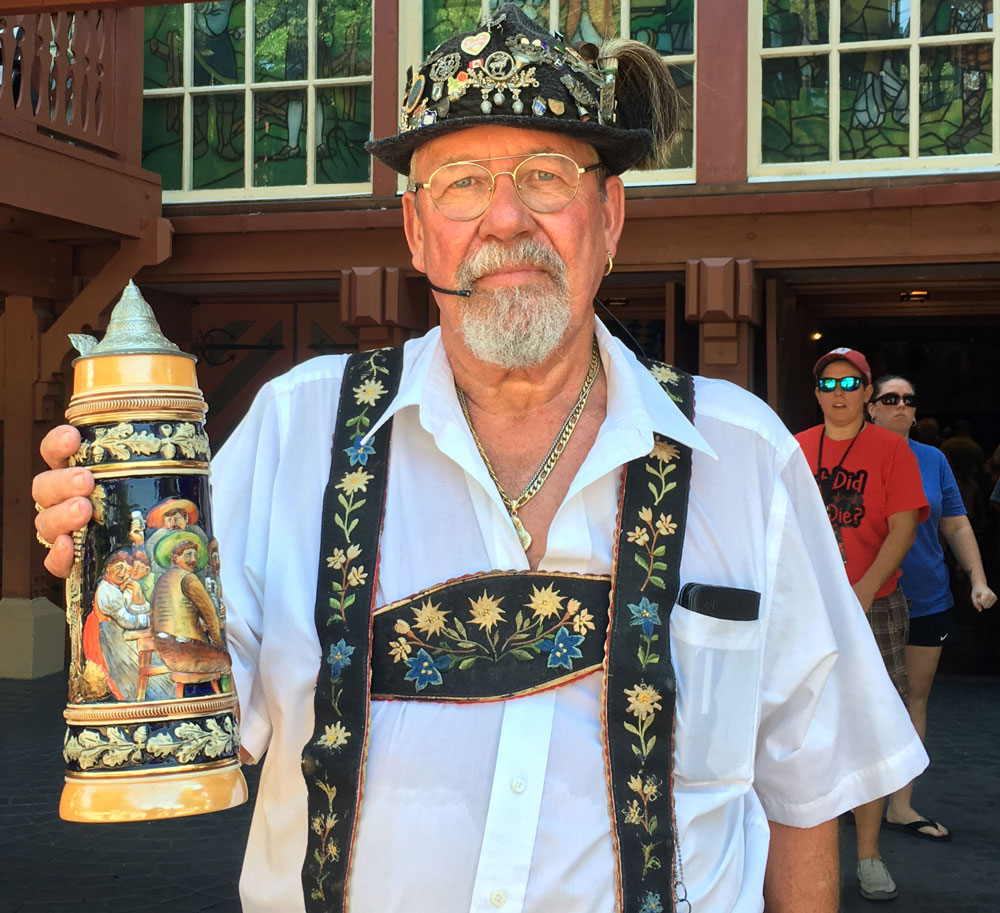 In the fall, Busch Gardens provides an interesting Halloween experience. Howl-O-Scream features great shows and street performers.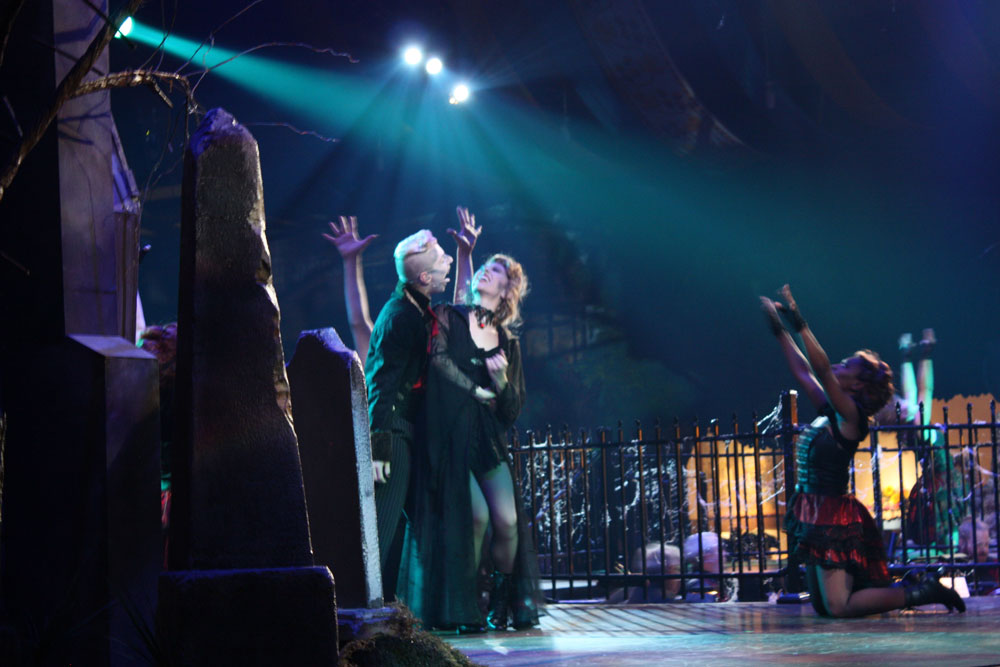 The shows performed during Christmas Town are among the best offerings at Busch Gardens.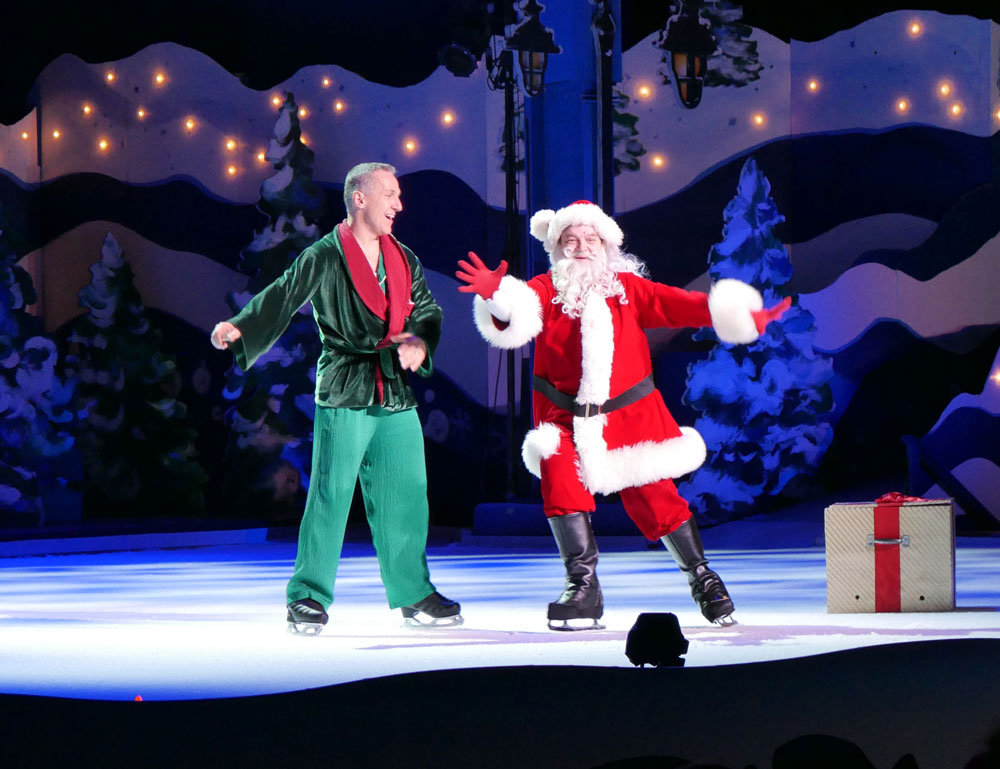 2023 Busch Gardens Williamsburg Special Events
For the latest event details, check the Busch Gardens Williamsburg site.
There is something interesting happening almost all year at Busch Gardens Williamsburg. Here is a list of key events and dates happening at Busch Gardens in 2020.
Busch Gardens Mardi Gras: Weekends, January 27 through February 26
Food & Wine Festival: Thursdays, Fridays, Saturdays, and Sundays April 27 – June 11
Guy Harvey Weekend: Saturday & Sunday, June 23-24 and December 8-9
Bier Fest: Fridays through Sundays, August 18-September 4.
Summer Nights: Daily, June 16-August 13.
Howl-O-Scream: Select Dates, September through October 31
The Count's Spooktacular: Weekends, September 23 through October 29
Christmas Town: Select Dates, November 10, 2023 through January 7, 2024
Dining at Busch Gardens Williamsburg
Busch Gardens Williamsburg's food is pretty standard theme park food. You can get burgers, pizza, and chicken nuggets. To match the European countries theme, there are also some interesting themed dining options. In Ireland, O'Tators offers loaded baked potatoes and corned beef sandwiches. At Das Festhaus in Germany, you can find bratwurst and knackwurst along with sides like sauerkraut. One of our favorites is the Smokehouse, located in New France.
In Italy, Marco Polo's Marketplace offers spaghetti, pizza, panini sandwiches, and beef cannelloni.
There are no table service restaurants at Busch Gardens Williamsburg. Most of the dining options are cafeteria style and have outside seating. One exception is Das Festhaus. With air conditioned seating for hundreds of people, this is a great option for a break from the heat of summer in Virginia. As a bonus, you can enjoy the German Polka show while you eat. Note that there is also a bar within Das Festhaus. You can find over 20 beers on tap along with some interesting food options.
Excellent desserts can be found throughout the park including some amazing chocolate cake, funnel cakes, and several ice cream shops.
You can occasionally find food trucks, too. We have seen several trucks including one with shave ice and a seafood truck from the Scrimp Shack.
It will likely be hot during your visit to Busch Gardens Williamsburg. Consider getting one of the refillable mugs. There are two kinds of refillable mugs available. There is a cool gear insulated sipper style mug that holds 20 ounces. You can refill it with soda or a slushie for $1.99. The other option is not insulated but can be refilled for 99 cents throughout all of 2019. The two choices can be confusing so be sure to check the signs to ensure you know how much your refills will be. Another way to stay hydrated is with ice water. You can get a free cup at any place that sells fountain drinks – just ask.
If you think you will be hungry often, consider adding Busch Gardens All Day Dining. For one price, you can eat all day long. One plan offers an entree along with a side or dessert every 90 minutes. There is an option to add all day drinks to your dining plan. For details, I recommend visiting the Busch Gardens Williamsburg Dining web site.
In the Spring, there are additional dining options during the Busch Gardens Food & Wine Festival. As you stroll through the park, check out the international booths representing multiple states and countries. Each offers samples of food from their country. You might try pulled jerk chicken from Jamaica or Ropa Vieja from Cuba. Of course, they serve beer and wine pairings so you could have Huli Huli Chicken with a Kona Big Wave beer from the Hawaii booth. You can find more details in my review of the Busch Gardens Williamsburg Food and Wine Festival.
If you are looking to save money on food during your trip to Busch Gardens, consider doing a picnic. While you can't bring food into the parks, there are picnic tables provided in some of the parking lots. If you park in a preferred lot, you can walk to your car, have lunch, and easily get back into the fun more easily. The extra cost of preferred parking might be offset by the savings from choosing a picnic to replace one meal in the park.
Busch Gardens Williamsburg Tickets
There are several ticket options for Busch Gardens Williamsburg. Everyone three and older will need a ticket. You can buy a base park ticket. At the gate, the current price for a one-day ticket it 109.99. However, there are often sales where prices can be up to 50% off if you buy your ticket online. There is a kiosk at the park entrance where you can redeem your online tickets for the actual park ticket you'll use to enter Busch Gardens.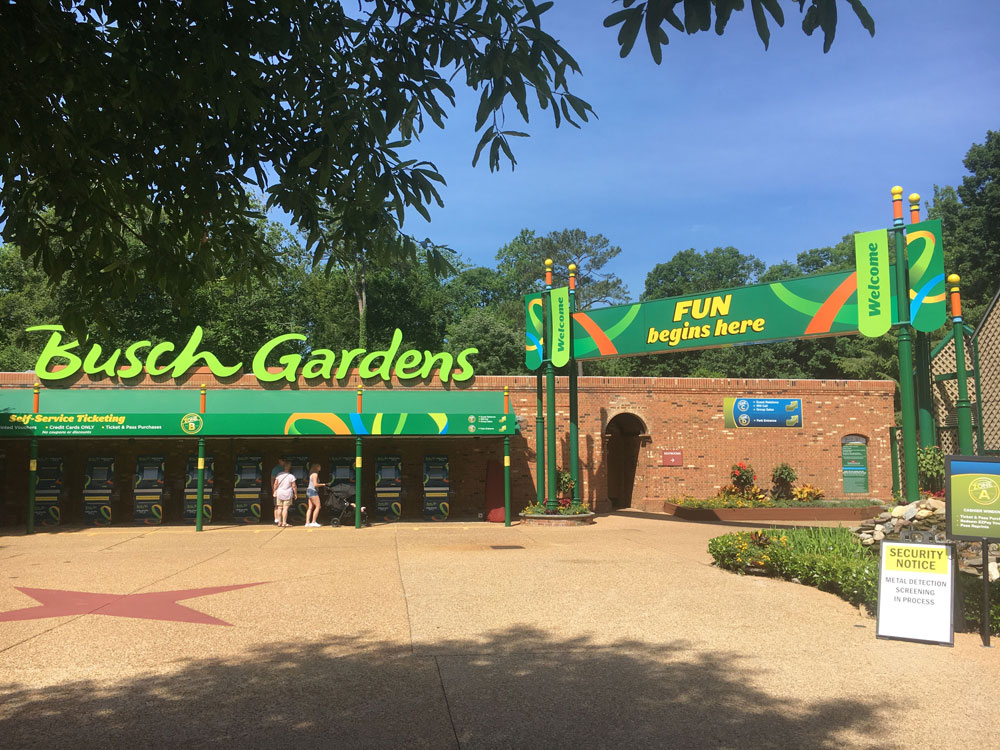 A great alternative to a one-day ticket is to get a Fun Card. For about the same price as a one-day pass, you can have unlimited visits to the park for several months. There is also an option to add unlimited visits to Water Country. Note that the Fun Card is a great option but it does not include parking.
If you are planning a visit to Williamsburg and will also be spending time in some of the other great attractions in the area, consider a multi-attraction ticket like the Summer Bounce Ticket where you get access to Busch Gardens and Colonial Williamsburg for seven consecutive days for $168.23.
If you have the option to return at different times of the year to enjoy special events like Howl-O-Scream or Christmas Town, I recommend getting a membership. For a monthly fee as low as $15, you get access to one or more parks, discounted or free parking, a discount on dining, and access to seasonal events. You can choose membership for just Busch Gardens Williamsburg, Busch plus Water Country, or get the Platinum Membership with access for eleven theme parks including Sesame Place in Pennsylvania, and SeaWorld parks in Florida, Texas, and California. 
Busch Gardens is Cashless
Starting May 11, 2023, Busch Gardens will no longer accept cash. You'll need to be prepared to pay with a credit card, debit card, or mobile payment method. If you bring cash and don't have a card, they have cash-to-card kiosks where you can get a VISA prepaid debit card.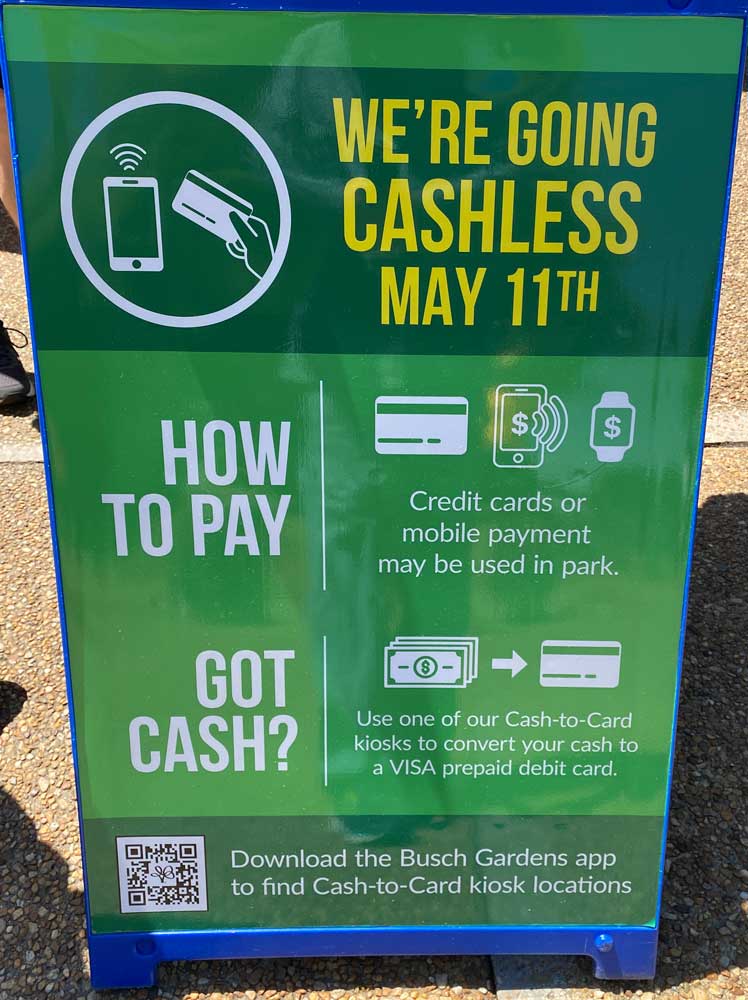 To be prepared, consider getting a reloadable debit card or a similar card from your bank or credit union. If you have young people in your family visiting the parks, this might be a great time to ensure they have a bank account and secure card of their own.
Busch Gardens Williamsburg Parking
There are multiple parking lots. Each are identified by a country name such as England, France, Italy and Ireland. There are two lots where you can walk from the parking lot to the park, avoiding the need to ride a tram. If you come very early on a slow day, you might get to park in a preferred lot for free. However, this is usually a paid upgrade. General parking for one day is $30.00. Preferred parking is $40.00. If you are planning to do a picnic lunch, consider opting for preferred parking.
From general parking, you will walk to a tram station. Trams run frequently between parking and the park entrance. Pay attention to which country named parking lot you are in and your row number. That will make things much easier at the end of the day when you are looking for your car.
Access from Interstate 64 is easy. Note that on a busy day like July 4, there will be a lot of traffic headed to Busch Gardens. On those days, you can expect to wait in a long line of cars paying for parking. While lines move pretty fast on most days, on the busiest days, you might need to wait in traffic an additional 30 minutes.
On the busiest days, you might have to park in one of the overflow parking lots. These are available via tram but take a little longer to reach as they have to cross a busy road. Most days, parking in overflow will add 15-30 minutes to your travel time. The longest we have waited for a tram was an hour but that was a very unusual situation as Route 60 was closed so that a presidential motorcade could pass.
If you are visiting Busch Gardens Williamsburg in your RV, parking is a bit more expensive. All RVs are parked in the England parking lot which is a preferred lot with easy access to the park.
If you are traveling with pets, there is a kennel next to the England parking lot. It provides an air conditioned place for your pets to spend the day. Remember, Virginia gets very hot in the summer so your pets will appreciate staying cool. There is a $10 per day charge for using the kennel.
Campgrounds Near Busch Gardens Williamsburg
If you are visiting Busch Gardens Williamsburg in your RV, there are some great nearby camping options. The following are three of the better options.
American Heritage RV Park
American Heritage is a highly rated Good Sam campground (9.5/10/10) that is approximately 15 miles from Busch Gardens. There are 105 sites. Pull through sites with 50 AMP service are available.
Newport News Park
At over 8,000 acres, Newport News Park is among the nations largest municipal parks. It is located about 8 miles from Busch Gardens. The Newport News Park Campground offers 188 campsites in a wooded setting. At $36.00 per night for a water & electric site, this is definitely a good value option for the area. In addition to a great natural campground setting, you have access to hiking and biking trails, a nature center, an archery range, and canoeing & fishing on Lee Hall Reservoir.
Williamsburg KOA
Williamsburg/Busch Gardens Area KOA is located approximately 12 miles from Busch Gardens Williamsburg. the Williamsburg KOA has 370 sites divided into two sections. There is a lot to do at this KOA including a nice heated swimming pool, bounce pillows, and plenty of planned activities. Pull through sites with 50 AMP service are available.
Other Nearby Attractions
Busch Gardens Williamsburg is one of our picks for the Top 7 Must do Williamsburg VA Area Attractions. Check out our list of fun things to do from historical sites, craft breweries and outdoor adventure.
Copyright 2019, 2020, & 2023 Travel Trail Sail. All Rights Reserved.