The Williamsburg Campground, formerly The Williamsburg KOA, is a great camping option for your visit to Williamsburg VA. Our Williamsburg Campground review has all you need to know about this nice campground.
Williamsburg Campground Overview
June 18, 2019. Updated September 7, 2020 & October 19, 2022.
The Williamsburg Campground, formerly known as the Williamsburg KOA, is a great home base from which to explore the Williamsburg VA area. Its about 6 miles from the Williamsburg Campground to Colonial Williamsburg, about 12 miles to Busch Gardens Williamsburg, and about 14 miles to Jamestown. It is easy to reach from Interstate 64. While there are several good campgrounds near Williamsburg VA, this is one of my favorites.
There is so much to do at the Williamsburg Campground that you might find that you just want to spend time having fun at the campground. There are plenty of outdoor activities including a heated pool, bouncing pillows, a playground, and cornhole boards. Every weekend in the summer, there are a variety of planned activities. 
The campground has 370 sites. However, it doesn't feel overwhelming as the KOA Williamsburg is really two separate campgrounds. There is a family area with 200 sites and a quiet area with another 170 sites.
If you don't have an RV, don't worry. The Williamsburg Campground also rents cabins. These are a great option if you want to check out what campground, or should I say Kampground, life is all about. 
The Williamsburg Campground used to be a KOA and was designated as KOA Holiday. That is the middle of three designations: Journey, Holiday, and Resort. A KOA Holiday will have at least some sites with a brick patio, some deluxe cabins, and group meeting facilities. KOA Holiday campgrounds are geared toward staying a few days end enjoying the campground rather than having just an overnight stop. While the Williamsburg KOA is a holiday campground, with the nice pool area and plenty of activities, it had the feel of a camping resort.  
If you prefer a quieter campground experience without all of the family-oriented activities, you might consider reserving a site on the quiet side of the Williamsburg KOA or selecting one of the other area campgrounds like the American Heritage RV Park.
Williamsburg Campground Walking Tour
We take a walk through in our Williamsburg KOA Walking Tour YouTube video to show you it's sites and amenities.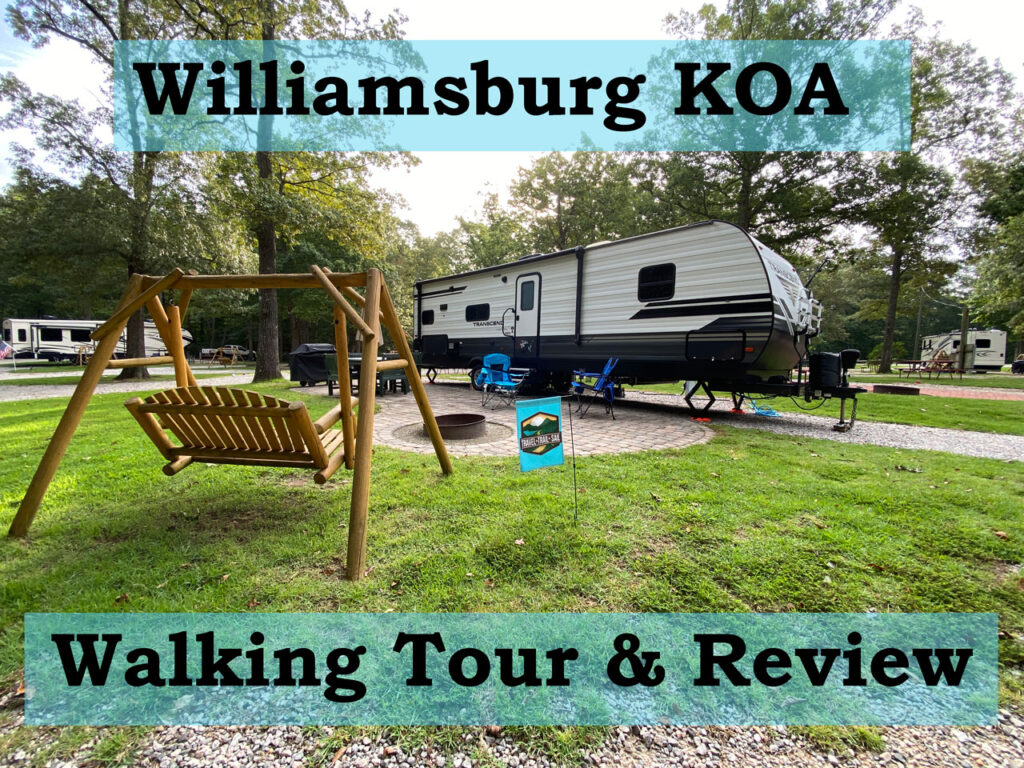 Williamsburg Campground Activities
You'll find plenty to do at the Williamsburg Campground. In the center of the campground is a nice pool. In addition to the L-shaped heated pool, there is also a kiddie pool and a splash pad. Nice seating is provided including loungers and a few tables with umbrellas.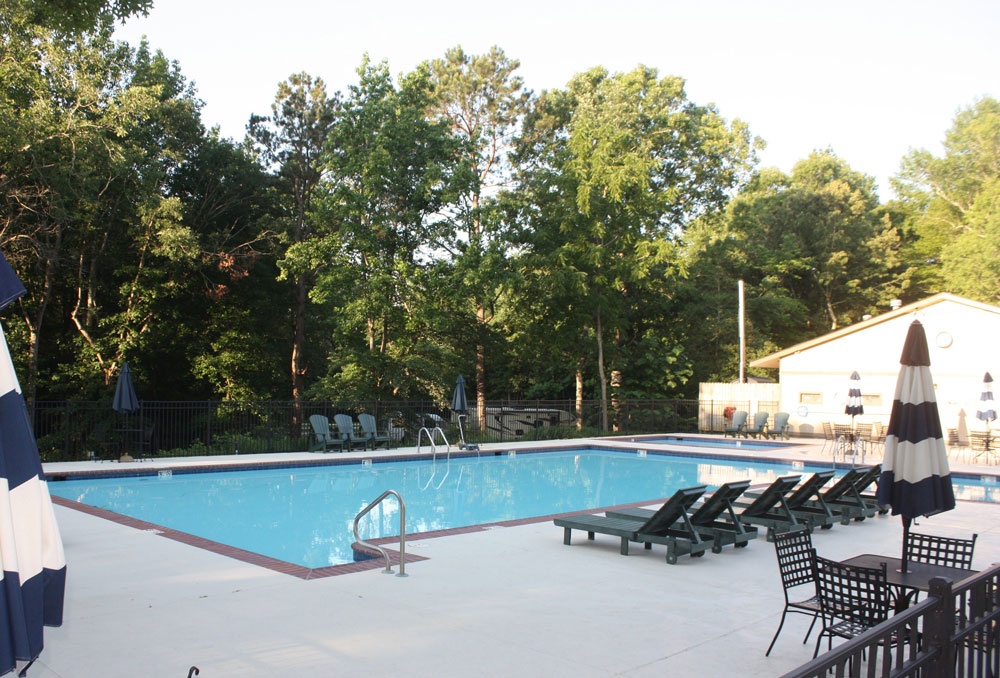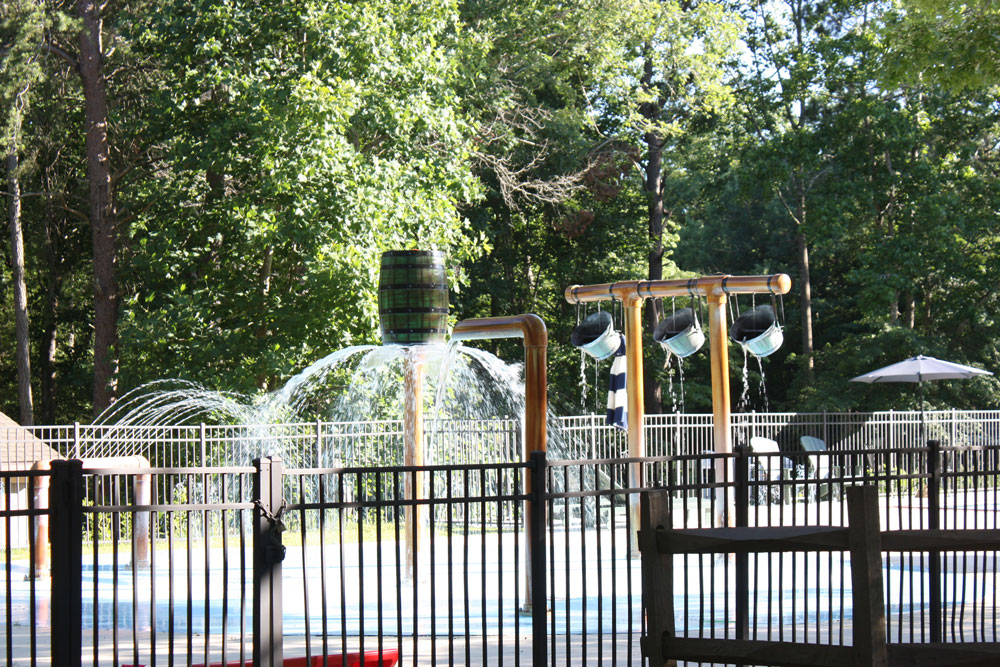 Next to the pool is a grassy area with a cornhole board and ping-pong table.
Adjacent to the pool is a building with several features. There is an ice cream shop serving scoops of eight different flavors Hershey's ice cream including Moose Tracks and Cotton Candy along with favorites like vanilla, chocolate, and strawberry. The ice cream shop is open for only a few hours per day. You can get one scoop for $3.50 or two scoops for $4.50. The portions seemed generous.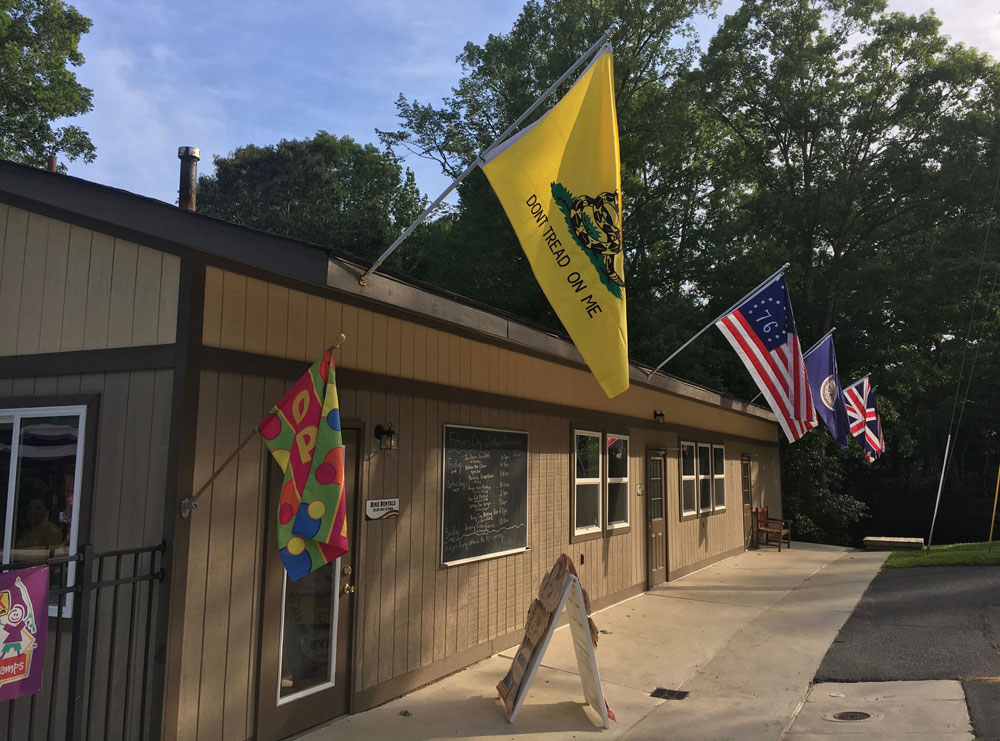 In the middle of the building is an activity room. There are tables set up for playing games or other activities. This would be a great place to hang out on a rainy day. During our visit, Bubbles the Clown was outside the activity room making balloon animals. On Saturday Morning, there was a pancake breakfast with the proceeds going to charity.
Recumbent tricycles can be rented for $5 per 30 minutes.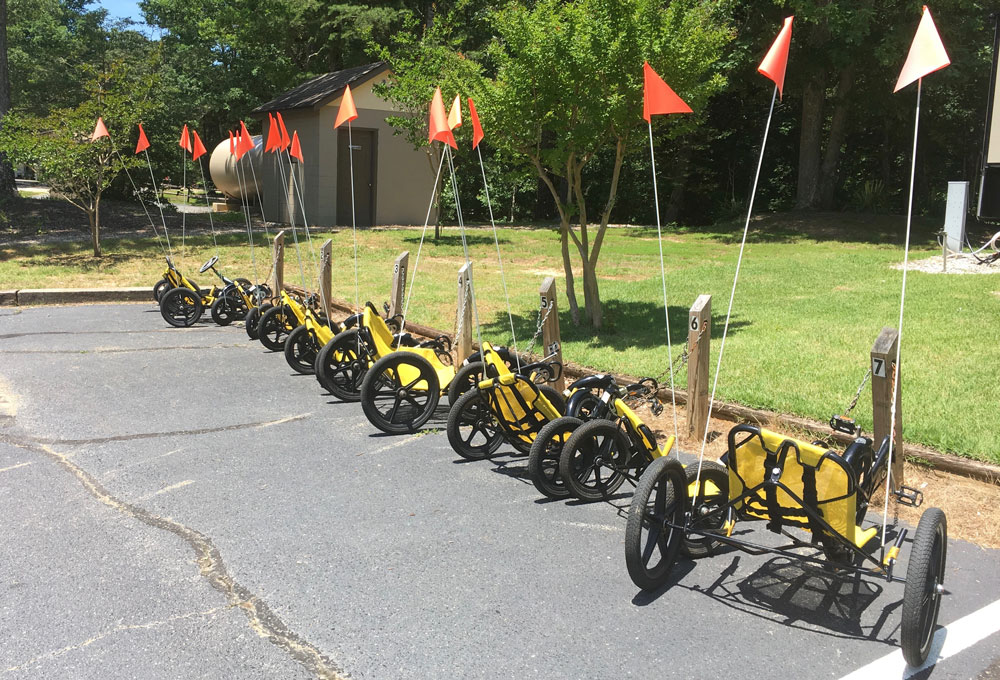 At the end of the campground is a large grassy field. This would be a great place to play a game. During our weekend stay, the Teeny Tiny Farm traveling petting zoo set up in the field for a visit. The animals seemed friendly and it was fun to check out the sheep, goats, llama, cow, and pig.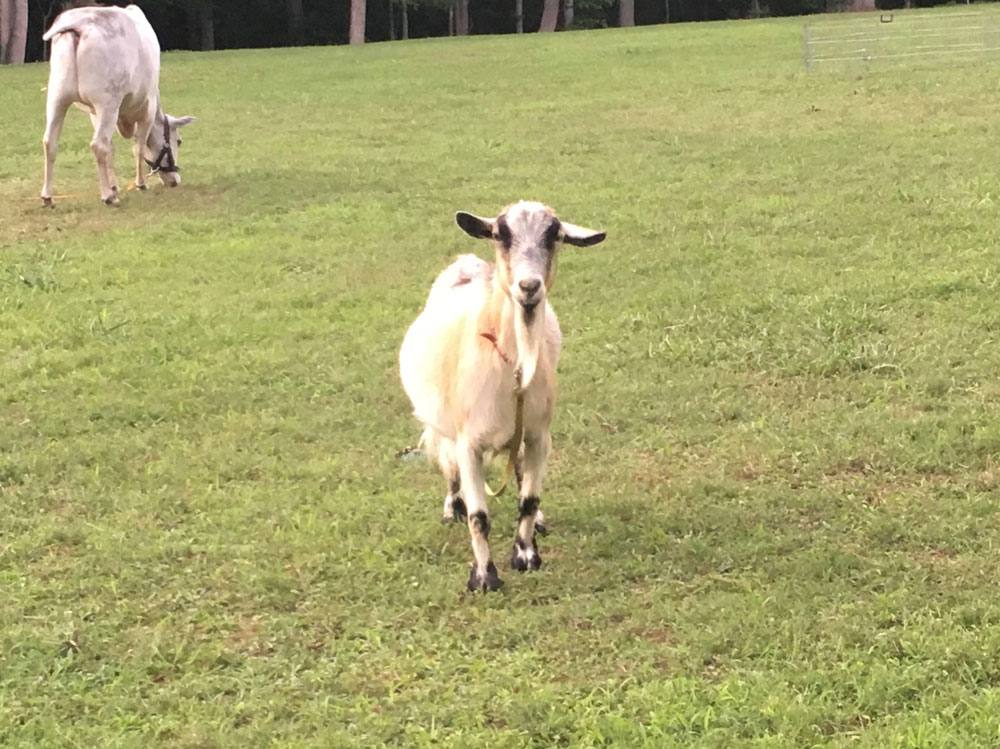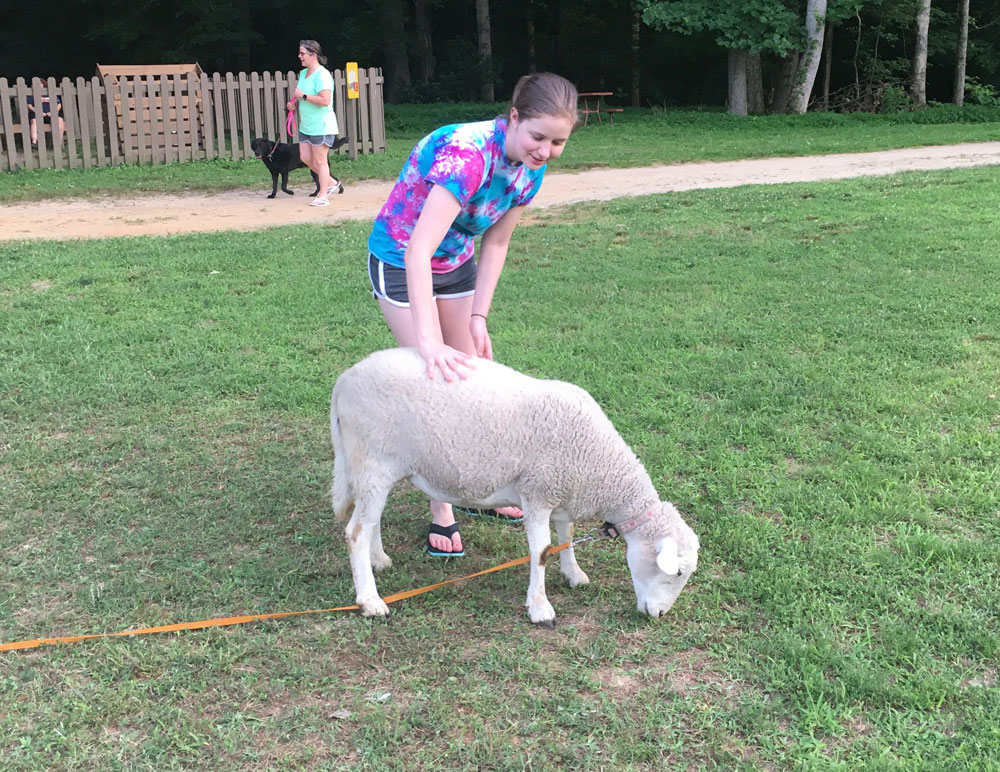 One one side of the field is the entrance to a short half mile hiking trail. A staff member mentioned that if you take the trail, you might see one of the four eagles that live here.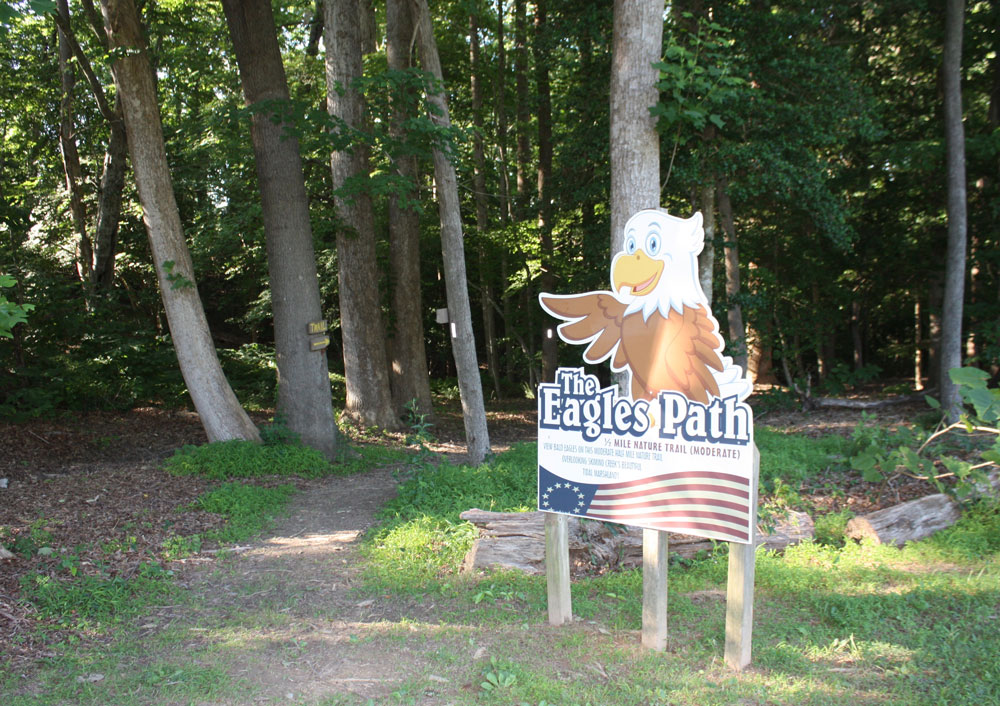 On the same side of the field, there is also a frisbee golf course.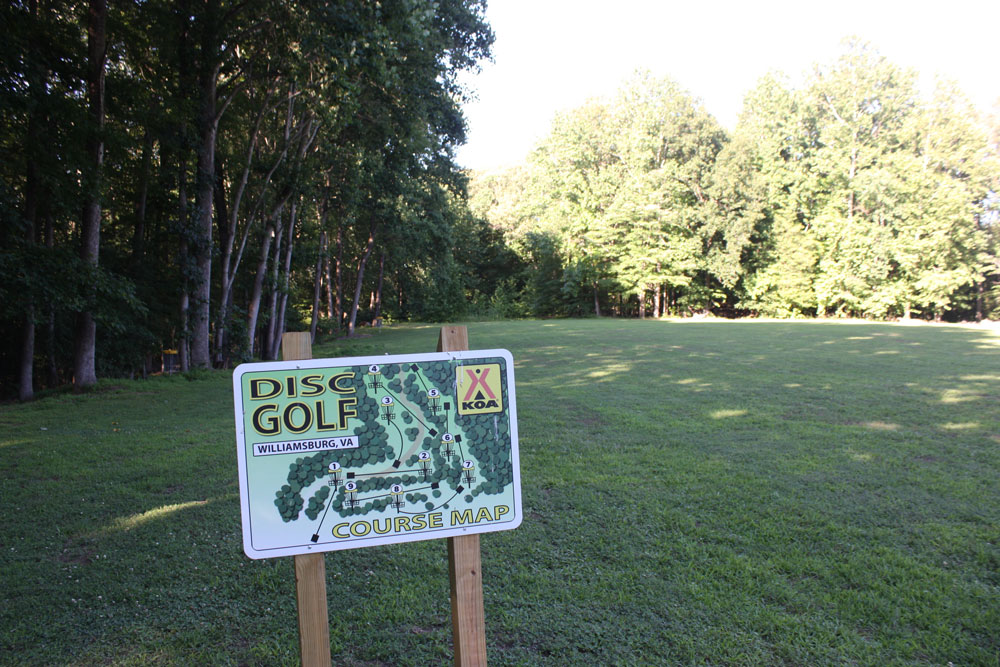 Near the field, there is a community building with inside and outside seating. This looked like a great place to have a family reunion or a similar gathering. Outside the community building is a basketball hoop, two additional cornhole boards, and an activity called GaGa Ball.
Toward the front of the campground is a playground. There are two jumping pillows, one designated for younger jumpers. There is a nice playground set and a Gravity Rail. The Gravity Rail looked really fun – kind of like a zipline that lets kids under 12 soar through the air.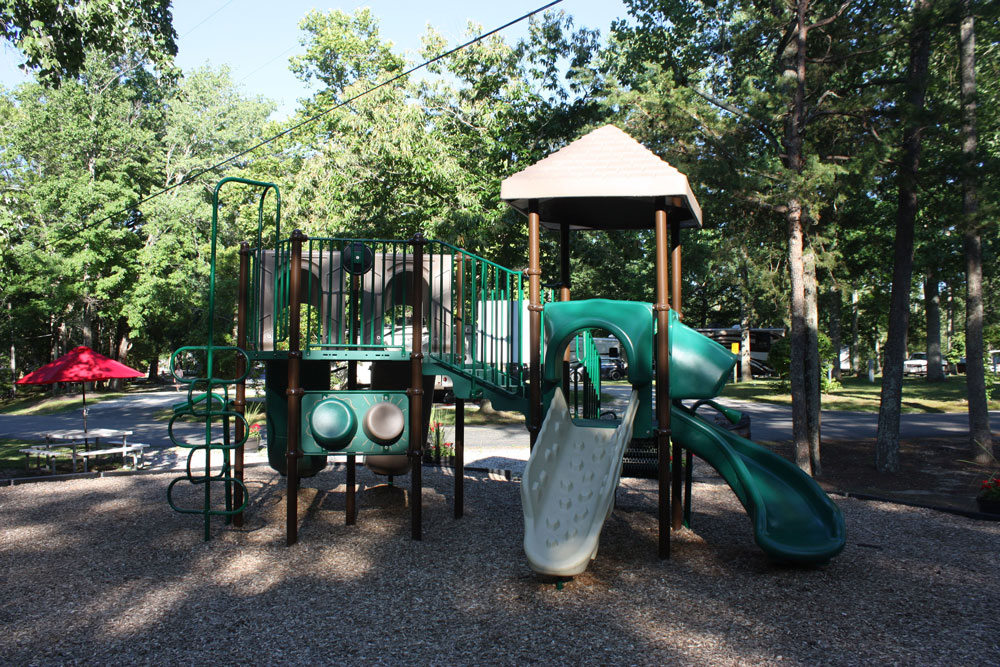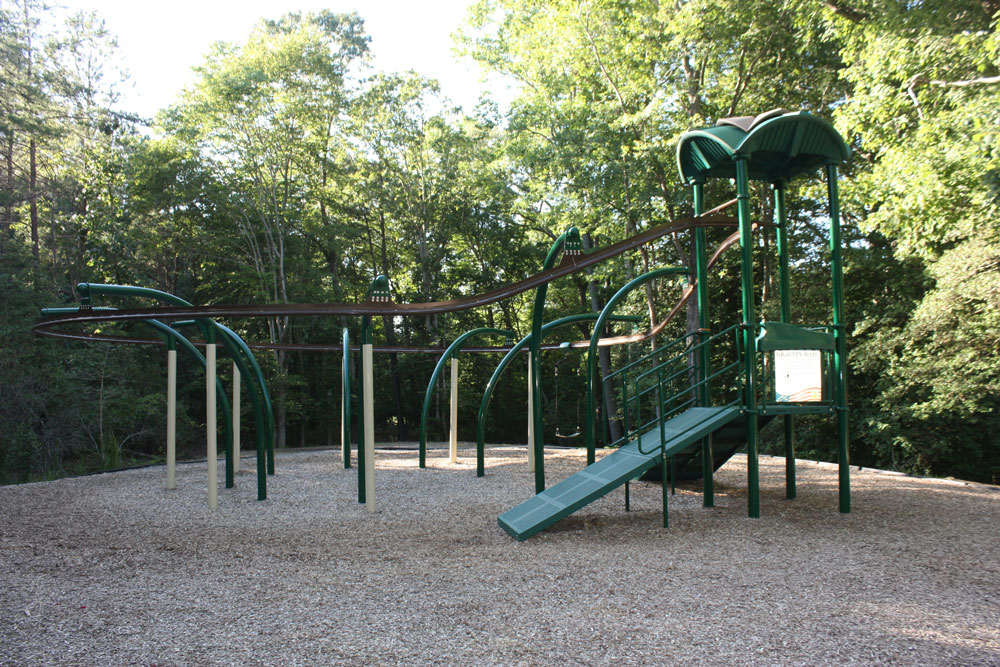 The gift shop at the Williamsburg Campground was nice, better than the average campground gift shop. In addition to the usual necessities, they sold some unique RV gear and some nice t-shirts and pajamas. In front of the gift shop, you might try gem mining to see if you can get an interesting gem stone or arrowhead.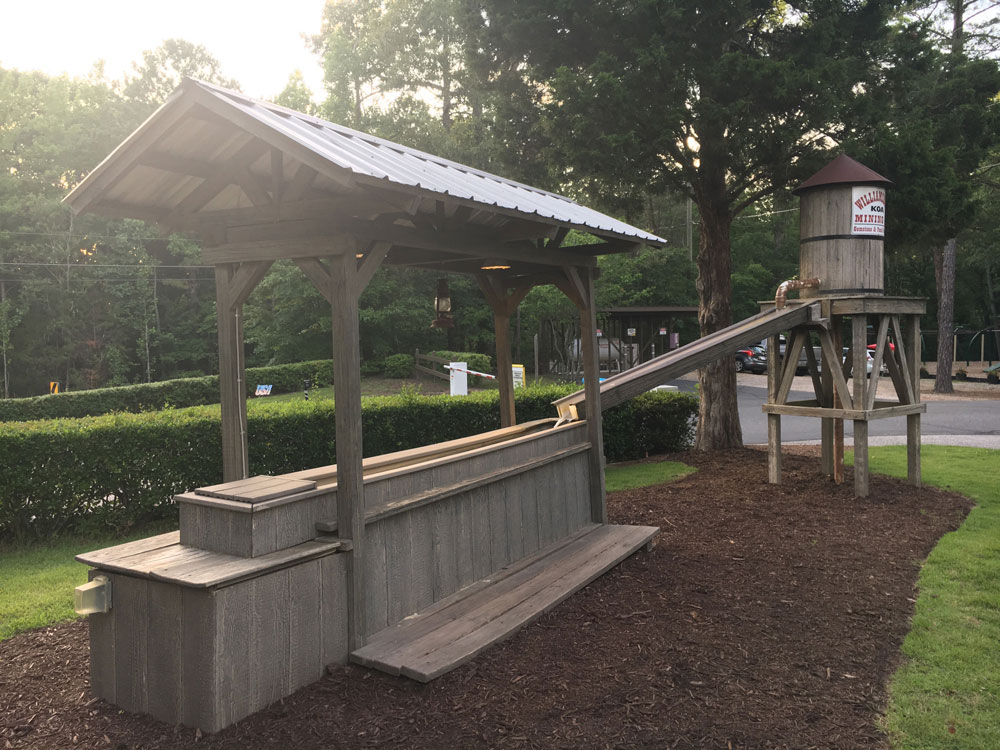 Williamsburg Campground Special Events
On most weekends April through December, you'll find planned weekend activities. Each weekend has a theme like Pet Weekend, Craft Weekend, or Marshmallow Weekend. For each, there will be lots of fun things to do. As a sample, here was the schedule for Father's Day weekend in June 2019. Note that there is a charge for some of the activities.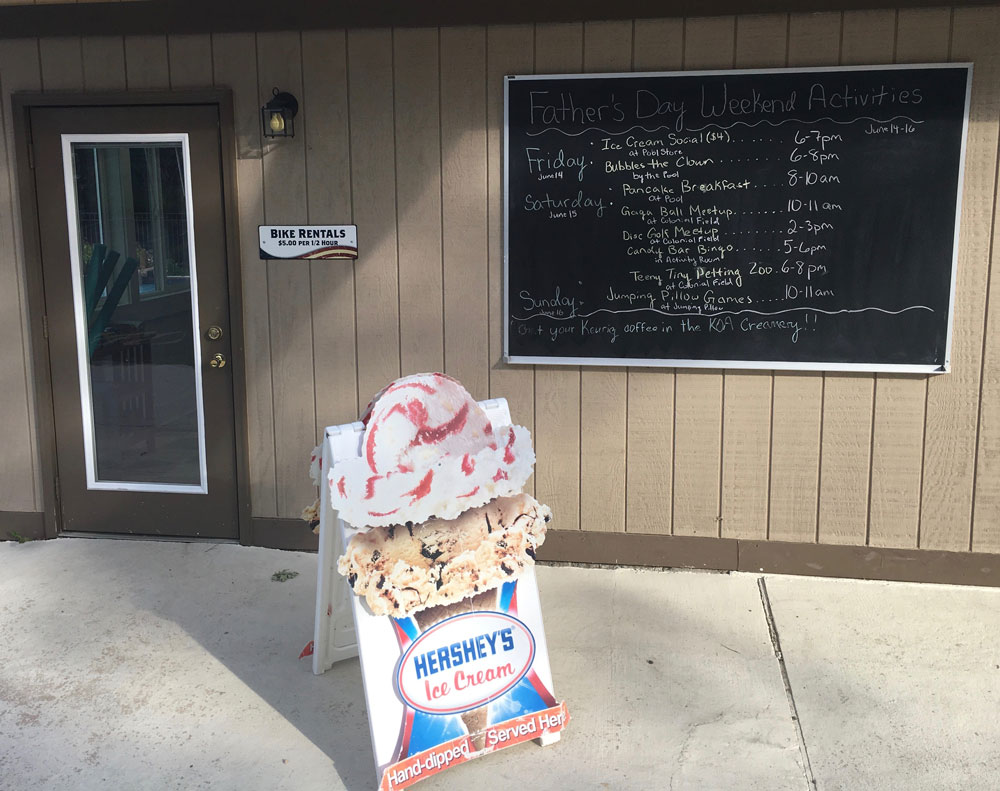 Friday
Ice Cream Social 6-7
Bubbles the Clown 6-7
Saturday
Pancake Breakfast 8-10
GaGa Ball Meetup 10-11
Disc Golf Meetup 2-3
Candy Bar Bingo 5-6
Teeny Tiny Farm Petting Zoo 6-8
Sunday
Jumping Pillow Games 10-11
Williamsburg Campground Sites
There are 370 camping sites available at the Williamsburg Campground. Two hundred of them are in the Family Section and 170 in the Quiet section. Sites range from small 30 AMP water & electric sites up to some very nice deluxe sites.
Overall, the campground has a woodsy feel. Most sites have at least some shade. Most of the sites are gravel and are fairly level. I noticed that many RVs had 1-2 level blocks in place.
In the Family Section, there are five sites with a concrete pad.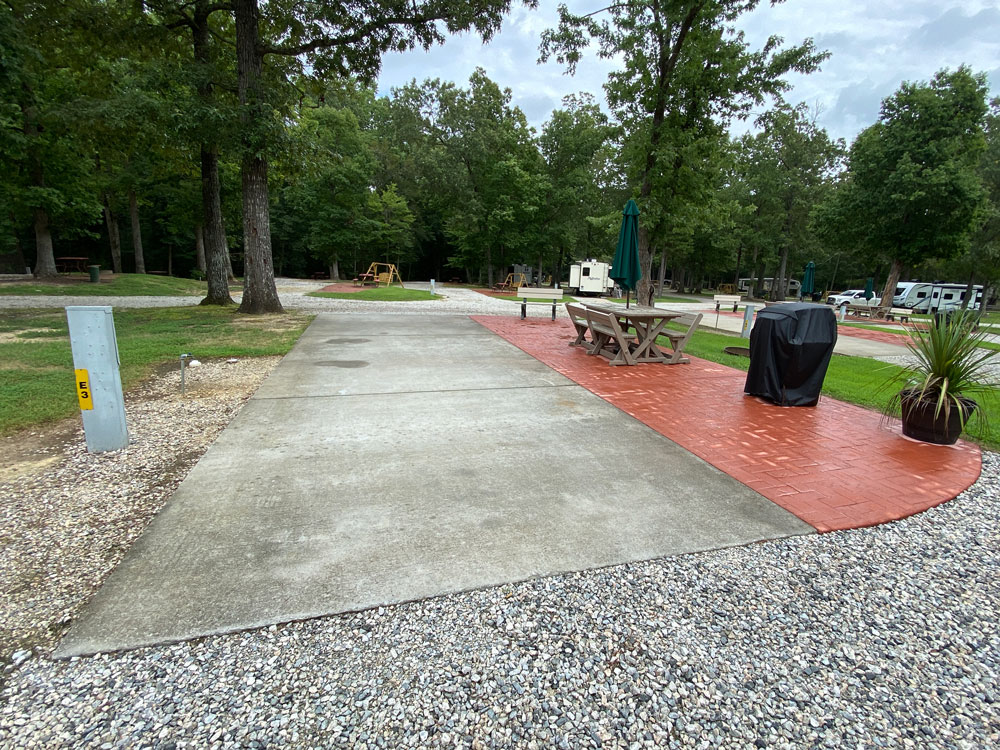 Space between sites varied widely. Some sites, especially Deluxe sites, had plenty of room to set out your camp chairs, cooking table, or a hammock. Sites in the E area seemed well spaced. Deluxe sites in E were really nice and included features like a brick patio and a swing chair.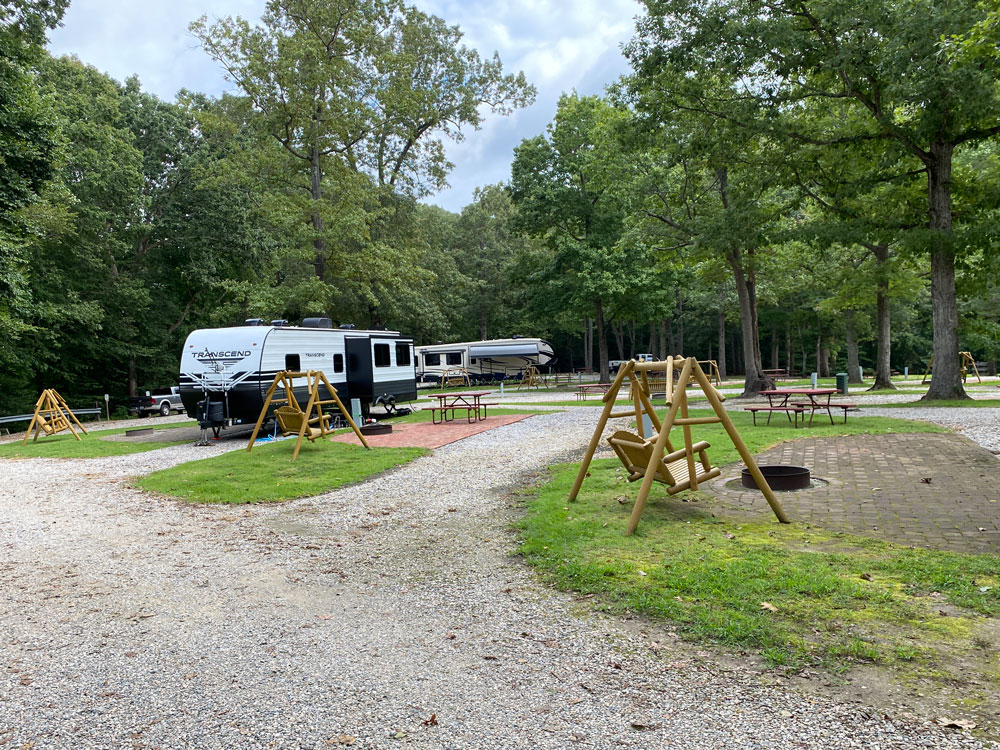 There are also some nice back-in sites in a newer section of the campground. This section has only eight sites. Sites are pretty new, level, and had plenty of space between them. They have been updated with upgraded patio amenities including rocking Adirondack chairs. There is good shade in the morning and the sites are fairly close to the pool. Just be aware that the road to these sites may be a bit steep.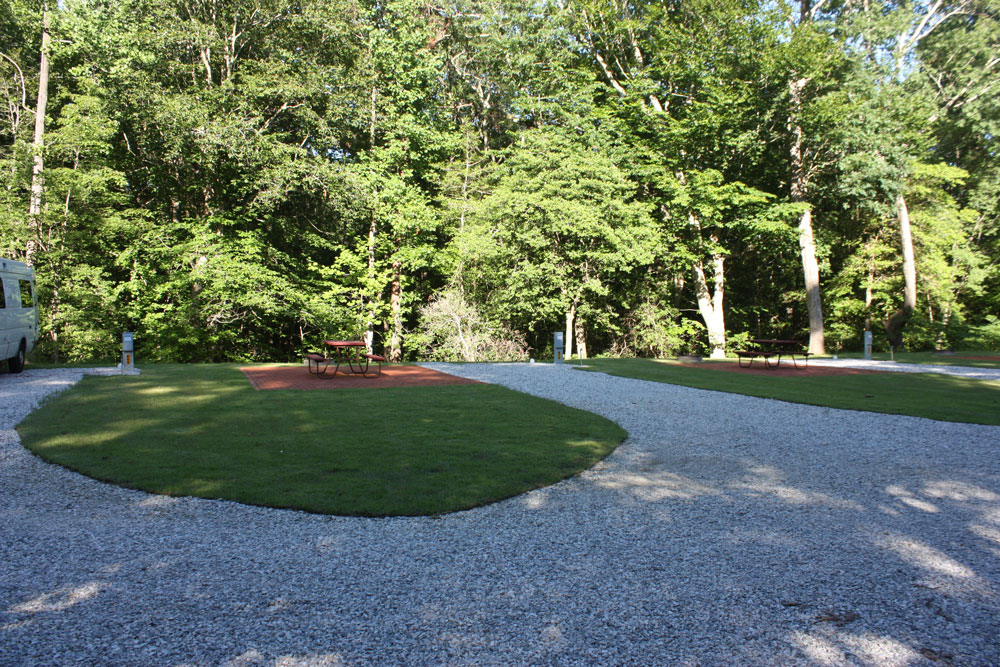 Unfortunately, the site we had in the D area wasn't quite as nice. Sites in D are pretty closely spaced. The picnic table was right next to our neighbor's sewer hose. We opted not to eat outside. And, since there wasn't space for a camp chair, I didn't get to do my usual morning outside coffee. Spacing is so narrow that you can't do a campfire even though there is a fire ring. Part of the issue may be that some of the largest units were parked in the D area. You might also find access to the D sites to be a challenge. When leaving, I had to ask my neighbor to move their truck so that I could have the clearance needed to leave my site.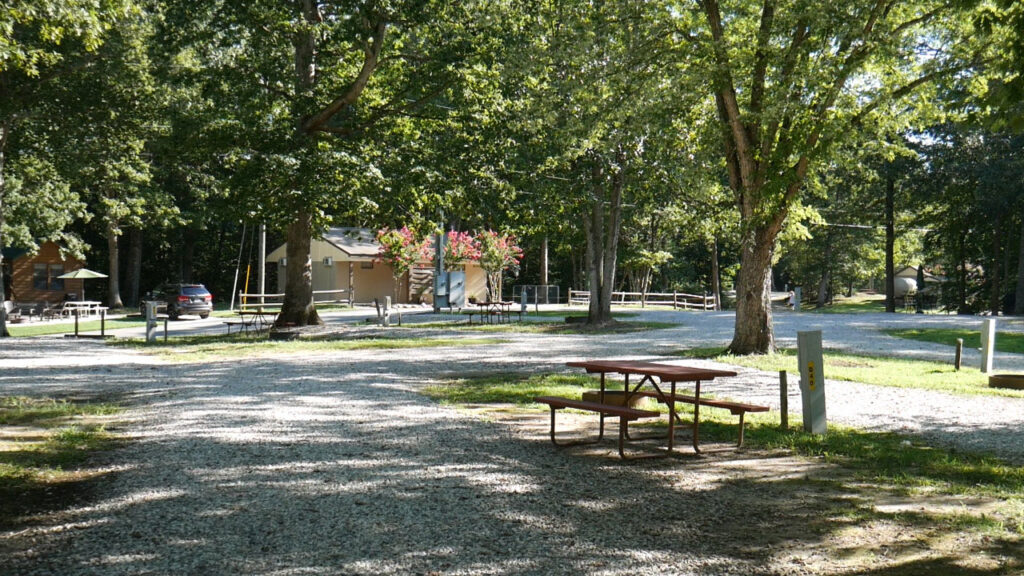 There are also a variety of sites on the Quiet Side. If you are looking to reserve one of those, look for the Quiet Side in the site description on the KOA reservation site.
Visiting the Williamsburg Campground With Dogs
The Williamsburg Campground is dog friendly. Your dog may enjoy walking the trail or playing in the Kamp K9 dog play area. The Williamsburg Campground had one fairly unique feature for visiting with your dog, a dog wash. At the end of one of the bath houses, you'll find a place to clean up your pet after they have fun playing in the great outdoors.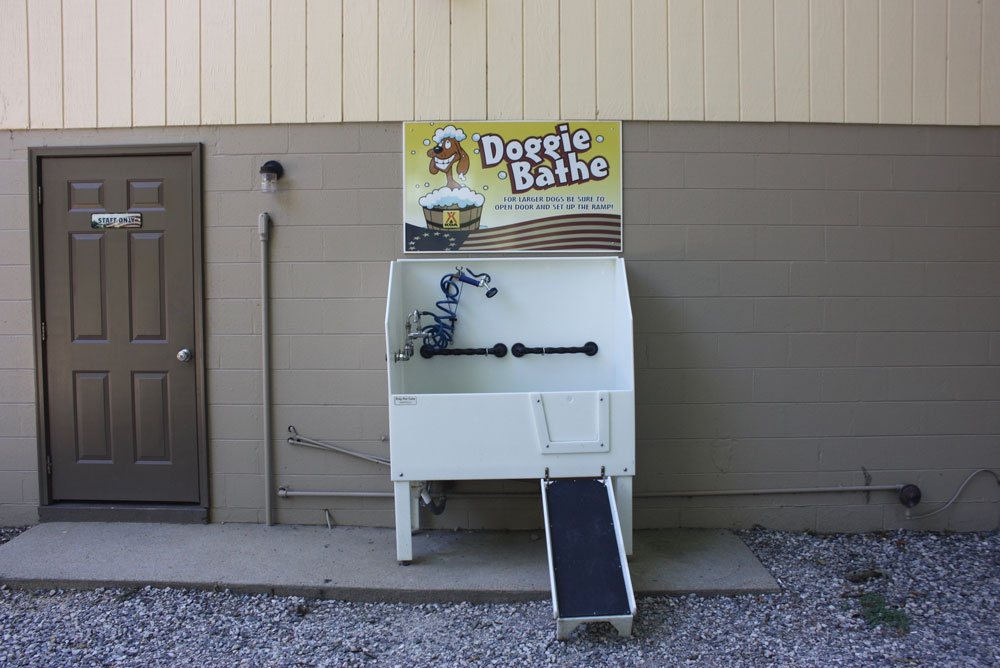 Williamsburg Campground Staff
My check in was smooth. The employees are friendly and seemed happy to give directions or tips for the area. I found they were even happy to chat about nature, sharing pictures of a turtle that was spotted in the campground. You'll see them frequently taking care of ensuring the park is clean as well as guiding people to their sites with their golf carts.
Williamsburg Campground Amenities
WiFi is available. If your just checking out social media or the news, it will likely be sufficient. However, don't expect to be able to do any significant work. Williamsburg Campground says "Our wireless network is designed for browsing the internet and checking email. The network will slowdown under tasks which require more bandwidth."
Cable TV is provided. Your favorite channels are probably among the 70 available channels.
A laundry facility is available. It is clean and has top-loading machines. Washers cost $3 and dryers are 25 cents per 8 minutes. A change machine is available if you need quarters.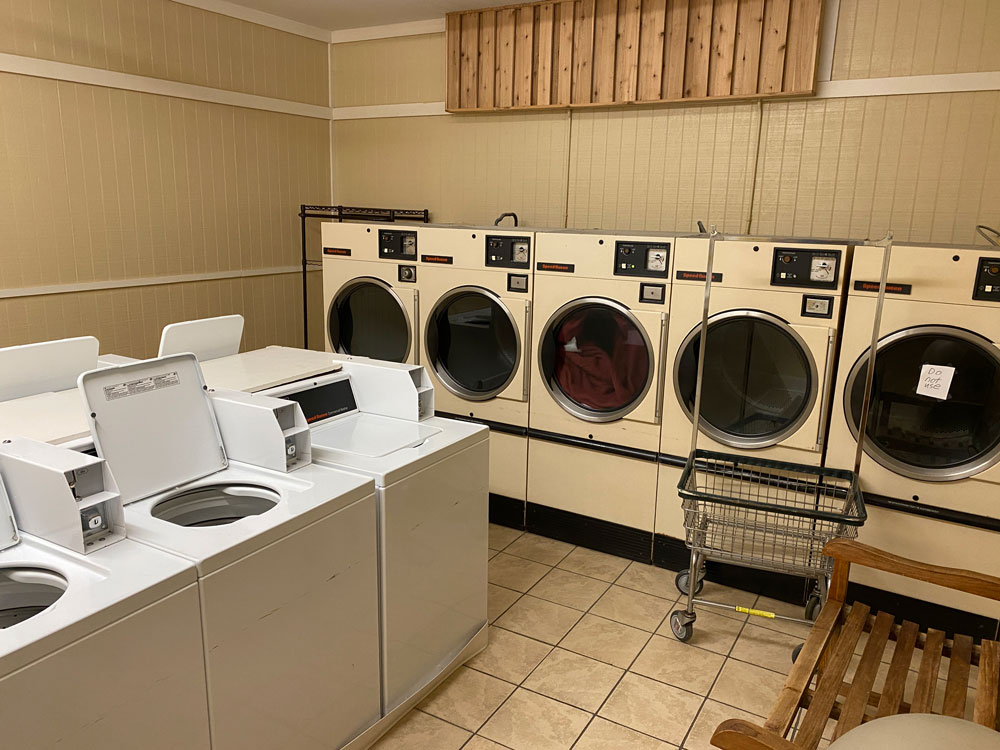 The Williamsburg Campground is two miles from interstate 64 and train tracks. Road and train noise didn't seem like a significant issue. You may hear a train in the distance but the campground is generally quiet.
Employees use electric golf carts. They are frequently moving around the campground. However, only one campground visitor was using a golf cart. One the weekend we visited, golf cart traffic wasn't a significant issue.
If you are in the D sites, you'll likely hear the generator that powers the bounce pillows during the day.
With so many fun things to do, during the day, you'll likely hear children playing. Quiet hours start at 9:00. On the weekend we stayed, we noticed that the campground got pretty quiet at dusk.
Bath houses were clean. While they have that 70's yellow tile, they are in good repair. Bath houses were nicely painted and landscaped.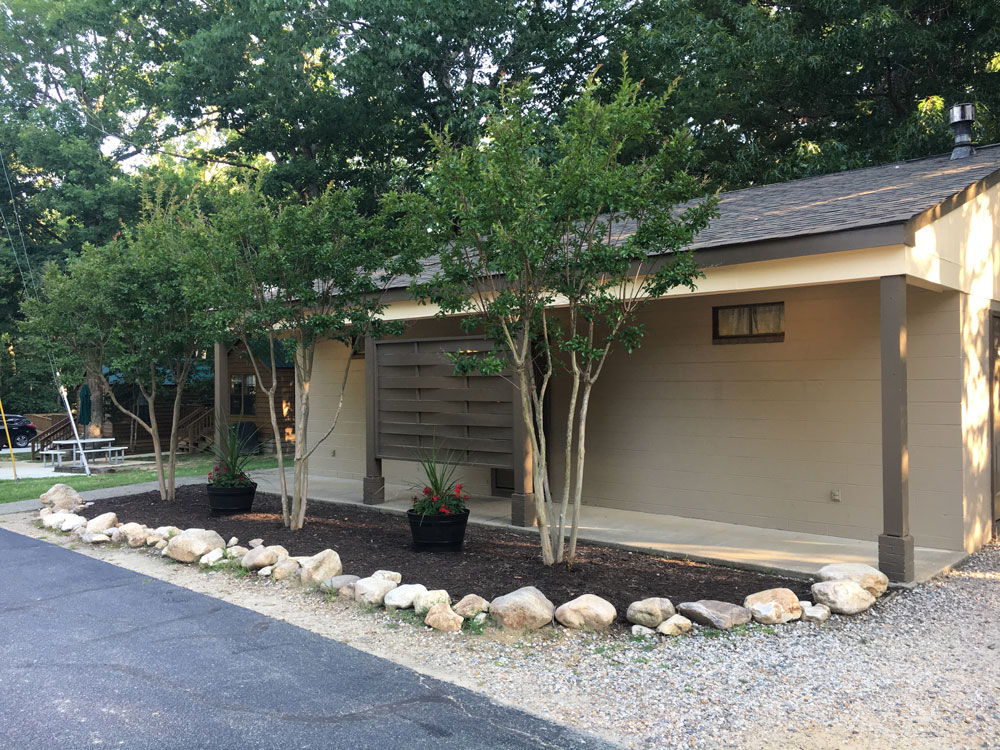 Williamsburg Campground 2020 and COVID Update
We stayed at the Williamsburg Campground, formerly the Williamsburg KOA, in August, 2020. Since our stay last year, some of the site amenities have been upgraded. The concrete pull-through and patio back-in sites now have newer tables, chairs and a barbecue.
The biggest changes are related to ensuring guest safety. One thing we noticed was that not every site was reserved. Space was maintained between campers to help ensure distance.
Curbside check-in is now provided. When you arrive at the Williamsburg Campground, you call the office to check in. A staff member will bring you your receipt and map. Then, they escort you to your site.
Signs in the campground reminded guests to practice social distancing and good hygiene. The staff we saw wore face coverings during our visit.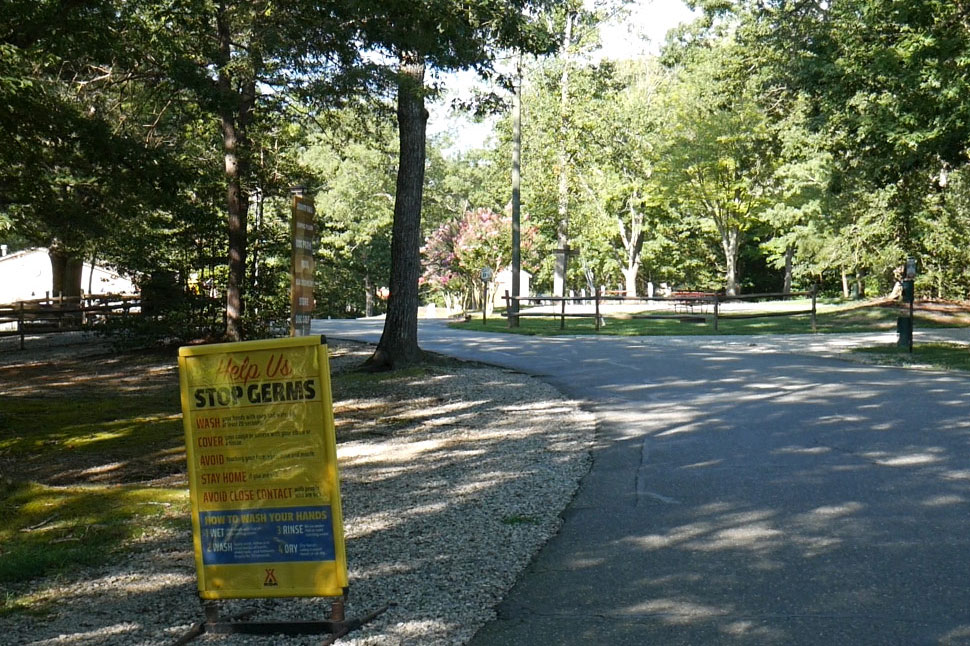 Hand sanitizer stations were in place at the entrance to the pool and playground.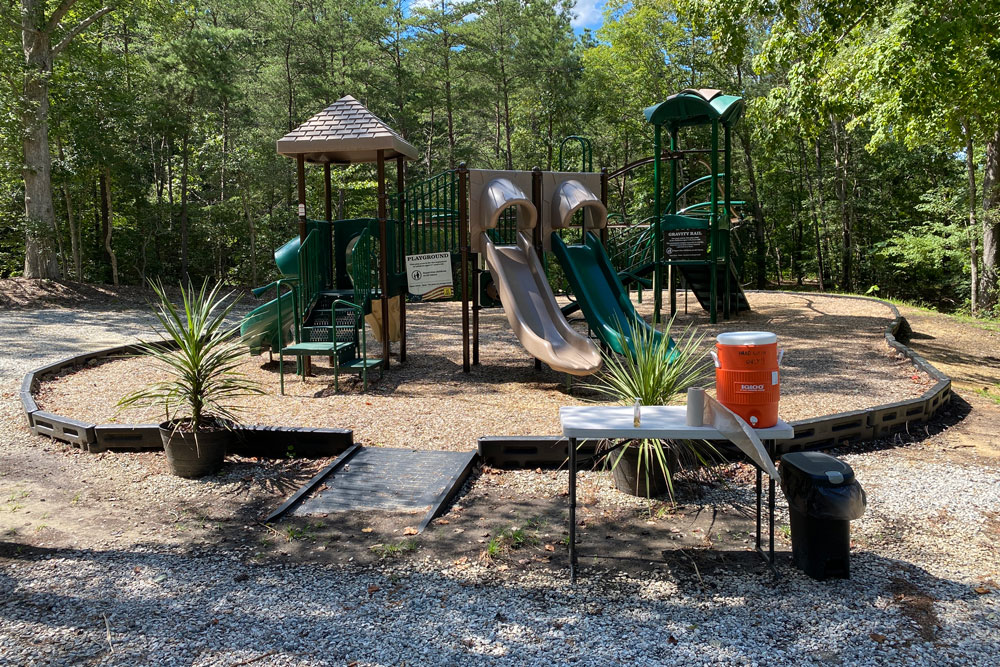 The pool is open daily. To use it, you must reserve a 45 minute time slot. Chairs around the pool were spaced out.
Some amenities like the splash pad and bounce pillows were not operating.
Williamsburg KOA Rates & Discounts
This is not an inexpensive campground. Sites range from 70-110 per night.
Be aware that if you have more than two people in your group, you'll pay an additional daily charge of $8 per adult or $6 per child.
Williamsburg Campground Directions
Accessing the Williamsburg Campground is pretty easy. 
If you are coming from Richmond, take exit 234. If coming from the West (Williamsburg, Newport News, Virginia Beach) take Exit 234B.
After you exit I-64, there are signs along the way guiding you to the campground. It is about two miles from the interstate and the entrance will be on your right.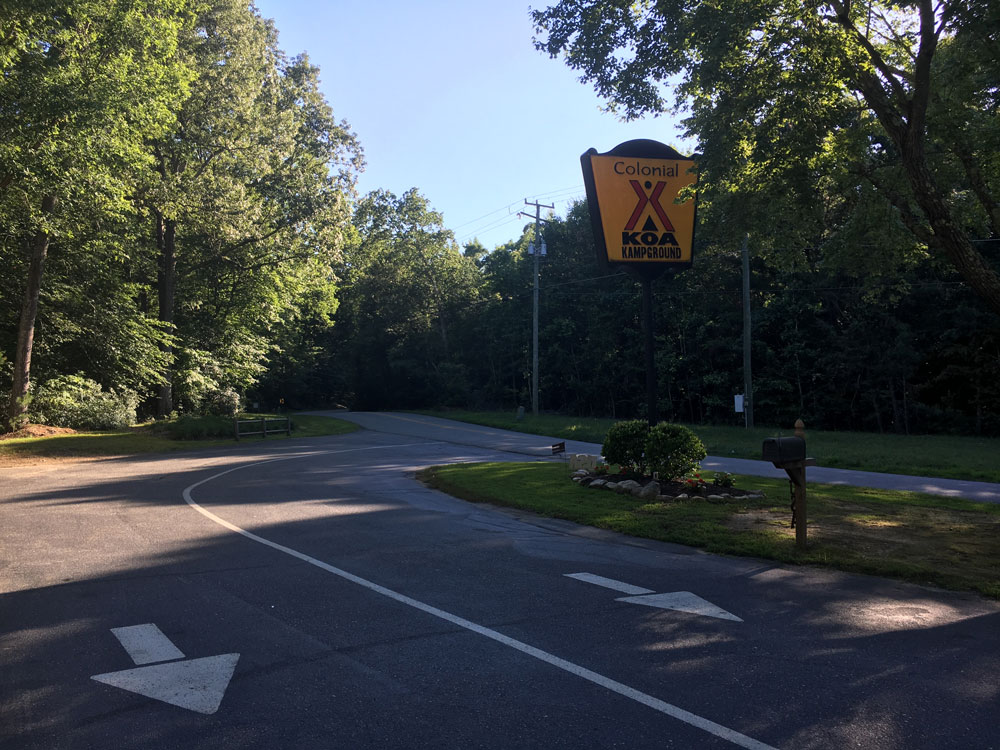 Check in at the main gate. There is a clearly marked entrance on the right and room for several RVs to park. Note: during busy check in, you might find yourself blocking a two-lane road at a no-passing zone.
Attractions Near the Williamsburg Campground
There are some great attractions in Williamsburg VA like Colonial Williamsburg, Busch Gardens Williamsburg and Jamestown. Check out our list of the Top 7 Must do Williamsburg VA Area Attractions.
You might also enjoy the following nearby attractions which are all about a 10 minute drive from the Williamsburg Campground. 
Waller Mill Park is a Williamsburg City Park with a variety of outdoor activities. To get on the water, you can rent a kayak, canoe, rowboat, or pedal boat. Fishing is available. There are also a 1.5 and 3 mile nature trails along with a 2 mile paved bicycle path. Entrance is $2.
York River State Park provides 2,500 acres of outdoor adventure along the shores of the York River. There are over 30 miles of hiking, cycling, and horse riding trails. Its a great place for a picnic.
Williamsburg Premium Outlets offer over 120 stores. This outdoor mall is consistently busy. You might find some good bargains if you are lucky.
Alewerks brewery is one of the oldest craft breweries in Virginia. There is a taproom with sixteen beers on tap. For $9 you can tour the small brewery and sample the lagers and ales produced by this brewery. You'll often find a food truck at Alewerks so you can enjoy lunch or dinner with your beer. Note that there is a second Alewerks location at the Williamsburg Premium Outlets. Alewerks is one of our recommendations for the Top 5 Virginia Peninsula Breweries.
Pierce's Pitt BBQ has been a Williamsburg institution since 1971. Pork bbq, ribs, and chicken is served along with hush puppies and cole slaw. You can enjoy your BBQ either inside the restaurant or eating at one of the outside tables.
Leave a Comment
I hope you found this Williamsburg Campground, formerly Williamsburg KOA, review to be helpful. What is your favorite campground near Williamsburg VA? Leave a comment to share your experience.
Copyright 2019 Travel Trail Sail. Copyright 2020 and 2022 Travel Trail Sail. All Rights Reserved.