Busch Gardens Williamsburg Mardi Gras
Busch Gardens Williamsburg Mardi Gras is a fun January-February event. Mardi Gras is traditionally a festive event with fun performances, rich foods, and festive decorations that reflect the Carnival celebration. In 2023, the event runs January 27-February 26. Mardi Gras is a must do event to help you beat the winter blues.
Busch Gardens works to keep their seasonal events fresh. As they strive to become a year-round theme park, they added a Mardi Gras event in 2021. Similar to their other seasonal events, Howl-O-Scream and Christmas Town, Mardi Gras provides a mix of seasonal decorations, tempting food in sample-size portions, and entertainment.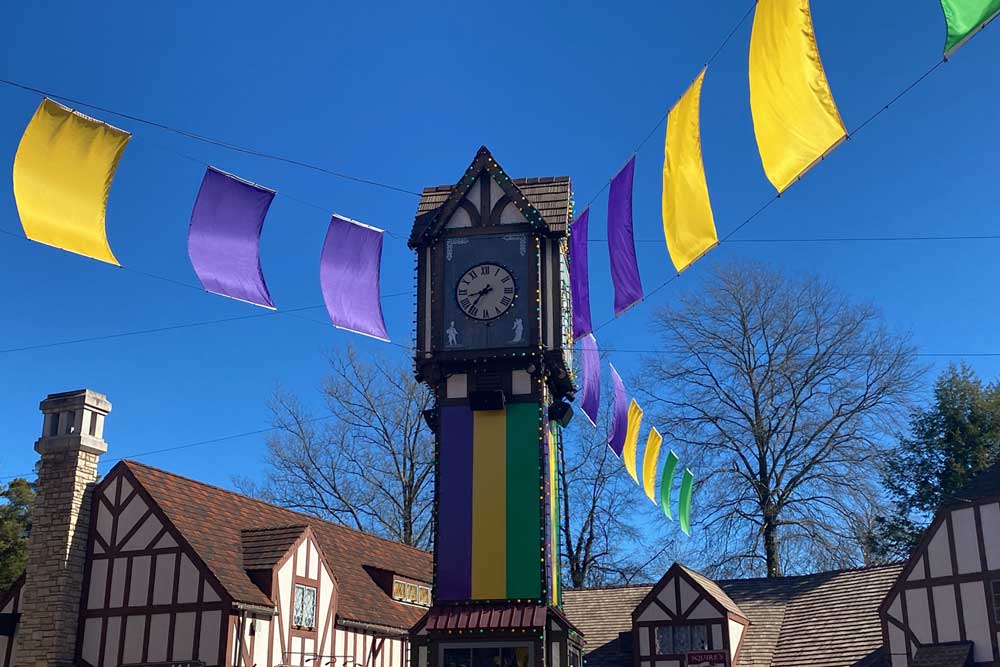 For Mardi Gras, the beautiful landscaping at Busch Gardens Williamsburg is transformed into a festive look with purple, green, and yellow beads and flags. You'll find festive decorations and lights throughout the park.
Since it is still winter, there are some warming fires available. It's a great way to warm you hands if the day gets chilly.
Mardi Gras YouTube Video
Join Erling and Judy as they share the highlights of their visit to Busch Gardens Williamsburg's Mardi Gras event.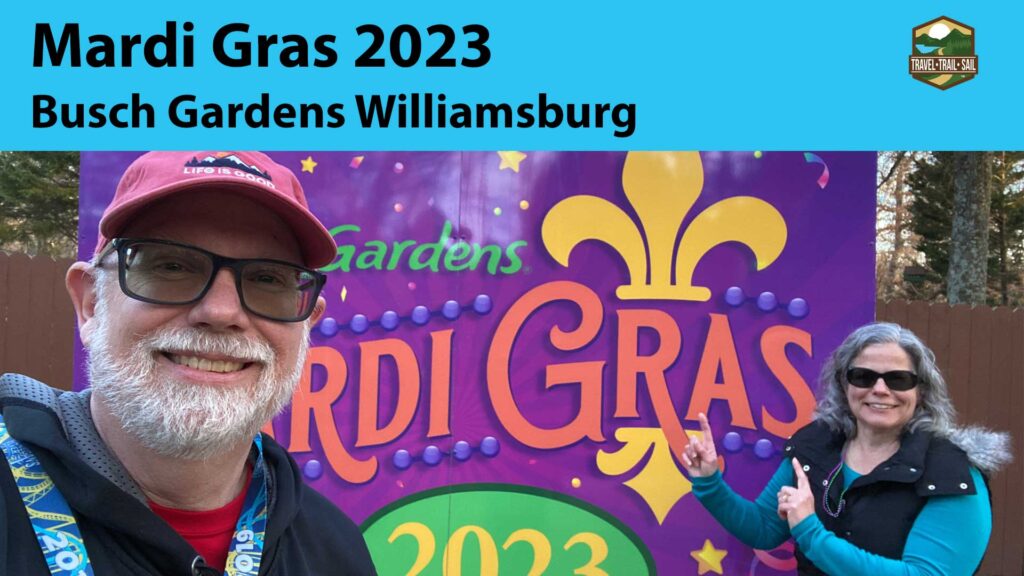 Mardi Gras Shows and Entertainment
There is some great entertainment at Mardi Gras including bands and street performers.
In the Globe Theatre in England you'll find Carnaval Imaginique. This is a energetic show featuring dancers and performers with acts similar to what you might see at a Cirque du Soleil show.
In the Abbey Stone Theatre in Ireland, the Killarney Village Band performs pop songs with an Irish twist. If you haven't heard Guns & Roses performed on a fiddle and an Irish drum, you have to check it out.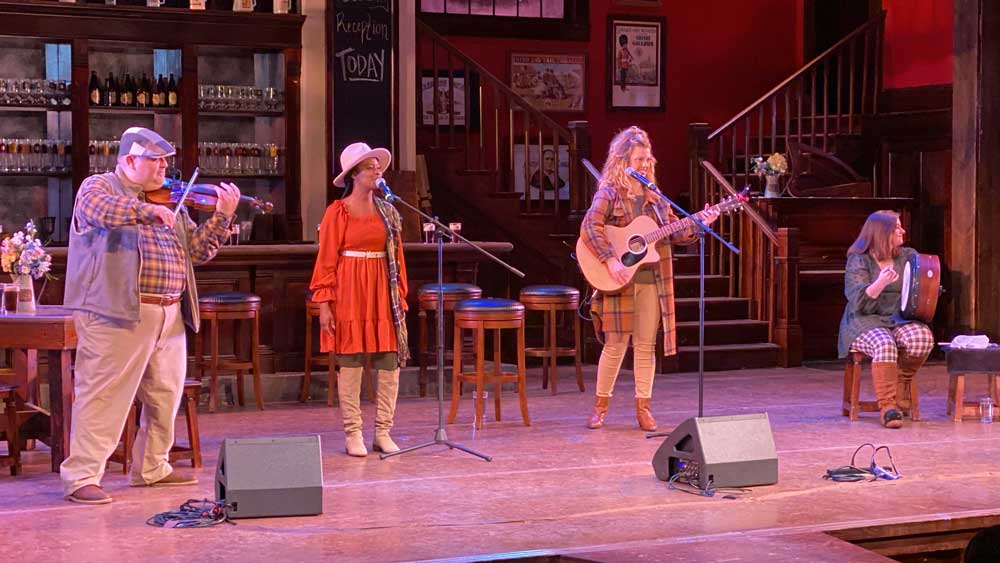 With a more traditional Mardi Gras feel, the New Orleans Jazz Band performs songs like When the Saints Go Marching In at the Festhaus.
Nearby, the Samba Jamboree perform a high-energy drumming act with plenty of laughs.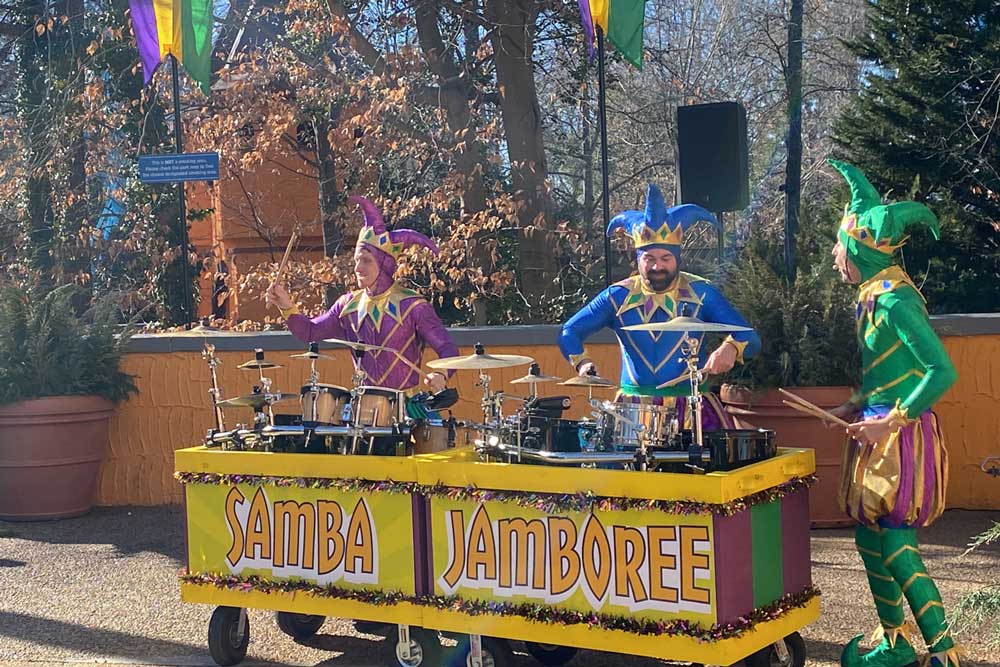 In France, you'll find a short parade followed by the Mardi Gras Street Party. The party features fun music, dancing, and plenty of guest interaction with the performers.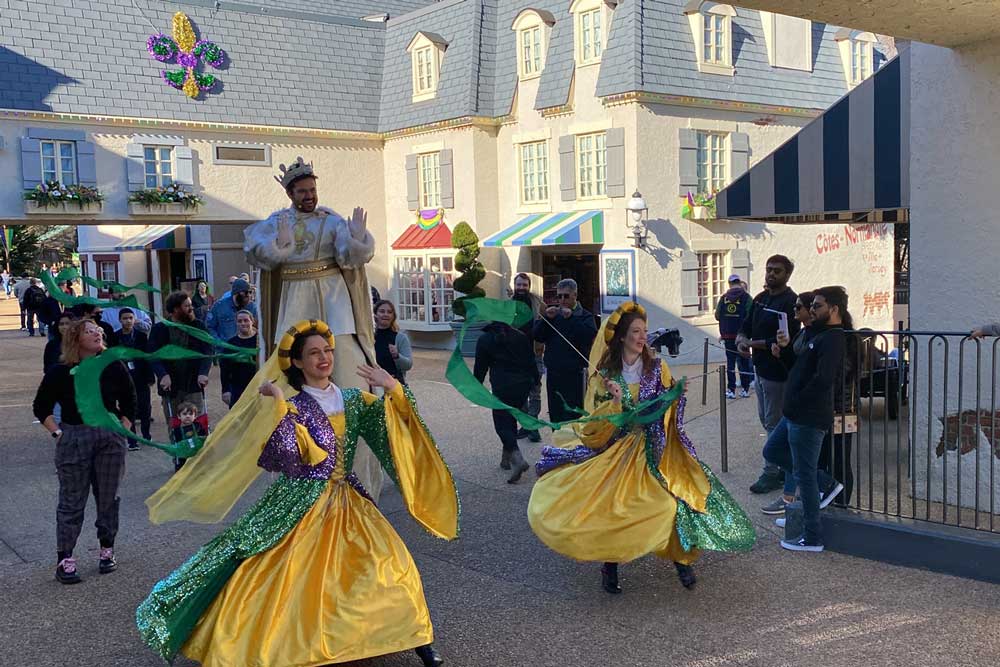 Mardi Gras Food & Beverages
Mardi Gras offers a special selection of bize-size foods and drinks, similar to what is offered at the Busch Gardens Williamsburg Food & Wine Festival.
The specialty food items are New Orleans inspired offerings like Shrimp Etouffee, Chicken & Andouille Gumbo, or Blackened Chicken. Of course, there are some dessert items, too, like Beignets, and Banana Fosters Cheesecake.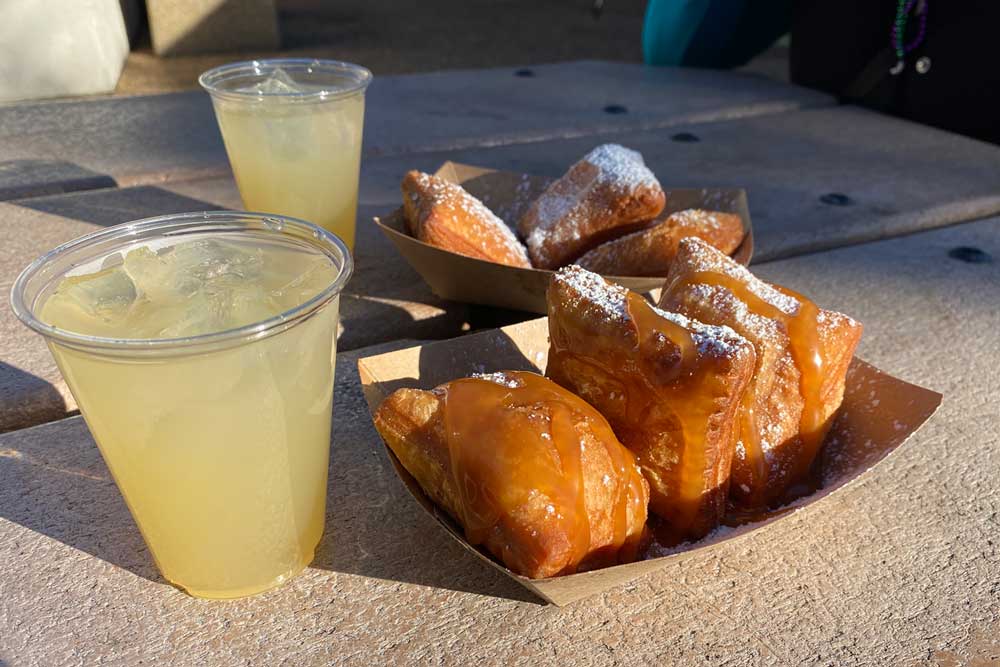 Drinks include a Hurricane, Rum Runner, or King Cake items like a Daquiri, Mojito, and King Cake Shot.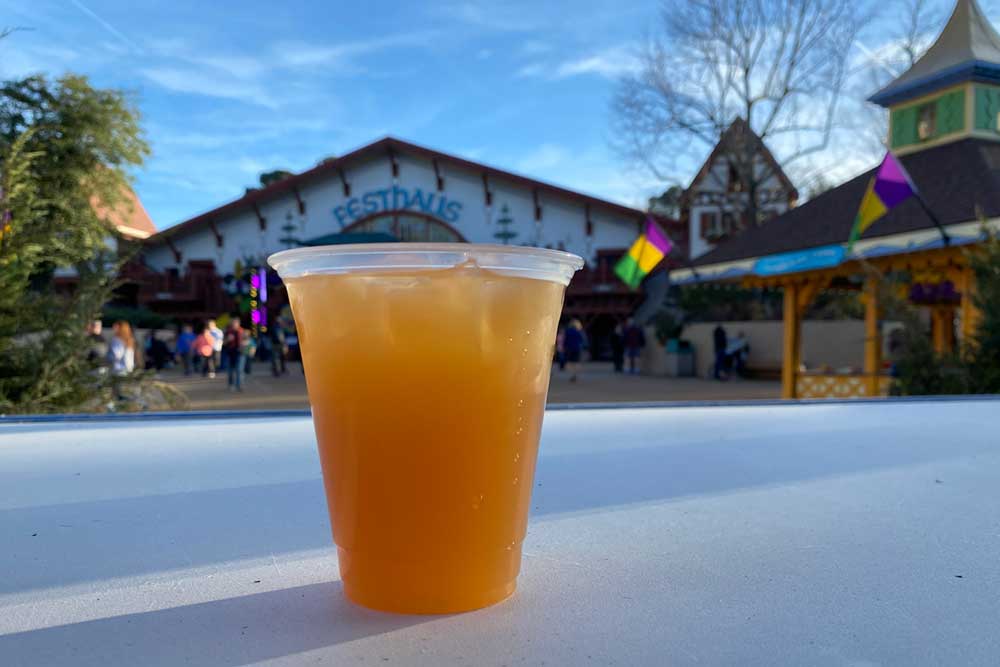 You can choose to purchase each item individually. Or, you can buy a sampler card. A 5 item card is $40 and a 10 item card is $60. Watch prices as you may save money or spend more money depending on the prices of the items you select. If you use the card, drinks will be a smaller sample-size portion.
There are some additional snack and dining options open during Mardi Gras. Depending on the day, these may include Das Festhaus, Trapper's Smokehouse, and Squires Grill.
Mardi Gras Merchandise
We were excited to see what Mardi Gras merchandise would be available. Unfortunately, few items were available for the event during our visit.
Busch Gardens Williamsburg Mardi Gras Details
The Busch Gardens Williamsburg Mardi Gras event runs selected dates from January 27-February 26, 2023. The event is Fridays from 3-8 pm and Saturdays, Sundays, & Presidents' Day from noon-6 pm. You'll want to check the park web site for an official schedule.
The event is included if you have a Busch Gardens Williamsburg membership. Otherwise, you can purchase a single day ticket or a fun pass. A one day ticket that can be used to visit Busch Gardens on any day is priced a $104.99.
You can sometimes find ticket discounts on the Busch Gardens Williamsburg tickets page. For example, on the day of this writing, a one-day ticket was available for 76.99. An interesting ticket option was the Spring Bounce ticket that enables unlimited visits to Busch Gardens & Colonial Williamsburg for 7 consecutive days for $130.33 including parking.
See our Busch Gardens Williamsburg Review for additional general planning info for your visit to Busch Gardens.
Copyright 2023 Travel Trail Sail. All Rights Reserved.