Busch Gardens Williamsburg Roller Coasters
We love visiting Busch Gardens Williamsburg but don't ride coasters. To give you a great review of the Busch Gardens Williamsburg roller coasters, we called in our friends Jaime & Melissa. They joined us for a fun day at the park and a fresh look at all the coasters. If you want to get a feel for it, check out our Busch Gardens Williamsburg Roller Coasters videos that provides a first person view of the experience.
Busch Gardens Williamsburg Roller Coasters Video
Check out the coasters on our Busch Gardens Williamsburg Roller Coasters video. You'll get a front seat view on most of the coasters to get a great feel for the experience.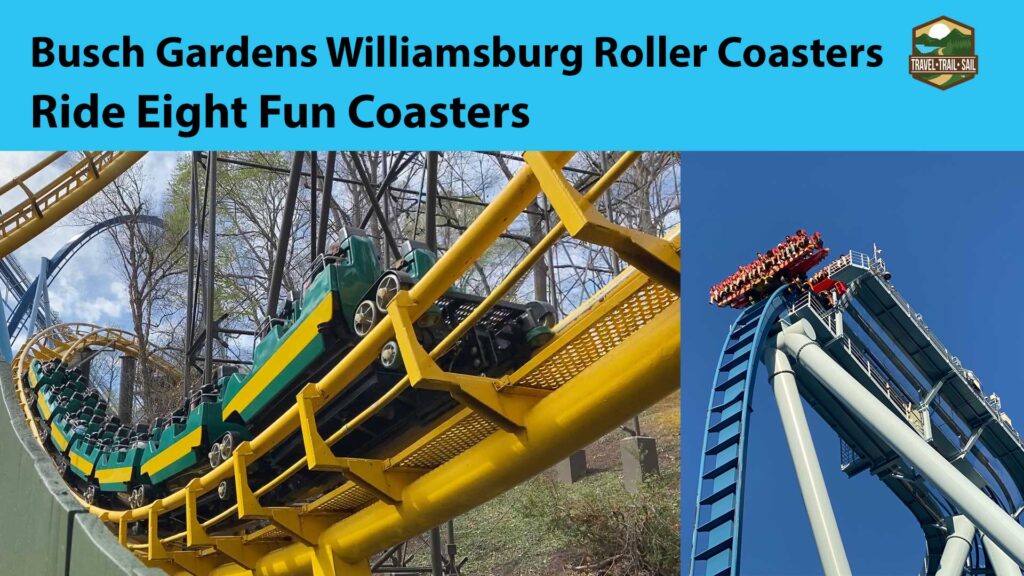 Alpengeist
Alpengeist is a steel coaster that opened in 1997. Riders are suspended from above and their feet dangle with no floor below. There are multiple twists, loops, and inversions as the ride hits speeds of up to 67 miles per hour. Alpengeist is located in the Germany section of the park. Part of its course passes along Le Scoot, the flume ride in New France.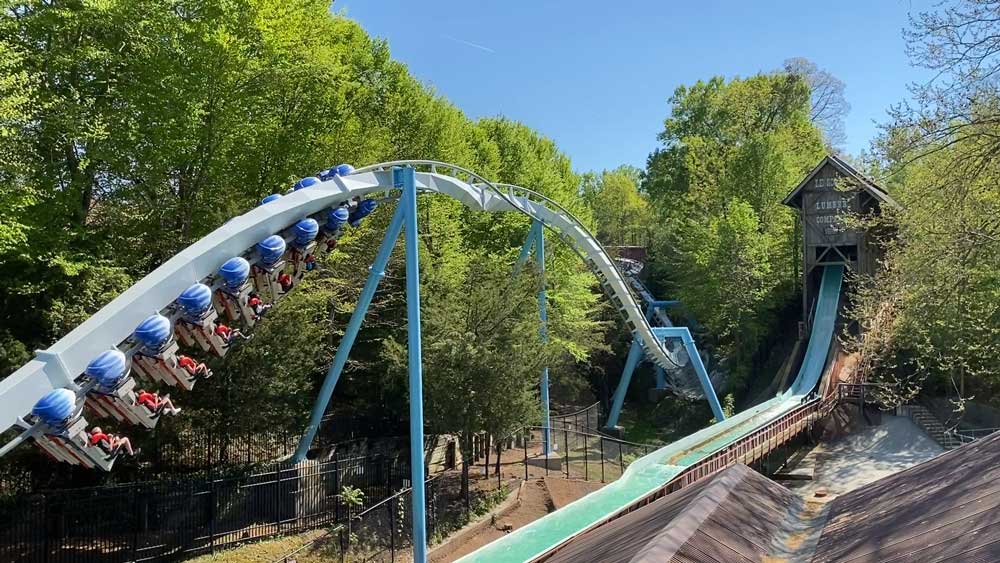 From Jaime "this one is completely different from the other rides. It relies more on the element of surprise as you twist back and forth. The ride feels faster because it is intertwined with itself so the structure provides a point of reference that you see when you go past it. The ride turns when it drops which provides a lot of positive Gs and you feel like you are very firmly planted in the seat. It's very smooth and a great experience. You almost feel like you are flying."
Apollo's Chariot
Opened in 1999, this coaster can reach a top speed of 73 miles per hour while dropping 210 feet. Apollo's Chariot features significant drops and negative G air time. Rather than a collar like on some of the coaster, this ride has just a t-bar to keep you in your seat.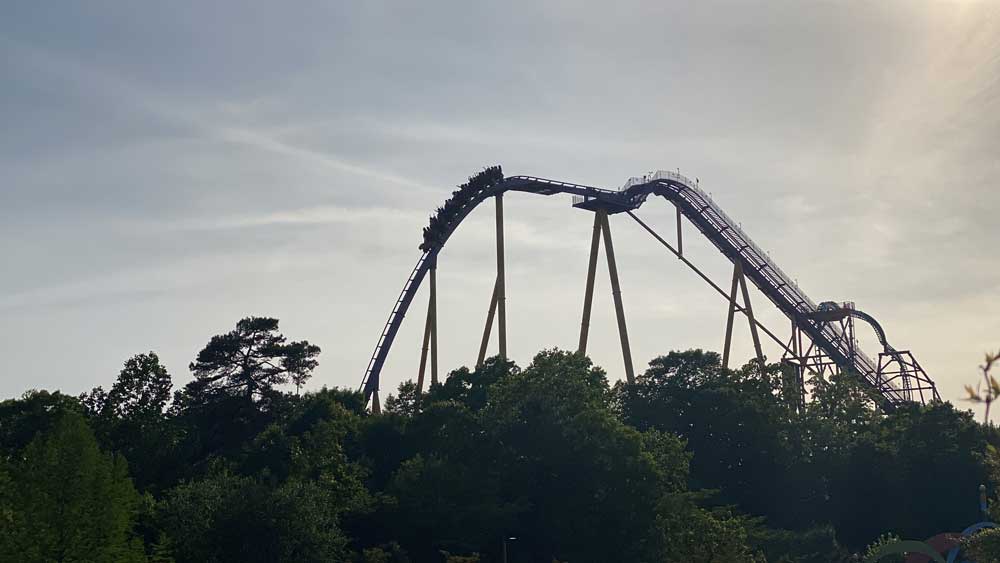 According to Jaime, Apollo's Chariot "will get you up out of your seat. There is a lot of time that you are out of your seat, not just a pop, but you are hoisted up out of your seat. There are 26 seconds of cumulative air time – when your bottom is not in contact with the seat. There are a few good curves and some positive Gs in there, too. It might be a good coaster for people who are not ready for the high intensity of some of the other coasters but it will get you in its own way." A 7 out of 10.
Griffon
Griffon is a steel roller coaster that opened in 2007. It is a floorless dive coaster. Like a Griffon flying through the air, you'll get the impression of flying while reaching a top speed of 71 miles per hour. At the start of the ride, there is a significant hang time before the cars are release and you begin a steep vertical drop.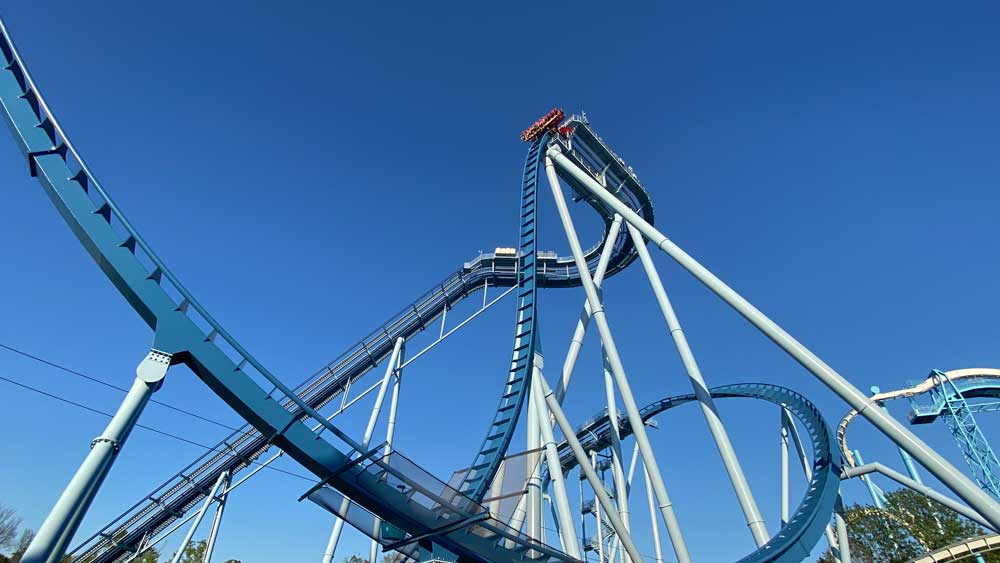 To make room for Griffon, Busch Gardens removed the LeMans Raceway. We still miss having that family-friendly attraction.
From Jaime, "there are some great views from this coaster of the James River and surrounding areas. To get the most from it, ride it earlier in the day so the sun doesn't get in your eyes. Sensational. Smooth. The first lift takes forever and it is almost straight up vertical. Then, it felt like we were hanging there an inordinate amount of time and then we were going to fall straight down. It pushes your body about as far as you can take. Then you go into extreme positive Gs and it is game on from there."
InvadR
InvadR is a wooden coaster that opened in 2017 and is located in the New France part of Busch Gardens. It has the sound and feel of a traditional wooden coaster. While reaching speeds of up to 48 miles per hour may not be as fast as the steel coasters, this is an intense roller coaster.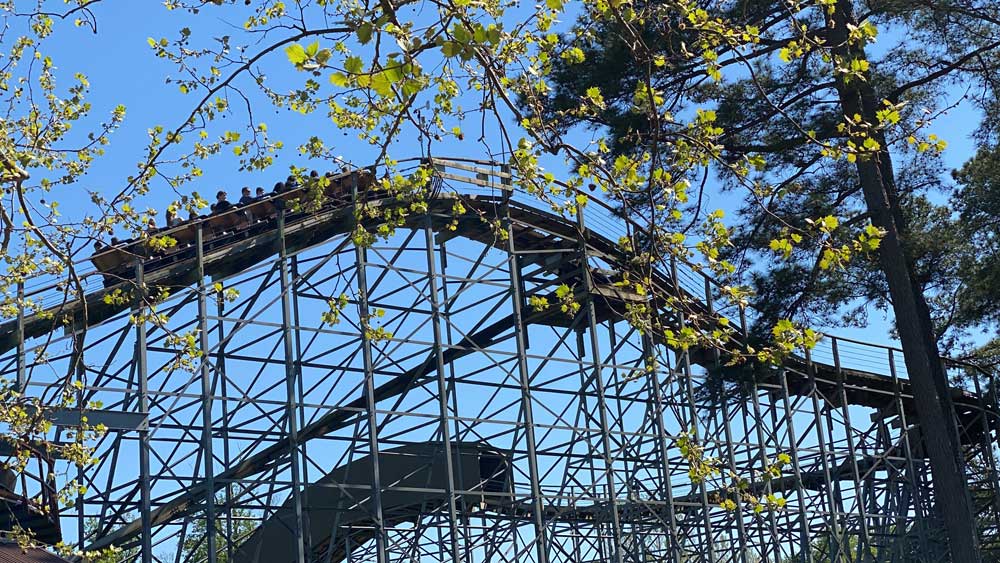 Jaime says that it is an "intense, non-stop, high-speed, thrill-a-second ride and it just kept on giving. It seems so innocent but don't underestimate InvadR. Start to finish aggressive. It is fast and intense. Because it is enclosed and has structure around it, you feel the speed more than on some other coasters. InvadR has a good scream factor and you barely have time to catch your breath between screams. You were ready for it to be over because you had screamed as much as you could scream. " 9 out of 10.
Loch Ness Monster
Loch Ness Monster is a steel coaster that opened in 1978. It's a classic Busch Gardens Williamsburg roller coaster located in the Scotland part of the park. According to the Loch Ness Monster Wikipedia page, this is "the only remaining coaster in the world with interlocking loops".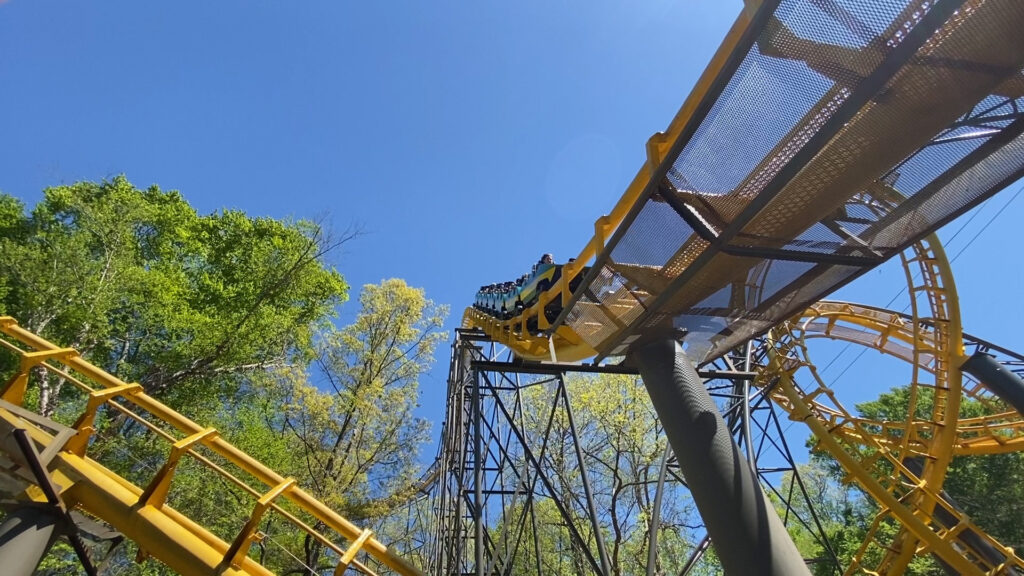 Jaime says that "it's a classic roller coaster. Good tight turns. Good tight loops. Just about anybody could ride it. But, with it being 30 years old, there is a lot of shake, rattle, and roll. A classic coaster and a lot of fun." Classic vibe. 8 out of 10.
Pantheon
Pantheon is a smooth, fast steel roller coaster that opened in 2022. It's located in the Festa Italia section of the park. It includes inversions and a backwards vertical. A launch coaster with lots of positive G's. No prolonged lifts out of your seat. It was great pacing on this ride, moments of extreme and then a moment to catch your breath. It is smooth as silk.
According to the Wikipedia Pantheon page, there is a maximum speed of 73 mph. While not the fastest roller coaster, it may be the fastest multi-launch coaster in the world.
In Jaime's words "Yeah! That was fantastic. Launch, and spin, launch, launch again, and no – launch backwards, and then launch extra – just enough to get over the top. Oh man. Oh yeah! The front seat is so much more exhilarating than the back seat. By far, that was by far my favorite experience of the day."
Tempesto
Tempesto is a steel coaster that was launched in 2015 and is located in the Festa Italia part of Busch Gardens. It has smaller cars and is full of tight twists & turns. According to the Wikipedia Tempesto page, the ride reaches a top speed of 62 miler per hour and has one of the tallest inversions in the world.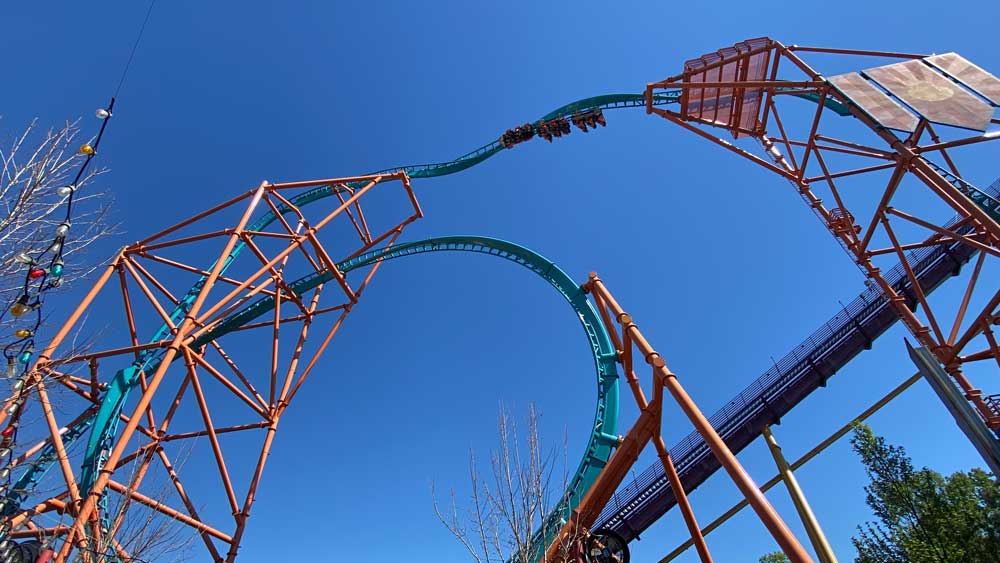 Jaime reported the experience as "pure gut wrenching exhilaration. It is fast, furious, in-your-face, throw you backwards and forwards, and push you to the extremes. You go back through the launch area at high speed and it's impressive – you have a point of reference for how quickly you are going through it. You get rolled over slowly, are just hanging there and are being held in place by just your harness. It's no joke. You aren't in contact with the seat at all."
Verbolten
Verbolten is a steel multi-launch roller coaster that opened in 2011. It is located in the Germany part of Busch Gardens Williamsburg. It is intended to be a themed attraction that tells the story of a ride through the forest that encounters a storm. There are a lot of effects in use and there is a vertical drop where the whole car goes straight down.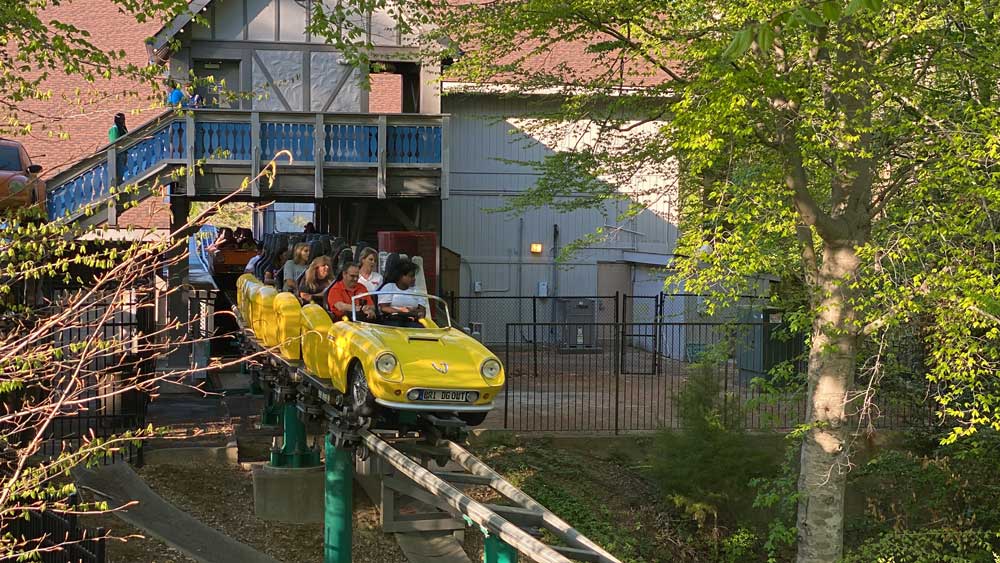 From Jaime, "The pre-show and theming did a good job of telling a story and building excitement. Unfortunately, that theming didn't fully carry forward into the ride. The ride relied a lot on shock value. It was a short and dark ride. There was a vertical drop but you couldn't even see it. Overall, it was OK but not all that I had hoped it would be."
DarKoaster
DarKoaster is a new roller coaster that will be open in May 2023. It places a roller coaster inside the building that was a previous attraction named DarKastle. DarKoaster will be a straddle coaster where you sit similar to if you were on a snowmobile. There will be several launches and an anticipated top speed of 36 miler per hour.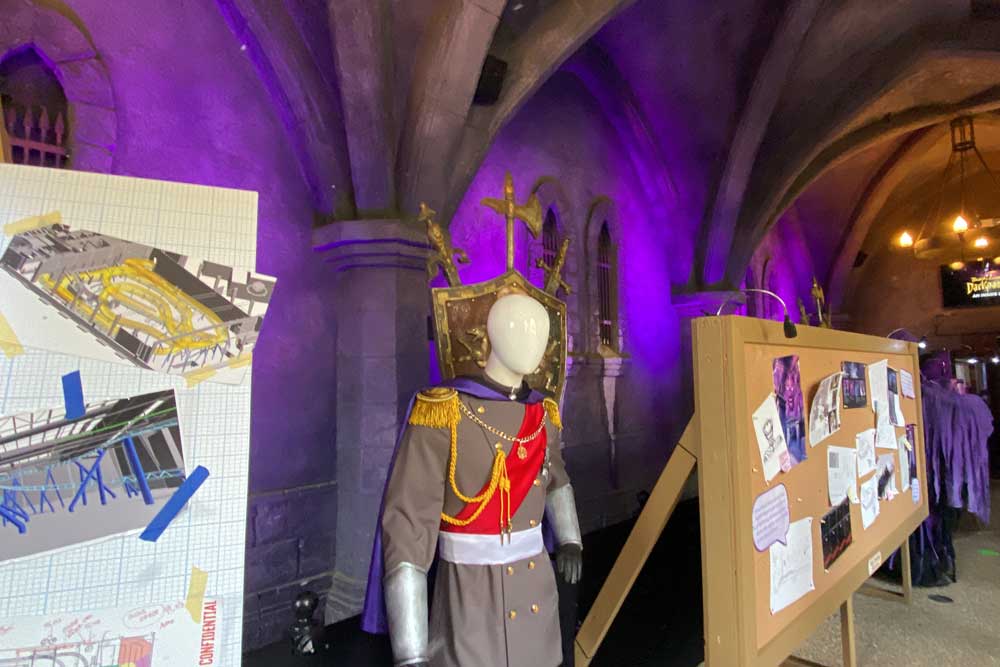 Unfortunately, this roller coaster visit and review was created just prior to the DarKoaster opening. I guess Jaime will have to return again to ride this one.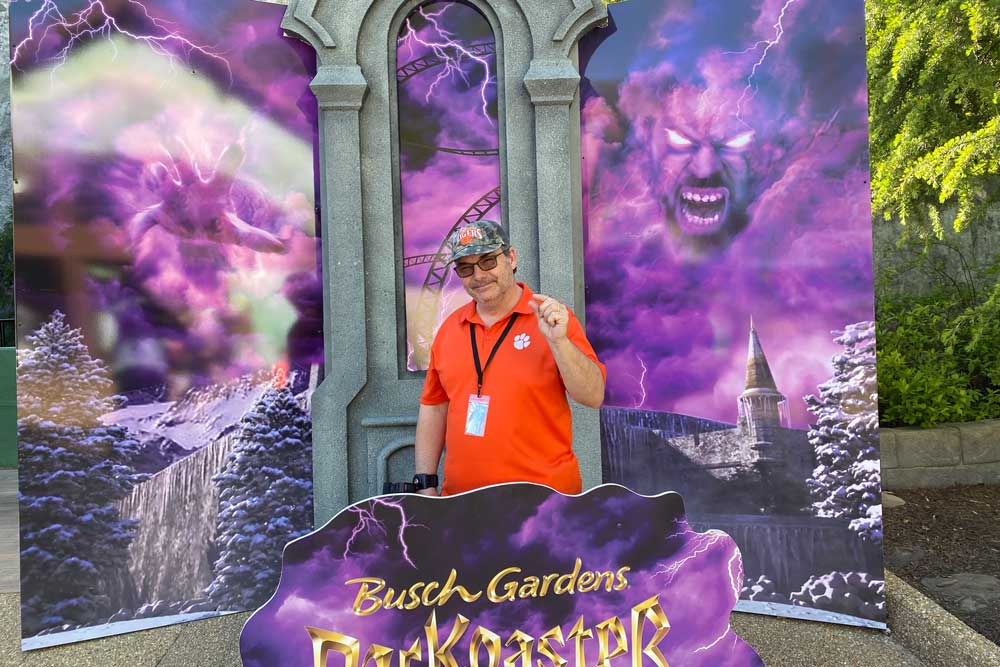 Summary
We enjoyed our visit to Busch Gardens Williamsburg. Thanks to Jaime for riding all the available coasters and providing us with great insights into the ride experience.
For an overview of the park and more details to plan your trip, check out our Busch Gardens Williamsburg review and our posts for all of the seasonal events at the park.
What is your favorite Busch Gardens Williamsburg roller coaster? Leave a comment to share your experience. Thanks.
Copyright 2023 Travel Trail Sail. All Rights Reserved.