Newport News Park and Campground
Newport News Park is a large city park with many outdoor activities. Newport News Park Campground is a good option when visiting Newport News or Williamsburg VA
Newport News Park Overview
Newport News residents are proud of their park, claiming it to be one of the largest municipal parks in the country. At over 8,000 acres, it is a large park that offers the opportunity for many types of outdoor activities including hiking, bicycling, fishing, and more. Newport News Park also has a campground with 188 back-in sites, two youth group sites, and a scout primitive camping area.
Newport News Park is a great place to relax in the outdoors. Bring a picnic lunch and go for a hike. There are picnic tables with grills available. Nice playgrounds are located throughout the park. If you are planning a gathering rent one of the picnic shelters. It is a great place to have an event with enough activities to keep people of all ages happy. Some of the larger picnic shelters have volleyball and horseshoes courts nearby. Bring your ball or horseshoes to enjoy.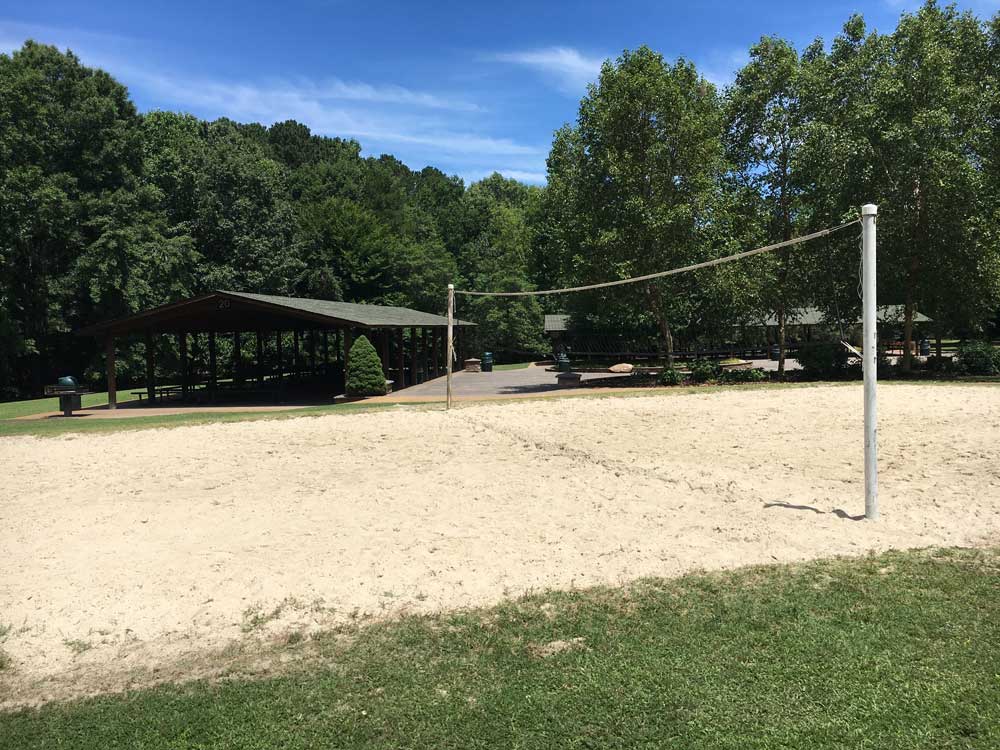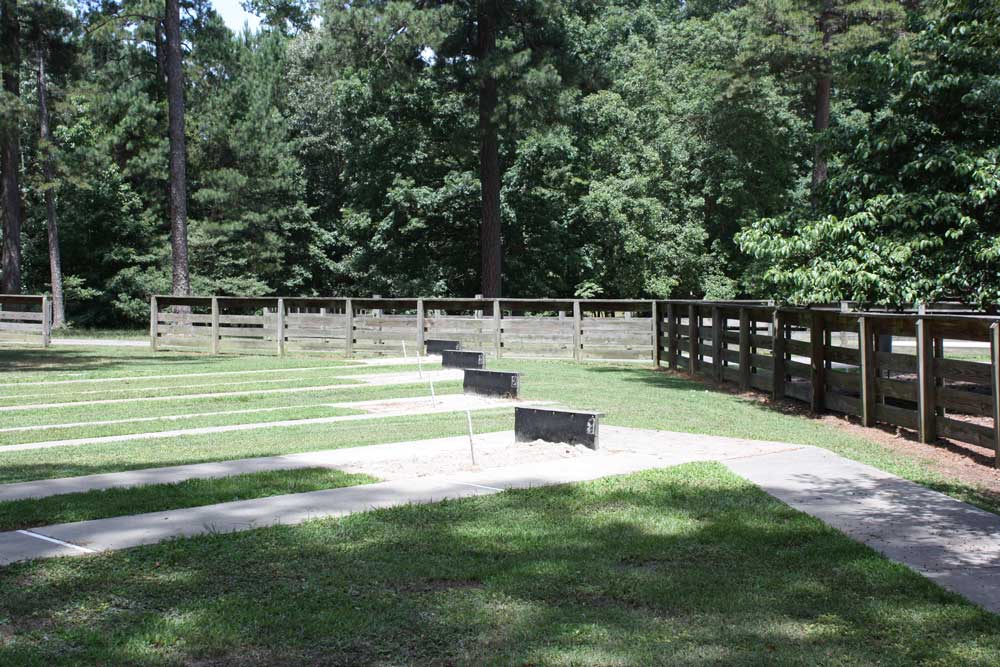 There is often something going on at Newport News Park. Nature programs like Swamp Thing or Life in a Log are good outdoor learning experiences. The schedule of events can be found in the Newport News Parks, Recreation, & Tourism magazine.
To help plan your visit, you may want to view a map of Newport News Park.
Newport News Park Archery Range
There is a great archery range that can be used for a day or all year. There are shooting lanes and a target course in the woods. Before using the range, you'll have to pass an archery safety course. This is a one hour presentation by a park ranger that covers general archery safety as well as the information you need to do archery at Newport News Park. The course is offered regularly. These are some of the upcoming 2019 dates: July 28, 2019 at 10 am, August 1 at 7 pm, or August 18 at 4 pm. Additional dates are available. For more information or to register, call 757-888-3333.
Boating and Fishing at Newport News Park
Newport News Park surrounds the Lee Hall Reservoir. You can rent one of the many boats available. Canoes, pedal boats, and Jon boats are all available to rent by the hour. You can fish from the shore or one of the fishing piers. Or, you might like to try fishing from a boat. You'll need a Virginia fishing license. There is a daily fee of $2 for fishing from the shore or $6 for a fishing boat rental.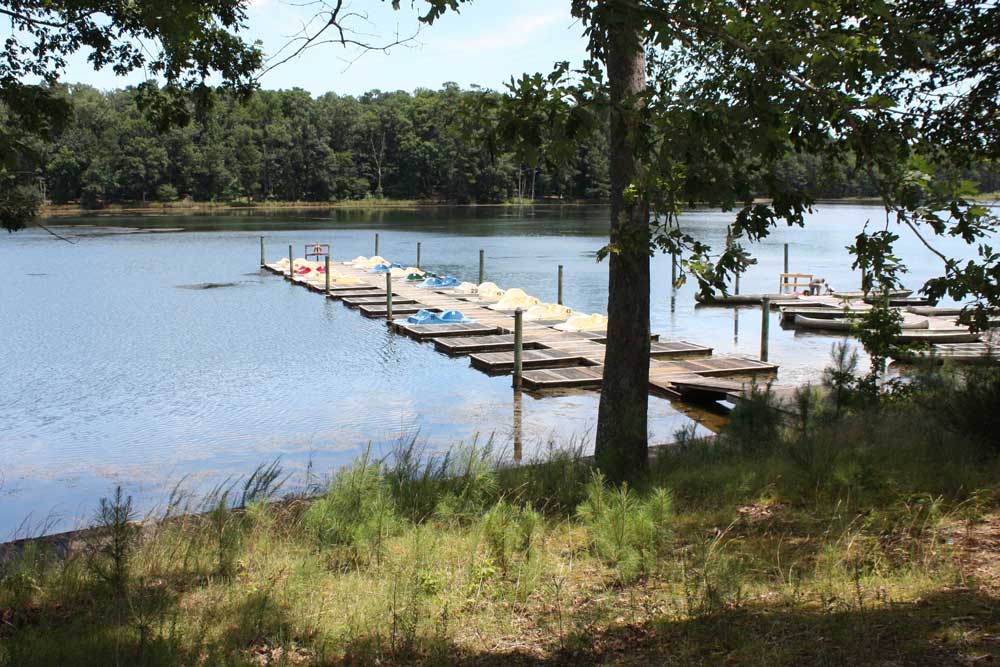 Hiking Trails at Newport News Park
Nothing beats taking a hike in the woods or along a lake. Newport News Park offers over 30 miles of trails.
A good place to start your hike is at the Discovery Center. The Discovery Center offers some hands-on activities a small collection of nature exhibits featuring information about the animals you may find in the park. There is also a collection of Civil War artifacts such as belt buckles and buttons. There are signs from the Discovery Center pointing you to the start of several hiking trails.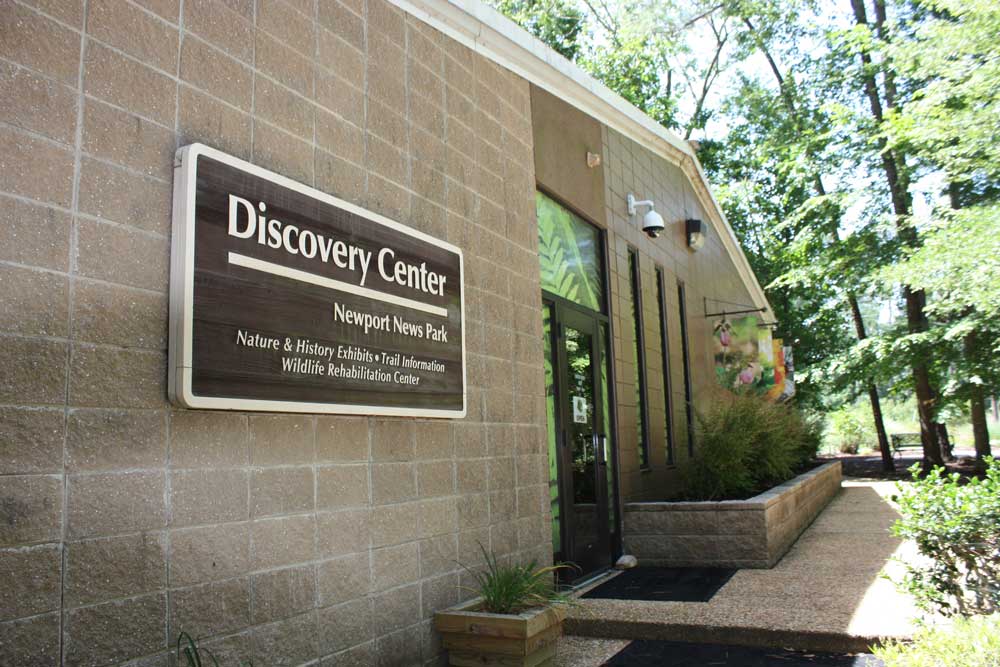 At the trailhead, you'll find a sign describing a Civil War battle that happened where the park now stands. In the Battle of Dam No. 1, part of the Peninsula Campaign, Confederate General John Magruder had his troops build a series of fortifications including dams and earthworks. In 1862, Maj. General George McClellan was marching his Union Army troops toward Richmond. The two sides fought a siege battle for a month. As you walk the trails, you can still see some of the fortifications from that era.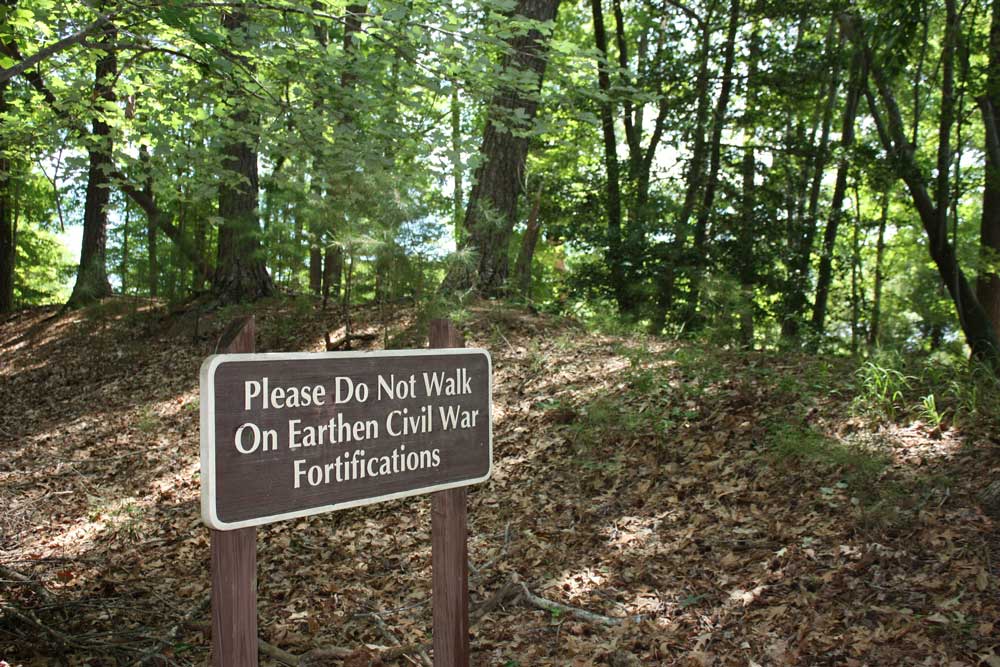 If you prefer to stay on paved trails, head to the left where you'll find a nice path along the lake toward picnic shelters and a playground.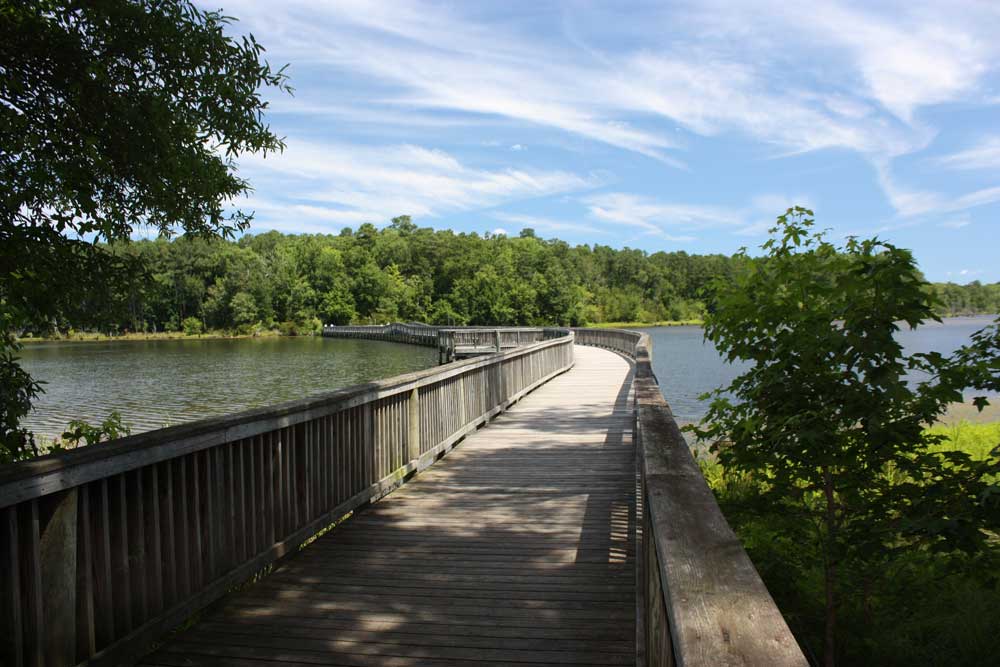 Cross the Dam Bridge, and you'll be able to head left onto the Twin Forts Loop (.7 miles) or the Long Meadow Trail (.5 miles). You can hike less than a half mile to the campground from here. Or, you can head to the right and take the Sycamore Creek Trail (.5 miles) or the White Oak Trail (2.6 miles). The Wynn's Mill Loop adds another 1.3 mile option. Cross the Swamp Bridge and you can take the Swamp Trail back to the Discovery Center.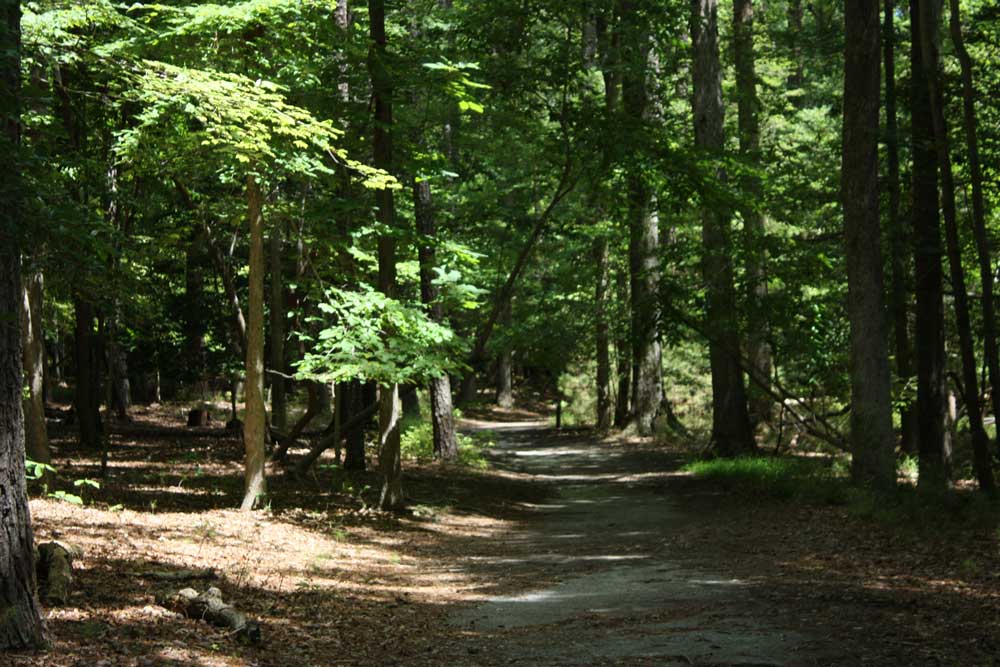 Hiking trails in Newport News Park are generally level. They are hard packed dirt or sand. You may encounter some tree roots. One thing to note, you may come across some areas with tall grass. Consider wearing pants or tall socks, a good pair of hiking shoes, and using bug repellant to help reduce the risk of ticks.
Bicycling at Newport News Park
Starting at the campsite office (using the campground entrance from Jefferson), there is a five mile bicycle trail. It is gravel and fairly level, but I recommend riding the trail with a mountain bike. If you prefer to rent a bike, they are available for $3 per hour at the campsite office. Helmets are available for an additional $1. At one point, the trail crosses through Colonial National Historical Park. Watch for a marker indicating where George Washington camped during the Revolutionary War.
Disc Golf at Newport News Park
Newport News Park has an 18 hole championship level disc golf course. Disc golf is a fun way to get some outdoor activity. Similar to golf, you'll walk 18 holes. Only, the holes are replaced by a pole with a basket. You throw a disc trying to get it into the basket. There are different discs used for long or short throws, similar to drivers and putters in regular golf.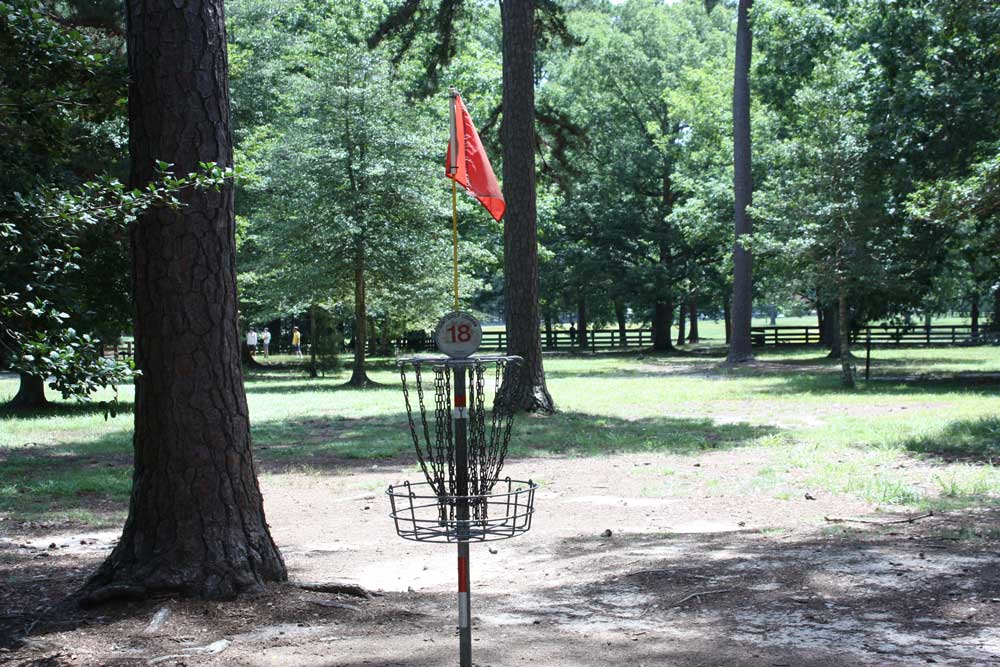 If you like disc golf, Newport News Park is a great choice. You can play for $3 for a day or get an annual pass for $30. Discs are available for sale in the campground store.
Special Events at Newport News Park
There are several special events at Newport News Park each year.
In the Spring, you can check out the Children's Festival of Friends. There are many hands-on activities, games, and entertainment. Admission is free but there is a $5 parking fee. Food is available for purchase.
The Fall Festival is October 5-6, 2019. This event features folklife demonstrations, crafts, and food representing a variety of cultures. While admission is free, there is a $5 parking fee. Food is available for purchase.
Celebration in Lights will be November 28, 2019 – January 1, 2020. After dark, drive through the park and enjoy the festive holiday light display. There are a wide variety of lights on display including some that move. You'll see snowflakes, deer, a toy workshop, and much more. There are a few light displays unique to the area including a Monitor & Merrimack ship battle scene.
Newport News Park Campground
A separate park entrance takes you into the Newport News Park Campground. As you enter, you'll find a new campsite office, camp store, and laundry area. You need to check in to the office before proceeding to your site. This building was recently completed and is a significant upgrade from the old campsite office.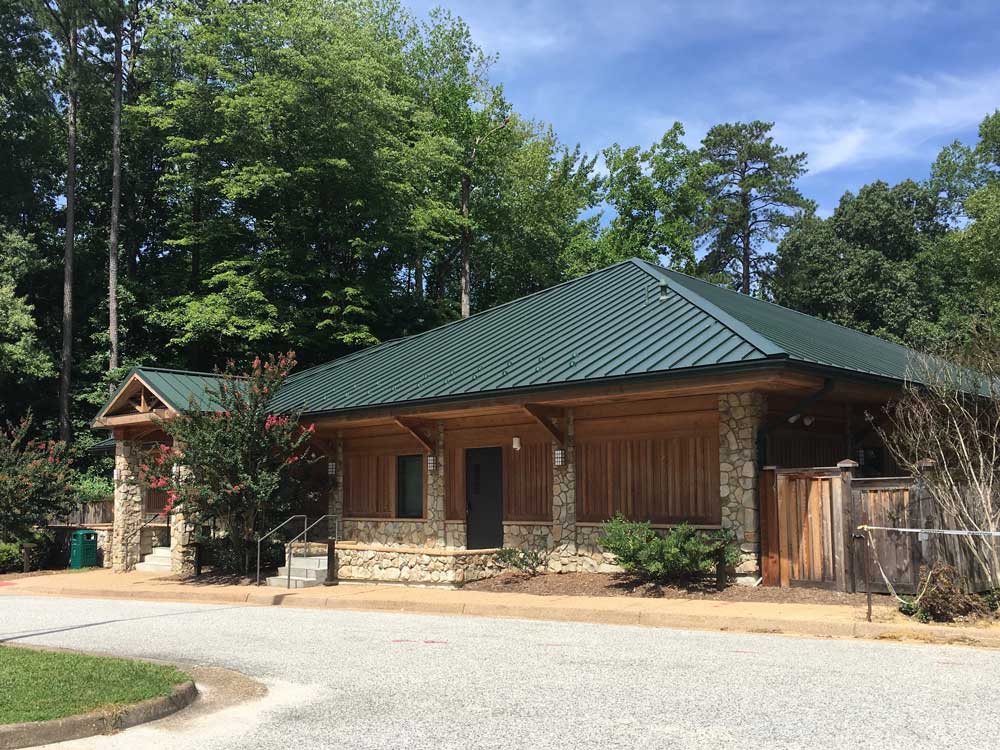 The store has the usual camping items, a good selection of frisbee golf discs, and some interesting craft items.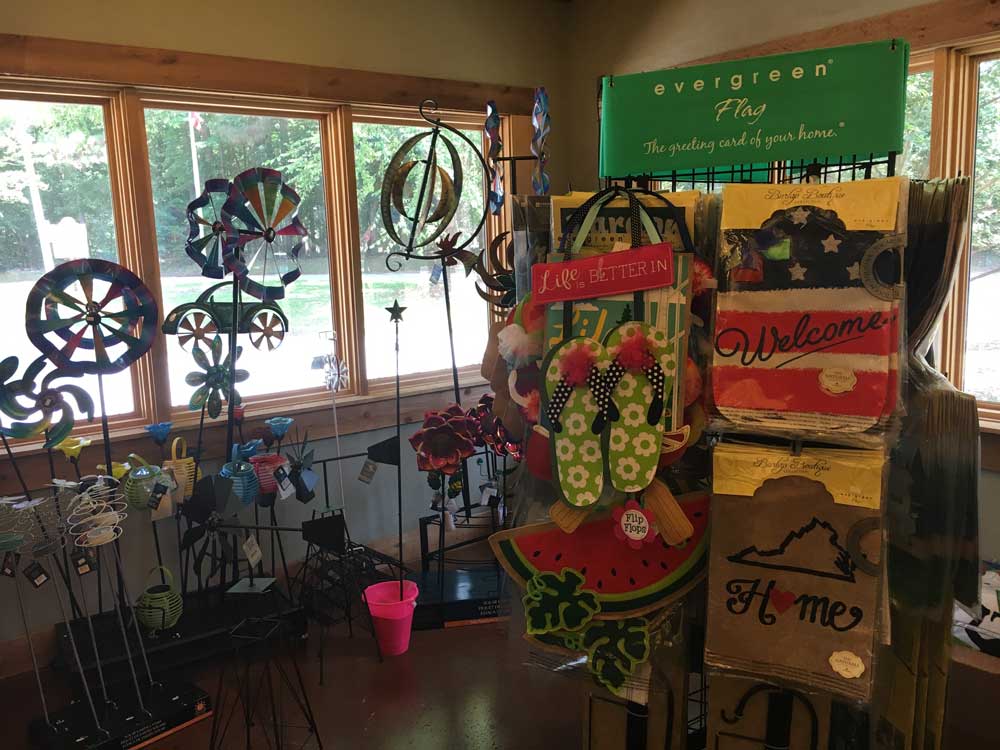 Newport News Park Campground offers both tent and RV camping. I have enjoyed many great nights of tent camping at both of the two youth group sites. Some youth groups like Cub Scouts require access to indoor plumbing and there is a bathhouse situated near the group sites. I have also tent camped in the Boy Scout primitive camping area. All of the group camp sites provide a good opportunity for young people to spend some time in the outdoors.
There are seven loops with individual back-in sites for RVs or tents. Sites are water & electric, electric only, or no utilities. On the B loop, 50 amp electricity is available. The sites are paved, nicely spaced apart and there is plenty of shade. There are 188 campsites in a wooded setting. At $36.00 per night for a water & electric site, this is definitely a good value option for the area. For that price, you can have up to five people, an RV and up to two additional tents.
I wish I could say that the rest of the campground is as nice as the new campsite office. Despite visiting during the peak summer vacation season, the campground was largely vacant. Unfortunately, many of the sites are not as level as you'd like. Many of the pads could use an update, as could the loop roads which appear to have had a few potholes filled. Some sites had mud next to or one the parking pad.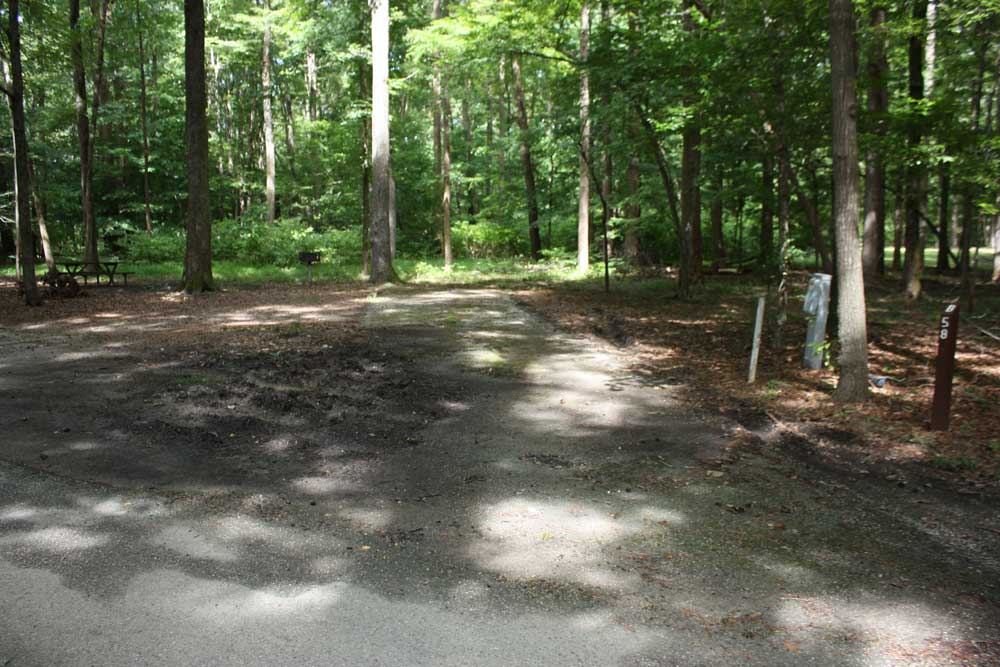 Backing into some of the sites looked like it might be a bit tricky. There are often trees growing right on the edge of the parking pad. Add in signs, posts, and utilities and you will want to have at least one good spotter to help you get parked. During my visit, I saw several large Class A rigs and travel trailers in the campground, I observed a large 5th wheel having a bit of a challenge getting into their site. With the help of two spotters, they were able to get parked.
Amenities at each site are pretty basic and include a picnic table and a grill. While it appeared many people had been having campfires, no campfire rings were provided. There was also no post for hanging a lantern.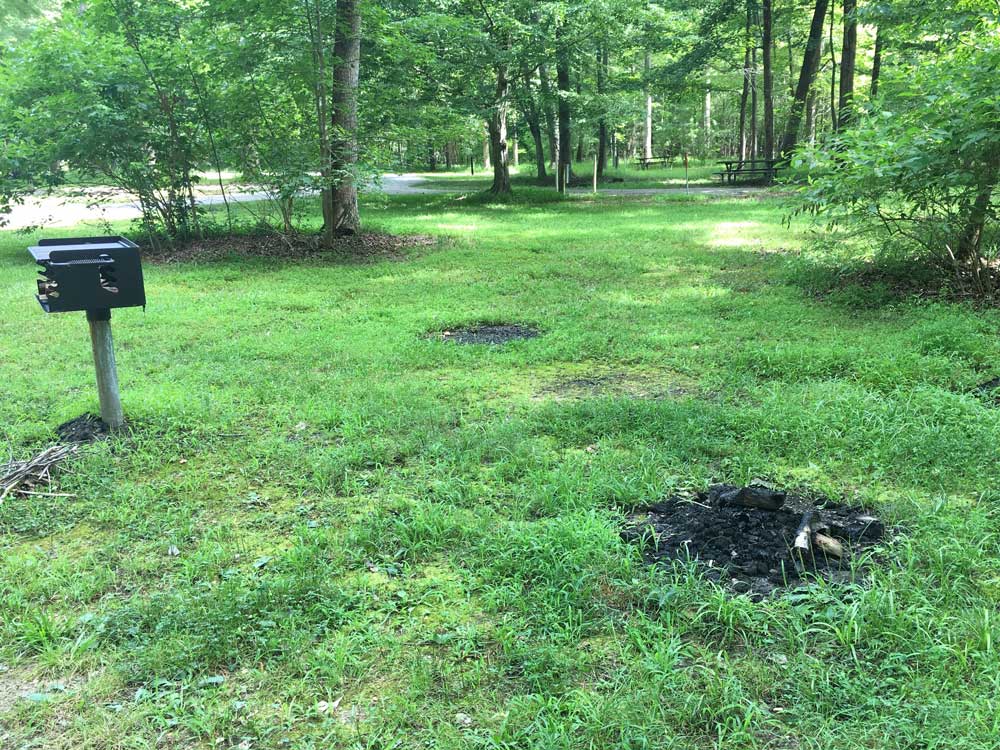 Some sites do have a water view which is nice.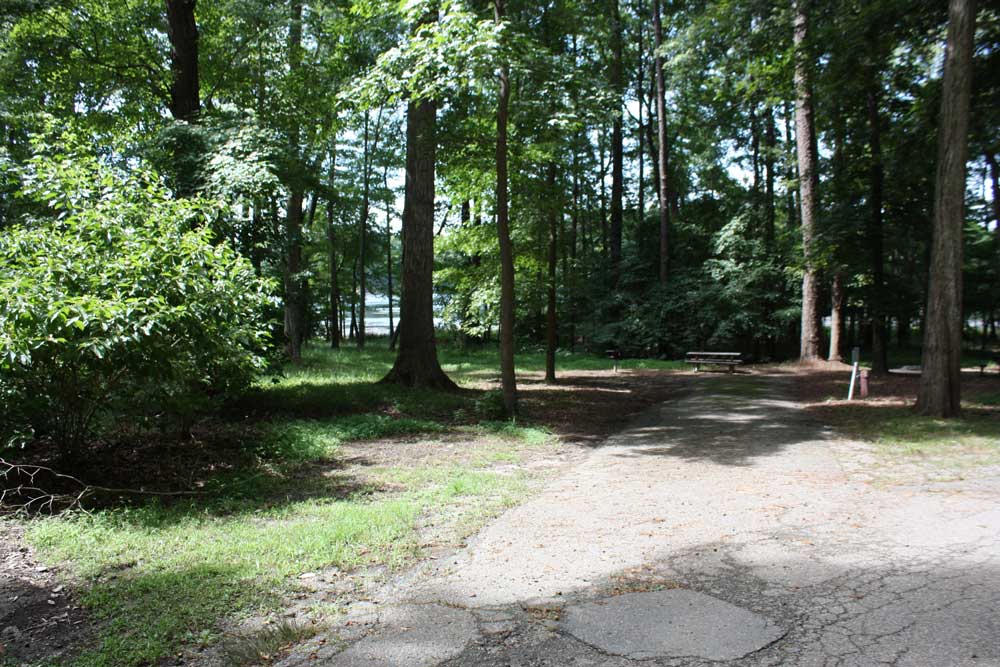 Road noise can be an issue at the Newport News Park Campground. Interstate 64, which has recently been expanded to three lanes in each direction, is located right next to the park. Trains tracks are also nearby.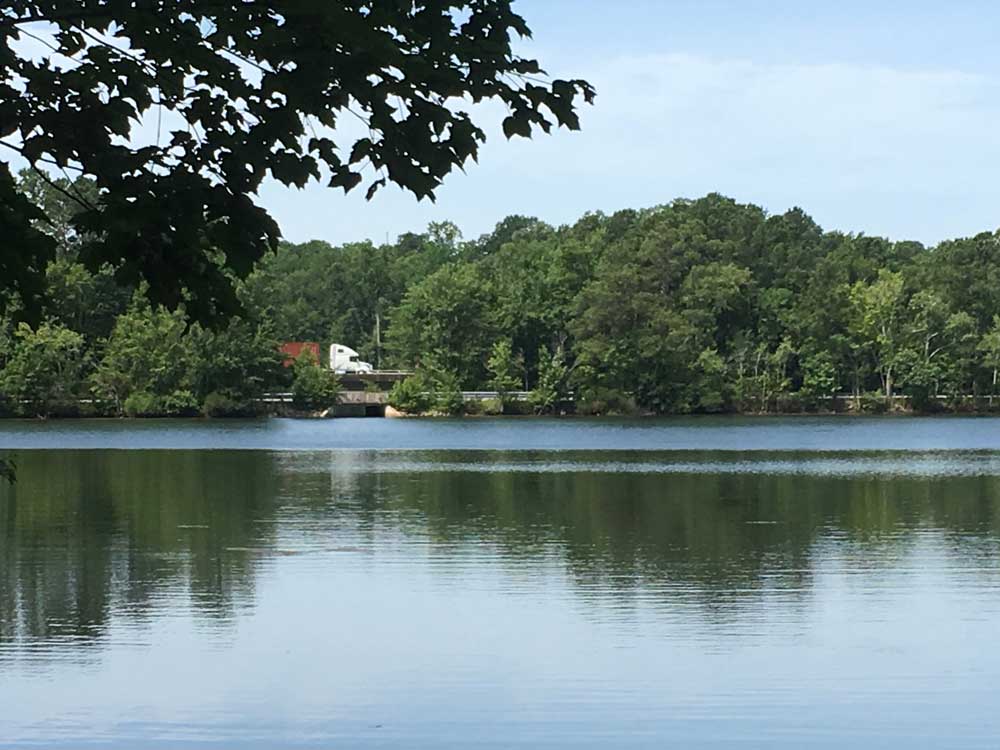 There are several bathhouses available throughout the campground. They are in bad shape. The exterior of the buildings needed to be cleaned. Windows were covered in cobwebs. Inside is worse. In one bathhouse, there was a significant amount of water on the floor. In another, a sink was damaged. All of the showers looked dirty and moldy. While I usually prefer to use a bathhouse for my shower, especially when I am not on full hookups, I don't think I would shower here. You might find the inconvenience of using your blue tank to be a better option than using these bathhouses.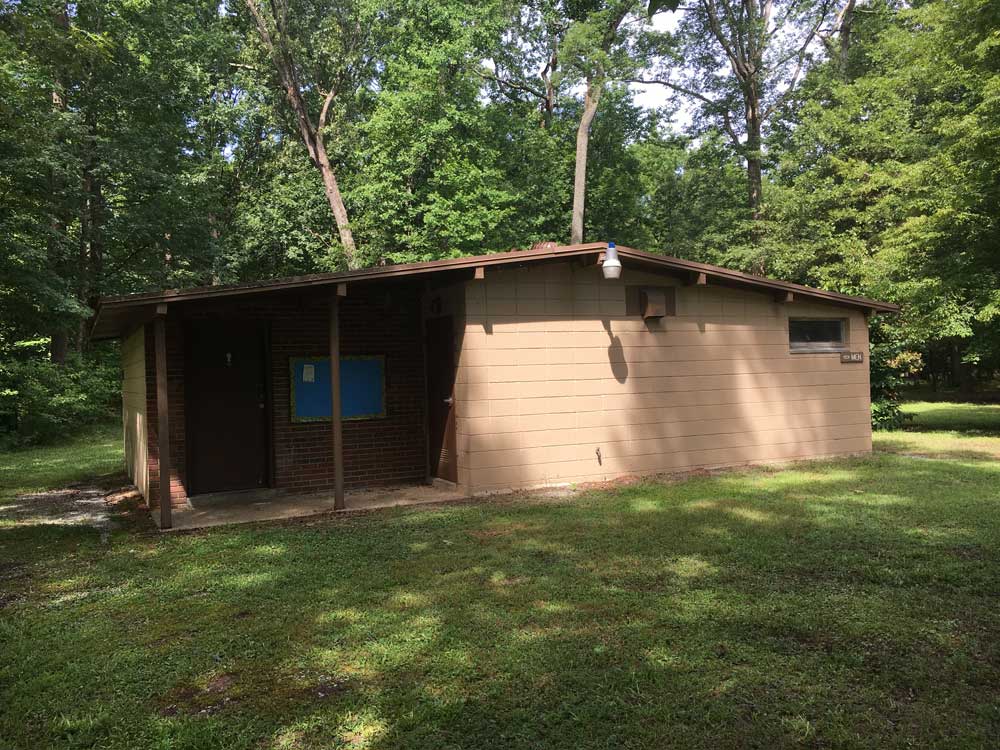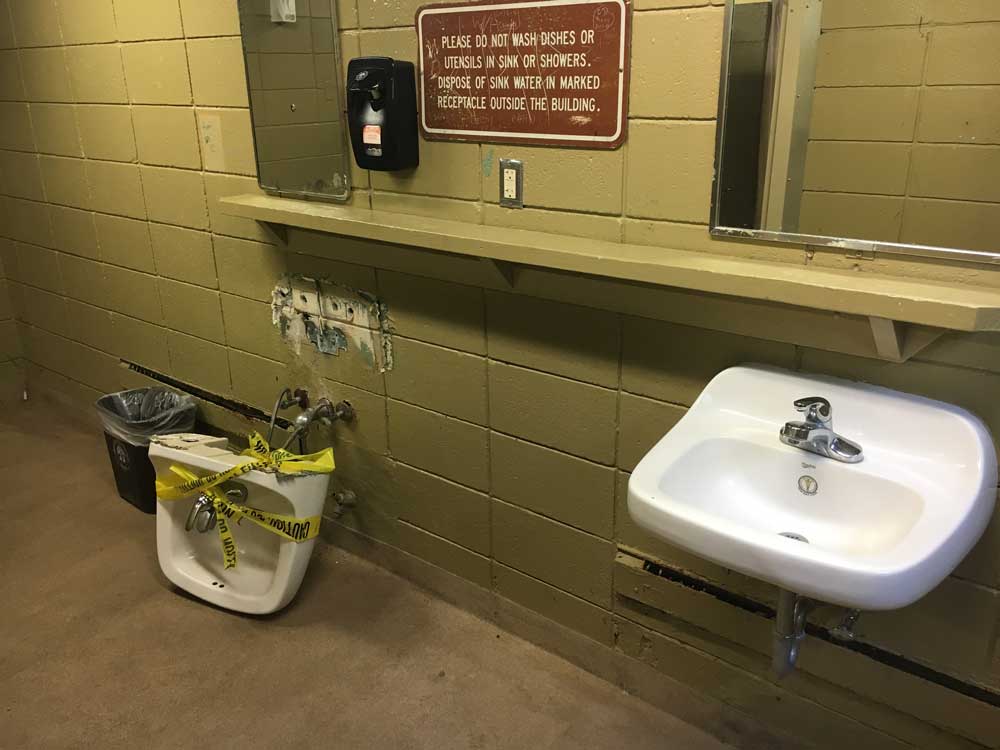 As you exit the campground loop area you'll find a dump station. One nice thing about the Newport News Park Campground dump station is that there is a bathhouse next to it. It is nice to have a place to wash your hands after finishing that task. Garbage bins are also conveniently located here.
Newport News Park Campground Rates and Amenities
A no-utility site is $33, electric only is $35 and electric & water is $36. Add tax to all prices. Seniors 60 and over receive a $2 per night discount.
Wifi is not provided.
A laundry facility with four washers and four dryers is available in the campsite office building. To wash or dry a load is $1.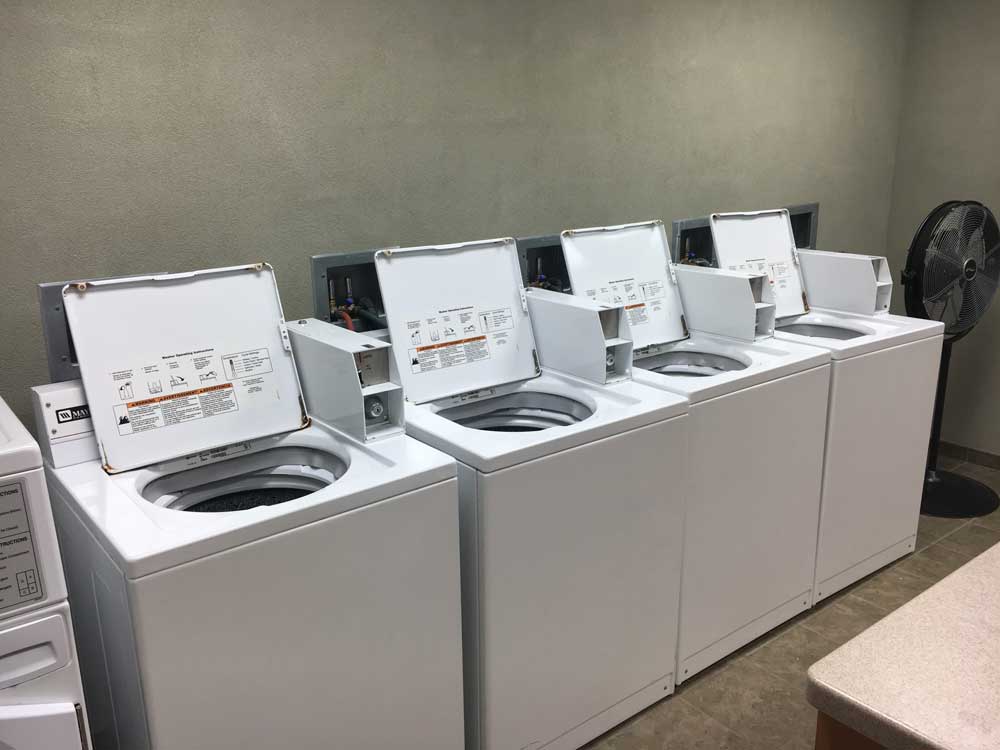 Directions to Newport News Park
Newport News Park is located off Jefferson Road (VA 143) in Newport News, VA. From Interstate 64, take exit 250B. Then turn left on Jefferson. The first entrance on your right is the park. The second entrance on the right is the campground.
Attractions Near Newport News Park
Busch Gardens Williamsburg
Busch Gardens Williamsburg is a Europe-themed amusement park that has been named the world's most beautiful theme park every year since 1990.  
Mariners' Museum
The Mariners' Museum has over 60,000 square feet dedicated to maritime history. Among their exhibits include the Monitor Center, dedicated to preserving and displaying the Monitor, a Civil War ironclad. Admission is only $1. The address is 100 Museum Drive Newport News VA 23606
Copyright 2019 Travel Trail Sail. All Rights Reserved.