Plan Your Visit To Colonial Williamsburg
Visit Colonial Williamsburg to walk in the footsteps of Washington and Jefferson as you learn about and experience life in 18th century America.
I have been visiting Colonial Williamsburg for years. My family and I enjoy spending time walking and enjoying the historic charm. I wanted to share some information and tips to help you plan your visit to Colonial Williamsburg. I'll cover everything you need to know including things to do, tickets, parking, and dining.
Colonial Williamsburg Overview
You can walk in the footsteps of American legends like Thomas Jefferson, George Washington, Patrick Henry, James Monroe, James Madison, and George Wythe. See where they set the foundation for our country, dine in some of their favorite restaurants, and interact with interpreters who'll help you understand the colonial experience.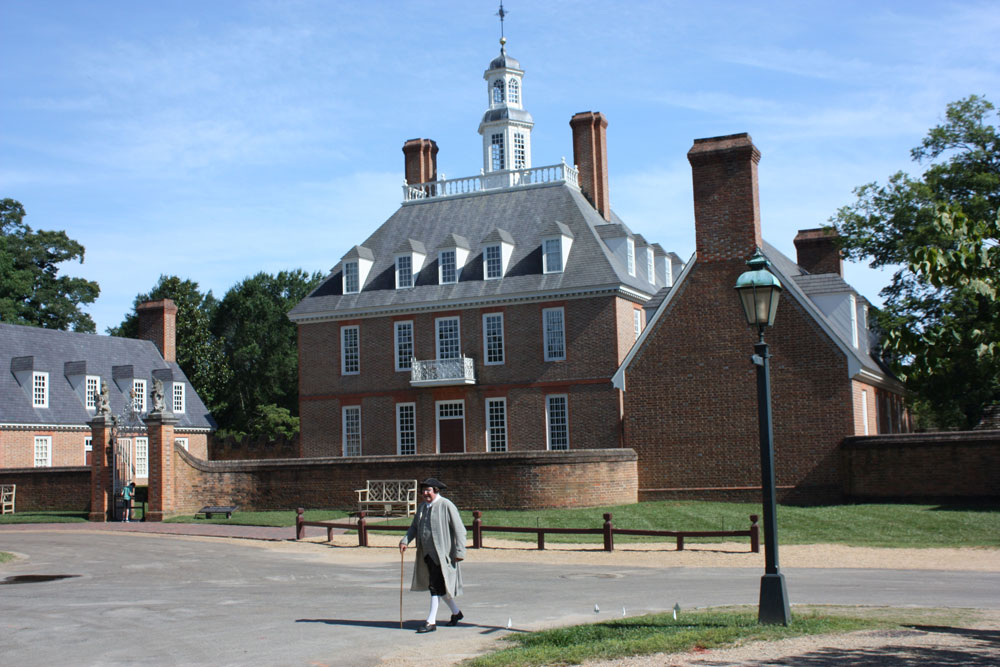 Williamsburg VA was the capital of Virginia from 1699-1780. Williamsburg replaced Jamestown as the colonial capital after the Jamestown statehouse burned down in 1698. It was the capital for over 80 years until it was moved to Richmond during the Revolutionary War.
Adjacent to Colonial Williamsburg, you'll find the College of William & Mary. Founded 1693, it is the second longest running college in the US, second only to Harvard which was founded in 1636.
Colonial Williamsburg is centered along Duke of Gloucester Street running from S. Henry Street to N. Water Street. Historic buildings extend several blocks on either side of Duke of Gloucester. The Colonial feel extends past Henry Street as you cross into the Merchants Square area which offers modern shopping and dining.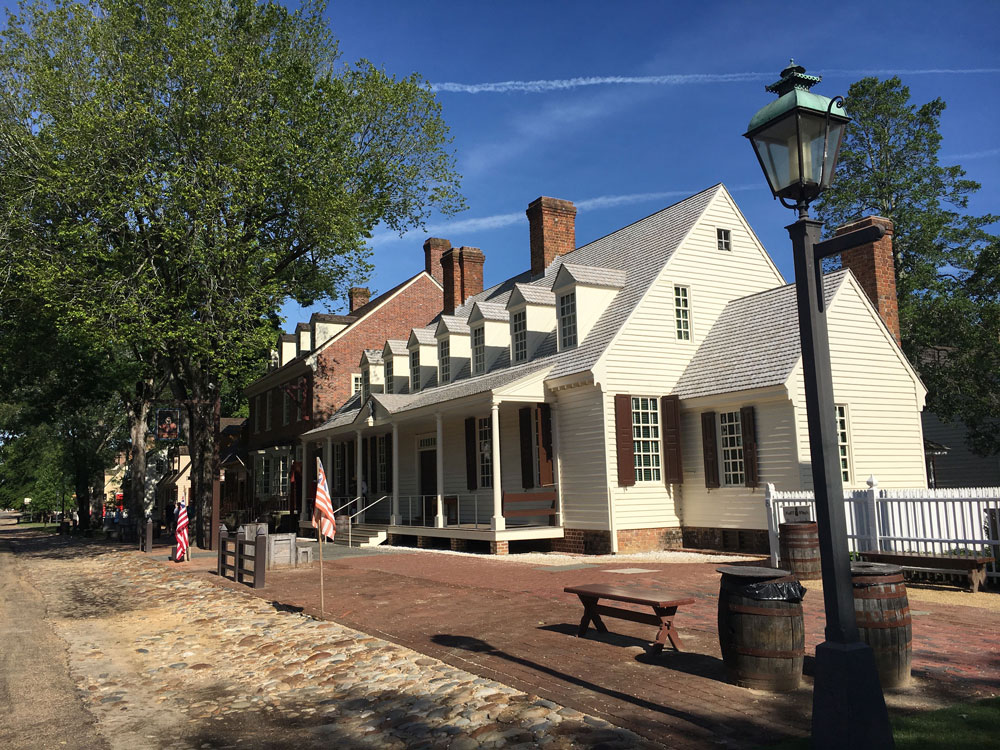 While the area feels like an original colonial-era town, some of the buildings are reproductions. After the capitol was moved to Richmond, many of the original buildings fell into disrepair or burned down. While it may seem strange if you value history, some of the important original buildings were demolished so that their bricks could be used to make other buildings.
After a century of decline, an idea was hatched. People like the Reverend Dr. W.A.R Goodwin and John D. Rockefeller Jr. planned a living history experience where people could learn about our colonial heritage. They quietly purchased the buildings & land and then renovated or recreated the area. At least eighty of the buildings you see in Colonial Williamsburg are originals.
Some of the houses you see along Duke of Gloucester are private residences. Most, however, have been made into interpretive exhibits where you see and talk with a tradesperson at work, like a blacksmith.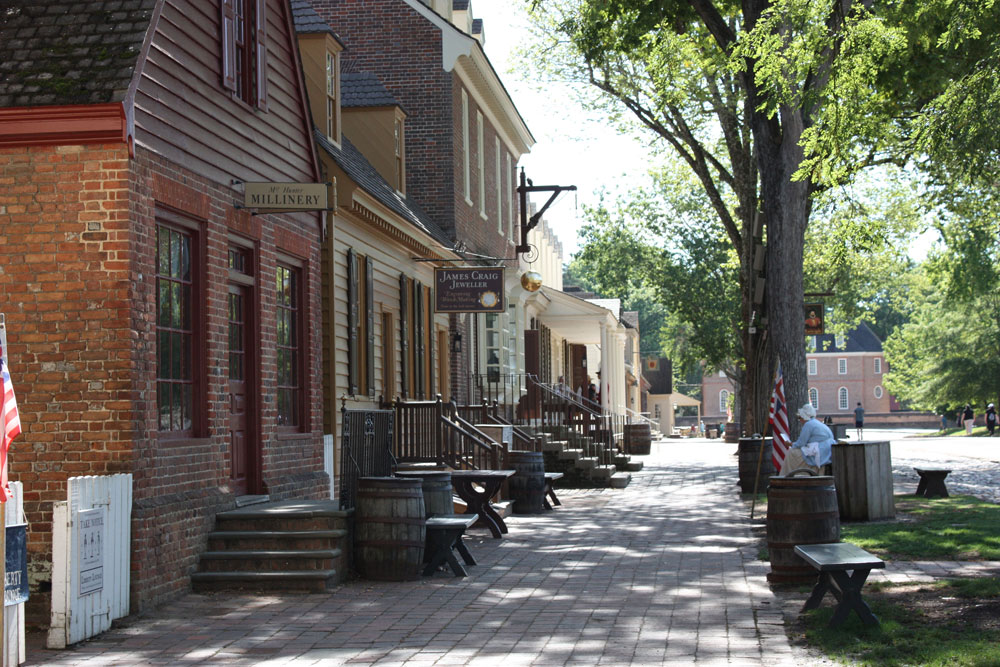 While a stroll through Colonial Williamsburg can be a pleasant experience, you should know that it is a historic area. Sidewalks are bricks that are sometimes uneven. Many of the buildings where not made with today's standards in mind and may be challenging for some to access. Some of the restaurants have added ramps and other accessibility features to make it easier for their guests. With few exceptions, parking isn't permitted in the historic area so you may have to walk a significant distance to get where you are going.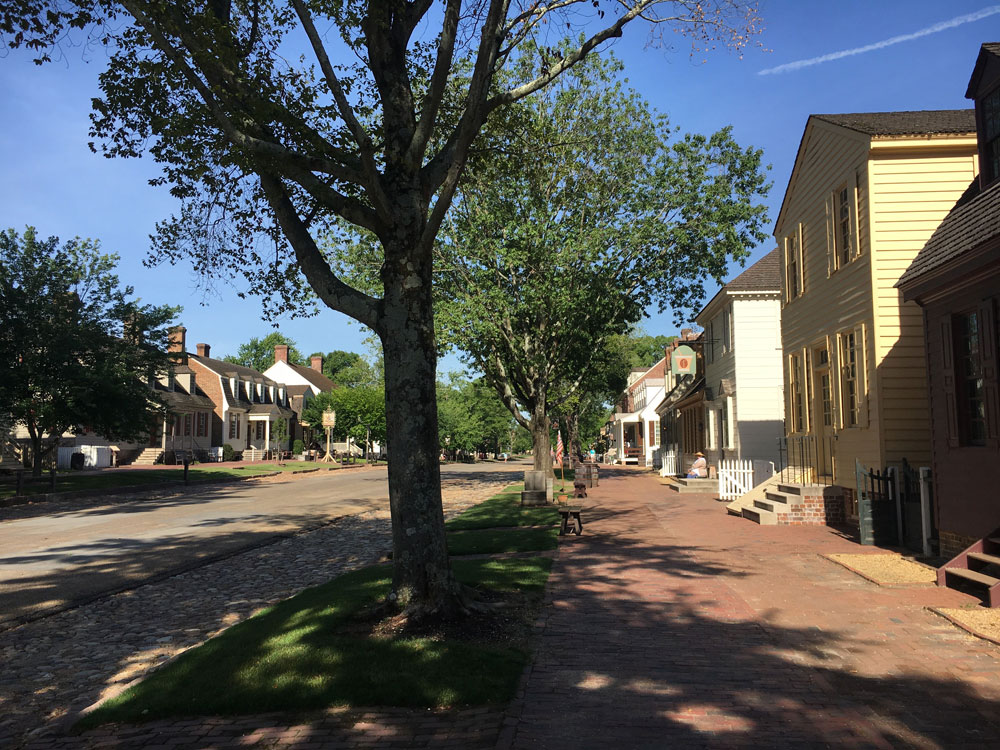 Should you need them, there are three public restroom buildings found in Colonial Williamsburg. One is on Henry Street at the ticket office. A second is midway through the area on Botetourt St. The third is near the capitol building.
Our Colonial Williamsburg Walking Tour
If you prefer a video tour of Colonial Williamsburg, you can join us for a walking tour along the Duke of Gloucester Street in Colonial Williamsburg. Williamsburg is one of our favorite places to visit. In our Colonial Williamsburg Walking Tour YouTube video, we'll take you on a relaxing stroll, to walk in the footsteps of founding Americans like Thomas Jefferson and George Washington. The tour includes stops at The Governor's Palace, The Magazine and The Capitol. During our walk, we will share some information and tips to help you plan your visit to Colonial Williamsburg.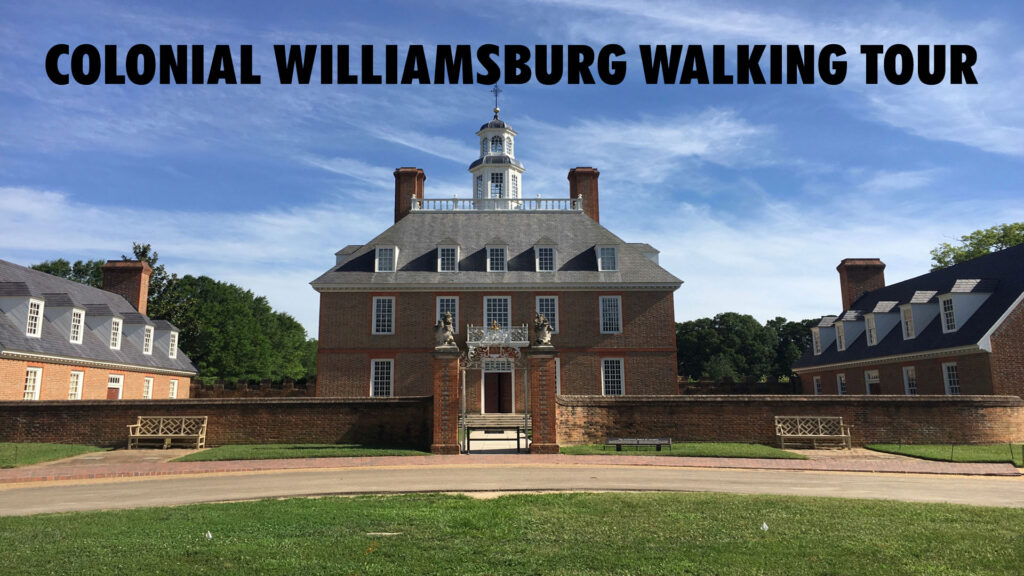 Colonial Williamsburg Historic Buildings
You will have the opportunity to see many beautiful and historic buildings in Colonial Williamsburg. Among these are a few that are iconic Williamsburg landmarks.
Bruton Parish Church
Founded in 1660 as an Anglican Church, Bruton Parish is still an active congregations. You have the opportunity to attend services on Sundays and Wednesdays. Bruton Parish also hosts organ, instrumental, and choir concerts. The current Bruton Parish Church is the third building and was completed in 1715.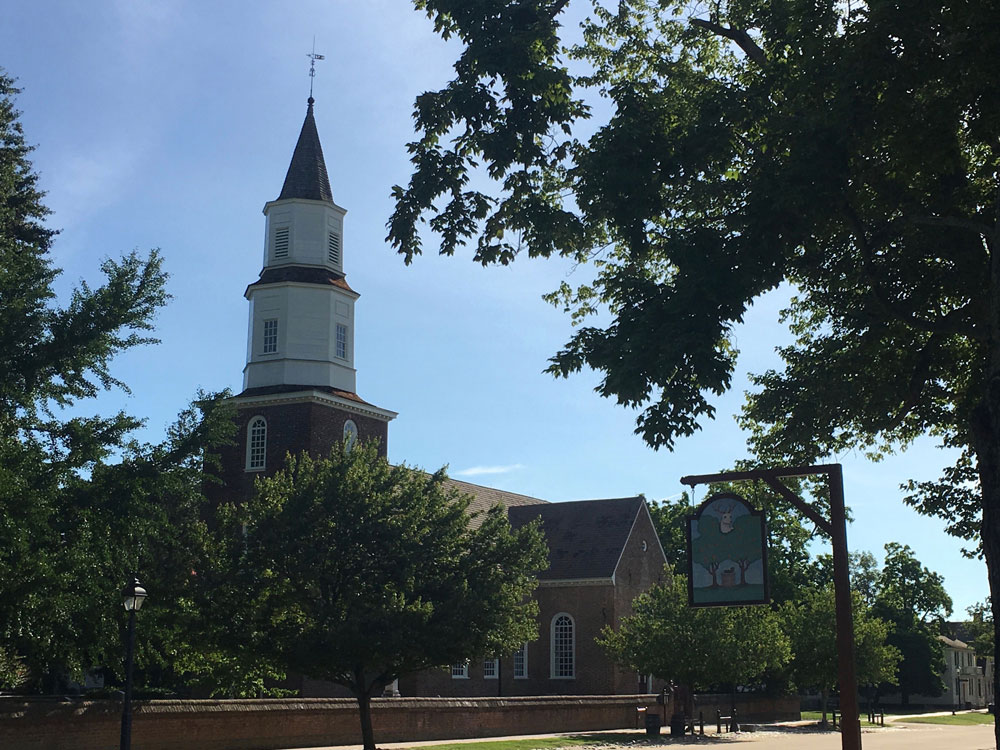 Governor's Palace
The Governor's Palace is a beautiful home built as the governor's residence. Not only a residence, but a place to entertain including lavish parties. Governor Farquier often invited a young Thomas Jefferson, who was studying at the College of William & Mary, to play chamber music with his violin. Later, Jefferson became governor and was the last to reside in the Governor's Palace.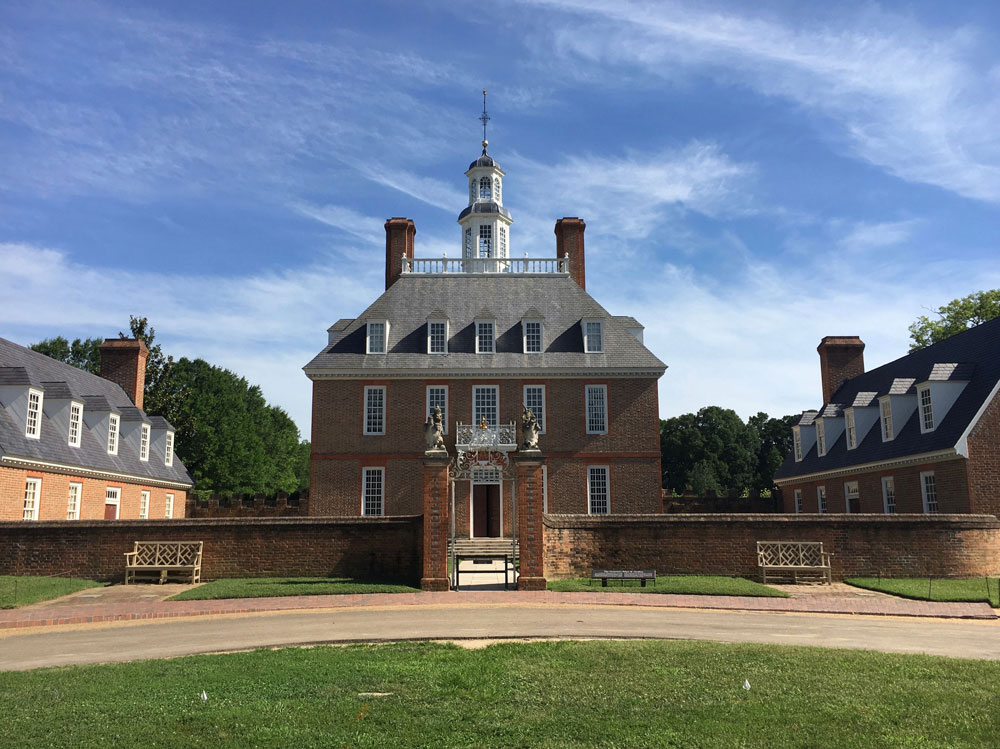 Looking out from the Governor's Palace, you'll find the Palace Green. A long stretch of lawn and avenue that provides room for leisure while also providing a visual power statement of the residence compared to other homes in the community.
The original Governor's Palace took many years to build and was completed in 1722. It burned down in 1781. The current Governor's Palace is a reconstruction that opened in 1934.
The Magazine
The Magazine was constructed in 1715. This octagonal building served as the armory where the community stored muskets, shot, powder and other arms. During the colonial period, all men 16-60 were required to participate in the militia. Citizens would report at least monthly to participate in drills and military practice.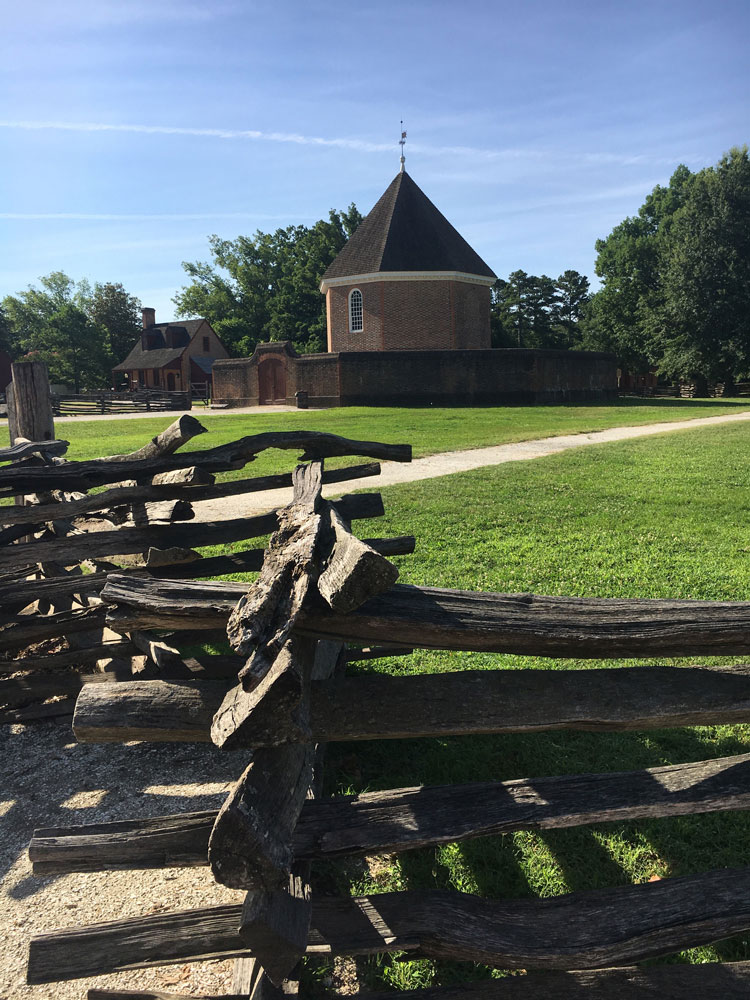 The Capitol
The Capitol was the building where members of the House of Burgesses met to conduct colonial government business. Construction of the Capitol was completed in 1705. It was reconstructed in 1753 after burning down and then used until 1779 when the Virginia government moved to Richmond. In the 1800's, the Capitol was demolished. It was reconstructed in 1934.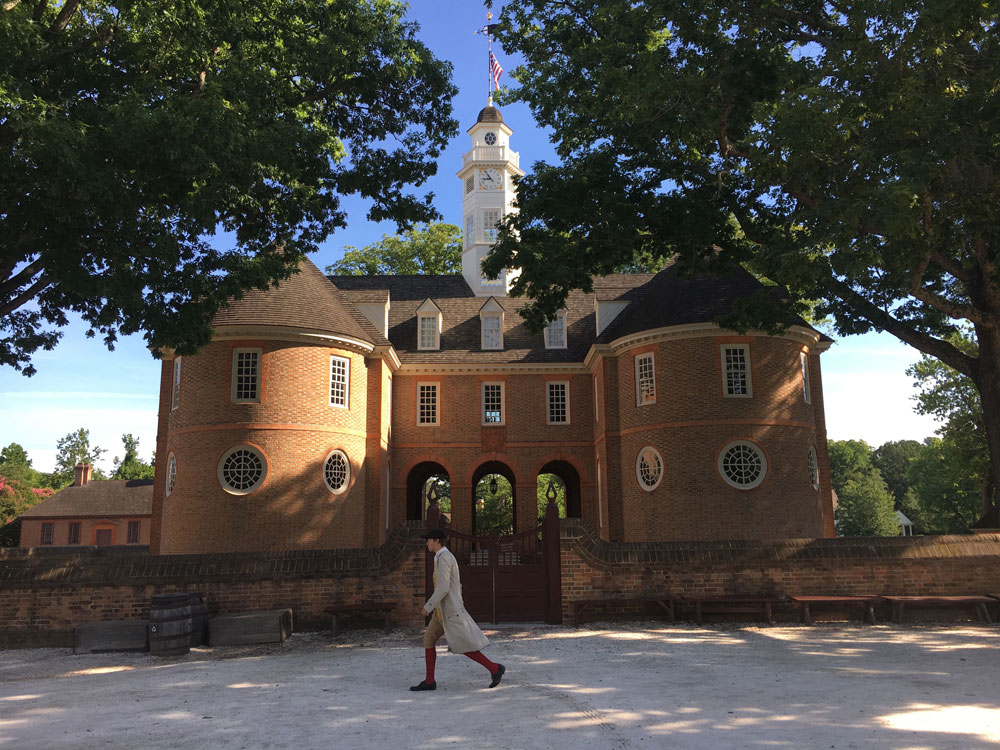 Special Events at Colonial Williamsburg
Colonial Williamsburg is a place you can return to throughout the year as there is always something going on.
Williamsburg Farmer's Market
You can enjoy strolling around the Williamsburg Farmer's Market Saturday mornings in the summer from 8:00 to noon. A variety of farmers, bakers, and other craftspeople display their items. You can purchase fresh produce, flowers, pies, and other items. A chef's table provides cooking demonstrations and there is live music.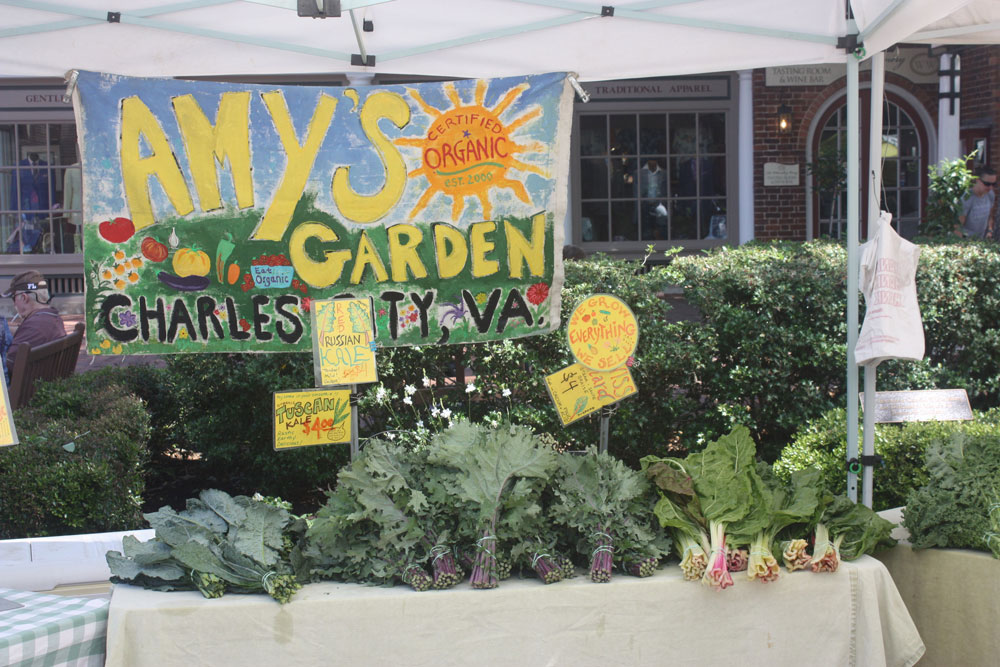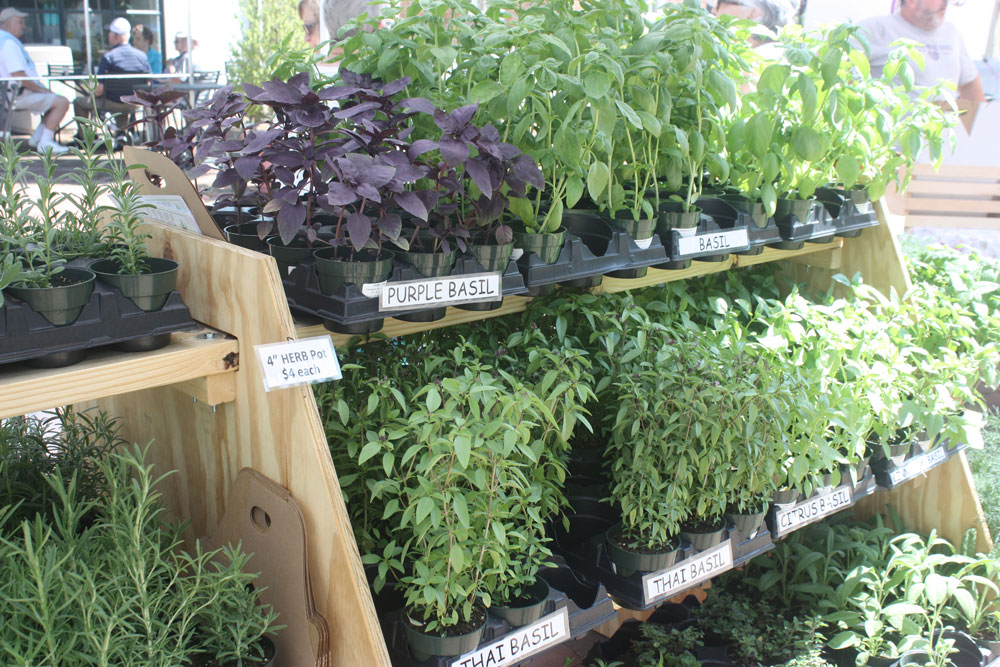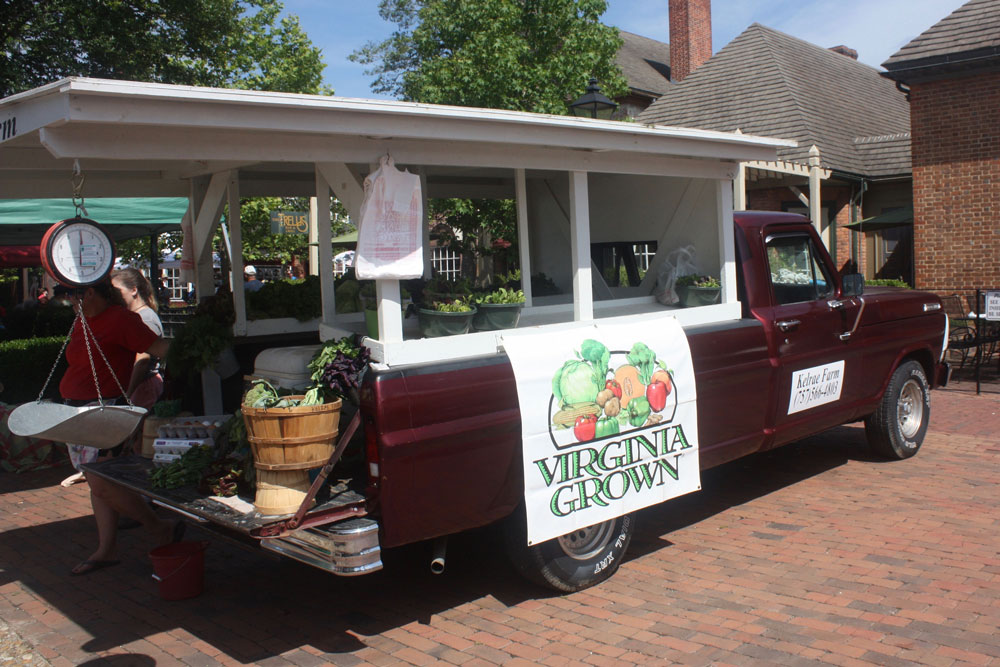 2nd Sundays Art & Music Festival
2nd Sundays is a street fair that takes place from 11-5 on the second Sunday of the month almost all year, every month except January and February. Arts, crafts, live music, family friendly. You might catch an Irish Dance performance, meet a local author, or hear a band perform.
Grand Illumination
The Grand Illumination offers fireworks and entertainment in the18th century tradition. In 2019, the Grand Illumination will be on December 8.
Entertainment at Christmas
Entertainment is provided each weekend. For example, you might catch a two-man production of A Christmas Carol done on an extremely small but flexible stage.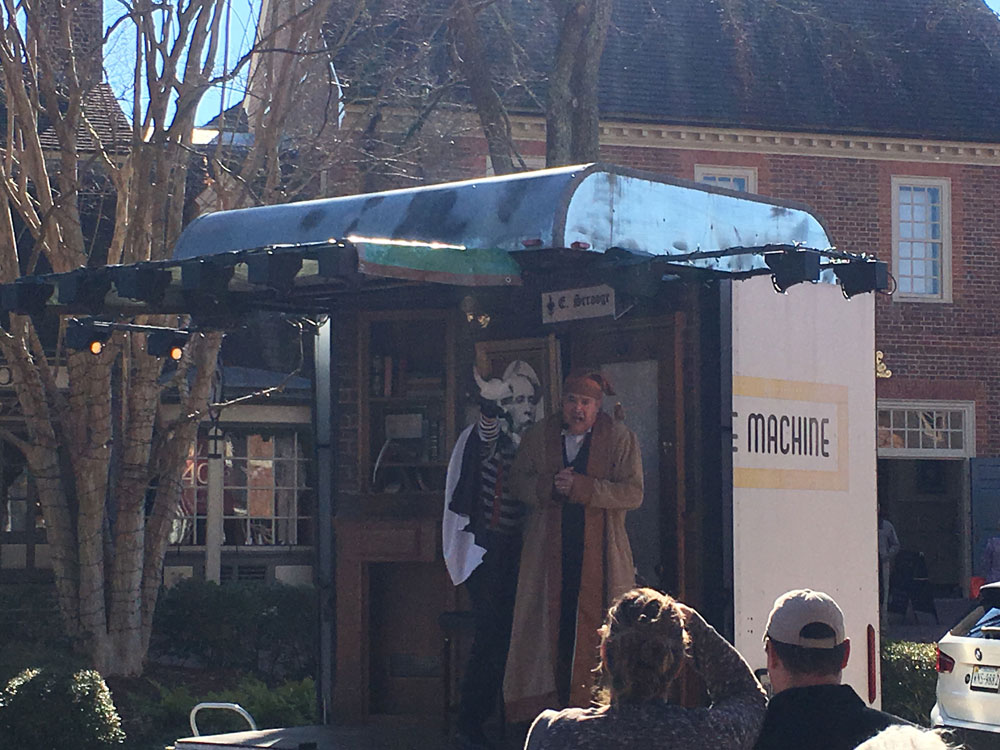 Colonial Williamsburg Dining
There are two ways you can dine in Colonial Williamsburg. You could choose from one of several historic establishments or one of several great modern restaurants.
Historic Restaurants
Chowning's Tavern is an alehouse open for lunch and dinner. They serve colonial-inspired pub fare including Shepherd's Pie, BBQ Ribs, Brunswick Stew or Low Country Chicken and Shrimp Gumbo. It is designated as accessible.
Christiana Campbell's is open only for dinner. This was one of George Washington's favorite restaurants. Supper includes an entree, vegetables, soup, salad, and dessert. Seafood is featured and you might select crab cakes, a Low Country Stew with Clams, Mussels, Shrimp & Fish, or a N.Y. Strip Steak.
King's Arms Tavern is a chophouse that opened in 1772. They are open for lunch and dinner. For lunch, you might try a pot pie, soup & sandwich or fried chicken. Dinner has items like prime rib, pork chop or a game pie with venison, rabbit, and duck. It is designated as accessible.
Raleigh Tavern Bakery offers sandwiches and sweet treats like ginger cakes. Seating is on benches outside.
Shields Tavern is open for lunch & dinner. Its theme is globally influenced tavern food. You might try a crayfish & shrimp stew, beef pastry, bbq pork sandwich, or a hamburger At dinner, you can order a 3-course supper with soup, fried chicken, mashed potatoes, vegetables and ice cream. Or, you can order entrees like a stuffed bell pepper, blackened catfish, or a pork shank. It is designated as accessible.
Modern Restaurants
You'll want to start your day with breakfast at Aromas. This local coffee shop also offers one of the best breakfast selections in the area. Later in the day, they have tasty sandwiches and salads.
For lunch, I recommend getting a sandwich at the Cheese Shop. You can eat outside and there are a few table inside. Take a few minutes to check out the great selections in their store.
There are several fine dining options in Williamsburg. One of my favorites is The Fat Canary. Many people choose to celebrate birthdays, anniversaries and other special occasions at the Fat Canary. You can see into the kitchen as chefs prepare your scallops, king salmon, or pork chop. The great food, service, and atmosphere combine to make for a fantastic meal.
Colonial Williamsburg Shopping
In the Colonial area, there is an open air gift shop next to the Magazine. It carries items like tri-corner hats, and 18th century children's games.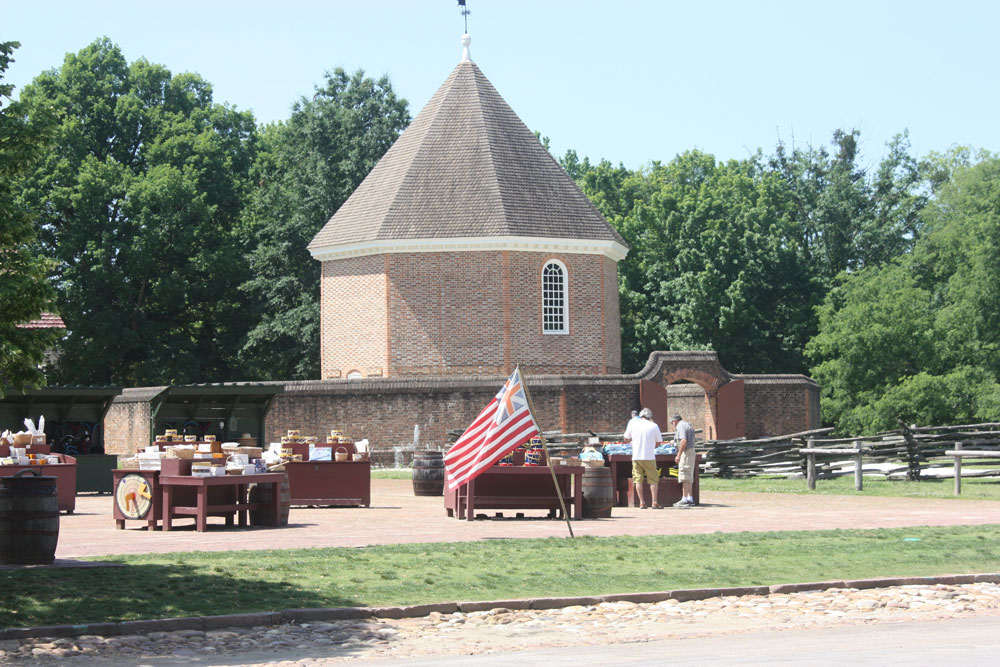 Once you cross Henry Street into the Merchant's Square area, you'll find a variety of shops. Among them are some chains such as Talbots and Williams-Sonoma. The Barnes & Noble has a good selection of College of William & Mary items. There are a few unique shops, too. For example, Scotland House, Ltd carries an interesting mix of sweaters, scarves and hats from the British Isles. The Wythe Candy & Gourmet Shop is a must if you have a sweet tooth.
Visiting Colonial Williamsburg With Your Dog
Colonial Williamsburg is a great place to visit with your dog. We enjoy walking our Black Lab Rita on Duke of Gloucester (D.O.G.) street.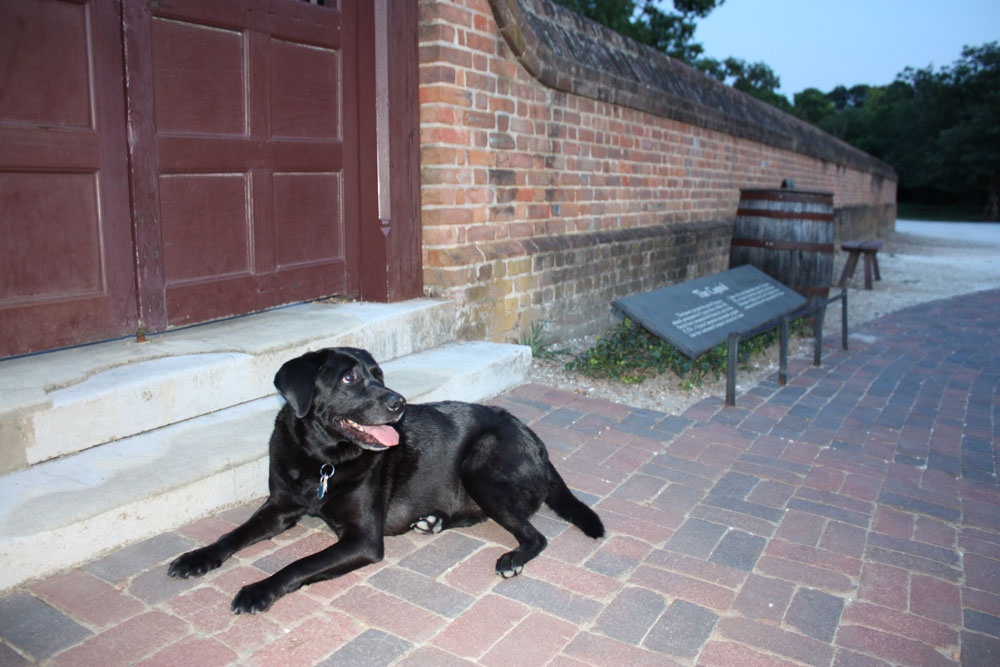 If you take your dog, you are likely to encounter many other friendly dogs. Your dog might also like seeing cows or sheep grazing in a pasture.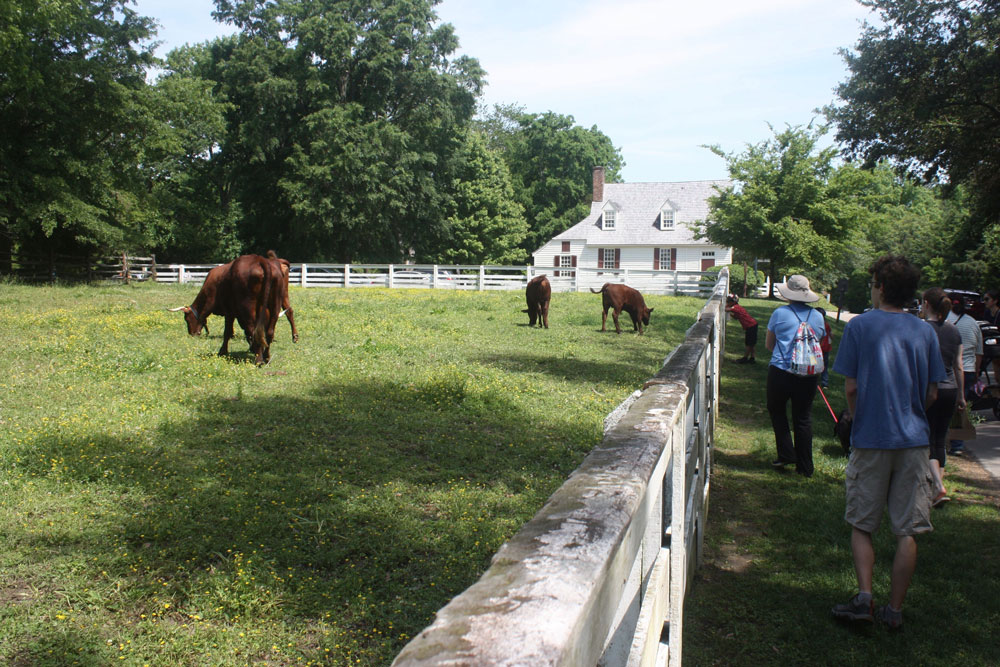 Dogs must be well behaved and on a leash but they can even go in the visitors center and ride on the shuttle buses. In fact Go Pet Friendly rated Colonial Williamsburg as Virginia's top pet friendly attraction.
However, be aware that there are some places dogs are not allowed. No dogs are allowed in restaurants, retail outlets, or museums. If you plan to visit the ticket-entry historic buildings, your dog won't be able to come in with you so you may need to consider taking turns touring the buildings while someone else watches the dog. Dogs are also not allowed in the gardens or on carriage rides.
Colonial Williamsburg Tickets
While you can enjoy walking in Colonial Williamsburg without a ticket, to enter many of the historic buildings and interact with interpreters, you need a Colonial Williamsburg ticket.
One option is a single day ticket. These can be purchased at any of the ticket offices including the Visitor Center and Merchants Square ticket office. You can also buy your Colonial Williamsburg Tickets online. Single day tickets are currently priced at $44.99 for an adult and $24.99 for a youth (6-12). Three day tickets are just slightly higher $54.99 and $29.99. You might enjoy visiting so much that you opt for an annual pass for $74.99 and $41.49.
Attractions in Virginia and across the country have had closures in 2020. As Colonial Williamsburg begins to reopen, there is a special Summer 2020 Ticket available for $19.99 for an adult and $10.99 for youth ages 6-12. According to the Colonial Williamsburg site "Enjoy access to a limited selection of featured Colonial Williamsburg Historic Area sites, trades, programs, and gardens, as well as access to two art museums and free parking at the Visitor Center. Available through July 31."
A variety of discounts are available. You may find discounts for Williamsburg residents, military service members and teachers.
If you are planning a visit to Williamsburg and will also be spending time in some of the other great attractions in the area, consider a multi-attraction ticket like the Williamsburg Flex Ticket. You get unlimited access for seven days to Busch Gardens Williamsburg, Water Country, Colonial Williamsburg, Jamestown Settlement, Historic Jamestowne, and the Yorktown Battlefield. Parking at all attractions is included. The price when this was written was $201.69 for ages 16+ and $152.69 for ages 6-15. This ticket can be purchased through Busch Gardens or Colonial Williamsburg.
Other Ticketed Activities
A carriage ride is a fun way to tour the city. Tickets at the Lumber House Ticket Office or the William Pitt Store. Or buy your tickets online in advance. Carriage Ride Tickets are $20 per person but you can save $5 with a current ticket or annual pass.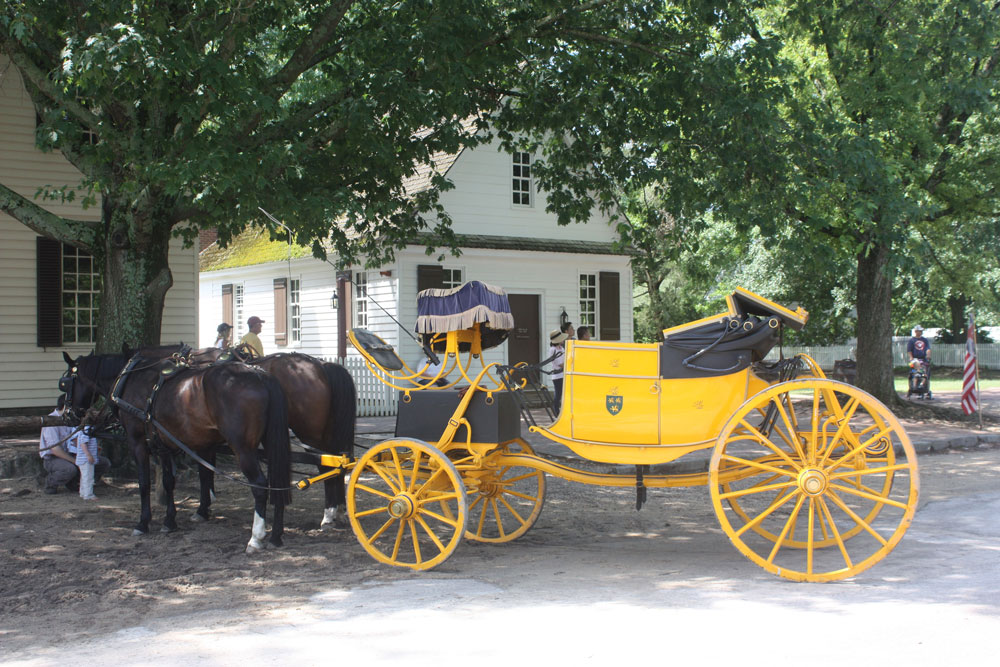 In the evening, you might enjoy going on one of the available ghost tours. Several ghost tour options are available. Colonial Ghosts offers an hour-long ghost tour for $15.40, an Ultimate Williamsburg Ghost Tour for $23 and a Williamsburg Cemetery Guided Tour for $35. The Original Ghost Tour offers The Original Ghosts of Williamsburg Tour for $13.
Colonial Williamsburg 2020
Due to COVID19, most public spaces have dealt with the issue of public health. Colonial Williamsburg closed for several months. They are opening June 14, 2020 with some limitations. You might notice interpreters wearing face masks along with their colonial-era clothing. There are signs requesting people to observe social distancing. Plexiglass barriers may be in place in some locations to help protect visitors and staff.
Colonial Williamsburg introduced a touchless ticketing system that enables you to have a ticket on your mobile device.
Shuttle buses will be available from the visitors center to the drop-off areas in the historic section. However, people are encouraged to walk as the number of bus riders will be limited.
Special events, like the farmer's market, have been cancelled. Additional outside seating has been added to enable more outside dining capacity.
For more details on their approach to keeping everyone safe while reopening, check out their post Welcome Back to Colonial Williamsburg.
I'll give credit to the Colonial Williamsburg team. Despite the challenges, they have tried to keep people engaged. On Instagram and Facebook, curators and interpreters have been creating new engaging and informative content. Consider following them and checking out their innovative work. For a nice write-up on their innovation during the pandemic, check out the Daily Press/Virginia Gazette article Colonial Williamsburg Goes Digital.
Colonial Williamsburg Parking
If you are doing Colonial Williamsburg with a ticket, you likely want to stop by the visitor center as it is a great place to start your tour. Its open 8:45-5:00 daily. 101 Visitor Center Dr, Williamsburg, VA 23185-4565 Parking is available and a shuttle bus runs every half hour to take you to the historic area.
If you are coming back in the evening for dinner, a ghost tour, of just to stroll around, you may want to park closer to the action.
There are several parking lots close to Colonial Williamsburg. Some are free for short term parking, up to 2 hours. Additional street parking for up to 2 hours is available if you head up North Boundary Street.
If you plan to visit for longer than two hours, there is a parking lot and a garage that offer longer-term parking for $1 per hour.
Note that RV parking in the Colonial Williamsburg area is limited. If possible, consider parking at the visitors center or taking a shuttle or ride-share from the campground.
Campgrounds Near Colonial Williamsburg
If you are visiting Colonial Williamsburg in your RV, there are some great nearby camping options. The following are three of the better options.
American Heritage RV Park
American Heritage is a highly rated Good Sam campground (9.5/10/10) that is approximately 10 miles from Colonial Williamsburg. There are 105 sites. Pull through sites with 50 AMP service are available.
Newport News Park
At over 8,000 acres, Newport News Park is among the nations largest municipal parks. It is located about 12 miles from Colonial Williamsburg. The Newport News Park Campground offers 188 campsites in a wooded setting. At $36.00 per night for a water & electric site, this is definitely a good value option for the area. In addition to a great natural campground setting, you have access to hiking and biking trails, a nature center, an archery range, and canoeing & fishing on Lee Hall Reservoir. 
Williamsburg KOA
Williamsburg/Busch Gardens Area KOA is located approximately 8 miles from Colonial Williamsburg. the Williamsburg KOA has 370 sites divided into two sections. There is a lot to do at this KOA including a nice heated swimming pool, bounce pillows, and plenty of planned activities. Pull through sites with 50 AMP service are available.  
Attractions Near Colonial Williamsburg
There is a lot to do in the Williamsburg area. Colonial Williamsburg is our top pick. You might also enjoy visiting Jamestown and Yorktown. Check out our list of the Top 7 Must do Williamsburg VA Area Attractions.
Copyright 2020 Travel Trail Sail. All Rights Reserved.