If you are using a Blackstone griddle, you'll need a good spatula. We tested Blackstone and Cuisinart tool sets to find the best griddle spatula set.
I'm enjoying my Blackstone Griddle. We are continuing to test lots of different recipes with it to see what works best. There are tons of available Blackstone accessories. One of the first you'll likely want to buy is a good spatula. But, which one is the best? I wanted to find out so I bought two spatula sets to test them out. Which is the best griddle spatula set? The Blackstone or the Cuisinart? Read on to find out.
For this test, we compared two spatula sets, The Blackstone Griddle Toolkit and the Cuisinart Stainless Steel BBQ Tool Set. You can see them in use in our Wisconsin Smashburger Recipe and YouTube Video.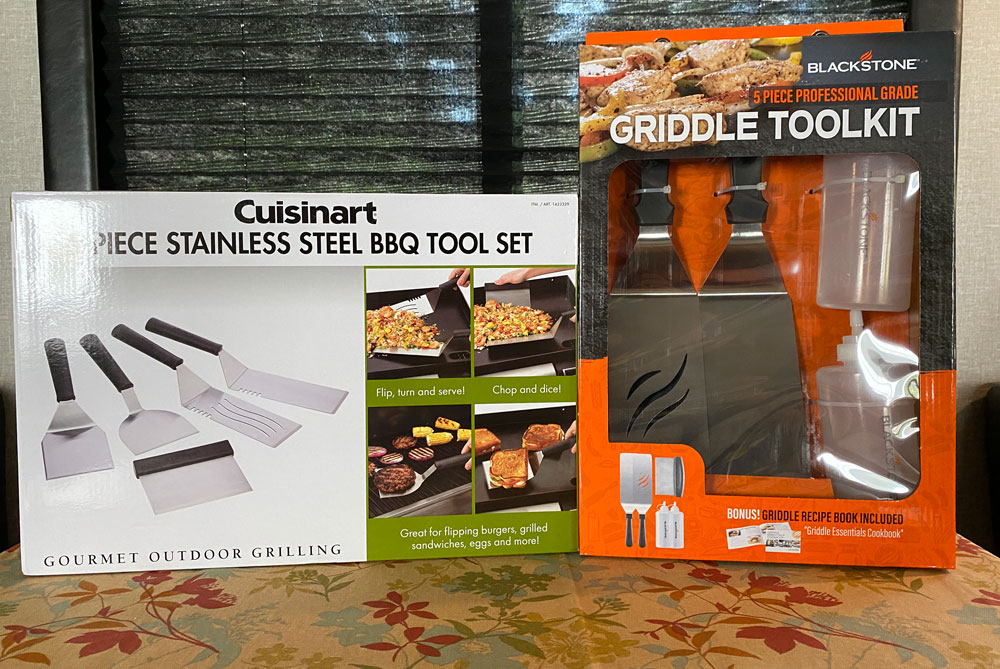 While both of these kits have spatulas, they aren't the same. The Blackstone griddle toolkit contains 2 spatulas, a chopper/scraper, two bottles and a recipe book. The spatulas are thin and long. The Cuisinart has 2 spatulas, 2 turners and a chopper/scraper. The two turners are shorter spatulas which are intended for specific tasks like flipping pancakes and flipping french toast.
Blackstone Toolkit
The Blackstone 5 Piece Professional Grade Griddle Toolkit contains two spatulas, a chopper/scraper, two bottles and a recipe book. The spatulas are relatively thin, good for easily getting under the food you want to flip. One spatula is solid while the other has slots to let grease flow through. The slots are relatively far back on the spatula blade. For many food items, you might find yourself using just the front, solid part of the spatula blade. Handles on each are just long enough for my hands and have a curved area to act as a thumb rest. The regular Blackstone spatula weighs 7.2 ounces or 204 grams.
For cooking many items on the griddle, you'll need to add oil. Having the bottles is a good addition to your griddling tool set. However, food grade bottles like this are readily available, so you don't necessarily need Blackstone bottles.
The final part of the Blackstone toolkit is a recipe book. Containing 29 recipes, it's more of a booklet. Recipes include a range of foods such as pancakes, hot dogs, hamburgers and even stir fry.
Cuisinart BBQ Tool Set
The Cuisinart 5 Piece Stainless Steel BBQ Tool Set includes two large spatulas, two turners and a scraper/chopper. The spatulas are relatively heavy and have a round handle that provides a good place to grip. Both the spatulas have a serrated edge which may be helpful in chopping. Slots on the slotted spatula run the full length. In addition, there are two shorter spatulas called turners. These are sized to be perfect for flipping pancakes or sandwiches. While the Cuisinart spatulas are thicker than the Blackstone, they have a beveled front edge that may help them to easily get under food. The regular Cuisinart spatula weighs 10.4 ounces or 295 grams.
Best Hamburger Spatula
The extra weight of the Cuisinart spatula is very helpful for making burgers. I've been working to perfect a smashburger recipe. To make those, you need something that can really press a burger patty on the griddle. While the Blackstone spatula was capable, its flexibility made it harder to press a smashburger. The heavy weight of the Cuisinart spatula made it the better choice for creating smashburgers on your Blackstone griddle.
Best Pancake Spatula
For making pancakes, the best spatula choice of the two sets was the Cuisinart Turner. It was the perfect size for flipping a medium-sized pancake. Its size also meant that it was easier to get to a pancake without interfering with the rest of the pancakes on the griddle. A good second choice for pancakes is the Blackstone spatula. It was thinner than the Cuisinart spatula making it easier to put under a pancake. For pancakes, the regular Cuisinart spatula was just a bit harder to work with and its serrated edges may interfere with making pancakes.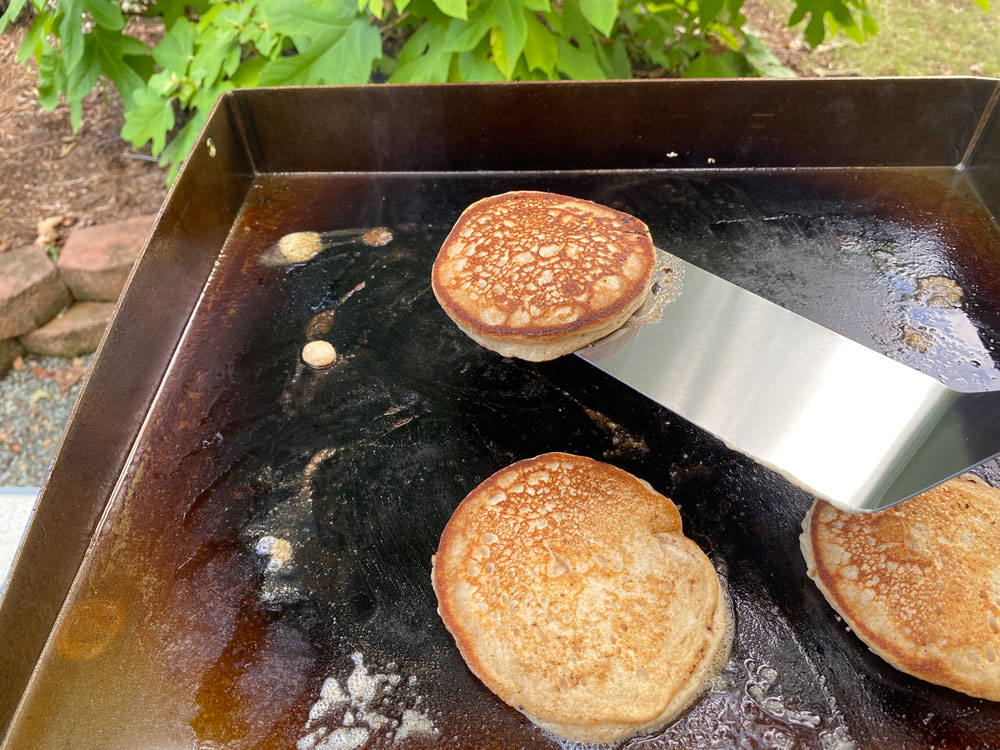 Best Griddle Spatula Set
These are both good starter spatula sets for your griddle. Either one will work. The basic spatula in the Blackstone set is a good all-around spatula. And, the bottles will come in handy for adding oil to your griddle. The Cuisinart spatula might perform a bit better for making smashburgers. And the pancake turner in the Cuisinart BBQ Set works great.
The best overall choice for a starter set is the Blackstone Griddle Toolkit. If you have the option to get a second set and you want some more specialized spatulas, a great addition to your griddling tool set is the Cuisinart Stainless Steel BBQ Tool Set.
There are a few things missing from both sets that you might need. If you plan to make Brats or other sausages, you'll likely want good tongs. You might also want things like a pair of mitts to protect your hands from heat. For breakfast cooking, egg rings may come in handy. And neither set contains a bottle opener which you sometimes find built into the handle of a spatula.
Where to Buy Griddle Spatulas
You can buy Blackstone Griddle accessories just about anywhere; on Amazon, at a hardware or big-box store. For your convenience, I'm adding Amazon links here. Note: these are affiliate links. If you choose to purchase by using the link there is no additional cost to you, but we earn a commission that helps enable us to continue sharing helpful information.
What's in Your Camp Kitchen
What do you have in your camp kitchen? What do you think is the best griddle spatula set? We'd love to hear your thoughts. Leave a comment and let us know what you think.
If you liked this review, you might also be interested in our Blackstone Griddle Review.
Copyright 2020 Travel Trail Sail. All Rights Reserved.