Waller Mill Park Williamsburg VA
If you are in Williamsburg VA and searching for a fun outdoor day, Waller Mill Park might be just what you are looking for.
Waller Mill Park is a 2,700 acre city park centered around a 360 acre clear water reservoir. There are a variety of activities to do on or around the water; hiking, boating, fishing, and disc golf. A large dog park is also available. You might want to bring a picnic lunch and enjoy it with a view of the water.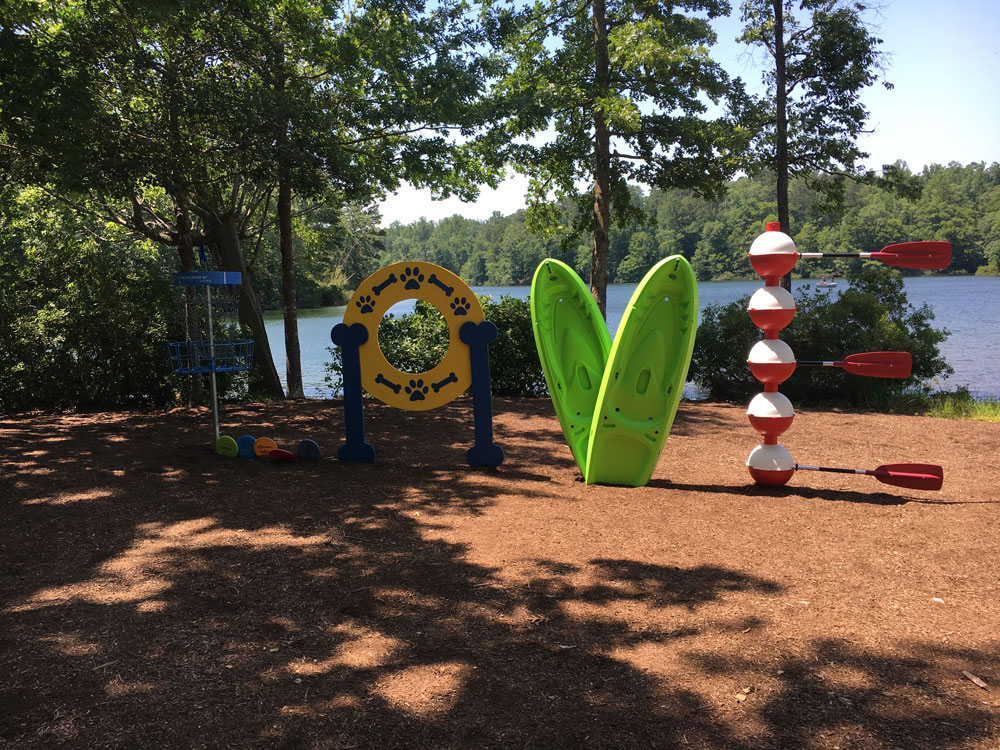 Boating and Fishing at Waller Mill Park
With the reservoir at its center, you'll want to find a way to enjoy its clear water.
You can rent one of the many boats available. Kayaks, canoes, rowboats, and pedal boats are all available to rent by the hour. If you don't yet know how to kayak, an introductory class is sometimes offered. Its available for adults. Youth ages 12-15 can participate with a parent or guardian.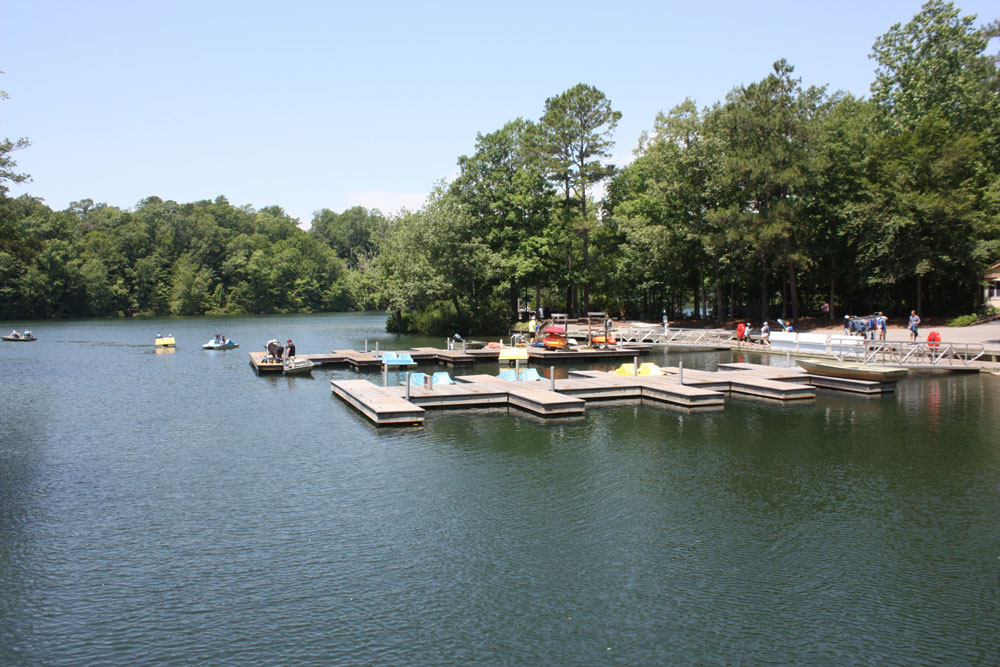 There are several fishing piers available. If needed you can rent a pole for the day. Or, you might want to get farther out on the water. A nice boat launch is available. Just keep in mind that only electric motors are allowed. If you want to try fishing from a boat but don't have your own, Jon boats and electric motors are available for rent. You'll need a Virginia fishing license. There is a daily fee for fishing from a boat.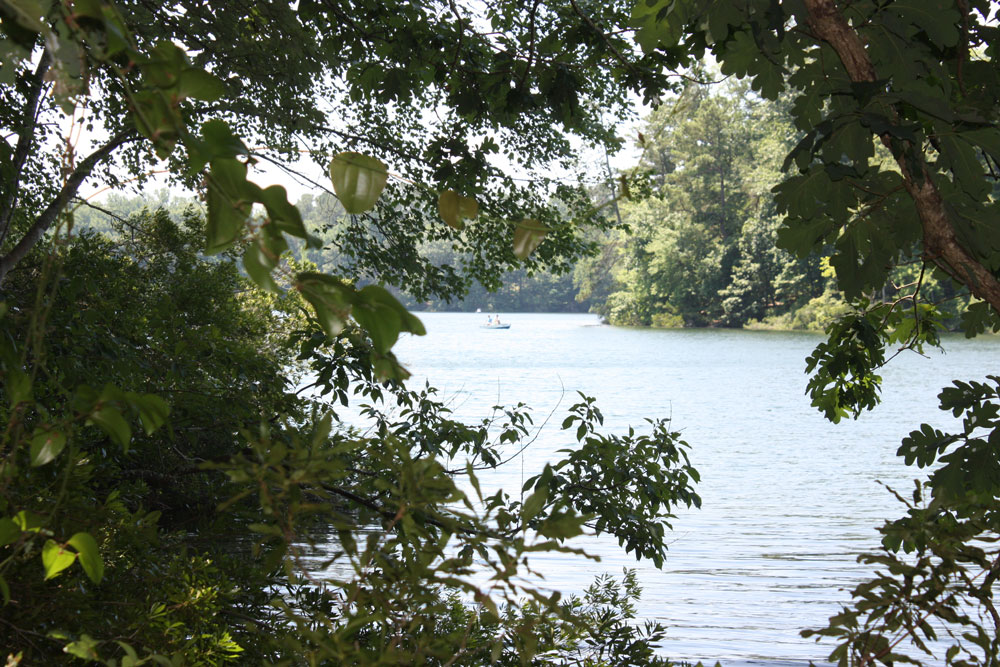 There are occasionally special fishing events. For example, on July 12, 2019, there will be a Moonlight Fishing event. It looks like a fun way to try night fishing.
Hiking Trails at Waller Mill Park
Nothing beats taking a hike by a lake. Waller Mill Park has several trails ranging from easy to difficult.
The Shelter Trail is an easy .75 trail. Bayberry Trail is moderate. You can choose either a 1 or 1.5 mile version depending on whether you take the short or long loop. Lookout Trail is almost 3 miles long and is a difficult trail. Be aware that the hiking trails at Waller Mill Park can be uneven. There are exposed tree roots. I recommend wearing a pair of solid walking or hiking shoes. There is also one 2 mile paved bike/walking trail that offers an easy walk through a mostly shaded area.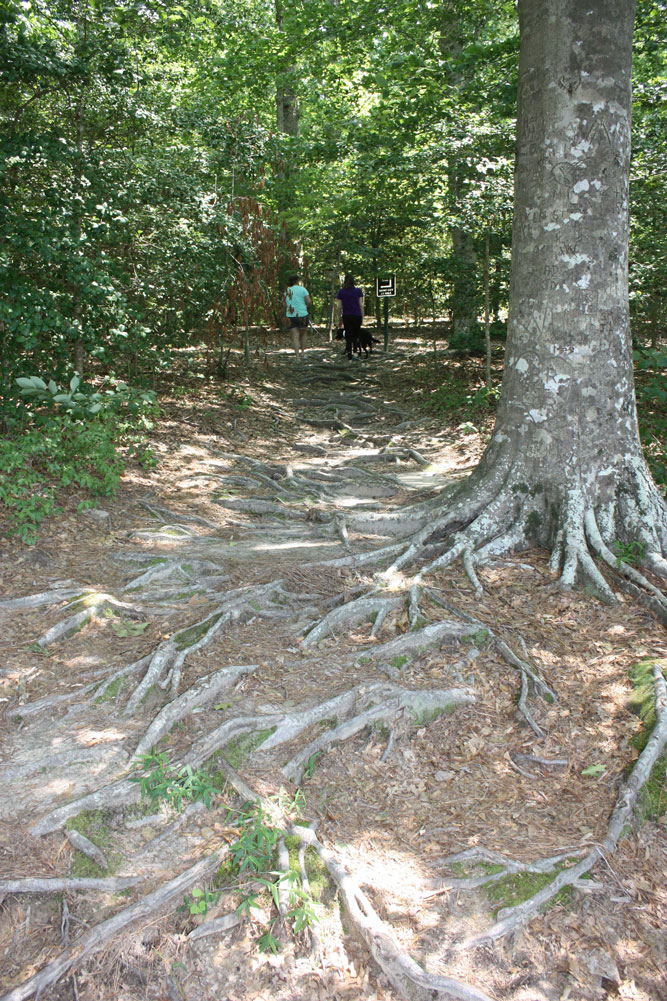 On our visit to Waller Mill park, we hiked the Bayberry Trail. Keep your eyes open and you might see some very small frogs crossing the path. We were amazed at how many of these very small frogs we saw.
Disc Golf at Waller Mill Park
Waller Mill Park has an 18 hole championship level disc golf course. Disc golf is a fun way to get some outdoor activity. Similar to golf, you'll walk 18 holes. Only, the holes are replaced by a pole with a basket. You throw a disc trying to get it into the basket. There are different discs used for long or short throws, similar to drivers and putters in regular golf.
If you want to try disc golf, Waller Mill Park would be a great choice. Discs are available for rent for $1 each. Kids ages 7-13 who want to learn disc golf may want to check out the youth disc golf class. On August 3, 2019, the Colonial Disc Golf Club will be teaching a workshop.
Dog Park at Waller Mill Park
Dogs need a chance to run off leash. Waller Mill Park has a large (1.5 acre) off leash dog park. There are separate areas for small and large dogs. You can pay by the day for for the year. Must have dog license and rabies vaccination certificate.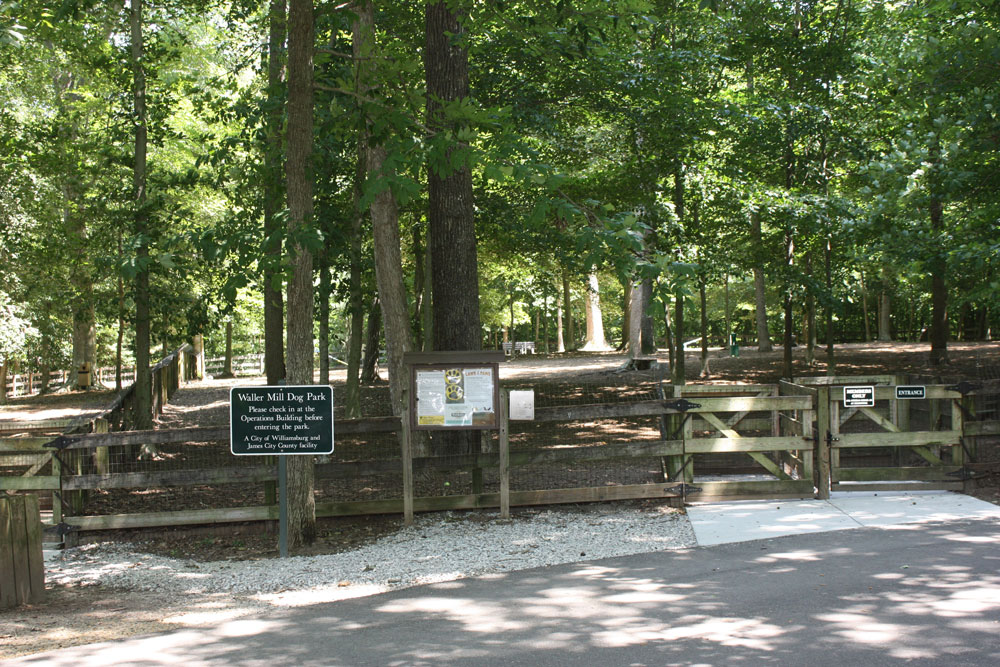 Waller Mill Park Location
Waller Mill Park is just off Rochambeau Drive. The address is 901 Airport Road, Williamsburg VA 23185
When you get to the park, take a ticket at the gate and then pay the $2 entrance fee at the boat house. Annual passes are available.
For updated hours and details, please visit Williamsburg Parks & Recreation Department.
Attractions Near Waller Mill Park
There is a lot to do in the Williamsburg area. Waller Mill Park is one of our picks for the Top 7 Must do Williamsburg VA Area Attractions.
In addition to the main attractions like Colonial Williamsburg, Jamestown and Busch Gardens, there are several more great things to do near Waller Mill Park. Here are a few ideas.
York River State Park provides 2,500 acres of outdoor adventure along the shores of the York River. There are over 30 miles of hiking, cycling, and horse riding trails. Its a great place for a picnic.
Williamsburg Premium Outlets offer over 120 stores. This outdoor mall is consistently busy. You might find some good bargains if you are lucky.
Alewerks brewery is one of the oldest craft breweries in Virginia. There is a taproom with sixteen beers on tap. For $9 you can tour the small brewery and sample the lagers and ales produced by this brewery. You'll often find a food truck at Alewerks so you can enjoy lunch or dinner with your beer. Note that there is a second Alewerks location at the Williamsburg Premium Outlets.
Pierce's BBQ has been a Williamsburg institution since 1971. Pork bbq, ribs, and chicken is served along with hush puppies and cole slaw. You can enjoy your BBQ either inside the restaurant or eating at one of the outside tables.
Copyright 2019 Travel Trail Sail. All Rights Reserved.