Shapa is a numberless smart scale that helps you focus on positive behavior change. Here's our Shapa review after six weeks of use.
Judy and I were planning our next big adventure. We were looking forward to hiking, snorkeling and trying a helmet dive in the Caribbean. While we try to stay fit and ready for adventure, we both knew we needed to step up our game to be ready. So, last October, we started going to the gym more often. When COVID put a stop to the gym, we worked on running, training with a Couch to 5K app. We started walking more, walking at least three miles between running days. And Judy did interval weight training with Street Parking.
Stepping on to the scale six months later, nothing had changed. Have you ever felt like whatever you do, your weight doesn't go down? Or, worse yet, it goes up despite all of your hard work?
We decided to try a new tool in our fitness toolkit, a Shapa scale. It's a funny scale, the only one I have seen that doesn't actually tell you your weight. Instead, it connects to an app. As you step on the scale each day, it measures your weight and also your body composition. Based on a rolling average, you get a color that tells you if you are heading in the right direction.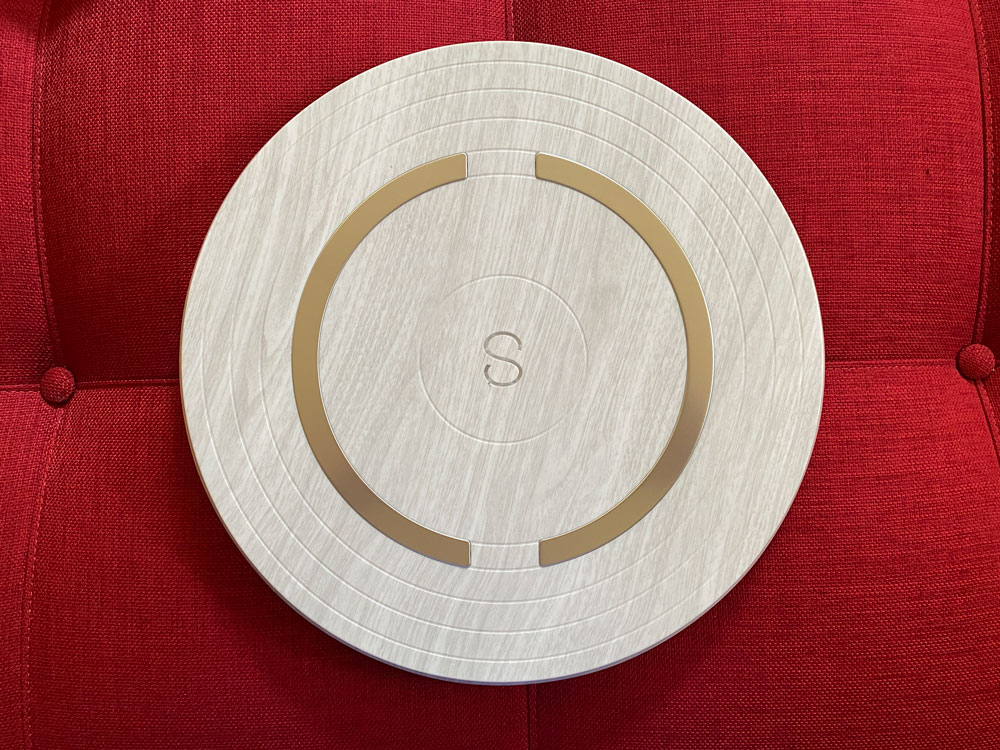 Shapa was created by Dan Ariely, a professor of Psychology and Behavioral Economics. This Dan Ariely interview does a pretty good job of explaining the Shapa approach.
According to Dan, stepping on your scale daily is a commitment to making a change. Paired with suggested behavior changes, you can start to make small changes that add up to a big difference. The scale provides encouragement and reinforces improvement.
Before I go too far, I should note that this Shapa review is intended for entertainment purposes only. Before you begin any exercise program, please consult with your health care provider.
The Shapa Program
The Shapa program isn't just about weight loss. The challenges it offers can be useful for a variety of things. When you first start using Shapa, you'll be asked to complete a survey regarding your goals. It asks about your activity level, what types of food you have at home and what kind of snacks you eat, and if you work in an office or telecommute.
Shapa asks if you want to maintain, gain or lose weight. The survey also asks about any health conditions you might be concerned about or have been diagnosed with such as cholesterol, heart health, diabetes, arthritis, and blood pressure. If you think you have any of those health conditions, check with your health care provider before starting any fitness program.
You can change your answers later if you choose. While you can take the survey on the app when you are getting started, you can't change your answers there. If you want to change your answers, you have to sign in on the website. It would be nice to be able to review your survey answers and change them from the app.
The Shapa Color System
Shapa provides you with a color. Green means you are steady, maintaining your current weight. Teal shows progress toward your goal and Blue shows strong progress toward your goal. Gray shows you are moving away from your goal and Black shows you are strongly heading in the wrong direction.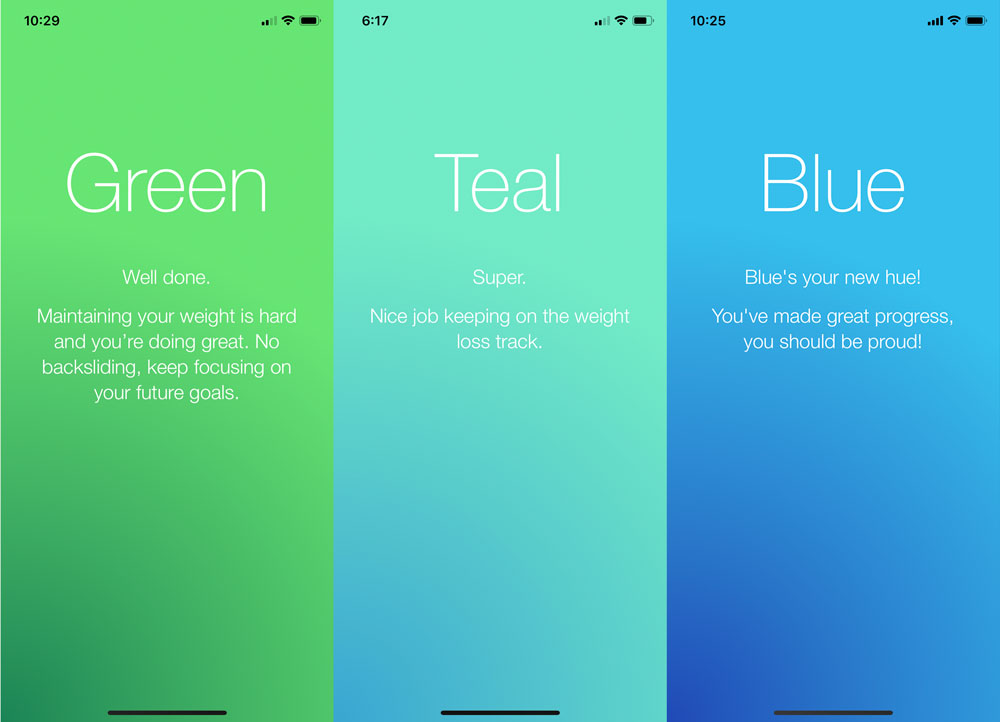 When you first start using Shapa, you won't get a color or any feedback for the first two weeks. That can be kind of frustrating. I really wanted to know my color. But, soon enough, I was green. Since then, I have switched between green, teal and blue.
How Shapa determines your color is a bit of a mystery. Is it just your weight? How much does your body composition factor in? Does completing missions impact the color?
You have to believe in a process you don't understand – Judy
Shapa Missions
Shapa offers two missions to you each day. These are often short and easy. One of the main goals seems to get you to try something new. Sometimes you'll find that if you try something once, you may want to do it again. Of course, to build up a lasting behavior, you'll need to keep doing the behavior. That's why they also include some longer missions.
As you complete Shapa missions, you earn badges. The badges help reward the progress you are making. You can earn badges for consistently stepping on the scale for 7, 14 & 30 days, badges for completing food and fitness missions, and badges for hitting a new color like teal or blue.
Food Missions
Shapa offers a number of food-related missions. For example, Shapa might suggest you try a new fruit or vegetable. We tried plums and plumcots which turned out to be pretty tasty. It wasn't a fruit we normally bought but I'm on the lookout to see if we can find them again.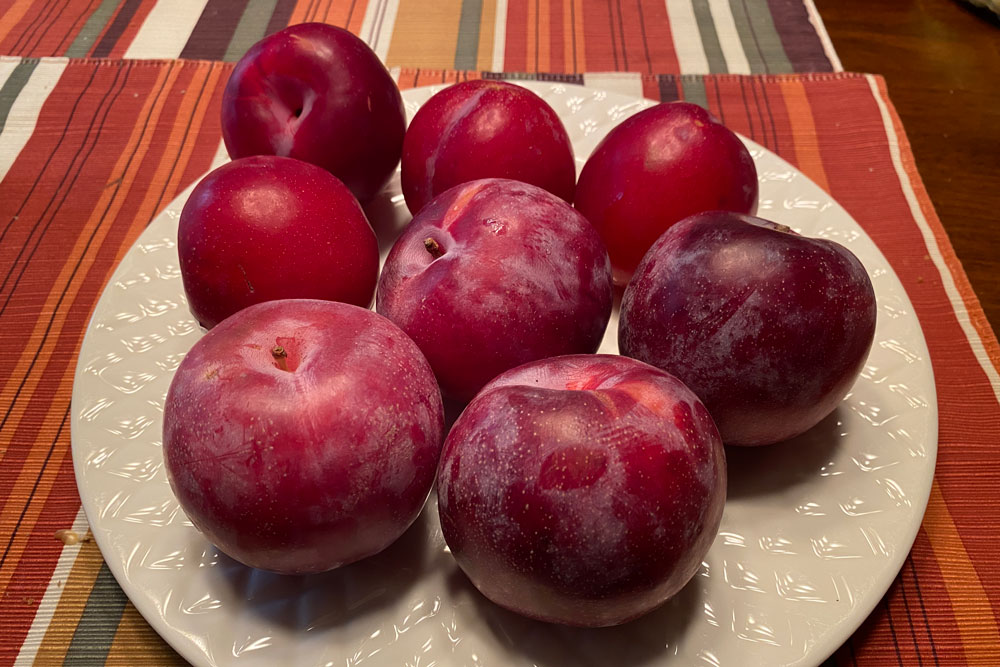 Exercise Missions
You might get a mission to try a new exercise. I was challenged to find and try a 10 minute morning yoga class. I found a YouTube video by Kassandra: 10 minute morning yoga stretch for beginners. I found that it was a good way to start the day and have been doing it almost every day since I first tried it.
Another one was to walk for one minute at each of three speeds, slow, medium and fast and repeat that five times. We sometimes find ourselves walking at the same pace. It was interesting to focus on what it felt like to vary the speed.
Stress Relief Missions
The stress-relief missions can be pretty fun. I was encouraged to play a favorite song. Another one was to de-clutter my sleeping space. Judy got an organization mission and took the opportunity to clean out her clothes closet.
Multi-day missions
After a while, you might be presented with multi-day challenges which can help strengthen your new behaviors. I got the challenge of doing a simple breathing exercise for 23 days.
You might get a food mission such as the one Judy got to eat something orange with a meal for a week. We tried a sweet potato cauliflower mix. While it was kind of bland, we discovered that it could easily be mixed in with other items. For example, you could add it to a taco.
Select Your Missions
The Shapa app has a selector to indicate you would like more missions of a certain type. For example, you can select that you would like missions related to healthy eating, physical activity, space & environment, stress management and drinking water. This is another of the mysteries of Shapa program. Judy has tried requesting water missions several times but has yet to receive one.
Shapa Tips
For the first few days, Shapa offered us wellness tips. A daily tip would appear between the two daily challenges. However, after a while, the tips stopped appearing. It would have been nice to continue getting useful tips.
Can I Use Shapa With Other Fitness Trackers
You can connect the Shapa app to a variety of fitness and activity trackers including Apple Health, Google Fit, Fitbit, Garmin, Polar and Strava.
Shapa Review Summary
Shapa doesn't promise a dramatic overnight change. Successful, long-term changes take time. However, after using our Shapa for six weeks, Judy and I both agree that it is a helpful tool in our wellness toolkit. We feel that we are making incremental progress and are enjoying the program.
It helps you focus on your behavior rather than a number – Judy
Hopefully, our Shapa review has provided a helpful overview of this smart scale. If you have questions, please leave a comment and we'll try to help. If you have tried a Shapa scale, leave a comment to let us know what you think. Thanks.
Where to Buy a Shapa
When I decided to get a Shapa, I shopped around a bit. The best deal I could find was on the Shapa website. Normally, the Shapa smart scale sells for $99. However, as of the time of this writing, you could get the scale for free if you sign up for a one-year plan which costs $95. The Shapa plan can be shared by up to seven people. During COVID, shipping may be delayed a bit. It took about a month after ordering before our scale was delivered.
Note: the Shapa link provided is an affiliate link. If you choose to purchase by using the link there is no additional cost to you, but we earn a commission that helps enable us to continue sharing helpful information.
Copyright 2020 Travel Trail Sail. All Rights Reserved.