There are always RV innovations and always something new at the RV show. We'd like to share our observations from the Richmond RV Show 2020. We spent a Sunday checking out all the latest campers. There were some great new features and a few things that could use improvement. If you want more great RV show observations, check our our list of The Top 7 RV innovations at the 2020 Tidewater RV Show.
The Richmond RV Show was February 7-10, 2020 at the Richmond Raceway in Richmond VA. It is a great RV show. Several dealers and a wide range of RV brands are on display.
RV Show Observation 1: Outside Kitchen Grills
At the Richmond RV Show, we saw some features that built on the theme of improving outside kitchens. We noticed several RV lines had replaced the standard two burner stove with a grill. Almost anything would be more useful than the two burner stoves that are typically found in camper outside kitchens. The addition of a grill could mean we could leave our Weber grill at home. Now what would really be nice would be if the grill grates could be swapped for a griddle. Then you could make pancakes in the morning and grill burgers in the evening.
This one from Keystone Couger looked promising. It has a metal cover that may reduce the chance of anything splashing on the camper. Note, however, that it slides into a wooden shelf in the camper.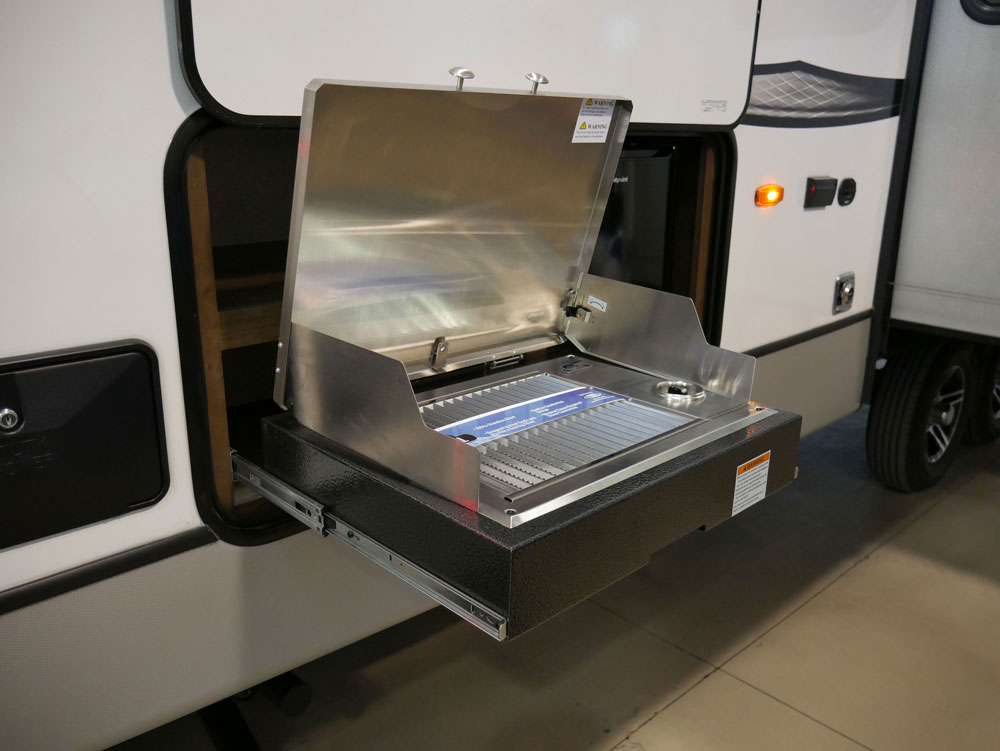 This one from Jayco had two advantages. The grill slides into a sturdy metal shelf. And, check out the cool bottle opener build into the grill. Now that might really come in handy. Bonus points to Jayco for included a paper towel holder in their outdoor kitchen – a nice touch that most campers don't have. Bonus points, too, for the spice rack.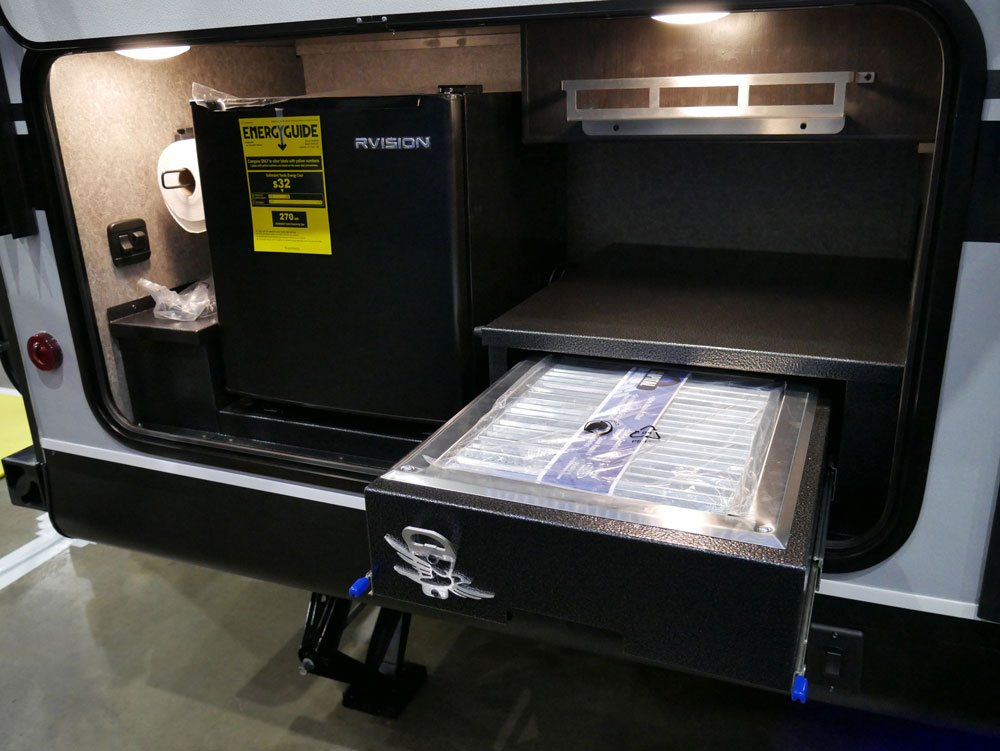 Here is the outdoor kitchen griddle we noticed many campers are starting to include in their outdoor kitchen. The griddle is removable. Wouldn't it be great to be able to use both a grill and griddle top?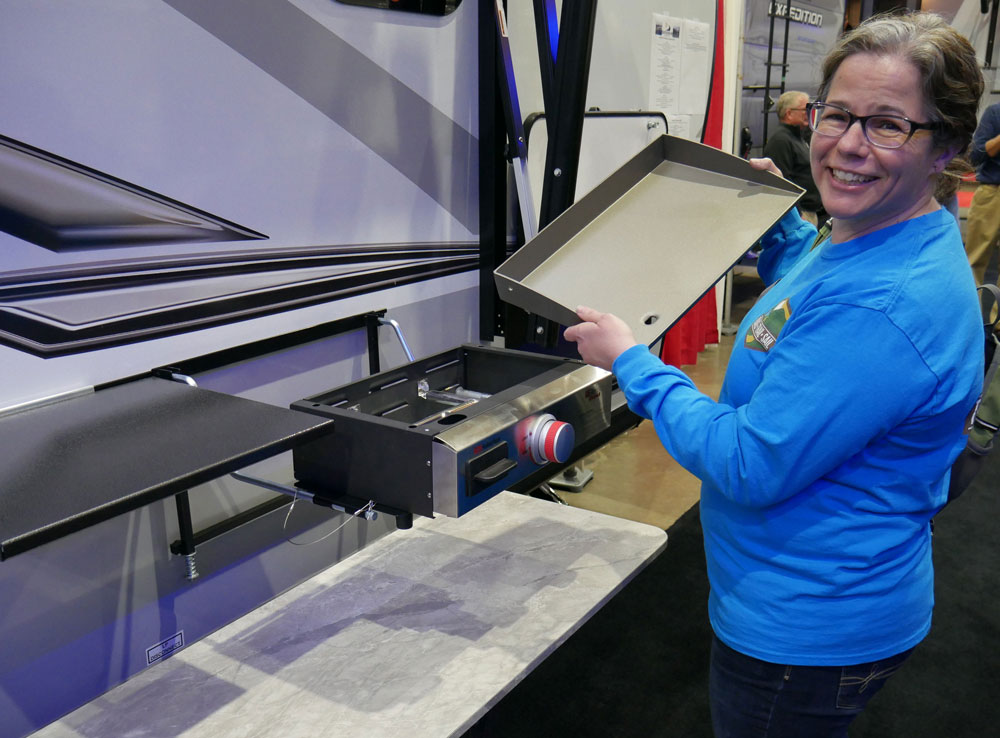 RV Show Observation 2: Jack It Bike Rack
We love our Arvika bike rack. It is the only one we have found that can hold more than two bicycles. However, in the future, we may only need to bring along two bicycles. It was great to see campers on display with accessories you actually need – like a bike rack. The Jack It bike rack looked promising. Given the chance, we would love to test one of these. If you have one, please leave a comment and let us know what you think.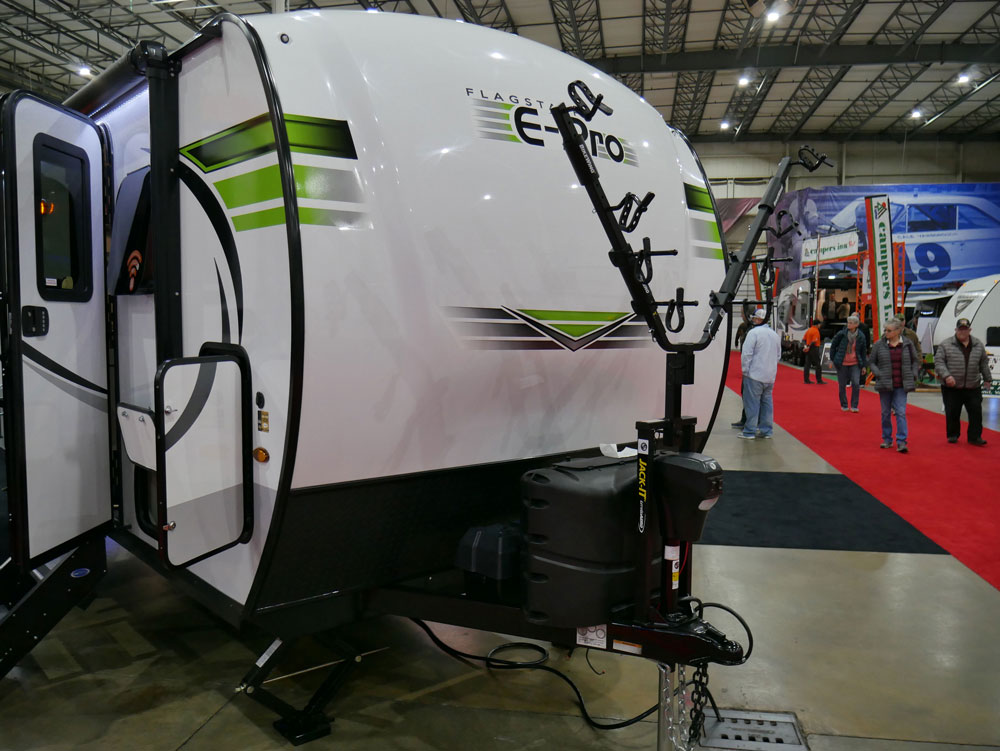 RV Show Observation 3: Small Outdoor Kitchens
For many RV camper brands, it seems like the goal is to have the biggest outdoor kitchen possible. We noticed that a few brands are working to keep it small and practical. This one from Salem is probably the most useful small outdoor kitchen we've seen.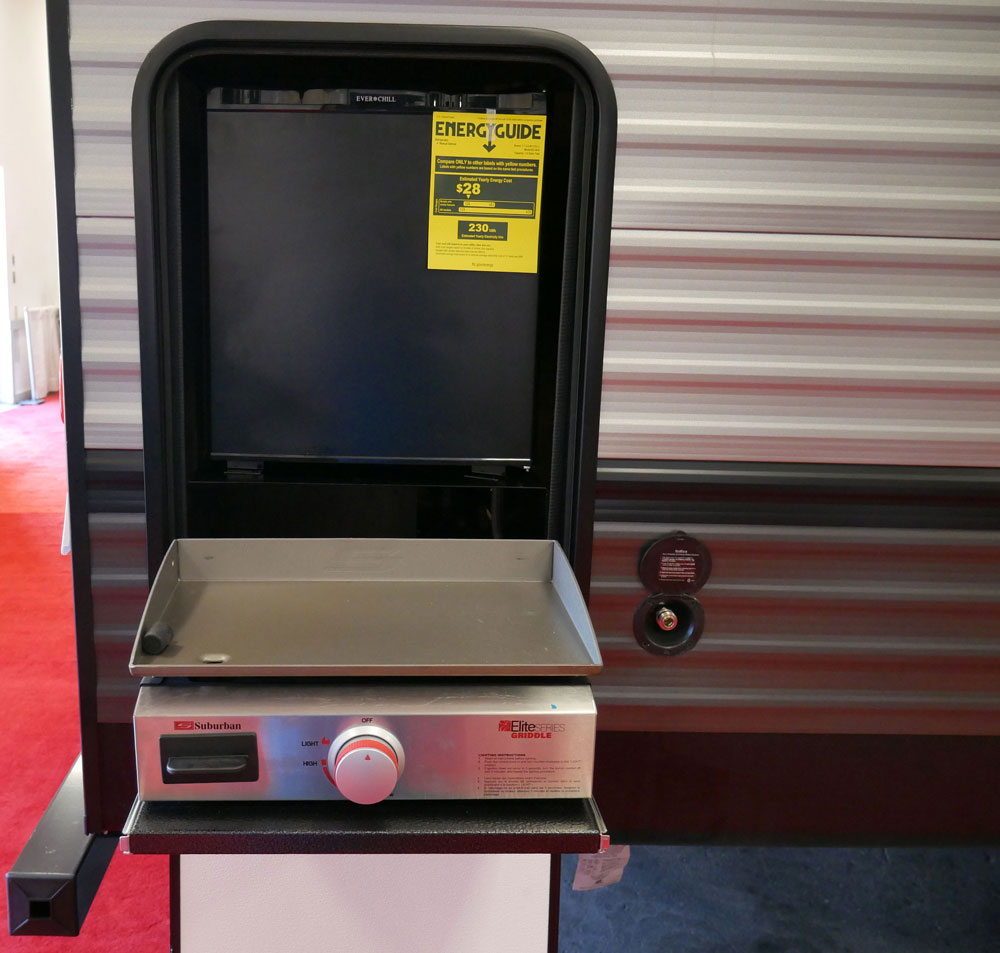 RV Show Observation 4: Wet Bath Curtain
We like camping in our Grand Design Travel Trailer. It has plenty of room for everyone. Sometimes we think that a small camper van might be a fun way to explore. But, the idea of using a wet bath has always seemed a bit odd. We noticed that Thor added a shower curtain to separate the shower area from the toilet. This seems like a useful feature and one that would make using a wet batch much more attractive. Note that they also included an Oxygenics shower head – something many campers do as an upgrade. Nice touch.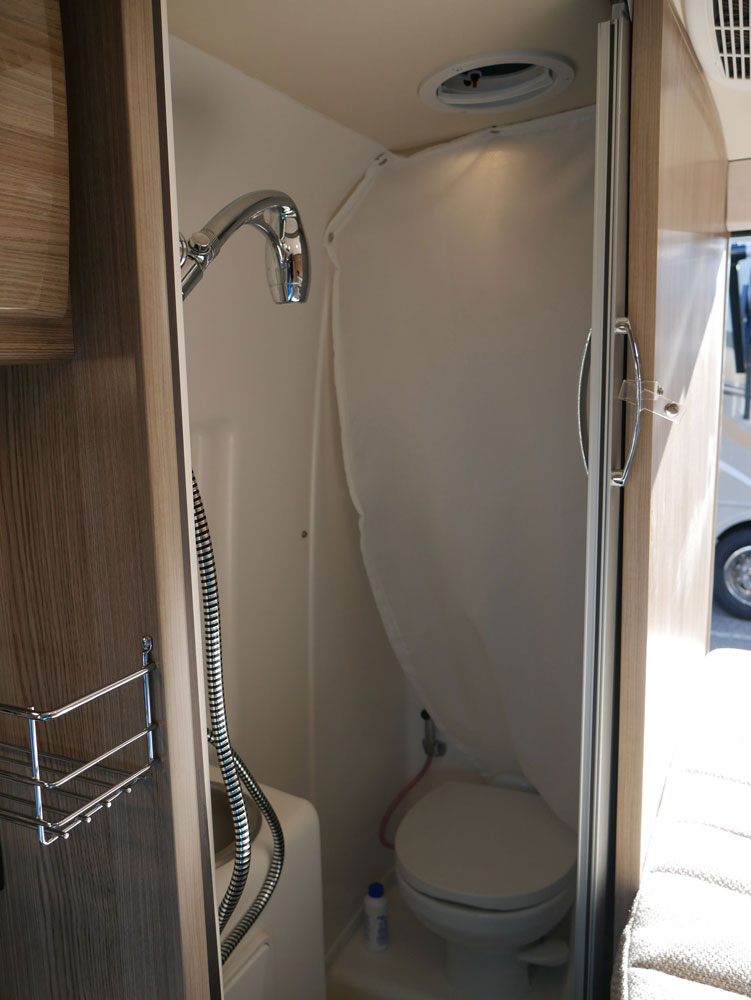 RV Show Observation 5: Convenience Features
Some times it's the small details that can make a big difference. It's nice when RV designers pay attention to how people will actually use their camper. One thing I've seen is most campers is that there is no convenient place to store the stabilizer jack handle. Ours usually gets mixed in with camping chairs and other items in storage. This simple solution from Salem looks like a great solution to the problem.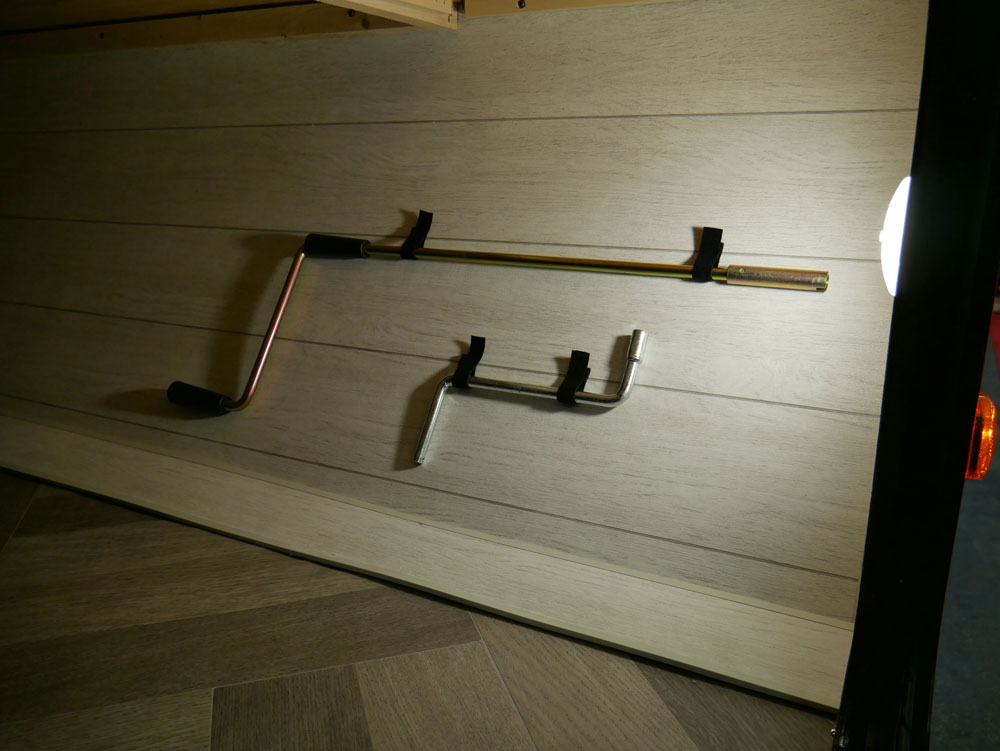 Another great RV convenience feature we saw was a paper towel holder designed into the kitchen of this Outback camper. While simple, it was a really nice touch.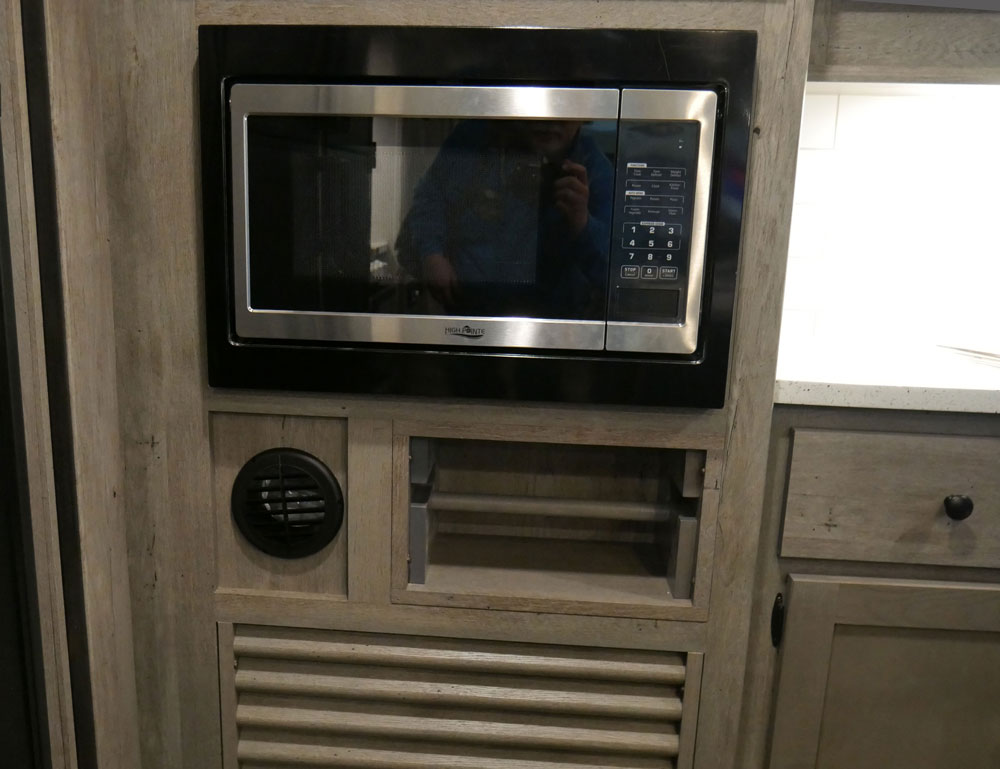 RV Show Observation 6: Interior Design
Sometimes it seems like RV campers are either old fashioned traditional inside or space age with wild blue accent lights. We appreciated some of the interior design touches on the Jayco Jay Feather we saw at the Richmond RV Show. The Jayco rep was on hand to tell us about their designer and her inspiration. You can choose the same floorplan but in two different looks. And, it isn't just the curtains and bed spread that get the design treatment, but the walls and floor, too. We saw a rear bath model that had more counter space than our bathroom at home. They made sure to include a towel rack and toilet paper holder, something that is surprisingly missing from some campers.
RV Show Observation 7: A Few Potential Trouble Spots
While we mostly saw really good designs and features in the RVs on display in Richmond, we did see a few things that may be issues for some. As always, do your research and consider what suits your needs best before making a big purchase.
We had an outside shower on our last camper that we never used. It was located on the side of the camper near the sewer hookups. This camper has the outside shower located on that side of the camper and just above the electric connection.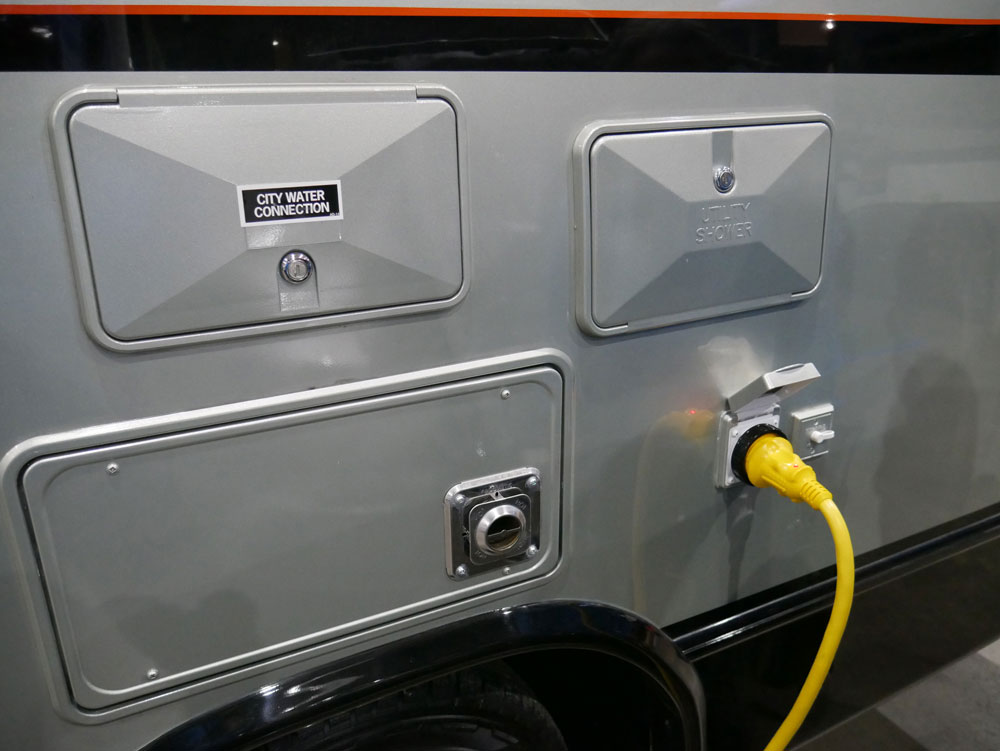 Winterizing a camper can be tricky. The water heater is often located in an inconvenient location. You need to get to it to change the water lines so that you don't have to fill the water heater with antifreeze. For some reason, this camper has the water heater mounted on one end of what is usually a pass-through storage area. This could make getting to it challenging. It could also be an issue if the items in storage shift during transit as there doesn't seem to be anything blocking them from hitting the water heater.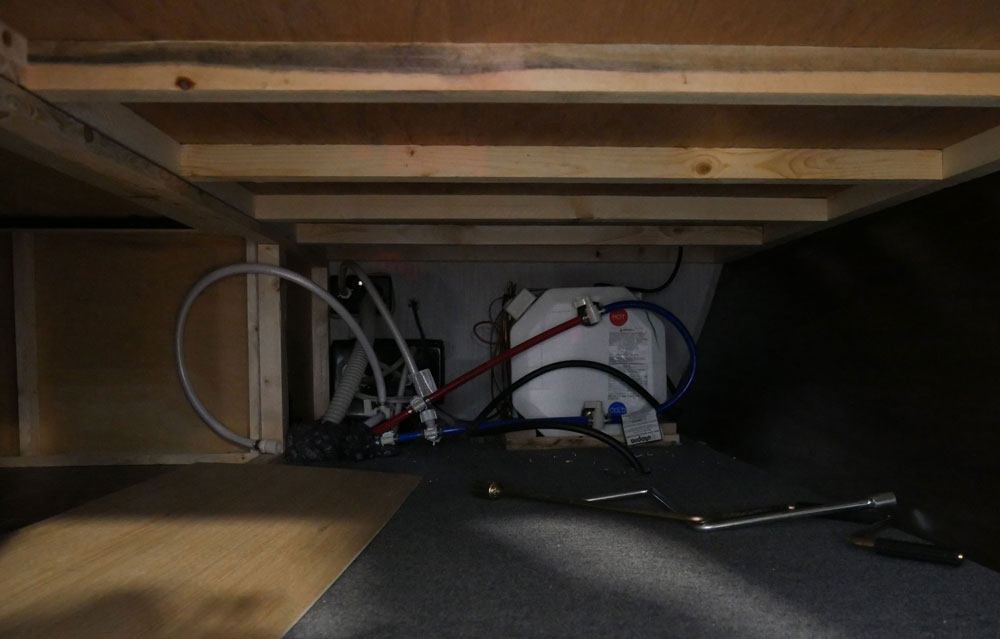 If you read our review of 7 RV Innovations at the Tidewater RV Show, you'll know that we really like the idea of a leash latch. That is, a secure place to attach your pet's leash so that they can enjoy being outside with you. However, we noticed that this camper has the leash latch placed adjacent to the gas hookup for an outdoor kitchen.
Leave a Comment
I hope you enjoyed reading about what caught our eye at the 2020 Richmond RV Show. Have you been to an RV show this year? What was your favorite new feature? We'd love to her from you. Leave a comment.
Copyright 2020 Travel Trail Sail. All Rights Reserved.