7 RV Innovations at the 2020 Tidewater RV Show
There are always RV innovations and always something new at the RV show. We'd like to share some of the coolest new RV features that caught our eye at the 2020 Tidewater RV Show. We had an afternoon to check it out and thought we would share the things we found interesting. These are the top 7 RV innovations at the 2020 Tidewater RV Show.
The Tidewater RV Show was January 17-19, 2020 at the Virginia Beach Convention Center, Virginia Beach VA.
RV Innovation 1: RV Extended Outside Kitchens
Outside kitchens on RVs are popular. RV manufacturers are continuing to innovate. There were several outdoor kitchen features at the Tidewater RV Show that caught our eye. The most noticeable was the addition of extended outdoor kitchens with a larger food prep area.
You'll note on the Grand Design outside kitchen, there is a gas griddle in place of the more typical gas burners. If you've ever tried to make pancakes in the camper, you'll know that it almost always leads to setting off the smoke detector. Just listen for the beeping in the campground and you can tell who is making breakfast. Since you can't fit a rectangular griddle on the two-burner stove found on most outside kitchens, the inclusion of a griddle is a great idea.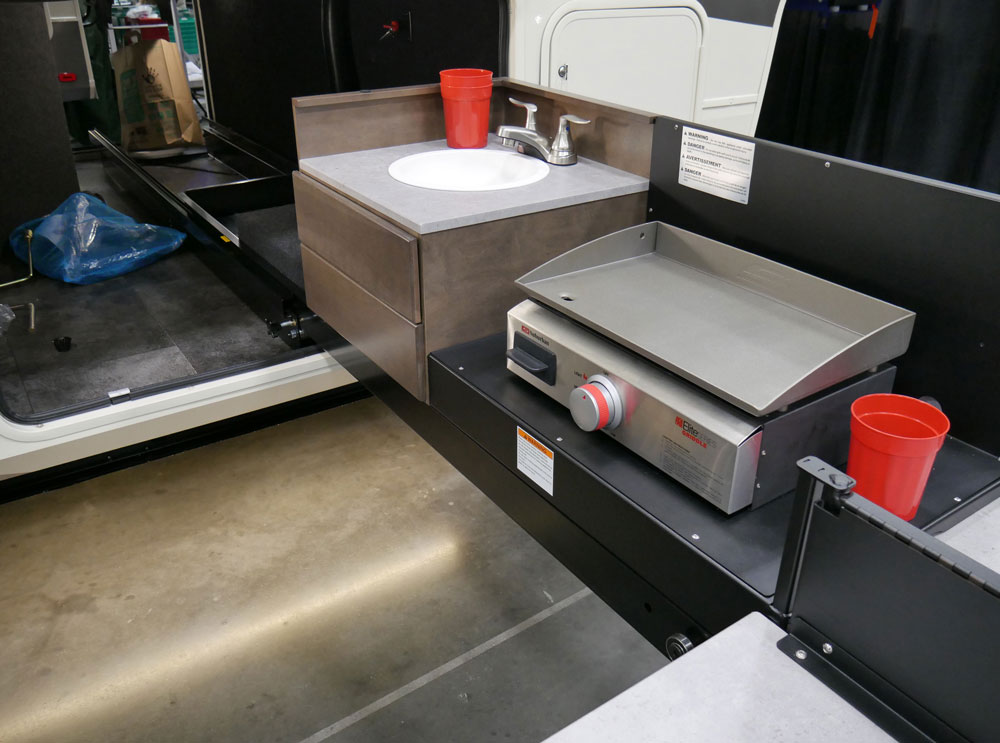 Gray Wolf didn't extend their outdoor kitchen, but they did upgrade it to a larger refrigerator and freezer combo. And, they added an ice maker.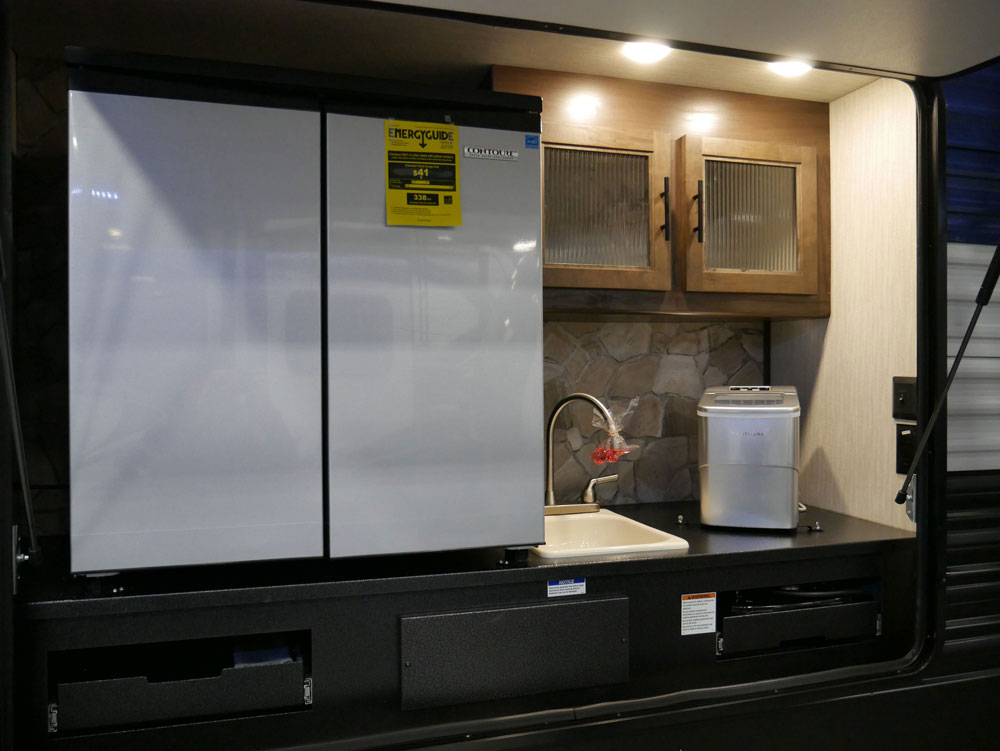 RV Innovation 2: Solar To Power Residential Refrigerators
There has been a trend of introducing residential style refrigerators into RVs and campers. Residential refrigerators often provide more space than the traditional gas & electric RV refrigerators. However, you need to be able to keep them powered with electricity. Many campers now come 'solar ready' so that you can add solar panels. However, we noticed that Rockwood was adding solar panels combined with an inverter to help power the fridge and ensure your food stays cold.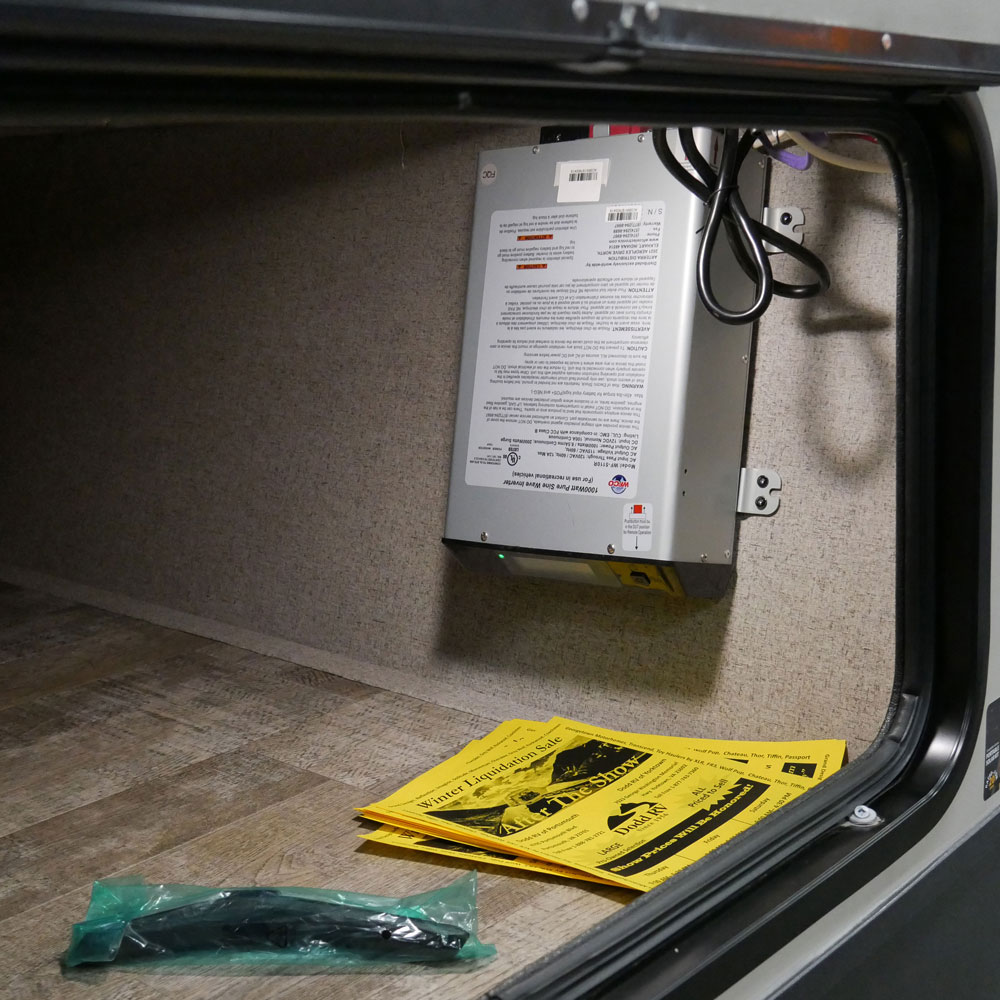 Rockwood also had a few other features not seen on most of the other units at the RV show including a built in WiFi range extender and a power leveling system. Nice.
RV Innovation 3: RV Leash Latches
When traveling with your four legged friends, it can sometimes be a challenge. You want them to enjoy being outside with you and they need to be on a leash. But there isn't a good place to connect the least at most campsites. Enter the Leash Latch. This provides a secure D-ring built into the camper which would be the perfect place to connect their leash.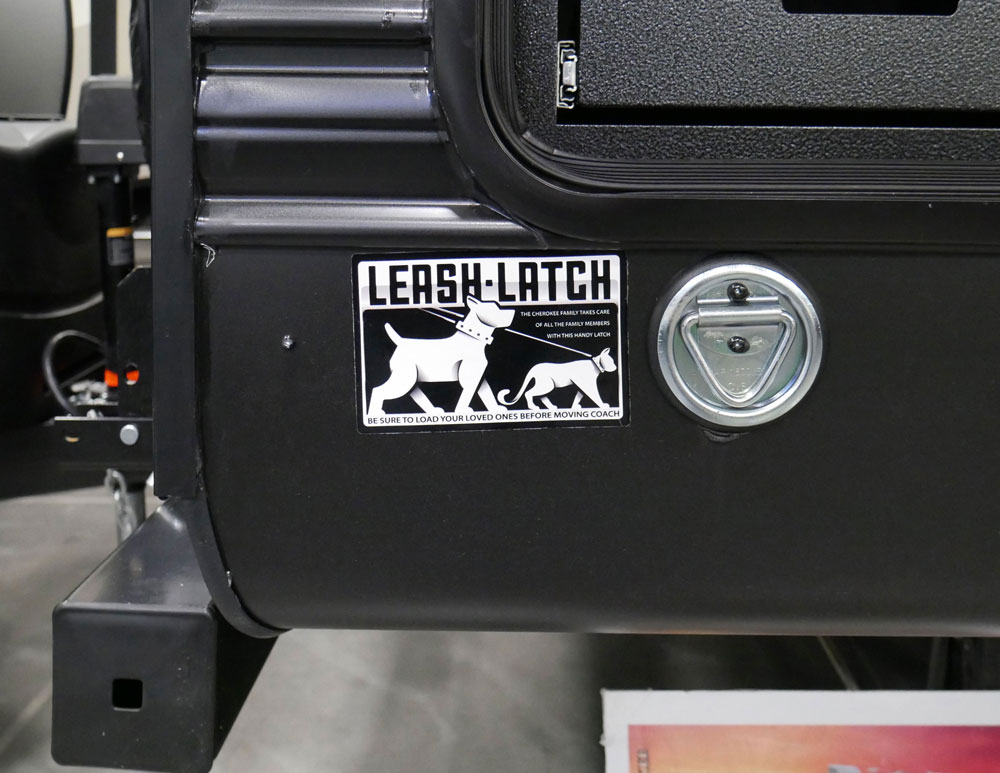 Kudos to Gray Wolf for adding this great feature to their campers.
RV Innovation 4: Upgraded Shower Fixtures
Most RVs and campers provide a basic shower sprayer. Many people choose to upgrade this to get a better showering experience. We noticed that Grand Design has introduced a better shower sprayer, at least in the Solitude line. I hope other brands follow their lead.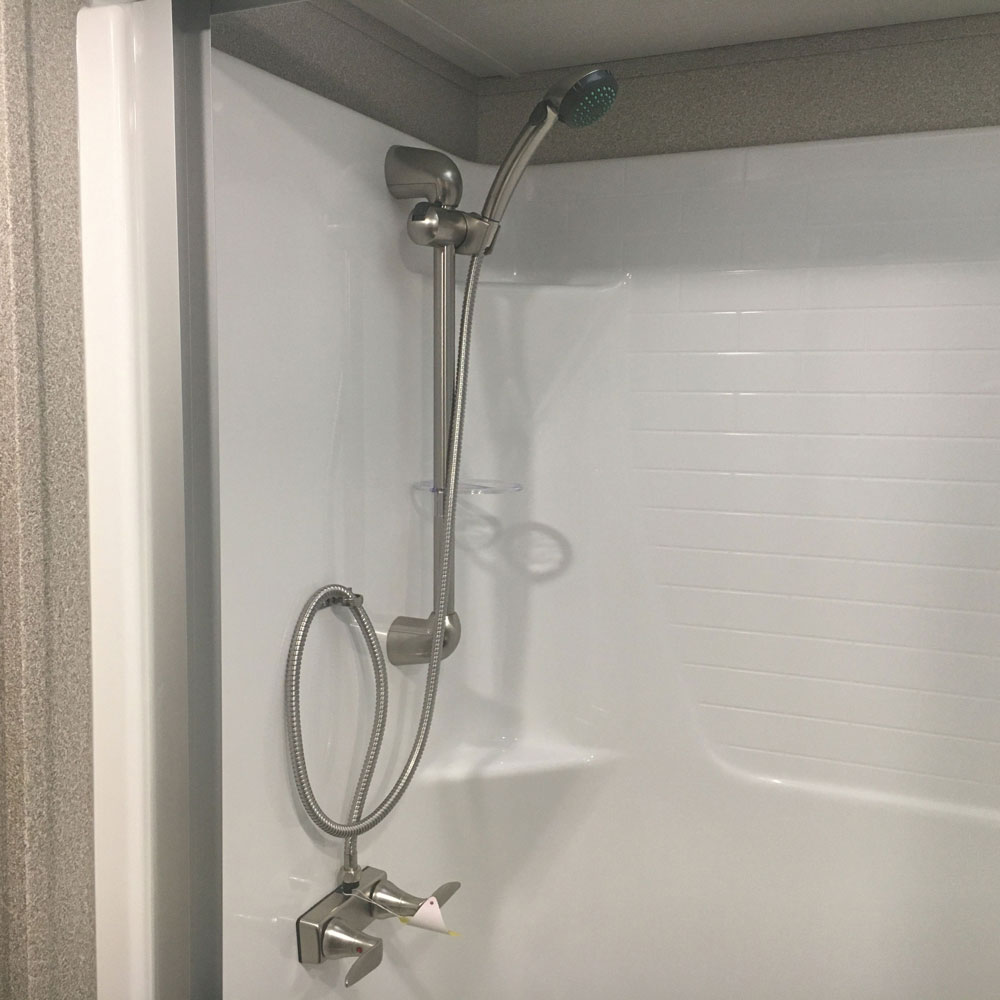 RV Innovation 5: Upgraded TV Sound
Many new TVs don't have great sound. At home, people often add a sound bar to provide better sound quality. That seems to be making its way into RVs and campers, too. We noticed sound bars on TVs both inside and outside at the RV show.
These examples are from a Coachman Leprechaun, Highland Ridge Open Range, and KZ Connect.
RV Innovation 6: Convenience Features
Some times it's the small details that can make a big difference. I noticed that KZ included some nice touches including a shelf for glasses and a place to hang towels in the bathroom. They also integrated a bench into the bedroom which would make it easier for many to get dressed in the morning.
RV Innovation 7: The Smallest Toy Hauler
There were plenty of small campers at the Tidewater RV Show. The number of adventure campers available seems to keep growing. But, what if you want to bring a four wheeler or other outdoor recreation with you? How about this unit from NO BO No Boundaries. It's the smallest toy hauler I've seen so far.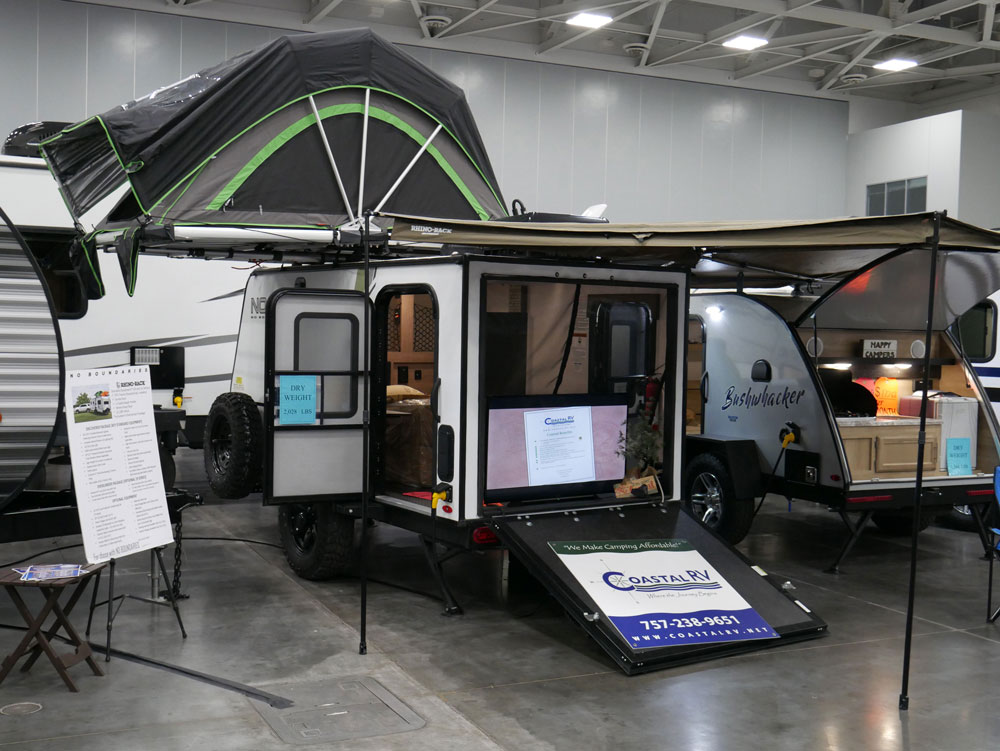 Leave a Comment
I hope you enjoyed reading about what caught our eye at the 2020 Tidewater RV Show. If you want to see more great RV innovations, check out what we found at the 2020 Richmond RV Show.
Have you been to an RV show this year? What was your favorite new feature? We'd love to here from you. Leave a comment to start the conversation.
Copyright 2020 Travel Trail Sail. All Rights Reserved.