Berry Smoothie Sunday with Ninja Master Prep QB900B Review
One of our fun and healthy food traditions is Smoothie Sunday. We tested our favorite berry smoothie recipe our new RV blender, a Ninja Master Prep QB900B.
Berry Smoothie Sunday Recipe
It's a nice change of pace to have fruit smoothies for breakfast on Sundays. We wanted to bring the Sunday Smoothie tradition to our camper. For camping, we tested our favorite berry smoothie recipe in the Ninja Master Prep QB900B, a lightweight blender perfect for use in an RV.
While there are an almost unlimited number of smoothie recipes, one of our favorites is a berry smoothie. Its cool and refreshing. A berry smoothie is filling enough that it could be a meal on its own or you can serve it as part of a balanced breakfast.
Here are a few tips you can use to make smoothies a healthy tradition of your own.
To get the best smoothie experience, don't add ice. Instead, use frozen fruit. We like to include bananas in our smoothies. We buy a bunch of bananas each week. If they ripen faster than we can eat them, we just freeze a few for smoothies. Just remove the peel, put them in a bag or container, and put them in the freezer. You can freeze fresh berries or purchase frozen berries.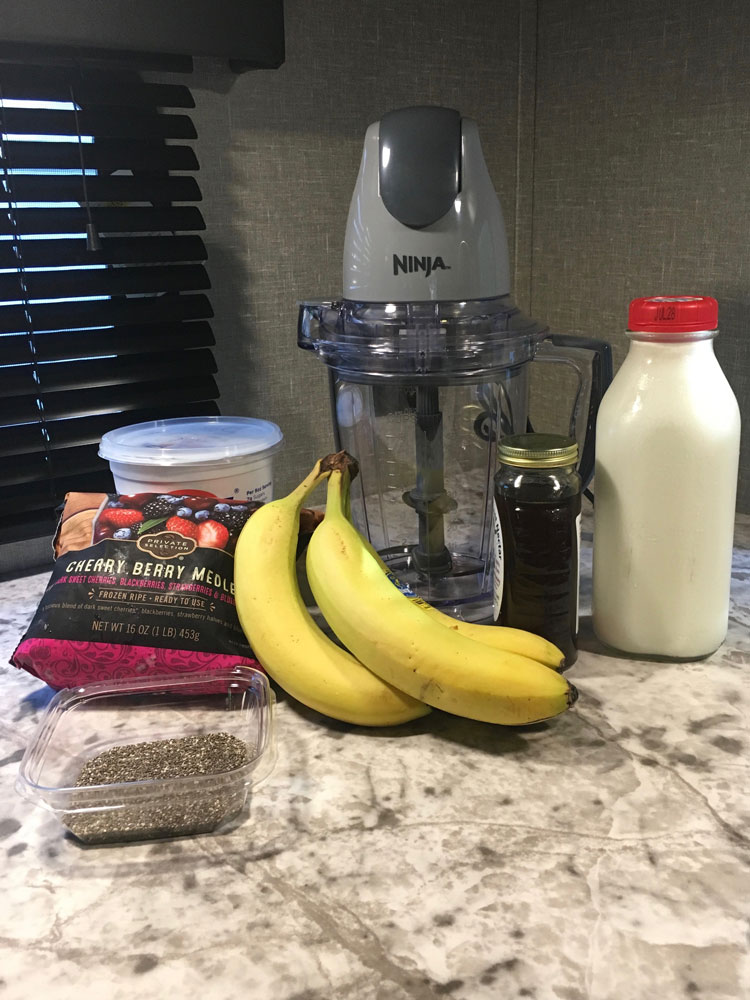 When you make smoothies, add the liquid first then the frozen ingredients. Start with 1/2-1 cup of orange juice or your favorite juice, 1/2 cup of milk, and 1/2 cup plain or vanilla yogurt. We prefer to use whole milk and whole milk Greek yogurt as it seems to keep us satisfied longer, but you can use whatever you like.
Add one frozen banana, sliced into 1 inch pieces, 2 cups frozen mixed berries, 3 tablespoons of honey, and 2 tablespoons of chia seeds. Blend until smooth. You'll know it's done when the blender sound changes and everything looks smooth and consistent.
You may need to pause during blending to make sure everything is getting blended in. You might need to do some hand mixing using a spatula. If the smoothie seems too thick, add in a bit more liquid and mix a little longer.
If you want to try a variation, use frozen mixed berries and cherries. You can use whatever fruit you like best so feel free to try adding your favorite fruit. A good alternative to chia seeds is flax seeds. I recommend experimenting until you find the recipe you like best.
Peanut Butter Banana Smoothie
Another smoothie recipe we really like is a Peanut Butter Banana Smoothie. We make our using PBfit which is a peanut butter powder that is lower in calories than traditional peanut butter. It mixes in nicely with smoothies and you can add it to just about any recipe to add peanut butter flavor and protein. Try it in pancakes. PBfit also comes in other varieties including one with peanut butter and cocoa for a perfect peanut butter chocolate treat.
For our peanut butter banana smoothie, you'll need the following:
Three frozen bananas
2-4 cups milk, whole preferred
4 Tablespoons PBfit
2 Tablespoons flax seed
Add the ingredients into your blender and blend until smooth. You can start with 2 cups milk and add more until you get the consistency you like.
RV Blender: Ninja Master Prep QB900B
As storage is at a premium in most campers and RVs, you have to be pretty selective, bringing along only the must-have RV kitchen gadgets. Until now, we have only had a small coffee maker.
Now that we wanted to bring our Smoothie Sunday tradition on the road, we needed to find a travel-friendly blender.
At home, we use an Oster blender. It works great and has held up for years. But with its glass pitcher, it is heavy and wouldn't be a good choice for the camper. After some research, we decided on the Ninja Master Prep QB900B. It was available for under $30 on Amazon.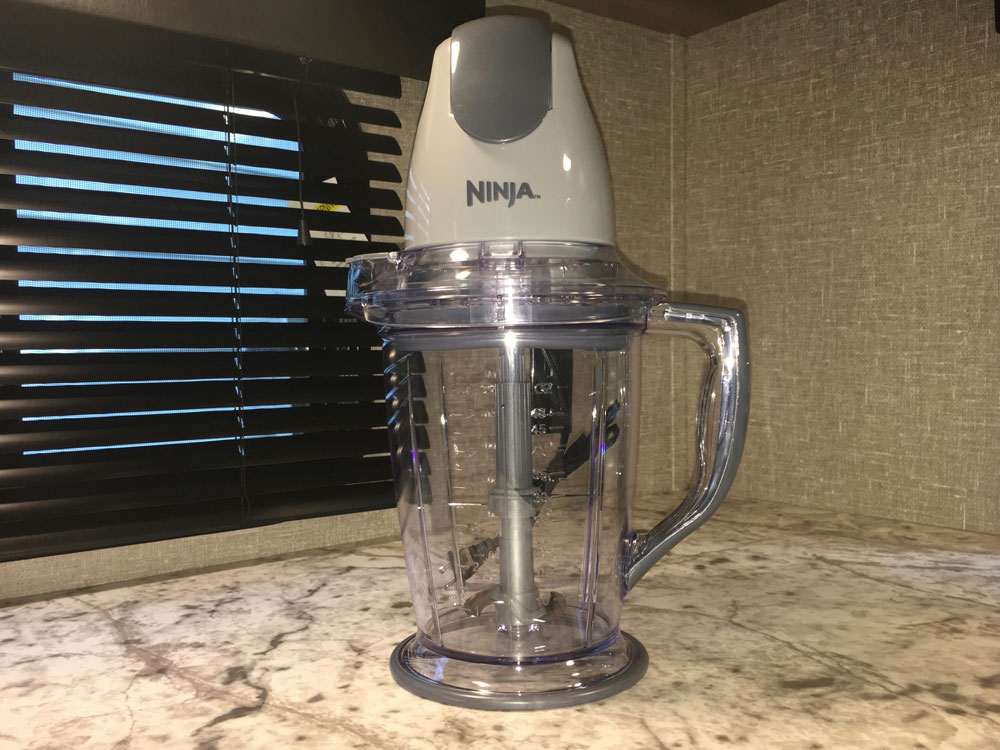 In the camper, we needed a more travel friendly alternative. For camping, we tested our favorite berry smoothie recipe in the Ninja Master Prep. I had the chance to try making smoothies in the Ninja and wanted to share my thoughts.
The Ninja Master Prep QB900B comes with a 48 ounce pitcher and a 16 ounce chopper bowl, each with their own blades. Unlike with a traditional blender, with the Ninja, you use a 400 watt power pod on top of the pitcher. The system is lightweight. The pitcher and chopper bowl are plastic rather than glass so it should travel well in the RV.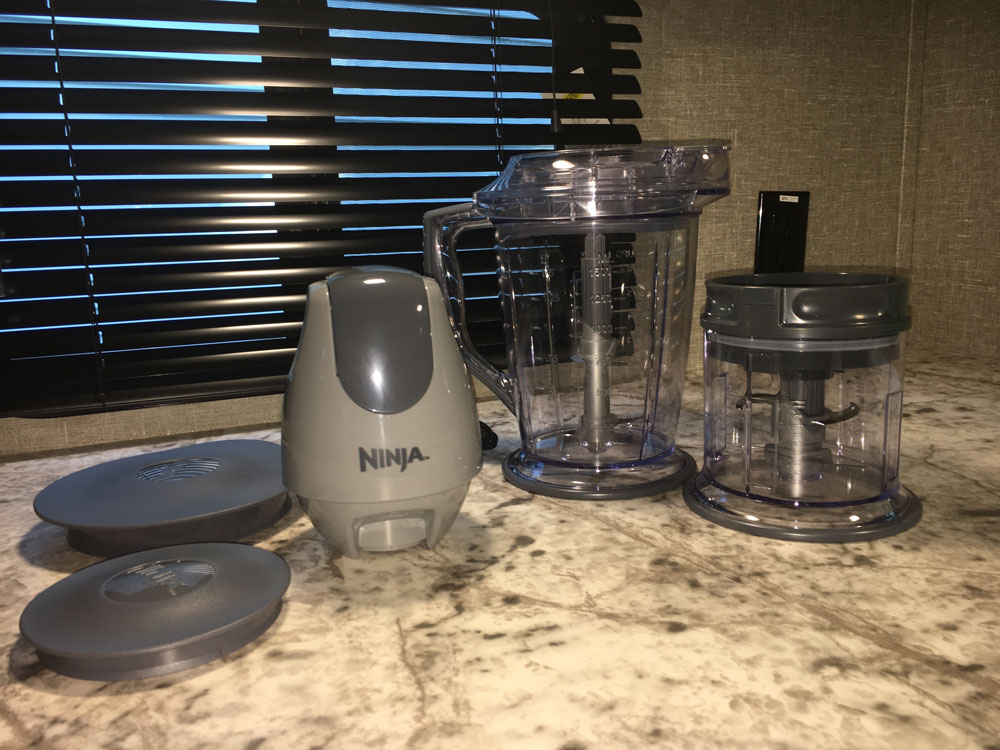 The Ninja Master Prep worked great. It has only one button on the top so using it is easy. I love it. Our Oster blender has 10 buttons. I'm really not sure what all of the buttons are for. I just want to blend things.
The Ninja was also easy to assemble. The motor unit has a slot that matches to a slot on the pitcher so that you'll be sure to get it attached correctly.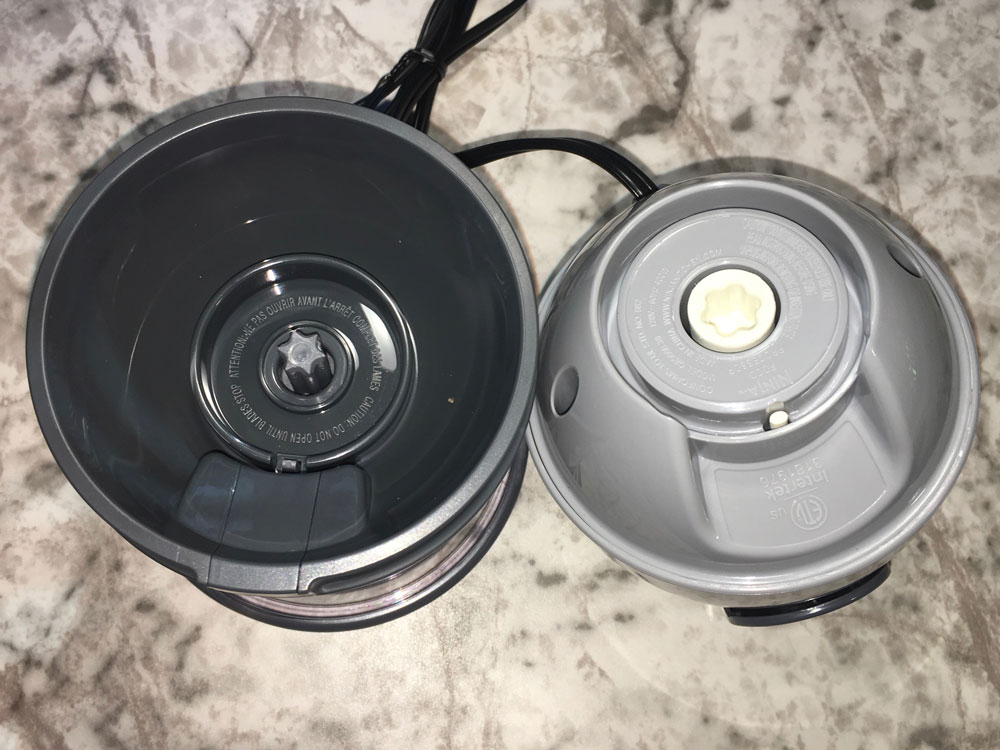 The Ninja made the smoothies faster than our home blender, easily handling the task of blending frozen fruit. The pitcher has a wide base with a rubber ring. It was very stable. The pitcher has a pour spout. I discovered that liquid could be added through the spout without having to remove the lid, which was handy. While still somewhat noisy, the Ninja Master Prep was a bit quieter than our home blender.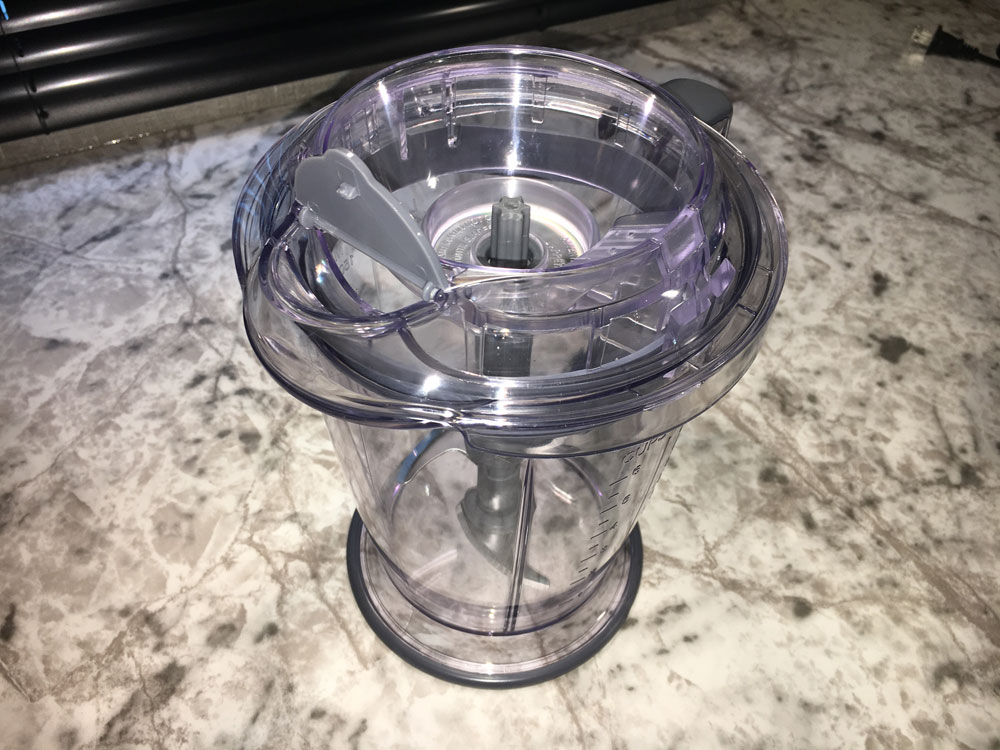 Our smoothies turned our great. Our new Ninja Master Prep is now my favorite RV kitchen gadget and I'm looking forward to enjoying Smoothie Sunday in the campground.
Products Mentioned
The Ninja blender mentioned in this post available at Amazon and other retailers. Note: this is an affiliate link. If you choose to purchase by using the link there is no additional cost to you, but we earn a commission that helps enable us to continue sharing helpful information.
Thank You
Thank you for reading our Ninja QB900B review and smoothie recipes.
If you are looking for another great smoothie recipe, check out our Mango Pineapple Strawberry Summer Smoothie recipe.
Do you make smoothies in your RV? We'd love to learn your favorite smoothie recipe. Leave a comment to share your recipe.
Copyright 2019 Travel Trail Sail. All Rights Reserved.