8 Great RV Bike Rack Options
We love having bikes when we camp. We share some great RV bike rack options and ways to bring your bicycles camping.
8 RV Bike Rack Options Video
We provide an overview of the range of options for brining bicycles camping with an RV or travel trailer. Check out our video 8 RV Bike Rack Options.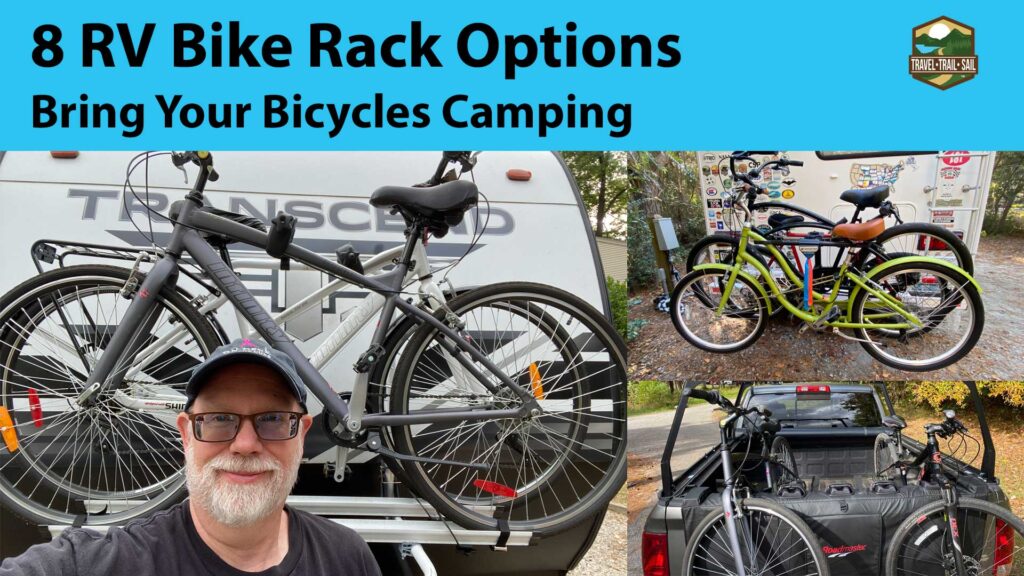 Why Bring Bicycles Camping
We love being able to go for a bicycle ride and have had the chance to ride trails across the country including Huntington Beach State Park, Itasca State Park, Pocahontas State Park, and event at the Fort Wilderness Campground at Disney World. Going for a bike ride is a fun way to explore. We have had fun bicycling on many of our camping adventures are are sure that you will, too.
However, sometimes it can be a challenge to bring bikes on an RV. Every RV and camping trailer is different. What works best for us may not be the best option for you. We've spent the last years observing how people transport bikes with their RV. To help you explore your options, we'll show you several ways that may help you bring your bikes on your camping adventures. Here are the top 8 ways we have discovered. Five are bike rack options and three are rack-free options to transport your bikes.
RV Bikes Option 1: Put the Bikes in Your Truck Bed
We have been RV camping since 2010. We headed out on a grand adventure out west in our new travel trailer. We wanted to bring our bicycles but didn't really have a good option. We put our two adult bikes in the bed of the pickup we use as our tow vehicle. If you are towing a vehicle, this option can work, too.
This option is free. You don't need to buy a rack. However, there are some downsides, too. The main problem is that the bikes will use up all of your storage space. We like to bring cooking gear like a grill, camp chairs, and a ladder. When the bikes are in the truck bed, there isn't room for anything else.
We used this option for a year before we got a travel trailer bike rack so we know it works. Putting bikes in the truck bed isn't our top choice.
RV Bikes Option 2: Put the Bikes in Your RV
Another inexpensive way to bring your bikes camping is to put them in your RV. For our first year of RV camping, we transported two kids bikes in the camper. Our Jayco 26BH had a jackknife sofa. When folded down, it provided a large surface to store the bikes. You could also use a bed for the same thing.
To protect the sofa, we purchased several inexpensive moving blankets. We used those along with rags which we used to help prevent bike chain grease from becoming an issue.
This method was inexpensive and did enable us to bring along two bicycles. However, there are some downsides to consider. First, the bikes take up space. If you want to be able to use your couch or bed, you'll need to move the bikes outside and secure them. On long trips where we sometimes just stop for a night on the way to our final destination, it was a bit inconvenient.
Campers do tend to have some bounce while driving down the highway. The bikes can shift, potentially causing damage to both the bikes and your RV. So while this method of transporting bikes worked, it is not our preferred option.
RV Bikes Option 3: Tailgate Bike Pad
Before we get to actual RV bike racks, there is one more option to consider. This is one we have been seeing more of in the last year. You could bring your bikes with a tailgate bike pad, also known as a tailgate mat or bike blanket. If you have a pickup as a tow vehicle or towed vehicle, a bike pad is a good option to use when you don't want to mount a bike rack to your camper.
Even if you have an RV bike rack, we think this might be a great option for bringing bikes to trails that are near your campsite. You can leave your travel trailer parked in its site but still easily bring the bikes where they need to go. If you want more information, we recently reviewed the Roadmaster Bike Pad.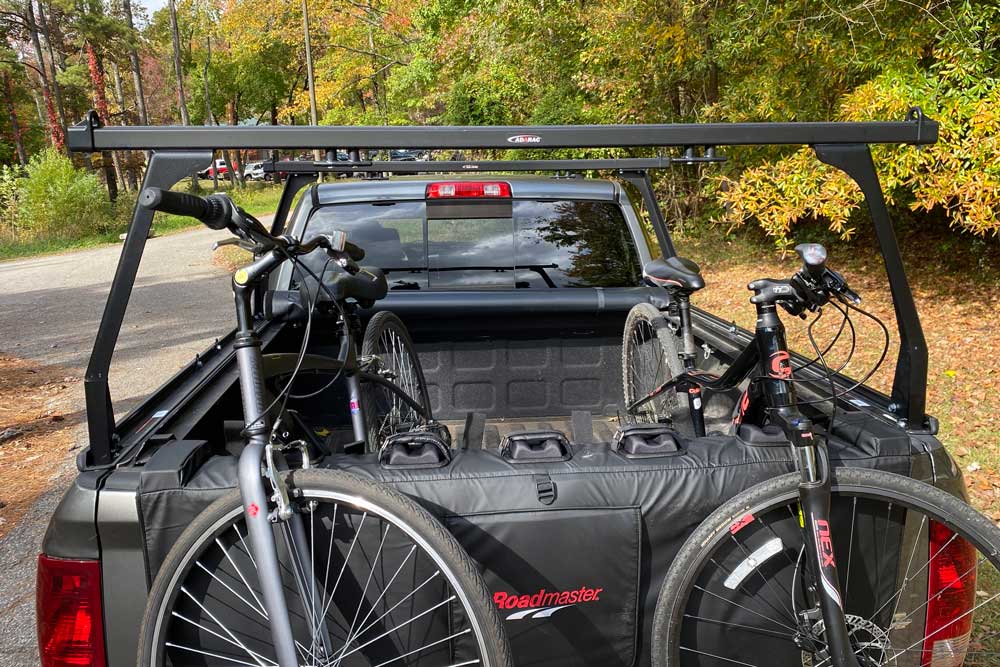 One downside to this approach is that it uses some of the space in our pickup bed. Also, if you have a bed cover, you won't be able to use it while transporting bikes.
RV Bike Rack Option 4: Bike Rack on the RV or Vehicle
If you have a roof rack or low rack over a pickup truck bed, you may be able to carry your bikes on that vehicle.
For example, if you have a smaller camper that can be towed by an SUV or similar vehicle, you may be able to mount your bikes using a rack on the vehicle.
Using a roof rack can be a good option on some smaller campers, too. Teardrop campers often have a roof rack. You'll want to check the roof rack weight limits and ensure that fenders support your weight while you load your bikes.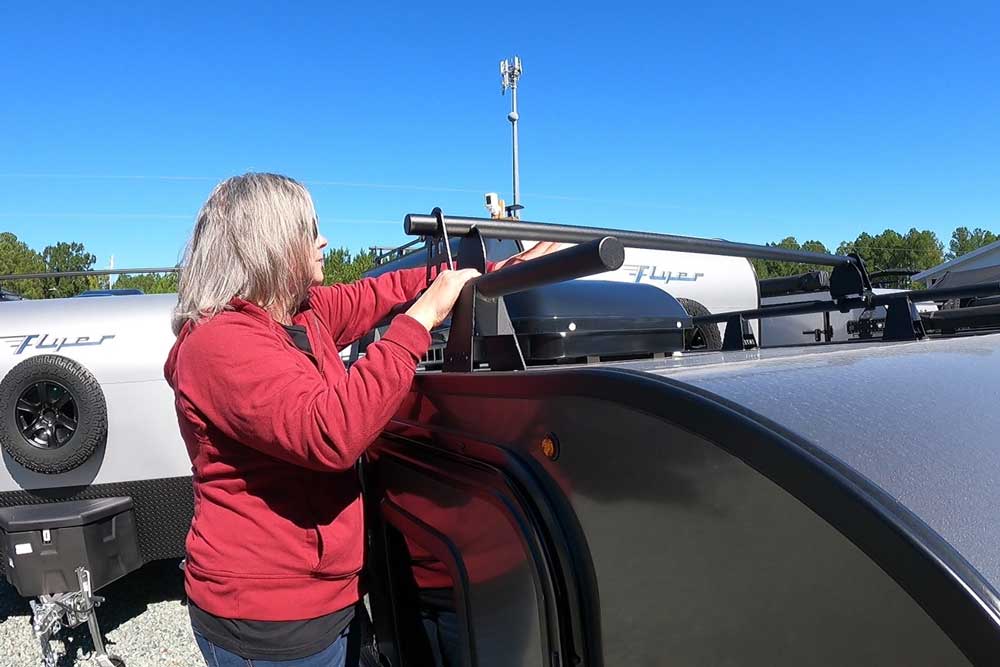 Before you select this option, consider that you'll need to be able to lift the bikes to be able to secure them to the rack. Another potential downside to consider is that the height of the vehicle with added bicycles may be a consideration for traveling in areas with low overpasses or tunnels.
RV Bike Rack Option 5: Portable Bike Rack
If your vehicle doesn't have a rack, you can easily add a rack to some vehicles. This might be an inexpensive option to consider if you are towing a vehicle behind your RV. We often use a Thule rack on the back of a car. This type of rack can be adjusted to fit most vehicle types.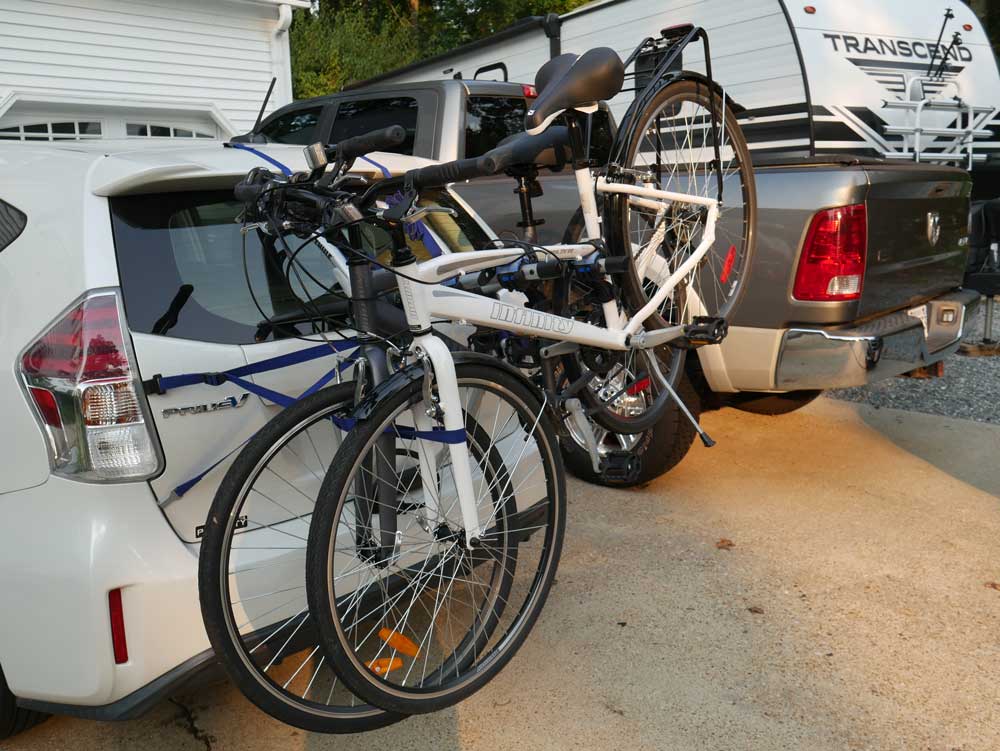 If you want to learn more about this option, we did a Thule Archway bike rack review and video.
RV Bike Rack Option 6: Receiver Mounted Bike Rack
Many motorhomes and some travel trailers have a receiver mount. If you are lucky enough to have one of these, you can use a receiver mount bike rack to bring your bikes camping.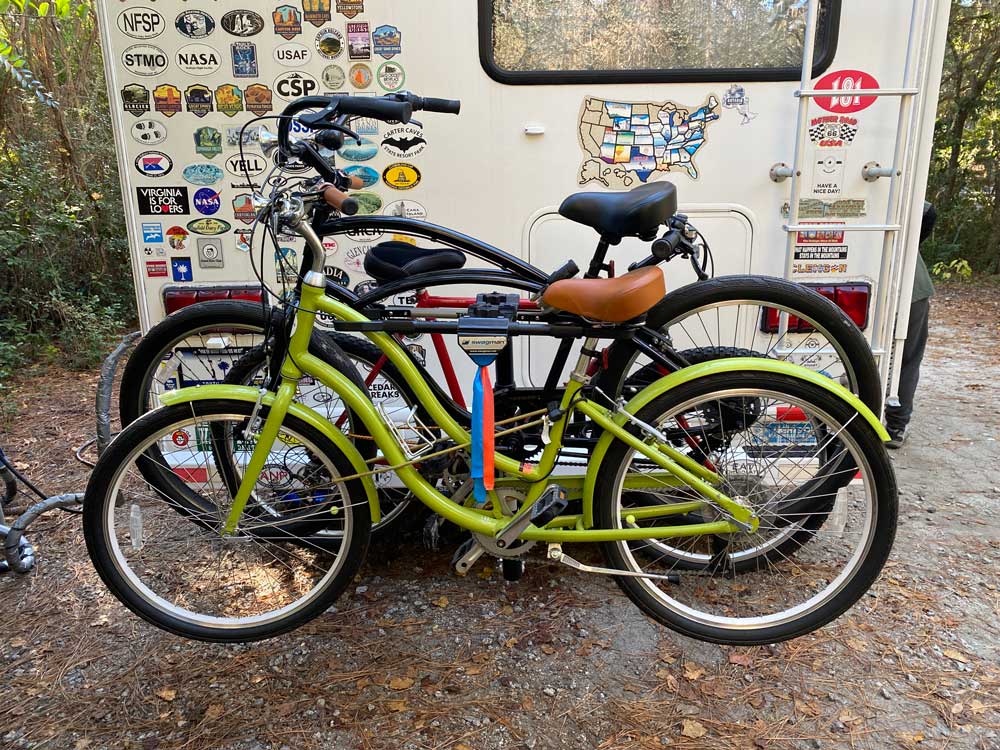 We have started seeing travel trailers with a rear receiver hitch. We noticed it recently on an Oliver and on a Little Guy Max.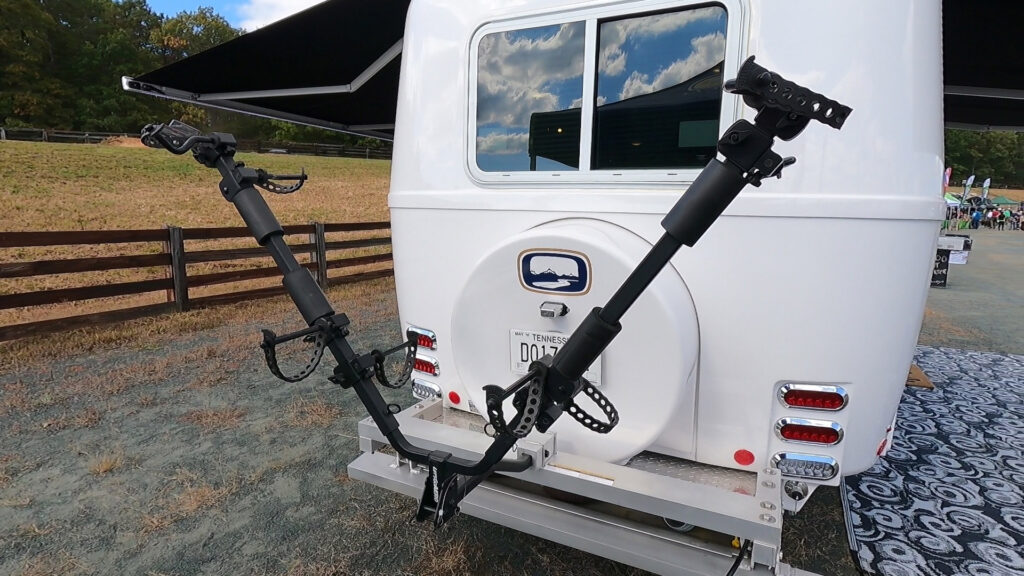 There are many bike racks to choose from. Consider options like if the rack holds the frame or supports the bike using trays under the tires. You may also want to consider if you need the rack to fold out of the way to access a storage compartment in the camper. Some racks come with built in security features that may be worth considering.
One tradeoff with a hitch receiver style bike rack is that you generally can't see your bikes while driving. And, if you have a rear storage area or outdoor kitchen you won't be able to access it when the bikes are on the rack.
In some cases, the receiver is mounted to the front of a camper, which removes the issue with rear access. We have only seen this option on a Boreas teardrop camper.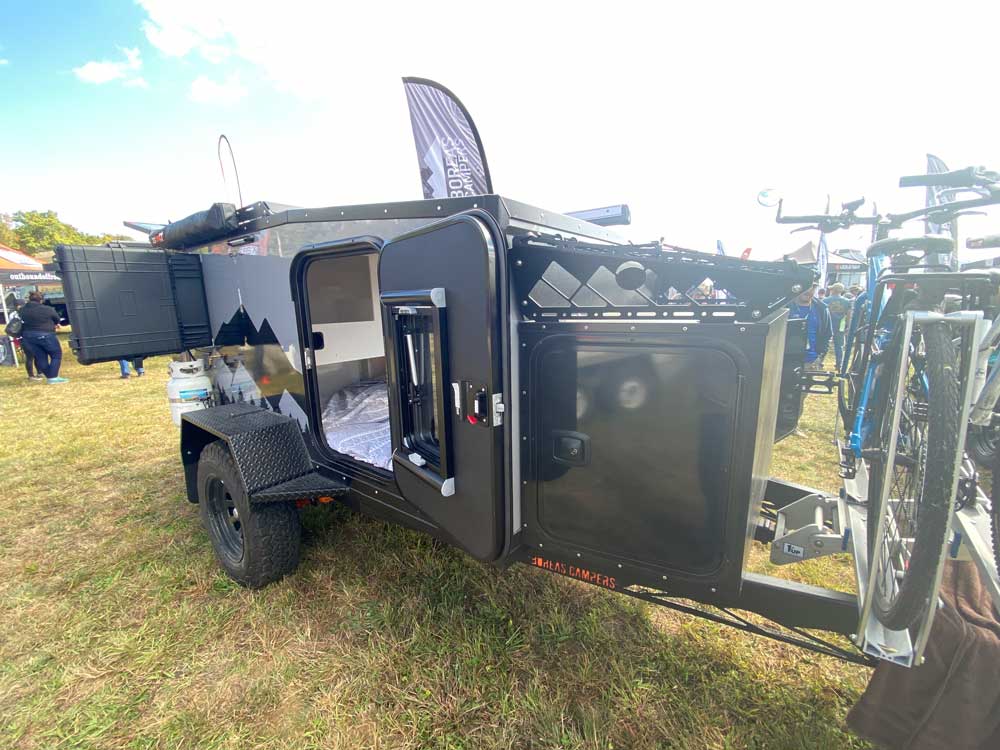 RV Bike Rack Option 7: Front Receiver Mounted Bike Rack
In some cases, you can't use the rear receiver hitch on your truck or camper. For example, if you have a truck camper and plan to tow a boat. While uncommon, a front receiver hitch bike rack might be best option for your situation.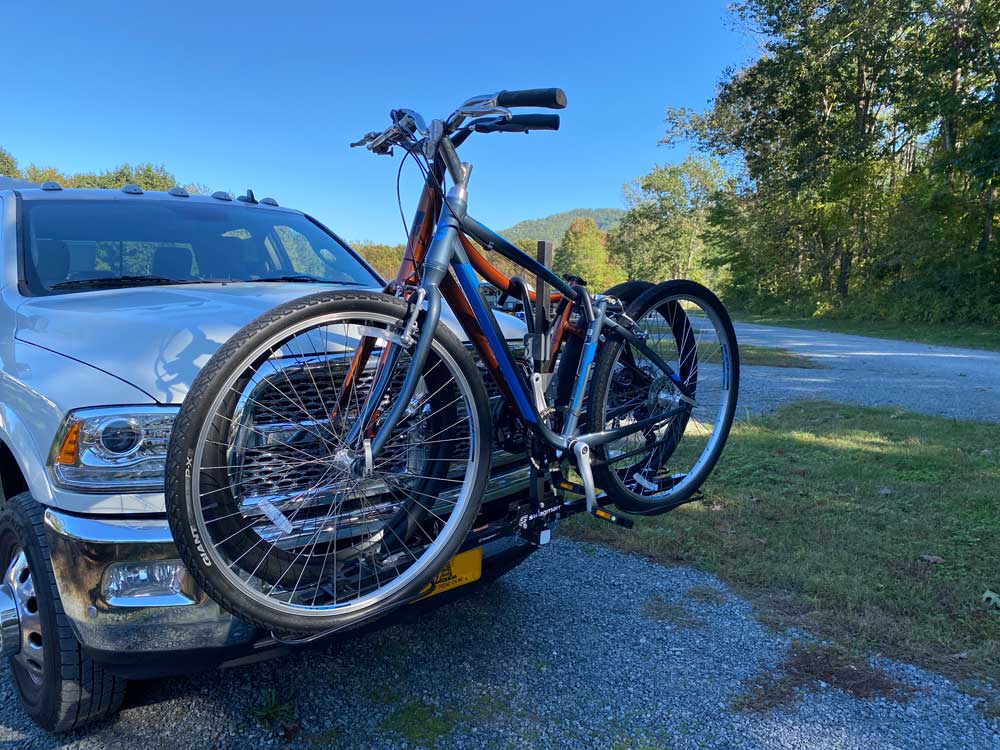 When not in use, the rack can be removed. The Swagman rack shown folds down to a compact size for storage.
Cost might be a key consideration for this RV bike rack option. Since most pickups or RVs don't come with a front receiver hitch, you'll need to have one added to your vehicle.
While you might be concerned about visibility with a front-mounted bike rack, we spoke to the owner of this one. He indicated that there is minimal impact to his view. Thanks to Keith for telling us about this interesting bike rack option and for letting us take pictures for the blog.
RV Bike Rack Option 8: Bike Rack Mounted Over Propane Tanks
Our first option is a bike rack that mounts to the A frame and keeps the bikes above the propane tanks. This option is among the best if you have a travel trailer. This type of rack is typically mounted with clamps on each side of the frame. A support post or posts holds the bikes up over the tanks.
If you need to bring more than two bikes, the best option is an Arvika bike rack. They offer models that can hold from two to four bikes. We initially configured our for four bikes. Now, we use it with two bicycles.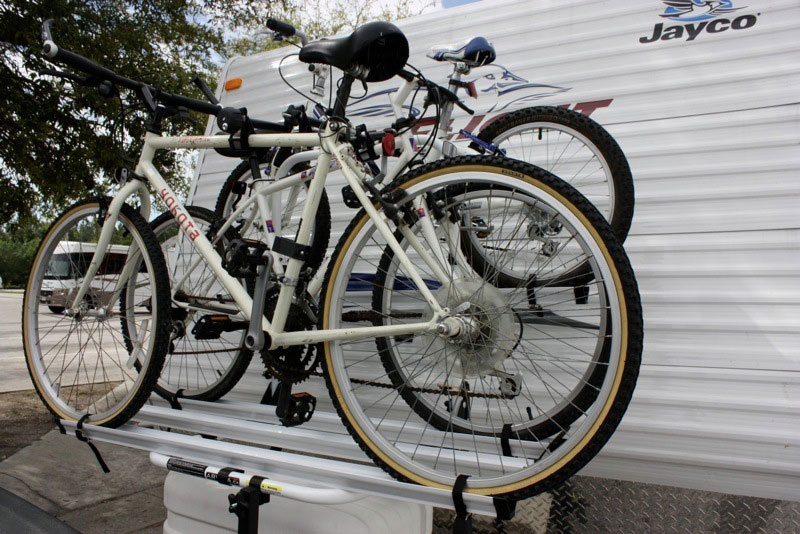 The one potential downside to this type of rack is that it may impact the turning radius of the truck and camper.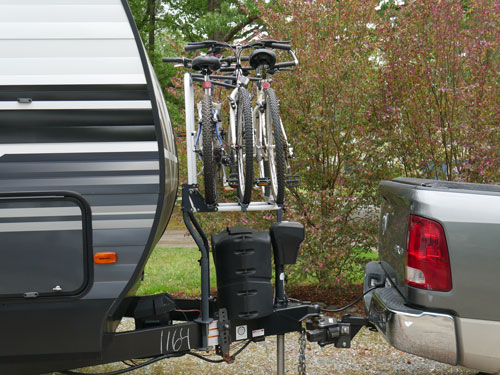 If you'd like to purchase an Arvika bike rack and are looking for a discount, you can use our affiliate code TRAVEL10 to receive a 10% discount. You can check out their line of bike racks at Arvika.ca Note: if you use this link, we may also receive a commission on qualifying purchases.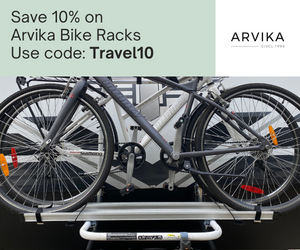 Another popular model of over propane RV bike rack is the Jack It by Lippert. The Jack-It 2 Bike Rack enables you to bring up to two bikes.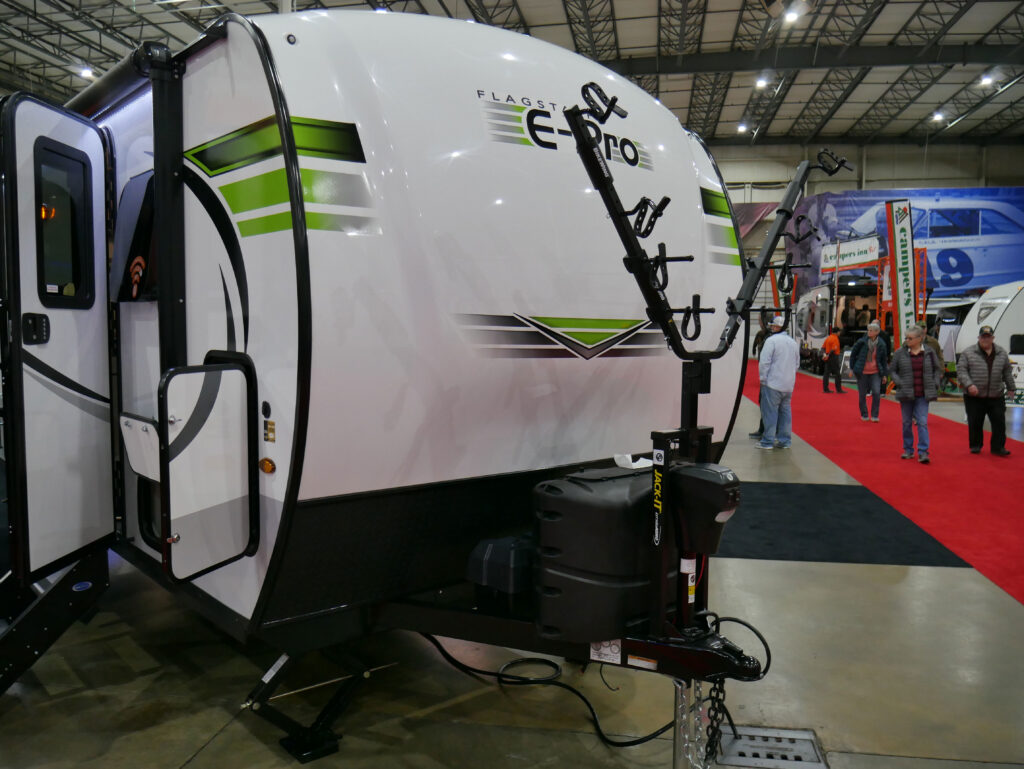 Another option is to get a travel trailer A-frame carrier mount such as the ones from Swagman or Stromberg Carlson. These are mounted this to the front of the travel trailer and have a 2 inch receiver where a hitch mounted bike rack can be installed. One advantage here is that the bike rack can be moved to your truck and used when you are not towing your camper. That would definitely be nice to have.
Bean teardrop campers often have a storage box mounted at the front of the camper. On the Black Bean model, they offer a very nice bike rack on the storage box. This is a similar approach to the over propane racks.
RV Bike Racks to Avoid
As you consider how to bring your bikes on your RV, there are a few options you may want to avoid. The bumper on most travel trailers is not intended to carry a load. If you mount a bike rack to the bumper, you may experience issues. One friend of ours lost their rack and bikes on the highway.
Some RV manufacturers are no longer including ladders on the back of RVs. The reason stated is that it is challenging to design for the load the ladder needs to carry. If it is challenging to meet load requirements for just the ladder, it may not be a good idea to mount heavy things like bicycles on the ladder. Be sure to do some research before selecting this option.
RV Bike Rack Options Summary
There are several great options for transporting bicycles with an RV. Hopefully, this post has provided a good overview and helped you with which options might work for you.
We'd love to hear how you bring your bikes camping. What type of rack do you use? How has it worked? Leave a comment and share your thoughts.
Copyright 2023 Travel Trail Sail. All Rights Reserved.