We visited the Tidewater RV Show in Virginia Beach, VA. Here are some of the top trends and interesting campers we saw at the show. A few things have changed since our last visit to the Tidewater RV Show back in 2020.
The Tidewater RV Show was January 20-22, 2023 at the Virginia Beach Convention Center, Virginia Beach VA. This year, four RV dealerships participated including:
RV Show YouTube Video
If you prefer to see highlights from our visit to the 2023 Tidewater RV Show on video, check it out on YouTube.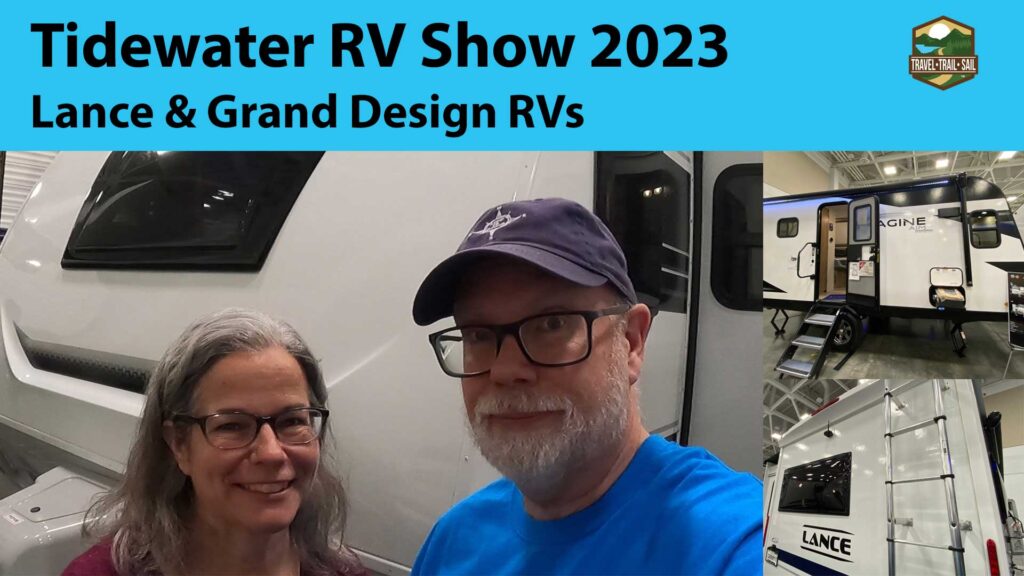 RV Trend 1: Fewer Outside Kitchens
While outside kitchens have been getting larger over the last few years, this year we noticed fewer and smaller outdoor kitchens at the show. Travel trailers from Grand Design, Lance, and Geo Pro all had models at the show with no outdoor kitchen.
The trend toward including a griddle in outdoor kitchens seemed to have grown. These have mostly replaced the two burner stoves that used to be the most common outdoor kitchen element. For its outdoor kitchen, the Imagine AIM 15BH had only a griddle and no refrigerator or sink.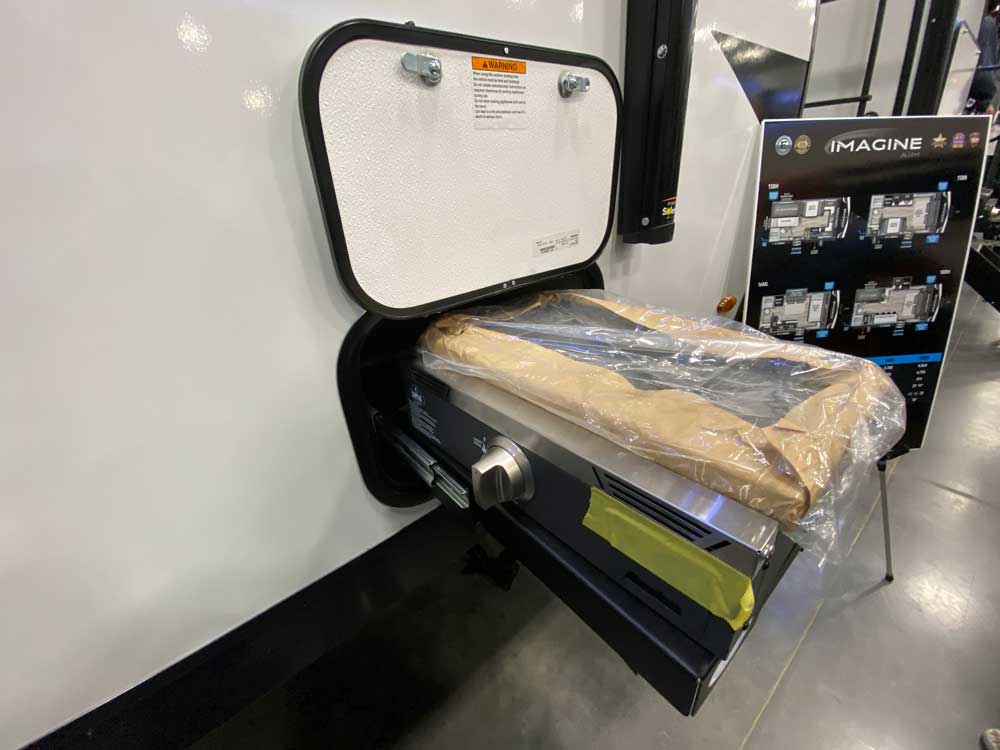 RV Trend 2: Touch Screen Controls
RV control panels have been the same for many years. These usually consist of a set of rocker switches to control items like the water heater and LED gauges to show tank levels. The trend appears to be toward touch screen panels that can be controlled via a smart phone app.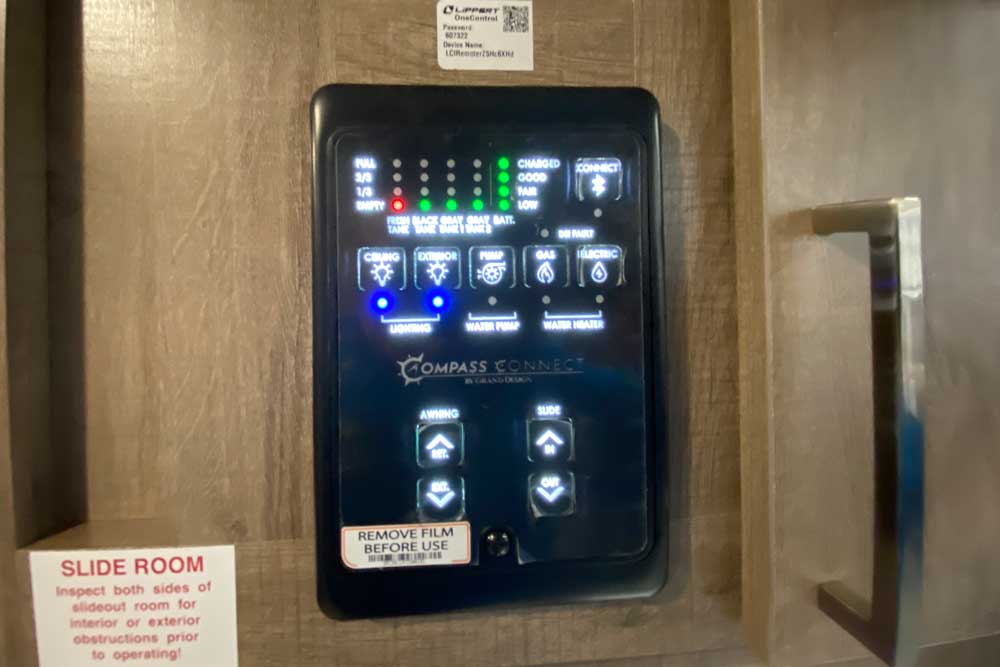 RV Trend 3: Few RV Leash Latches
We first saw leash latches being added to campers when we visited the Tidewater RV show in 2020. At the 2023 show, only one travel trailer had a leash latch. We thought this was going to be a standard item as so many people travel with their dogs. However, the trend appears to be away from including them.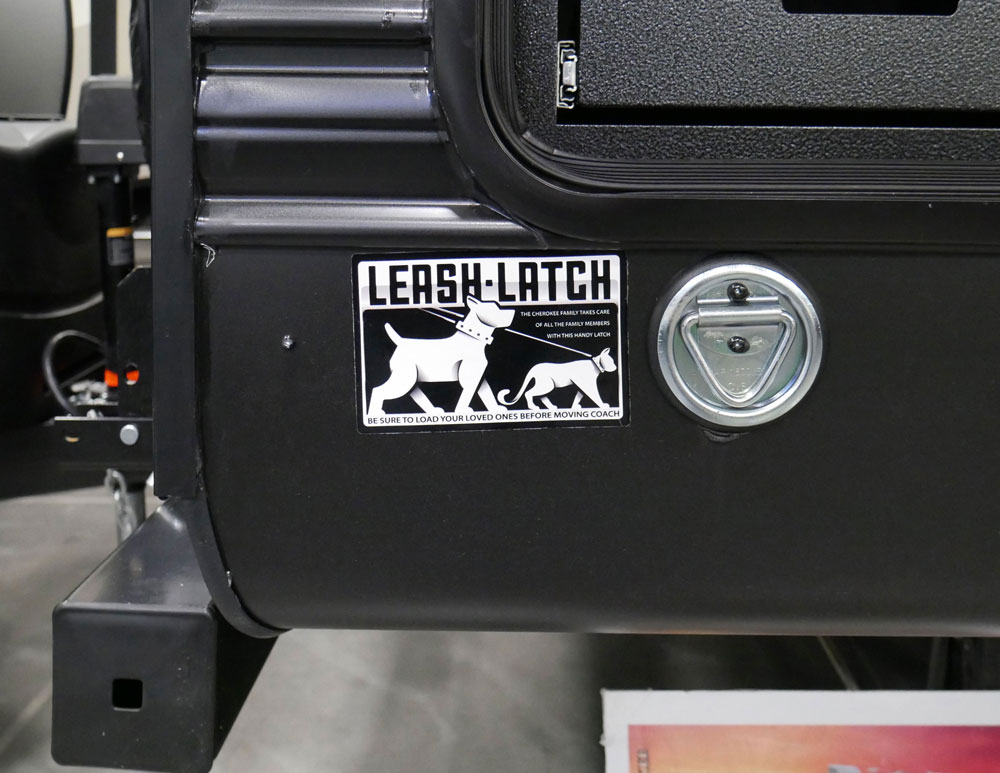 RV Trend 4: Ladders Are Still Included
We had heard that RV manufacturers were going to stop including ladders. This would make RV life challenging as you often need to get on the roof. For example, you need to clear the roof before bringing in a slide. And, you need to clean, inspect and seal the roof several times per year. It is great to see that ladders were still included on most of the RVs at the show this year.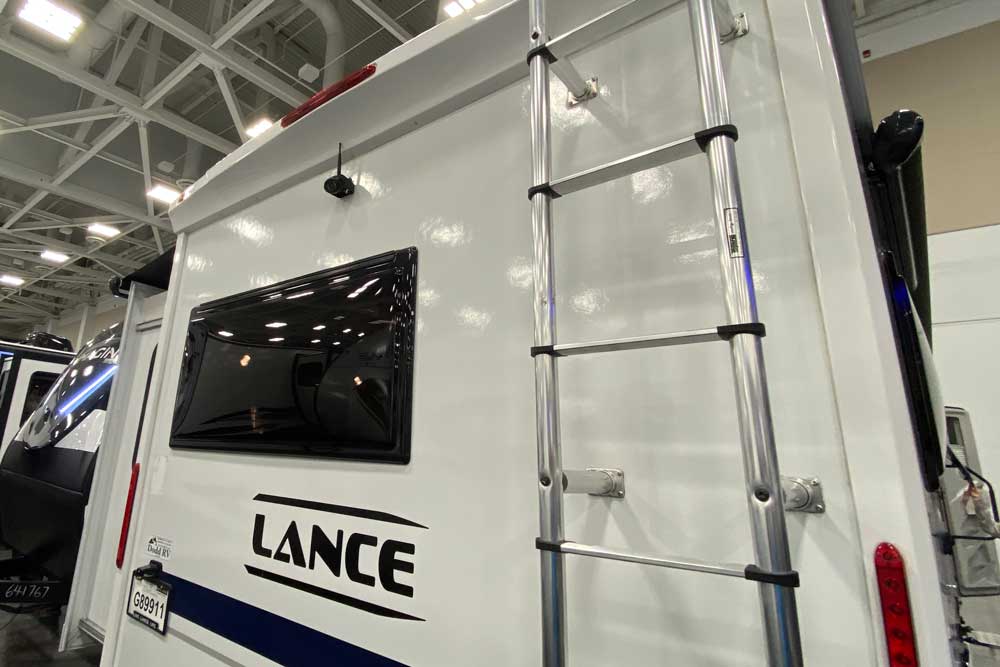 RV Trend 5: Show Prices are Partially Back
One reason to visit an RV show is to buy an RV with a big discount. Sales in the RV industry have been high for the last several years. Demand for RVs has been high. Combined with inflation, the cost of buying an RV has gone up significantly over the last few years. We noticed that most of the RVs had good discounts applied to their price. However, note that the discounts were applied to base prices that are much higher than before. And, the discounts are not at the level that they were when we visited the Tidewater RV Show in 2020. It seemed as though a 20-25% discount was available at this year's show.
A Few Interesting Travel Trailers
There were many nice RVs on display at the Tidewater RV Show. Here are a few that caught our eye.
Lance 2465
The Lance 2465 seemed like a very nice travel trailer that was well built. We appreciated the layout with a couch up front and a large rear bedroom. The Lance had a few details worth noting. There is a rack on the roof that may be suitable for kayaks. Bringing kayaks can be a challenge for many campers so this seemed like a great feature. However, we aren't sure how we would load the kayaks on the high roof of a camper.
Another nice feature on the outside of the Lance was a lock that would enable you to lock your bicycles to the frame of the camper. This is a nice feature and a great improvement over trying to lock them to the picnic table at a campsite.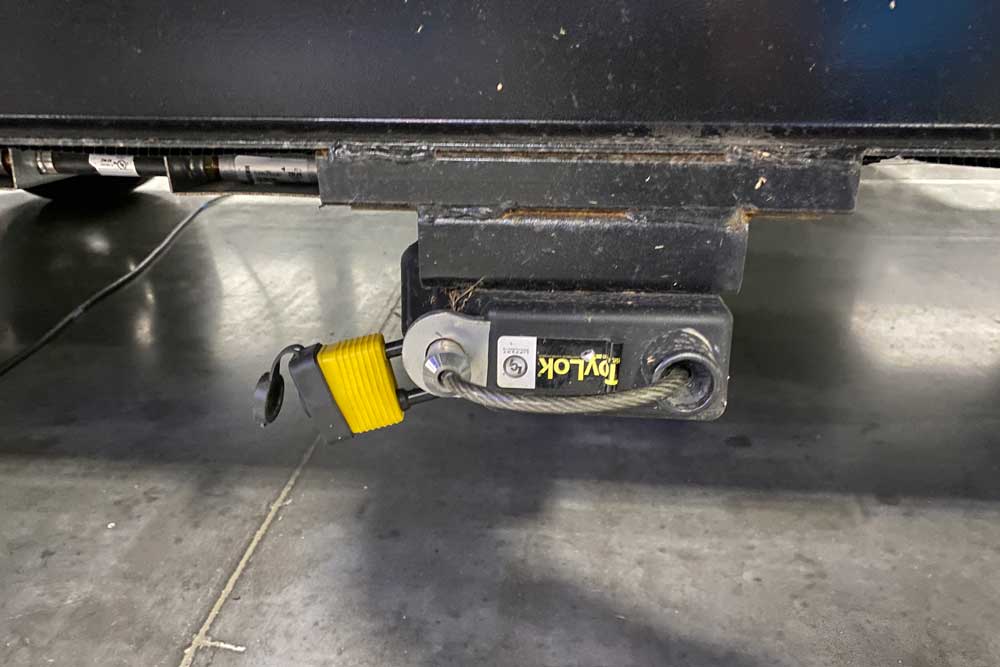 The best part of the Lance was in the bedroom. There is a TV that lowers into a cabinet enabling you to have a desk. This would be a great option if you need to work on the road. Imagine looking out from your desk to the view of a lake, the mountains, or another scenic vista.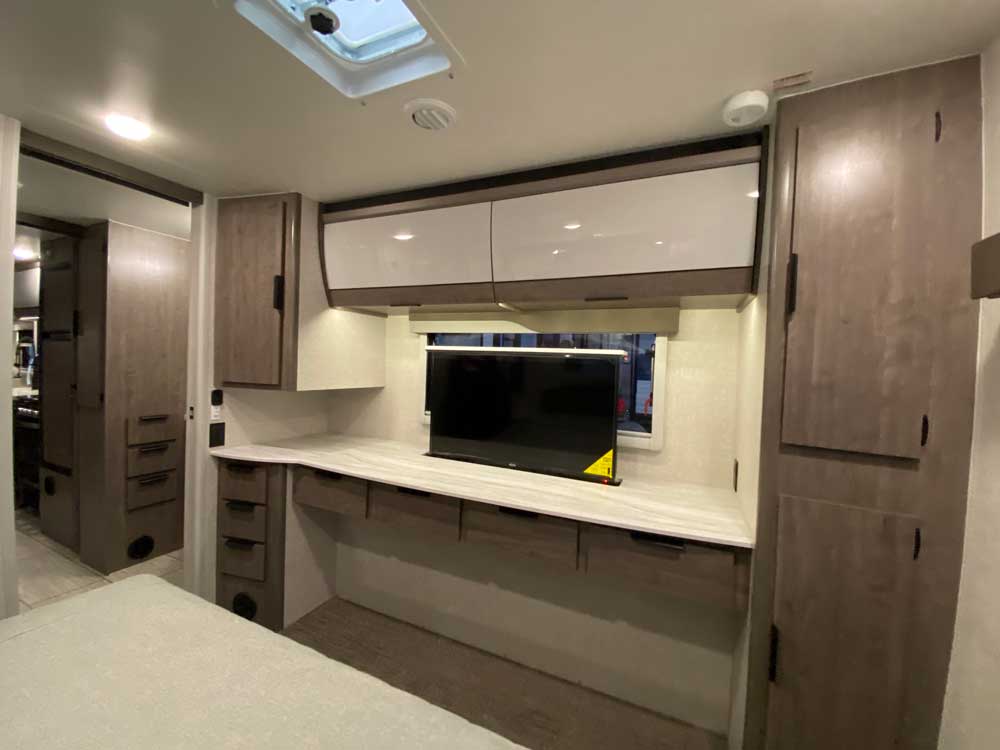 Imagine AIM 15BH
This travel trailer shows that you can have good quality and nice features in a small package. Most smaller travel trailers are considered entry level. They are often inexpensive and have limited features. The Grand Design Imagine AIM campers are higher-end campers that just have a smaller footprint.
We loved the large kitchen area at the front of the Imagine AIM 15BH. It had plenty of counter space and storage. A luxury for a camper of this size. There are a few sacrifices, like having only a two burner stove. But, the refrigerator and freezer were well sized. They run on 12 volt, powered by your batteries and included solar panel.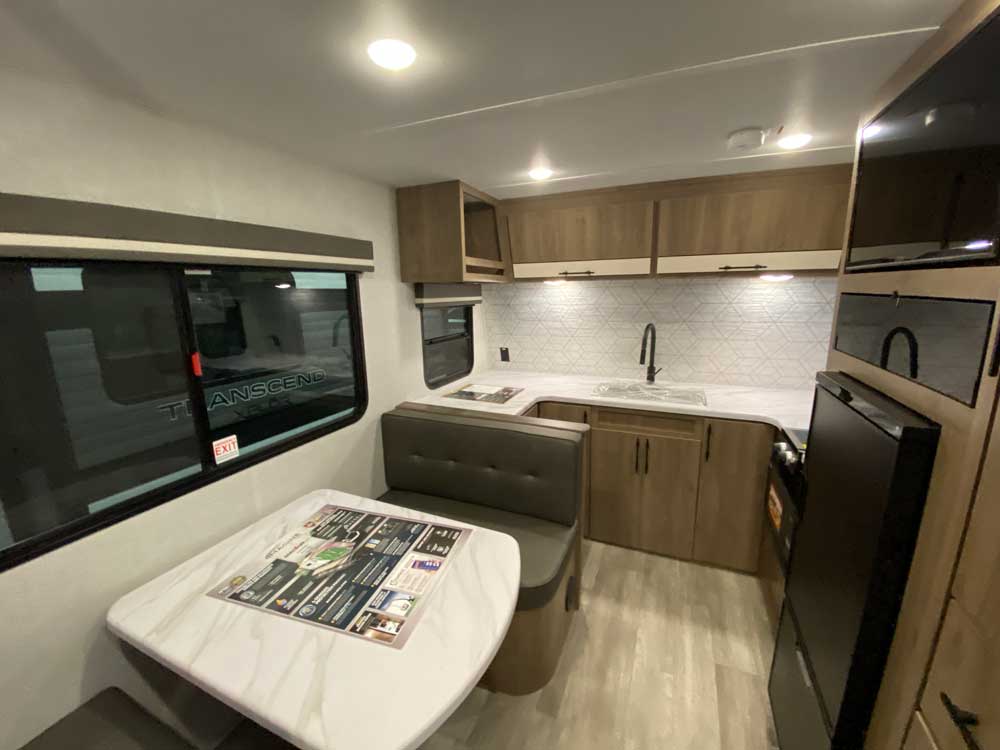 The bathroom was fairly large for a small camper. I was able to stand up in the shower, which is often not the case in travel trailers of this size.
The bedroom area is innovative. It features a single bunk over a Queen-size bed. While we may not need the bunk, this might be a great option for a family of three people.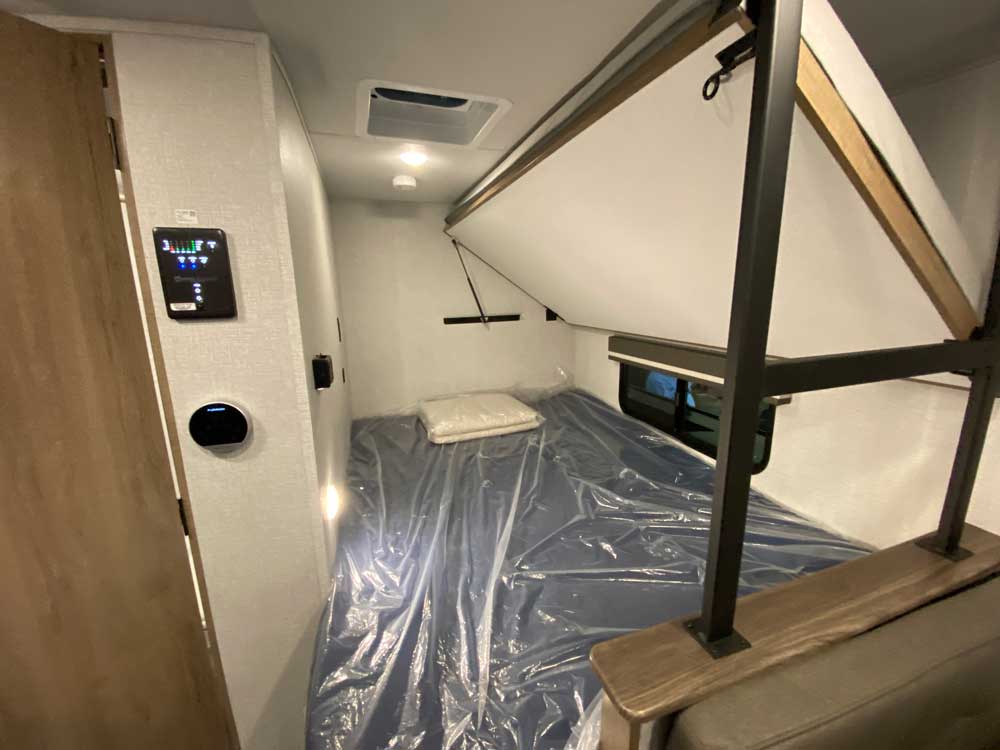 Grand Design Imagine 2600RB
The Imagine 2600RB was another great layout. It is smaller than our Transcend 28MKS, but offers many of the same benefits. It has a large bathroom at the rear of the camper. In the front, you'll find a walk-around Queen-sized bed. The main living area has both recliners and a dinette. Finally, the kitchen is nicely sized.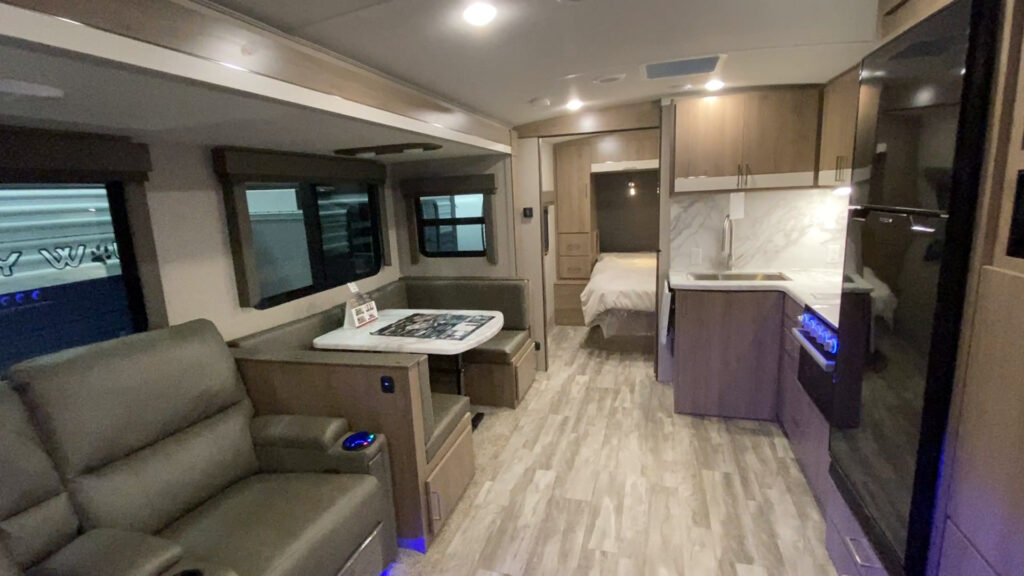 Meeting Other RVers
One of the best parts of attending an RV show is meeting other RVers. We had great conversations with other people who camp. We met up with Randy Warner who shared his story of ten years of RV living, visiting every state. He also shared with us his book about how to RV, which we can't wait to read.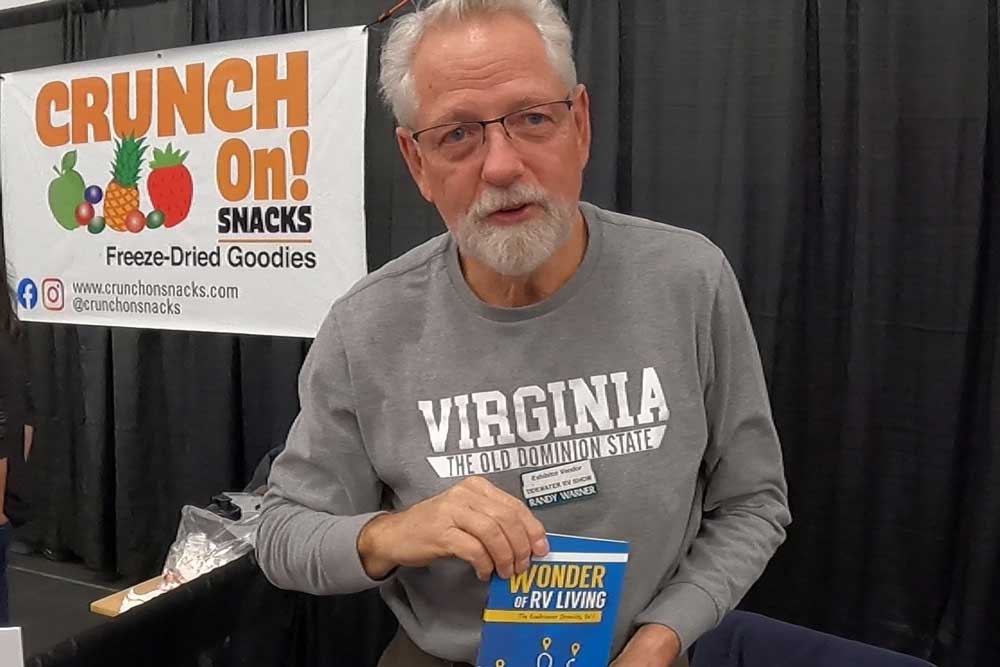 If you are interested, you can find a copy of The Wonder of RV Living on Amazon. Note, this is an affiliate link and we may receive a small commission if you purchase using this link.
Leave a Comment
I hope you enjoyed reading about our visit to the 2023 Tidewater RV Show. If you want to see more RV Show content, check out our posts from the 2020 Tidewater RV Show and the 2020 Richmond RV Show.
Have you been to an RV show this year? What was your favorite new feature? We'd love to here from you. Leave a comment to start the conversation.
Copyright 2023 Travel Trail Sail. All Rights Reserved.