American Heritage Campground Review
The American Heritage RV Park is a great camping option for your visit to Williamsburg VA. Our American Heritage campground review has all you need to know about this nice campground.
American Heritage Campground Overview
The American Heritage RV Park is a great home base from which to explore the Williamsburg VA area. Its about 6 miles from Colonial Williamsburg, about 12 miles to Busch Gardens Williamsburg, and about 14 miles to Jamestown. It is easy to reach from Interstate 64. If you are visiting the area and would like a big-rig friendly campground, this would be a good option.
The campground has 138 full hookup sites. Some are back in while many are pull-through sites.
If you prefer a campground experience with more family-oriented activities, you might consider reserving a site at the nearby Williamsburg KOA.
American Heritage RV Park Review Video
We take a tour of the American Heritage RV Park with our YouTube video to show you it's sites and amenities.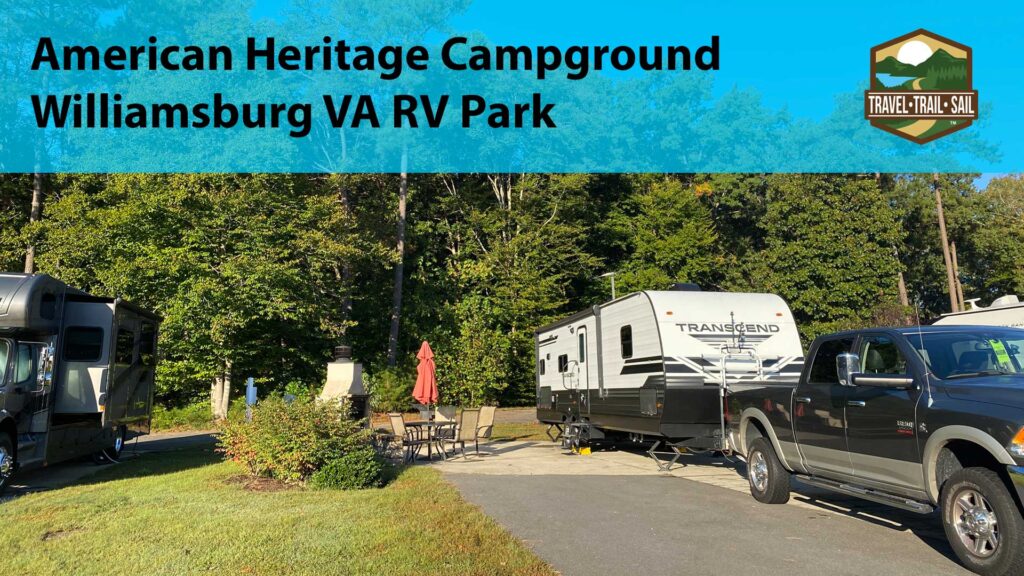 American Heritage RV Park Sites
There are 138 full hookup camping sites available at American Heritage. Some are back in while many are pull-through sites. Sites are very level.
Toward the front of the campground, there is more shade. Sites in the back are more open.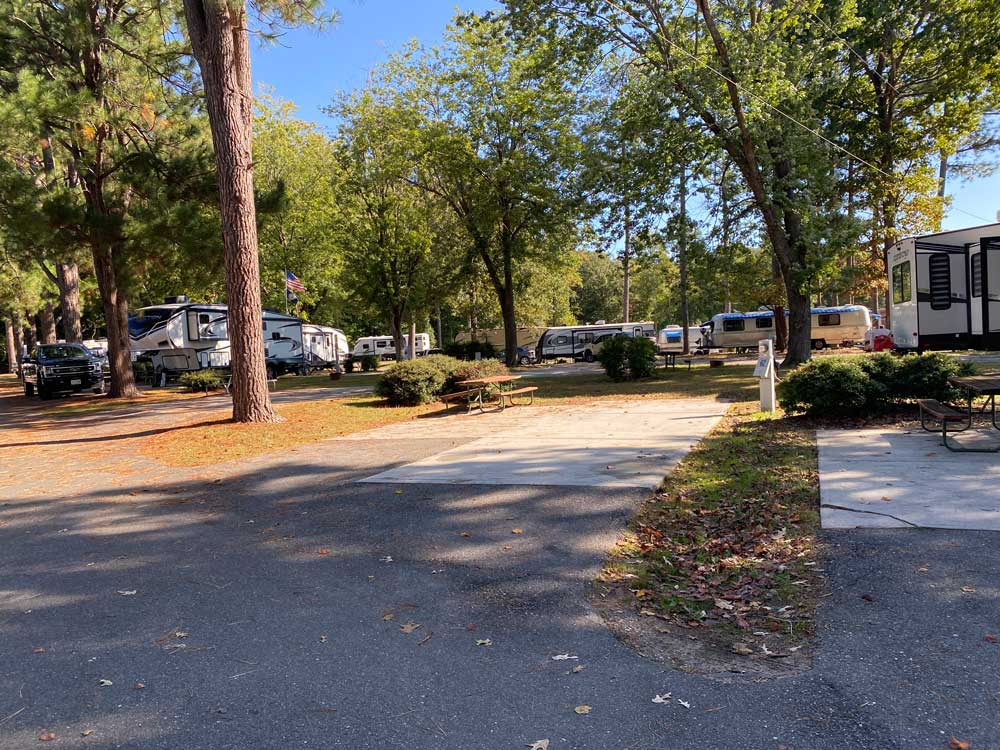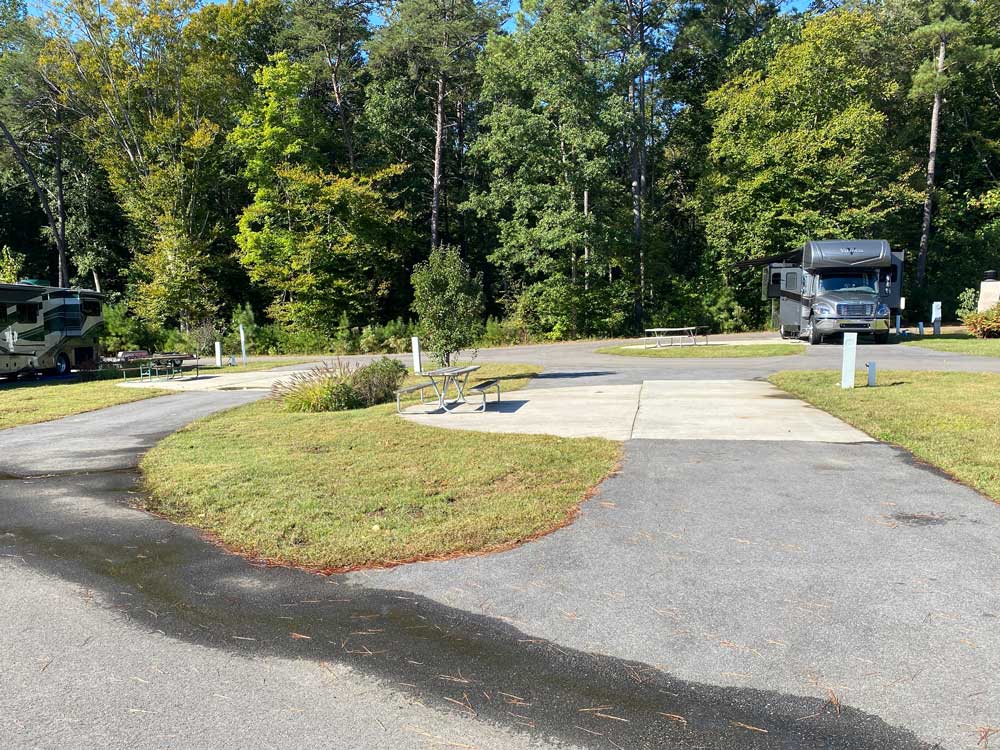 Most sites were close together. Deluxe sites have some have nice features like a brick patio and fire pit or fireplace.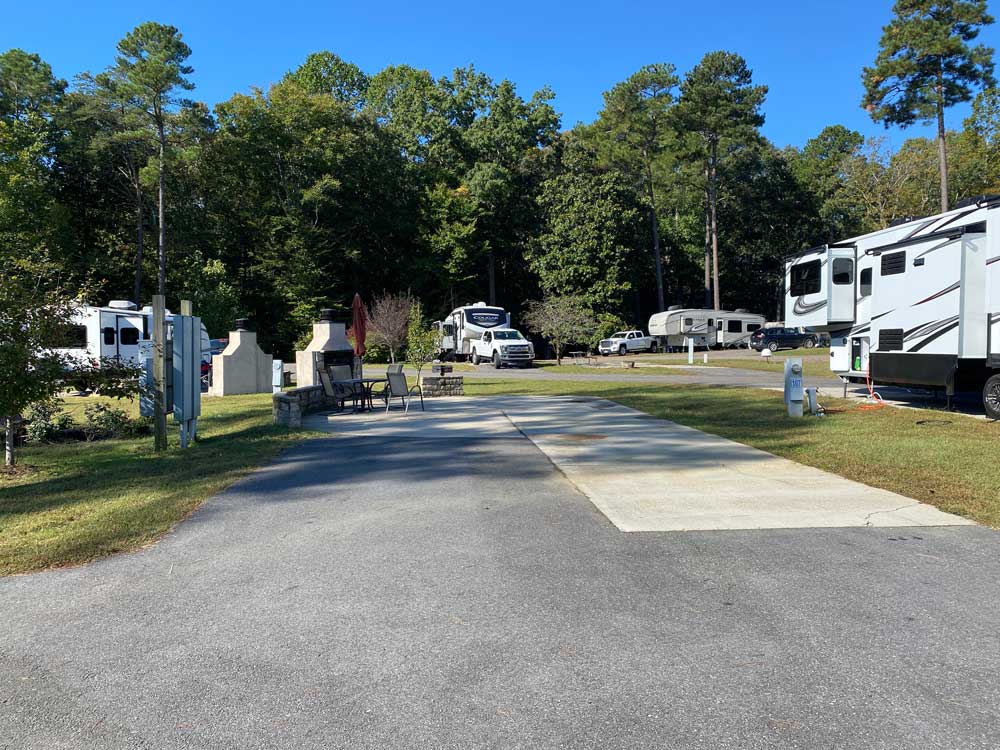 A few deluxe sites even have a pergola.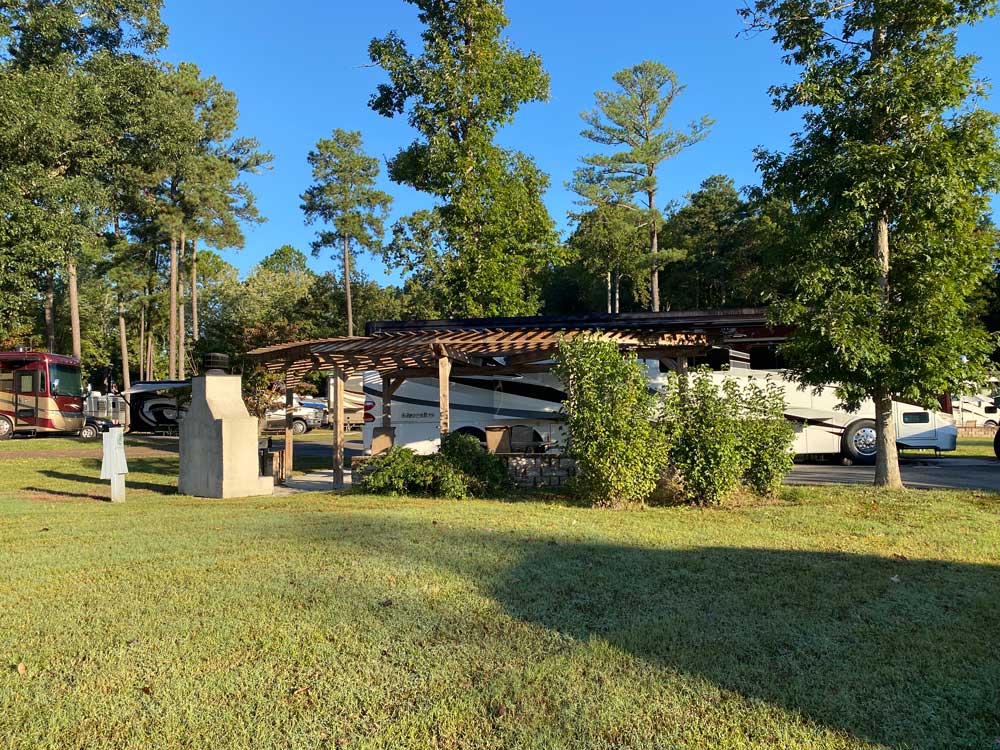 American Heritage RV Park Amenities
WiFi is available. If your just checking out social media or the news, it will likely be sufficient. However, don't expect to be able to do any significant work. We tried using a Firestick to stream TV and were not able to do so. We also tried using our cell phone as a hotspot and couldn't get a strong enough signal.
Cable TV is provided. Your favorite channels are probably among the 45 available channels.
Toward the front of the campground is a nice swimming pool.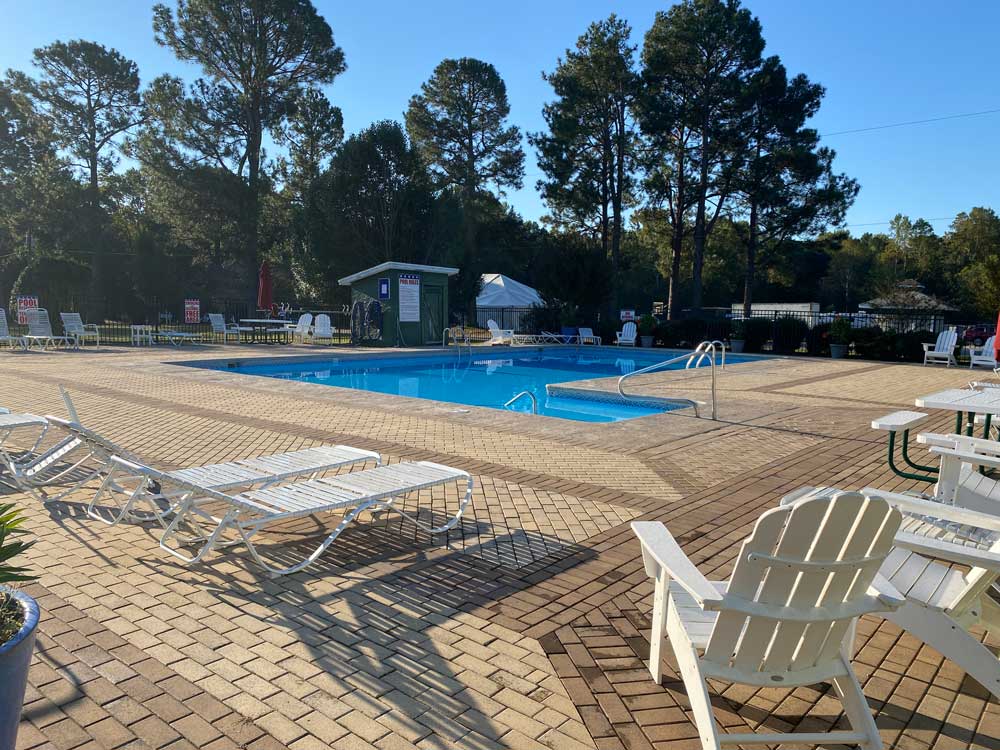 Next to the pool is a large grassy area with a basic putt putt course.
Adjacent to the pool is a building with several features including the laundry room and a game room.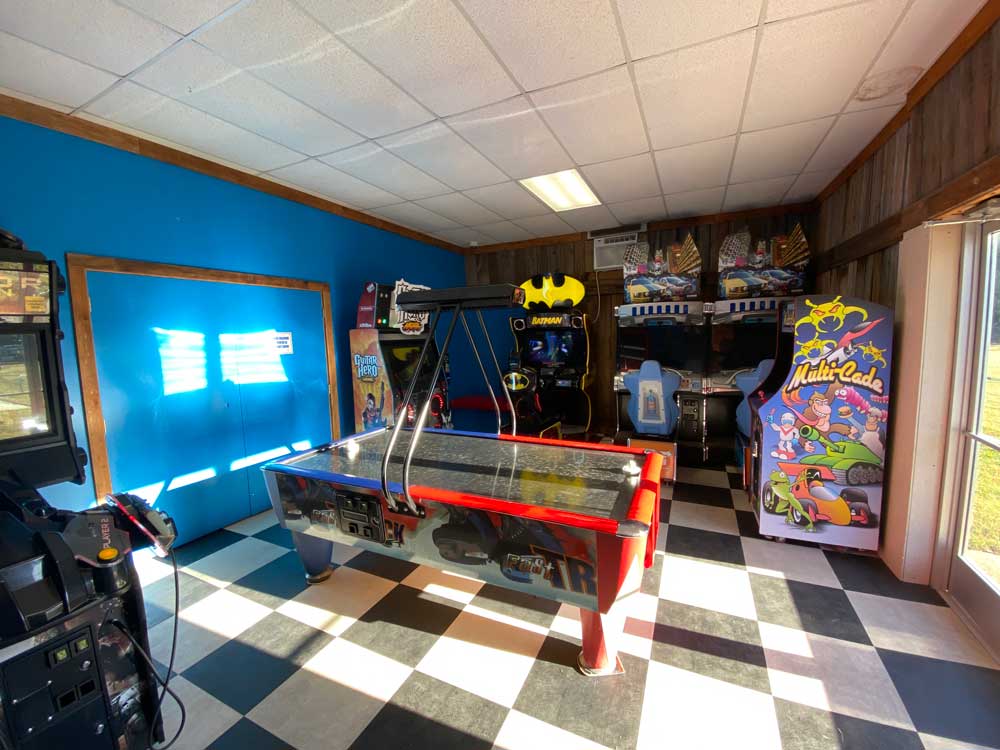 Toward the front of the campground but a bit away from the pool area is a playground.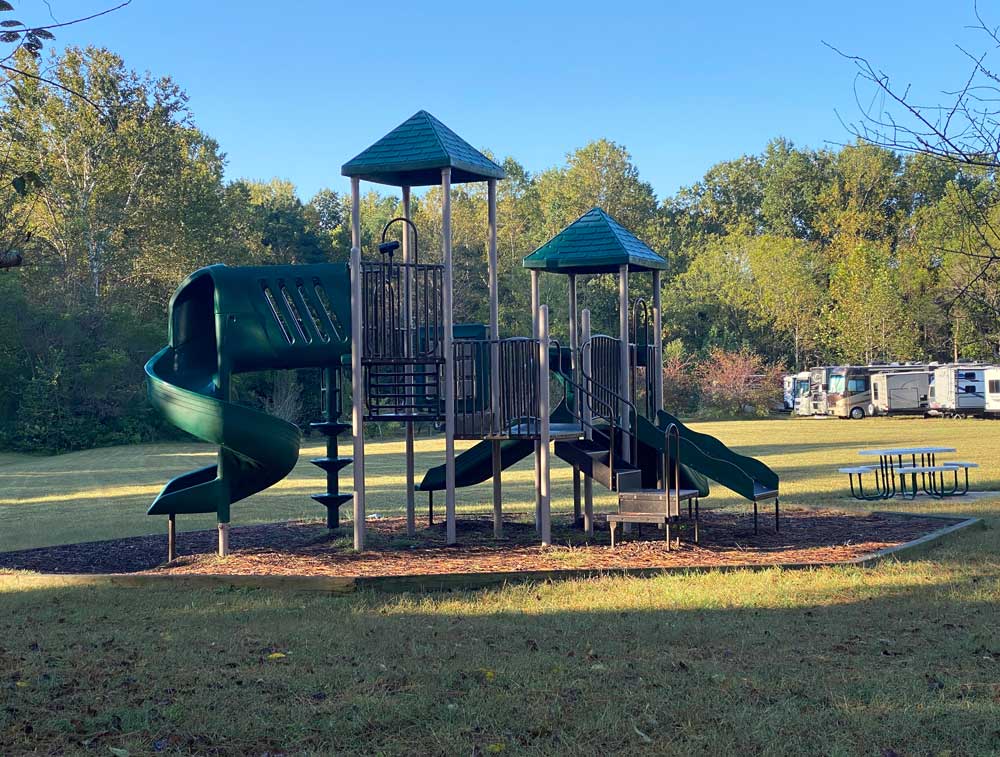 A laundry facility is available. It is clean and has top-loading machines. Washers cost $2.50 and dryers are $2.25. A change machine is available if you need quarters.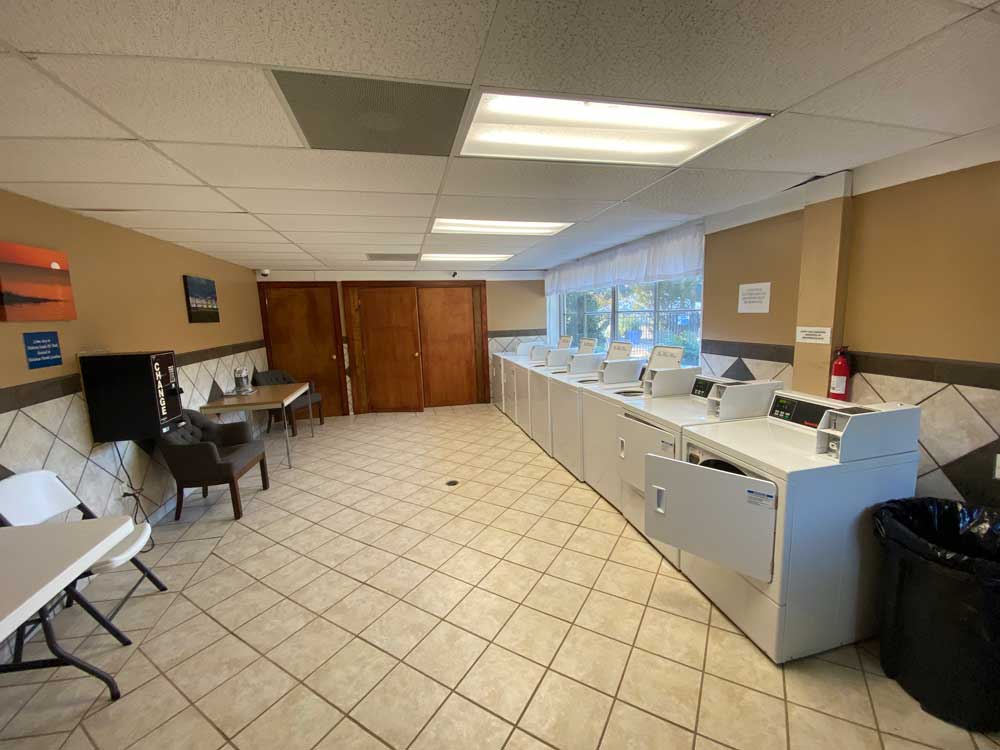 American Heritage RV Park has a hiking trail that goes through the woods behind the campground, from one side to the other.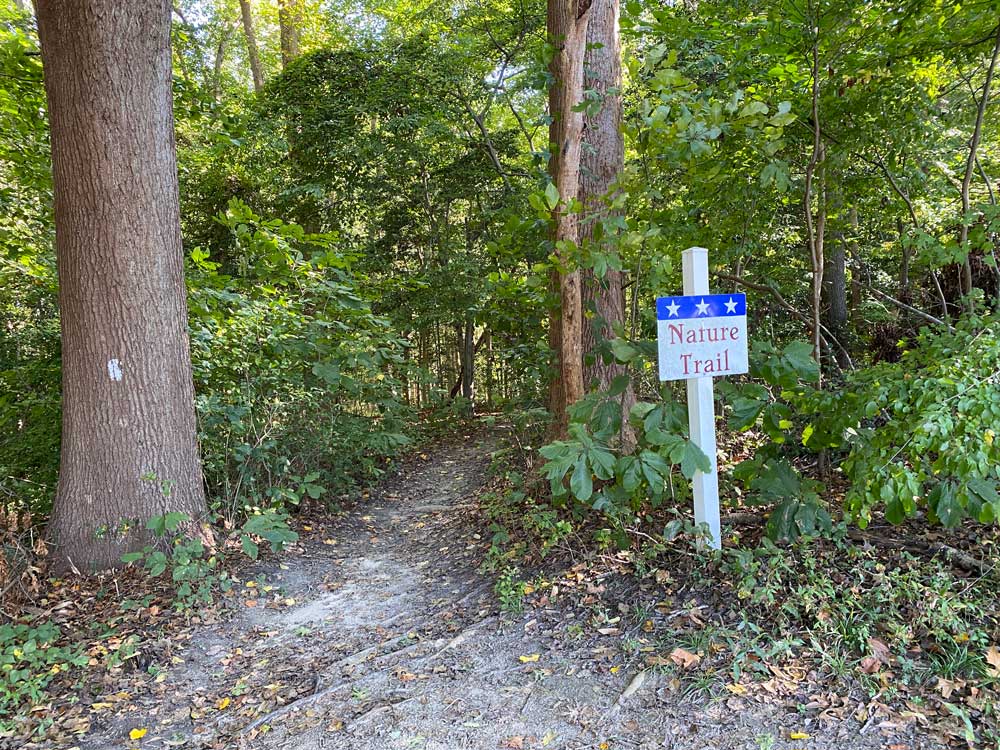 The bath house at American Heritage is clean. It has several tile showers, each with a small changing area.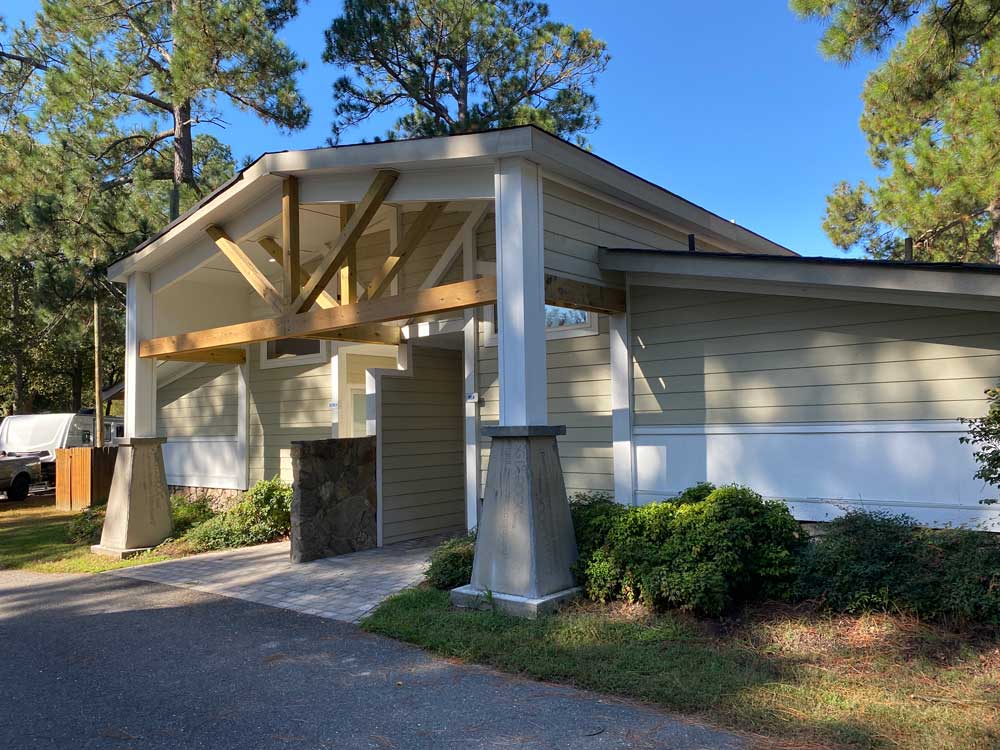 American Heritage is easy to access from interstate 64. You may hear some noise from a nearby train but it was generally quiet.
American Heritage Rates & Discounts
Sites at American Heritage range from 60-130 per night. Discounts are available for Good Sam, AAA, and AARP.
American Heritage RV Park Directions
Accessing the American Heritage campground is pretty easy. It's just off interstate 64. Take the exit for 607, exit 231A, and head toward Norge. In just under a mile, turn left on Maxton Ln. The campground entrance will be on your left. Watch for the signs that say 'do not enter, no turnaround', and you'll be at the entrance to the campground.
Check in at the office. There is a room for to park 1-2 RVs in front of the office so that the main campground road isn't blocked.
Attractions Near American Heritage RV Park
There are some great attractions in Williamsburg VA like Colonial Williamsburg, Busch Gardens Williamsburg and Jamestown. Check out our list of the Top 7 Must do Williamsburg VA Area Attractions.
You might also enjoy the following nearby attractions which are all about a 10 minute drive from the American Heritage RV Park.
Waller Mill Park is a Williamsburg City Park with a variety of outdoor activities. To get on the water, you can rent a kayak, canoe, rowboat, or pedal boat. Fishing is available. There are also a 1.5 and 3 mile nature trails along with a 2 mile paved bicycle path. Entrance is $2.
York River State Park provides 2,500 acres of outdoor adventure along the shores of the York River. There are over 30 miles of hiking, cycling, and horse riding trails. Its a great place for a picnic.
Williamsburg Premium Outlets offer over 120 stores. This outdoor mall is consistently busy. You might find some good bargains if you are lucky.
Alewerks brewery is one of the oldest craft breweries in Virginia. There is a taproom with sixteen beers on tap. For $9 you can tour the small brewery and sample the lagers and ales produced by this brewery. You'll often find a food truck at Alewerks so you can enjoy lunch or dinner with your beer. Note that there is a second Alewerks location at the Williamsburg Premium Outlets. Alewerks is one of our recommendations in the Top 5 Virginia Peninsula Breweries.
Pierce's Pitt BBQ has been a Williamsburg institution since 1971. Pork bbq, ribs, and chicken is served along with hush puppies and cole slaw. You can enjoy your BBQ either inside the restaurant or eating at one of the outside tables.
Leave a Comment
I hope you found this American Heritage RV Park review to be helpful. What is your favorite campground near Williamsburg VA? Leave a comment to share your experience.
Copyright 2021 Travel Trail Sail. All Rights Reserved.