Westmoreland State Park Review
Westmoreland State Park is a great campground on the Potomac River. It's a nice place to enjoy a hike in the woods. You may even find a fossil shark tooth.
Westmoreland State Park Overview
Westmoreland State Park has been in operation since 1936 when Virginia opened its first six state parks at the same time. The park was created as a CCC (Civilian Conservation Corps) project.
Today the park offers camping and outdoor recreation. There are hiking trails, a riverfront picnic area, kayak rentals, a large swimming pool and a boat launch.
Westmoreland State Park Video
We share some thoughts about Westmoreland and then take a tour of the campground in our Westmoreland State Park YouTube video.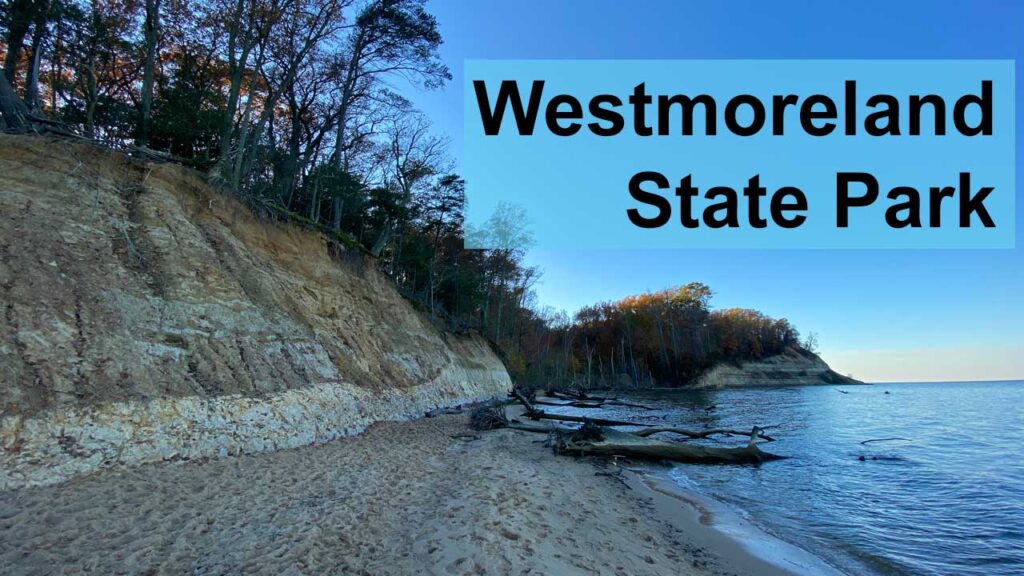 Westmoreland State Park Amenities
Hiking at Westmoreland State Park
Westmoreland offers six miles of hiking trails and one multi-use trail that allows hiking & biking. The Conservation Corp Fitness Trail is a level trail. It features some exercise equipment where your own weight provides the resistance. The Rock Spring Pond Trail is also a relatively easy and level trail that takes you to the Rock Spring Pond.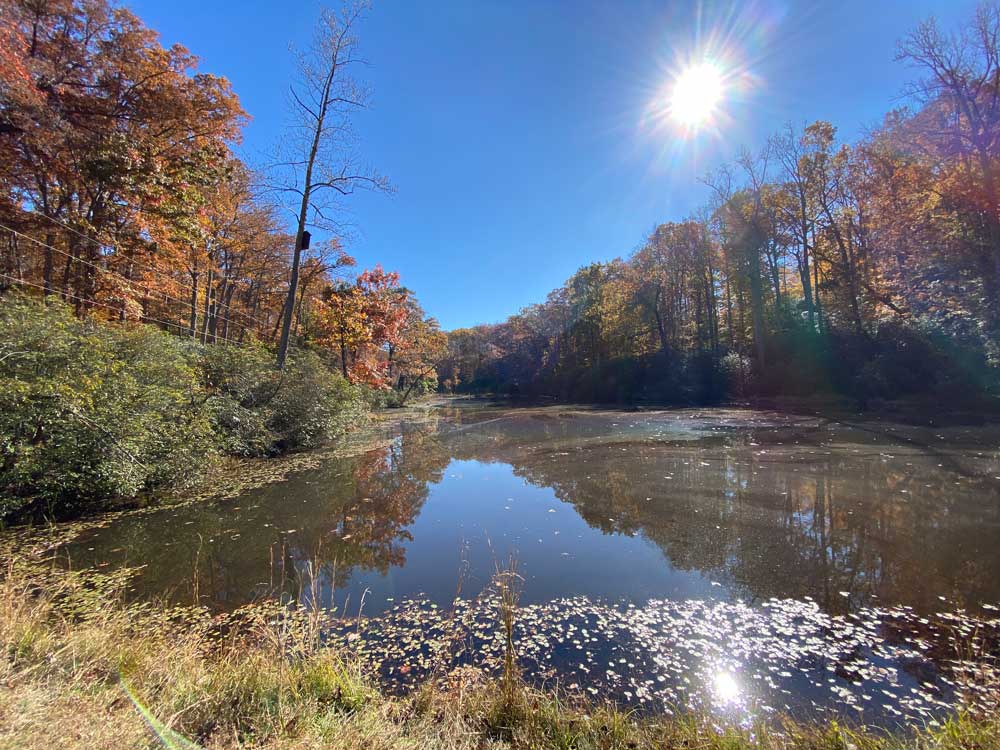 While the hiking trails are generally well marked, there was one section of the Laurel Point Trail that had some older, painted trail markers. If you aren't paying attention, you may end up heading off the main trail.
If you are looking for a somewhat more challenging trail, try the Laurel Point and Turkey Neck Trails. Both provide a great walk in the woods on a dirt trail. Note that both include a significant stair climb.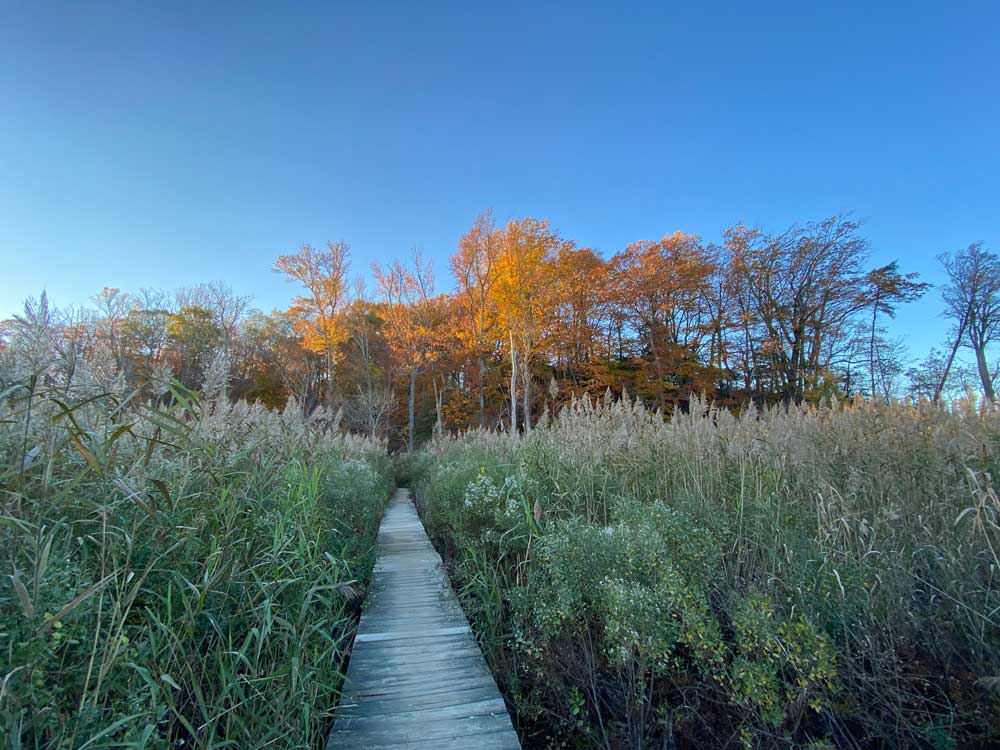 You can find the park's trail map at Virginia State Parks Westmoreland Trail Guide.
Westmoreland State Park Fossil Beach
One of the biggest draws at Westmoreland State Park is the chance to find a fossil. People sift through the sand looking for ancient shark teeth and other fossils. As the cliff erodes, new fossils continue to be uncovered. However, note the danger sign that has been added.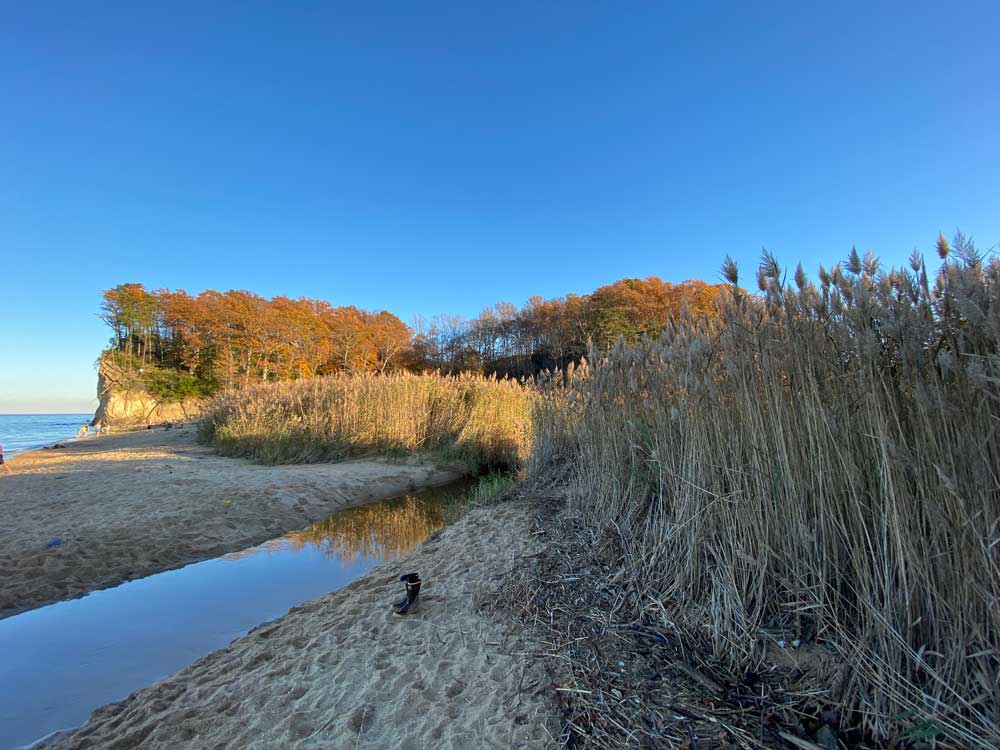 Westmoreland Picnic Area and Swimming Pool
Westmoreland State Park has a large, beachfront picnic area. Though this area can get pretty busy on a summer weekend, there are plenty of picnic tables. Grills are provided. One interesting feature is a hot coal dump so that you can safely dispose of your charcoal after cooking.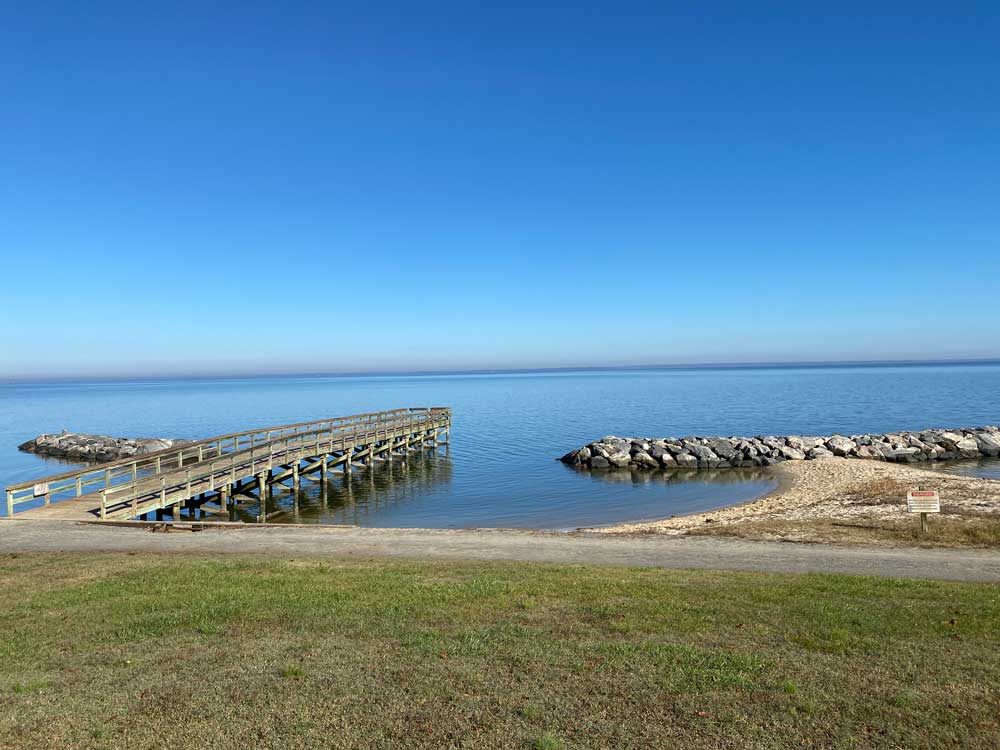 The picnic area also has a large outdoor swimming pool that is open during the summer season. There is a snack shop next to the pool.
You may want to consider driving to the picnic area and pool. While hiking trails are available, they are a bit steep and include stair climbing. The road to this area has a sign recommending bicyclists walk their bike.
Westmoreland Boat and Kayak Launches
At the end of the Westmoreland beach area is a boat launch. Parking is available. Kayaks are available for rent at the bait shop during the summer season.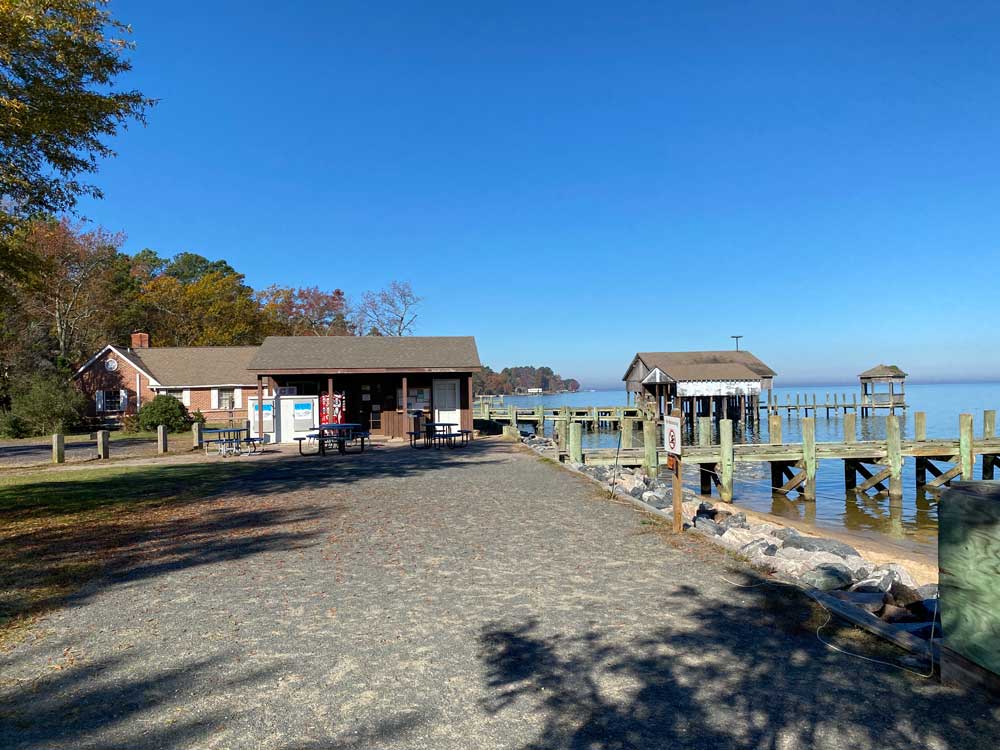 Westmoreland State Park Campground
Westmoreland has three campground loops. Loop A is a mix of pull-through & back-in campsites and older camping cabins. Note that the pull-through sites are near the side of the road and are relatively narrow. Loop B is mostly RV campsites with a mix of water & electric and no utility campsites. Loop C is a tent camping only loop.
This campground would be a good choice for RVs and campers about 25 feet or less. There are few large sites. Those sites that have water & electric provide 30 amp power and there are no 50 amp sites. Note that the power pedestals are a bit older.
We had a site in Loop B that was listed as a back-in site. However, it was a near-the-road pull-through site. The picnic table and campfire ring were on the utility side of the camper. Opening our awning was not possible as it would have extended into the road. To help ensure you get a good site, you may want to review Westmoreland campsite photos to help guide your site selection.
Some sites require a site-specific reservation while others are first-come first-serve. The Westmoreland campground is open from March through the beginning of December. Some cabins are open more of the year. Reservations can be made at ReserveVAParks or by calling 1-800-933 7275.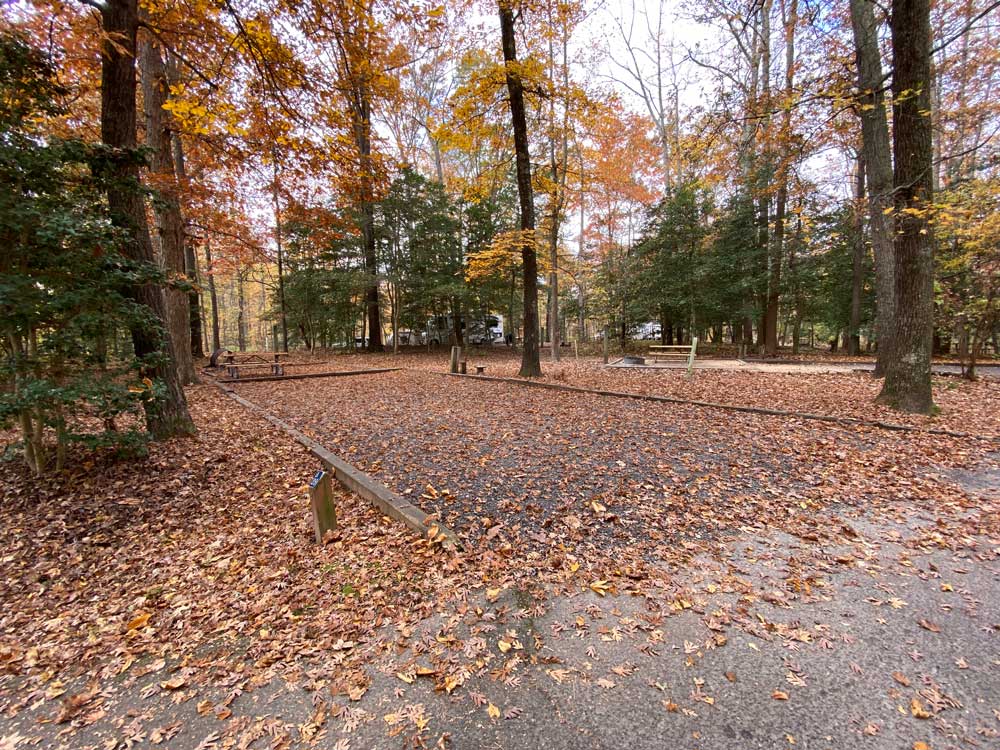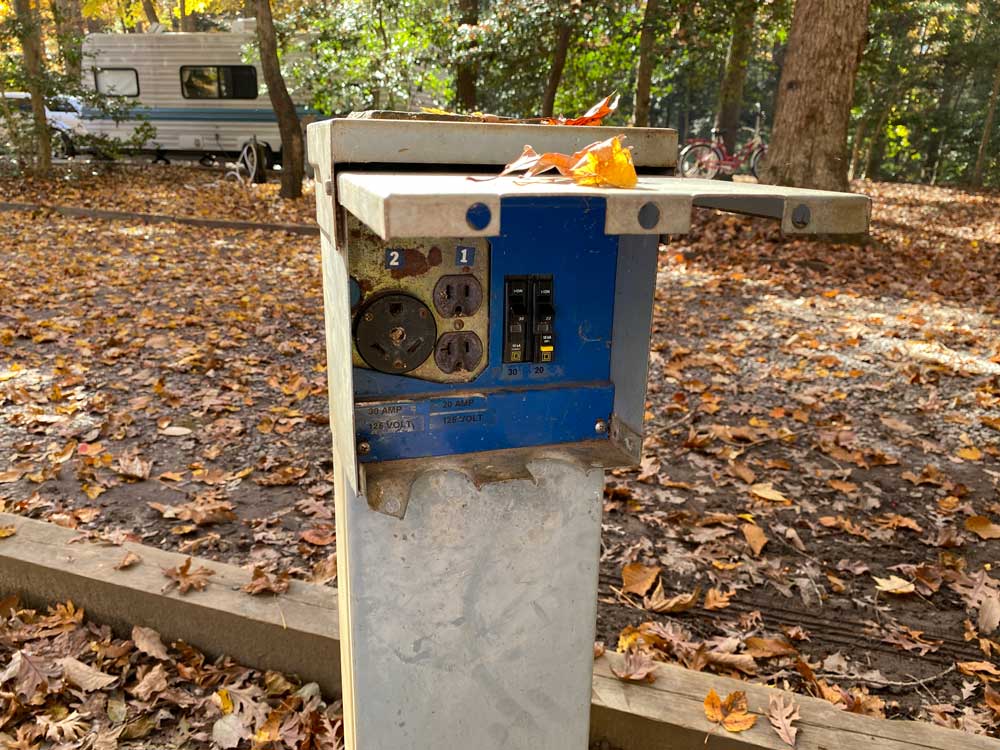 Bath houses are provided on each campground loop. They are older but clean. There are two shower stalls with a shared changing area.
Our latest visit was during the COVID-19 pandemic. However, a contactless check in option was not available.
Westmoreland State Park Cabins
Westmoreland State Park has cabins for rent. There are three sections of cabins, each with its own cabin style. They range from basic cabins in the campground A loop through more modern cabins with air conditioning. A good description is provided on the Westmoreland Cabins site.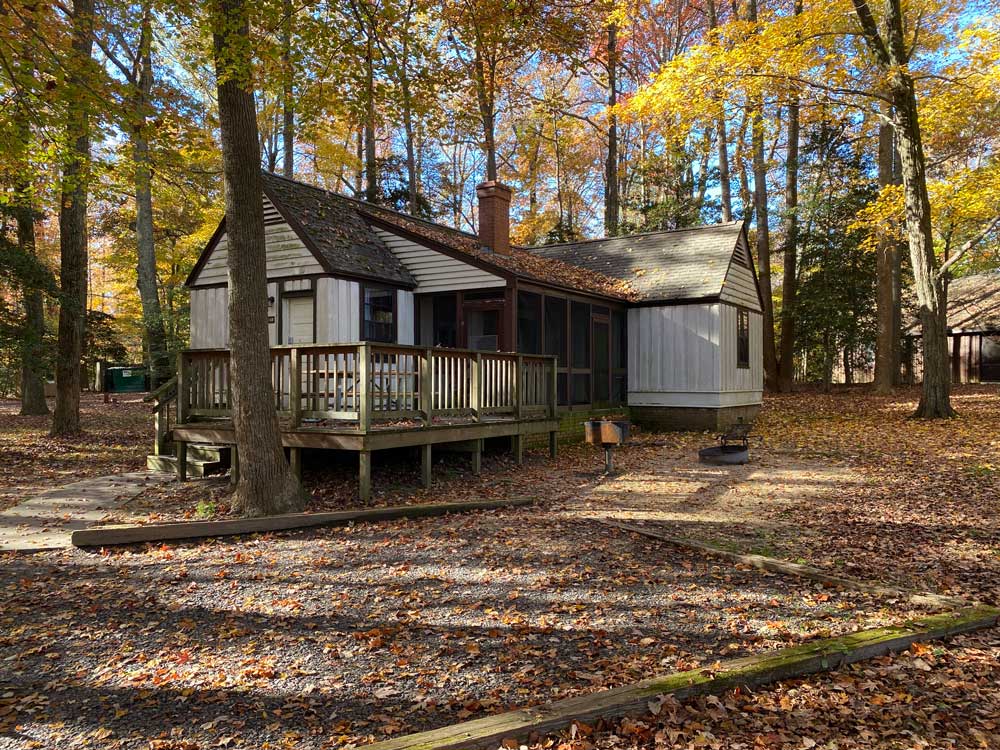 Westmoreland State Park Campground Other Information
Cellular reception on Verizon was OK. We tried over-the-air TV and were able to get a good signal on several channels. TV stations appeared to be from the DC area.
Road and other noise was minimal. During our stay, there was some construction noise from a road that was being improved. Otherwise, this was a very quiet park.
The sky was clear at Westmoreland with minimal light pollution. On a clear night, you can see the stars very well.
There is no playground in the campground. However, there is a playground near the conference center. Younger visitors may also enjoy the environmental education center.
Firewood is available for $6 per bundle. Wood comes in a reusable mesh bag which can be returned to the firewood stand. This seems like a better option that the plastic wrap used to bundle firewood in many other parks.
Visiting Westmoreland State Park With Dogs
Like most Virginia State Parks, Westmoreland is dog friendly. You can walk the trails with your dog. They can stay in the campground with you. As long as you keep your dog on a leash, you should have a great time exploring Westmoreland with them. Note that dogs aren't allowed inside the buildings.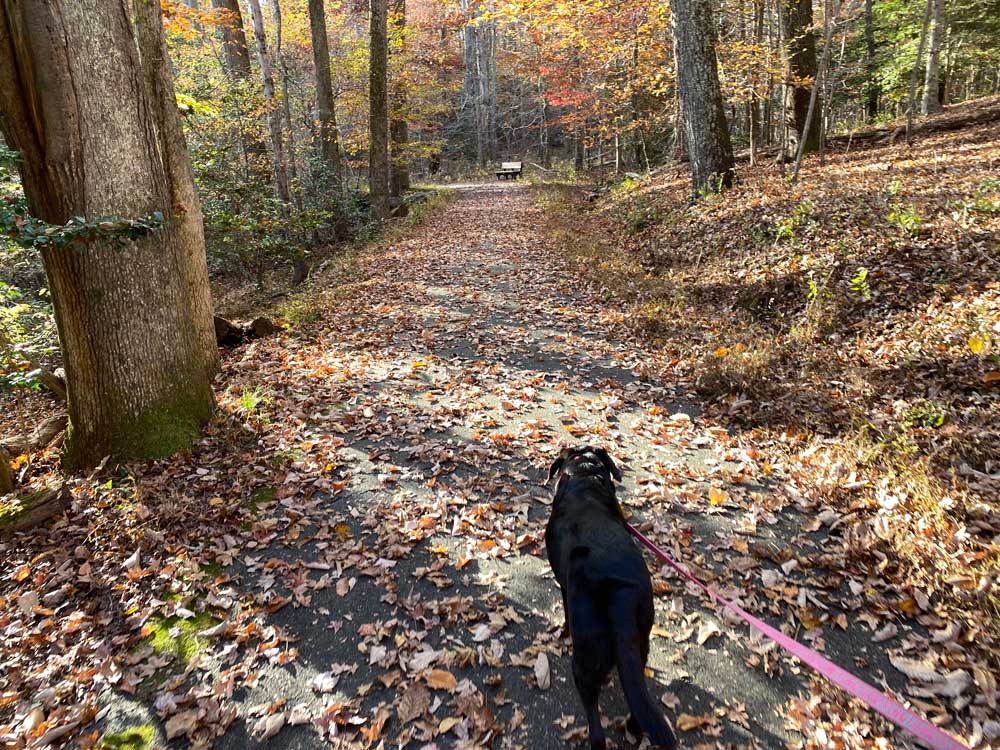 Westmoreland Rates
Camping for a water & electric site is $35 per night and includes access to all the park activities. Note that there is a $5 online reservation fee. Non-Virginia residents are $5 more.
Westmoreland State Park Directions
Westmoreland State Park near Montross, VA. The address according to Virginia State Parks is "six miles northwest of Montross, just off Route 3". Note: our GPS guided us to the park OK.
Attractions Near Westmoreland State Park
There are a variety of attractions near Westmoreland. Among them is George Washington's birthplace. Montross has all of the basics that you may need including a grocery store. It's approximately 15 minutes away. You'll also find a small brewery in Montross.
For more ideas of what to explore, visit the Northern Neck tourist information site.
Leave a Comment
I hope you found this review of Westmoreland State Park and Campground to be helpful. Leave a comment to share your experiences with the park.
If you liked this, you should check out our review of other Virginia State Parks including Chippokes, Belle Isle and First Landing.
Copyright 2020 Travel Trail Sail. All Rights Reserved.