Belle Isle State Park Review
Belle Isle State Park is a great campground on the Rappahannock River. Bike, kayak or hike – it's a great place to enjoy the woods and water & farm.
Belle Isle State Park Overview
Belle Isle State Park is built on the site of a Virginia plantation along the Rappahannock River. The park includes seven miles of shoreline. The 892 acre state park was created with a purchase of the land in 1992. An early mansion from around 1760 is part of the park but not open to the public. The Bell Air Mansion and Guest House were built in 1942 and are available to rent.
Today the park offers camping and outdoor recreation. There are hiking trails, horse riding trails, a picnic area, kayak launch, and a boat launch.
Belle Isle has a mix of woods, water and farm. There are paved roads running throughout the park to make it easier to access the different parts of the park such as the picnic area or kayak launch. Much of the park has the feel of a working farm since the land is actively being worked. During our last visit, peas were getting close to harvest. On earlier visits, we have seen them growing corn and wheat.
Belle Isle is located in Lancaster, VA in the Northern Neck area of Virginia. During your stay, you might enjoy exploring nearby Kilmarnock or Tappahannock. There are several nearby wineries and museums. Belle Isle is in a mostly rural area about 90 miles from the Richmond and Hampton Roads areas of Virginia.
Belle Isle State Park Walking Tour Video
In our Belle Isle State Park YouTube video, we walk you through all of the highlights of this great Virginia State Park.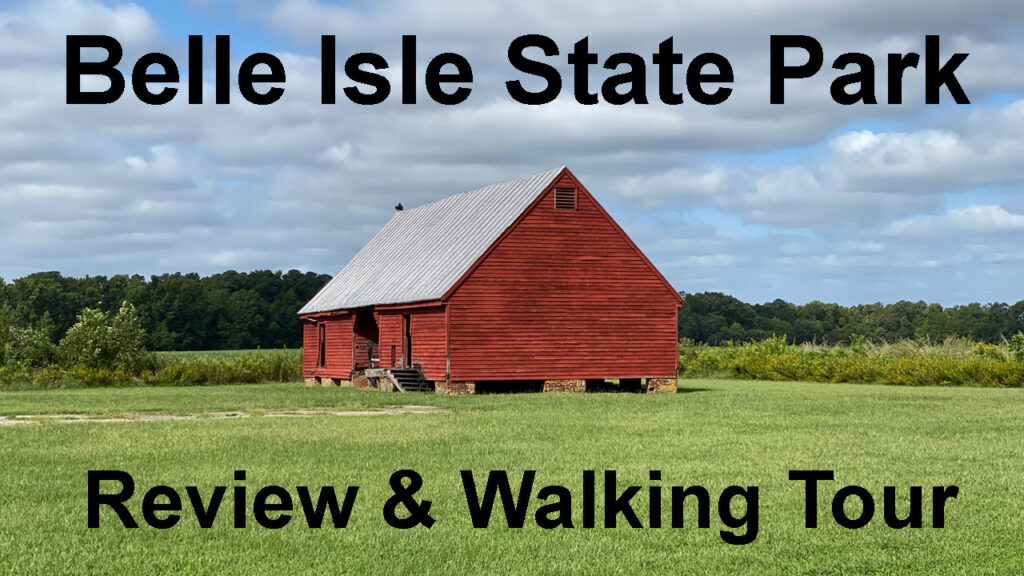 Belle Isle State Park Amenities
Hiking at Belle Isle State Park
Belle Isle offers almost 10 miles of hiking trails and multi-use trails that allow hiking, biking and horse riding. You might enjoy Mud Creek trail that offers time in the woods and some nice creek views. Or, you might prefer to try the Mulberry Creek Boardwalk which is a nice, even boardwalk-style trail. You could take the Neck Fields Trail to the Brewer's Point Canoe-in campground. You can find the park's trail map at Virginia State Parks Belle Isle Guide.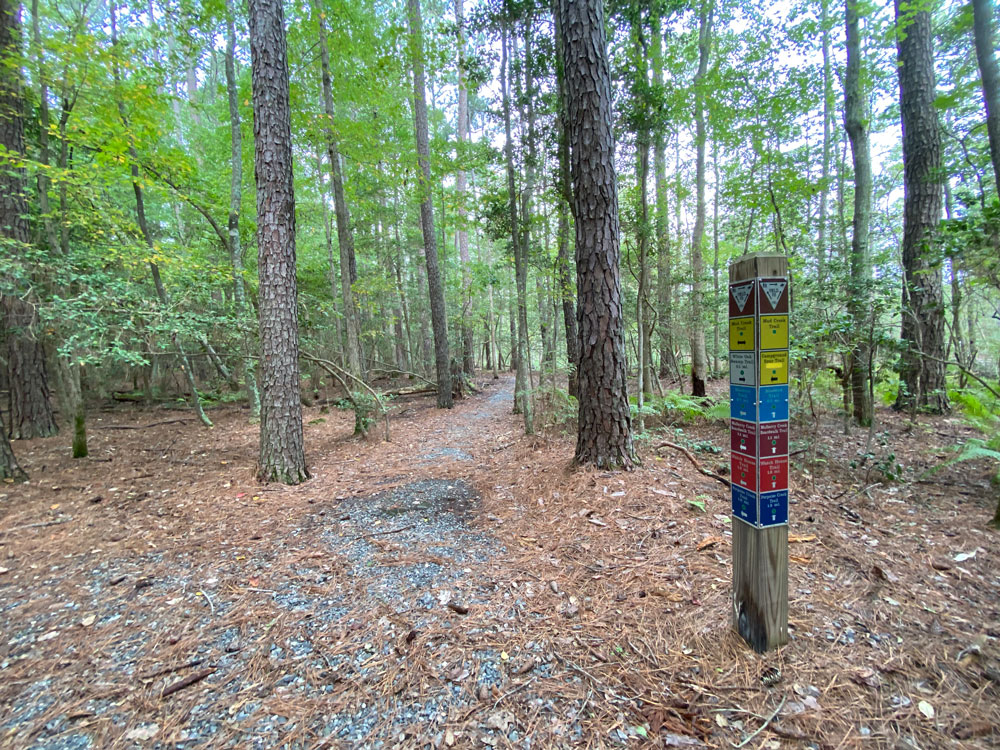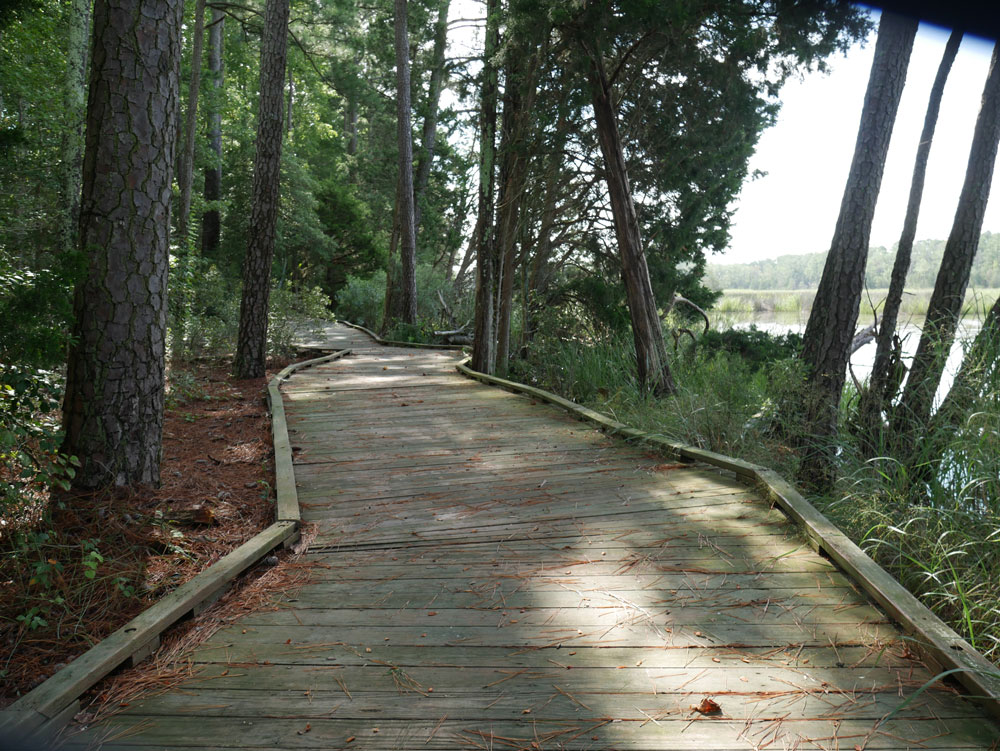 Belle Isle Boat and Kayak Launches
There is a nice kayak and canoe launch area at Belle Isle. Mulberry Creek provides a sheltered area to explore. One nice feature of the kayak dock is an accessible launch that may enable people with a range of physical abilities to get on the water. Canoes and kayaks are available for rent. Parking is nearby. You can drive in to the launch area to unload your boat then move your vehicle to the parking area.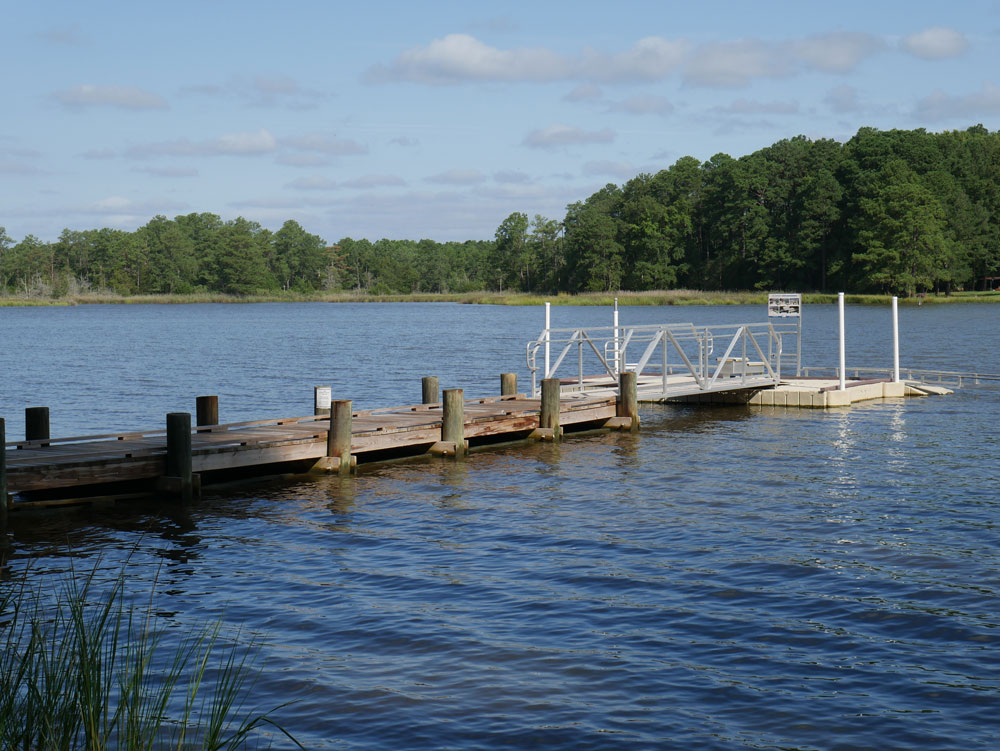 There is a separate launch area for larger boats. A single, wide ramp is provided. There are piers on either side. A large parking area along with a screened in picnic shelter and bathroom are available.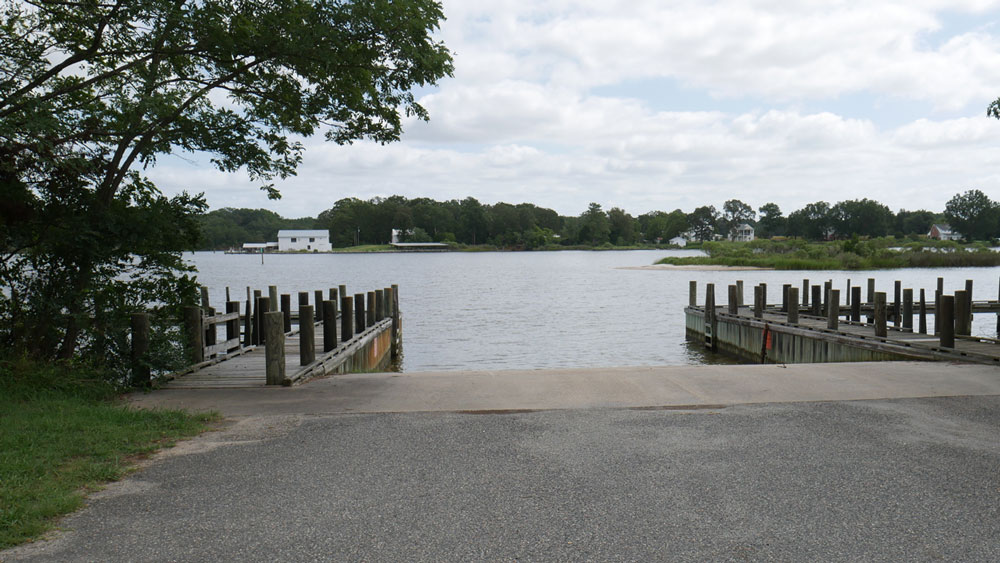 Belle Isle Beach and Picnic Area
There is a large picnic area at Belle Isle with a picnic shelter, playground and bathrooms.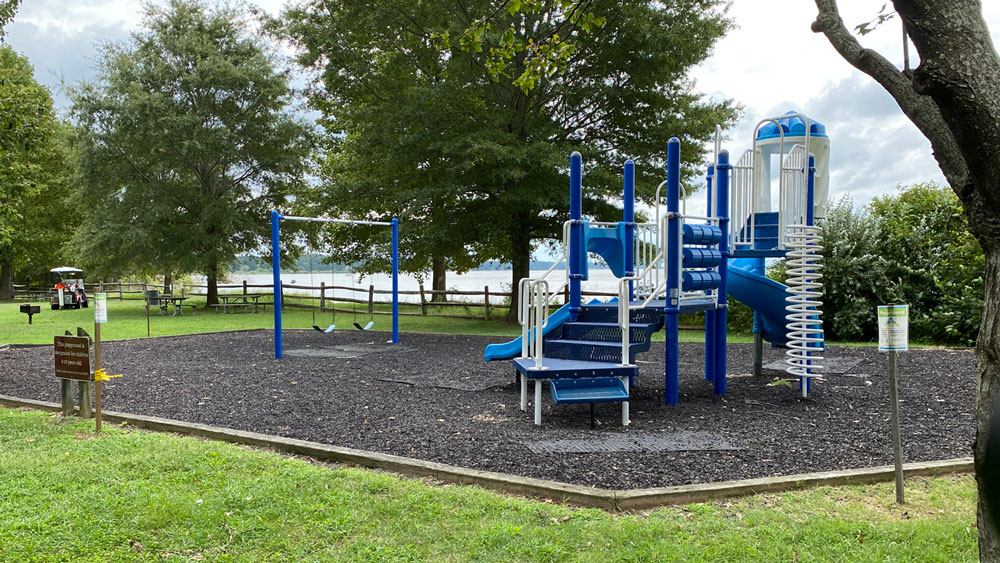 Adjacent to the picnic area is a small beach. Groups of up to ten can access the beach. Note that there is an approximately two foot step down to the beach area.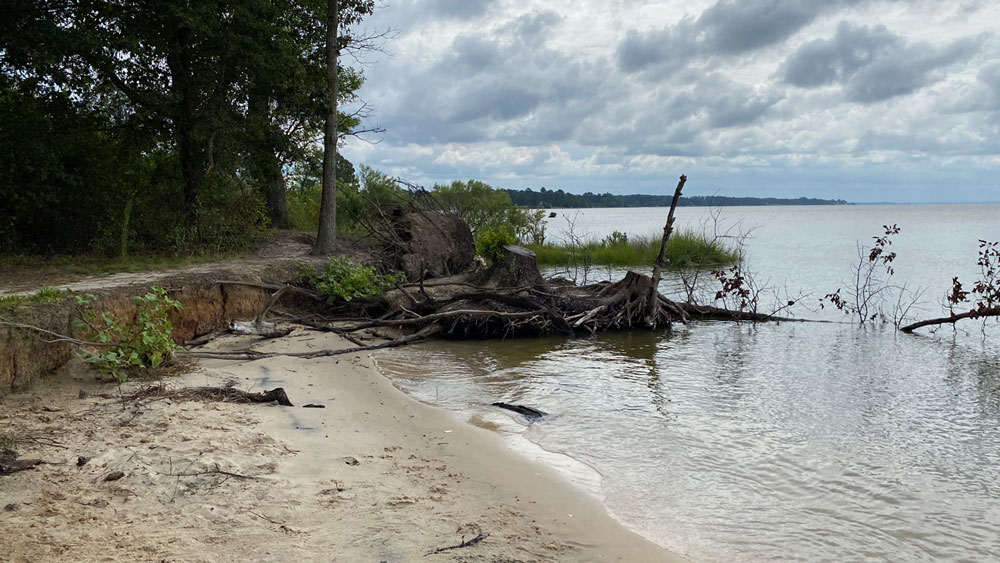 Events At Belle Isle State Park
During normal operation, there are fun things to do at Belle Isle. You might be interested in a Ranger-led program. They are currently offering A Walk on the Wild Side nature walks.
Live music is often featured at the picnic area. For a schedule, you might check out The Rivah Visitor's Guide.
Belle Isle State Park Campground
Belle Isle offers one campground loop with 30 back-in and pull-through campsites. Sites are level gravel sites with water & electric hookups. A primitive group camp and a canoe-in campground are also available. Recycling stations for aluminum, glass and plastic are available at the campground entrance. Firewood is available for purchase.
Our latest visit was during the COVID-19 pandemic. Check-in was contactless. Our reservation details were in an envelope by the camp store. The camp store
RV and tent campsites have water and 30/50 amp electric service. Most of the sites require a site-specific reservation. A few are set aside as unreserved sites. The Belle Isle campground is open from March through the beginning of December. Reservations can be made at ReserveVAParks or by calling 1-800-933-7275.
Each campsite includes a gravel parking pad with an additional gravel area that has a fire ring, lantern hook and picnic table. All of the sites are at an angle to the road to enable easier backing except for sites 29 & 30 which are at 90 degrees to the road. Note that in some cases, the fire ring is placed toward the back or edge of the site. It may have been more comfortable to have the fire ring positioned so that people could gather in the full circle around it. The side pads were large and would make for a fun place to play a game like cornhole.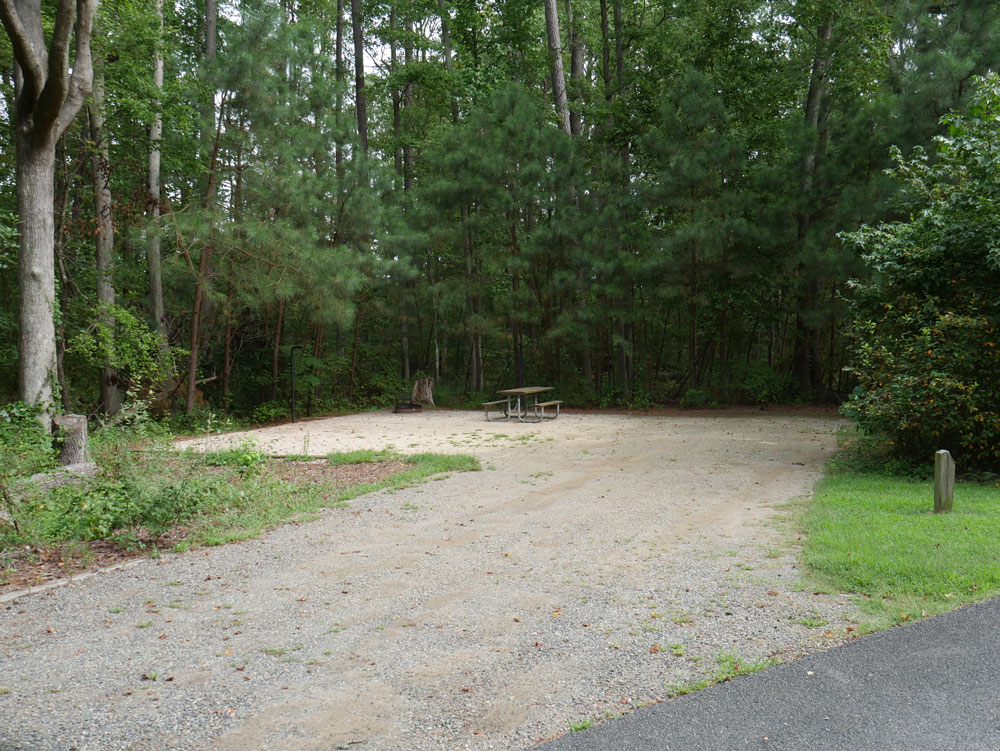 Note that water & electric hookups are to the rear of most of the back-in sites.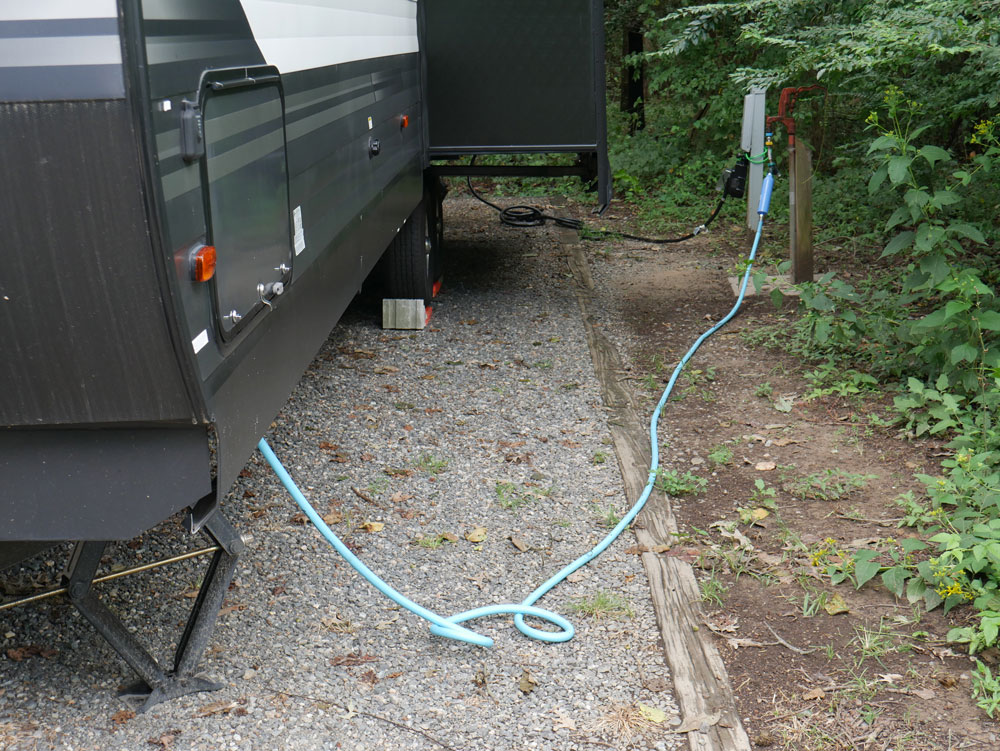 Most of the sites offer good shade and privacy between sites. The exception are the buddy sites which have fewer trees and sites 29 & 30 which don't have trees between the sites.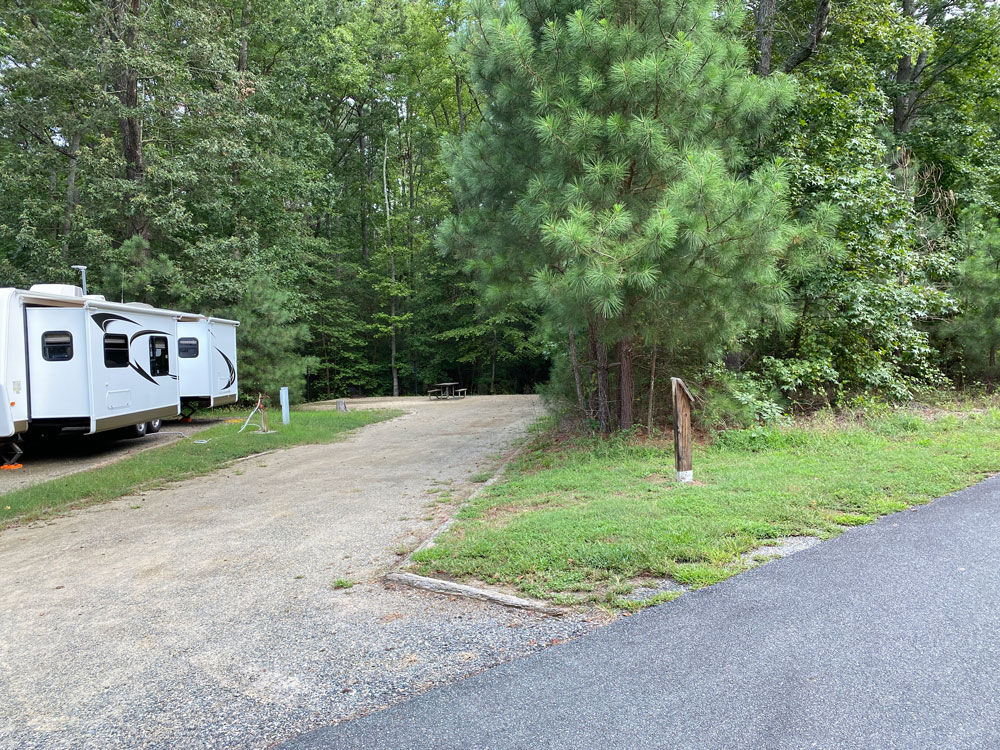 The campground says that sites can accommodate rigs up to 50 feet. However, what I observed was that some of the sites were significantly longer than 50 feet. Our pull-through site was closer to 100 feet long. Each site has a large recreation area with a fire ring and picnic table.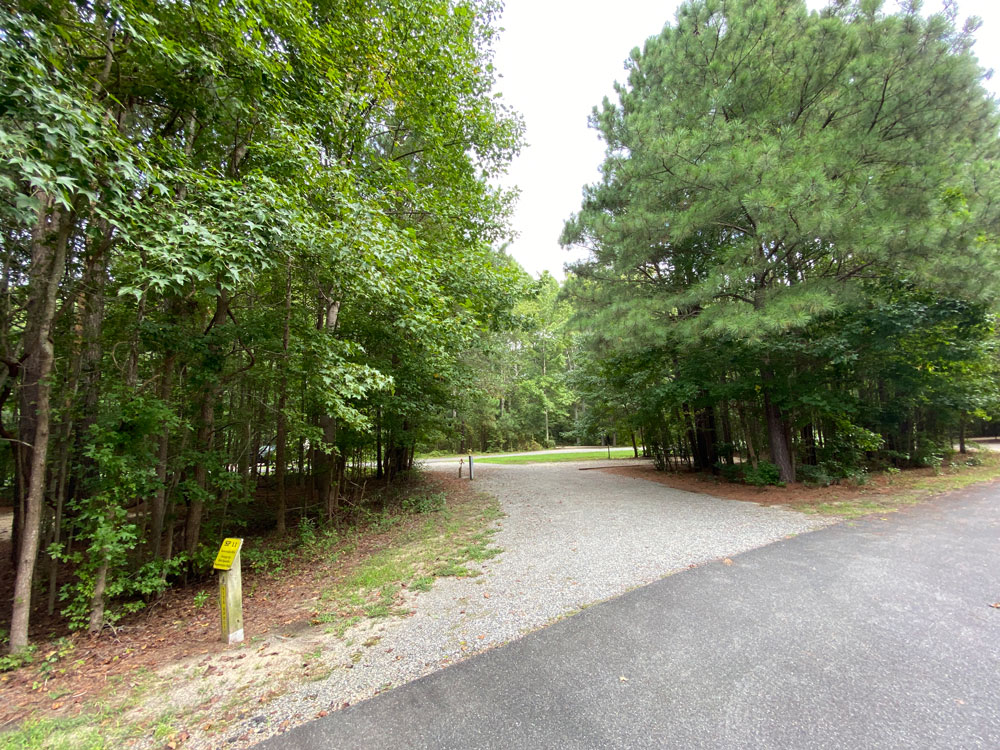 A nice bath house is located at one end of the campground.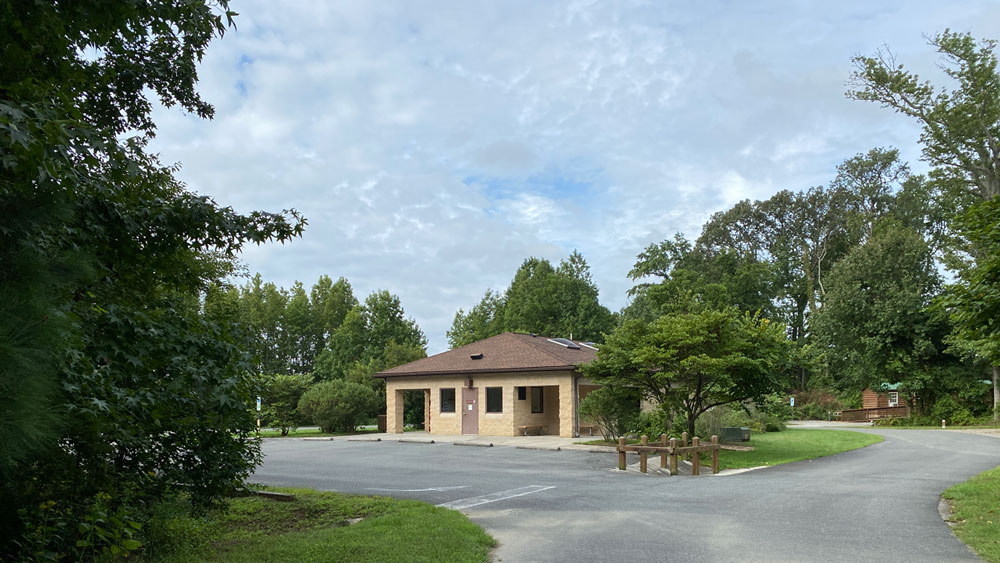 In addition to clean bathrooms, the bath house has showers. Each shower has a separate entrance door. They are basic but clean.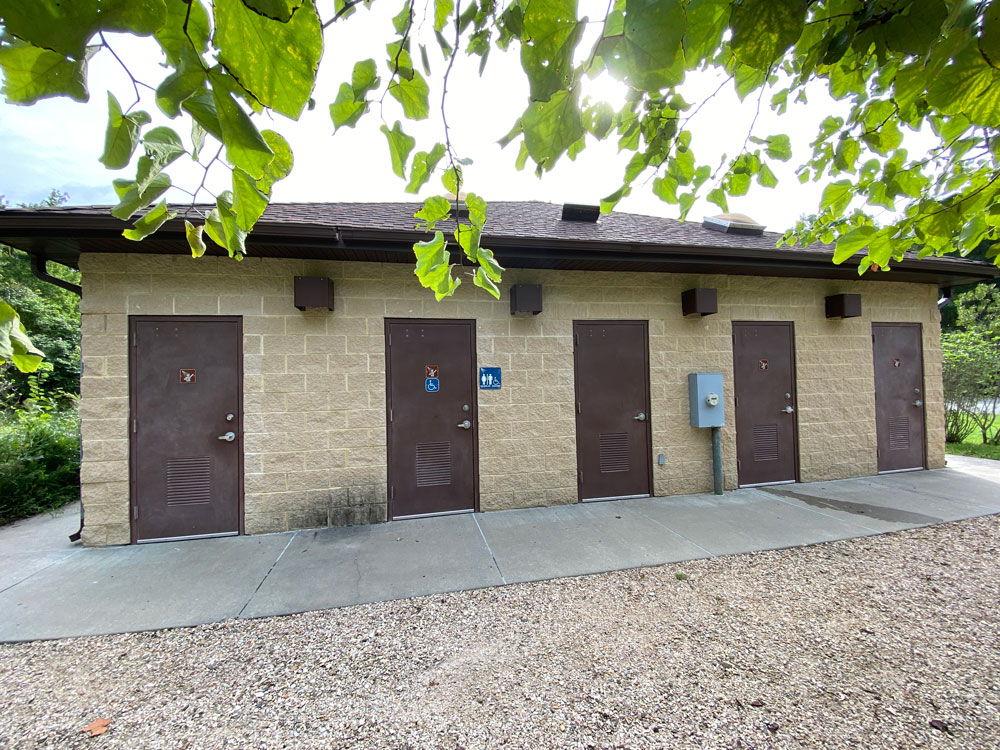 The bath house also has a laundry room. $1.25 per wash or dry. There is a small book swap in the laundry room. A change machine and laundry soap vending machine are also available.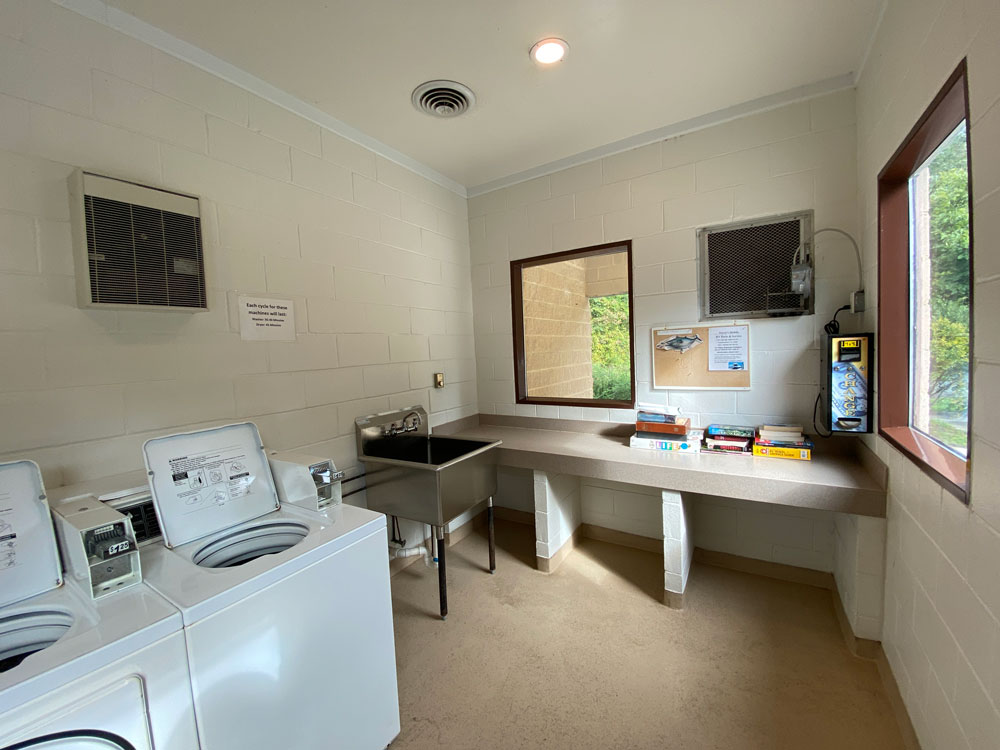 Belle Isle Campground has one cabin for rent.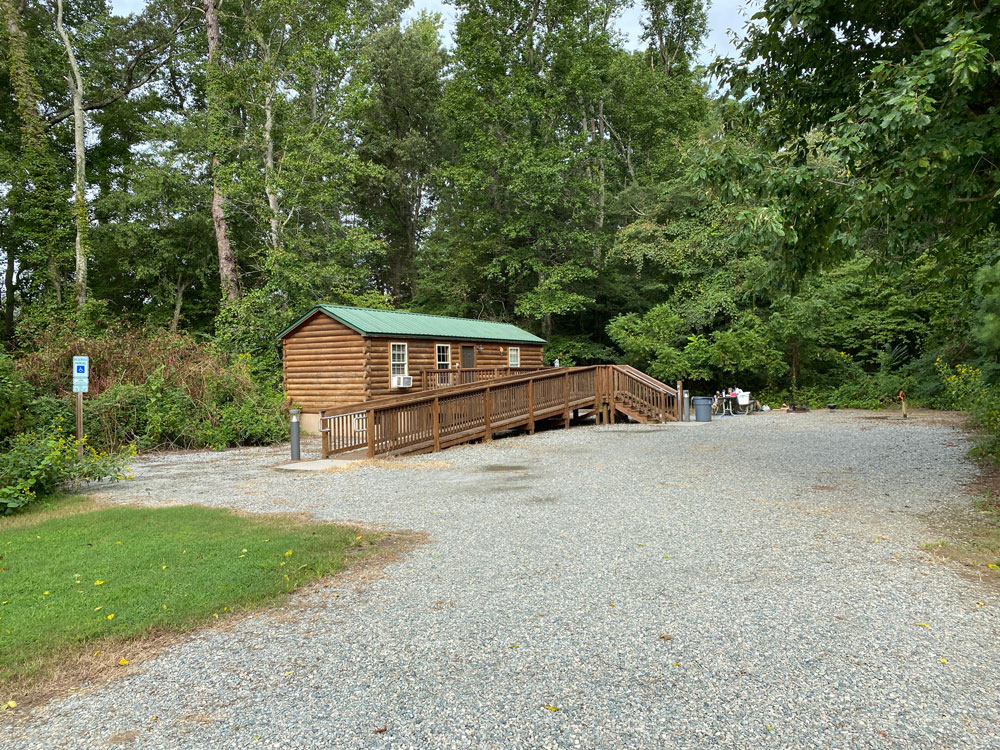 Belle Isle State Park Campground Other Information
There is no wi-fi available at Belle Isle. We tried over-the-air TV and were not able to get a good signal on any channels.
A laundry facility is available at the campground bathhouse. There are two top loading washing machines and two dryers. Running a load in the washing machine is $1.25. A change machine is available in the laundry room.
Road and other noise was minimal. We didn't hear any trains. There were a few airplanes that flew over during our visit but airport noise wasn't significant. On the weekend we stayed, noise overall was very quiet, especially after dark. The loudest noise we heard was the frogs in the swampy area near our campsite.
The sky is clear at Belle Isle with minimal light pollution. On a clear night, you can see the stars very well.
There is no playground in the campground. However, there is a playgrounds in the picnic area by the river.
Visiting Belle Isle State Park With Dogs
Like most Virginia State Parks, Belle Isle is dog friendly. You can walk the trails with your dog. They can stay in the campground with you. As long as you keep your dog on a leash, you should have a great time exploring Belle Isle with them. Note that dogs aren't allowed inside the buildings.
If you go during an uncrowded time, such as early in the morning, your dog may enjoy the beach area and splashing in the Rappannock River.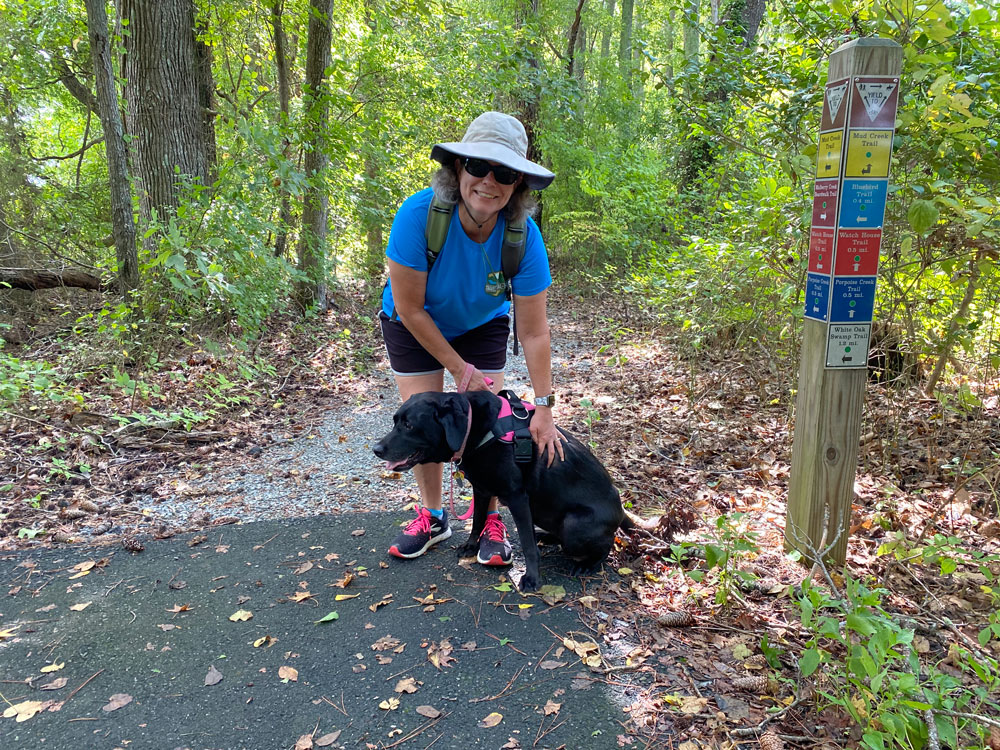 Belle Isle Rates
A Virginia State Park is a great value. A day pass to the park is only $7 per vehicle. Or, you could consider a Naturally Yours Passport that provides access to all Virginia State Parks for a year for $75.
Camping for a paved water & electric site is $35 per night and includes access to all the park activities. Note that there is a $5 online reservation fee. Taxes for a three night weekend were approximately $6.
Belle Isle State Park Directions
Belle Isle State Park is located at 1632 Belle Isle Road in Lancaster VA 22503.
Your GPS will generally guide you well to Belle Isle. Note, if coming from Hampton Roads, some GPS directions may recommend many road changes and turns which may not be the best route with an RV. You can take Route 17 to Route 3. Note that there is a somewhat tall and narrow bridge crossing over the Rappahannock at Grey's Point. We crossed fine but I might not want to do it on a windy day. If you choose to avoid the bridge, you can take a somewhat longer route via Tappahannock and follow the directions below from Warsaw.
According to the Virginia State Parks, the directions are as follows. From Warsaw: Take State Route 3 to SR 354. Turn right and follow for three miles. Turn right onto SR 683 near Litwalton to the park entrance. From Kilmarnock: Take Route 3 West to Lively. Turn left on SR 201 for approximately 3 miles. Turn right on SR 354 and travel 3.7 miles and take left on SR 683 to park entrance.
Attractions Near Belle Isle State Park
Good Luck Cellars
If you enjoy visiting wineries, there are several within an hour's drive of Belle Isle. The closest is Good Luck Cellars in Kilmarnock, VA. The owners of Good Luck Cellars have transformed an old gravel mine into a 25 acre winery. While they normally offer tastings, during our visit the tasting room was closed. A recent storm damaged their main building. While rebuilding, they do have a large tent set up. You can purchase wine to go or enjoy it under the tent.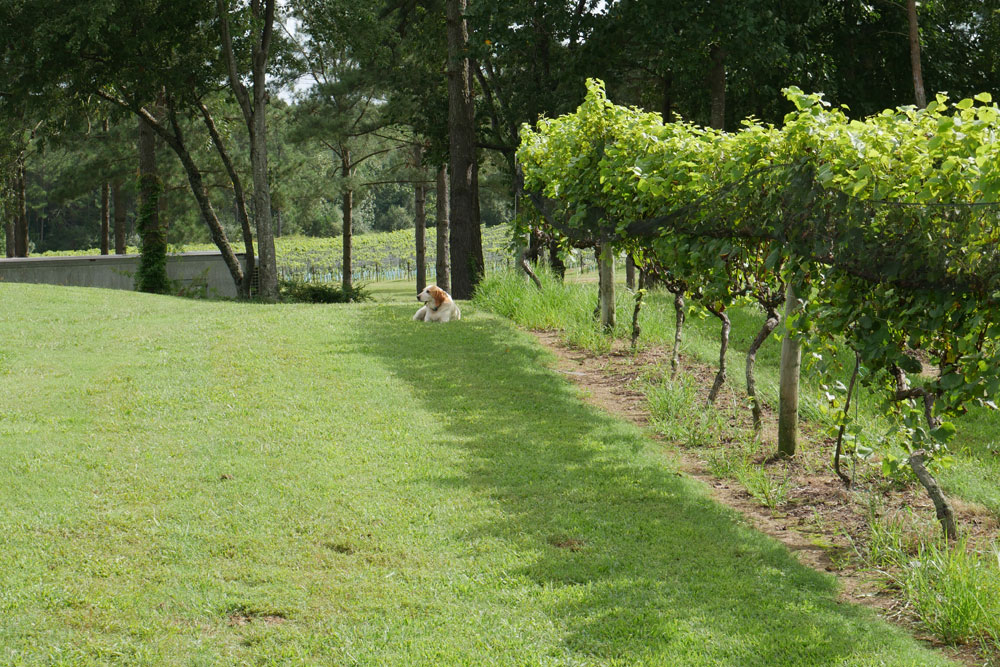 We opted to take two bottles to go. One was a Petit Verdot. According to our friend and wine expert Drink a Day, 100% Petit Verdot is a bit of a gamble; it can be really amazing or a stellar failure. Our risk paid off. This was one of the better wines we have tasted this year. I'm looking forward to visiting Good Luck again when they have rebuilt.
Leave a Comment
I hope you found this review of Belle Isle State Park and Campground to be helpful. Leave a comment to share your experiences with the park.
If you liked this, you should check out our review of Chippokes Plantation State Park.
Copyright 2020 Travel Trail Sail. All Rights Reserved.