Visit Jamestown Settlement
Jamestown was the first permanent English settlement in North America. To experience it come alive, visit the Jamestown Settlement living history museum.
Jamestown Settlement Overview
Visiting Jamestown VA is an important way to experience the early part of America's colonial history. The best way to experience it is to pair visits to Jamestown Settlement and Historic Jamestowne. They are located adjacent to each other on Jamestown Island, about ten miles from Colonial Williamsburg.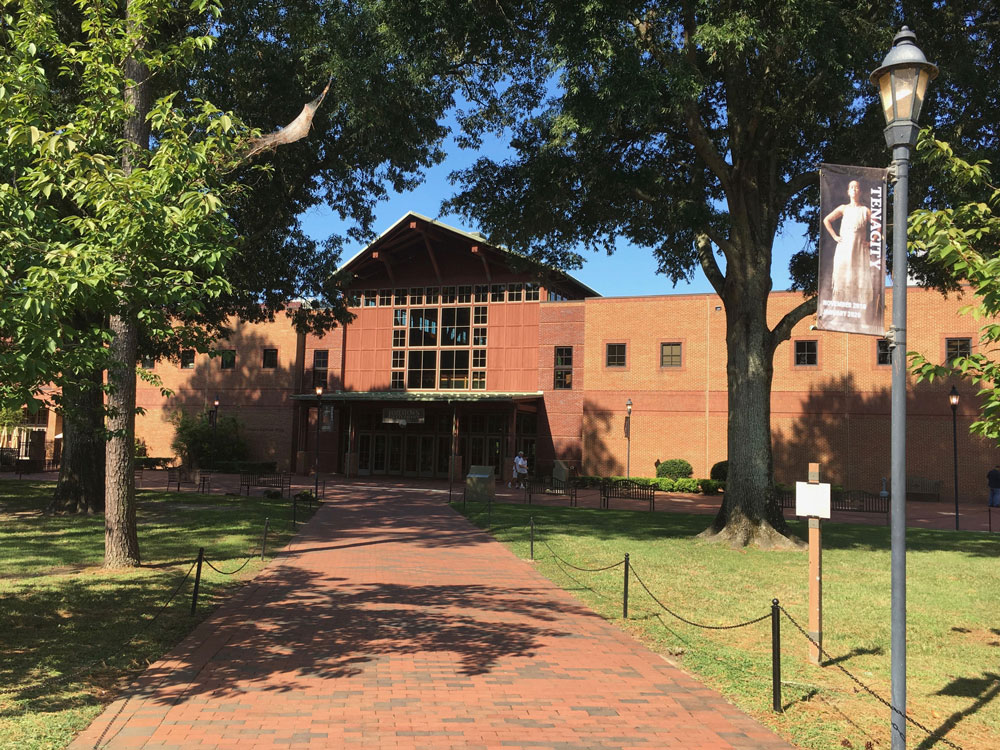 Jamestown Settlement is a living-history museum that showcases early colonial life. There are three main sections In the outdoor living-museum; The Fort, The Ships, and The Powhatan Village. The Powhatan Village represents the life of the people who lived here when the English colonists arrived. You'll see the ships used to travel from England. And you'll get a sense for life in the Jamestown Fort that was home to the first arrivals. Live interpreters bring the time to life through stories and demonstrations.
In the indoor museum, there are exhibits exploring the Powhatans, English, and Africans in the context of how they each lived and interacted in and around the Jamestown Colony. There are films, artifacts, and dioramas depicting a planter's house and slave quarters. The museum also covers the Age of Discovery and the voyage from England to Virginia.
The museum is relatively new, having been significantly updated in 2007 for the 400th anniversary celebration of the Jamestown Colony. Updates continue and include a recent update was completed to coincide with the celebration of the anniversary of the 1619 meeting of the first representative legislative assembly in America. Recent updates included a feature on Bacon's Rebellion.
Unfortunately, no photography is allowed inside the museum, so I can't share any images of the exhibits.
Plan on spending several hours and walking about 1.5 miles. Surfaces are level. Note that to board the ships, you'll have to use a boarding ramp which may be challenging for some.
Jamestown Settlement is open 9:00-5:00 daily except for Christmas and New Year's Day. The museum stays open an hour later June 15-August 15. For the latest information and hours, please visit the Jamestown Settlement site.
Jamestown Settlement Powhatan Indian Village
When the English colonists arrived in 1607, they found a thriving community already living in the area. The Powhatan people lived in multiple villages along what is now the James River.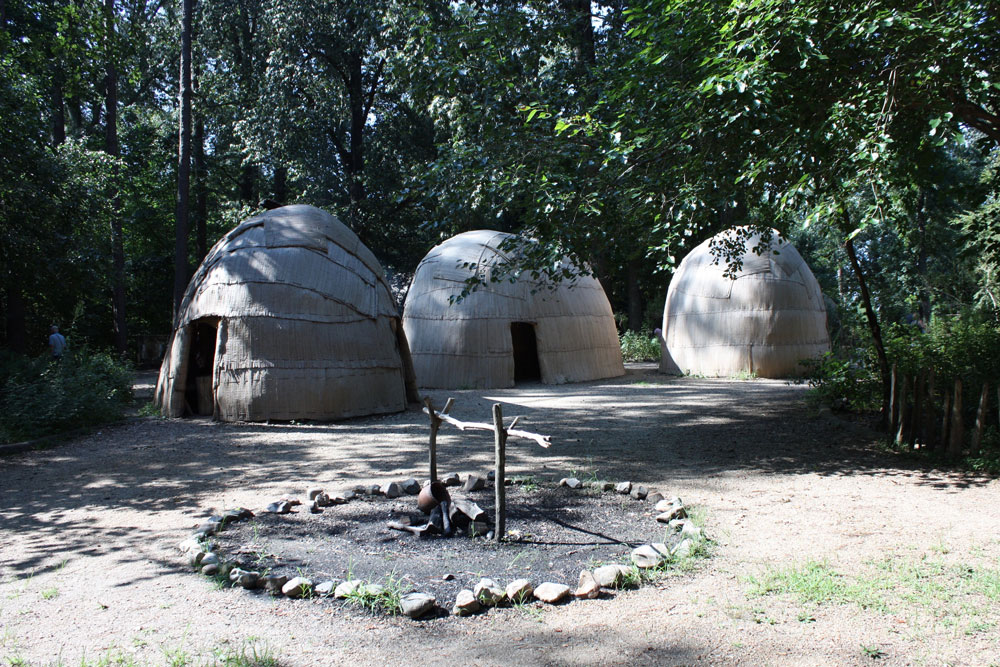 At Jamestown Settlement, you can view a recreated village with multiple buildings to explore.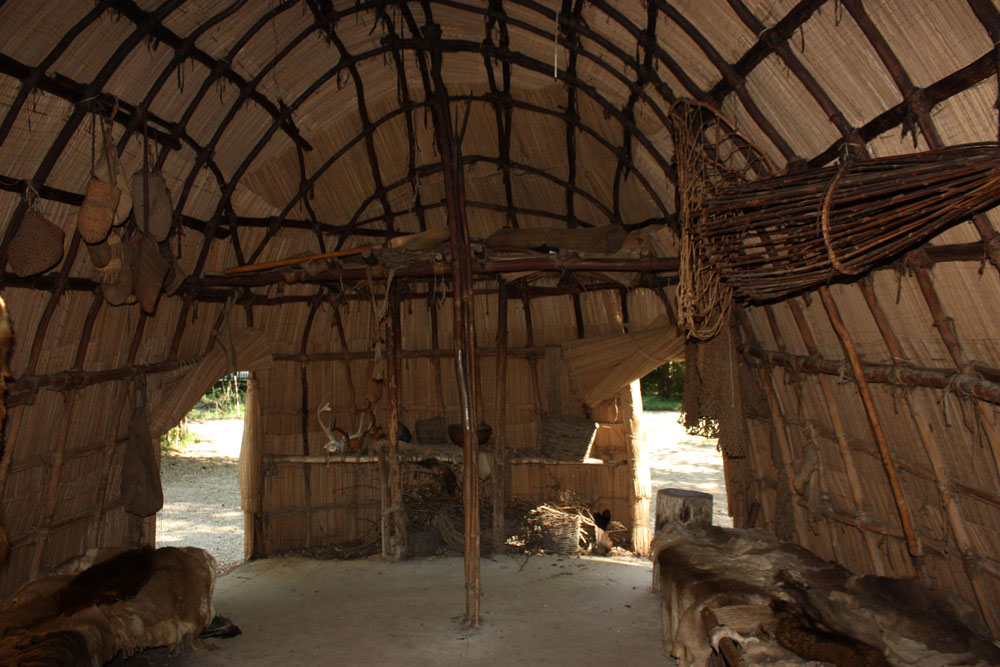 Interpreters demonstrate skills used by the Powhatans. For example, you might see cooking or basketweaving.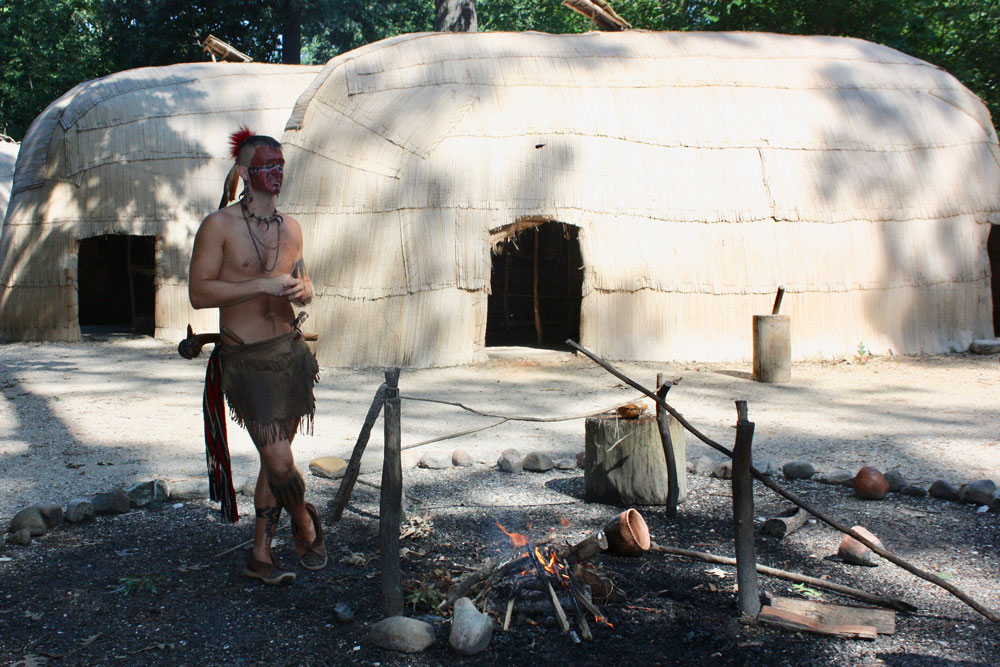 Powhatans used dugout canoes. One was created as a demonstration project showing how a combination of burning and scraping could be used to transform a log into a functional canoe.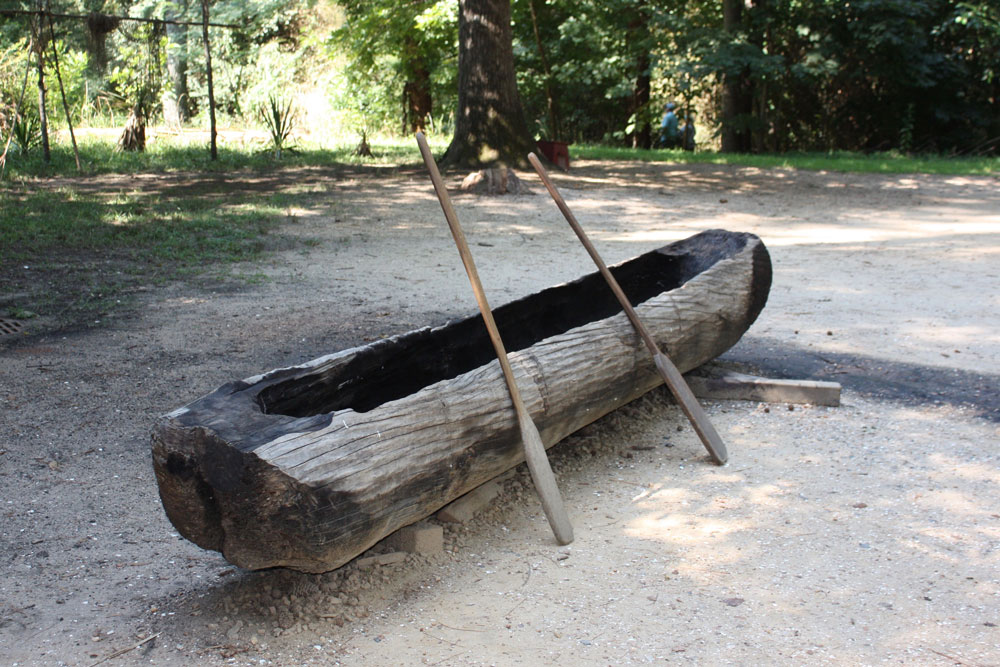 Jamestown Settlement Fort
As you walk from the Powhatan village toward the river, you'll see the Jamestown fort emerging from the woods. Walking around to the front, you'll find that the ground has been cleared for planting corn and other crops.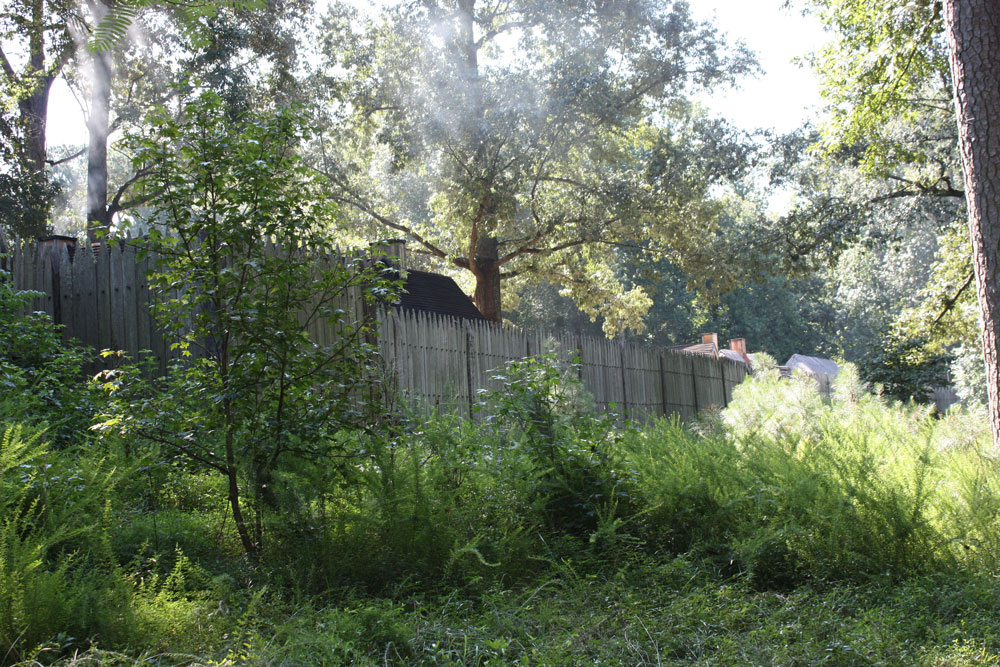 Inside the Jamestown Fort, you'll find a number of buildings including houses, the store house, and a Church. Buildings initially used a frame filled with mud. These buildings needed significant maintenance. Colonists soon adapted to building with wood as it was a plentiful resource in Virginia.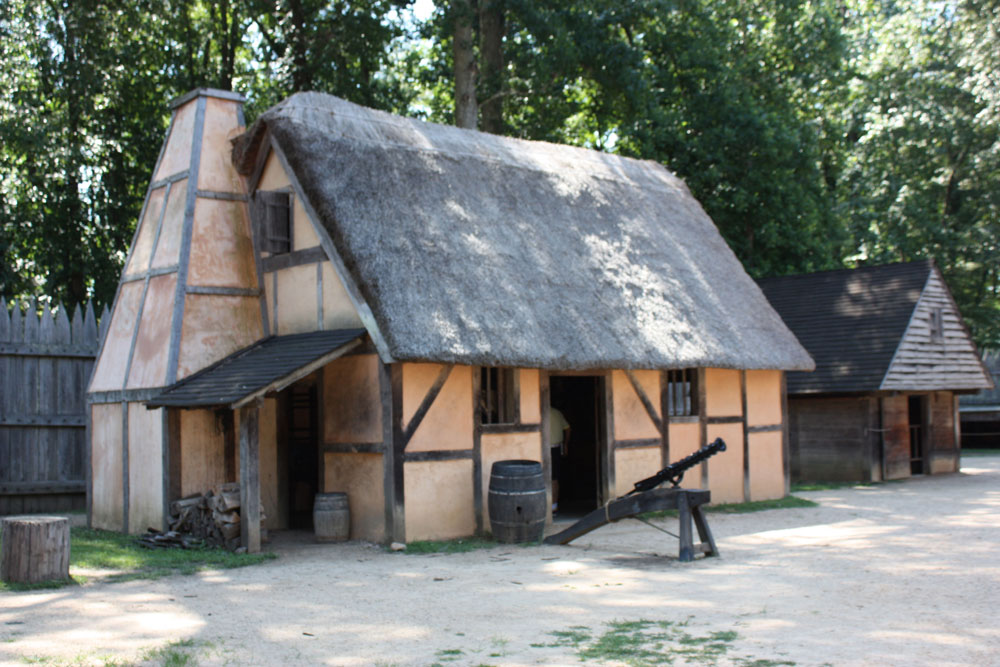 One building houses armaments for the community. You'll see armor and swords along with muskets and pistols.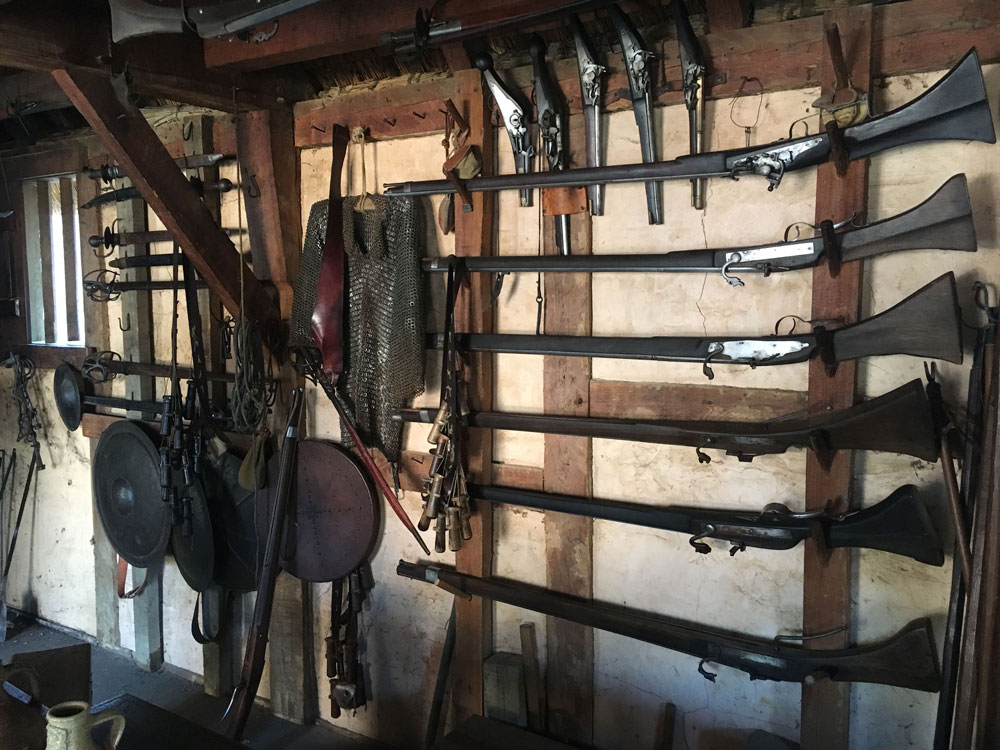 There are daily demonstrations including one where a arquebus is fired. An arquebus is a matchlock weapon. A person carrying it would also need a bandolier of pre-measured gunpowder and a lit match. The match is a cord used to ignite the gunpowder. As a backup, the match is burned at both ends.
You'll find other demonstrations, too. For example, you might see interpreters cooking or baking. You can get a good explanation of the types of crafts English colonists would have brought or made to trade with the Powhatan. You may even get to learn about colonial medicine.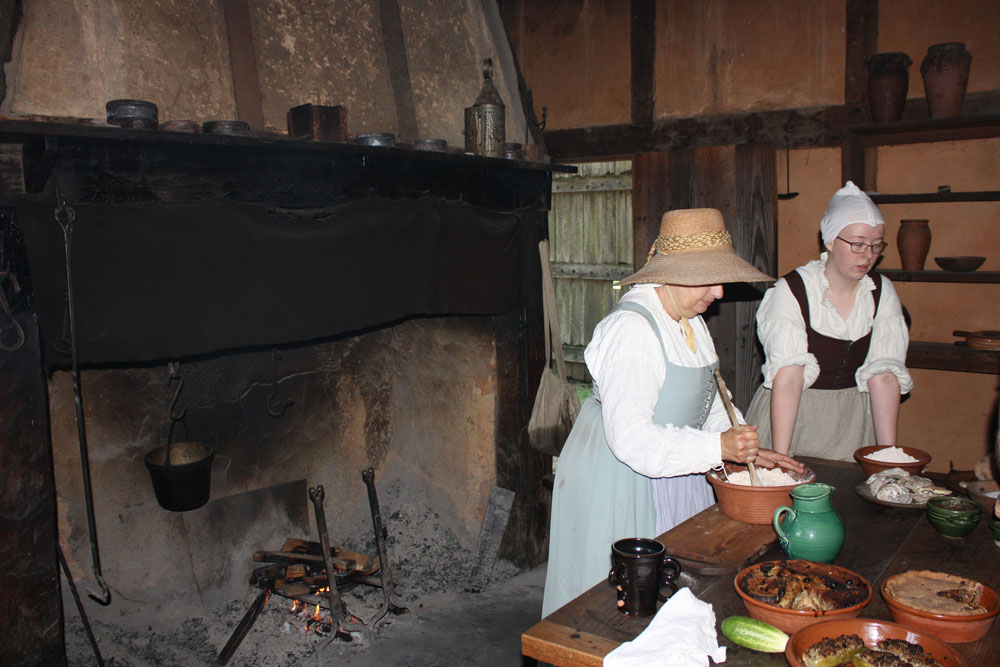 From the Jamestown Fort, you can head to the Jamestown Ships.
Jamestown Settlement Ships
The first group of settlers at Jamestown traveled on three ships that sailed from London in December 1606. They stopped in the Canary Islands, several Caribbean islands, arrived Virginia in April 1607, and finally landed at Jamestown in May 1607.
The largest of the Jamestown Ships was the Susan Constant which was captained by Christopher Newport. The same Christopher Newport for whom Newport News Va and Christopher Newport University are named. The Susan Constant was accompanied by the Godspeed and the Discovery. While the other ships headed back to England after dropping off their passengers, the Discovery stayed to explore the Chesapeake Bay.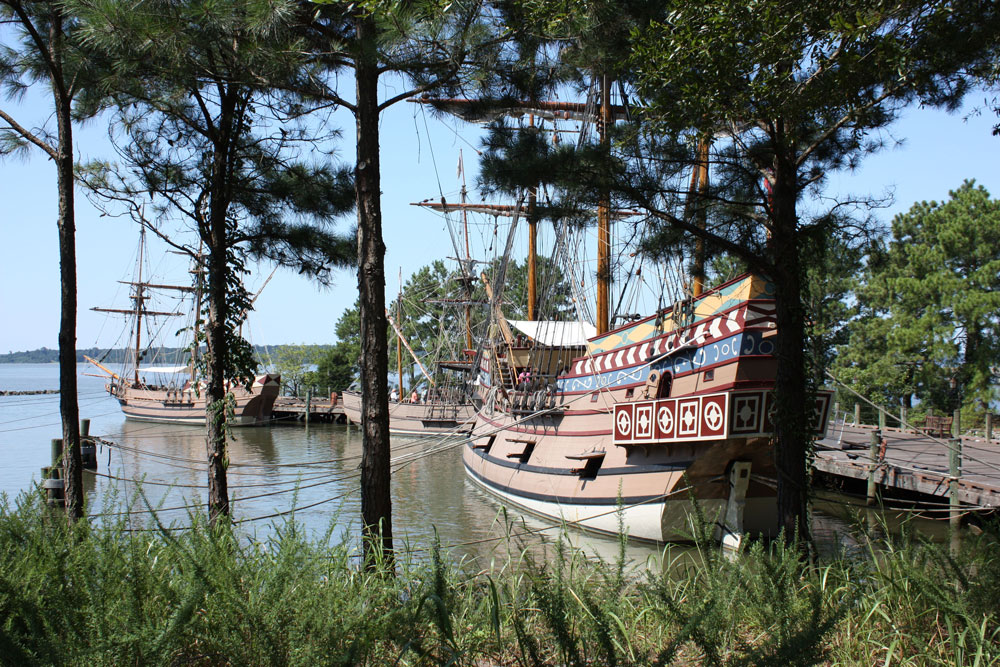 The Jamestown Ships are working replicas. They each sail at least once per year. The Discovery often joins in local Tall Ships festivals like Norfolk's Harborfest.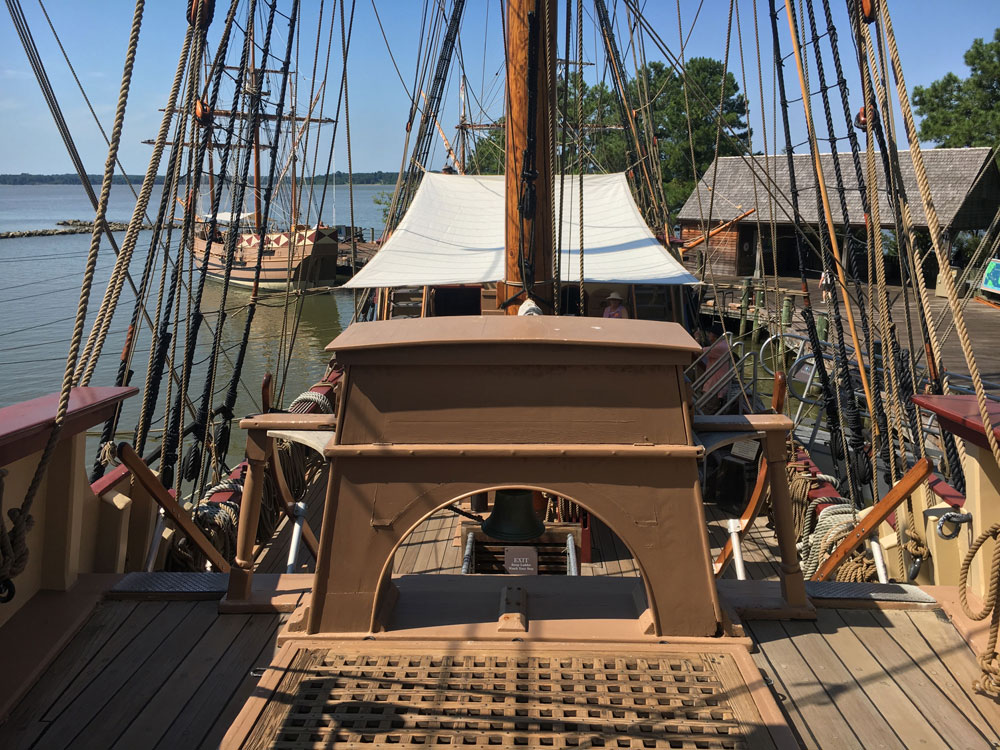 Interpreters on the ships demonstrate navigation, weapons, and even the games the crew and passengers may have used to pass the time on the long voyage.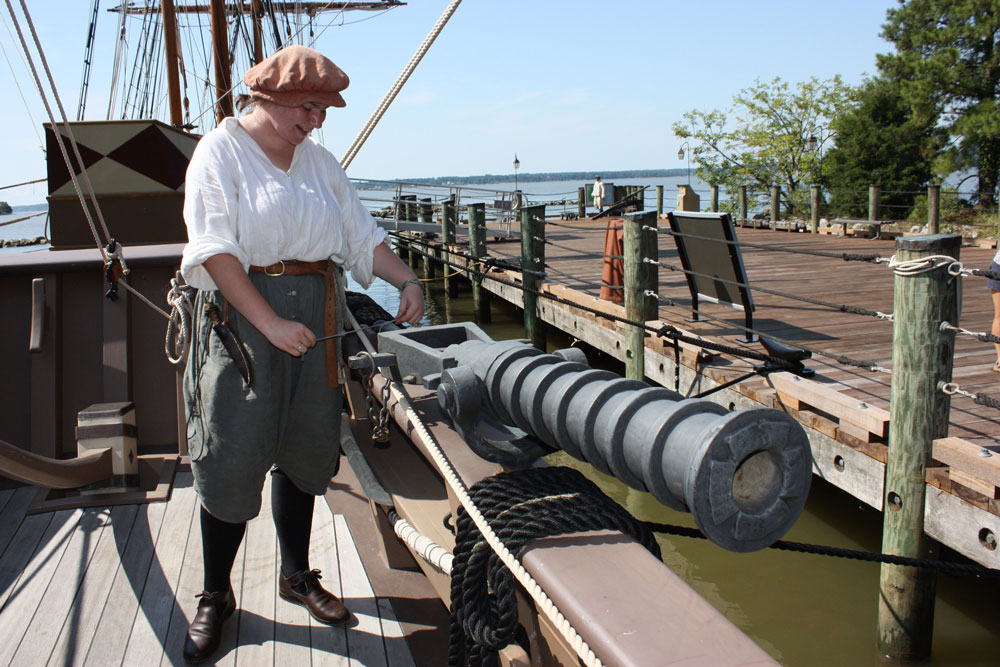 You can go below decks to get a flavor of life on these small ships. You'll see canons, beds & hammocks, the cook's quarters, and the captain's quarters.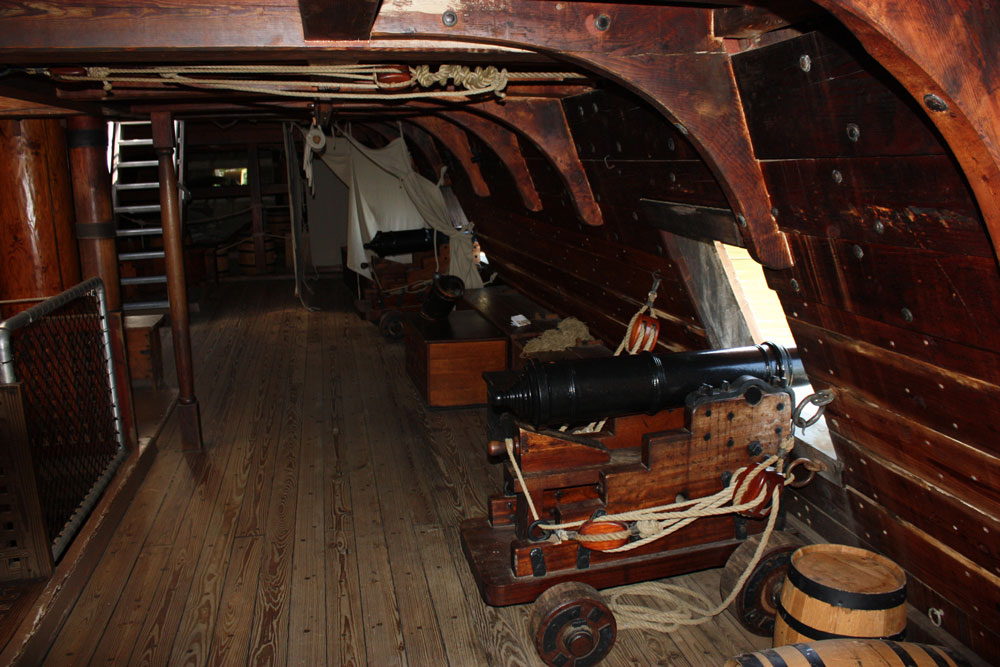 Dining at Jamestown Settlement
There is a cafeteria at Jamestown Settlement. You can enjoy some regional specialties like Brunswick Stew. Or, you might choose from the pretty standard menu items like burgers, hot dogs, chicken strips, and Pizza
The cafe is open from 9:00-5:00 daily. From June 15-August 15, they stay open until 6:00.
Visiting Jamestown Settlement With Your Dog
Only service animals are allowed. You may want to find a cool spot for your dog to enjoy the day since there aren't accommodations for them here.
Jamestown Settlement Tickets
Admission to Jamestown Settlement is $17.50 for adults and $8.25 for youth aged 6-12. Children under 6 are free.
A combination ticket that includes Jamestown Settlement and The American Revolution Museum is $26.00 for adults and $12.50 for youth aged 6-12.
I recommend visiting both the historic and interpretive sites. You can get a Jamestown and Yorktown Four-Site Value Ticket for $46 for adults, $30 for youth ages 13-15, and $16.50 for you ages 6-12. This ticket will provide seven days of admission to Jamestown Settlement, Historic Jamestown, Yorktown Battlefield, and the American Revolution Museum at Yorktown. I used this ticket and found it to be a convenient way to visit the four great attractions.
Parking at Jamestown Settlement
There is a large parking lot and no charge for parking.
Campgrounds Near Jamestown Settlement
If you are visiting Jamestown Settlement in your RV, there are some great nearby camping options. The following are three of the better options.
Chippokes Plantation State Park
Chippokes Plantation State Park was created on the property of one of the oldest continuously operating farms in the country. The plantation dates back to 1619. You can tour the plantation house as well as a farm & forestry museum. In addition to hiking and biking trails, the park has modern amenities including an Olympic-sized swimming pool.
The campground has two loops. Loop A has thirty sites with water & electricity that are perfect for a tent, pop-up, or smaller RV. Loop B has twenty sites with water and 50 amp power. There are also cabins and yurts available.
Chippokes Plantation State Park Campground is about 7.5 miles from Jamestown Settlement. However, you'll have to use the Jamestown-Scotland Ferry to cross the James River, so be sure to allow a bit of extra travel time. The ferry runs 24 hours a day. With a weight limit of 16 tons, your RV should be OK. Be sure to check with the Virginia DOT if you have questions.
Newport News Park
At over 8,000 acres, Newport News Park is among the nations largest municipal parks. It is located about 20 miles from Jamestown Settlement. The Newport News Park Campground offers 188 campsites in a wooded setting. At $36.00 per night for a water & electric site, this is definitely a good value option for the area. In addition to a great natural campground setting, you have access to hiking and biking trails, a nature center, an archery range, and canoeing & fishing on Lee Hall Reservoir.
Williamsburg KOA
Williamsburg/Busch Gardens Area KOA is located approximately 15 miles from Jamestown Settlement. the Williamsburg KOA has 370 sites divided into two sections. There is a lot to do at this KOA including a nice heated swimming pool, bounce pillows, and plenty of planned activities. Pull through sites with 50 AMP service are available.
Attractions Near Jamestown Settlement
There is a lot to do in the Williamsburg area. Jamestown Settlement is one of our top picks. You might also enjoy visiting Colonial Williamsburg and Yorktown. Check out our list of the Top 7 Must do Williamsburg VA Area Attractions.
Copyright 2019 Travel Trail Sail. All Rights Reserved.