The Virginia Capital Trail is a 52 mile bike path from Jamestown to Richmond Virginia, connecting the historic Virginia capital with the current capital. The path runs along Route 5 and is a paved path separated from the road. It is open to cyclists and pedestrians.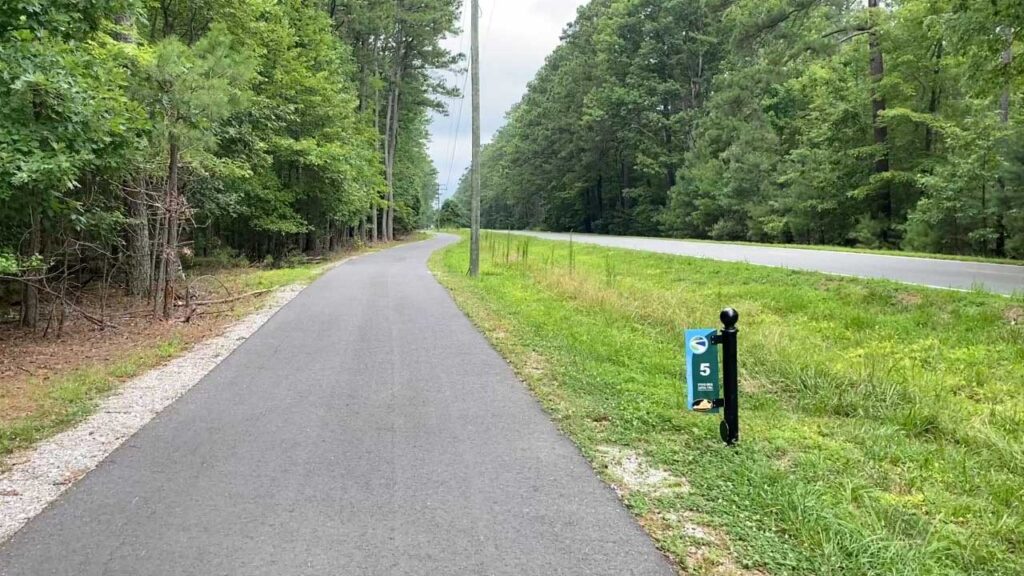 Between Richmond and Jamestown, there are nine stops. Some stops include camping, restaurants, or historic attractions. At most of the waypoints, you'll find parking so you can begin your journey at different places and do part of the trail.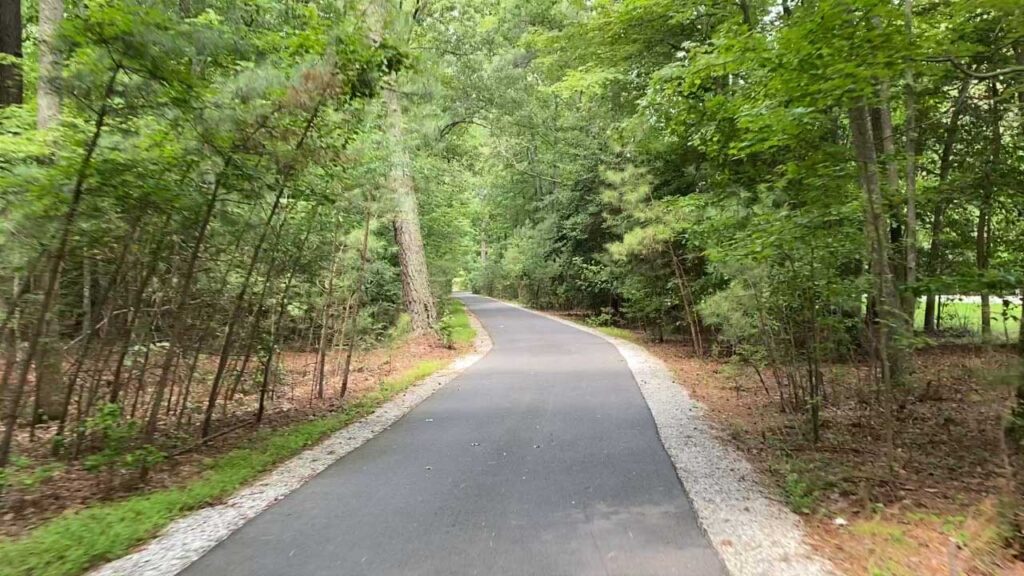 We rode approximately 6.5 miles from Jamestown Settlement to Chickahominy Riverfront Park. Be sure to check out this park. It has a nice swimming pool, kayak rentals, and other activities. It's a popular spot for fishing with multiple fishing tournaments held throughout the year.
The Chickahominy Riverfront Campground is popular. It has some nice campsites with water views. However, be sure to do your research to find your site. You may want to check out the sites using Campsite Photos. We also included a ride through of the campground in our YouTube video.
Virginia Capital Trail YouTube Video
We show a sample of the Virginia Capital Trail and Chickahominy Riverfront Park in this YouTube video.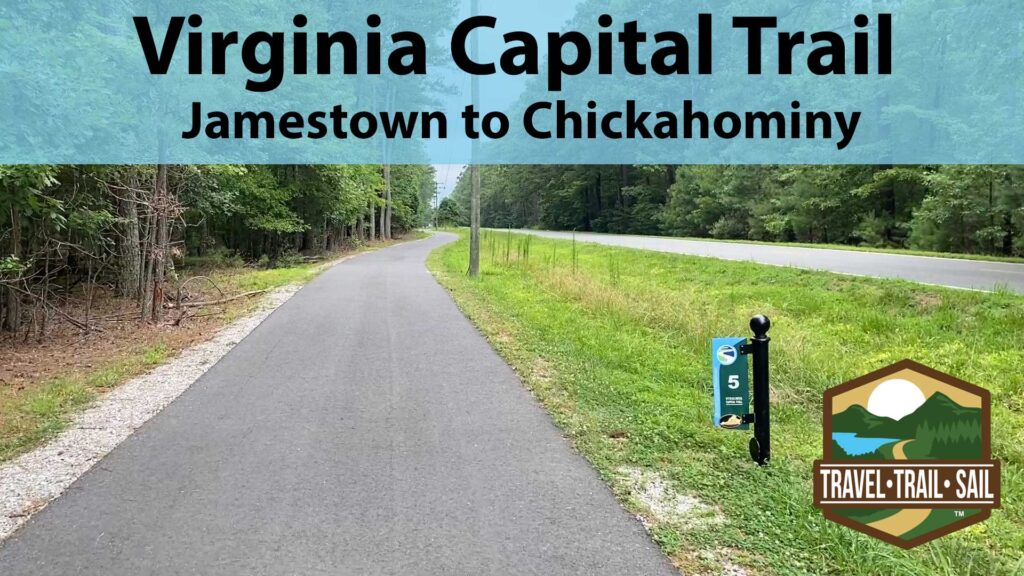 With a ride around the park, our Virginia Capital Trail ride became a 15 mile round trip ride. The trail was smooth and easy to ride. There was a nice mix of open fields and wooded areas. Much of the trail ran adjacent to a road.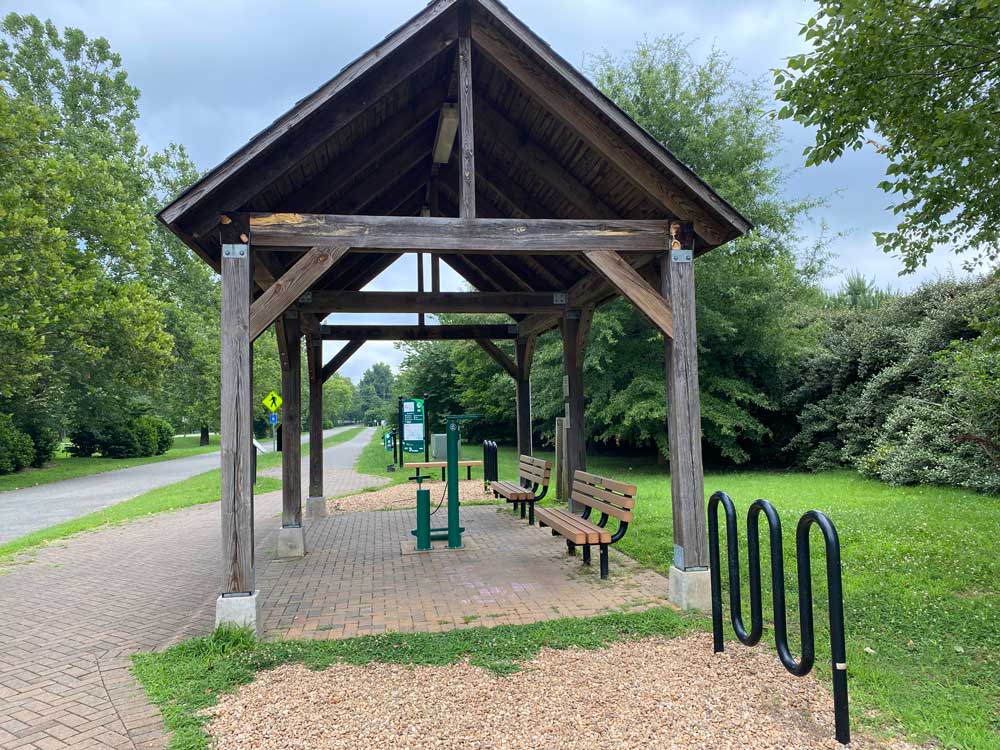 Cycling Fitness on the Virginia Capital Trail
A while back, we wrote about Fitness Challenges to Prepare for Outdoor Adventures. Being fit enables you to make the most of your travels. It's great being able to say yes when you have the opportunity to hike, bike, or kayak. We started with the goal of being able to do a 10 mile ride. From there, we wanted to build to longer rides. Our 15 miles on the Virginia Capital Trail was a great challenge.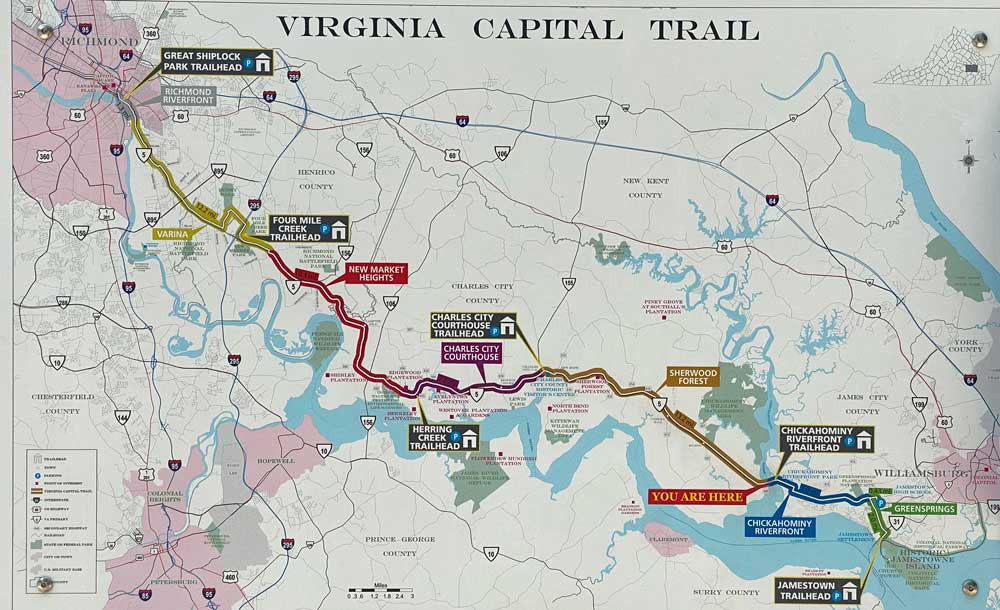 In the future, we hope to be able to do even longer rides. The next section of the trail goes from Chickahominy Riverfront Park to Charles City Courthouse. It's 13.9 miles one-way. A round trip ride would be about 28 miles. That is a great goal to work toward. Maybe someday we'll be able to do the whole 52 mile trail.
Virginia Capital Trail Things to Do
At the Jamestown end of the trail, there are some interesting places to visit including Jamestown Settlement and Historic Jamestowne. These attractions tell the story of Virginia 400 years ago, the people who were living here along with the new arrivals. Both are worth a stop and are part of our Top 7 Must Do Williamsburg VA Area Attractions.
Also at the Jamestown end of the trail is Billsburg Brewery. Set along the river, they have plenty of outside seating and often have live music. We sampled a few Summery beers including a Radler (lemonade Pilsner) and a Miami Weisse (a Berliner Weisse made with cherry, raspberry, coconut, and pineapple). Both were refreshing. Bilsburg also makes traditional beers including a Lager, Pilsner, and a Red Ale.
You can get a tasty sandwich from the Hungry Pug food truck. We enjoyed a Pug Club. Something we don't often find on the menu in Virginia is cheese curds. They claim theirs are 'straight from Wisconsin' so of course we had to try some.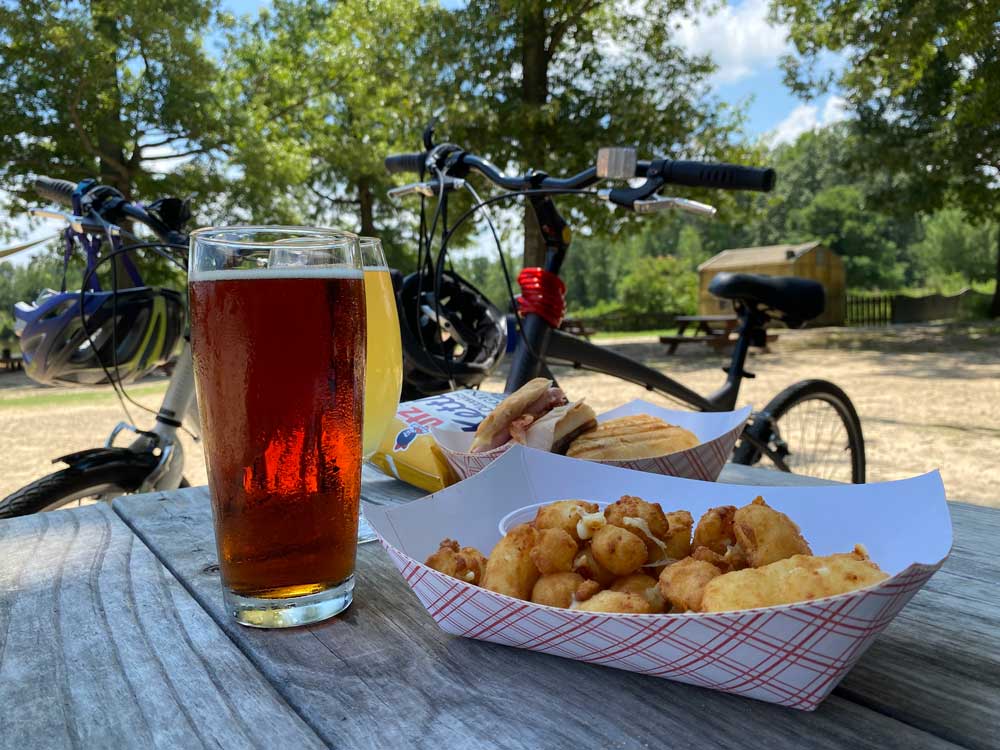 At the Richmond end of the trail, you can visit Great Shiplock Park. This is a working canal lock that is part of a historic waterway once used to transport goods from Richmond to the James River.
Thanks
Thanks for checking out our review of the Virginia Capital Trail. Have you tried cycling on it? What is your favorite part? Leave a comment to share your thoughts.
Copyright 2021 Travel Trail Sail. All Rights Reserved.