Fitness Challenges to Prepare for Outdoor Adventures
Hiking, cycling, kayaking or swimming, you want to say yes to any cool outdoor adventure opportunities. Consider fitness challenges to prepare for fun.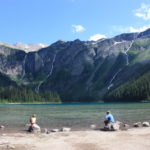 One of the best parts of travel is all of the fun and adventurous activities you can do; hiking, cycling, kayaking, sailing, and more. When those outdoor adventure opportunities arise, you want to be able to say yes. Whether it's the opportunity to ride bicycles on the carriage road in Acadia, kayak on Jenny Lake in Grand Teton, or hike to Avalanche Lake in Glacier, being fit will help you enjoy your travels.
Before embarking on our camping sabbatical, I knew I had to get ready. I enrolled in a fitness challenge program to help me get strong enough to enjoy the adventure. Since then, I have continued to create my own fitness challenges to help ensure I am able to do all of the activities and adventures I enjoy.
What outdoor adventures are you looking forward to doing? Are you fit enough to participate in the outdoor activities you want to try? If you aren't sure, you may want to train using a fitness challenge to be prepared. To help get you thinking about your own fitness challenge ideas, here are some examples I have done. I am not a medical professional or fitness trainer and am just sharing my experiences. You may want to check in with your doctor before getting started on a fitness challenge.
There is a lot of good information on outdoor activities and fitness in books and online. As someone who has been a scout leader, I find that the BSA merit badge books are an easy introduction to many fun outdoor activities. You can find on outline for each free at the US Scouting Service Project and the books with more details are available at scout stores or at scoutshop.org
Fitness Challenge: Swimming
I had the chance to do the CHASE (Chesapeake High Adventure Sailing Experience) program sailing the Chesapeake Bay on a 38 foot sailboat. This has been one of my favorite outdoor adventures. CHASE was run as part of a BSA scout camp and to participate, you had to be able to pass the BSA swim test. To ensure I didn't get left behind, I created a swim challenge to help myself train. I started by just wanting to ensure I could easily pass the BSA swim test. That is, swim 3 laps (75 yards) using any forward stroke and 1 lap (25 yards) using a resting backstroke.
When I started, I had not been swimming on a regular basis. I thought it made sense to overtrain a bit just to ensure I was confident in passing. So, I created the challenge of passing the test four times. I would swim four laps just like in the test, take a short break, then do another four until I had completed sixteen laps. Fortunately, when it came time to go sailing, I easily passed the swim test.
This year, I set an even more difficult swim fitness challenge. I decided to challenge myself to swim a mile. Starting from my 16 lap base in January, my plan was to add laps each month until I could do a mile, which is 64 laps at the pool I use. I added laps to match the month. February is the second month so I would swim 20 laps. March is third so I would swim 30. I increased the number of laps in each set. Starting with four laps per set, I increased to 10, then 12, then 18. Taking fewer and shorter breaks as my endurance improved. By May, I had managed to swim 64 laps and made my goal.
Fitness Challenge: Cycling
For daily riding, I use a one speed beach cruiser. While not exactly a performance bicycle, it is fun to ride. My goal for last summer was to ensure I could do a ten mile ride. There are some trails I would like to do that are longer, but ten miles seemed like a good distance for a starter challenge.
At first, I took the time to do a one mile ride each morning. It was a nice way to start the day. To start improving, I added a second one mile ride in the afternoon. Each week I would make the rides a bit longer until I could do two five mile rides per day. Then, I started to make the morning ride longer; six miles, seven miles, and finally a ten mile ride. Looking forward, I am setting additional cycling challenges to work toward 15 miles, 25 miles, and finally a 50 mile bicycle ride.
Fitness Challenge: Hiking
We have some great hiking trails nearby like the Noland Trail and the trails at First Landing State Park. I enjoy walking through the woods, hearing the wind in the trees and seeing wildlife. Hiking is a great way to stay fit. The only equipment you really need is a good pair of shoes. A few things that might make hiking more enjoyable are a small backpack to keep things like your water bottle and keys, a hat with a brim to provide some sun protection, and maybe a walking stick or hiking poles.
My hiking fitness challenge is to do a five mile hike each month. When you are traveling, you might have the chance to do longer trails. If your goal is to be able to take longer day hikes, you might consider setting additional hiking fitness challenges like 10, 15, and 20 mile hikes.
Year of Fitness Challenges
Fitness challenges are a great way to set a goal and work toward being fit. I hope these examples are helpful. If you are up an even bigger challenges, consider trying the plan Jeff Cstari shared in Stay Healthy With a Year of Fitness Challenges in Scouting Magazine. It has some great fitness challenge ideas that will help you be prepared for your adventures.
A Few Fitness Resources
As you get started in your fitness challenge, you might find the following posts helpful.
5 Favorite Kettlebell Exercise Moves
Street Parking Fitness App Review
Our Couch to 5K Running Challenge
Good luck with your fitness challenges. We'd love to hear more about your outdoor fitness adventures and how you prepare so that you are able to enjoy them. Have you tried a fitness challenge? Leave a comment to share your story.
Copyright 2019 Travel Trail Sail. All Rights Reserved.