Grand Design Transcend 28MKS Review
The Grand Design Transcend 28MKS is a comfortable and spacious travel trailer. Great for a couple and capable of sleeping four. After a year, here's our review.
Shopping For a New Camper
We loved our first camper, a Jayco Jay Flight 26BH. It was the perfect first camper for our family of four. As our children grew to young adults and we added a dog to the family, it began to feel a bit too small. On rainy days when we wanted to watch a movie, there wasn't enough room for four to sit comfortably. During meal prep, it was hard to pass through the kitchen area to the bunks or bathroom. After almost 10 years, we decided to shop for something with a bit more space.
Our Jayco served us well for nine years. We would definitely consider them again. This time, it came down to finding the right floorplan. Unfortunately, Jayco didn't offer one that matched our current needs.
After a year of shopping, multiple RV shows and dealer visits, we decided to buy a 2019 Grand Design Transcend 28MKS. After a year of use, we are really enjoying it. I hope you enjoy this Grand Design Transcend Review. I'd love to hear your feedback.
Our Travel Trailer Requirements
We decided to stick with a travel trailer. It suits our style of camping where we tend to stay in one location for several days. Our Ram 2500 becomes our touring vehicle in addition to being our tow vehicle. We wanted the following things in a camper:
Optimized for a couple but able to comfortably sleep four adults
A spacious interior that allows for cooking, playing games and watching movies
Windows that fully open
A standard dinette for four rather than a U-shaped dinette
An oven to allow baking
Plenty of storage for kitchen gear and food
Only one entry door
Able to easily enter/exit with beds extended
Standard steps rather than the kind that fold into the camper
An enclosed underbelly to better enable camping in colder weather
Heating ducts in the walls rather than in the floor
Prefer no outside kitchen
Grand Design Trailers
During our year of camper shopping, we looked at campers from many manufacturers. Two stood out as having better features; Grand Design and Highland Ridge. Things that we noticed were the layouts, fit & finish, and improved cool weather features such as heating ducts in the walls and an enclused underbelly. As we continued our shopping journey, we decided to go with a Grand Design travel trailer. We reviewed several of their brands including the Grand Design Reflection, Grand Design Imagine and the Grand Design Transcend. Each has similar floorplans and components. The brands do offer some unique floorplans from each other and that are distinct from what other manufacturers are offering.
Where they vary the most is in the siding and finish level. Transcend travel trailers use aluminum siding over a wood frame. Imagine and Reflection have an aluminum frame with a fiberglass exterior. That said, we found all of the Grand Design travel trailers to be attractive and well made. You can find out more at the Grand Design website.
Grand Design has an active owner community. You can find them at the Grand Design Owners Forum or on the Grand Design Owners Facebook Group.
Grand Design Transcend 28MKS Video Tour
We cover all of the details of our camper in this post. If you prefer, you can follow along as we walk you through inside and outside our travel trailer in our Grand Design Transcend 28MKS Tour YouTube video.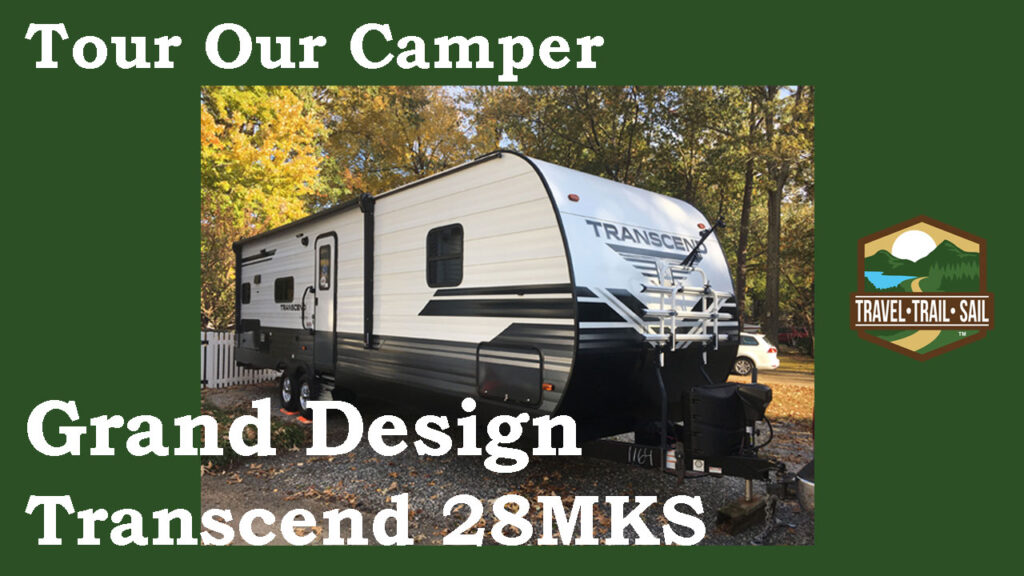 Outside The Transcend 28MKS
28MKS Entry Side Features
On the entry side of the Transcend 28MKS, there is one entry door in the middle of the camper. You can lock a sturdy rail into position after the parking. A large power awning can be extended to provide protection from sun and rain so that you have plenty of outside sitting room.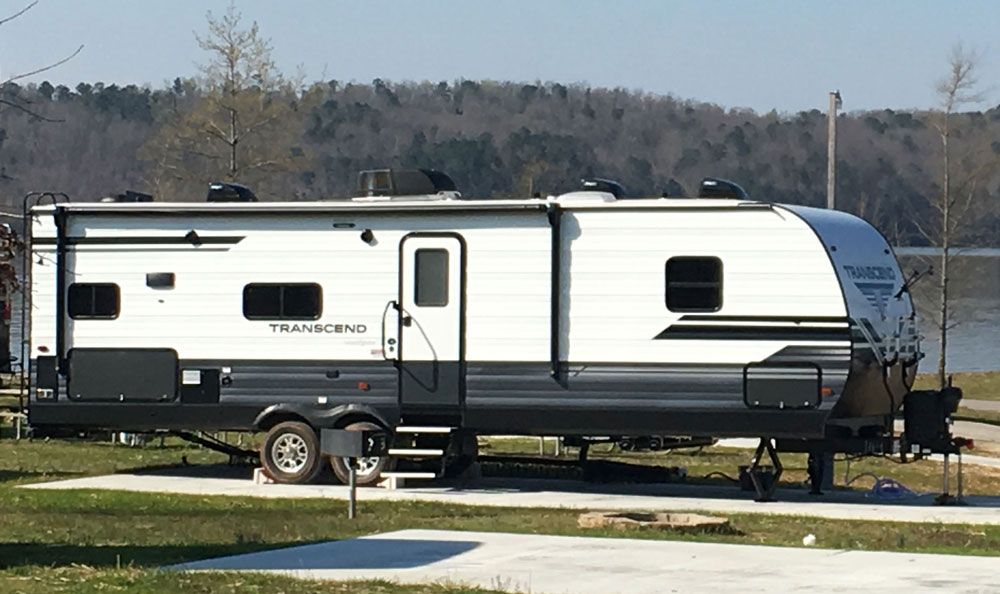 Toward the front of the 28MKS is a pass-through storage. It is fairly large. One nice feature is that the storage doors are stay open with magnets. This is a huge improvement over the plastic latches used on our last camper. Inside each storage door is a motion activated light. If you are trying to set up camp after dark, these lights come in handy.
The entry side of the camper also has an outside kitchen. We didn't really want an outside kitchen so it's nice that one on the 28MKS is relatively basic. It has a two burner stove and a small refrigerator. I tried the stove once. The burners are different sizes which I found made it harder to use a large rectangular griddle for making pancakes. If you plan to use two pans, this design might be OK. An outside TV instead of the stove would be a nice option.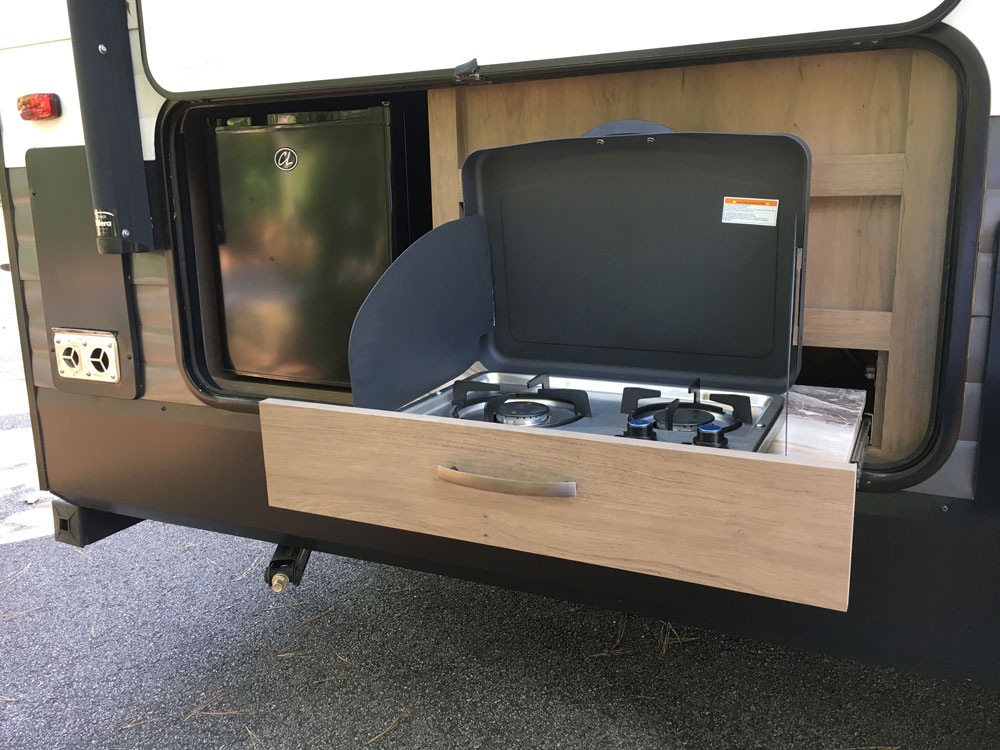 There are four manual stabilizers. These are extended using a pretty standard tool that is provided. The stabilizers do help reduce the movement of the camper when you walk around in it. However, for a travel trailer this large, there may be a more effective way to stabilize the unit than the basic stabilizers that are provided.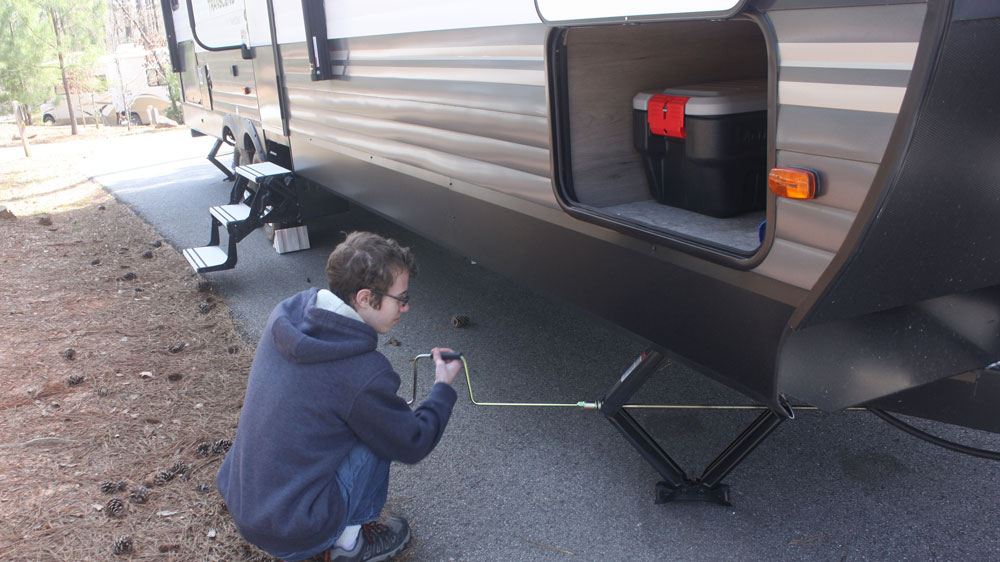 28MKS Back Side Features
One the back of the 28MKS is an outside shower. We never used the outside shower in our last camper. It was a shower spray head located in a compartment on the hookup side near the sewer hose. Even though we never used it, we still had to winterize it each year. The outside shower on the Transcend 28MKS is something we may use. Located on the back of the camper, near the entry side, it is a coiled hose with a quick connect end. It comes with a very basic spray head. The one thing that would make this better is if there was somewhere to hang the hose.
The other feature on the back of the Transcend 28MKS is a ladder. It is great to have a way to get on the roof. Before putting the slide in, you'll need to clear any leaves from the slide roof. Also, you need to inspect and patch the roof at least annually. Though it is a bit narrow and steep, this ladder does the job and it is a nice feature. While it is great to have a built in ladder, you may want to consider bringing an additional ladder such as a Little Giant. There are times you need to access things like the awning that may be easier to resolve from a free standing ladder.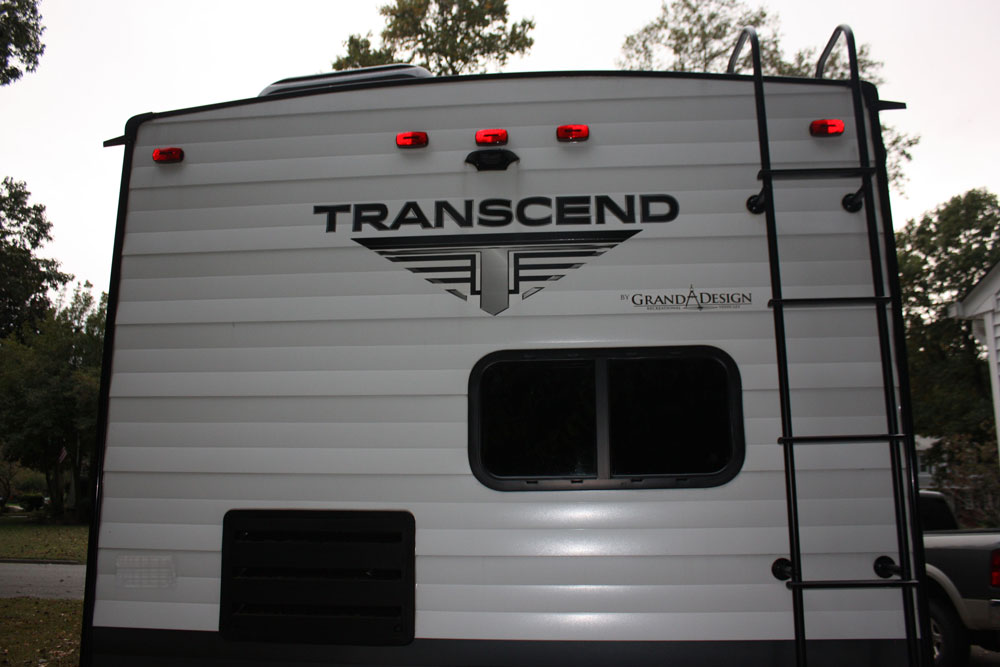 The Transcend 28MKS also comes wired for a backup camera. This is a nice feature. While we haven't yet installed a backup camera, it seems like it would be very helpful in those times when you need to backup without a spotter.
28MKS RV Hookups Side Features
On the hookups side, you'll find the freshwater, sewer and power connections.
Fresh water hookups on the Transcend 28MKS are on a universal docking station located inside the storage compartment. You run your hose through a port in the floor and connect it to the water connection. One nice part of this feature is that there is a lever that enables you to fill the freshwater tank without having to use the freshwater port. The downside is that connecting a hose to the universal docking station can prove to be a challenge for some. I'm still not convinced that having the potential for water leaks inside the camper is an improvement on an outside fresh water hookup. However, after some experimentation, I found a way to connect that seems to work well. You can find our write up on how to make a safe and secure drinking water connection.
The universal docking station also has a battery switch. This allows you to cut power from the battery to the camper. Without this, the batteries will drain even when you aren't using the camper so it is a useful feature.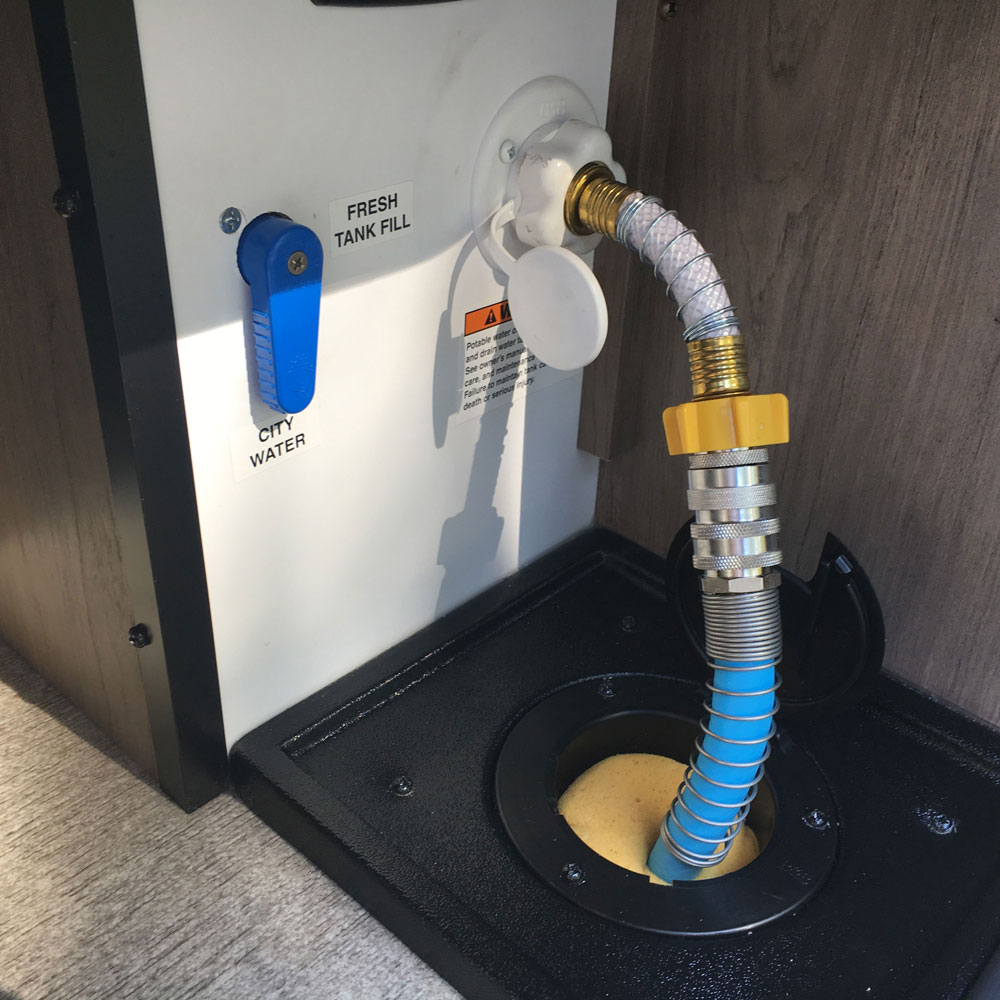 On this side, you'll also find the sewer hookups. With two gray water tanks holding up to 68 gallons, the Transcend 28MKS has great gray water tank storage. One gray tank serves the kitchen while the other is for the bathroom. This significantly extends how long we can go without needing to head to a dump station or use the portable blue tank. There is one black water tank for the bathroom that holds 39 gallons.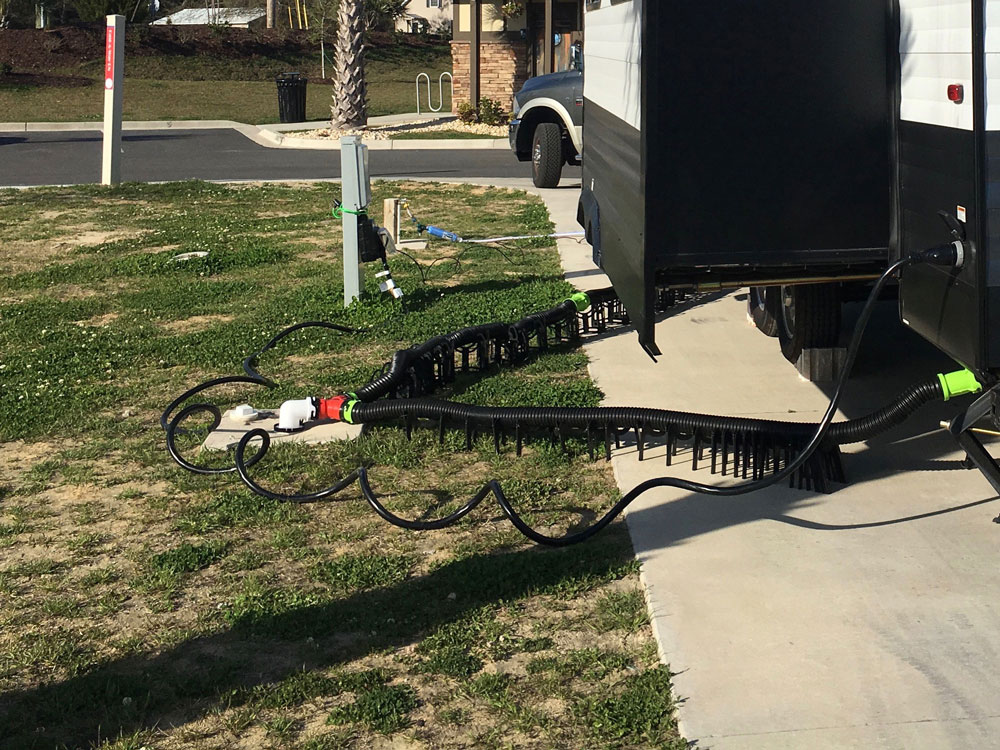 Since there are two gray tanks, there are two sewer hose connections. One serves the kitchen gray tank while the other is for the bathroom gray and black tanks. If you are at a full hookup site, you'll need to bring along extra hoses and a y connection. As we used the camper this year, no site was the same. In some cases, the sewer connection was toward the front of the site while it was toward the back at other sites. You'll need to be flexible in your approach. I wrote a post about connecting sewer hoses for campers with two hookups like the 28MKS.
Toward the back on the hookup side, you'll find the power connection. This camper uses a 50 amp connection. The cable is removable and you'll need to find a way to store it either in the storage compartment or in your tow vehicle. We use a Stromberg Carlson hose caddy. Given the nature of campground power hookups, you should consider adding a power management device like the Progressive Industries EMS-PT50X Portable RV Surge Protector. Note, there are affiliate links provided here for your convenience. If you choose to buy, it won't cost you anything extra but we earn a commision that helps us continue to provide helpful content like this.
28MKS Front Side Features
On the front of the Transcend 28MKS, you will find some nice features. One of my favorites is that there is a door on top of the propane tank cover. This means you can access and open/close the tanks even if you have a bike rack mounted over the tanks. If you have ever had to close your tanks to pass through a tunnel, you'll appreciate how nice it is not to have to take the bikes off to do so.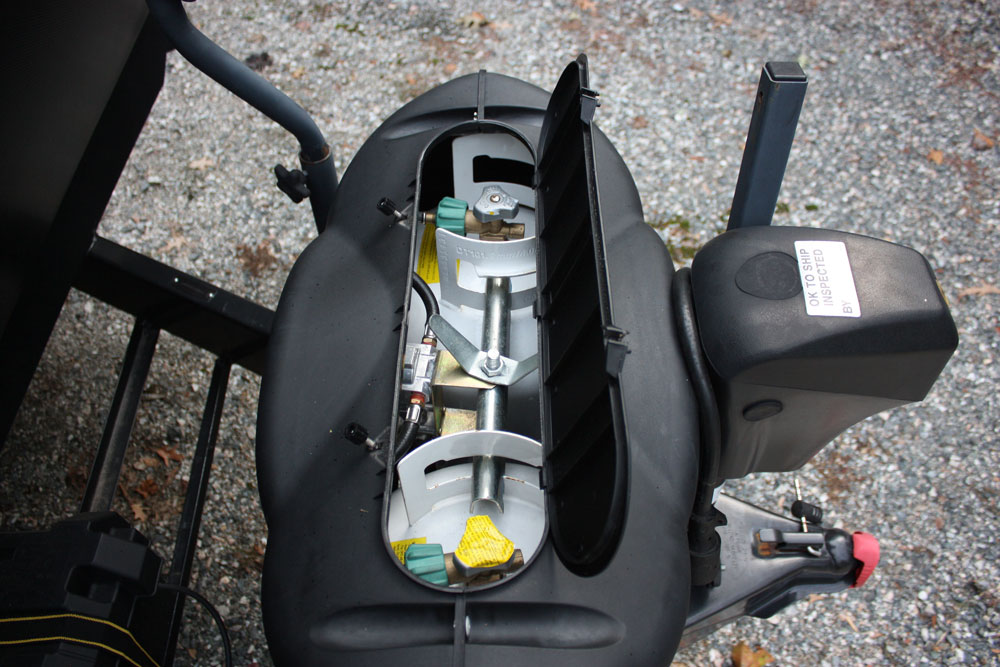 The 28MKS comes with two 20 gallon propane tanks. The advantage to this size tank is that it can easily be swapped at a propane swap location such as a Wal-Mart or grocery store. The disadvantage is that these are relatively small tanks that will need to be filled often if you are using your furnace during cooler weather camping.
I also really like the power tongue jack that was included on the 28MKS. While it is a bit slow to raise & lower the camper and it a bit loud, it is much easier to use than the crank style jack I used before, With a hitch weight of over 600 pounds, the power jack is definitely nice to have.
Over the propane tanks and tongue jack, we added an Arvika bike rack. It mounted nicely to the 28MKS and we set it up to carry three bikes. The forth bike holder that can be mounted on the back of the rack would not fit due to the front profile of this camper.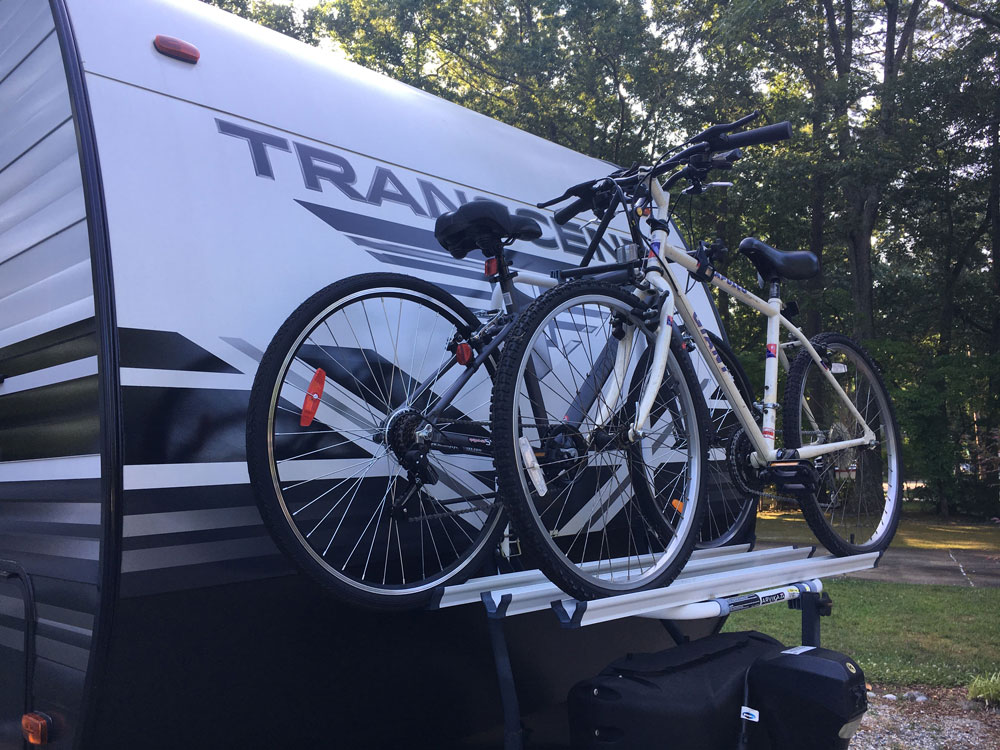 Inside The Transcend 28MKS
28MKS Living Area
As you enter the one nicely placed entry door, your first impression will likely be that the Transcend 28MKS is very light and spacious. This is a comfortable camper with plenty of room to spread out. It is even large enough to do light excercise inside like Yoga or Tai Chi.
The living area has a set of reclining chairs and a two-person couch. The recliners are very comfortable. The couch is nice, too. We added two ottomans so that people on the couch could put their feet up and relax. Storage above the couch is a good place to keep your games and movies.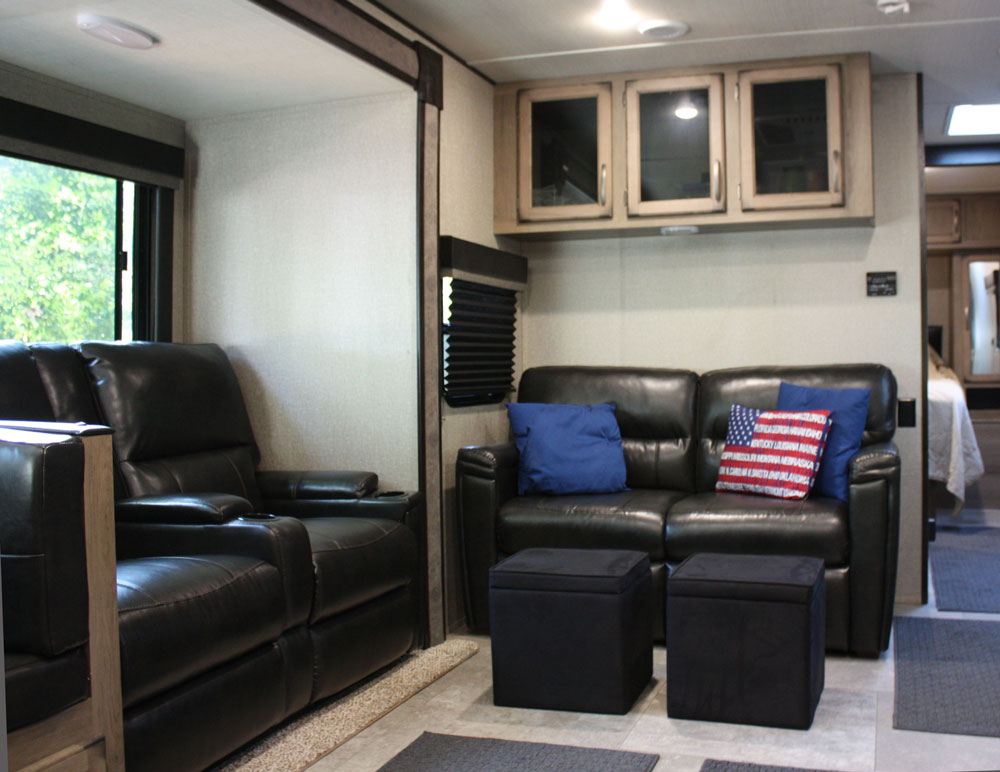 Across from the recliners is a large TV. Viewing from the recliners is great. The view from the couch is good, too. Note that the TV is on an arm that enables it to be rotated toward the couch or toward the dinette. The TV connects to a Jensen stereo that enables you to play DVDs. Note that the DVD features on the Jensen stereo can only be operated with a remote control. Since the Jensen is mounted on the wall facing the door at a 90 degree angle away from the TV, you may find that you have to stand in front of the DVD player to operate it rather than control it from the recliners.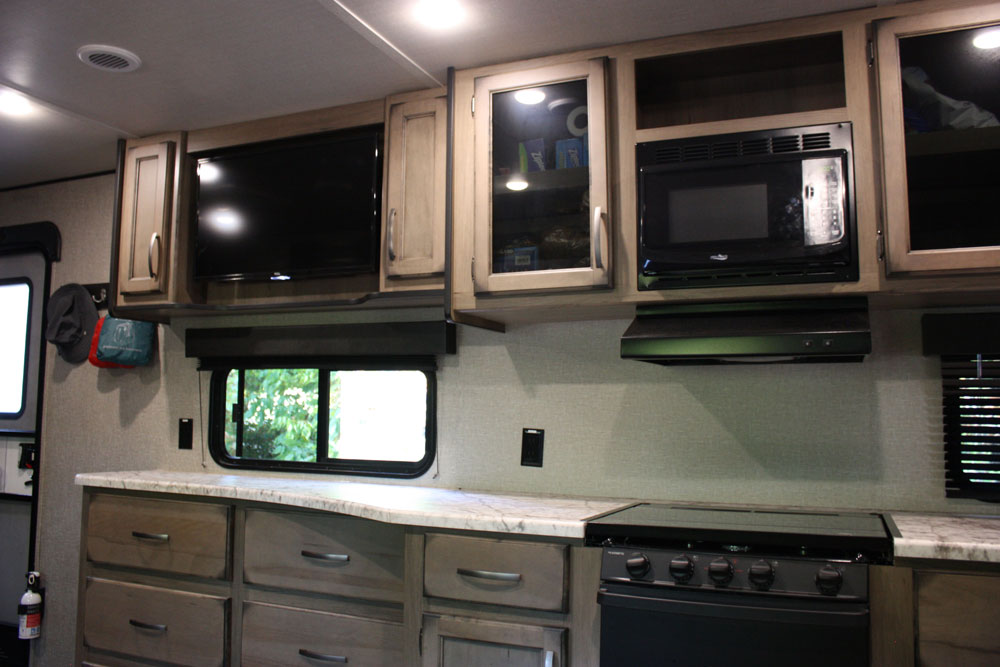 Under the TV, you'll find six large drawers. These can be used to keep the sheets for making beds in the living area. The six drawers are great but not optimized for storing larger items like pillows or blankets.
There is also a large countertop under the TV. You can image setting out a buffet dinner on a day when it is too cold or wet to eat outside.
Just inside the door, hooks are provided to hang up your jacket or hat. We hang hats, jackets and even lightweight backpacks on the hooks.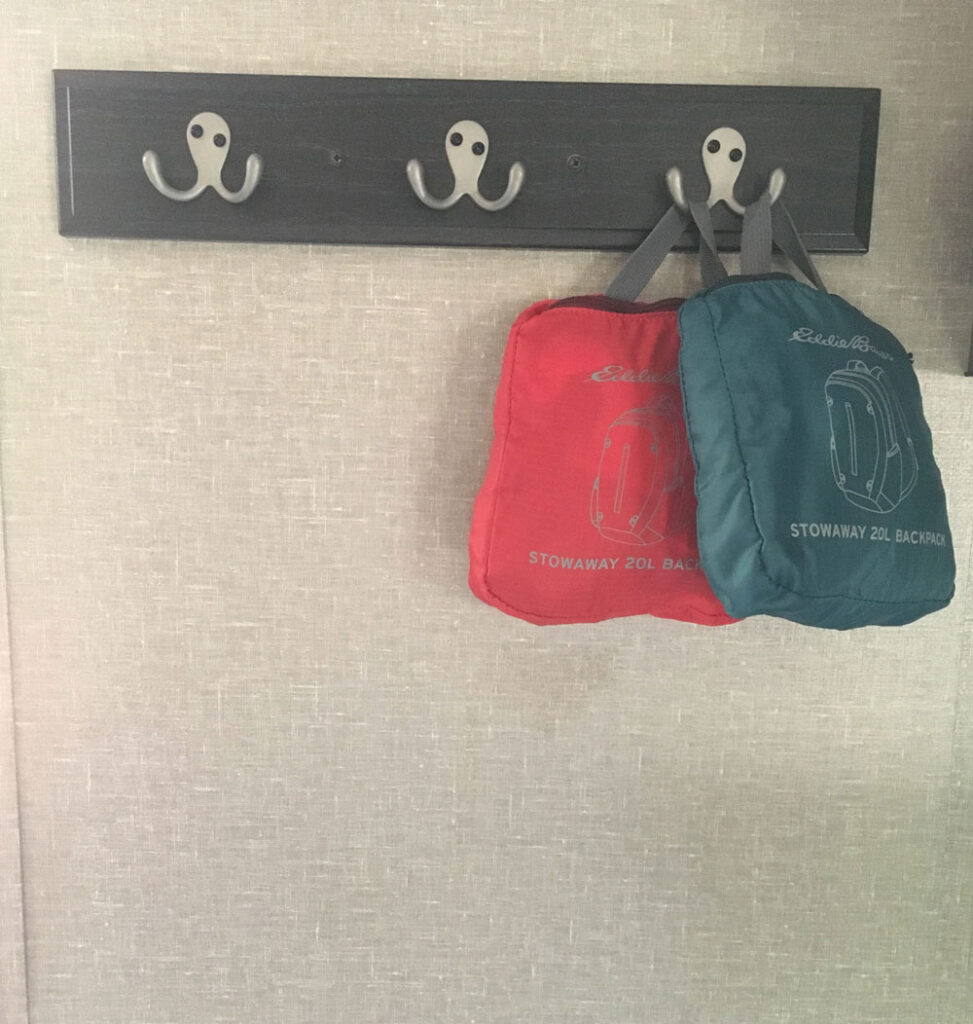 Right across from the entry door is the control panel for the Transcend 28MKS. Information is provided on tank levels. The slide and awning switches are on the panel along with those for the water heater and water pump. Switches are provided here for the main lights in the living space and for the outside light. I wish the light switches were a bit more conveniently located just inside the door near the jacket hooks.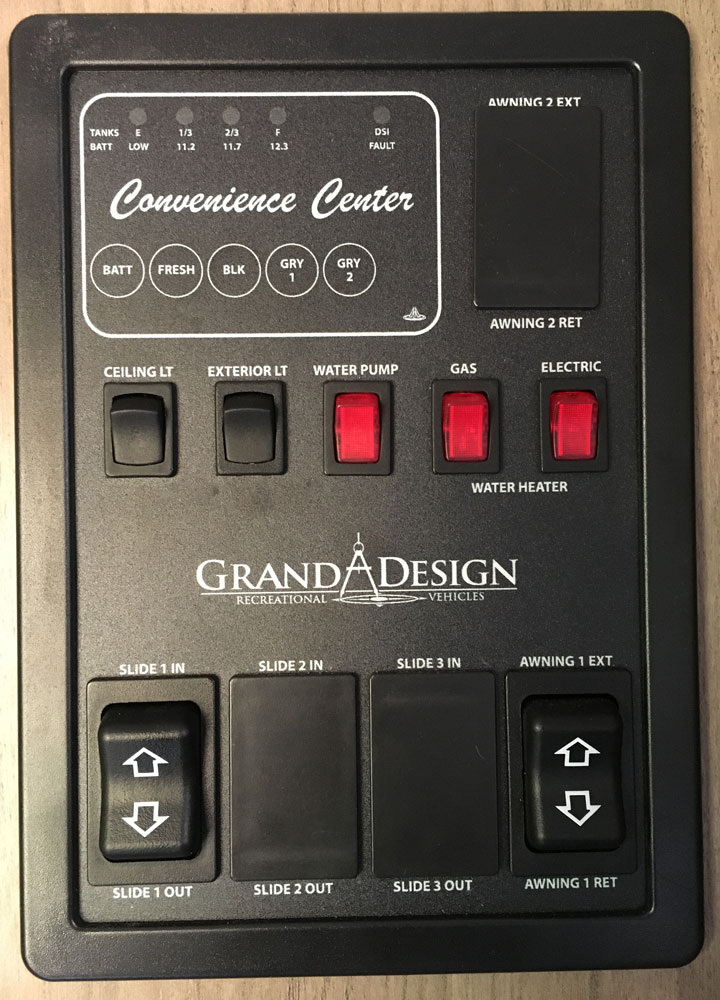 28MKS Kitchen
The kitchen in the 28MKS is well laid out. There is a microwave over a gas stove and oven. The stove has a nice cover that folds up when the stove is in use. The amount of counter top is great for preparing food. Next to the sink is a refrigerator and pantry area. The amount of storage space for your cooking utensils and food is pretty amazing for a travel trailer. We have yet to use all of the storage space.
At the back of the camper is a nice stainless steel sink. The sink has a pull-out sprayer faucet.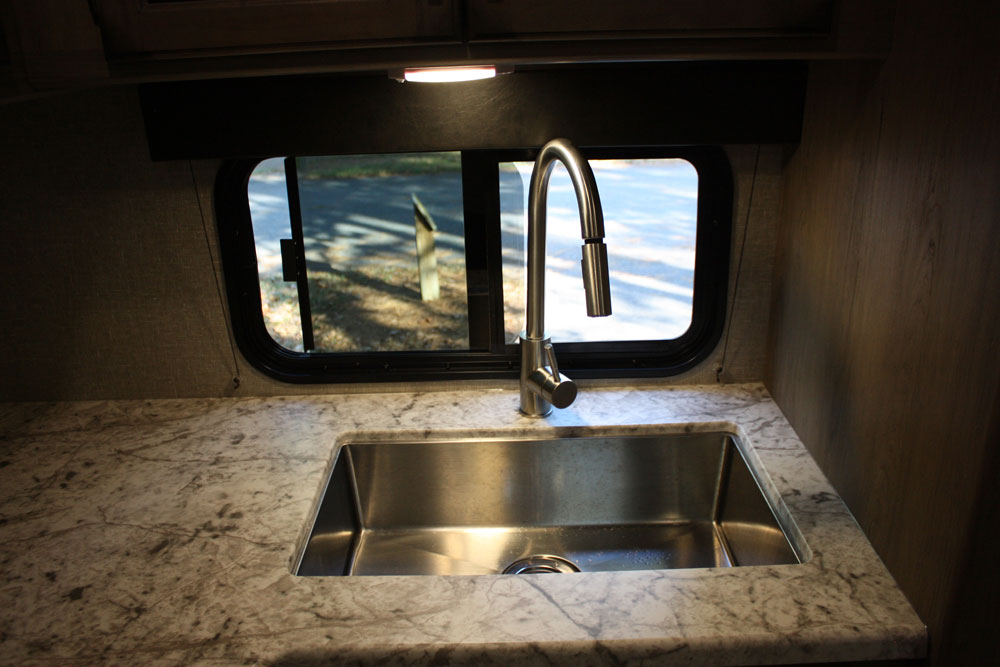 The Kitchen area also has a standard camper dinette. This provides comfortable seating for four. Large windows over the dinette and recliners let in plenty of natural light.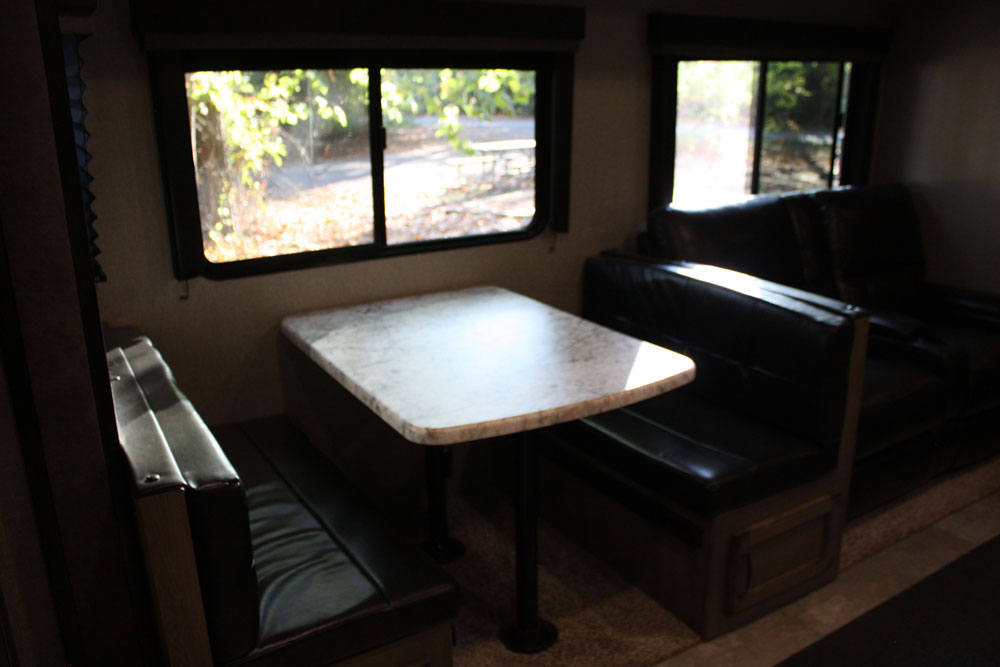 The dinette makes into a decent size bed.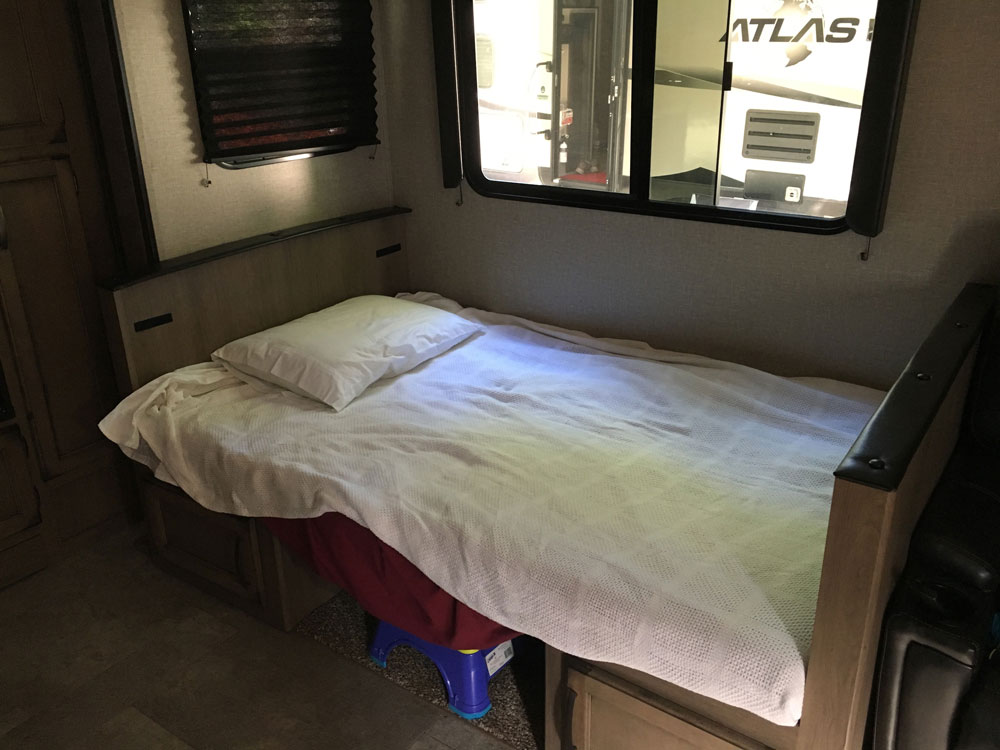 One thing to note, when the slide is in, you won't have access to the refrigerator and some of the kitchen storage cabinets.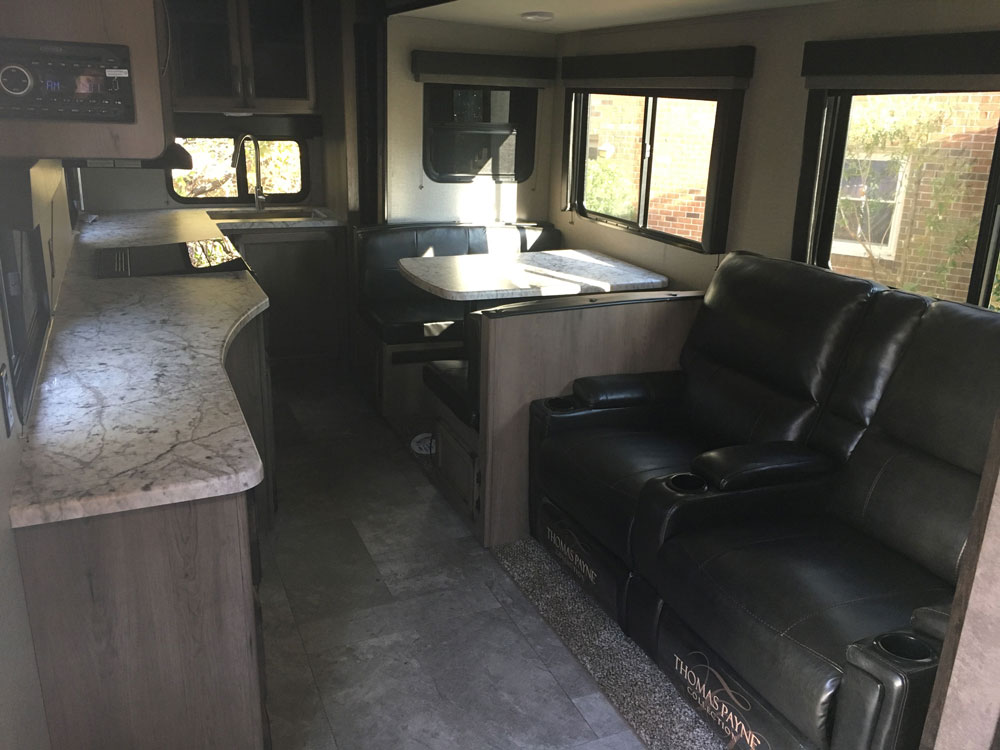 28MKS Bathroom
From the main living area, there is a hallway to the bedroom. The Transcend 28MKS has a decent size bathroom. The bathroom door is a sliding barn door.
There is a stand up shower that has two small shelves built in. The shower has a curtain on a curved curtain rod. A standard camper hand held shower is provided.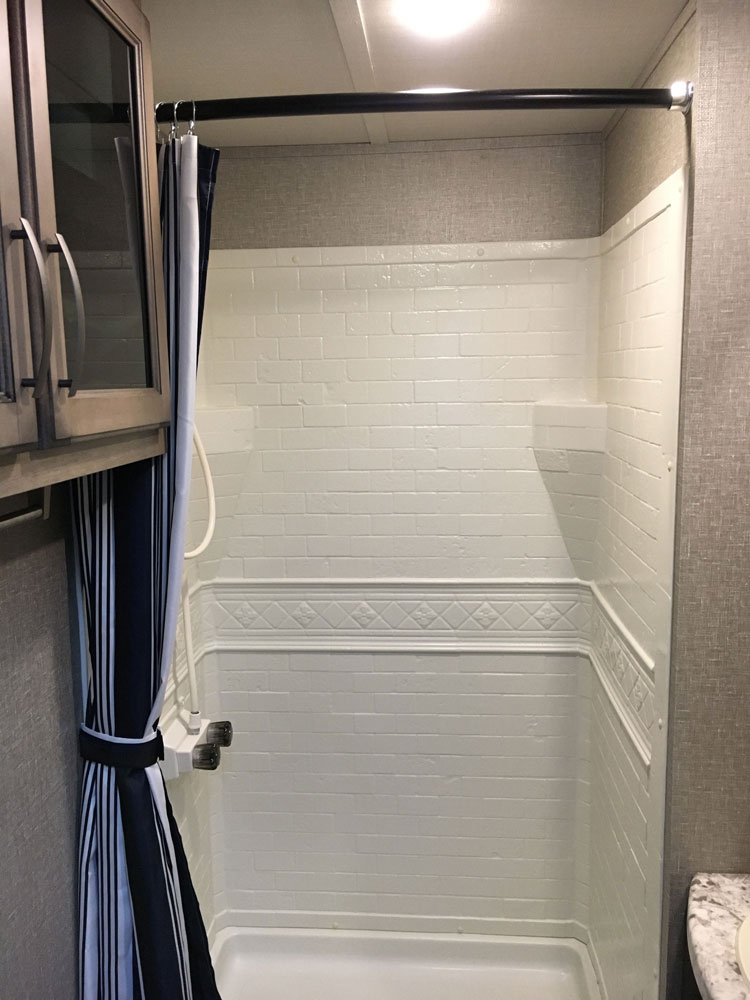 The sink is in a nice vanity with a surprisingly large counter space for a camper. There is a medicine cabinet above the sink which has shelves next to it. The vanity has a door and two large drawers. More storage is provided in a cabinet above the toilet.
28MKS Bedroom
At the front end of the camper is a fairly spacious bedroom. It has a standard size Queen bed. There is storage above and to the sides of the bed. Each side has a shelf with outlets. One side of the bed also has a USB outlet, convenient for charging phones and other portable electronics.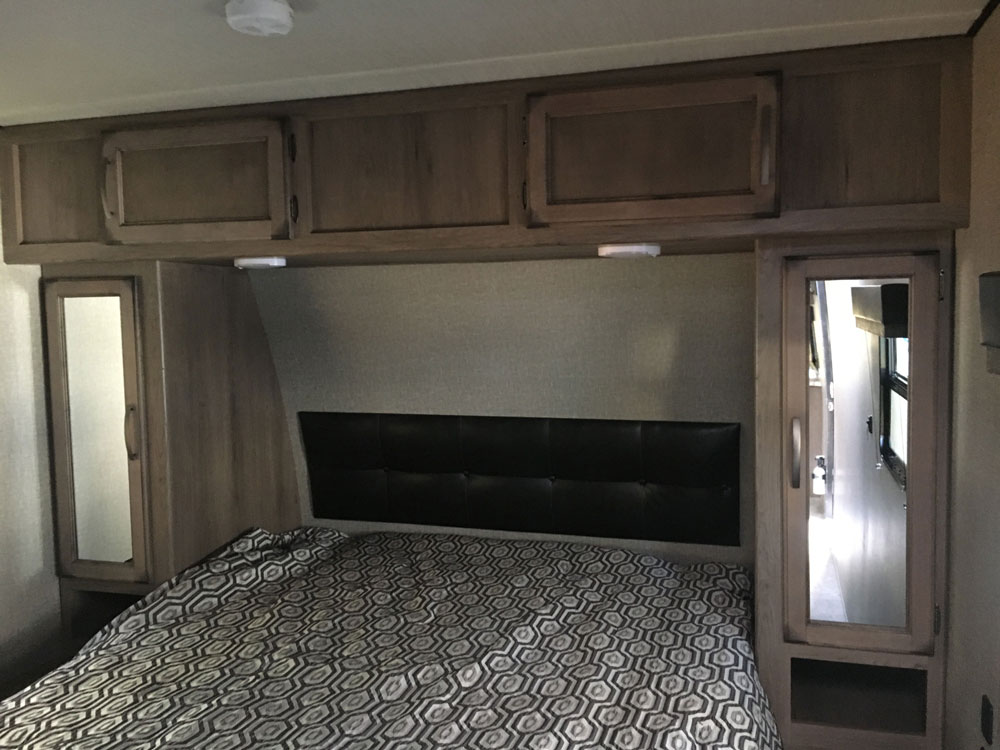 The Queen bed provided with the 28MKS didn't offer the comfort we were looking for. We added a Novaform three inch memory foam mattress topper which helped significantly. Note, this affiliate link is provided here for your convenience. If you choose to buy, it won't cost you anything extra but we earn a commision that helps us continue to provide helpful content like this.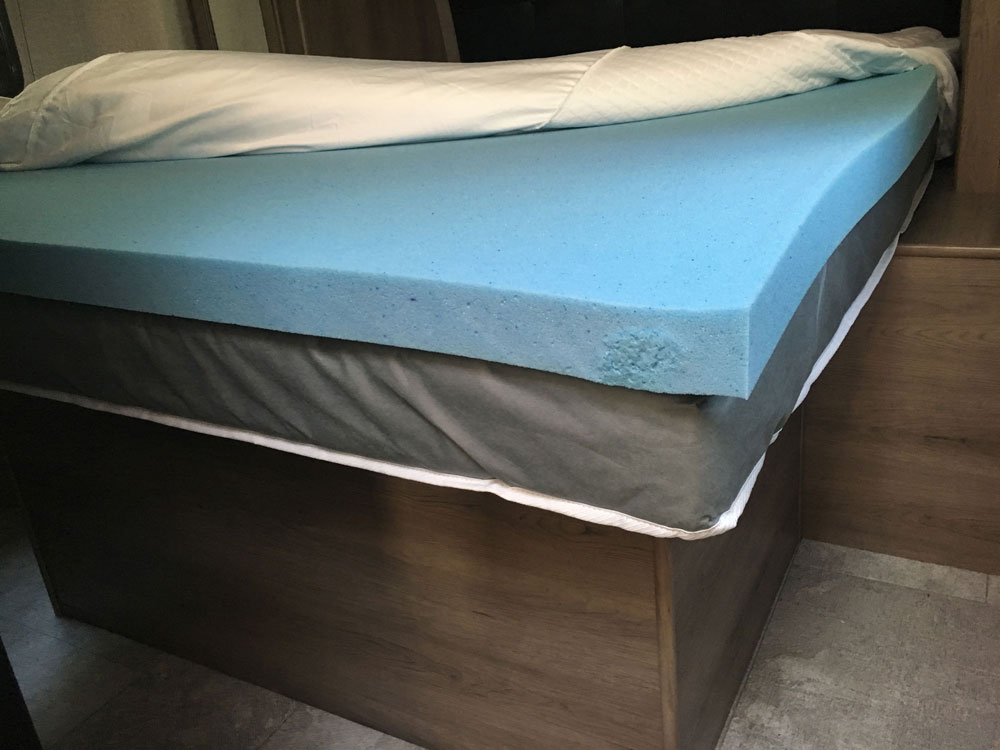 In most travel trailers, the only storage you get is above the bed. The Transcend 28MKS adds a wardrobe with additional space to hang clothes and additional drawers.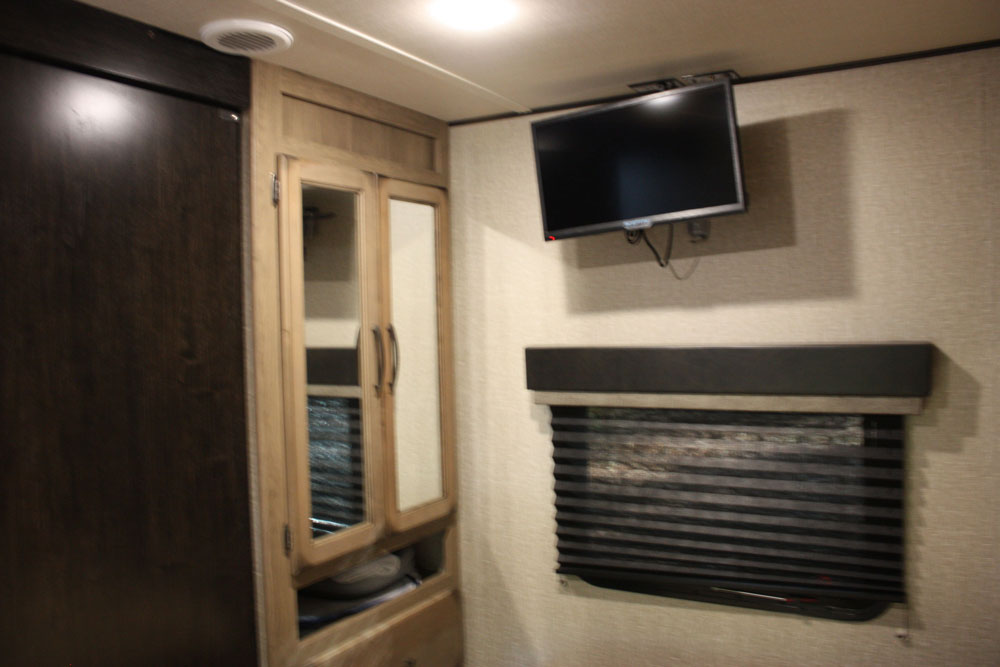 We added a TV using the designated location. This was a nice upgrade as it allows someone to watch TV even if people sleeping in the main living space head to bed. With the barn door closed, the sound from the bedroom TV to the living space is fairly muted.
Grand Design Transcend 28MKS Review Summary
We love our Grand Design Transcend 28MKS. It is the right camper for us and our current needs and we made the right decision when we bought it. It took about a year of research and shopping to find the right camper and the right dealer to buy it from. Along the way, we learned a few lessons. You might find our post Seven RV Shopping Warning Signs helpful if you are starting to shop for a new travel trailer.
Here is our summary of what we like and what we would change about the 28MKS.
What We Like Most About The Grand Design Transcend 28MKS
We love our Grand Design Transcend 28MKS. The big windows let in plenty of natural light and give us a great view wherever we are camping. We appreciate that the windows open bringing in fresh air.
There is more storage in the 28MKS that we could imagine having in a camper. That affords easy access to food and utensils when we need them. The kitchen countertop is huge, making our food prep much easier than in most campers.
The living space provides room for four adults and a dog without feeling like we are on top of each other. While we liked having four dedicated bunks in our last bunkhouse camper, making the couch and dinette into beds hasn't been a significant inconvenience.
Seating on the recliners and couch is comfortable and provides a great movie-watching space.
We appreciate that there are no heating vents in the floor. It is easier to clean the floor and we don't have to worry about debris getting into the heating system.
What We Would Change About The Grand Design Transcend 28MKS
As much as we love our Grand Design Transcend 28MKS, there are a few things we think could be improved.
Add a main light switch and outside light switch just inside the entry door. Its too hard to find them in the dark on a panel containing multiple other switches.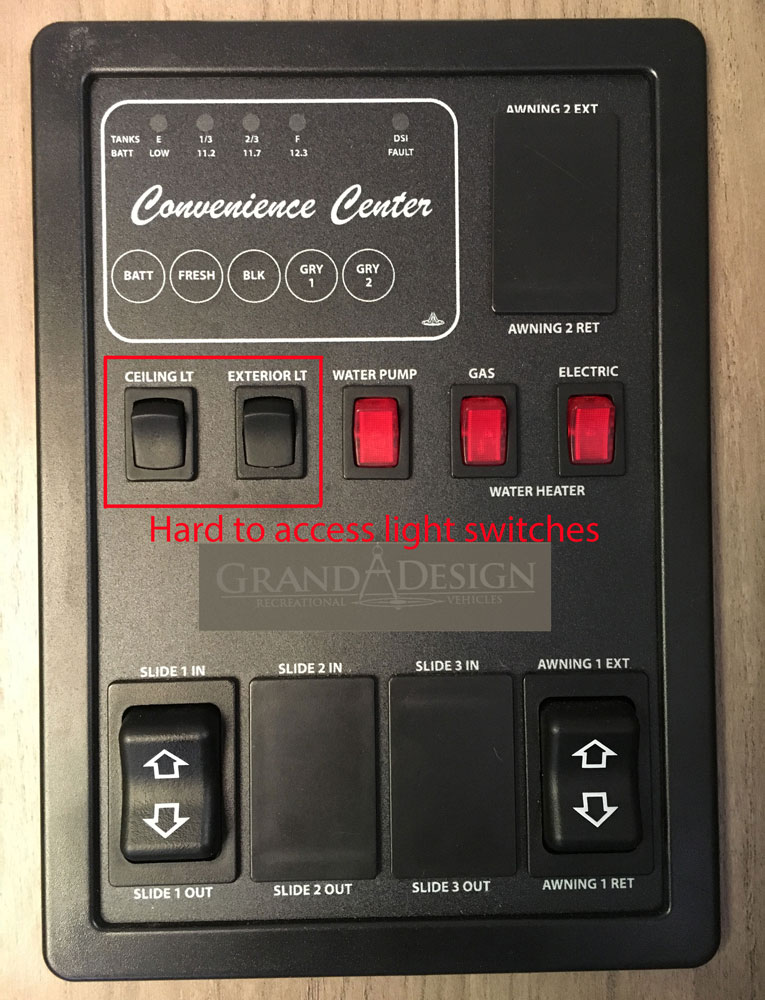 Put the fresh water hookups outside or provide an easier way to connect the fresh water hose to the universal docking station. See my article RV Drinking Water Safe Hose Connections for a description of how we connect the water hose to the Transcend 28MKS.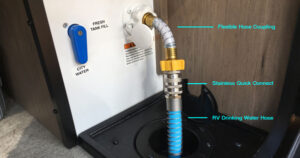 The Transcend 28MKS has two gray tanks. That means you'll need multiple sewer hoses. Yet, the only sewer hose storage provided is in the bumper. It would be great if Grand Design provided a place for all the sewer hoses you need for two tank hookups. See our post RV Sewer Hose Storage Carrier Project for how we solved this issue.
There is a lot of storage in the 28MKS. The only thing is that the storage provided in the living room area is in the form of six drawers. As good as the drawers are, they aren't a great space for storing the pillows and blankets you'll need if you plan to use the dinette and couch as beds. It would be great to have storage that is more useful for bedding near the beds where it will be used.
The skylight in the hallway provides a lot of light which is great. However, the only way to block that light from coming in to the bedroom is to close the bedroom door. Unfortunately, closing the door means limiting the AC and heat circulation in the camper. Part of the issue is that there is only one AC vent in the bedroom. True, you could upgrade the skylight to a second air conditioner, but that seems like more than what we need to just get a bit more air circulation. It would be great to have a way to block the light from the skylight without closing the bedroom door.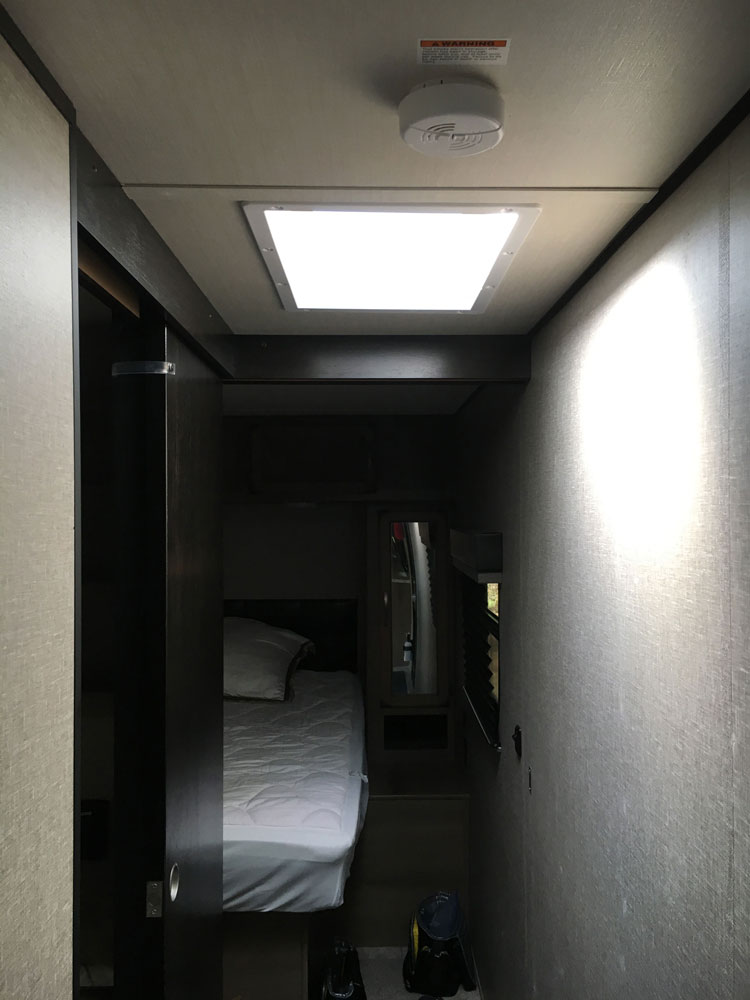 The Transcend 28MKS comes equipped with a Jensen stereo with a DVD player. Using the DVD player is a challenge. It plays sound through the speakers in the ceiling rather than the TV speakers. You can only use the DVD via the remote control. The remote doesn't work from the couch or recliners since it is positioned on a wall facing away from the seating. All things considered, a TV/DVD combo unit or a Blu-ray player mounted near the TV would be a big improvement.
The bed that comes with the Transcend 28MKS is a full size Queen bed. Nice. But it is a pretty inexpensive and uncomfortable mattress. We added a three inch memory foam mattress topper that make it significantly more comfortable.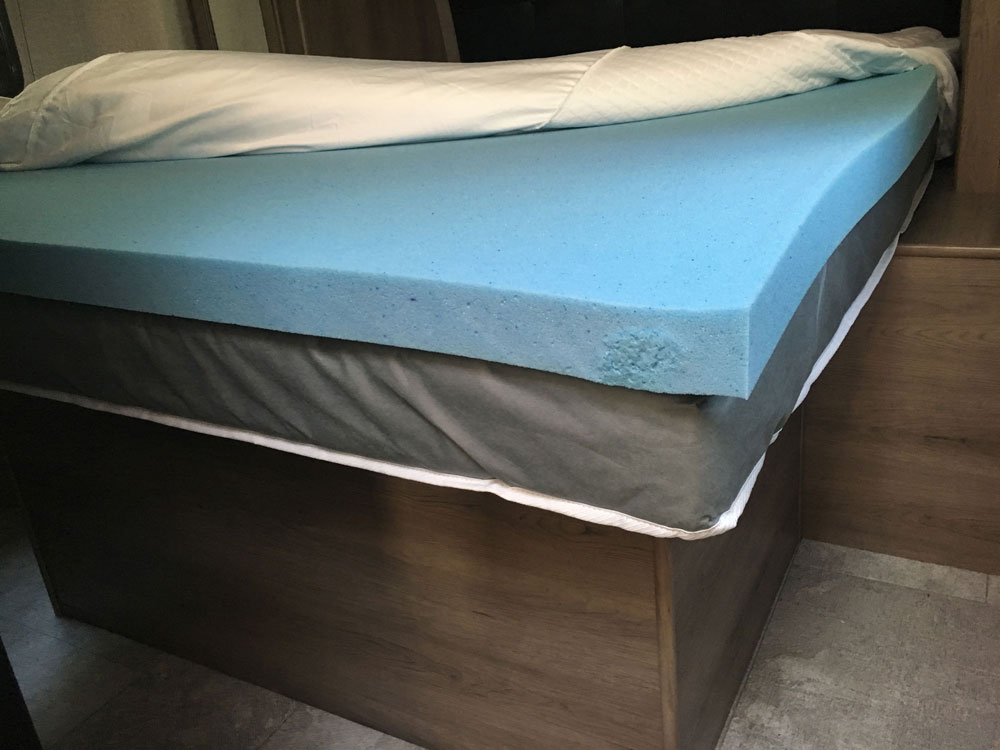 Every camper needs to be level each time it is parked. Travel trailers don't come with level indicators. We added them however they didn't stick to the Transcend. I carry a small portable level to help in getting situated on our camp site. It would be great to have level indicators built in for side-to-side and front-to-back leveling.
Linked Articles
After we purchased our Transcend 28MKS, we had a few things we needed to learn to adapt to this new camper. For example, it has two gray tanks. That meant we had to learn new ways to do sewer hookups and we had to bring more sewer hoses. With the water hookups inside storage, we adjusted our approach to fresh water connections. These posts capture some of what we have learned.
If you are shopping for a travel trailer, you might be interested in our post Seven RV Shopping Warning Signs
If you recently purchased a new camper and you need some guidance on what to buy or bring, check out RV Essentials for Outfitting a Camper
Grand Design Transcend Review Summary
After using our Transcend 28MKS for over a year, we have been pleased with it. It is comfortable and spacious. So far, we have not encountered any major issues, only a few small things that the dealer was able to resolve.
We enjoyed our Jayco for nine years. It held up well and we used it for many adventures. The Transcend has a similar construction with aluminum siding over a wood frame. The Transcend seems to be built at least as well as the Jayco. While we would consider a Jayco again, this time it came down to finding the right floorplan. For our current needs, the relatively unique 28MKS layout is just what we were looking for. Add in the cooler weather camping features that helps us extend our camping season and you have a pretty good camper. We are enjoying it and hope that we are able to use it for many years to come.
I hope this Grand Design Transcend review is helpful. I'd love to know what your experience has been. Please share a comment or question.
Products Mentioned
Here are the products mentioned in this article. Note: these is an affiliate links. If you choose to purchase by using the link there is no additional cost to you, but we earn a commission that helps enable us to continue sharing helpful information.
Copyright 2019 Travel Trail Sail. Copyright 2020 Travel Trail Sail. All Rights Reserved.