Roadmaster Tailgate Bike Pad Review
The Roadmaster Tailgate Bike Pad enables us to bring up to 5 bikes on cycling adventures. This tailgate bike carrier is an interesting bike rack alternative.
Why We Purchased a Roadmaster Tailgate Mat
We love having our bikes along when we travel. Normally, we take bikes camping and load them onto our Arvika bike rack. That usually works great. The bike trails often start near the campgrounds where we stay. However, sometimes we'd like to ride a trail a bit further from camp. Having another way to carry bikes will give us flexibility.
We have seen many people using a tailgate bike pad, also known as a tailgate mat or bike blanket, to bring their bikes camping. While we don't want to give up the space in our pickup bed, the bike pad will helpfully offer another way to carry the bikes with our truck.
Setting up the Roadmaster Tailgate Bike Pad
The Roadmaster pad should fit on most pickups. For us, it is a bit narrower than the tailgate. That is perfect because the Access roll cover cover we use comes in a bit from the edges.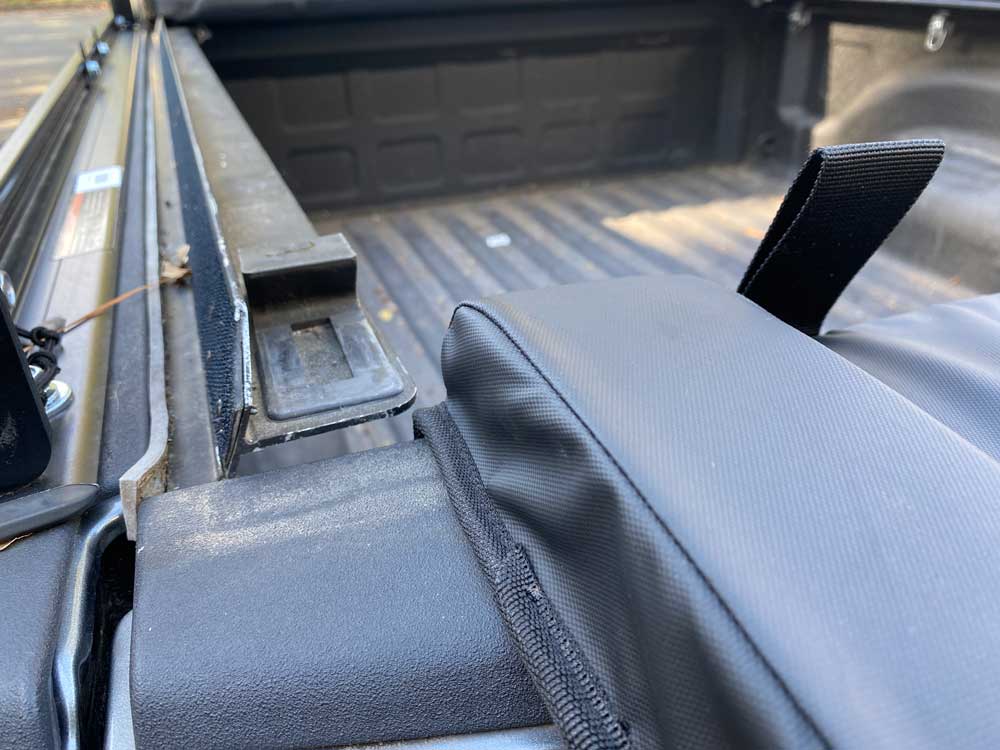 Here are the steps to set up and load bikes on a Roadmaster Tailgate Bike Pad.
Step One: Secure Pad on Tailgate
Straps go under the tailgate and are secured to the bike pad through three buckles. This step can be a bit tricky as you'll need to feed the straps from the outside in which means they need to go up through a narrow space. Be careful not to pinch your fingers.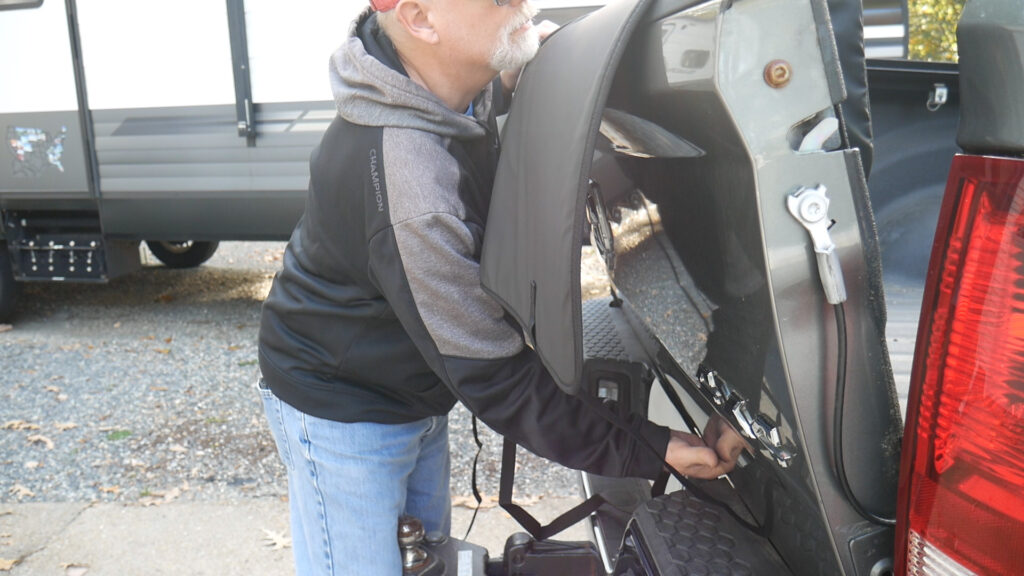 Step Two: Secure the Straps
Place a strap holder onto the strap. Insert the strap through the buckle. Layer the straps back and forth and then secure with the strap holder. Repeat until all three straps are secured.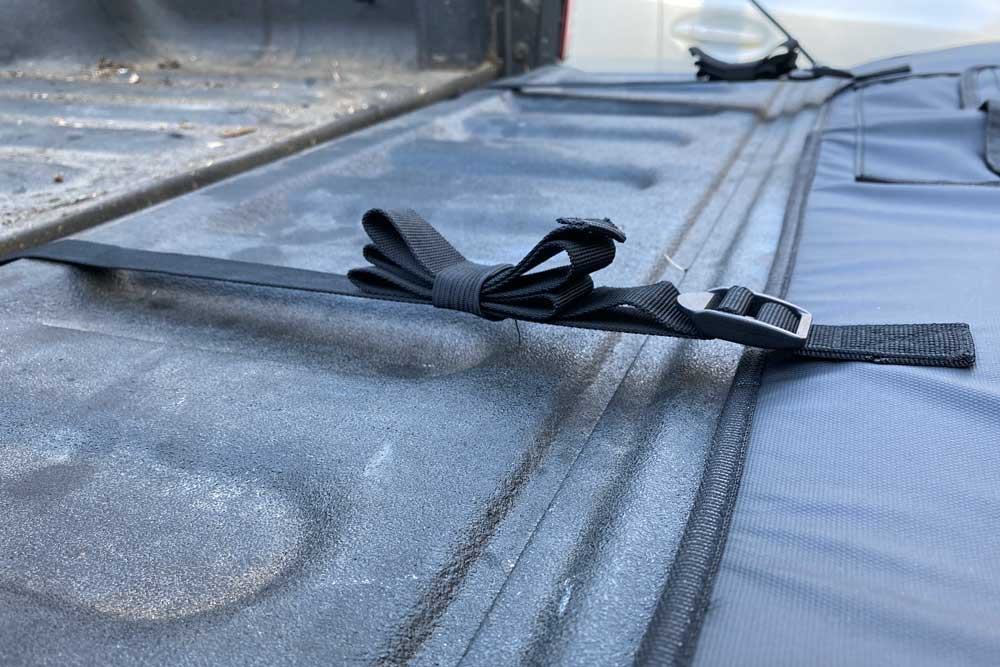 Step Three: Load and Secure Bikes
Load bikes so that the front fork is on the outside of the tailgate. There is a strap on the tailgate bike pad to secure the bike to the pad.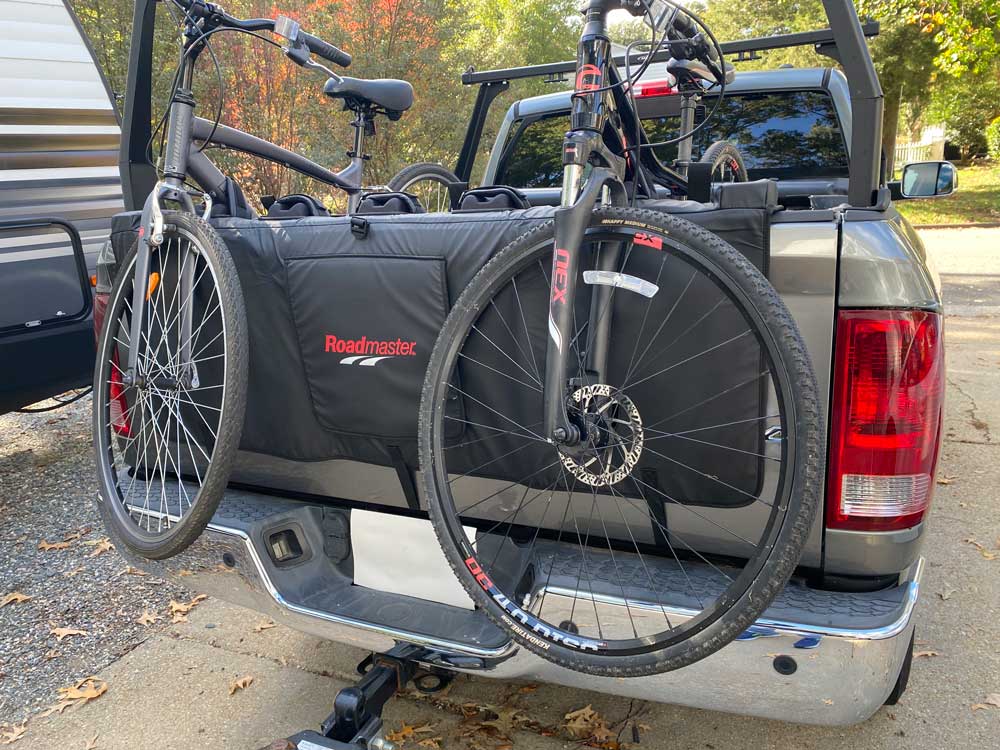 Note that the strap may be a bit hard to secure if you have a bike with a thick frame. While we were able to secure our Cannondale bike, it would have been helpful if the strap was a few inches longer.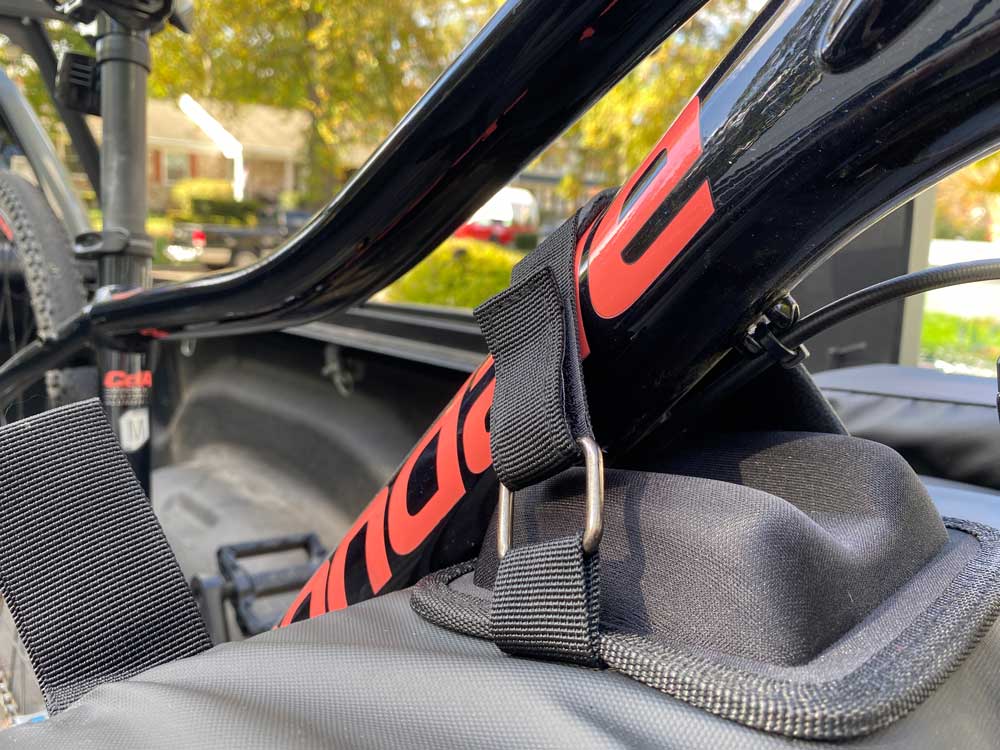 Roadmaster Tailgate Bike Pad Review
Here are the things we like about the Roadmaster bike pad along with a few things to consider.
Three Things We Like
The bike pad is made from PVC and seems pretty strong. Hopefully it will hold up to a lot of use.
The inside of the bike pad is a soft material they call flannelette. It is soft, kind of like a flannel shirt. There is about 1/4 to 1/2 inch of padding so it seems like the truck should be protected from the mat.
It provides us with a flexible option to transport bicycles. When not in use, the bike pad can be folded and stored easily. When we want to take the bikes on an adventure, we can do so and aren't limited to using a bike trail near the campground.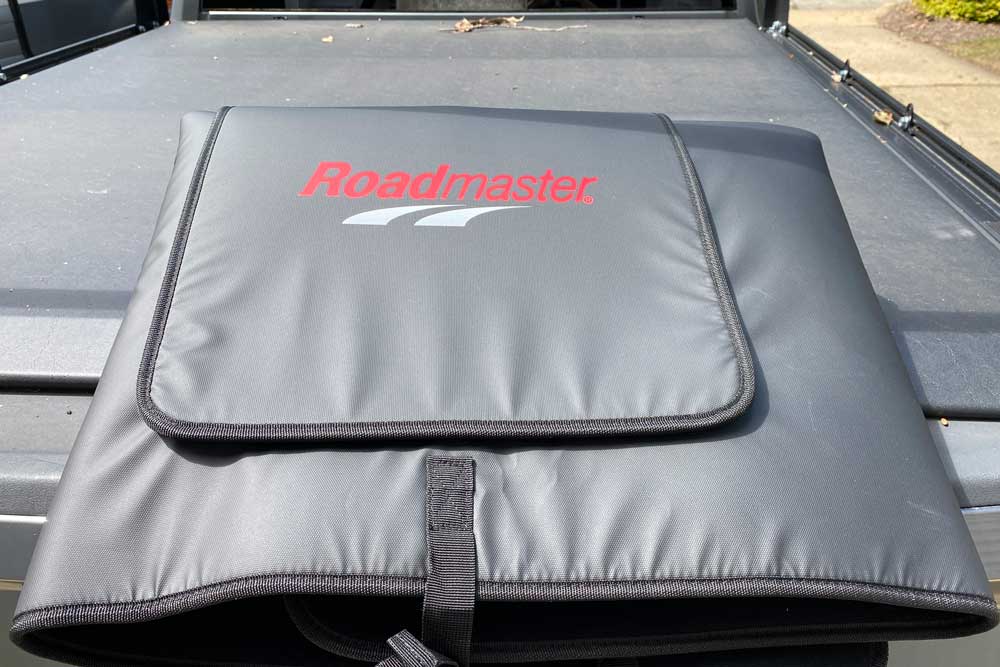 Three Things to Consider
The straps to hold the bike are fine for a regular bike frame. If you have a bike with a thicker frame, the straps may be a bit too short to comfortably secure the bike. Also note that the guides for the frame are on top of the tailgate while the frame angles behind the tailgate. The strap and guide combination could be someone more secure.
Securing the bike pad to the tailgate can be a bit tricky. Having to feed the straps through the slot between the truck and tailgate can be a challenge.
If you have a truck rack installed, loading the bikes can be somewhat challenging. We had to angle our bikes sideways to fit. Given that limitation, it may be difficult to bring more than two bikes along if you have a rack installed.
Lock Bikes
The Roadmaster Tailgate Bike Carrier comes with a cable and lock to enable you to better secure your bikes. However note that the pad is not locked to the tailgate. Given that it is open, it is unlikely that you'll get perfect security.
Go Have an Biking Adventure
With your bikes on the rack, it's time for an adventure. Head to a park or trail for a fun ride. We recently did rides on the Virginia Capital Trail and at Newport News Park.
How do you bring your bikes? What's your favorite bike trail? We'd love to hear all about it. Please leave a comment. Thanks.
Roadmaster Tailgate Bike Pad YouTube Review
We walk you through the setup of the Roadmaster Tailgate Bike Pad in our YouTube Video.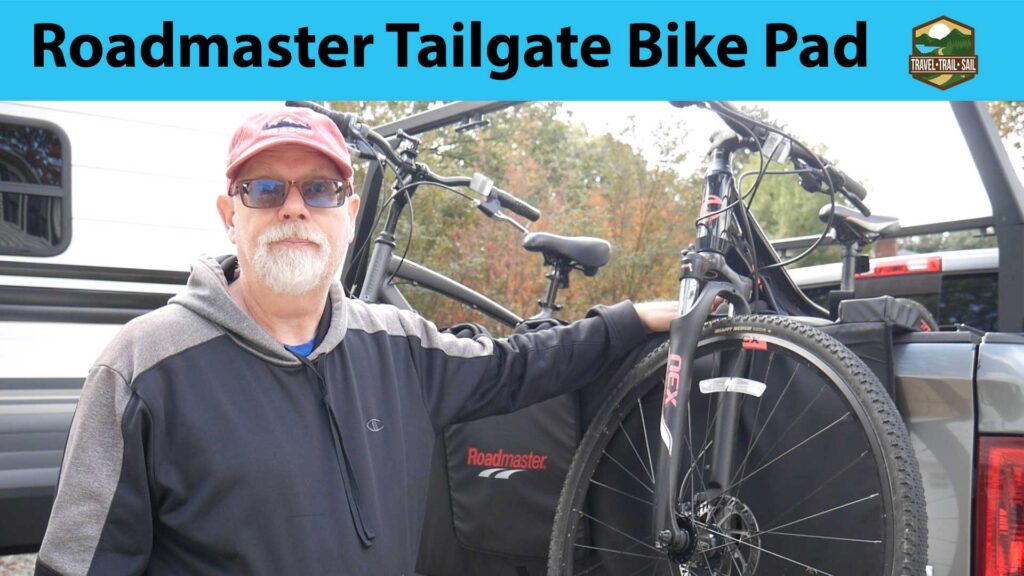 Where to Buy a Roadmaster Bike Pad
The Roadmaster Tailgate Bike Pad is available from a variety of retailers. For example, you might be able to find it at Costco. For your convenience, we added an Amazon link here. This is an affiliate link. If you choose to purchase by using the link there is no additional cost to you, but we earn a commission that helps enable us to continue sharing helpful information.
Copyright 2022 Travel Trail Sail. All Rights Reserved.