Is the Arvika RV bike rack the best RV bike carrier? We love camping & bicycling and this 7000 series rack works great. Check out our Arvika bike rack review.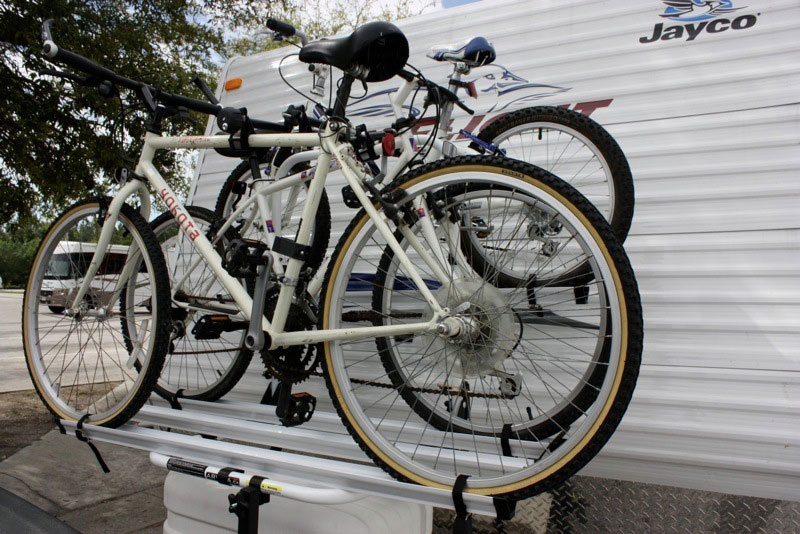 We have had our Arvika 7000 series bike rack for about ten years. I wrote a review shortly after we purchased it. It seemed like it was time for an update. Here is our review of the Arvika bike rack, significantly updated in 2020.
Arvika Bike Rack Review Video
We'll cover everything about the Arvika bike rack in our post. If you prefer a video review, check out Arvika Travel Trailer Bike Rack Review YouTube video.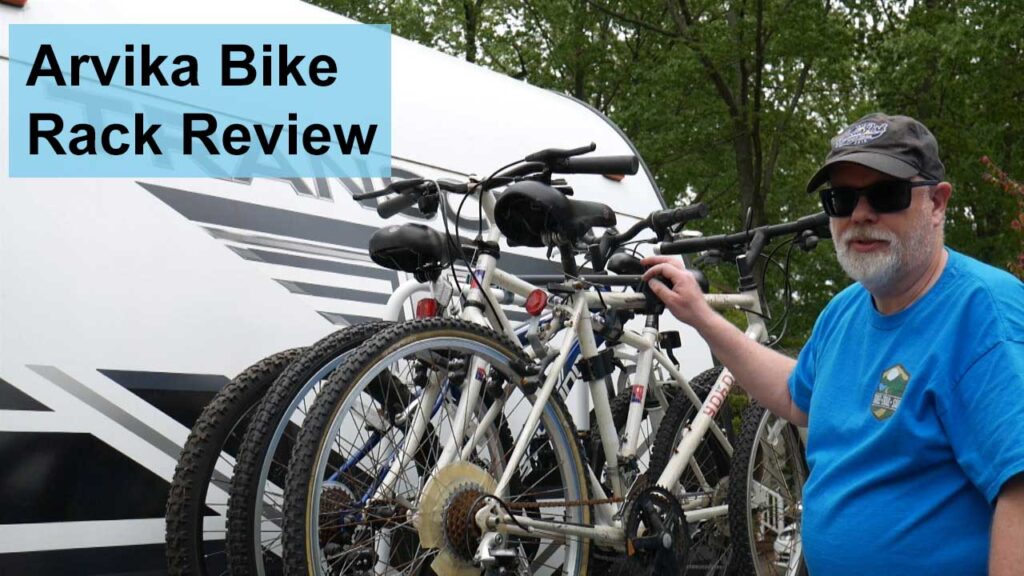 Why Bring Bicycles Camping
We love being able to go for a bicycle ride. Many of the places we camp have great bike trails. Whether you are in Itasca State Park, Acadia or Fort Wilderness at Disney World, going for a bike ride is a fun way to explore. One of our favorites has being able to ride on the beach at Huntington Beach State Park.
After we bought our first camper, I searched for about a year for a way to easily bring our bikes along while camping. I finally settled on the Arvika 7000 series bike rack.
Our first trip with the Arvika in place was a 1,600 mile round trip to Fort Wilderness. Since then, we have used the Arvika bike rack on many trips. It has worked well for us.
Our RV Bike Rack Requirements
We camp as a family of four. When we first got the rack, we needed to accommodate two adult and two child bicycles. Kids grow fast and we moved up to youth bikes and now we all use adult-sized bikes.
Before buying this rack, my method for carrying the bikes along was to lay two bikes on the couch in the camper, padding the couch with moving blankets, and two in the bed of the truck. This worked OK. But, trying to ensure the bikes didn't bounce, scratch or cause damage was always a concern. And, with two bikes in the truck, there wasn't much room left for any other cargo. I typically fill the truck bed with quite a bit of camping gear so I really wanted a better solution.
I thought about getting a bike rack on the back of the camper. However, this approach isn't recommended. I heard too many stories about bike racks, and even whole bumpers, coming off. Camper bumpers really aren't designed to carry a load, especially on a bumpy road.
Another option was to get a rack for the top of the truck bed. This was my favored solution because it would enable us to bring our bikes along with or without the camper. But, no one makes an adjustable height rack that works with a tonneau cover.
We have an Access Roll-up Cover made by Agricover in North Dakota. It is a great cover. They also make racks to go with their covers. They used to make an adjustable rack that could be used high or low to accommodate different gear. But, that was discontinued in favor of only making a tall rack. While the tall rack might be great for kayaks, I didn't think that it would be easy to load bikes that high.
Thule makes a nice pickup rack. However, it won't work with a roll-up bed cover.
The Arvika Bike Rack
What we needed was a travel trailer bike rack. The best option seemed to be to find a bike rack that would mount on the front of the camper over the propane tanks. There aren't too many options for a four bike carrier, After some searching, we discovered the Arvika.
After reading a few good reviews of the Arvika camper mounted bike racks on the Trailer Life forums, this seemed like the best option. Arvika is based in Quebec Canada. They have a range of bike racks that accommodate from two to four bikes and are designed for use on travel trailers. They sell a camper bike rack that mounts over the propane gas tanks on the front of the camper.
Different models can hold from two to four bikes and are available in black, white, or anodized. I selected the white four bike model.
For our needs, the Arvika is the best RV bike rack.
Installing the Arvika Bike Rack
We installed the Arvika bike rack on our Jayco 26BH camper. Later, we moved it to our Grand Design Transcend 28MKS. Based on the configuration, we opted to remove the fourth bike tray from the back of the rack when installing it on the Transcend. With the bike rack mounted on the a-frame, the bike rack now fits nicely over the propane tanks with enough room for three bikes.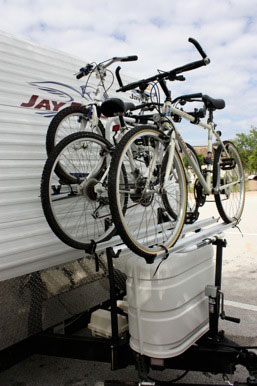 To mount the rack, you'll add clamps on each side of the a frame. There is a third support that mounts aound the jack. These provide a tripod of support for the rack.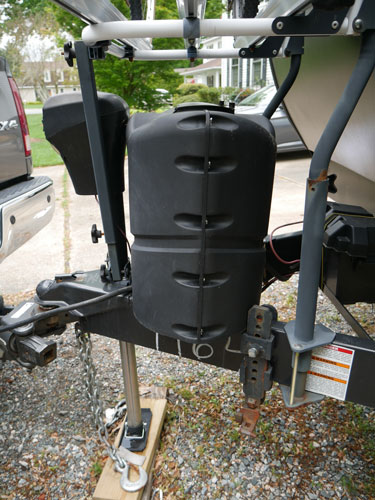 Trays are secured on top of the support to hold the bikes. Bars come down from the top to secure the bikes in place.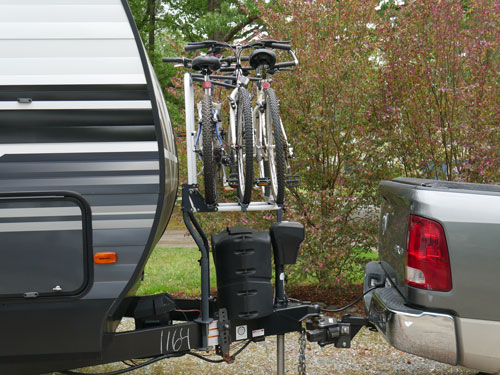 Once installed, the rack seems very secure. Bicycles rest in trays and are held in place at the top by a clamp. Straps are used on the wheels to help secure the bikes.
Loading Bikes on the Arvika Bike Rack
We load bikes on the rack from smallest to largest. As you add the first bike, watch to ensure the pedals do not touch the front of the camper. We add the second bike facing in the opposite direction. It helps make the bikes fit together better. You may still need to adjust the pedals and seat height in order to make sure the bikes fit.
It helps to have an assistant to help you load the bikes. And consider if you need a ladder to make the job easier. We always bring our Little Giant ladder along just in case we need it for jobs like this.
One the bikes are loaded, ensure that the top bars are tightened securely and then add straps to the wheels. We use a cable lock through the tires and rack for security. The Arvika bike rack came with a lock that was fitted to the end of the longest bar. However, we found that it stopped working well after a few seasons. The cable locks are an inexpensive way to lock things up.
While the bikes seem secure, they will move during transit. The bike on the longest arm tends to have the most sway. Rubbing from the sway may damage the paint on your bike. As the bikes are the elements, they may also have other issues. For example, I found that chains, spokes, and other components have rusted. That would be true for any bike rack where the bikes are not covered. You might consider using rust resistant chains, painted spokes or other bike components that are less likely to weather.
How to Access Propane With a Travel Trailer Bike Rack Over Propane Tanks
There are places you may want to travel that require going through a tunnel. Some tunnels require you to turn off your propane. You'll have to stop by an inspection station before entering the tunnel.
When considering a bike rack over the propane tanks, you'll want to be sure that there is an easy way to inspect and shut off the propane. One nice feature of our Grand Design Transcend is that there is an access hatch on the top of the propane tank covers. If your camper doesn't have this type of propane tank cover, consider getting one if you get this type of bike rack.
With our old camper, we would need to remove the bikes and remove the cover to access the propane tanks. With the new inspection hatch, it is easy to access the tanks even with the camper bike rack in place.
Turning and Backing With the Rack
Once concern I had would be that my turning radius might be reduced by the bikes. While it generally isn't a problem, you'll want to be careful when making a tight turn, especially when backing. We discovered the hard way that if the rack makes contact with the tailgate, it can lead to an expensive repair. If possible, use a spotter to help you watch the gap and avoid problems.
Another tip is to remove the bikes before backing into your camp site. We use a Husky weight distribution hitch with sway bars. It makes it easier to back into a site if you remove the sway bars. We take that opportunity to also take the bikes off the rack. The family can bike to the campsite and be ready to spot while I back the camper in.
Arvika Bike Rack Up Position
Sometimes we leave the bikes at home. When I am traveling without the bikes, I fold the rack up. It would be nice if there was a latch to keep the rack raised. As a work around, I use bungee cords.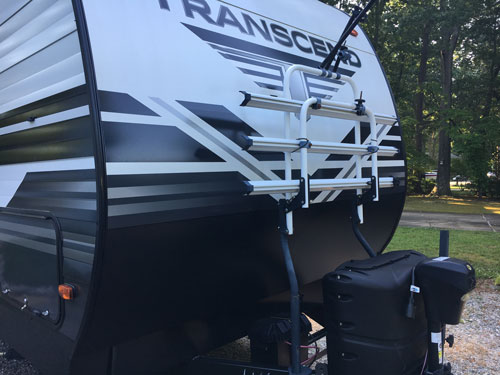 Arvika Camper Bike Rack Longevity
How has the rack held up? After almost ten years of use, the bike rack is in good shape and continues to function well. The white painted trays are still bright white. The black painted components could use a fresh coat of paint. Some bolts and other parts have rusted and need to be replaced.
Note that as a Canadian product, the parts are metric. I have had a challenge finding replacements in US big box stores. However, you can find the specialty components, like the support arms, in the Arvika replacement part catalog. To order, you have to call them as there isn't an option to order from the site.
Alternatives to the Arvika Bike Rack
There are a few options available now for travel trailer bike racks or camper A frame bike racks. I'm not aware of any four bike racks other than the Arvika. But, if you are looking for a two bike camper bike rack, consider the Jack-It. Lippert makes a two bike rack model, the Jack-It 2 Bike Rack, that mounts on a camper a-frame over the propane tanks. It looks promising. It holds the bikes by the tires which seems like a promising design. I would love to try this one to compare it to the Arvika.
Another option is to get a travel trailer A-frame carrier mount such as the ones from Swagman or Stromberg Carlson. These are mounted this to the front of the travel trailer and have a 2 inch receiver where a hitch mounted bike rack can be installed. One advantage here is that the bike rack can be moved to your truck and used when you are not towing your camper. That would definitely be nice to have.
Arvika Bike Rack Review Summary
We have had our Arvika bike rack for almost ten years. It is a good product and I would purchase it again. For our needs, it's the best travel trailer bike rack available.
It holds up to four bikes, has worked well over time and seems to be a well-built product. The initial installation was challenging. It was easily transferred from one camper to another. I wish it had a latch to secure the bike in the upright position. Otherwise, I am satisfied with our Arvika Series 7000 RV camper bike rack.
Do you bring your bikes along when you go camping? What was your solution? Leave a comment and share your thoughts.
I hope this review was helpful. If you are considering what else you need for your camper, check out our post RV Essentials for Outfitting a Camper.
How to Buy an Arvika Bike Rack
If you'd like to purchase an Arvika bike rack and are looking for a discount, you can use our affiliate code TRAVEL10 to receive a 10% discount.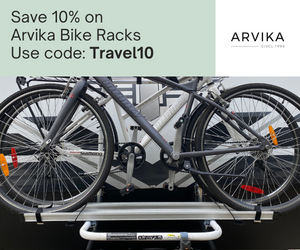 Arvika racks are sold factory direct. You can check out their line of RV bike racks at Arvika.ca Note: if you use this link, we may also receive a commission on qualifying purchases.
Products Mentioned
The products mentioned in this post available at Amazon and other retailers. Note: these is an affiliate links. If you choose to purchase by using the link there is no additional cost to you, but we earn a commission that helps enable us to continue sharing helpful information.
Copyright 2010. Updated Copyright 2020. All Rights Reserved.