Raven Rock State Park Review
Raven Rock State Park has lots of hiking, the amazing Raven Rock, and a nice campground – Moccasin Branch Campground. Raven Rock State Park is about an hour south of Raleigh NC.
Raven Rock State Park Overview
Raven Rock State Park was founded in 1969 as a relatively small state park. At approximately 4,800 acres, the park has grown significantly since then. It now has about 30 miles of trails and a nice campground.
The main park attraction is Raven Rock which was formed about 400 million years ago. It has been carved by wind and water to its now 150 feet height and one mile length. Raven Rock sits along the Cape Fear River. The river was a key transportation route until 1859 when a hurricane combined with the rise of railroads to end the era of the riverboat.
Raven Rock State Park Video
Join us as we show you some of highlights of Raven Rock State Park including the hiking trails and campground.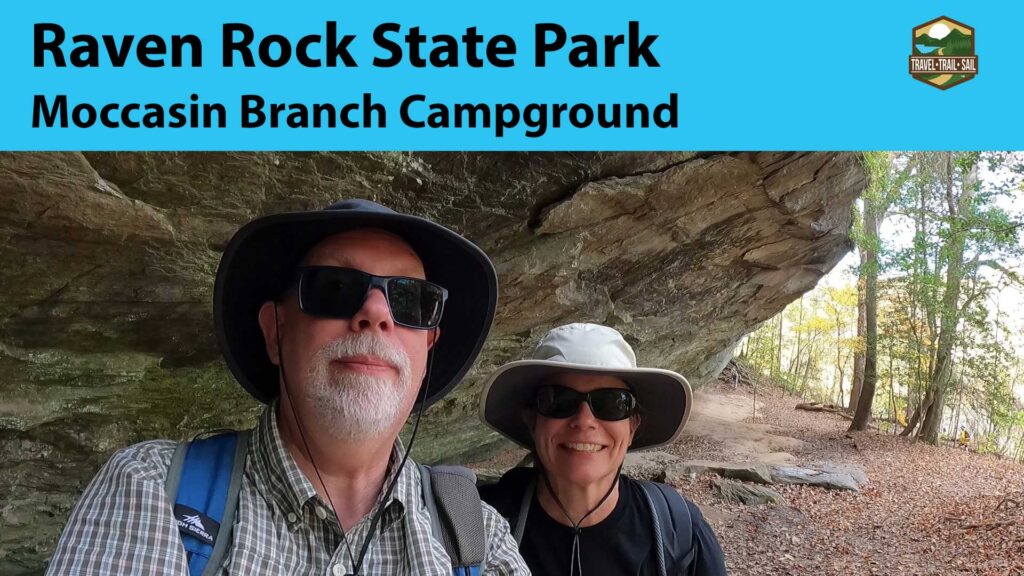 Hiking at Raven Rock State Park
There are about 30 miles of trails at Raven Rock State Park. Trails are divided into three sections, one for hikers, bikers, and horseback riders. About 12 miles of the trails are for hiking.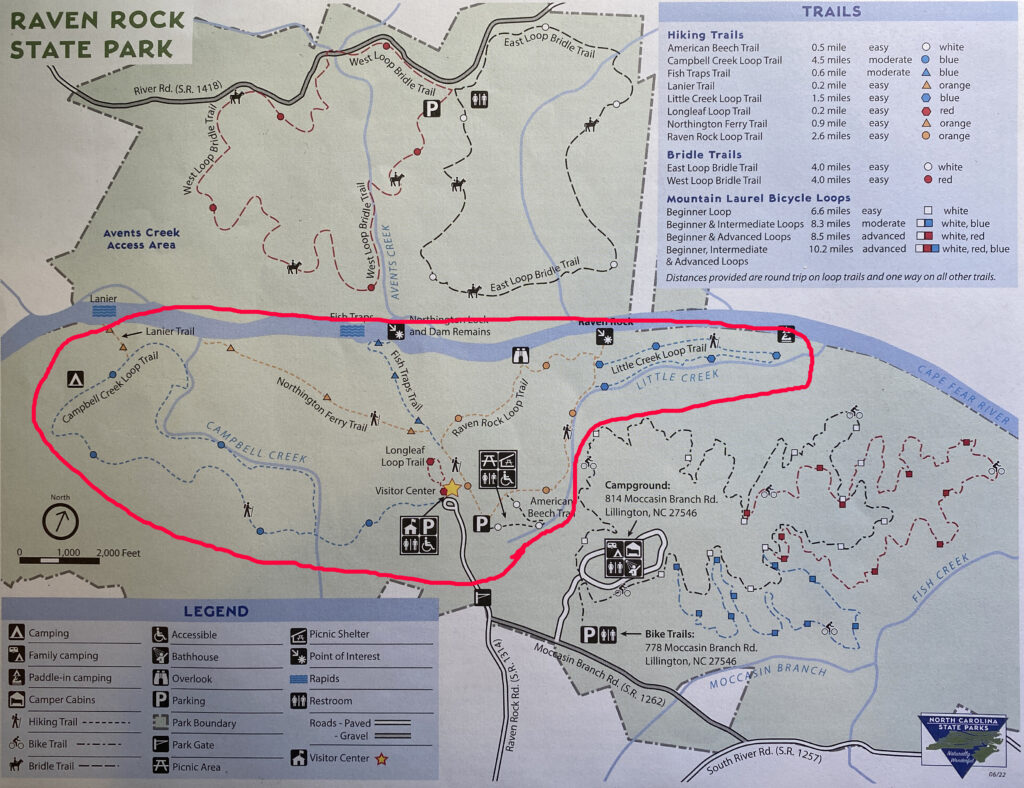 Trails are wooded and are mostly easy to moderate.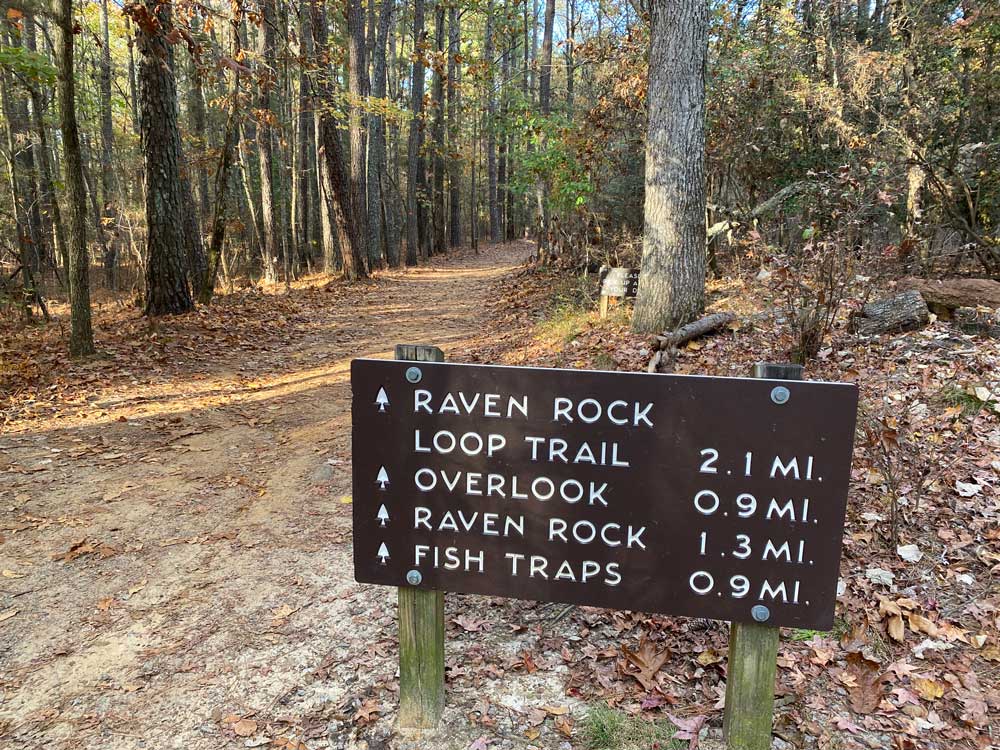 The most popular trail is the Raven Rock Loop Trail. It is about 2 miles. However, to see Raven Rock, you'll need to take the Raven Rock Trail which is about another mile. Note that you'll need to climb steps down to see the rock and then climb back up the steps on your return trip.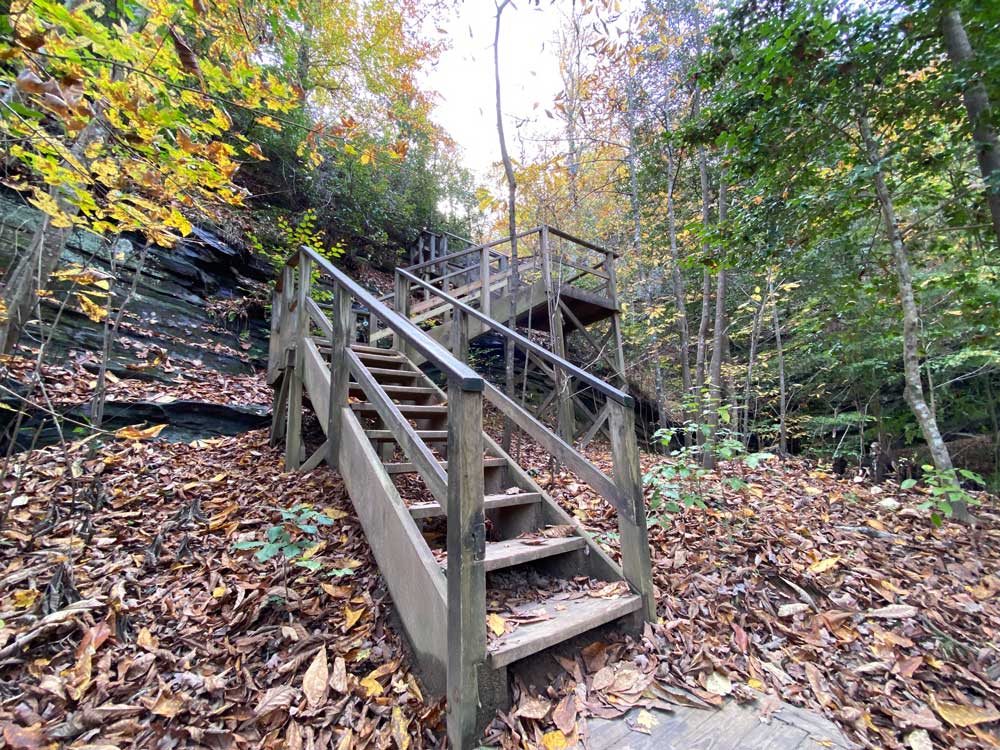 Raven Rock is amazing and well worth the hike. It is about 150 feet tall and sits along the banks of the Cape Fear River. Be sure to walk the whole path – just be prepared to climb over some rocks along the way.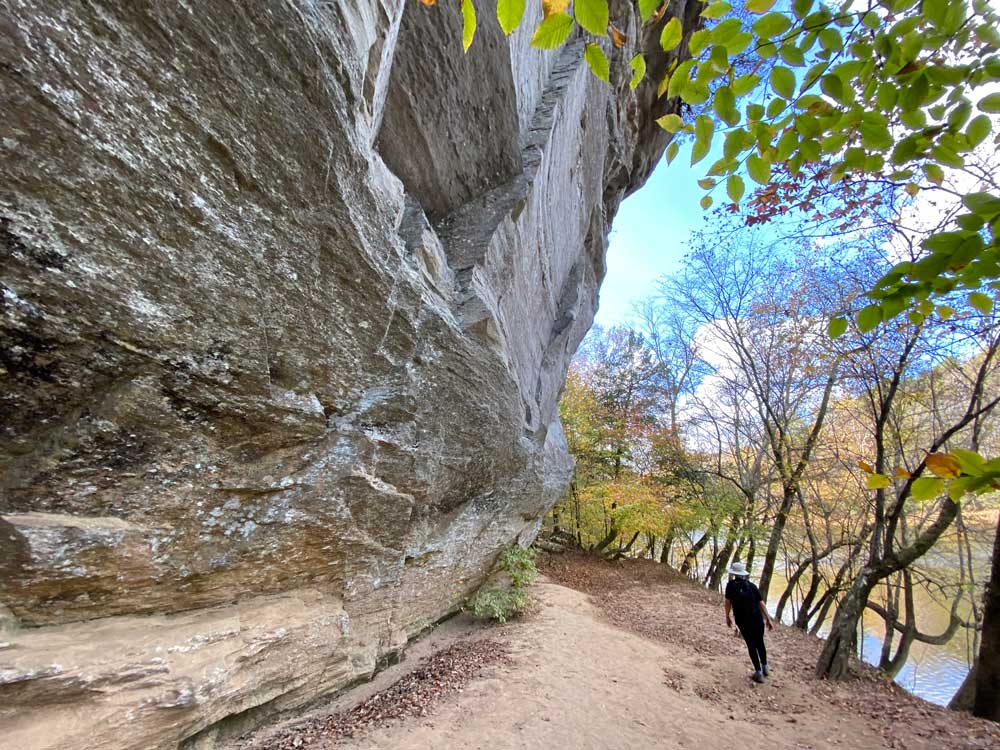 We recommend taking the Little Creek Loop Trail, too. It is about 1.5 miles along the Little Creek. This trail seems less crowded and there are some nice creek views.
The other highlight of the Raven Rock Loop Trail is a nice overlook with a great view of the Cape Fear River.
Another interesting trail is the Fish Traps Trail. Fish Traps is a one-way trail that is about a mile long. You'll end up at the Cape Fear River in an area with nice rapids views. Note that this trail also requires some steps, though they are trail steps rather than a staircase.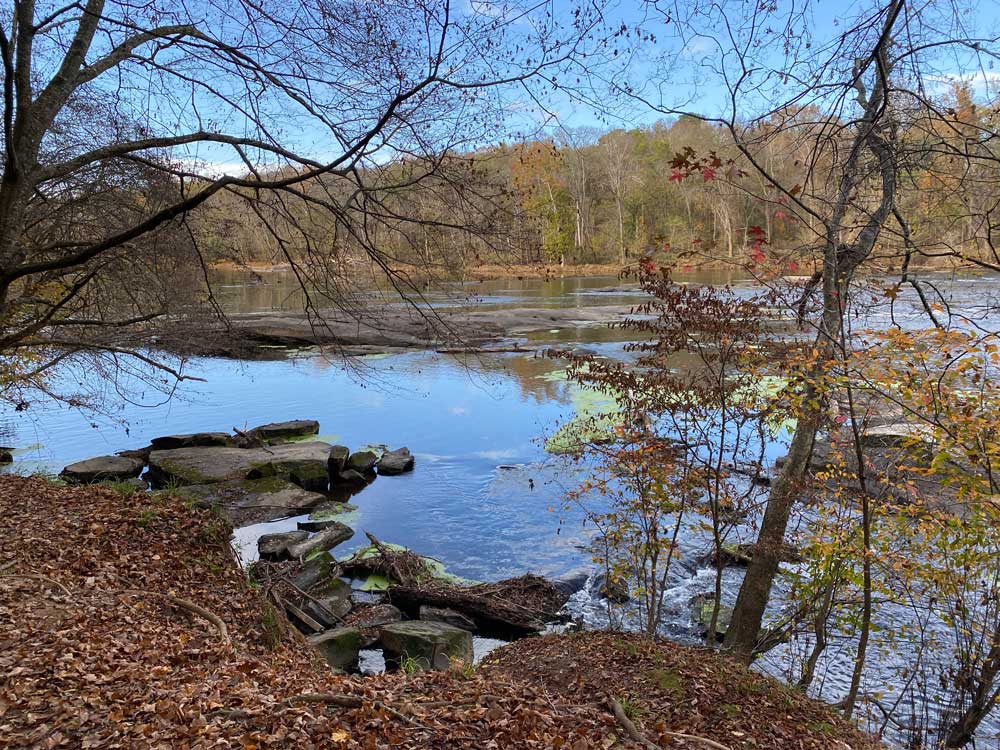 Most of the hiking trails start at the visitor center. There is a half-mile trail that connects the campground to the other trails.
Raven Rock Visitor Center
There is a small but nice visitors center. Display tell the story of Raven Rock and the surrounding area.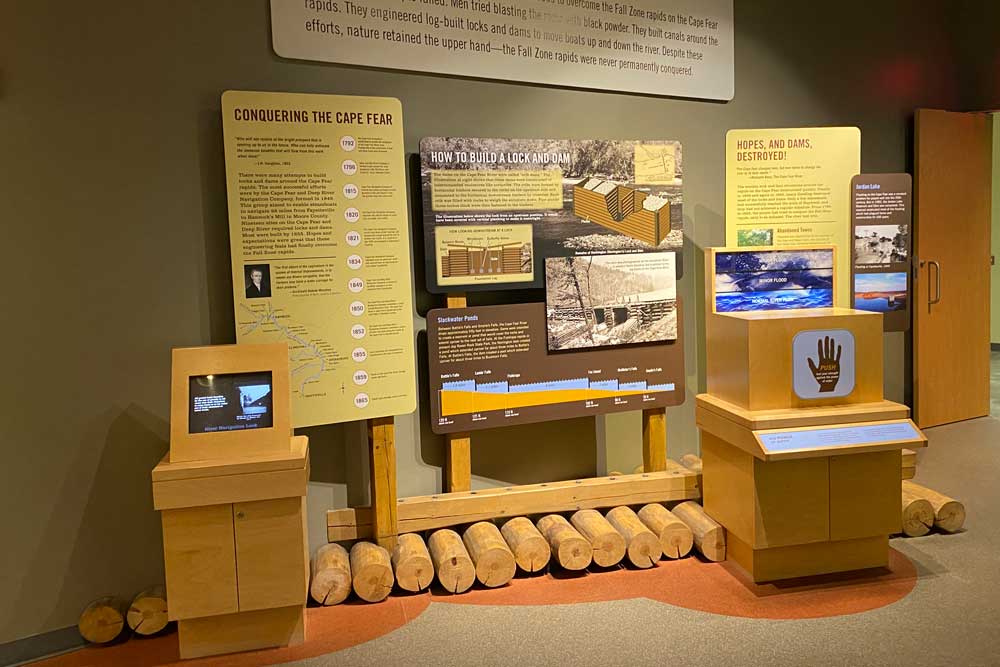 Raven Rock State Park Campground
The Moccasin Branch Campground at Raven Rock State Park is open all year. There are 24 campsites, each with a long drive, pad, picnic table, and fire ring. Nine sites have full hookups while the rest have no water or electric connections. There are water spigots and trash cans available throughout the campground.
Sites are generally very long and level. Camp sites have plenty of space between. There are mature trees behind the sites but not generally between the sites.
We had site 16 which was a nice and spacious site. Site 17 pictured below shows a typical full hookup camp site.
For images of the more sites, check out our Raven Rock State Park YouTube video where we ride through the campground to show all of the sites.
There is a nice bath house. It is cleaned every day at 2 pm. The facilities were in good repair and where clean during our visit.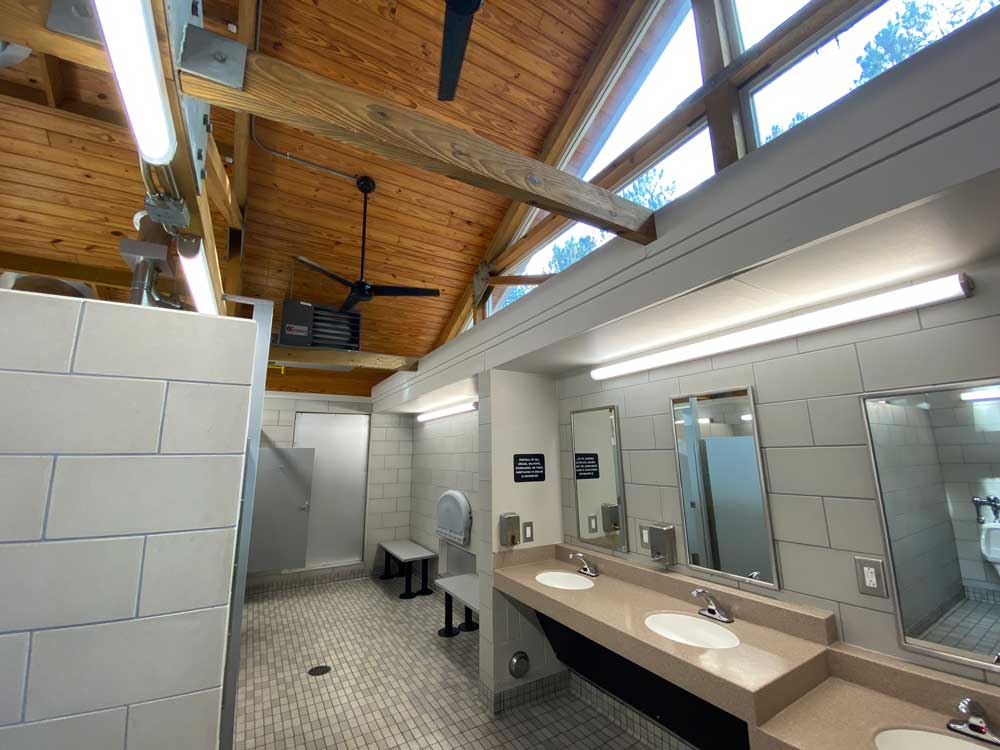 Raven Rock State Park Campground Other Information
A few campground amenities were not available at Raven Rock State Park. We did not see a dump station or laundry area. There is no playground in the park.
Cellular reception on Verizon was fairly weak. We could call or text but loading we sites or social media was slow. The signal wasn't sufficient to stream content with a Fire Stick. However, we were able to find multiple over-the-air TV stations.
Road and other noise was minimal. During our stay, we didn't hear highway or train noise. Air traffic was minimal with just a few small planes flying over the park.
Raven Rock State Park has a secured gate. Hours vary between summer and winter seasons. During our visit in November, the gate was locked between 7 pm and 7 am. No entry or exit is permitted when the gate is locked.
Raven Rock State Park Camping Rates
A full hookup camp site at the time of this writing was $36 per night. Campsites with no hookups were available for $26 per night. Reservations can be made on the Reserve America Raven Rock page or by calling 1-866-722-6762.
Note that you must have a reservation to stay at the Moccasin Branch campground. There are no first come first serve sites.
Raven Rock State Park Directions
Raven Rock State Park is located at 3009 Raven Rock Road, Lillington, NC 27546. It's about 10 miles from Lillington and about an hour south of Raleigh, NC.
GPS directions generally worked well to get to the park. We were driving to the park from the north. We opted to exit I95 at Dunn, NC rather than following the GPS recommendation of exiting at Benson. This enabled us to us a 4 lane highway rather than a 2 lane.
If you are heading to the Moccasin Branch Campground, note that you are directed to go directly to the campground. There is a right turn onto a gravel road about one mile before the main park entrance. Vehicles are often stopped in such a way that the campground sign is blocked. If you miss the turn, there is a turnaround at the main park entrance.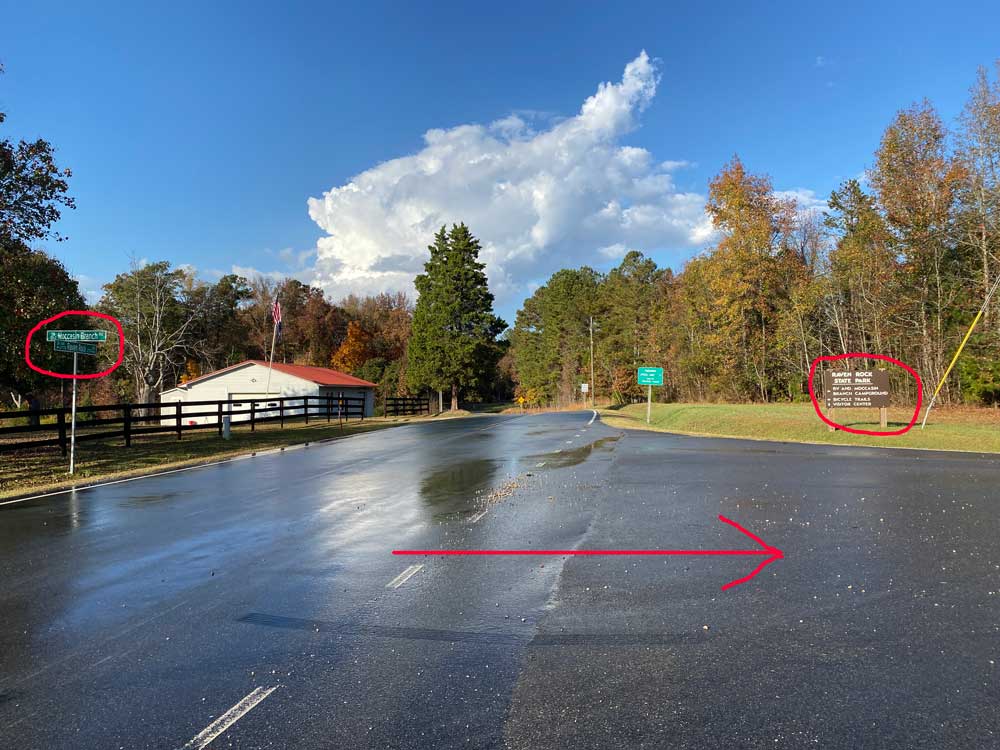 Attractions Near Raven Rock State Park
The state park has many activities including hiking, mountain biking, and the visitor center. One nearby attraction that might be fun is tubing. We didn't have the opportunity to try this but would love to do so on our next visit. Check out Cape Fear Adventures in Lillington who offer tubing adventures.
Leave a Comment
Have you visited Raven Rock? What are your tips for a great visit? Do you have recommendations for additional things to do in the area? Leave a comment to share your experiences. Thanks.
Copyright 2022 Travel Trail Sail. All Rights Reserved.