Pocahontas State Park Review
Pocahontas State Park is Virginia's largest and one of the most visited state parks. It's great for camping and mountain biking. You can learn about the CCC.
Note: this post is a significant update from our original Pocahontas State Park review from 2011. It's fun to revisit some of the places we camped when we were first getting started with camping & blogging.
Pocahontas State Park Overview
Pocahontas State Park has been in operation since 1946. It was the site of a CCC (Civilian Conservation Corps) camp. Pocahontas State Park is approximately 8,000 acres making it the largest Virginia state park. It's also is one of the most visited Virginia state parks. In 2019 there were 956,000 visitors.
The land has a long history, first as an area inhabited by the Powhatan. In the 1700s, the land became a farm. The park offers a helpful brochure outlining some of the area's history.
Today the park offers camping and outdoor recreation. There are 100 miles of hiking, biking and equestrian trails. You can also canoe or kayak. And there are numerous learning opportunities available through the daily interpretive programs.
Pocahontas State Park Video
We share some thoughts about Pocahontas and then show some campground highlights. Check out our Pocahontas State Park YouTube video.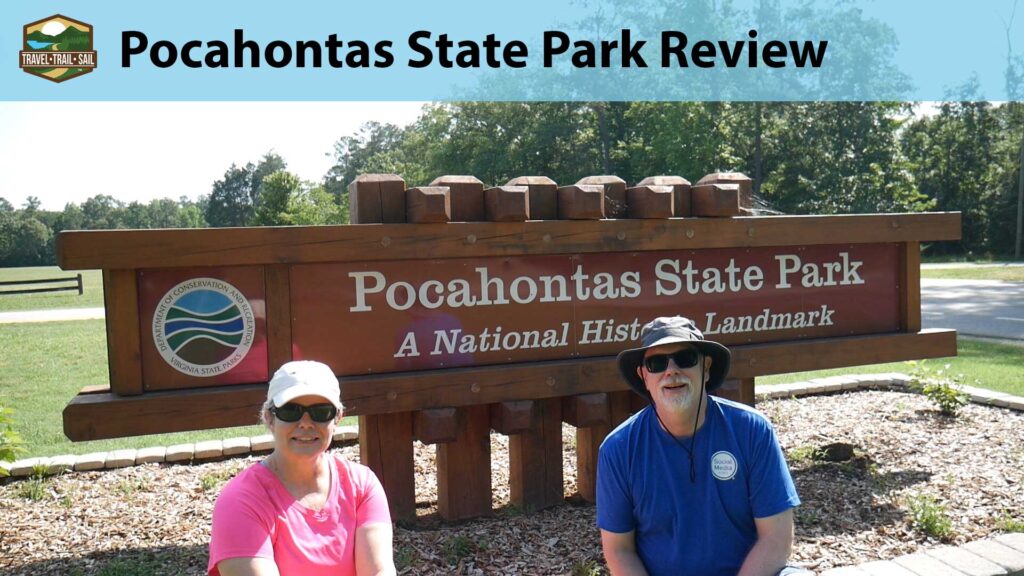 Pocahontas State Park Amenities
Hiking & Biking at Pocahontas State Park
Pocahontas State Park offers 100 miles of trails. The park is especially popular with mountain bikers. There are trails of all different levels, from easy to difficult.
We tried out some intermediate trails and enjoyed our ride. The trail was a wide, gravel path through a wooded area. Be ready to use first gear if you need to climb some hills. We didn't do any difficult trails, some of which may be narrow and have jumps or other obstacles.
Trails are mostly well marked. Some can be a bit confusing where trails with different names merge for sections. One thing that would be helpful is a better trail map. To fit so many trails on a small map is a challenge.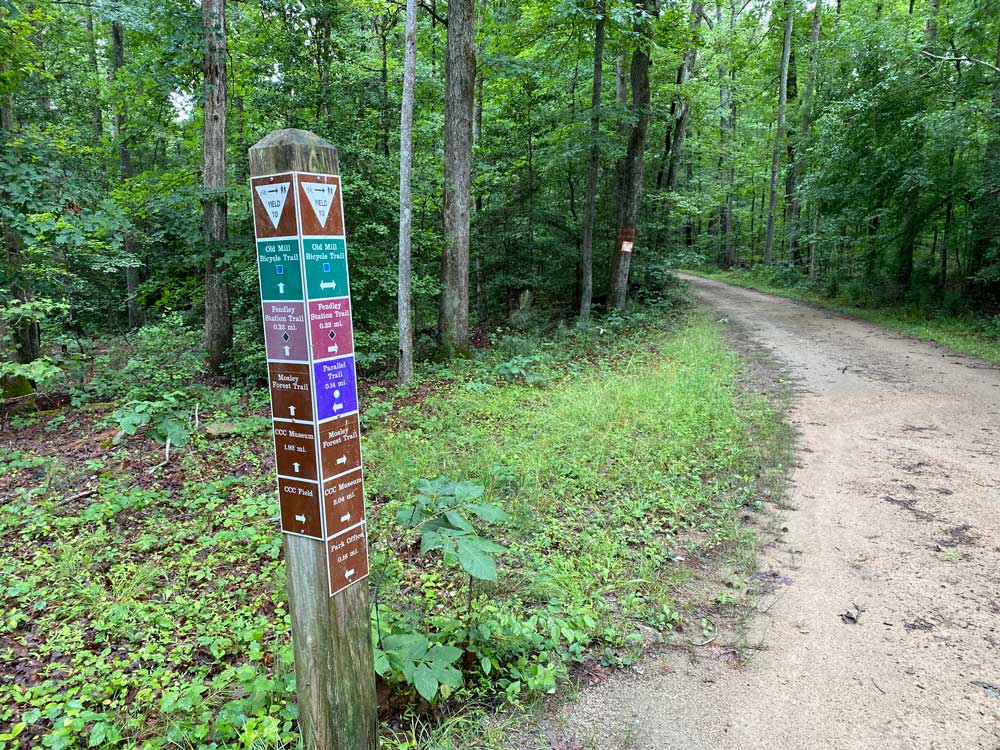 You can find the park's trail map at Virginia State Parks Pocahontas Trail Guide.
Pocahontas State Park CCC Museum
An interesting attraction at Pocahontas State Park is the CCC Museum. This small museum tells the story of the Civilian Conservation Corps. Established during the Great Depression, it provided job training and income to thousands of people. If you have traveled in the US, you may have seen a campground, trail, or dam constructed by the CCC.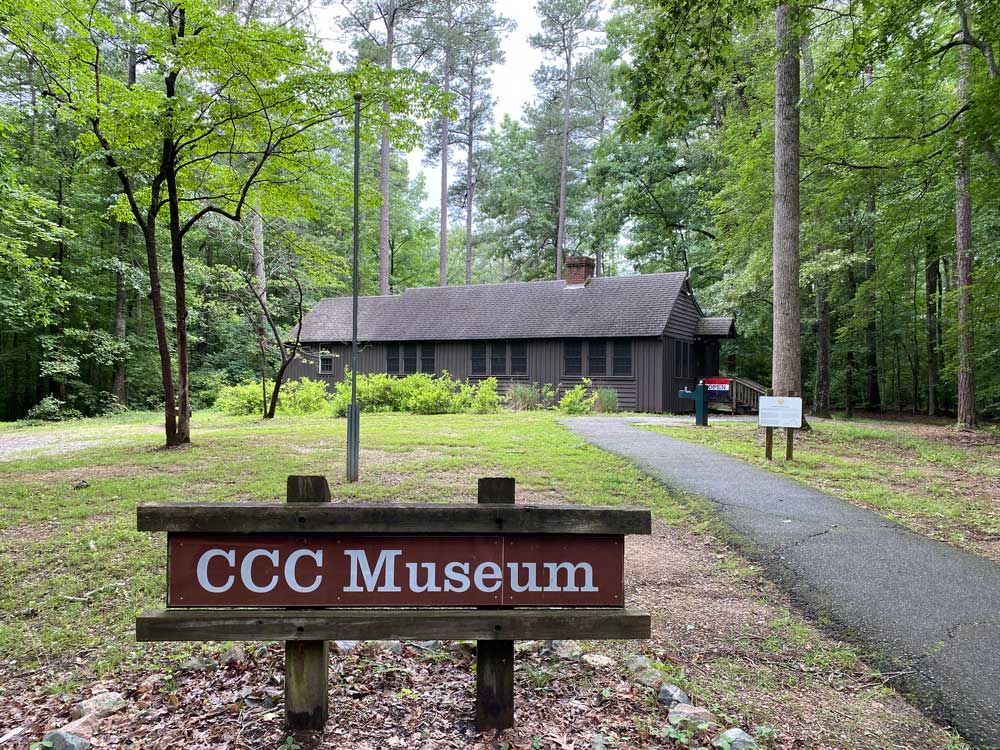 Pocahontas State Park Swimming Pool
Pocahontas State Park has a large swimming pool. More than just a pool, this area has a variety of splash and play features. When open, this pool is popular and it's a great way to beat the heat. Unfortunately, the pool was closed in 2020 due to COVID. It remains closed in 2021 for refurbishment.
Pocahontas State Park Kayak Launches
Canoeing and kayaking are popular activities at Pocahontas State Park. A sheltered creek is available which is a great spot for a beginner to learn. You can bring your own boat and parking is available. Canoes, kayaks, and paddleboats are available for rent during the summer season.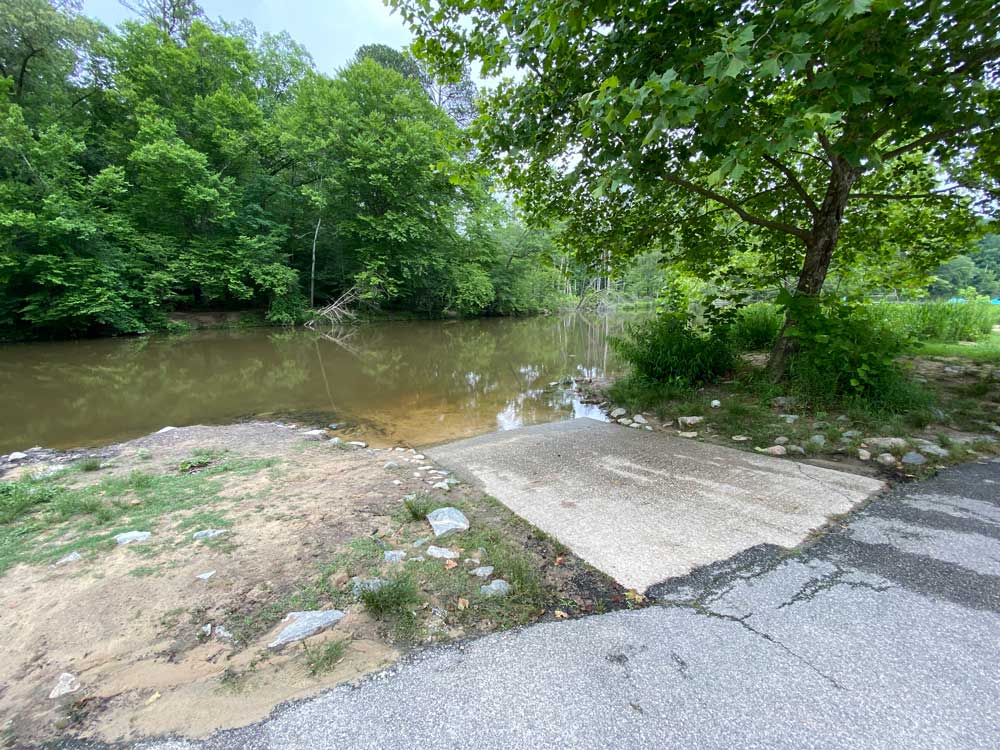 Pocahontas Nature Center
Pocahontas State Park is developing a nature center. They have several animal exhibits. While the space is being developed, it looks like it will be a fun place to learn about nature.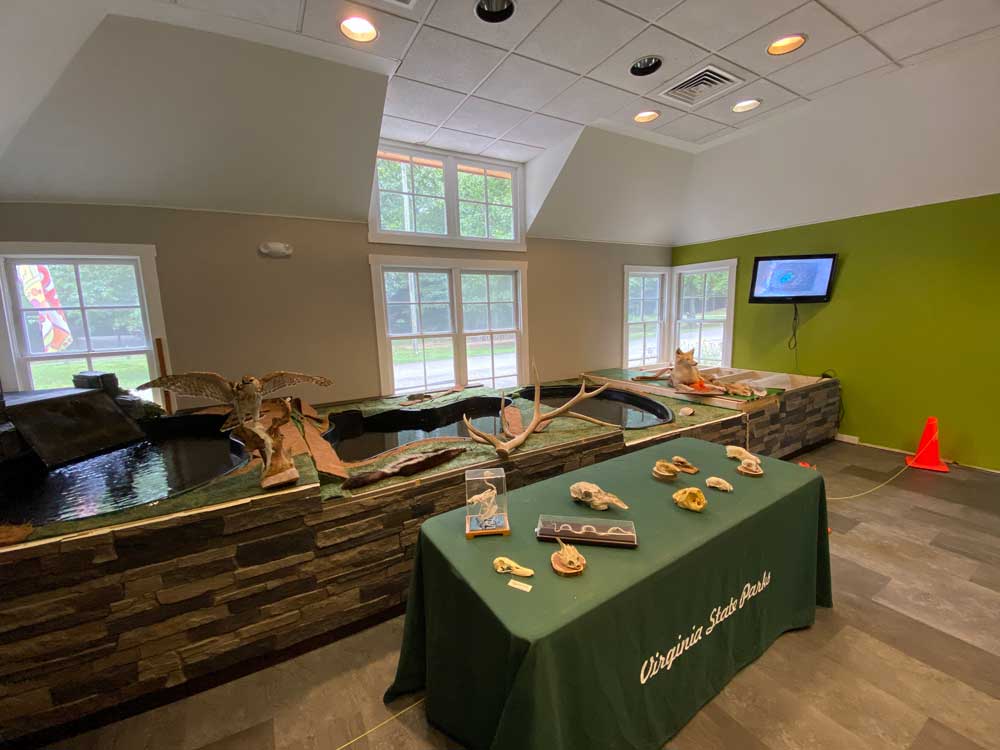 Pocahontas State Park Amphitheater
Pocahontas has a large amphitheater. During the summer, a variety of concerts are offered. Music ranged from a Beatles tribute band, Bluegrass, Latin Ballet, and the Richmond Symphony. More details can be found on the Pocahontas Premieres web site.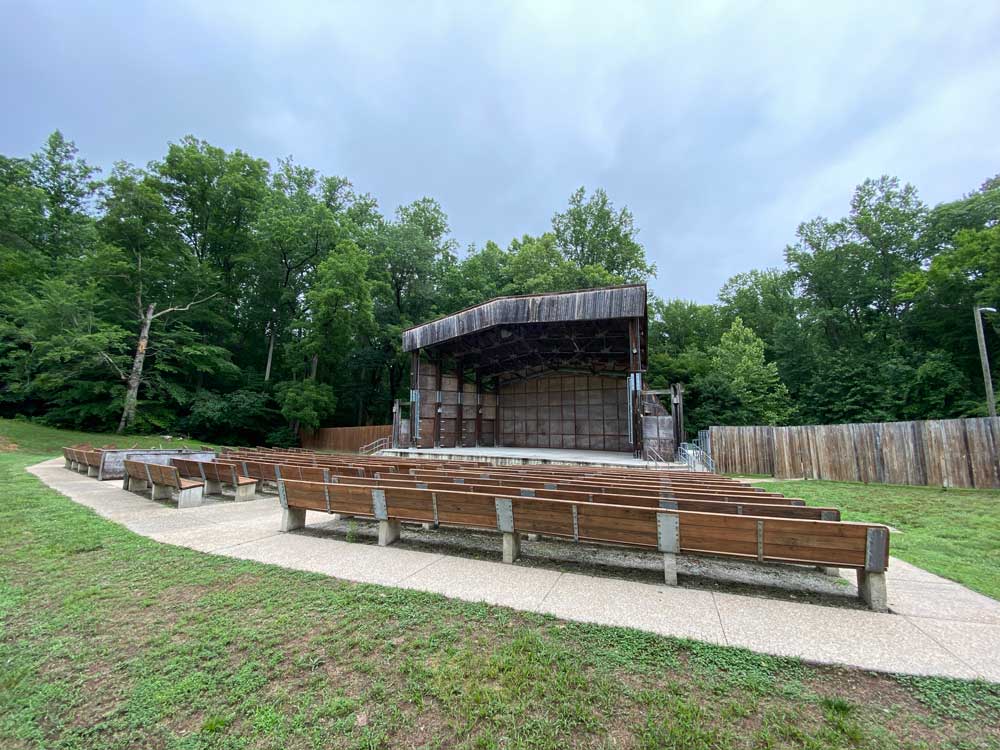 Pocahontas State Park Campground
There are two main loops in the campground at Pocahontas State Park offering 129 campsites. Each is divided into smaller sections. As you enter the campground, you'll drive through the original area. Campsites offer 30 amp electric and water hookups. There are a variety of pull-through and back-in sites. Continuing on to the newer loop, you'll find sites with 50 amp electric and water hookups.
About half the sites at Pocahontas can be reserved in advance. The rest are first come first serve. Many sites are nice with a level gravel or paved pad. There are a few sites that may not be suitable for a larger RV or camper. You'll likely want to do some site research before you reserve. For a bit of advice, we shared a post earlier this year – 9 Steps to Finding a Great Campsite
Sites 1-13 are pull through sites with gravel pads and 30 amp electricity. Overall, these are nice shaded sites. Site four has a bit of a rise at the entrance that may reduce the overall usable length. Sites 14-65 are back-in sites that make up the remainder of the first loop. Many are nice, though some would likely not accommodate a larger camper.
In the second loop, you'll find 50 amp power. Sites 66-77 are all pull-through sites with paved pads. These are very nice.
Along the same row of sites, site 67 might be the perfect site for a family traveling with children. It is directly across from a playground.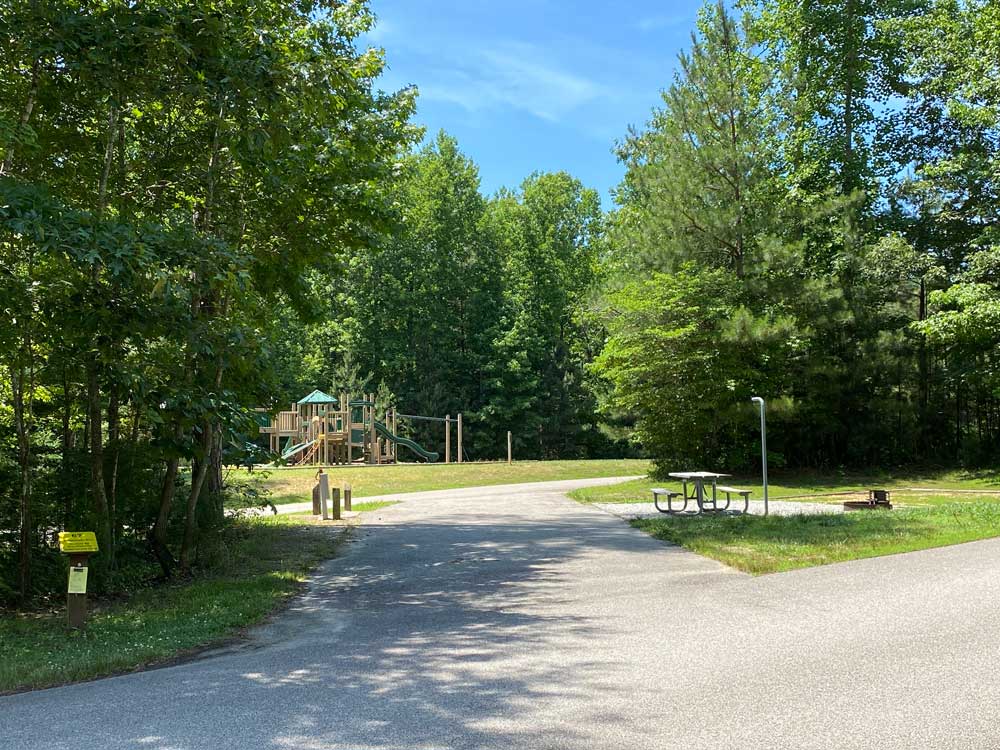 We had site 72 which was a long, pull-through site. It had a paved pad, a spacious side pad, and 50 amp hookups.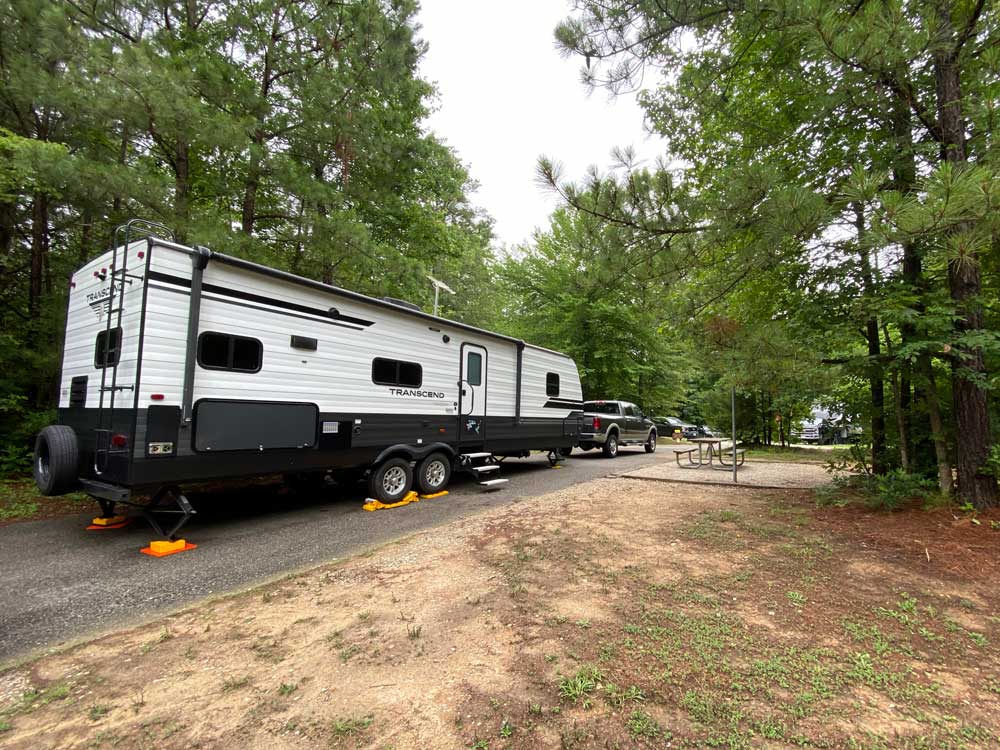 The remainder of the sites in the second loop are back-in sites. Many are very nice. For example, Site 84 is a level back-in site with a gravel pad. Similar sites include 86 & 87. Many sites in the second loop offer good privacy between sites. However, they are less shaded than the sites in the first loop.
There are several sets of buddy sites. These are three sites grouped together that make it easy for a group to gather.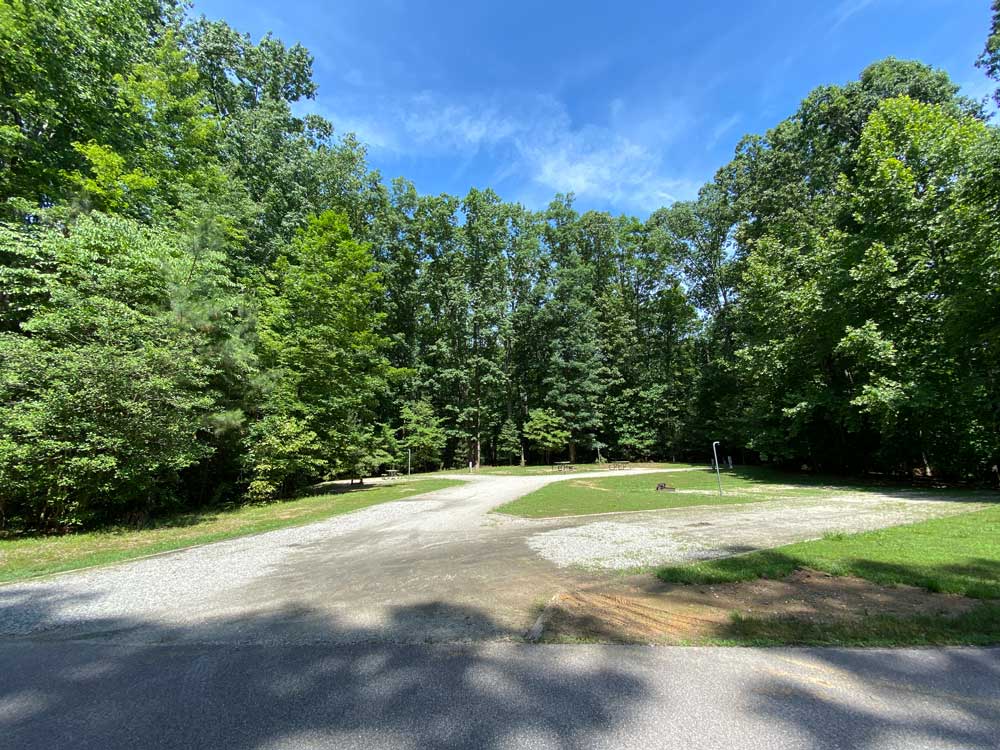 Bath houses are provided on each campground loop. They are older but clean. Laundry facilities are available.
There are several stands available to purchase wood for your campfire. There is a utility bucket by each wood stand and firewood is $6 for a bucket full.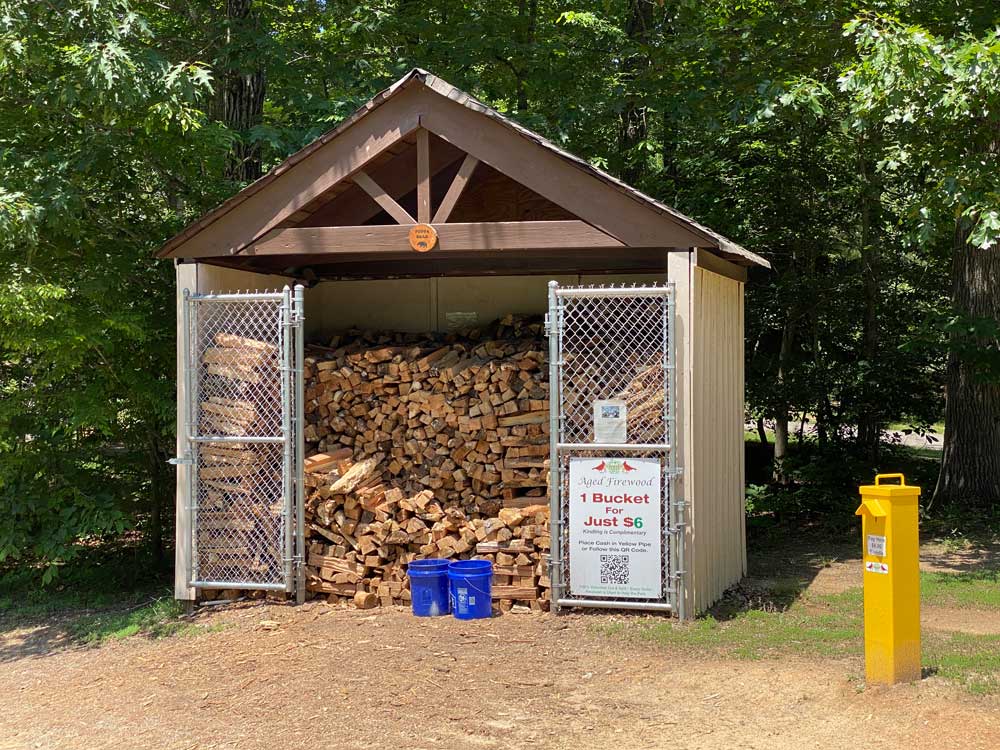 The Pocahontas State Park campground is one of the parks that offers camping throughout the year. Reservations can be made at ReserveVAParks or by calling 1-800-933 7275.
There is a small camp store at the start of the second loop. There is a nice playground nearby.
Pocahontas State Park Cabins and Yurts
Pocahontas State Park has six camping cabins for rent. These are grouped in pairs. Another way to camp in the campground without a tent or RV is a yurt. Pocahontas State Park has three yurts available. These are set back into a shaded area.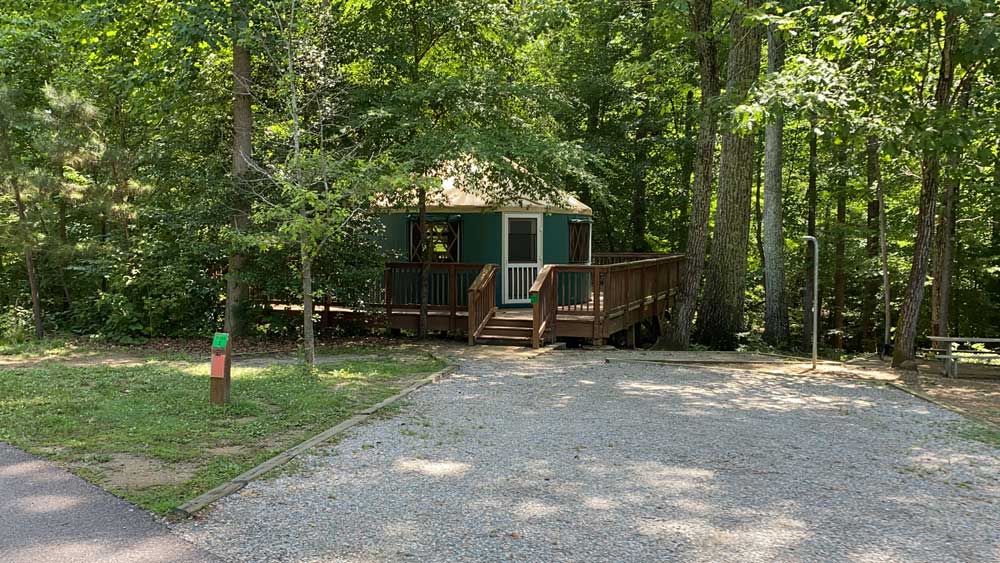 Pocahontas State Park Campground Other Information
Cellular reception on Verizon was OK. We tried over-the-air TV and weren't able to get a good signal. The few channels that we could get didn't have a strong signal. This may have been the only campground so far where we haven't been able to tune in to local channels or MeTV. Fortunately, we did have some DVD movies along that we watched on a rainy day.
Road and other noise was minimal. During our stay, there were a few small airplanes that flew over. We didn't hear noise from trains or highway noise.
New Cabins at Pocahontas State Park
In July 2021, Pocahontas State Park will offer five new cabins. These are in a secluded area and not in the campground. Four of the cabins are four bedrooms while the other has six. These cabins look very nice and offer great amenities like a porch with rocking chairs and a fireplace.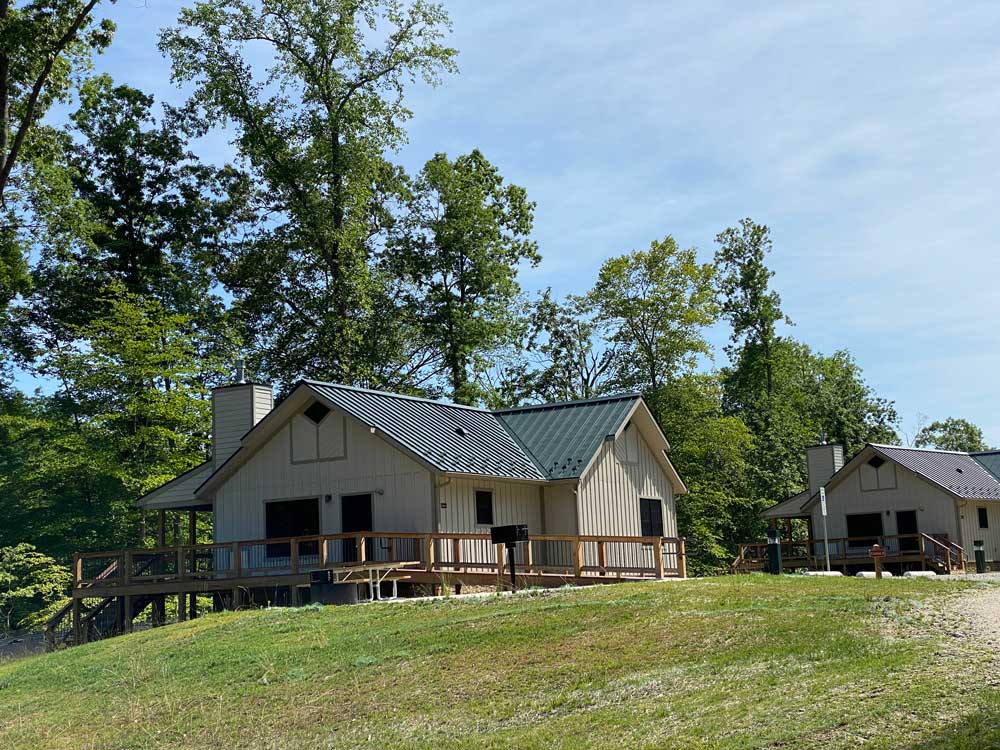 Visiting Pocahontas State Park With Dogs
Like most Virginia State Parks, Pocahontas is dog friendly. You can walk the trails with your dog. They can stay in the campground with you. As long as you keep your dog on a leash, you should have a great time exploring Pocahontas with them. Note that dogs aren't allowed inside the buildings.
Pocahontas Rates
Camping for a water & electric site is $35 per night for Virginia residents, $40 for non-residents. Add taxes and a $5 online reservation fee to the total.
Pocahontas State Park Directions
Pocahontas State Park is near Richmond, VA. Directions from the Pocahontas State Park site are:
From Interstate 95 south of Richmond: Take exit 61 onto Route 10 west, then left onto Route 655 (Beach Road). Go about four miles to State Park Road, which is on the right.

From Interstate 95 north of Richmond: Take Interstate 295 south to Route 10 west (Iron Bridge Road) to Route 655 (Beach Road) to State Park Road.

From 64 west of Richmond: Take Route 288 south to Route 10 east (Iron Bridge Road) to Route 655 (Beach Road) to State Park Road.

From 64 east of Richmond: Take Interstate 295 south to Route 10 west to Route 655 (Beach Road) to State Park Road.

Pocahontas State Park Web Site
Note that GPS directions from I295 may recommend taking I895 which is a toll road. The directions from the state park site allow you to avoid the toll.
Attractions Near Powhatan State Park
Pocahontas State Park is approximately 15 miles from Richmond. As the Virginia Capital, Richmond offers a range of interesting attractions. For more information, check out the Visit Richmond site.
Leave a Comment
I hope you found this review of Pocahontas State Park and Campground to be helpful. Leave a comment to share your experiences with the park.
If you liked this, you should check out our review of Powhatan State Park which is also near Richmond.
Copyright 2021 Travel Trail Sail. All Rights Reserved.