Street Parking Fitness App Review
I have been using Street Parking Fitness App for Workout of the Day WOD exercise inspiration. My review, I really like this functional strength training program.
Note: Originally posted April 2020 and updated December 2021.
Why I Exercise At Home
I like to stay fit. Exercise not only helps me on my journey to achieve my fitness goals but it also is a great stress reliever and mood booster. I have almost always belonged to a gym or fitness center. I really liked my daily CrossFit workouts. I even learned the workouts well enough that I could do some at home or when traveling. I shared some of what I learned in my post 5 Favorite Kettlebell Exercise Moves.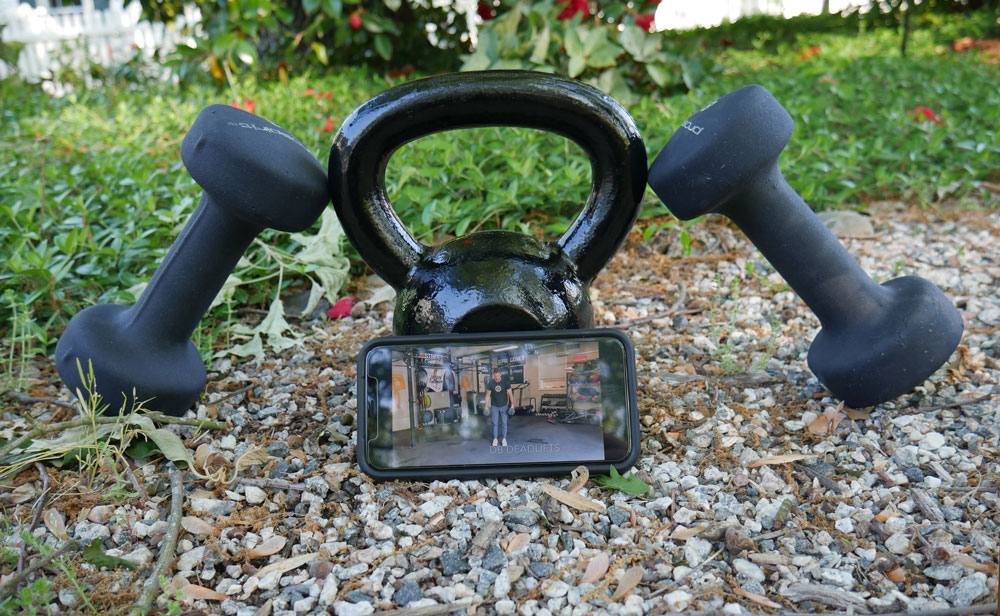 One thing I liked about going to the gym was that the coaches would create a WOD (workout of the day). I found having that structure really helped me stay on track. After my gym closed, I needed an alternative way to get good workout ideas.
Street Parking Fitness App Review
When my gym closed, I was thinking about whether to try another gym. I experimented with searching for my own workouts to do at home. Although there are a lot of resources out there, I found that it was better for me to not have to think too hard about it and have the workouts laid out for me. That's when Erling mentioned that a couple in the RV community, The RVFitChicks Ann & Lin Bishop, recommended Street Parking. This seemed like it might be worth checking out. It would give me an option to stay fit at home or on the road. When I checked out their website, I knew I had found a perfect solution and resource for me!
Before I go too far with describing this workout app, I should note that this is intended for entertainment purposes only. Before you begin any exercise program, please consult with your doctor.
I have been using Street Parking for almost two years. Street Parking is more than just a personal trainer app. It's a one stop website for all of your fitness needs. It provides daily WODs (Workout of the Day). The workouts are short but intense. You can usually complete a workout in 20-30 minutes or less. Each WOD has several variations so you can adapt the workout to your personal fitness level and to the gear you have available. Whether you're just starting your fitness journey or you're an elite athlete, Street Parking has something for everyone and can easily be adapted for the gear you have available at home or on the road.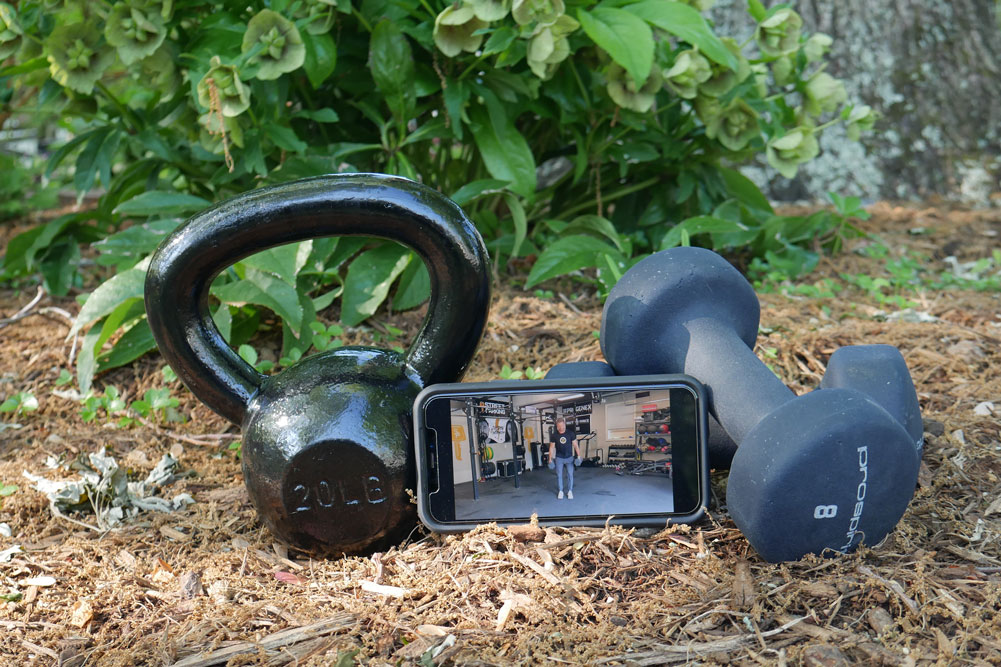 If you are feeling ambitious, there are bonus workouts you can do in addition to the daily workouts. Street Parking also includes a library of over 200 how-to videos so you can learn the moves and over 50 yoga routines. In addition, it has a nutrition program to help you change your eating habits for the long haul.
While it isn't the same as being in a gym, there is an active community of over 30,000 Street Parking members on social media. You can upload your workout videos, find your subgroup with hashtags and even ask the coaches for feedback or help with your movements. Whether you like participating in the social media group or not, I recommend you find one good workout buddy. Whether you do the workouts together in person or remotely, having someone to share the experience with is a great motivator. 
It's important to take the time to learn to do the moves right so you can get the most benefit and prevent injuries. I am glad I had the chance to learn functional fitness in a gym with a small group, but this would be a good way to get started if you don't have a gym nearby.
Sometimes it can be a challenge to stay motivated. One thing Street Parking offers to help with motivation is challenges. If you are able to complete a series of workouts that are part of a challenge, you can get free, cool stuff.
If you want to get a sense of the workouts, check out their post 7 Workouts You Can Do With No Equipment.
Street Parking Update 2021
In November of 2021, Street Parking developed a whole new platform and it is AWESOME! The user interface is clean and easy to use. From the main dashboard, you can easily get to the daily workouts, extra programs, challenges, maintenance, warm ups, nutrition, etc. Each daily workout has a video that walks you through the workout and gives tips for an efficient workout. You can easily choose the level of workout you would like to do and access a list of customizations.
The other great thing about the new platform is that you can easily log your workout directly from the workout page, add any comments you like and rate the workout based on a smiley face scale for future reference. The new Street Parking platform also has a logbook to easily see and edit your workouts. You can also mark workouts as a favorite and easily access those favorite workouts in the future.
In addition to all of these great, user friendly features the new platform includes a trophy case where you can see your progress towards various goals (ie 75 workouts, 365 workouts, etc).
The new Street Parking platform provided some great new features and was a fantastic update. There are so many great things about the new Street Parking platform!
Street Parking Sweatshirt
It takes commitment to stick with a workout program. Some days it might be easier to relax than to work up a sweat. But, if you want to be fit, you need to do the work. Street Parking has a nice reward for those who put in the effort. After you log 75 workouts, they send a nice package with a hooded sweatshirt, patch and stickers It's a nice quality sweatshirt and I am looking forward to wearing it on a cool-day workout or even around the campfire.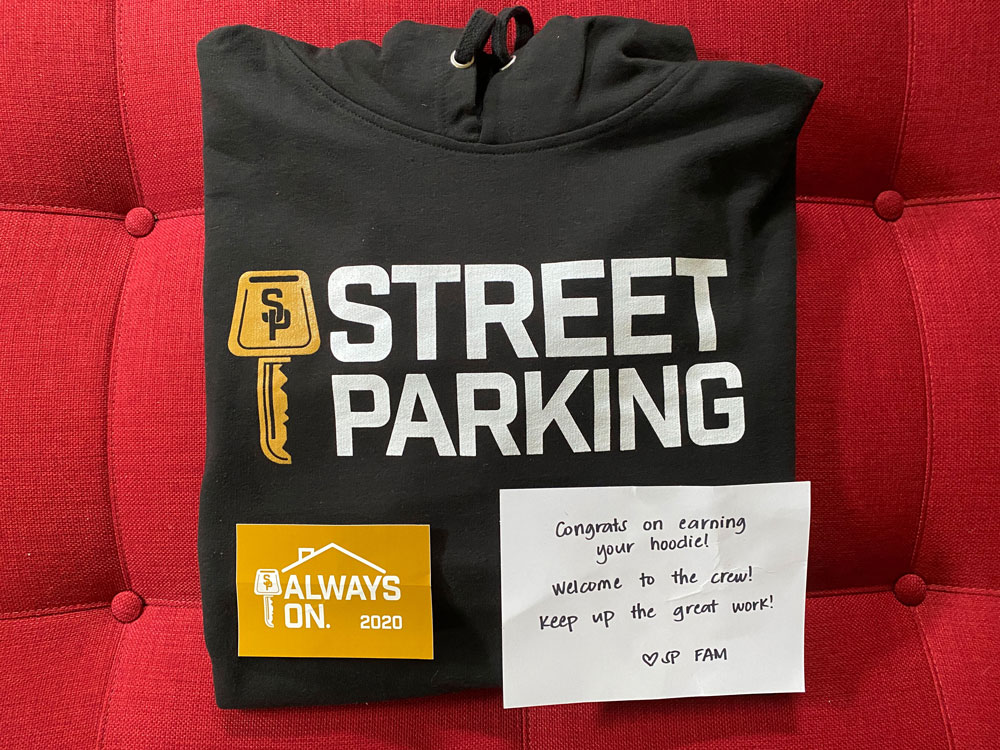 Street Parking Fitness App Summary
While I still miss the camaraderie of doing a hard workout with a small group, I find that Street Parking offers a good functional training program with the flexibility of working out anywhere.
We aren't a Street Parking affiliate but I have enjoyed it so much that I wanted to share it with you. I hope you find the Street Parking fitness app to be a helpful fitness resource.
How do you work out when you can't get to the gym. Do you bring workout gear in your RV? I'd love to hear about your approach to staying fit at home and when traveling. Leave a comment to share what you do.
Copyright 2020 & 2021 Travel Trail Sail. All Rights Reserved.