Furrion Travel Trailer Backup Camera Review
We tested the Furrion Vision S travel trailer backup camera. This is a helpful RV gear addition that may make backing your camper a bit easier. We hope you enjoy our Furrion backup camera review.
Why Add a Travel Trailer Backup Camera
Part of RV life is having to back your camper. Many campsites are back-in and there are other times when you find the need to back up. Having a spotter to watch behind the RV is critical. But there are times when a backing situation is complicated and you with you had an additional set of eyes to see behind the camper.
Many RVs and travel trailers come pre-wired for a backup camera. Most are set up to easily add a Furrion backup camera. To keep things simple, we opted for the Furrion Vision S vehicle observation system with a 4.3 inch monitor. We had heard that there may be signal issues with our long travel trailer. However, we were excited to install it and test it out.
Why Select the Furrion Vision S Observation System
One of the main reasons for selecting this system is that our travel trailer came pre-wired for it. That means that installation is easy.
We wanted a system that provided a clear view. The Furrion Vision S has a 120 degree view which enables you to see a pretty wide angle of anything behind your RV. The image resolution is 720X480 which is good, although a higher resolution may provide a clearer image. The angle of the camera can be adjusted. On our travel trailer, we can see things on the back including the spare tire and ladder and the view goes back long enough to see multiple car lengths behind the RV.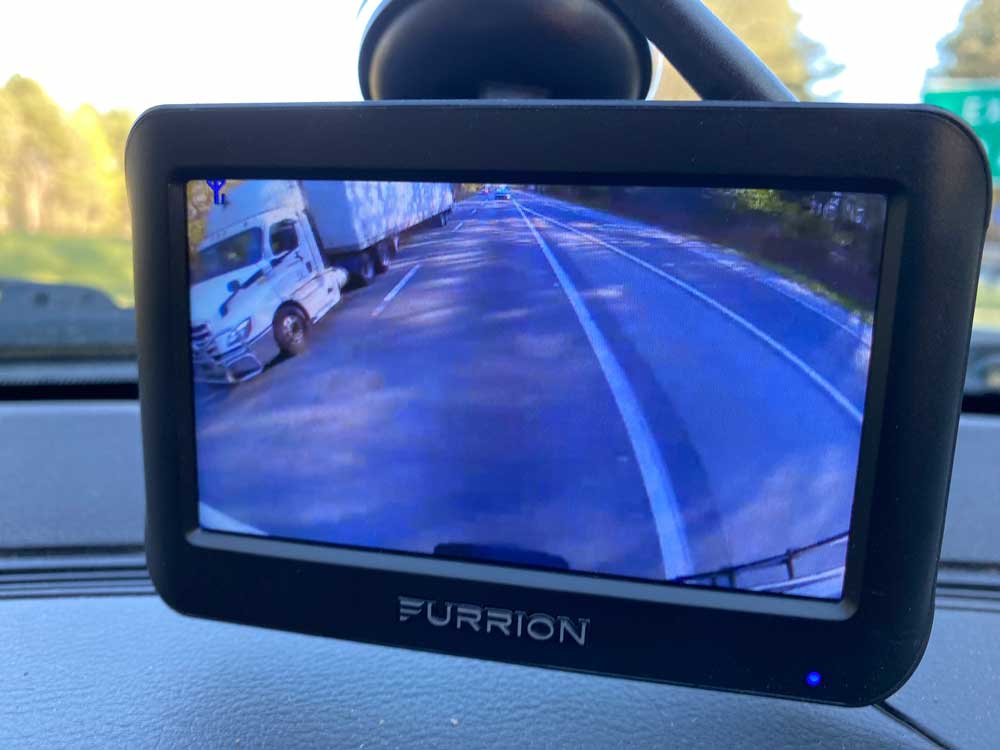 Another nice feature of this camera is that it has sound. That means you can hear your spotter give directions when backing into a site. You can also listen to traffic sounds if that is helpful.
Installing the Furrion Travel Trailer Backup Camera
Installation was very easy. The package included the backup camera, observation monitor, power cord, and a suction cup dash mount.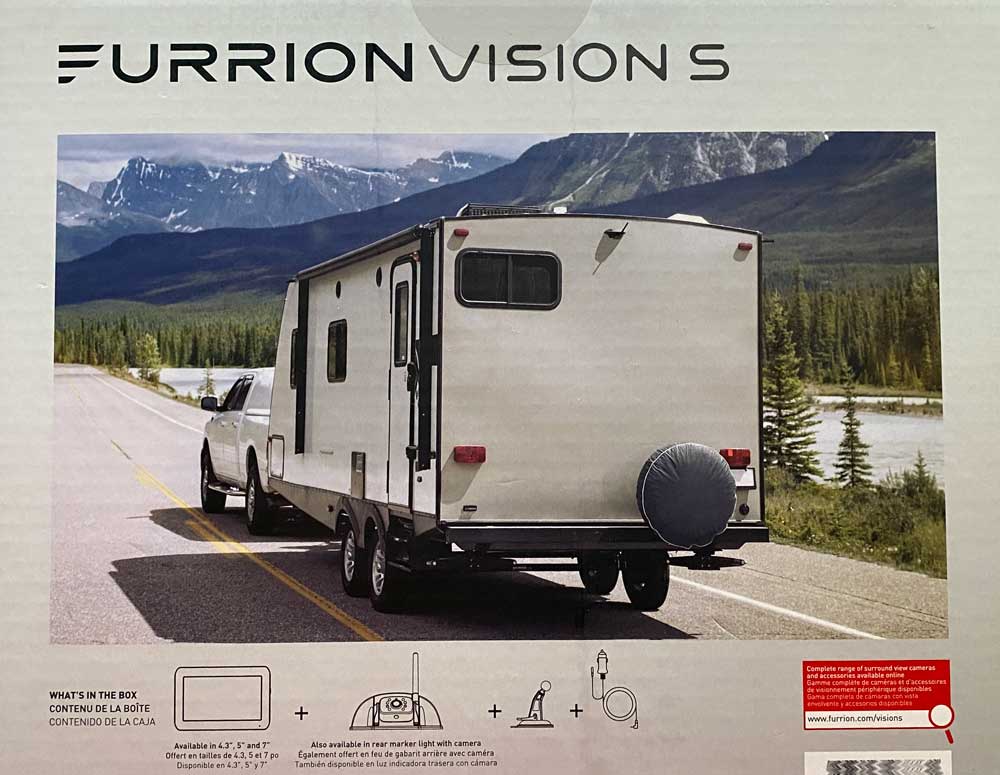 On the back of many RVs, you'll find a pre-mounted bracket and wiring for the Furrion backup camera.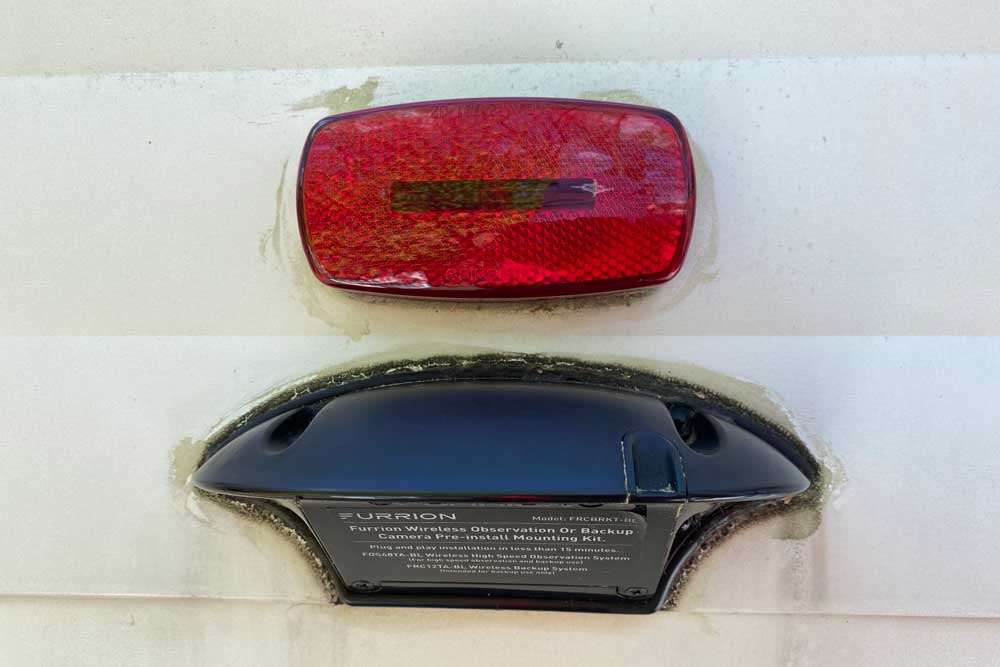 To add the camera, you need to remove the cover from the pre-installed mount. There are four screws to remove using a Phillips head screwdriver. Remove the large screws, not the four smaller screws on the panel with the label.
The camera comes packed with a rubber backing. You won't need that and it can be removed. There is one power cord that you connect from the camera to the mount. Then, replace the four screws.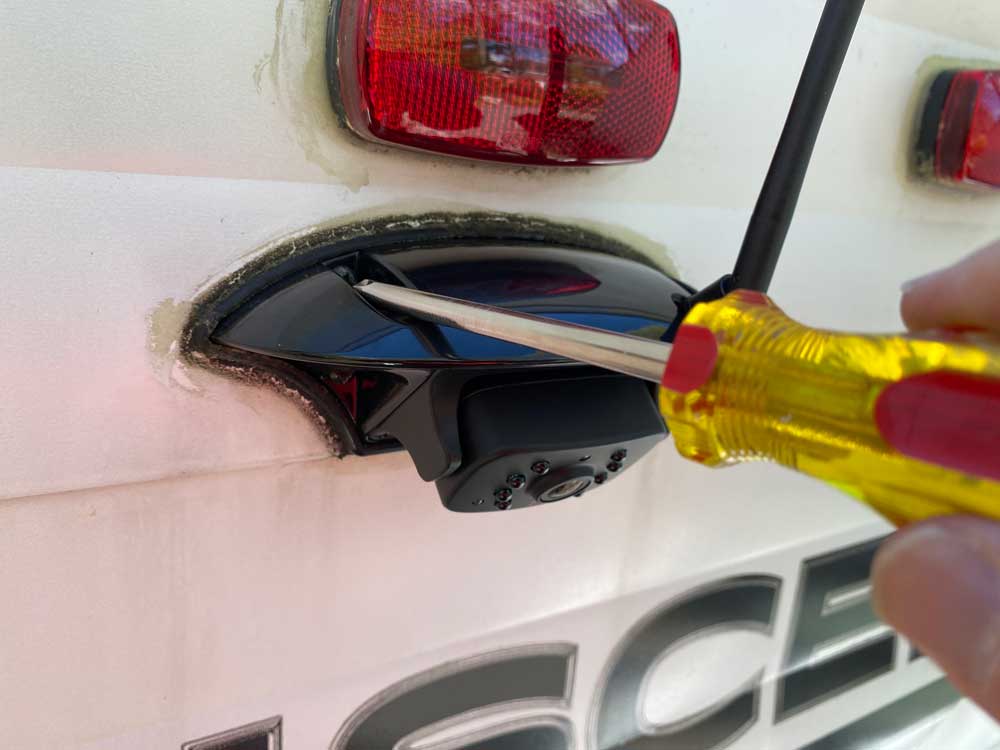 If you have a travel trailer, you'll need to ensure your truck and camper are connected for the next step. In your vehicle, plug the monitor into the 12 volt power. It comes with a cigarette-style plug. Note that it would be nice to have the flexibility of using USB instead. Our Garmin dashcam uses a cigarette lighter style plug that enables two USB devices to be connected.
The camera and monitor should come pre-paired. Once you power it on, you should see the camera.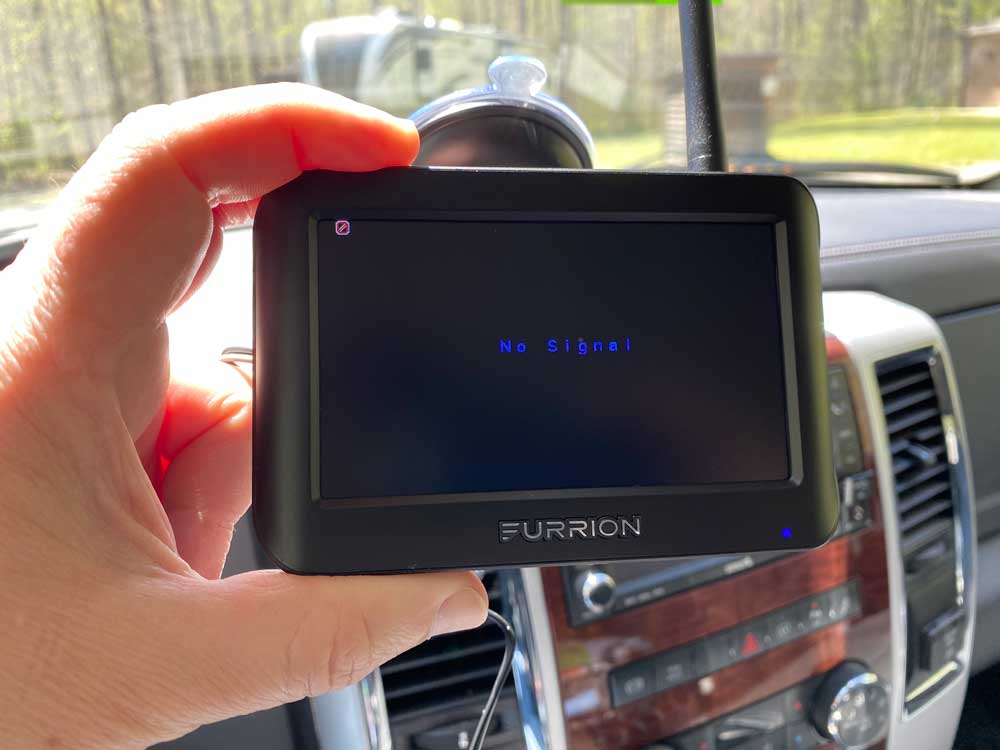 If you see No Signal, there are two things you can try to resolve it. First, you can confirm that the devices are paired. On the side of the device, there are a series of buttons. Use the menu button to open the device settings, then use the up & down arrow buttons to select pair, and finally use the power button to select the pairing option. If you need help, you can find the Furrion Vision S backup camera manual on the Furrion web site.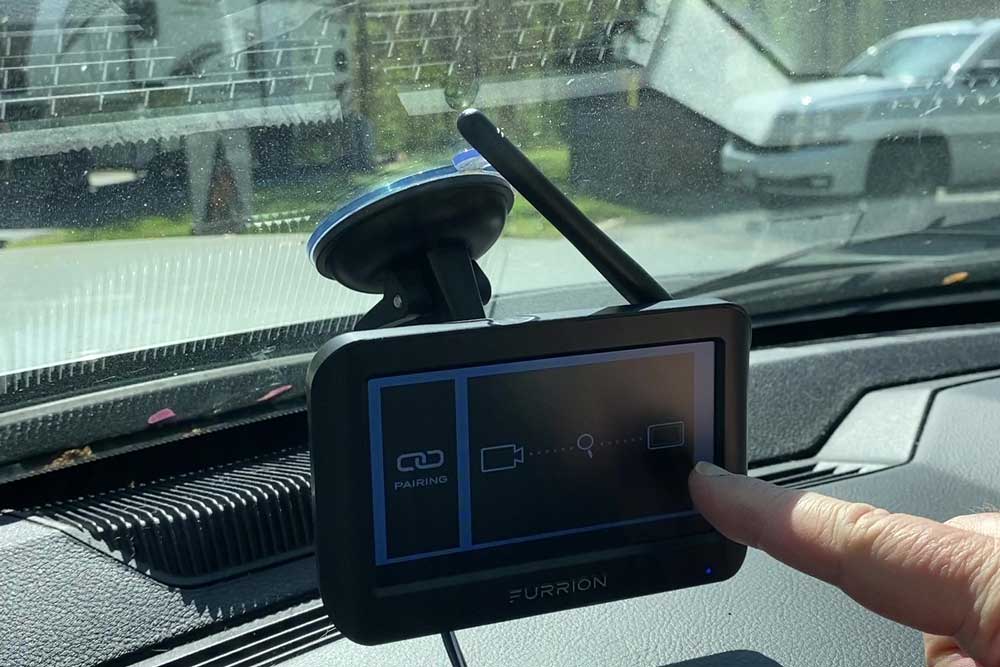 Another reason that you might get the No Signal error message is that the camera may not be getting power. Check to ensure that your RV or tow vehicle's lights are set to on or set to daytime running lights. If they are set to automatic, the camera may not be on.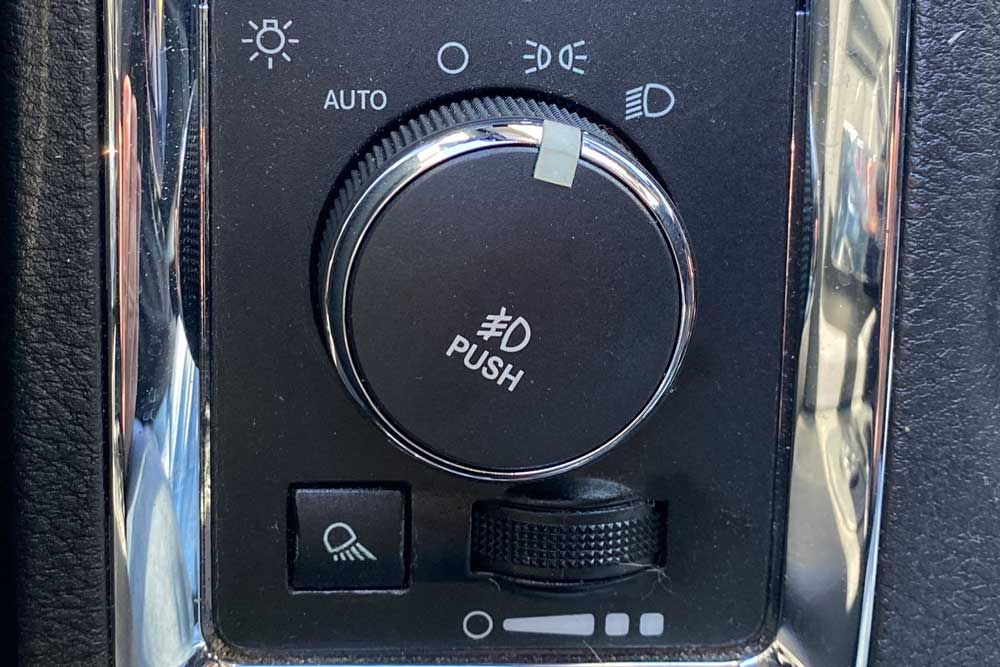 We made this discovery after a bit of frustration. We could not get the camera enabled and continued getting the No Signal error. However, as we drove down the road, it started to rain. Our truck automatically turns on the lights when the windshield wipers are on. And, with that, the backup camera was on.
How Did the Furrion Travel Trailer Backup Camera Perform
We tested our new camera on a weekend adventure to Powhatan State Park near Richmond, VA. This gave us the chance to try backing in our neighborhood, backing into our campground site, and driving on a variety of roads.
Overall, this RV backup camera performed well in our testing. The signal was strong and we had a clear picture. However, image resolution seemed a bit low and the image sometimes seemed to lag a bit. On a clear day, the image was good. However, rain impacted the image and our ability to see behind the camper.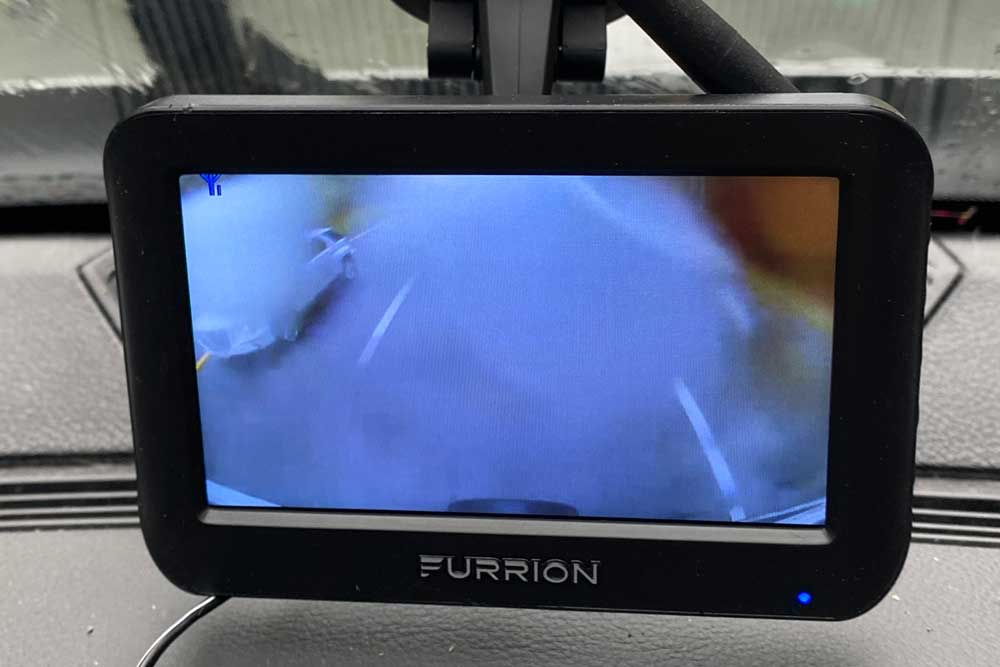 I initial thought that having a backup camera would be helpful for backing into a campsite. And, if you have a limited number of spotters, having the additional view could be helpful. However, it will likely take some practice to get the most out of the camera for backing into a site.
I usually rely on a combination of my truck mirrors and a spotter providing guidance. For me, this combination is still most helpful for backing. With practice, I have learned where the camper needs to be going based on the view of the wheels in the mirrors.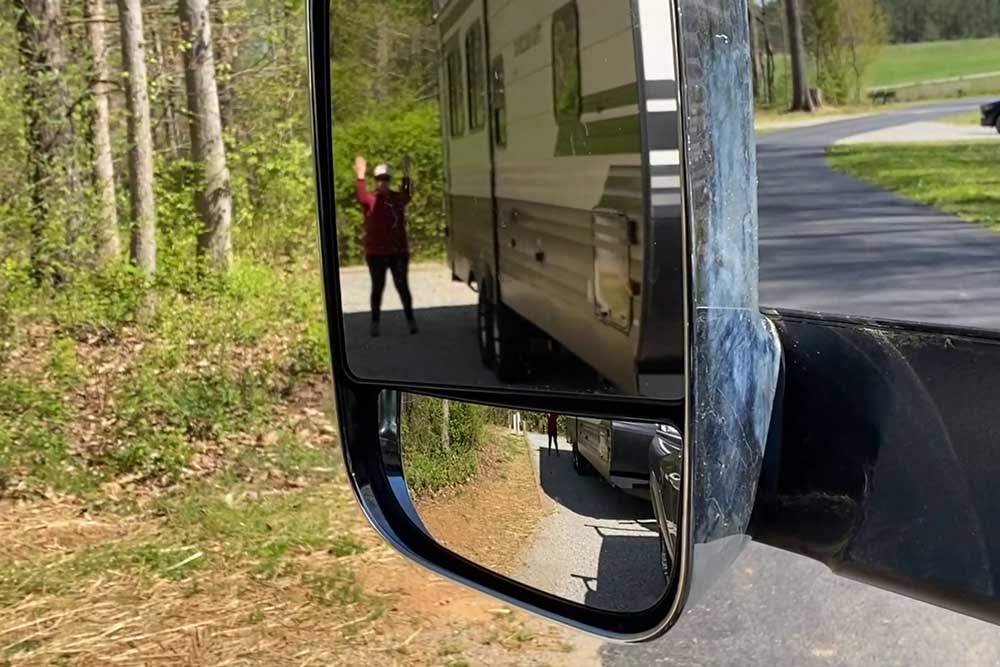 The Furrion camera has sound. That has the benefit of enabling your spotter to provide audible guidance to you without the need for a cell phone or walkie talkie. Though there is a slight lag, this audio capability may prove to be very helpful.
An unexpected benefit to the rear observation camera is for traffic observation. You can use the backup camera to see what is behind you. That can be very helpful if you are merging on to a highway. It is also helpful for situational awareness on the road. Having this camera may enable us to detect potential traffic situations and adjust our driving as needed.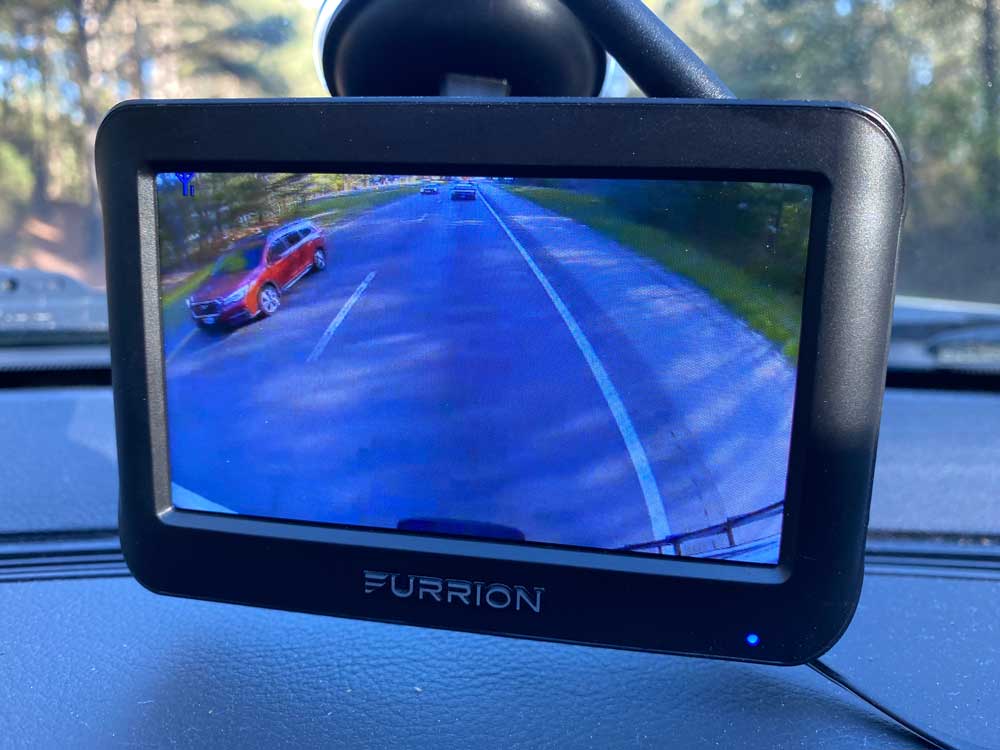 A final benefit is that you are able to see potential cross-traffic behind the vehicle. Imagine you are backing out from a parking spot. Being able to see if there is a car or other obstruction can be very helpful. In our case, to leave our neighborhood, we actually need to back several house-lengths of road onto a somewhat busy road. Being able to have traffic awareness seems like it will be useful.
Furrion Travel Trailer Backup Camera Review Video
Check out our review of the Furrion Vision S Observation System on YouTube.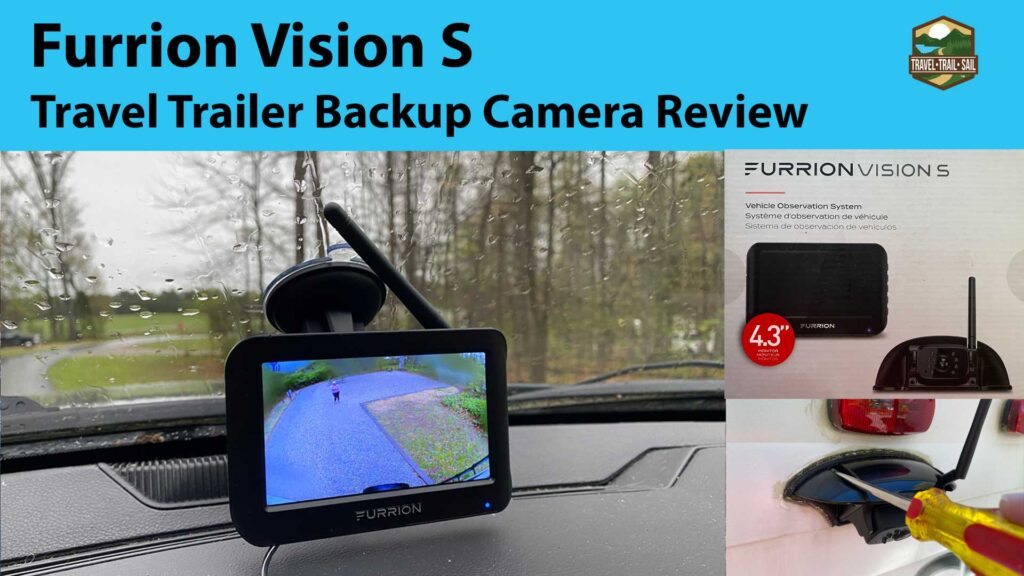 Alternatives to the Furrion RV Backup Camera
While you can choose to use a different brand, you may need to do some additional work such as installing a special bracket for the camera. If you are comparison shopping for an RV trailer backup camera, you may want to consider the Visionworks Wireless Observation Camera available at TechnoRV (affiliate link).
Where to Buy the Furrion Travel Trailer Backup Camera
You may find the Furrion Vision S at many camping gear outlets. Buying the Furrion Vision S 4.3 there is a convenient way to get yours. As an Amazon affiliate, if you purchase using this link, we may earn a small commission that helps us continue to provide you with helpful content.
What Do You Think About an RV Backup Camera
Have you tried the Furrion RV Backup Camera or any other travel trailer wireless backup camera? What has your experience been. Is this the best travel trailer backup camera? We'd love to hear about it. Please leave a comment. Thanks.
Copyright 2023 Travel Trail Sail. All Rights Reserved.