11 Great Ways to Make Camping Coffee
Camping Coffee. We share 11 great ways to make coffee when camping to help you find the best coffee maker for your RV and tent camping adventures.
Note: Posted December 27, 2020 and updated April 26, 2023.
One of the things I enjoy about camping is starting the day with a warm cup of coffee. I enjoy sitting outside our travel trailer to enjoy mine. We call it Coffee on the Terrace. Coffee while camping is especially appreciated if you are tent camping in cool weather. Laying in your tent, knowing you have to get out of your warm sleeping bag, at least you can look forward to a hot cup of coffee. Regardless of how you camp, we've got you covered in searching to find the best camper coffee pot.
There are a few questions you need to ask before you can pick the right way to make your camper coffee.
Will you have access to power? Access to a gas stove?
How portable do you need your coffee making system to be?
How many cups do you need to brew at a time?
How easy should your coffee cleanup be?
When you are camping with electricity, your options are similar to those at home. Any of the options below can work for you. When you don't have electricity, it's OK. You can use a coffee maker designed to be used on a propane stove or other heat source. Or, just select an option where you heat the water and then prepare the coffee, like using instant coffee, a French Press, or a pour-over system.
The best coffee maker for an RV should be light, portable, and easy to clean. If possible, avoid glass components. I prefer the grounds to be contained in a filter to minimize the amount that ends up in the gray tank. The same holds for tent camping – select a coffee maker that is light, durable, and easy to clean.
Of course, the best coffee is fresh. We roast our own coffee and it tastes amazing. You can read more on our post Roast Your Own Coffee. After roasting, we grind it. How coarse or fine you grind your coffee depends on the type of coffee maker you plan to use.
We are working to add video reviews of the different ways to make camping coffee. Be sure to check out our Travel Trail Sail YouTube channel for those and other great camping & travel videos.
Before we go on, the following post contains affiliate links. If you choose to purchase from them there is no additional cost to you, but we earn a commission that helps enable us to continue sharing helpful information.
1 – Drip Coffee with Insulated Carafe
If you RV camp with hookups, then you can use the same types of coffee makers you would at home. With one exception, since you are traveling, you may not want to use a coffee pot with a glass carafe. Instead, consider an insulated or metal pot.
2 – Individual Serve Drip Coffee Maker
Our selection for Best Coffee Maker for an RV, and the one that we use most often, is the Black & Decker single serve coffee maker with an insulated mug. While it came with a permanent filter, to keep cleanup simple, I use paper coffee filters. The Black & Decker uses the small #4 cone filters. However, as the size of the cone is smaller than standard, I need to cut a 1/2 inch strip from the top of the filter before using. After brewing, I can simply toss the filter and grounds. At home, I compost the filter and grounds since they are biodegradable. But, I haven't found a campground yet that offers composting.
3 – Pod Style Individual Serve Coffee Maker
If you prefer, you could use a single serve coffee maker that uses pods. I like the Senseo-style pods that are biodegradable. The Senseo-style machines are a bit hard to find but are still available from Hamilton Beach and Elite Gourmet. You can even get Disney-themed pods from Joffrey's Coffee to help you remember your last visit to Disney World. A Keurig machine would also work and you can get a reusable filter to minimize plastic waste.
4 – Instant Coffee
Perhaps the simplest way is to make camping coffee is to heat water over a stove and use instant coffee grounds. You can get instant coffee grounds in a jar, a single-serve packet, or tea bag style. I prefer the individual-serve packets like Starbucks VIA. They pack easily and I have used them for backpacking as well as for travel around the world.
You can use any pot to heat the water for this style of coffee. However, when camping, I usually use a percolator pot with the percolator parts removed. That way, you have a nice handle and pouring spout.
5 – Pour Over Coffee
Another way to make coffee with hot water is Pour Over Coffee. Essentially, you put grounds in a funnel over your cup. Pour water into the funnel and delicious hot coffee comes out the other end.
6 – Jetboil Portable Cooking System
If you are camping light and don't have an outdoor stove, you might consider using a Jetboil cooking system. Jetboil makes a small, portable system that is easy to pack in a backpack. You can heat water in the Jetboil and make instant coffee. If you heat enough water, you'll have some to make a nice bowl of oatmeal, too. If you prefer pressed coffee, you can also add a Jetboil coffee press as a lightweight way to get your morning cup.
7 – French Press
With hot water, you could also make coffee in a French Press. I love the taste of French Press Coffee. However, I don't enjoy having to clean the grounds from the press. One other thing I discovered is that you'll need a coarser ground of coffee rather than fine ground. While fine grounds work well for drip coffee or espresso, you may find too much grounds in your cup if you use fine ground coffee in your French Press. Instead, try a medium to coarse grind. While I tried a French Press for making coffee, we opt for other methods to avoid having to clean the grounds from the pot.
We recently tried a new style of French Press from BruTrek, a French Press camping mug. When we were at the Overland Expo East, we came across BruTrek and their line of camping coffee products. The BruTrek OVERLNDR seemed like something we had to try, so we purchased one.
This press worked great. It delivered a tasty cup of coffee, kept the grounds out of the coffee, and proved to be pretty easy to clean. The nice part is that this is also an insulated mug so you can drink right from the coffee press.
Check out our BruTrek French Press Coffee Mug video for a full review.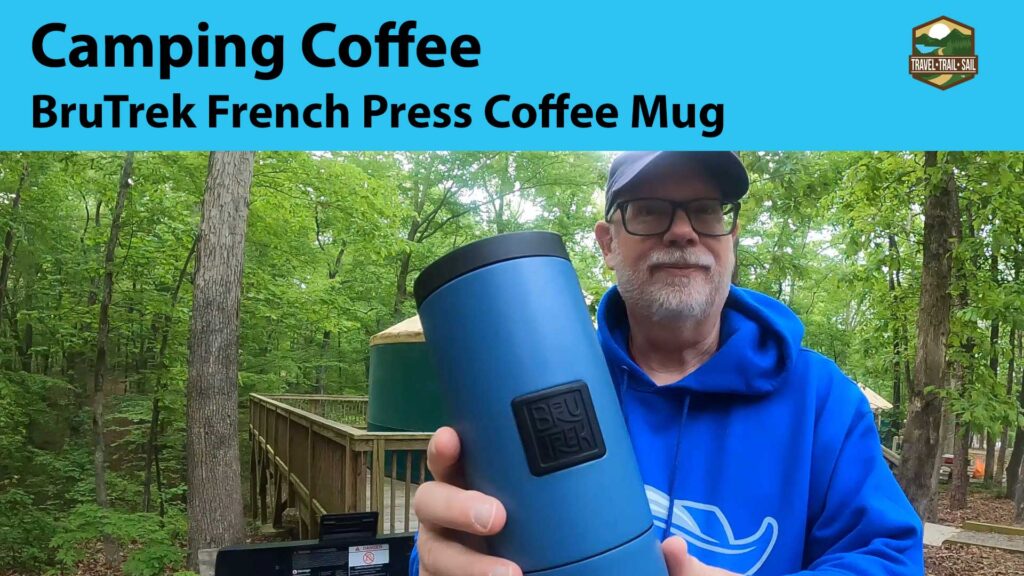 You can order the BruTrek OVERLNDR from the manufacturer, Planetary Design. For your convenience, here is a link to it on Amazon. (Affiliate Link)
8 – Percolator Coffee Pot
You could use a traditional coffee percolator pot. Generations have used a percolator to make fantastic camping coffee. Place the grounds in the basket, add cold water to the pot, and set on a hot stove or even over the campfire. Soon, you'll start to see and hear the coffee brewing. The nice part about percolator coffee pots is that they are very durable.
9 – Espresso Coffee
You can get a variation on a percolator pot that has the grounds in the bottom and is perfect for making espresso. Espresso is a tasty but sometimes strong variation on coffee. You'll want to use fine ground coffee for the best results. My favorite choice is illy.
10 – Propane Grill Drip Coffee Maker
When using a propane stove, you can get a special camper coffee pot that works just like a regular drip coffee machine. This is the perfect type of coffee pot to keep in a chuck box for group camping trips. The rest of the people in your group will appreciate waking up to the smell of coffee in the morning. Trust me.
11 – Cold Brew Coffee
If you have neither electricity or a gas stove, you can still make a tasty cup of camping coffee. Just try cold brew. You can make cold brew coffee in a special cold brew system or in a French Press. But, if you don't have one of those, just use a mason jar or similar container. Add grounds to the press or use a coffee filter. Add cold water and steep overnight. In the morning, remove the grounds and then enjoy the coffee. Dunkin provides step-by-step directions for cold brew coffee. To simplify things, you can get cold brew coffee packs.
Enjoy Your Camping Coffee
To enjoy coffee while camping, you want a nice mug. I have a few that I have collected as souvenirs from state parks and other destinations.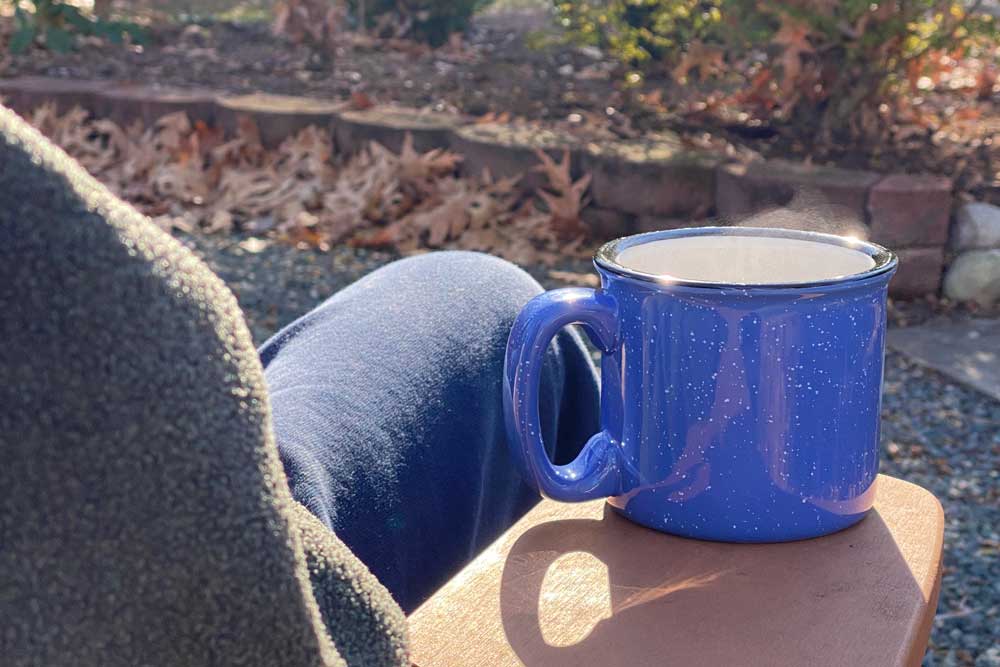 But, to ensure your coffee stays warm, you might want to consider an insulated mug. At the campsite and when traveling, my go-to mug is a Thermos insulated mug. I like that the top opens & closes easily. With the top closed, your coffee will stay warm for several hours.
Thanks
Thanks for checking out our review of how to make camper coffee. I hope you found it helpful. We'd love to hear how you make coffee when camping. Please leave a comment to share your story.
If you liked this post on making camping coffee, you might also like our posts on making Smoothies in an RV and on Dutch Oven Cobbler.
Copyright 2020 & 2023 Travel Trail Sail. All Rights Reserved.