Powhatan State Park Review
Powhatan State Park is a great campground on the James River. Bike, kayak or hike – it's a great place to relax and enjoy the woods and water.
Powhatan State Park Overview
Powhatan State Park is a 1,500 acre park built along the banks of the James River. The park was created with a purchase of the land in 2003. Powhatan opened in 2013 and is one of Virginia's newest state parks.
Today the park offers camping and outdoor recreation. There are trails for hiking, mountain biking, and horse riding. The park also offers a picnic area and several kayak launch areas.
Powhatan State Park has a mix of woods, water and meadow. There are paved roads running throughout the park to make it easier to access the different parts of the park such as the picnic area or kayak launch. The park is very quiet, except for an occasional train that runs just on the other side of the James.
Note that Black Bears are present in Powhatan State Park. Be bear aware. Don't leave food out and be sure to dispose of any waste in the bear-resistant trash cans.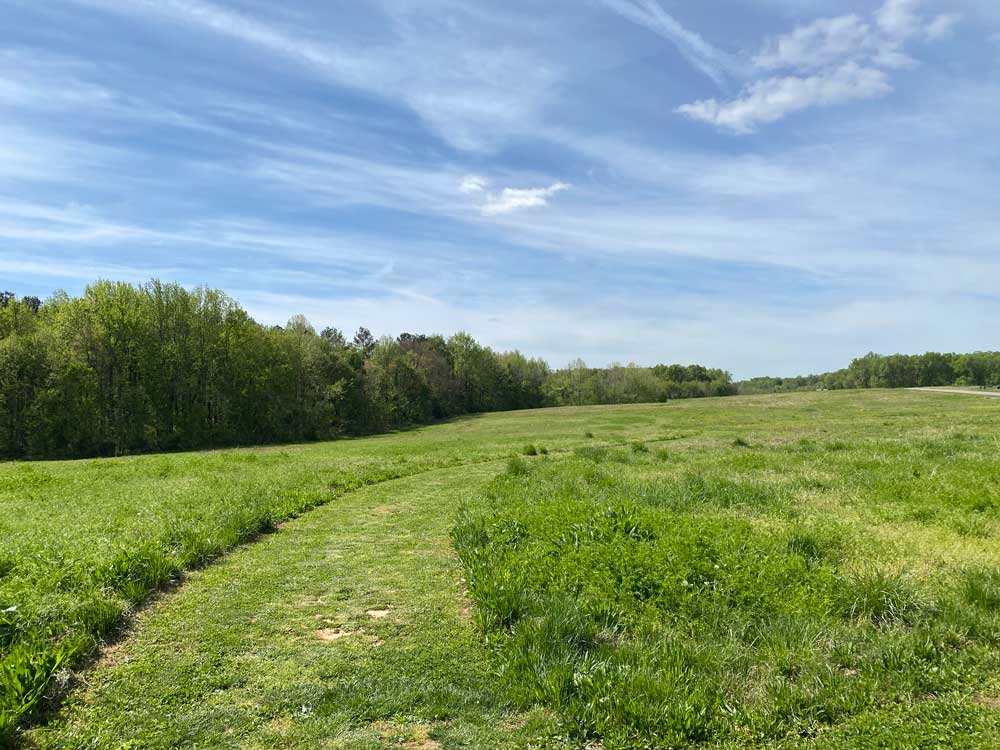 Powhatan State Park is located in Powhatan County, VA just North of Richmond. There are several nearby wineries.
Powhatan State Park Walking Tour Video
In our Powhatan State Park YouTube video, we walk you through all of the highlights of this great Virginia State Park.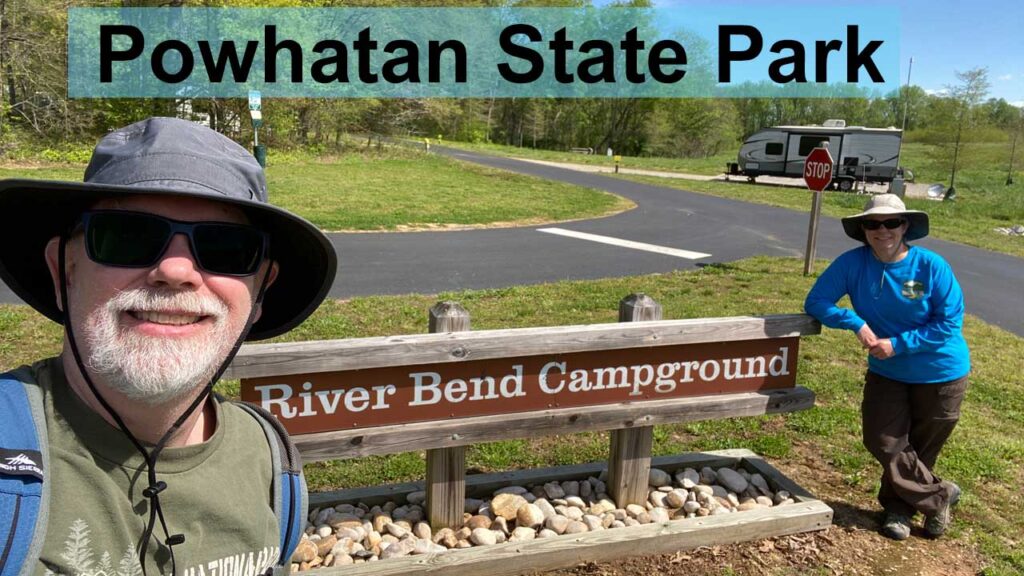 Powhatan State Park Amenities
Hiking at Powhatan State Park
Powhatan offers over 11 miles of hiking trails and multi-use trails that allow hiking, biking and horse riding. Only one of the trails is for hiking only. The rest allow hiking + mountain biking or all three trail uses. You can find the park's trail map at Virginia State Parks Powhatan Trail Guide.
The Gold Dust trail is a hiking only trail that connects the Campground Trail with the River Trail. It is a nice walk in the woods. The River Trail is a hiking and biking trail along the James River. Along the River Trail, there is a canoe launch and camping area. We enjoyed combining the Campground, Gold Dust, and River Trail to make a several-mile hike.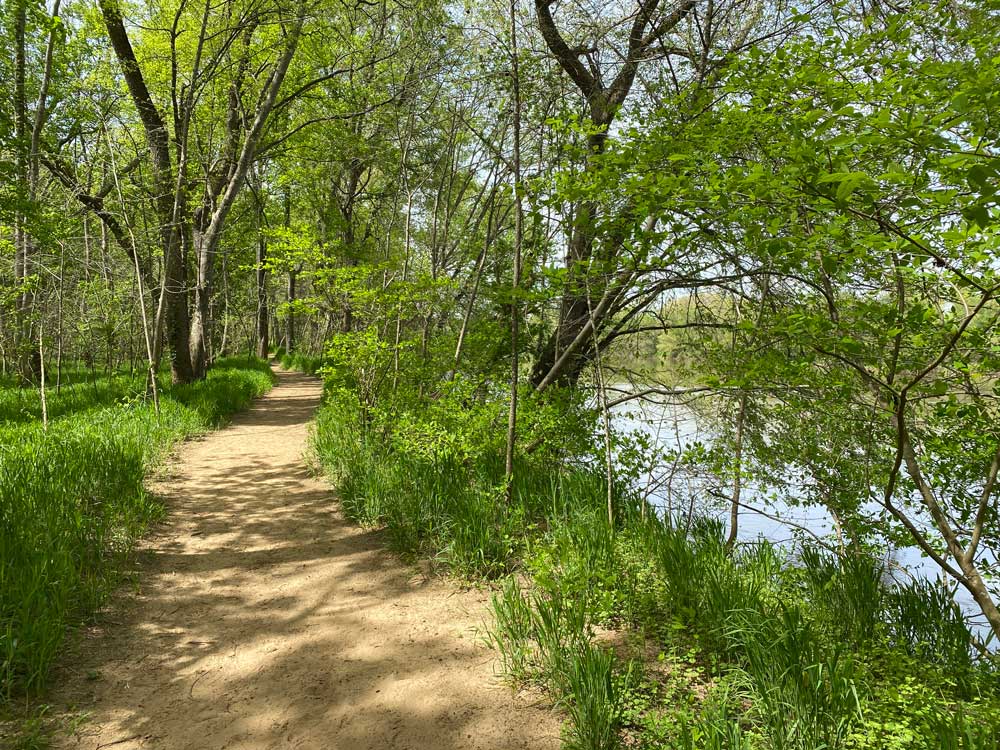 There are several miles of paved roads at Powhatan. With fairly low traffic, you might find that these are a great place to mountain bike in addition to the mountain biking trails.
Powhatan State Park Kayak Launches
There are three kayak and canoe launch areas at Powhatan. We heard that you could launch in one area, drift for about two hours, then exit at another launch area. The launches appear to be relatively steep. The James River has a current and a no swimming advisory is posted.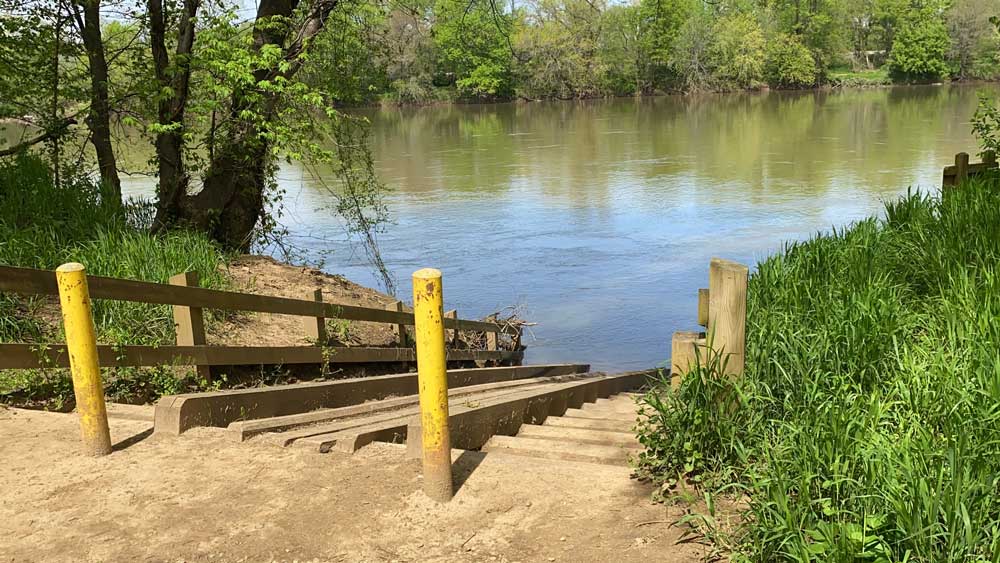 Powhatan Picnic Area
There is a large picnic area at along the James River. In addition to the large picnic shelter, there are several picnic tables and grills.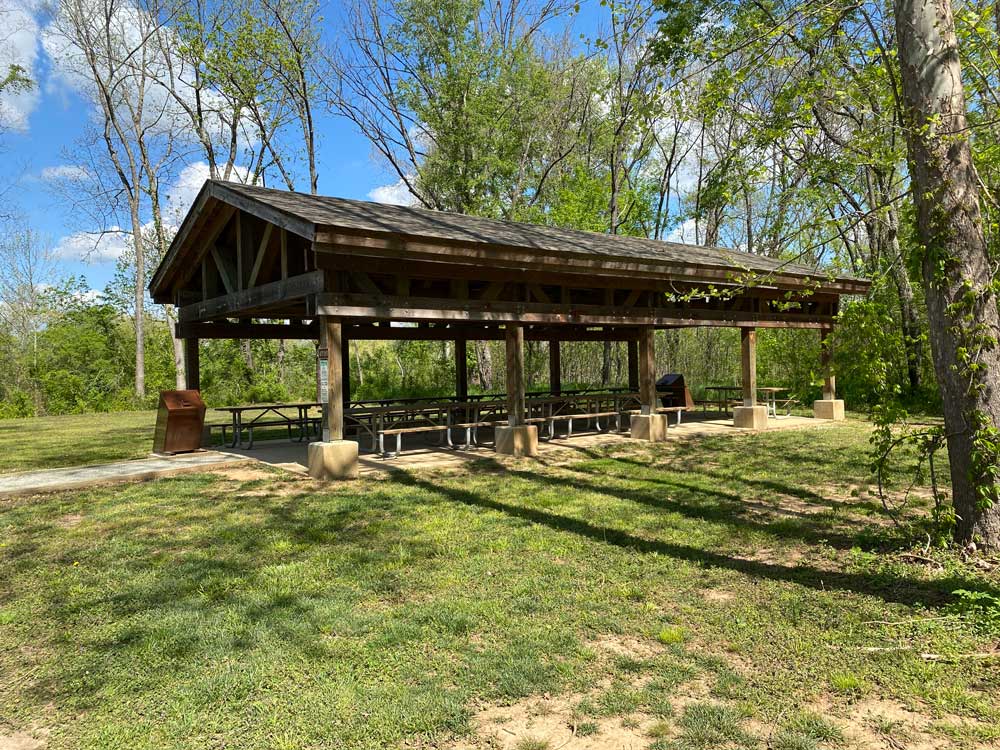 In another part of the park, there is a picnic shelter with a nearby playground.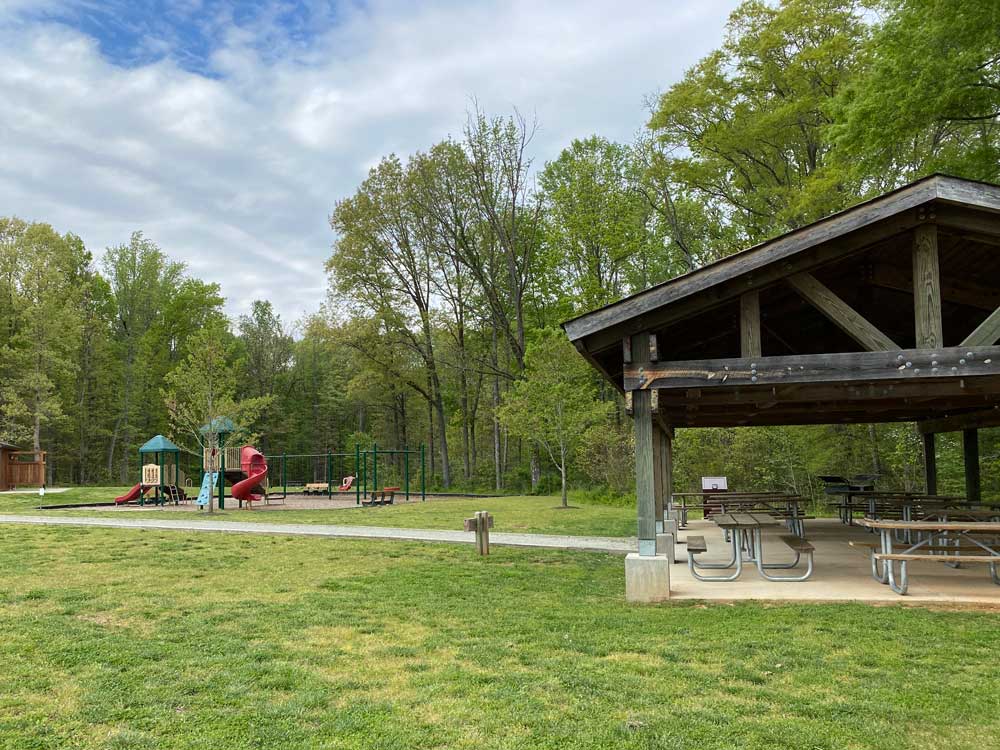 Events At Powhatan State Park
During normal operation, there are fun things to do at Powhatan. You might be interested in a Ranger-led program such as a tree identification hike. A monthly archery lesson program is available.
Powhatan State Park Campground
Powhatan offers one campground loop with 29 back-in and pull-through campsites. Sites are level gravel sites with water & electric hookups. A group tent camp and a canoe-in campground are also available. Firewood is available for purchase.
Check-in was contactless. We simply navigated to our site and our check-in materials were at the site. The park office has additional information. such as a campground map.
Campsites at the River Bend Campground have water and 30/50 amp electric service. Many of the sites require a site-specific reservation. A few are set aside as unreserved sites. Reservations can be made at ReserveVAParks or by calling 1-800-933 7275.
Each campsite includes a gravel parking pad with an additional gravel area that has a fire ring, lantern hook and picnic table. Many of the sites are wooded and private. The sites near the entrance, 1-3 and 26-29 are less shaded.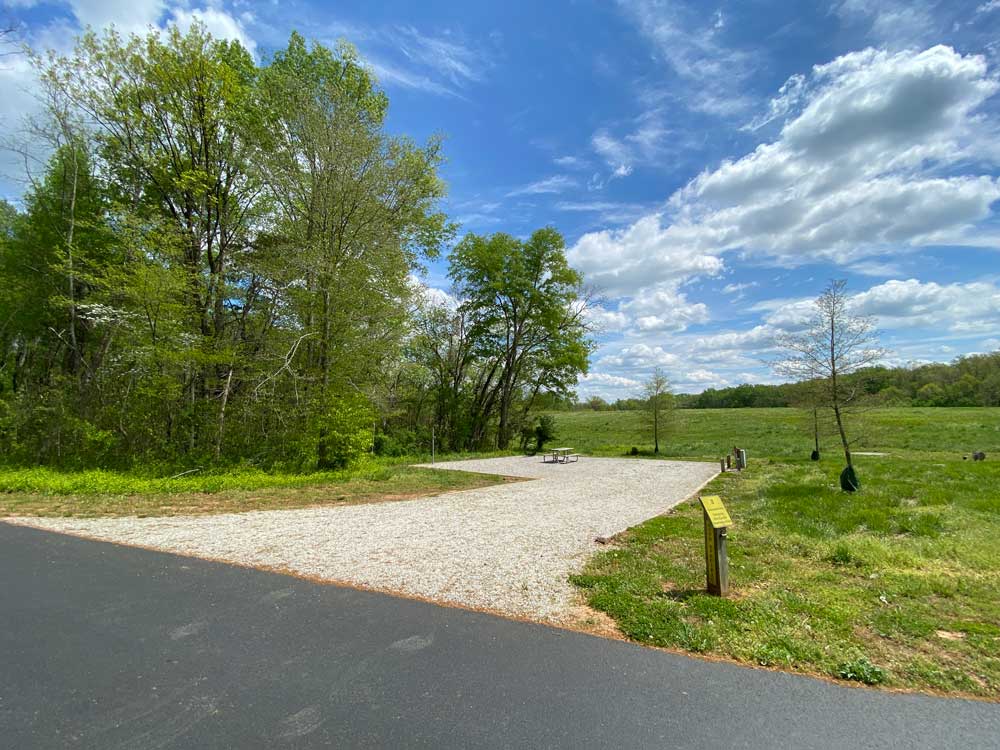 Campsites are mostly big-rig friendly and are generally at an angle to the road to enable easier backing. The side pads were large and would make for a fun place to play a game like cornhole.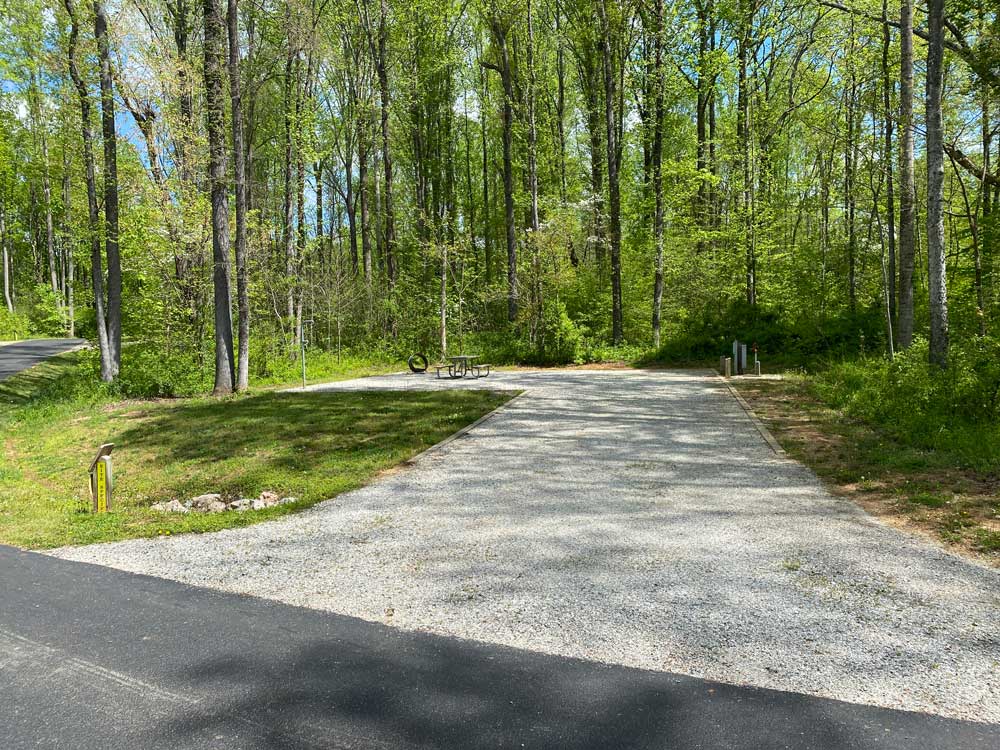 There are several pull through sites. We saw very large 5th wheels at the campground that had plenty of room.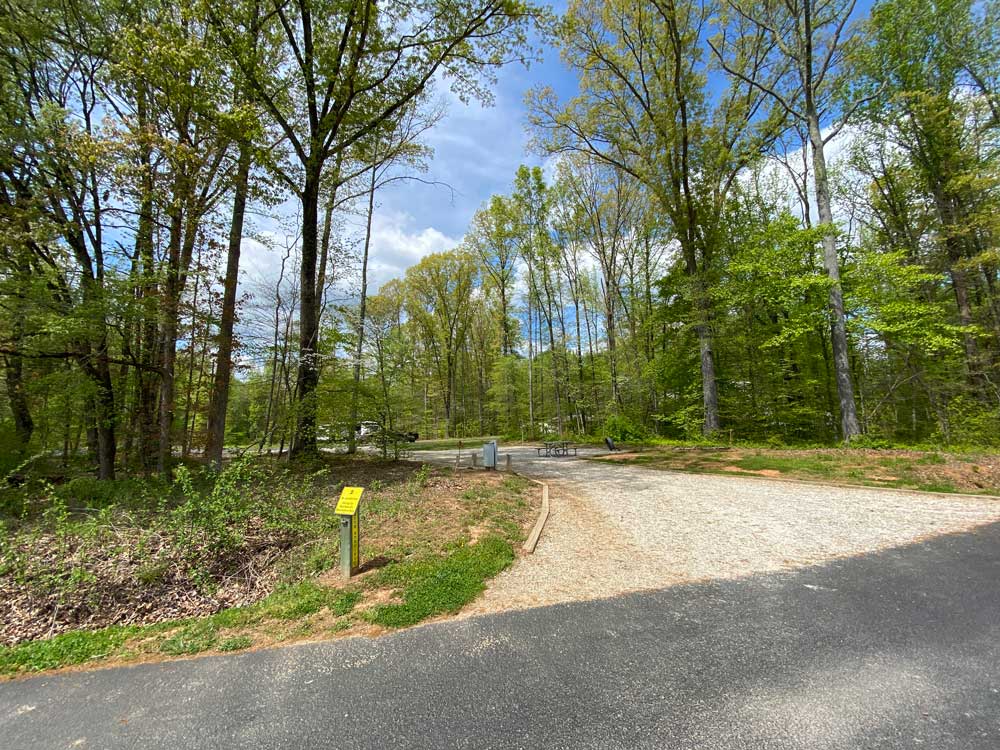 A nice bath house is located in the middle of the campground. It offers individual entry showers and a laundry facility with 2 washers and 2 dryers. Washing is $1.50 per load. There was no detergent vending so you'll need to bring your own.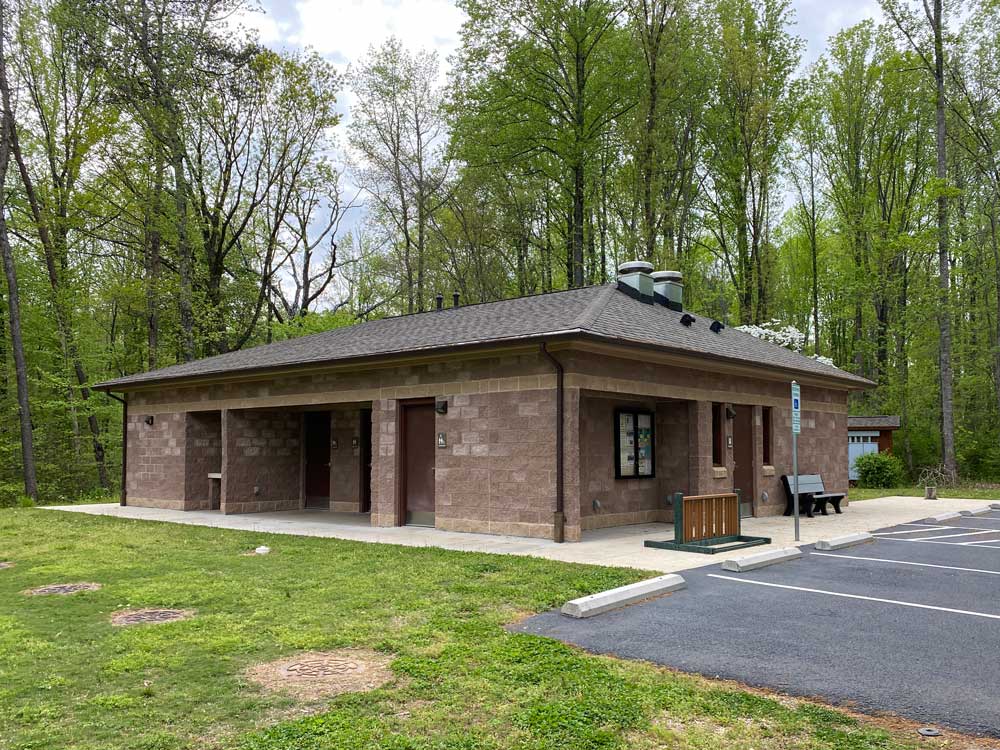 Powhatan State Park Campground has three yurts for rent. A yurt is a tent. Each has the same outside amenities as the campsites. Note than two of the yurts have their table & fire ring on a lower level while one has them all on the same level.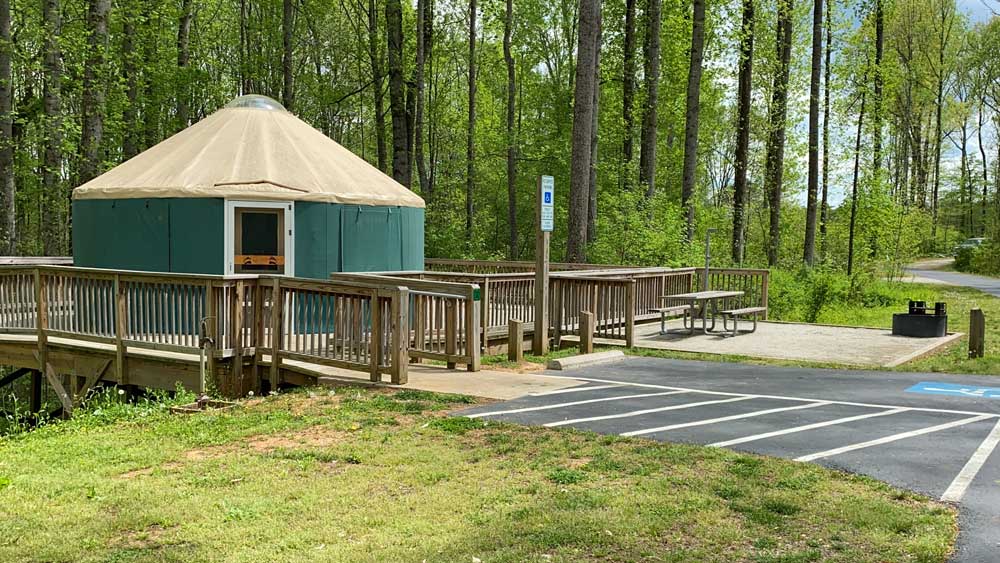 Powhatan State Park Campground Other Information
While there is no campground-provided Wi-Fi, we were able to get a good cell signal with Verizon. We tried over-the-air TV and were able to get several channels from Richmond and Charlottesville.
Road and other noise was minimal. We did hear occasional trains as there are railroad tracks across the James River. There were few airplanes that flew over during our visit but airport noise wasn't significant. On the weekend we stayed, noise overall was very quiet, especially after dark.
The sky is clear at Powhatan with minimal light pollution. On a clear night, you can see the stars very well.
There is no playground in the campground. However, there is a playground area nearby.
Visiting Powhatan State Park With Dogs
Like most Virginia State Parks, Powhatan is dog friendly. You can walk the trails with your dog. They can stay in the campground with you. As long as you keep your dog on a leash, you should have a great time exploring Powhatan with them. Note that dogs aren't allowed inside the buildings.
Powhatan State Park Rates
A Virginia State Park is a great value. You can get an inexpensive day pass to the park. Or, consider a Naturally Yours Passport that provides access to all Virginia State Parks for a year for $75.
Camping for a paved water & electric site is $35 per night and includes access to all the park activities. Note that there is a $5 online reservation fee. Taxes for a three night weekend were approximately $6.
Powhatan State Park Directions
Powhatan State Park is located at 4616 Powhatan State Park Rd in Powhatan VA 23139.
Roads to Powhatan were generally good. The last few miles after exiting I-64 were two-lane roads.
Leave a Comment
I hope you found this review of Powhatan State Park and Campground to be helpful. Leave a comment to share your experiences with the park. Or, we'd love to hear your recommendation for a park you think we should visit. Thanks.
If you liked this, you should check out our reviews of Chippokes Plantation State Park and Belle Isle State Park.
Copyright 2021 Travel Trail Sail. All Rights Reserved.