State Park News April 2023
Here are the top state park news stories for April 2023. We are working to provide you with a summary of the most interesting state park news stories each month. If you have a state park news story we missed, let us know by leaving a comment.
Arkansas Diamond Find
You never know what interesting thing you may find in a state park. In Arkansas on March 4, a man found a 3.29-carat diamond while sifting sand at Crater of Diamonds State Park. According to Inside Edition, David Anderson has found over 400 diamonds since he started looking for them over 15 years ago. His finds include other large diamonds including a 3.83-carat and a 6.19-carat diamond.
According to Scripps News, more than 75,000 diamonds have been discovered in the park since 1906 including a 40.23-carat diamond, which is the largest diamond ever found in the US.
There are similar opportunities to try your luck at finding interesting things in state parks. In Virginia, you can look for ancient sharks teeth while in some California parks, you might have the opportunity to pan for gold.
New Kansas State Park
According to KSNT, Kansas may get a 28th state park. There is a bill moving through the house that will create a new park named Lehigh Portland State Park in Allen County. Land for the park was donated to the state from Iola Industries. The property has a lake which is formed from an abandoned quarry. Additionally, the future park area includes 14 miles of hiking trails and a 300-foot-long cave.
And Another New South Carolina State Park
Last month we mentioned state park additions coming to South Carolina. It looks like there might be one more. According to Live5 News on March 13, the state purchased 23 acres of land from the Sisters of Charity of Our Lady of Mercy and the former convent could become a state park. It sounds like the area has the potential to provide for a research complex and access to a historic fort.
Wisconsin State Park Sticker Contest
Many state parks use a vehicle window sticker to enable access to the parks. In Wisconsin, those state park stickers are designed by students. According to the Wisconsin DNR, the sticker design contest for their vehicle admission sticker is now open. This contest is open to high school student in Wisconsin. Designs can be submitted until April 30 on the DNR state park sticker design contest web page.
Tasty Way to Support State Parks
Friends of Cape Henolpen State Park in Delaware are hosting a wine, cheese, and beer tasting event on Saturday, April 15. This annual event is used to help support the part. According to the Cape Gazette, the friends group has purchased benches, constructed a playground, and supports a free bicycle loan program. Tickets purchased in advance are $27 dollars and includes admission to the park.
If you are interested in supporting your local state park, check to see if they have a friends group.
State Park Pass From the Library
State parks are generally an affordable way to get outdoors and learn. This interesting partnership may make parks ever more accessible. According to Pigeon 605, a partnership between the South Dakota Game, Fish and Parks and the South Dakota State Library makes state park passes available for checkout at the library. Passes can be checked out for up to three days.
This is just another example of the innovative ways that libraries keep adding to their learning offerings.
North Carolina Statewide Star Party
We like to highlight one fun state park event each month. This month, you should check out the 2023 Statewide Star Party. This event will be held at 35 locations including at multiple North Carolina state parks on April 21. This event is part of the NC Science Trail, a collection of over 60 partners working to bring science education to people across the state of North Carolina. We hope the skies are clear that night and everyone enjoys learning a bit about the night sky.
State Park News on YouTube
We share state park news on our YouTube channel. Check out our April 2023 state park news video.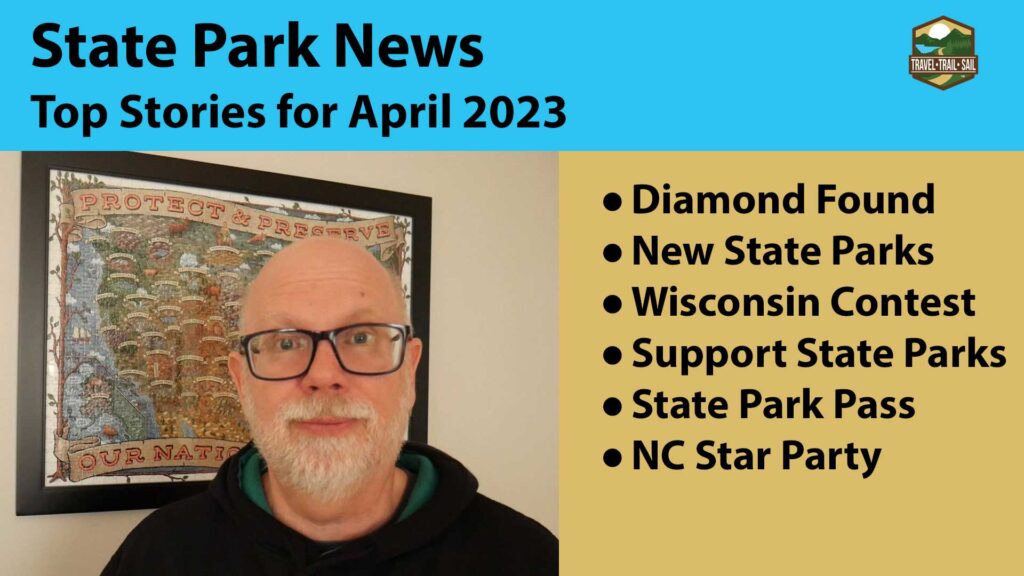 Share Your Thoughts
If you have a state park news story to share, we'd love to hear it. Leave a comment to let us know.
We love state parks. We shared six reasons why we love state parks in our recent post and video. If you love state parks, too, let us know your favorite.