Garmin Dash Cam 57 Review
We learned the value of using a dash cam and wanted one for RVing. We selected the Garmin Dash Cam 57 for our truck and travel trailer. Check out our review.
Why Use a Dash Cam
We sometimes find that driving an RV can be a bit challenging. Our combination of a 3/4 ton pickup and travel trailer are relatively heavy. It takes longer to accelerate, merge, or stop than it would in a car. And yet, drivers often merge in front of us with limited space. After a highway accident in one of our cars, we discovered that the kind of video a dashcam can provide can be very useful. A dash cam won't prevent an accident. However, should you be in one, having video that shows the incident could be helpful.
Another reason to use a dash cam might be to get video footage to share. Since we create RV travel YouTube videos, some road trip videos might be a good addition.
Our Garmin Dash Cam 57 Review Video
Check out our review of the Garmin Dash Cam 57 on YouTube.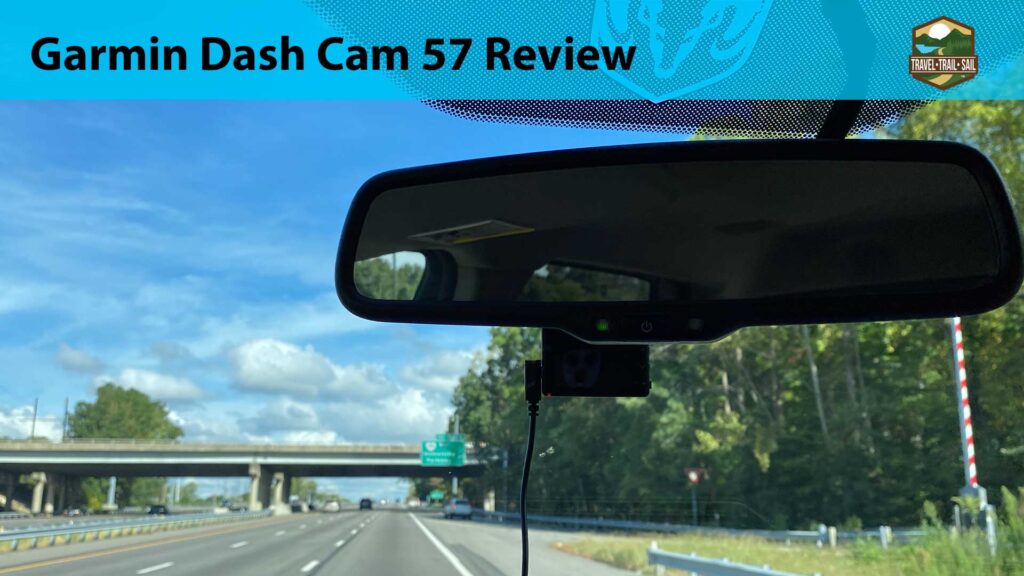 Selecting a Dash Cam
After getting a dash cam for one of our cars, we thought it would be good to have the same for our truck. Initially, I planned to just move the dashcam to whichever vehicle we were going to use for a road trip. However, the dashcam we had could only be installed in one vehicle. It required a special mounting bracket and wasn't available for purchase.
A few of the things that seemed important to us for a dash cam are:
Ability to use the dash cam in more than one vehicle
A wide field of vision – so that you can see cars merging into your lane
Ability for the dash cam to automatically save video related to an accident
The ability to capture high quality video – good enough to include in a YouTube video
How Does a Dash Cam Work
A dash cam is a small camera mounted to the windshield of a car or truck. In some cases, a second camera is mounted on the rear window to capture footage from the rear of the vehicle.
A dash cam typically records video on a loop. The camera uses a small memory card, often a micro SD card. It records short sections of video. Once the card is full, it starts overwriting older recordings.
Some dash cameras have advanced features like incident detection that will automatically save video just before an after a detected incident. This content doesn't get overwritten like the rest of the recordings.
Why Did We Select the Garmin Dash Cam 57
Several manufacturers make good dash cameras. The things we liked about the Garmin Dash Cam 57 are:
Small size that doesn't interfere with our ability to see the road
High definition video. The Garmin 57 records in 1440p which provides great video quality. It is also recording at 60 fps (frames per second) which enables the video to be smooth compared to 24 or 30 fps.
Incident detection. When the Garmin detects a significant bump or fast movement, it automatically saves a section of video just before and after the event.
Updated safety features. Our older vehicle doesn't have lane departure or forward collision warnings. It's nice that the Garmin enables us to get those safety features without having to upgrade our vehicle.
A second vehicle mount is provided. The Garmin dashcam has a second magnetic mount so that we can easily use it in more than one vehicle.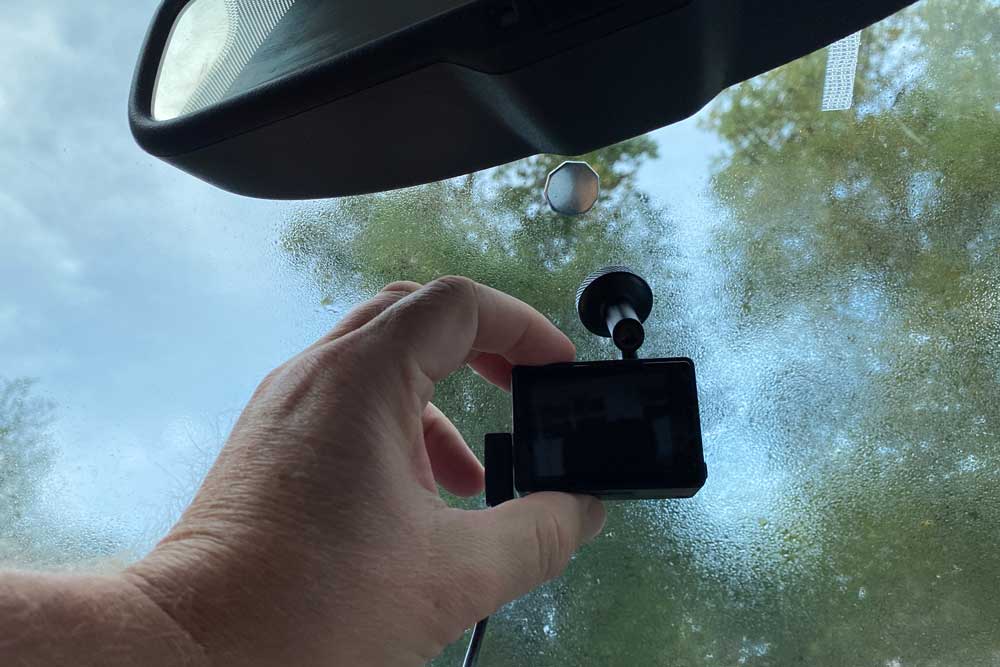 Does Garmin Make Other Dash Cams
Garmin has four dash cams in their lineup. The 47, 57, and 67W are all similar. Key differences include the video quality and the width of the viewing angle. Garmin also makes a very small dash cam, the Garmin Mini 2, which is about half the size of the others but has no screen. If you want to learn more and get an in-depth comparison, we suggest you check out the Garmin Dash Cam Comparison video that TechnoRV made. (affiliate link) Scroll to the bottom of the Garmin Mini product page to get to the comparison video.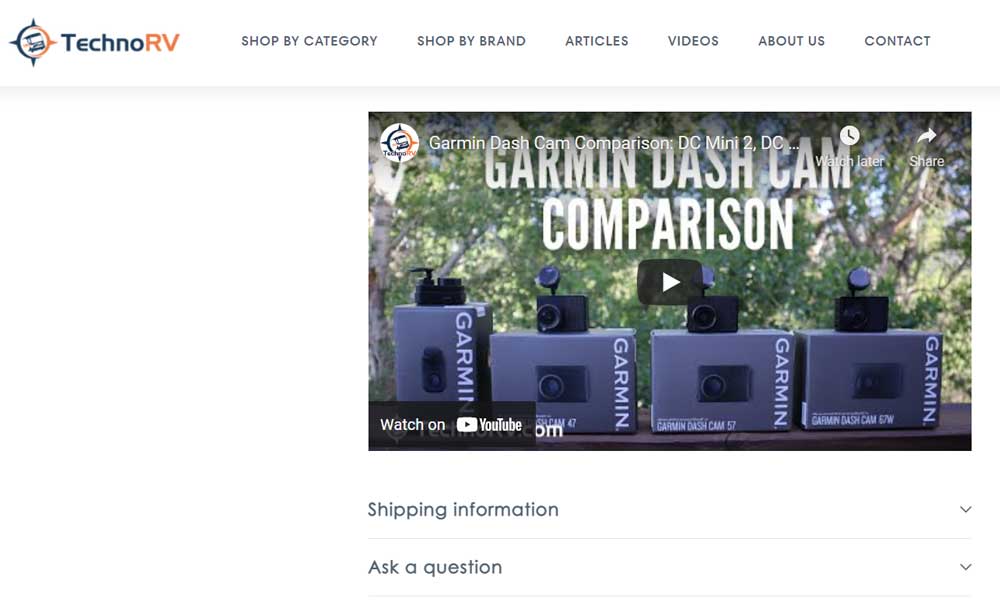 How to Install the Garmin Dash Cam
Three of the Garmin Dash Cams install the same way. The 47, 57, and 67W are pretty easy to install. Here are the basic steps.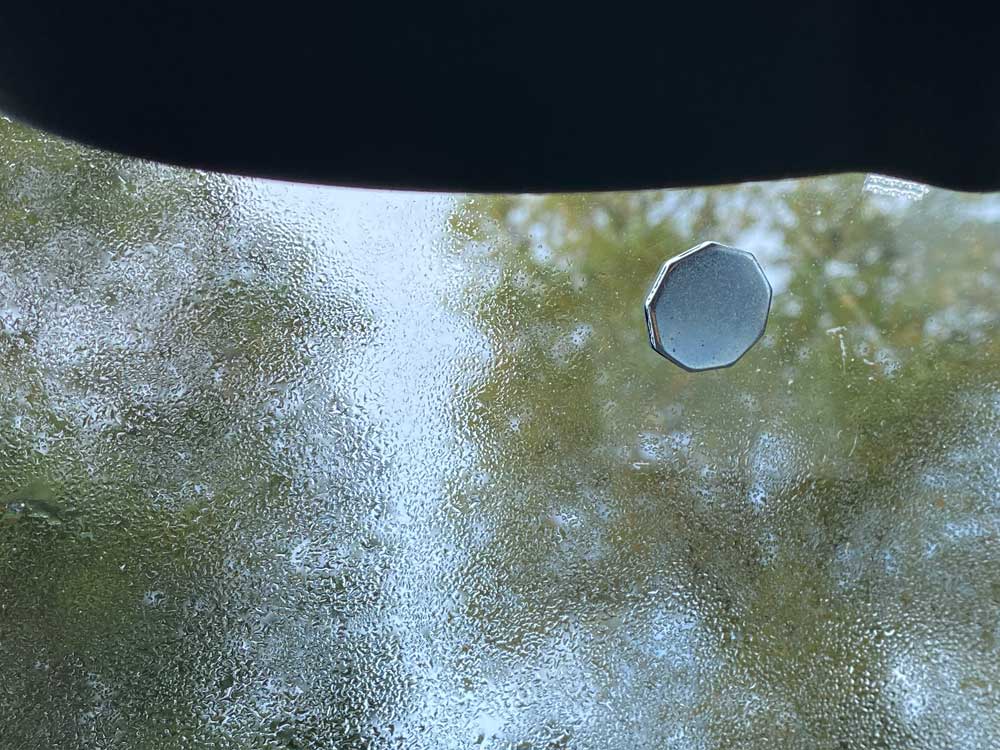 Remove the components from the package
Identify where you want the dash cam positioned
The first magnetic base comes in the dash cam post
Remove the protective tape from the magnetic mount
Stick to the window
Attach the power cord
Plug in the power cord
The unit will automatically start recording once it has power
Optional: install the dash cam app and pair the devices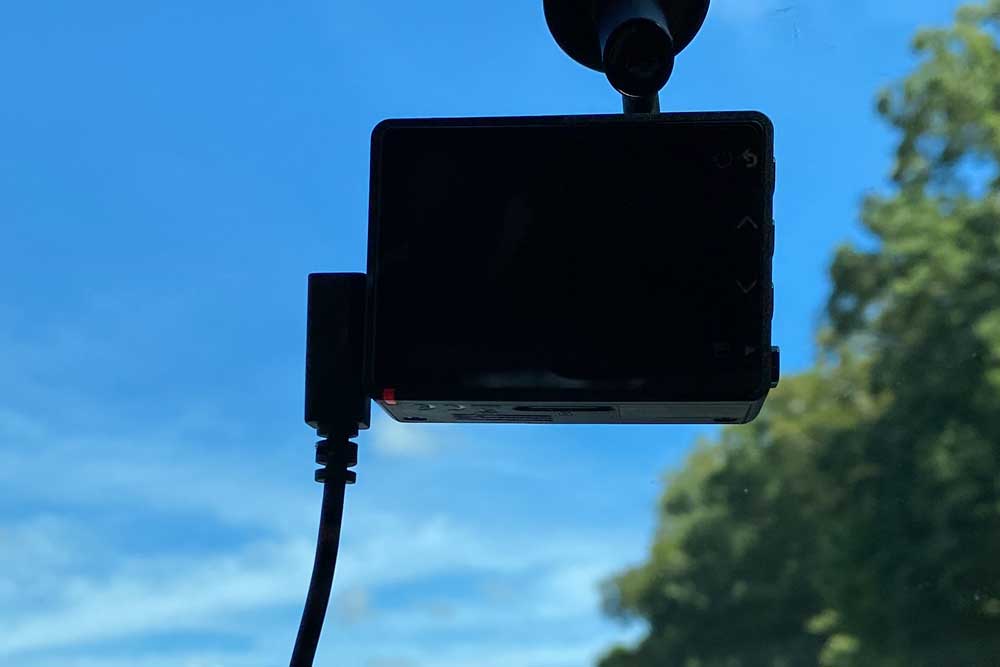 How Well Does the Garmin Dash Cam 57 Work
We've had the chance to use the Garmin Dashcam 57 on several trips. So far, it works great.
The Garmin Dash Cam continuously records video as you drive. It saves the video in one minute files. Once the mini SD storage card is full, new video begins to replace old video. The high definition video is clear. While the 140 degree field of vision is pretty good, you might choose to opt for the full 180 degree view available on the Garmin Dash Cam 67W.
If the dash cam detects an incident, like a short stop, it will automatically save video from before and after the event.
The included safety features are nice. When a potential safety hazard is detected, the dash cam emits an audio alarm and the screen shows a message for the warning.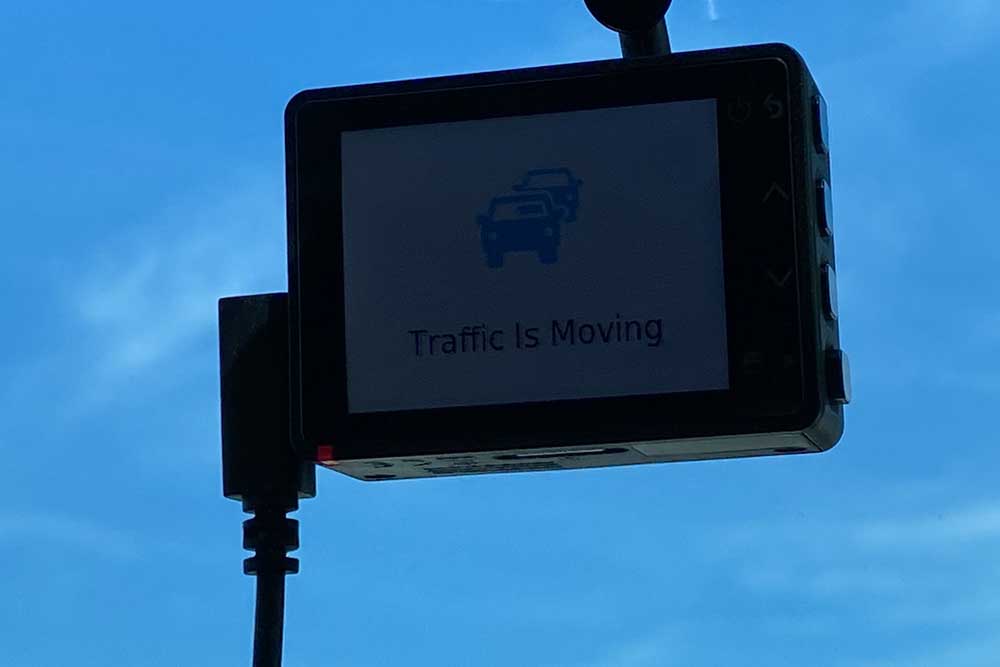 The three alerts we appreciate are:
Traffic is Moving
Lane Departure
Forward Collision Avoidance
If you want to see these alerts demonstrated, check out our YouTube video review.
It's great that Garmin included a 16 GB mini SD card with the unit. About the only improvement we would like to see is to have more storage included. We plan to upgrade to a 256 GB card.
Where to Buy a Garmin Dash Cam
TechnoRV
We found the information provided by Eric at TechnoRV to be very helpful. Eric and Tammy are RVers so it's nice to know that they actually use the products that they are recommending. We liked their approach so much, we became TechnoRV affiliates. If you choose to purchase from them, it won't cost you anything extra. However, we'll earn a small commission that helps us continue to provide you with helpful content.
We recommend purchasing the Garmin Dash Cam 57 at TechnoRV
Note that they have sales during which their prices are very competitive with other retailers.
Amazon
We understand the convenience of purchasing from Amazon and the Garmin Dash Cam 57 is also available there. As an Amazon affiliate, we'll earn a small commission that helps us continue to provide you with helpful content.
Thanks for Reading
Thank you for checking our our review of the Garmin Dash Cam 57. I hope you found it helpful. Do you use a dash camera? We'd love to hear your experience. Please leave a comment to share.
Copyright 2022 Travel Trail Sail. All Rights Reserved.