Our RV Visited States Map
How do you tell your travel story? One great way is with a visited states map. A states I have visited map is a great conversation starter in the campground.
We love having a sticker map showing the states we have visited. As we expand our travel to new destinations, we add stickers for each state we visit. It helps us remember our great adventures. And, when we display it on the camper, it can be a conversation starter with other RV campers as we swap stories and compare notes about our travels.
While we have been camping quite a bit, we have only added three states in the last few years, Alabama, Georgia and Tennessee. Still, it feels like we've come along way since I wrote Added Three States back in 2012 after our trip to Maine, Massachusetts and Pennsylvania. I guess we have our favorite places we keep returning to. Over the next few years, though, we hope to fill in a lot more of our map.
Where to Put Our Travel Map on our New Camper
Getting a new map for our new camper was one of the first accessories we wanted. purchased. We planned to add all of the states we have visited by RV. Even though it is a new camper, the map tells our RV travel story – not the story of the camper.
When we got our new Grand Design Transcend camper, we had a problem; where to display our visited states map. On our first camper, we used the kind that attaches with suction cups. It fit nicely in the large window over our dinette.
We love our new Transcend 28MKS. However, it has smaller windows on the curb side of the camper, the side with the awning where you are likely to hang out next to your RV. Since the windows are smaller on the side where we would want the map to be visible, we needed to look for an alternative way to display our map of the places we have been.
I didn't really want to use a sticker. In fact, I have never put a bumper sticker on any of my cars. But, since I couldn't attach the map to a window, this seemed like the best alternative. One of our friends has a class C camper with smooth fiberglass sides. They have a visited states map and many stickers showing the places they have been on their travels. It's a nice collection and a great way to tell their travel story. Based on their experience, we knew that a sticker style visited states map could work.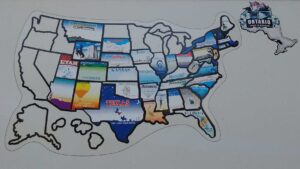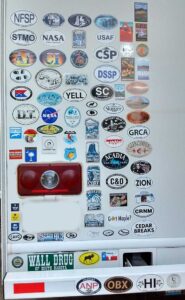 As I looked over our camper, the entry and storage doors have smooth surfaces where a state sticker map could be placed. I decided to give it a shot. We got this map and added it to the door of our camper. I like the images provided for the states and how they show something about each state.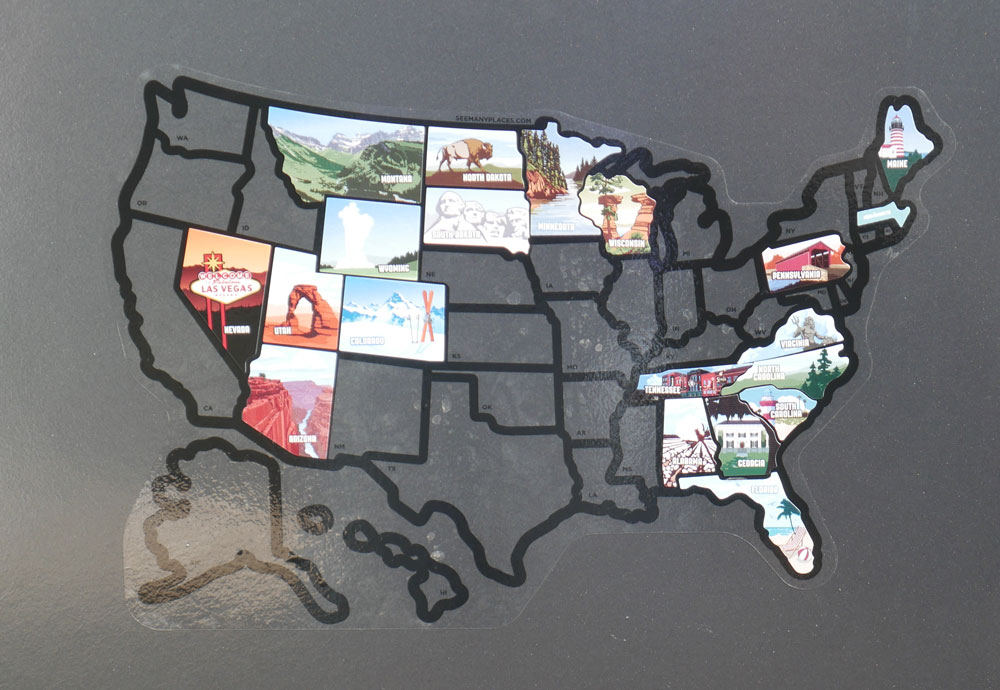 If you are considering adding a visited states map, here are a few things to consider.
How do you display your visited states map on your RV?
If you have a large enough window on the side of the camper where you want to display your map, you can get the suction cup style map and place it in the window. If not, if you have a smooth surface like a fiberglass wall or a smooth door, you can get the sticker style map. If neither of those works, consider creating a board that you can set out to display your visited states map.
What styles of visited states map are available?
Visited states sticker maps come in several styles. The two main types are a sticker that adheres to a smooth surface or a map that is held in place with suction cups.
There are several designs available for each type. Some have solid colors, some have an image based on the license plate from the state and others have images representing something about the state.
A visited states map kit usually includes a clear plastic sheet with an outline of the 50 states and a set of stickers for each state.
How Well Does a Visited States Sticker Map Last?
While they start out looking neat and new. Visited states sticker maps do age. Here are the suction cup style visited state maps we used to use. While the black state outlines aren't perfect in this new map, it looks pretty nice.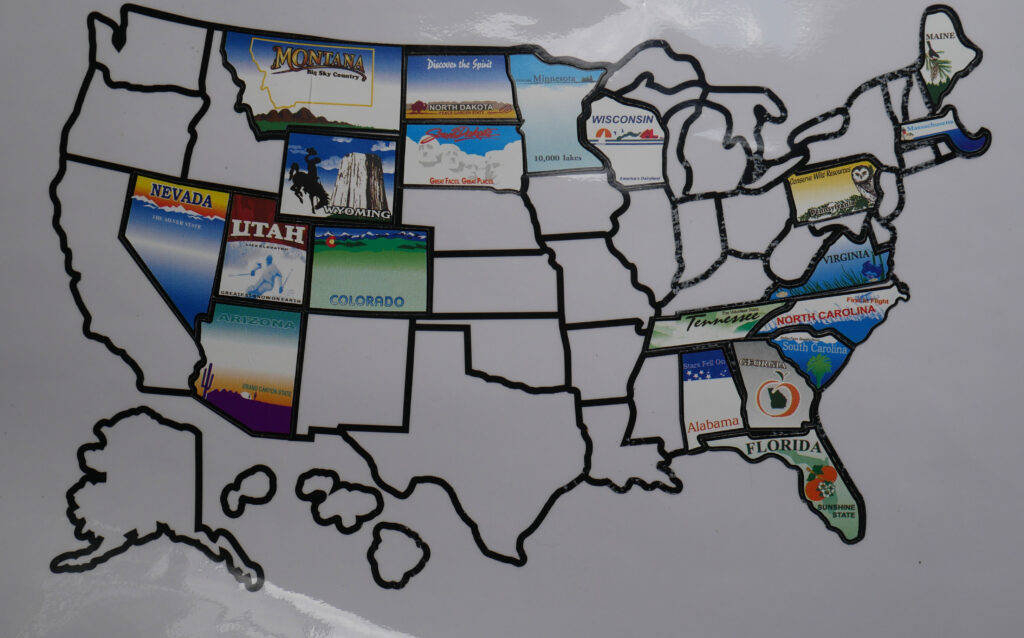 We have heard different stories on how long a visited places sticker or sticker map will look nice. Some fade within a year. Others seem to last longer. UV rays from the sun may fade or cause damage to your sticker map.
We had ours displayed in a window. After several years, it started to look bad enough that we removed it. One tip, if you are using the suction cup model, you may be able to take it down when you won't be traveling for a while. That may help it last a bit longer.
When Do You Add a State to Your Visited States Map?
It seems as though just about everyone has their own rules for when to add a state to their map. That's OK. It means you can set your own rules, too. One rule most people have is that you must spend at least one night in your RV in a state before you can add it to your map.
We add a state after we have camped at least one night and we have visited a meaningful place or done at least one activity in the state. We don't include a state on our map if we visit on car road trip, traveling by plan or by train. For us, what makes the map special is that the map tells the story of our RV camping journey.
For us, just driving through or stopping for lunch isn't enough. It feels like if you are going to add a state, you should have a story to tell. We want to experience at least a little bit of what that state has to offer. So, even though we had overnight camping stops in Georgia on several trips, it didn't get added to our map until we last year. For Spring Break, we spent a week camping and exploring. We stayed at a Don Carter State Park, visited Dahlonega to see the diving bell, climbed Stone Mountain, and visited the Carter center. With those activities, it felt like we had experienced a sample of what Georgia has to offer.
If you look at our map, there may seem to be gaps. Places we drove through but didn't have the opportunity to explore. Hopefully we'll get the chance to return and do more next time.
As you create your travel map, consider if any of these rules should apply to your map.
Camped at least one night
Visited a landmark place such as a capital, museum or monument
Visited a state or national park
Took a hike, bike ride or boat excursion
Ate a special meal
How Do You Display Your Visited Places Map Online and in Forums?
I have learned a lot from participating in online camping and travel forums. In my profile, I like to include a visited states map. Just like in the campground, an online visited states map can be a great conversation starter.
If you want a visited states map to share in forums or social media, it's easy. Of course, you can just take a picture of the visited states map on your camper. Or, you can head to epgSoft who provides an easy way to create a visited states map image.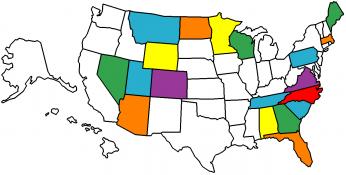 On the epgSoft Visted States Map site, you can create a US States, Canadian Provinces or Mexican States map. Here are the steps to create your own online visited states map.
Select Visited States Map
Use the Select by Name feature to get a check list of states
Select the states you have visited
Select an image size; small, medium or large. For a forum or email signature, consider using small.
Select a file format, JPEG is usually a good option
Click 'create map'
If it looks OK, then use the Download Image option
Can I Get a Visited States Map on Amazon?
Yes. Visited states maps are available on Amazon. The products mentioned in this section are available at Amazon. Note: these is an affiliate links. If you choose to purchase by using the link there is no additional cost to you, but we earn a commission that helps enable us to continue sharing helpful information.
Can I Get a Visited States Map at Camping World?
Yes. Visited states sticker maps are available at camping world. The products mentioned in this section are available at Camping World. Note: these is an affiliate links. If you choose to purchase by using the link there is no additional cost to you, but we earn a commission that helps enable us to continue sharing helpful information.
State Sticker Map at Camping World
Thanks for Checking Out our Visited State Map Post
Thanks for checking out our visited states map. I'd love to hear about how you tell the story of your travels. Do you have a map of the places you have visited? Do you have a different way to map your travels? Leave us a comment and let us know about your journey.
Copyright 2020 Travel Trail Sail. All Rights Reserved.