RV Baking Monster Cookies
We share our favorite camper cookie recipe and provide tips for baking in an RV oven. Check our RV Baking Monster Cookies post and video.
Camper cookies are always a big hit. Who wouldn't love a freshly baked cookie when you are camping? While the typical RV oven is small, you can still bake fresh cookies. Even the refrigerated dough from the grocery store will be good. But, freshly baked monster cookies are even better.
I've been baking since I was very young. I love making cookies. And this recipe is one of my favorites. It is always a crowd pleaser. The recipe comes from an old family cookbook. While the original recipe makes a batch large enough to feed an army, I've updated it to a reasonable size for baking at home or in the camper. Of course, you could always double the recipe – just be sure to use a big bowl to mix the ingredients.
We provide the recipe and instructions here. If you prefer, you can follow along with out RV Baking Monster Cookies video.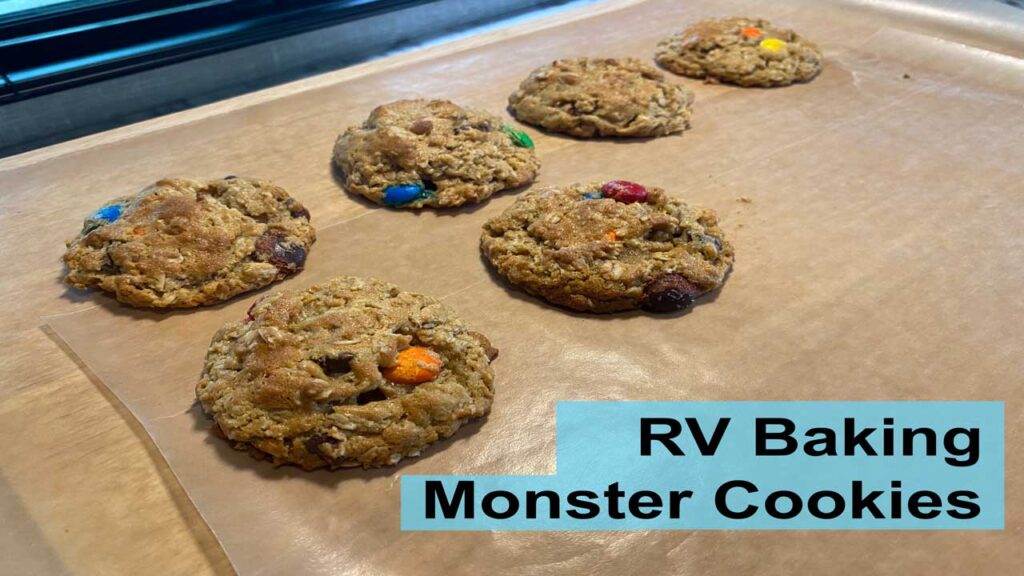 Monster Cookies Ingredients
For this recipe, you need the following:
One stick unsalted butter, softened
1 1/4 cups light brown sugar
1 cup granulated sugar
1/2 T vanilla (1 1/2 teaspoons)
3/4 t honey or white syrup
1 1/2 cups creamy peanut butter
2 t baking soda
3 eggs
4 1/2 cups old fashioned oats
1/2 cup chocolate chips
1/2 cup M&Ms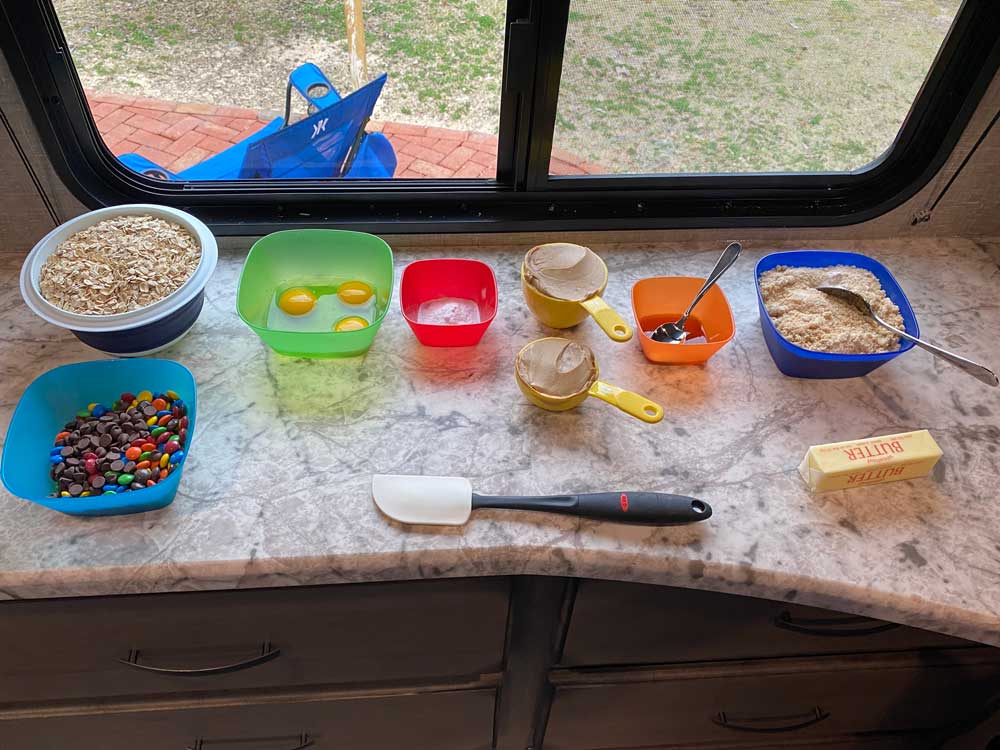 Mix the Monster Cookie Ingredients
In a large bowl, combine the ingredients in the following order.
Cream the butter, brown sugar and granulated sugar together. That is, mix them with a mixer until they are smooth and there are no lumps.
Add the vanilla, honey, peanut butter, baking soda and eggs. Mix with a mixer for several minutes to ensure they are well blended.
Add about 1/4 of the oats and mix by hand. Repeat until all oats have been incorporated.
Add about 1/4 of the M&Ms and chocolate chips and mix by hand. Repeat until all the candy and chips have been incorporated.
Move the dough to a large sheet of waxed paper then wrap.
Refrigerate the dough overnight. The dough is easier to work with and will taste better if it has been refrigerated for at least 24 hours. It can be refrigerated for several days and can also be frozen.
Bake the Monster Cookies
Preheat your oven to 375. Since the temperature in RV ovens tends to swing widely, I highly recommend using an RV oven thermometer. I prefer the kind where the temperature is displayed outside the oven. Keep an eye on the temperature. If it goes too high, open the oven door slightly for 1-2 seconds to release some of the heat.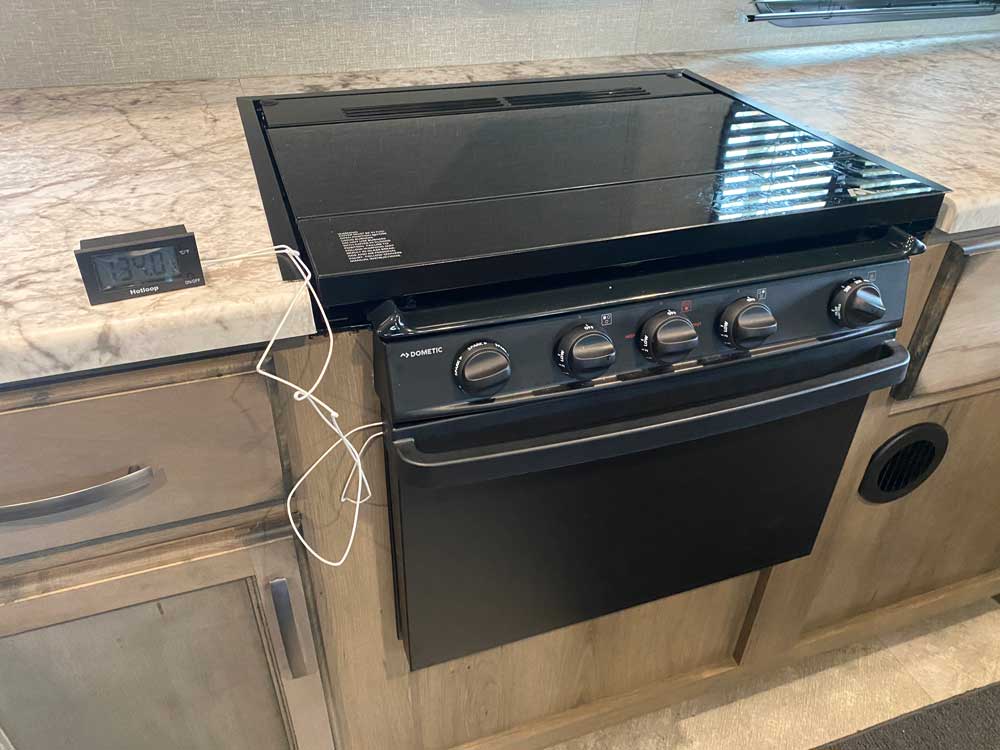 For baking in an RV oven, I like to use Airbake pans as they provide a cushion from intense heat. To keep cleanup simple, I place a layer of parchment paper on the sheet. Use a large cookie scooper to place the dough onto a baking sheet.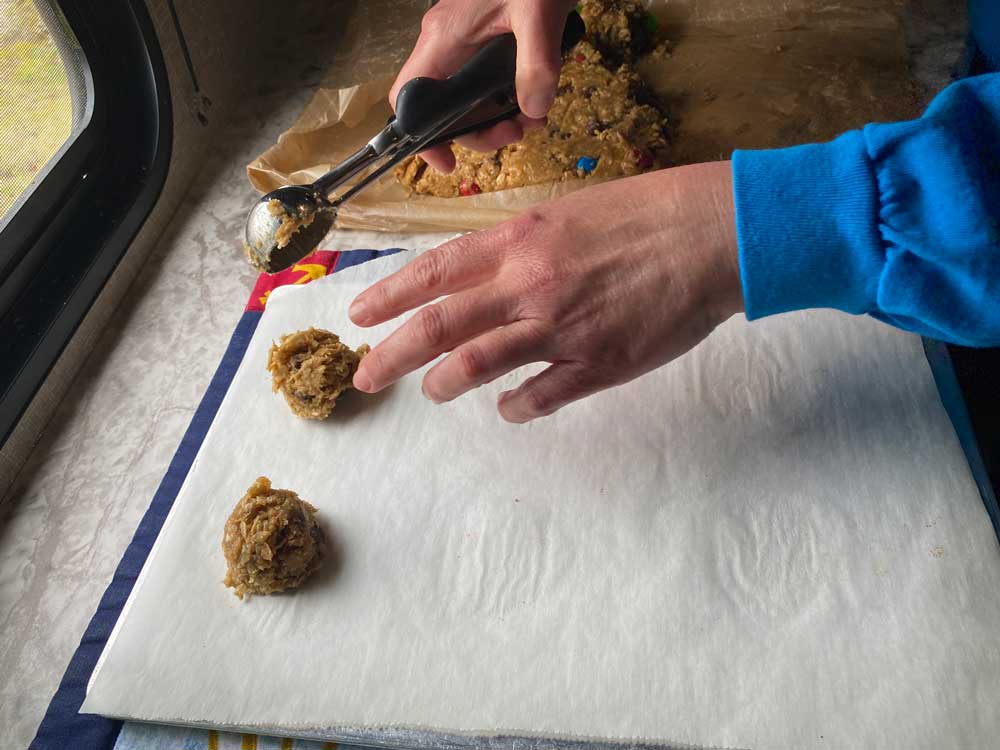 Bake the monster cookies for about ten minutes. Remove from the oven and place the pan on a pot holder or similar insulated surface. The cookies should be soft to the touch and lightly browned (slightly under baked). They will continue to bake on the sheet. After they cool for five minutes, transfer them to a board or plate with a layer of waxed paper on it to finish cooling.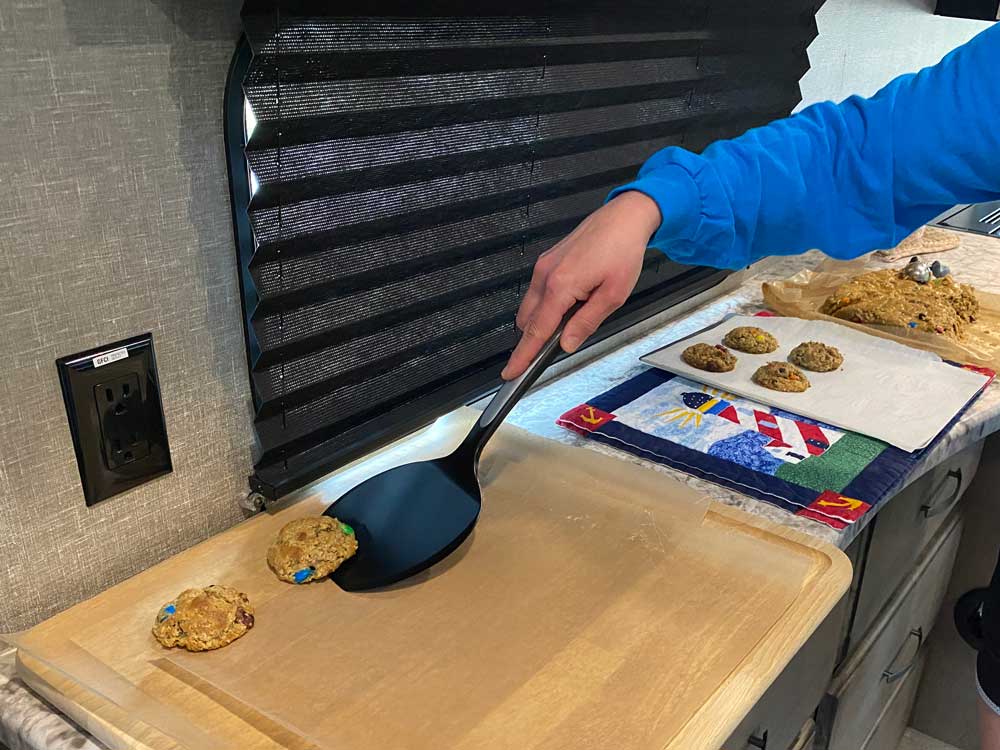 You can bake all of the dough. Or, you could bake just a few cookies and place the remaining dough back in the refrigerator to bake another day.
Enjoy the Monster Cookies
Once the cookies have cooled, serve and enjoy. I think you are really going to like this gooey combination of peanut butter, chocolate, and oats.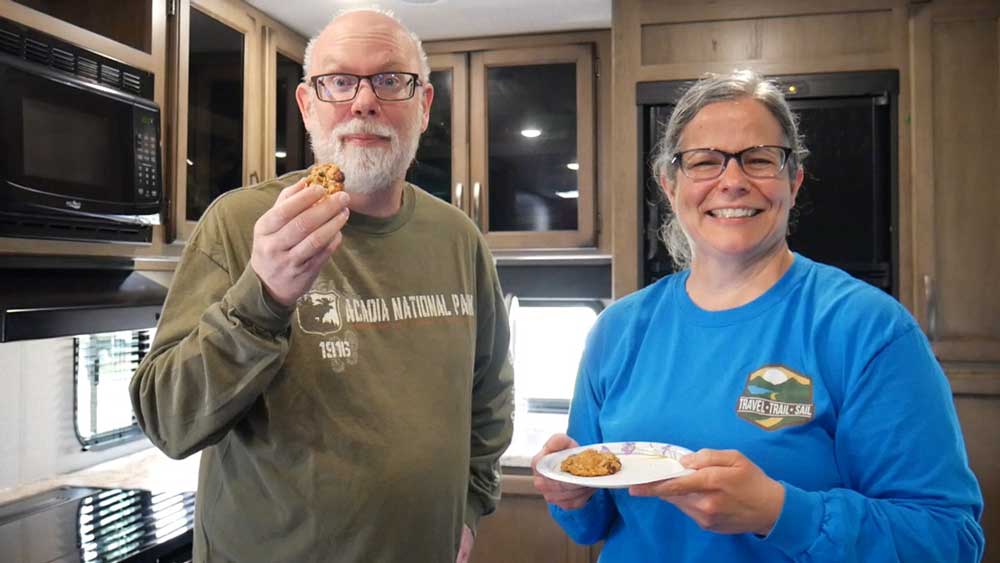 Thank You
Thank you for checking out our RV Baking article on making monster cookies in your camper. I hope you enjoy them as much as we do. If you try them, let us know how it goes.
What is your favorite treat to make when camping? We'd love to hear about it. Please leave a comment and share your best RV baking recipe.
And, if you liked this recipe, you might also like our recipe for Scotcheroos.
A Few Useful RV Baking Items
If you choose to purchase by using the link there is no additional cost to you, but we earn a commission that helps enable us to continue sharing helpful information.
We have used Airbake cookie sheets for many years. While we use a 14×9.5 inch air bake, many RVers indicate that the 14×12 fits well in their oven.
We tried this external oven thermometer with our RV oven. It worked well and was very helpful for baking.
Copyright 2021 Travel Trail Sail. All Rights Reserved.