We added five pieces of new RV gear for 2021. The start of a new camping season is a good time to check in on your gear. Is there anything that needs replacing? Did you have some problems last year that could be solved with a new piece of gear? In this post, we share what we bought. Later this year, we'll let you know how well they worked.
You can find most of what you need at your RV Dealer, Camping World, Amazon or even at Wal-Mart. For your convenience, I have added links to Amazon. If you choose to purchase from them there is no additional cost to you, but we earn a commission that helps enable us to continue sharing helpful information.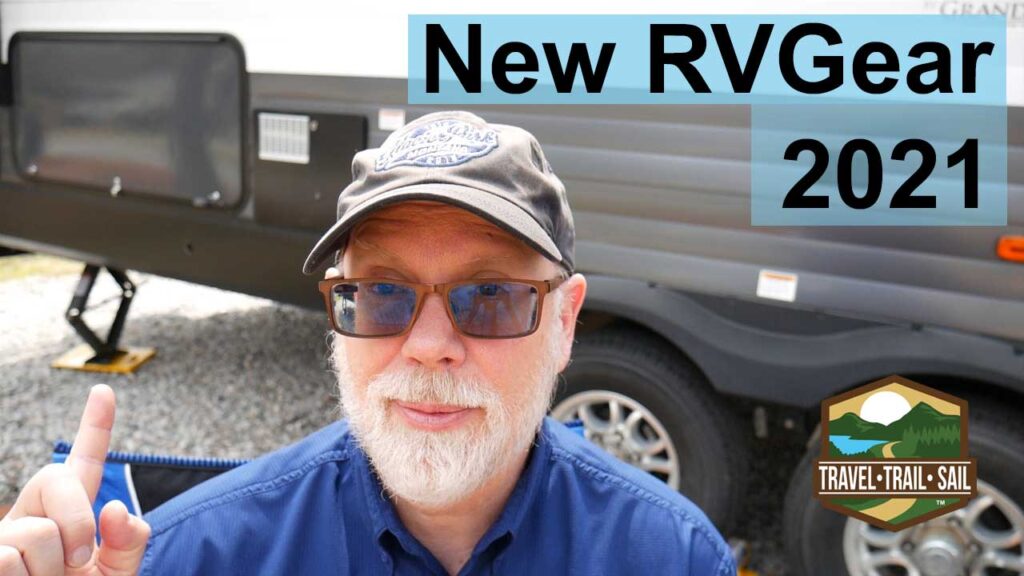 New RV Gear 1: Stabilizer Pads
Our camper is pretty long. When you walk in it, it does rock a bit. We are trying a few things to reduce the motion. One is a set of stabilizer pads. Rather than bring the stabilizers down directly onto the gravel or paved drive, you place a pad underneath it. That should help keep the stabilizer clean while spreading the load across a larger space.
We decided to try out two different models to see which is better. One set is from Camco. It appears to be fairly thick plastic with a ribbed pattern on one side. It has a molded handle and also has a fold-out metal handle, which is intended to make placement easier if your stabilizers are hard to reach from the side of the camper. One nice thing about the Camco pads is that they come with a strap to keep them together when you aren't using them.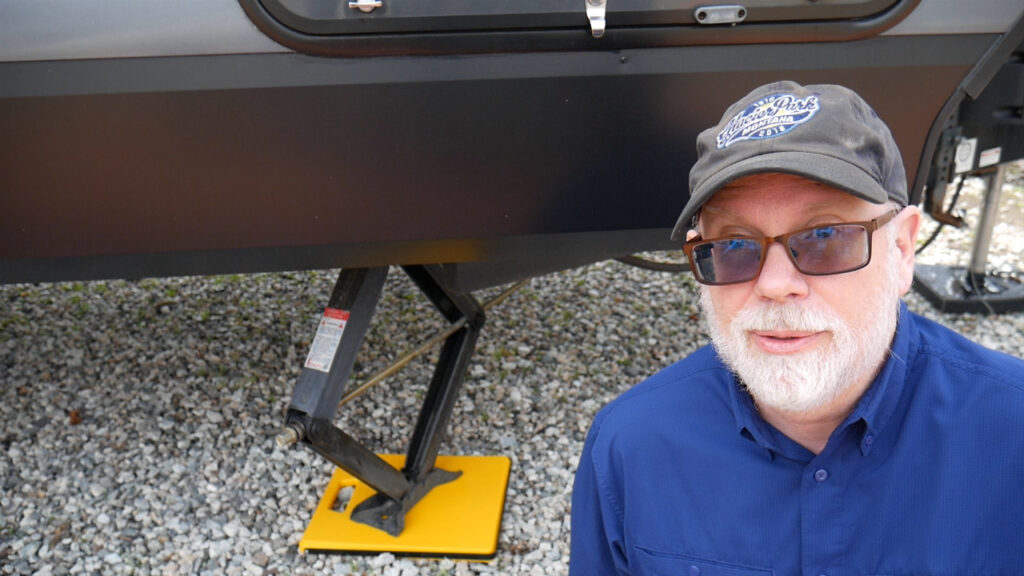 Camco makes a similar model without the folding handle. In our initial test, the folding handle isn't needed for our model of travel trailer since the scissor jacks are close to the outside edge of the camper.
The other model we are testing is from Tow Center of America. It is similar to the Camco model except it's a bit thinner and doesn't have the folding handle.
Both the Camco and Tow Center stabilizer pads are made in the USA. TheCamco model with the folding handle is available at Camping World. The model without the folding handle is available on Amazon or at Wal-Mart. The Tow Center pads are available at Camping World.
New RV Gear 2: Jack Pad
When hitching a travel trailer, it can be helpful to have a bit of extra height. I have used small pieces of wood under the jack to help raise it a few inches. This year, we decided to try the Hush Pad anti-vibration RV support. It is a thick piece of heavy foam that can be placed under the jack or stabilizers. Keeping in mind that we are trying to minimize movement as people move around in the camper, this seemed like something worth trying.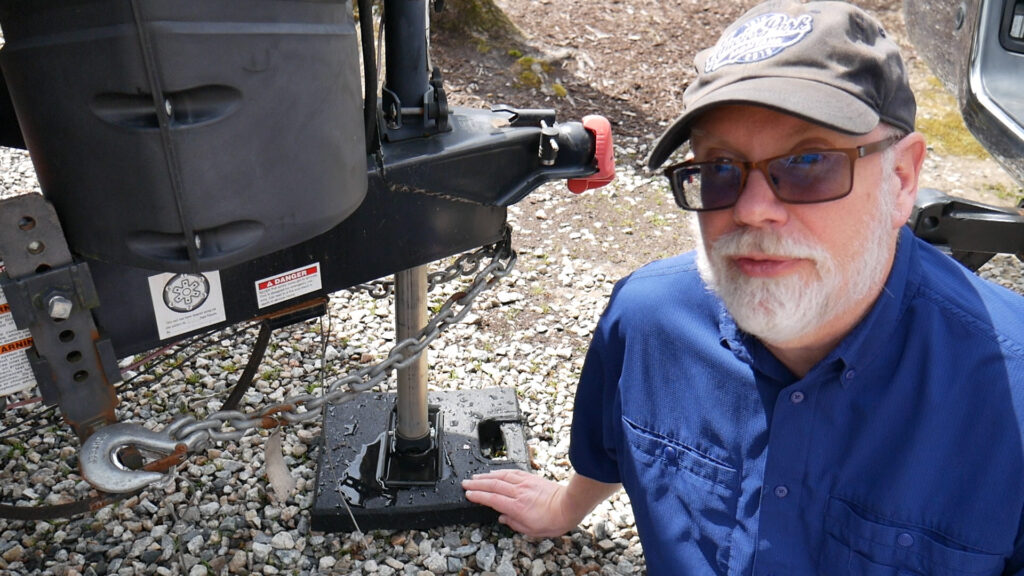 My first impression is that it is heavy and well constructed. It was easy to place under the jack and did provide about 2 inches of lift.
The Hush Pad is made in Canada. You can find the Hush Pad on Amazon or at Camping World.
New RV Gear 3: Chocks
Chocks are an essential piece of RV camping gear. You need to ensure your RV or travel trailer stays in place and doesn't roll. For a travel trailer, it is important to place chocks on both sides of your wheels before unhitching. Our old chocks served us well through ten seasons of camping. However, while they were once bright orange, they have faded into a light pink. It seemed like it was time to replace them.
I liked that our old chocks worked with the matching set of blocks to interlock and keep them in place. I got a set of Camco FasTen leveling blocks as a gift last year. It's a neat set that has a handle to hold them together when not in use. However, it does not appear that Camco makes a matched set of chocks to go with the blocks.
I came across a set of Camco Super Wheel Chocks and decided to give them a try. They are plastic, shaped with a nice handle on the outside end, and come as a pair that is connected with a rope.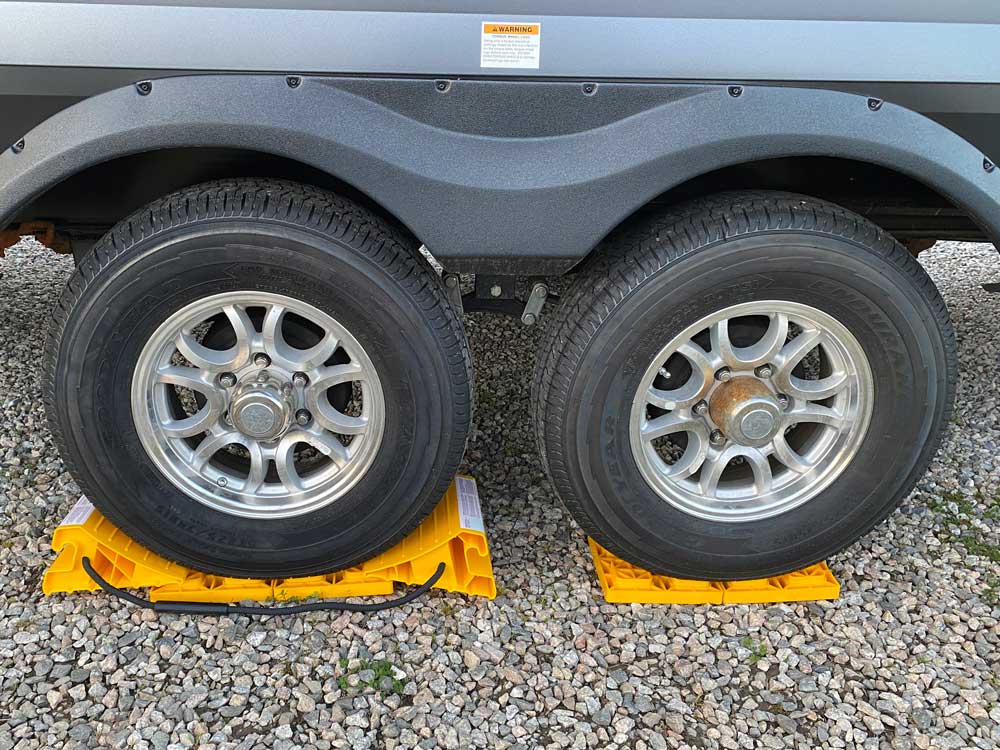 After one use, my initial take is that the rope handle is nice and may make removing the chocks easier. However, I really wish these would lock in with the blocks to help ensure secure placement.
The paired set of chocks with rope is available at Camping World.
New RV Gear 4: Portable Table
A portable table has been on our wish list for quite a while. This year we got a Coleman aluminum folding camping table. The base folds and top rolls up so that you can pack it in a bag for easy storage. It is easy to set up and seems fairly sturdy. I'm looking forward to having a place to set snacks as we enjoy our time outside the camper.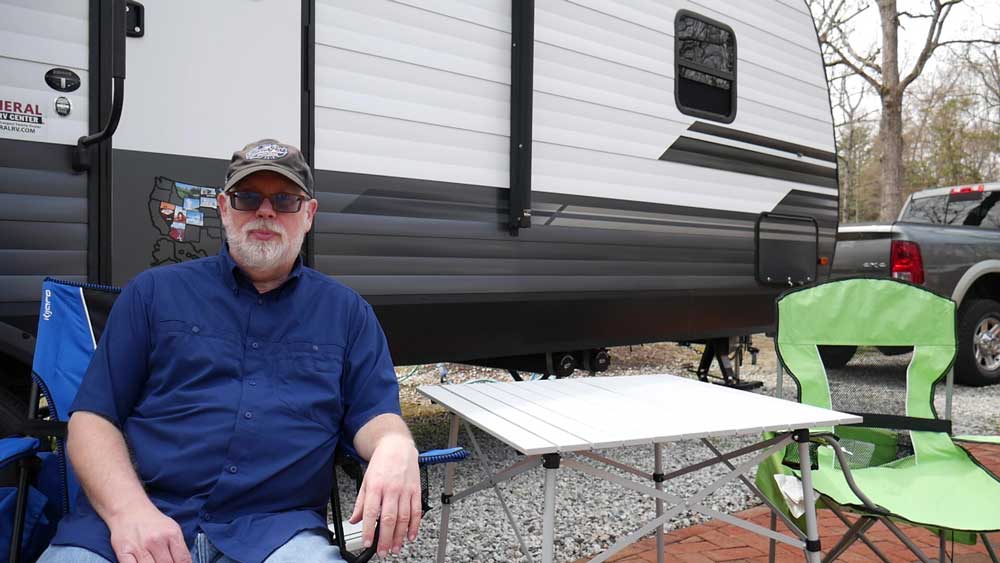 New RV Gear 5: Water Heater Tank Rinser
Keeping your water heater running well is important. Many people enjoy a hot shower at the end of a fun day our outdoor activity. To keep your water heater in good shape, you may want to rinse it so that sediment doesn't interfere with it working properly. While we have draining our hot water heater regularly, this year I decided to add a small tool – a water heater tank rinser.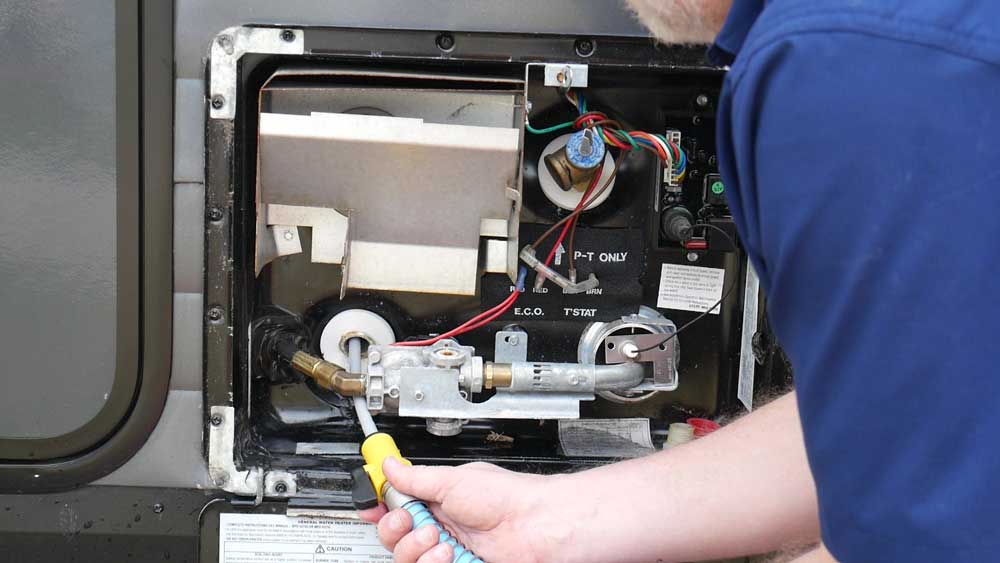 A tank rinser is a small sprayer that goes on the end of a hose. It is shaped to allow easy insertion into the water heater. The Camco model we purchased has a handy on/off valve.
Thank You
Thanks for checking out our list of new RV gear for 2021. If you have tried any of these items, or have a different piece of gear to recommend, we'd love to hear from you. Please leave a comment to share.
Just a reminder that we added Amazon links for your convenience. If you choose to purchase from these links, there is no additional cost to you, but we earn a commission that helps enable us to continue sharing helpful information.
Copyright 2021 Travel Trail Sail. All Rights Reserved.