Scotcheroos Easy No Bake Dessert For Camping
When it's too hot for a campfire & smores, Scotcheroos (Scotcharoos), a frosted Rice Krispie bar, might be the perfect peanut butter chocolate marshmallow treat.
Why Scotcheroos Are A Great Camping Dessert
You love camping, campfires and smores, right? Your crowd wants a sweet treat that is chocolatey, gooey and crispy. Sometimes it's just too hot for a fire. Scotcheroos, chocolate peanut butter Rice Krispie treats, might be a great way to please your hungry crowd.
Scotcheroos are frequently served when Erling's family gets together. I can understand why. They are easy to make and taste great. A plate full of Scotheroos usually disappears quickly.
Since they are no bake dessert bars, Scotcheroos are a great dessert to make while RV camping. You can make them on the stove top or in your camper's microwave. The ingredients are shelf stable, though you may want to refrigerate the chocolate chips to keep them from melting if you are traveling in hot weather.
If you have leftover marshmallows from making smores, you can use them in Scotcheroos. Just remember to keep the marshmallow to cereal ratio at 2:1.
Scotcheroos Ingredients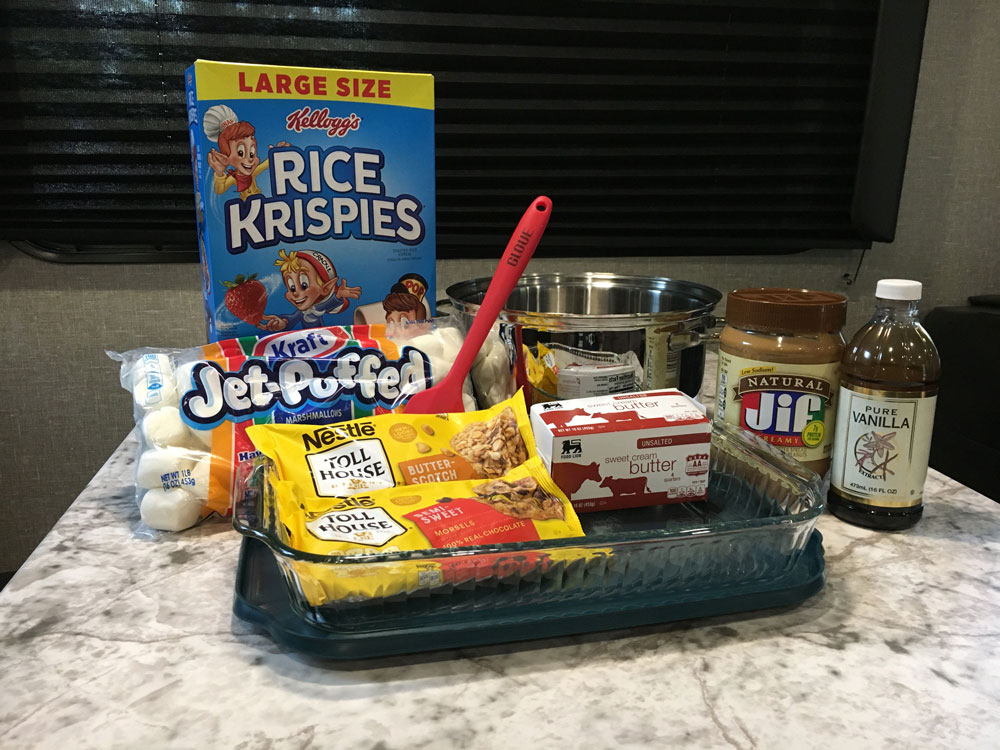 To make Scotcheroos, you'll need the following:
Six cups crisped rice cereal like Rice Krispies. You can substitute corn flakes or Special K.
1 bag (16 ounces) marshmallows or 1.5 bags of mini marshmallows.
1/2 cup creamy peanut butter. You can use up to a cup depending on how much peanut butter flavor you like.
One bag semi-sweet chocolate chips (12 ounces).
One bag butterscotch chips (11 ounces).
1/4 cup butter (1/2 stick).
1 teaspoon vanilla.
1 teaspoon salt (optional).
Scotcheroos Recipe
There are several different ways to make Scotcheroos. My favorite is Scotcheroos with marshmallows.
Gather your ingredients and prepare a 13X9 inch baking dish by either greasing it with a tablespoon of butter or lining it with parchment paper.
Start by melting butter in a large pan. Once the butter is melted, add the peanut butter.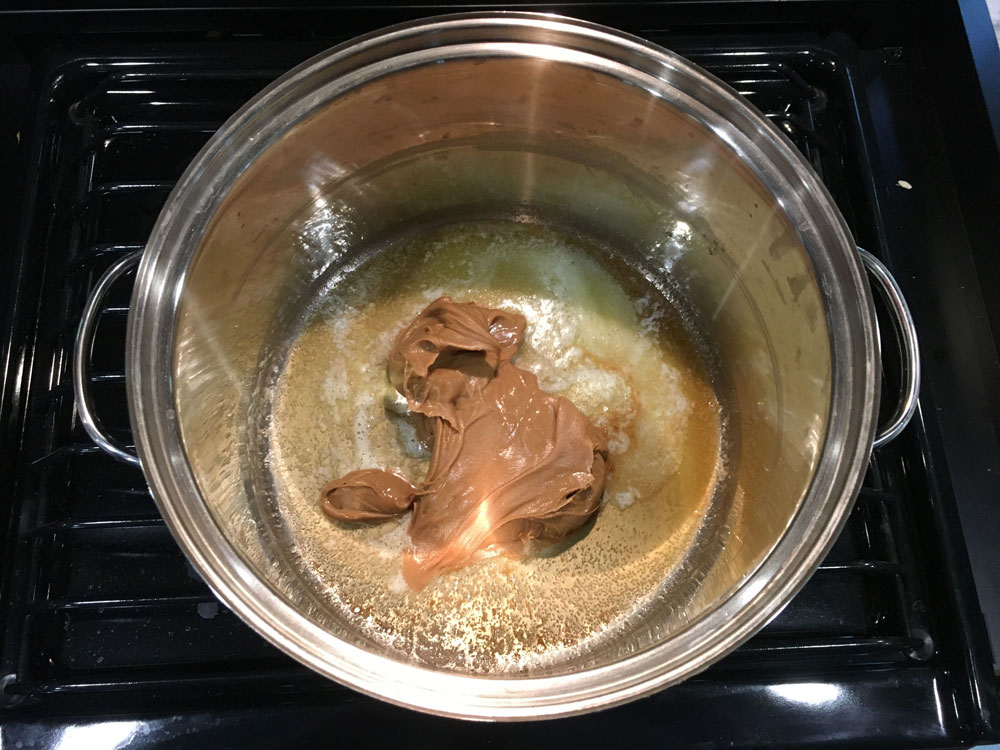 Keep stirring the butter and peanut butter over low heat until is it smooth.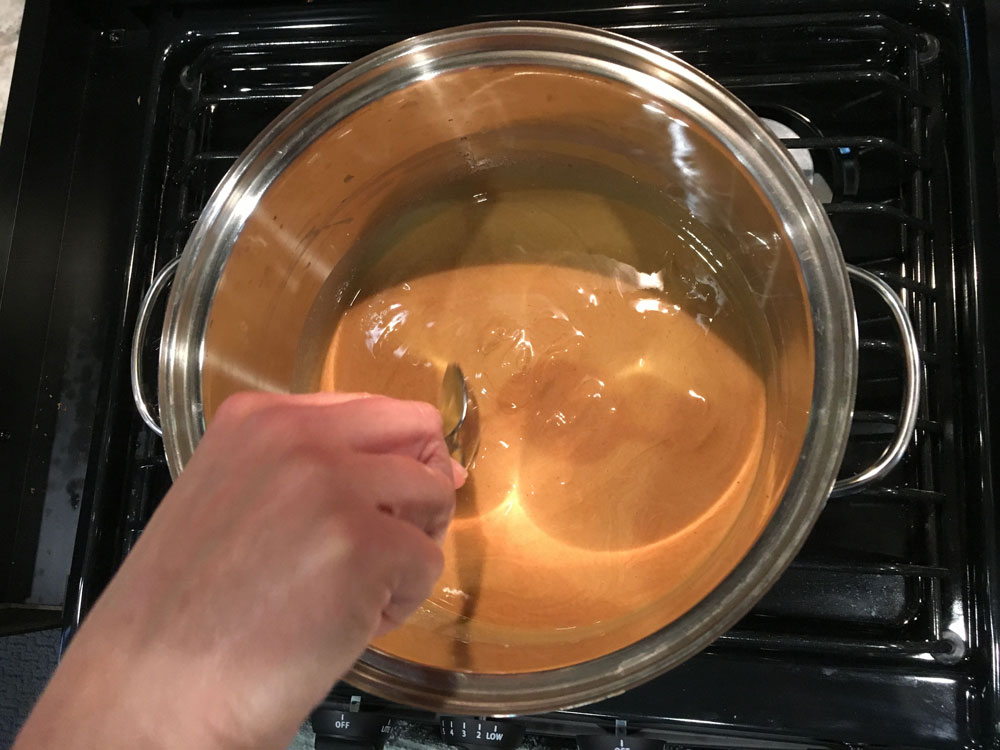 Add the marshmallows and stir them until coated.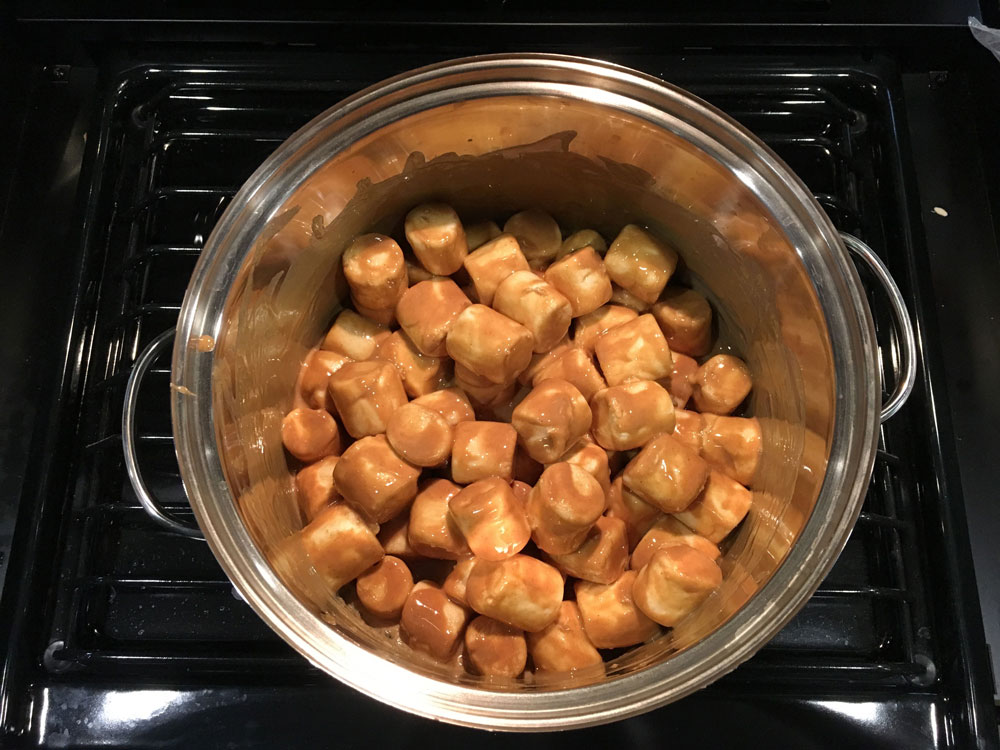 Keep stirring the marshmallow mixture until the marshmallows have melted completely.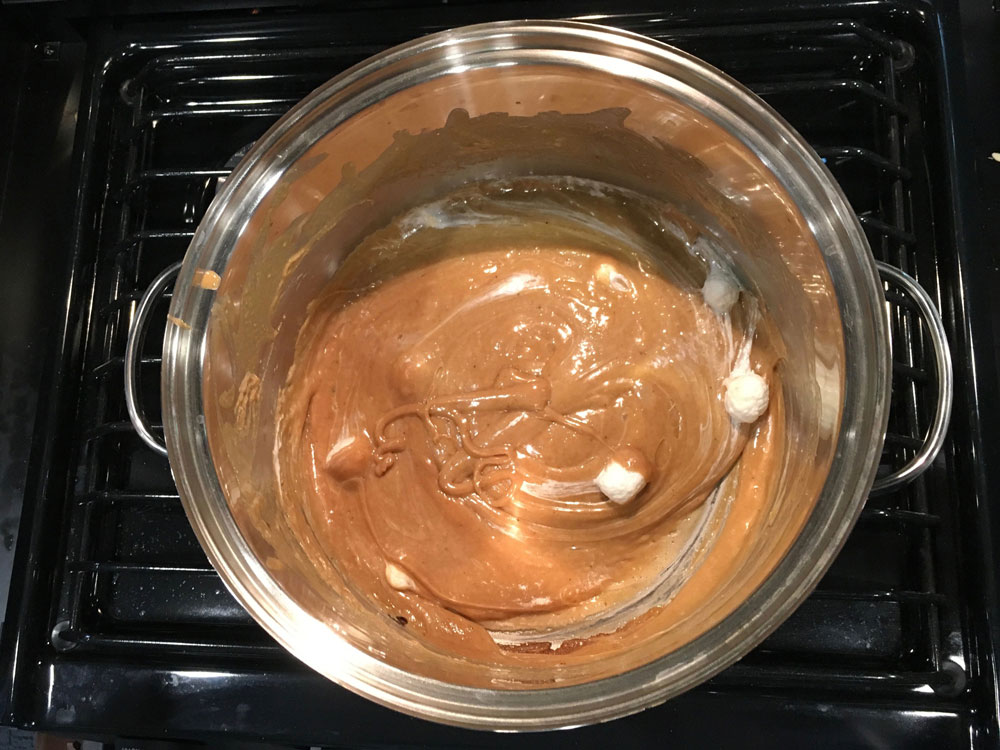 Add the Rice Krispies and stir until the cereal and marshmallow mixture are evenly blended. Once mixed, press them into your 13X9 inch baking dish. The mix may still be warm and it will likely be sticky. You may want to press using a sheet of parchment paper or a silicone spatula.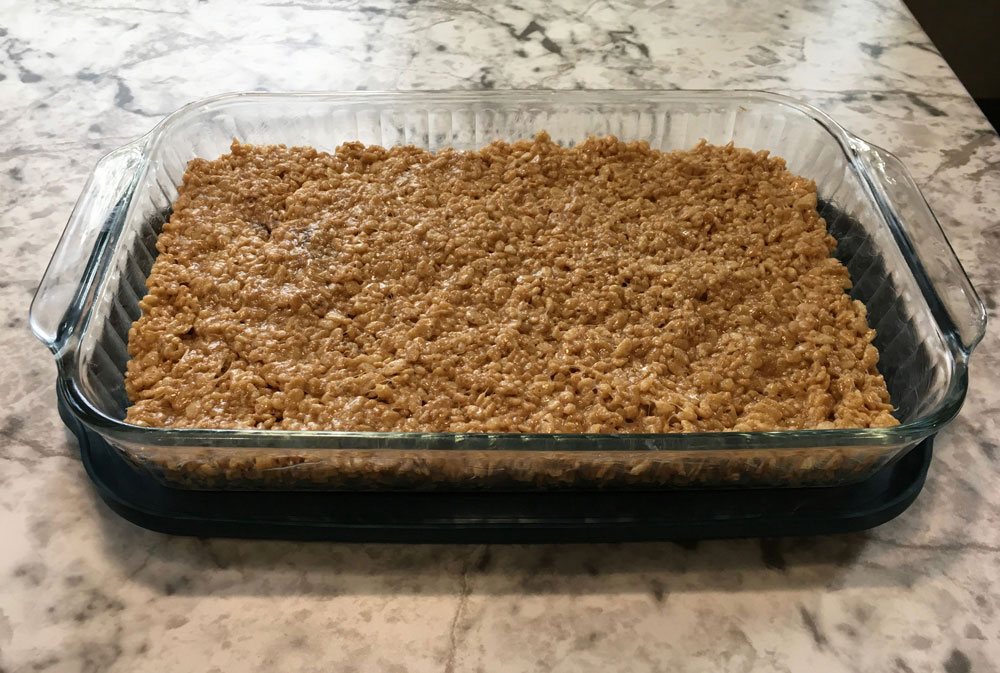 In a small to medium sized sauce pan or double boiler, add the chocolate chips and butterscotch chips. Heat on low until melted. Note that the butterscotch chips may take longer to melt than the chocolate chips. You may want to start melting the butterscoth chips first and then add the chocolate chips.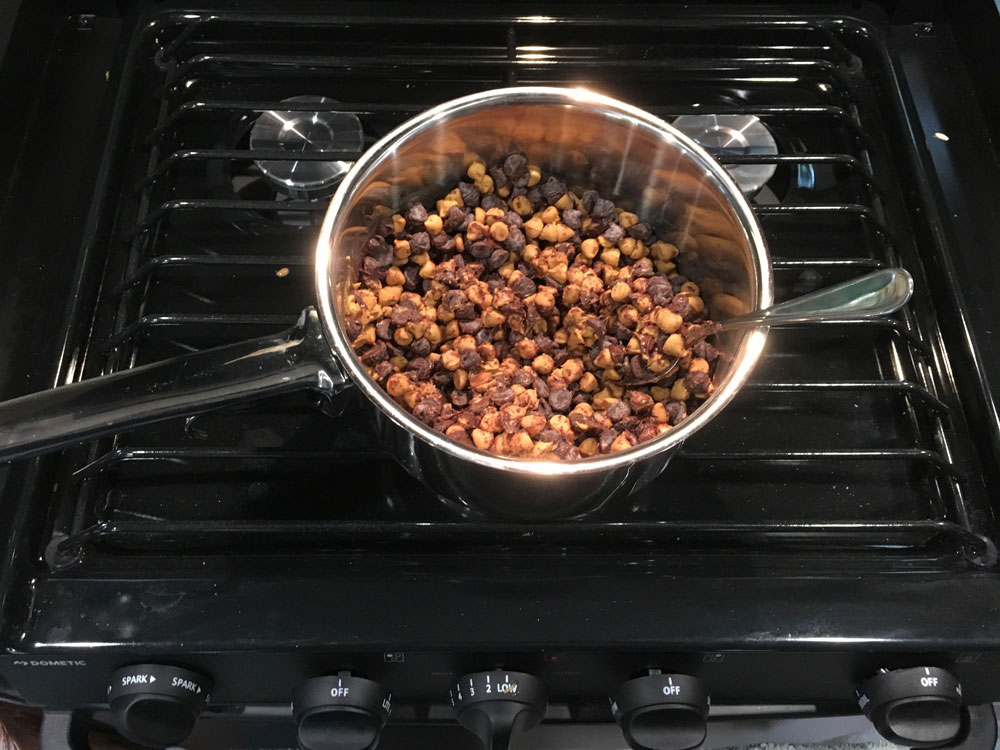 Once melted, pour the chocolate butterscotch mixture over the Rice Krispy base and then spread until smooth.
Before serving, you need to let the Scotcheroos cool. Its best to do that at room temperature. However, if needed, you can put them in the refrigerator or freezer for 10-20 minutes. Just remember that they will be softer if you don't keep them refrigerated. Once cooled, you can slice them into squares and serve.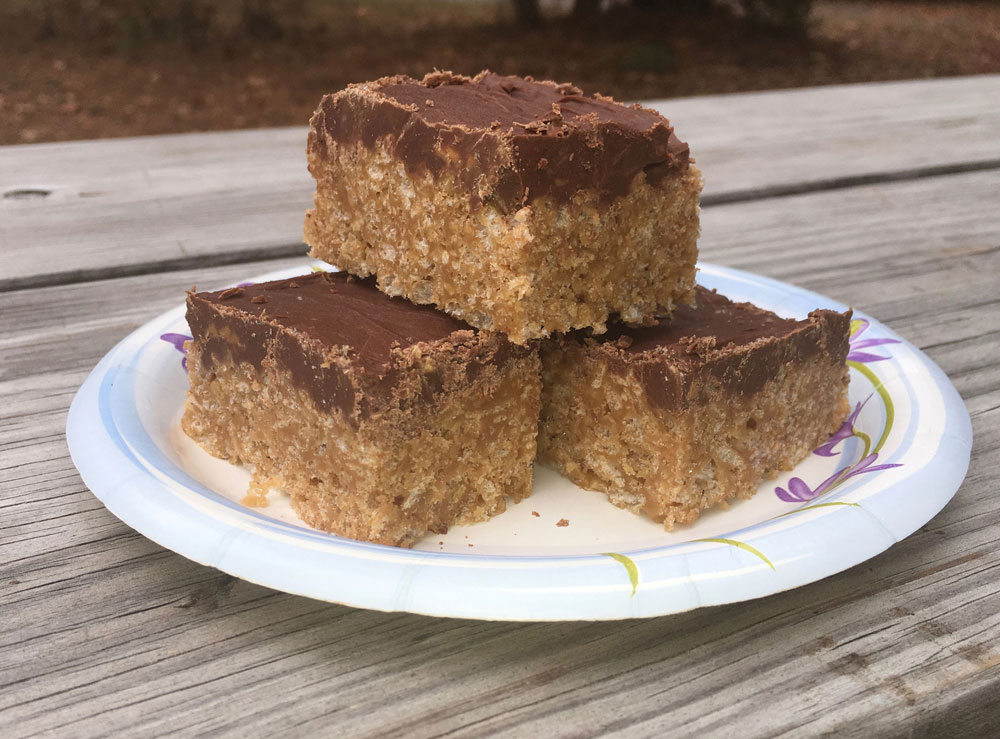 Scotcheroos Gear
To make Scotcheroos on the stovetop, you'll need a large pan and a small to medium sized pan. If you have a double boiler, it works better for melting the chips.
You'll also need a 13X9 dish. For this recipe, I like using a glass Pyrex baking dish. Mine has a lid that makes it easy to keep food fresh.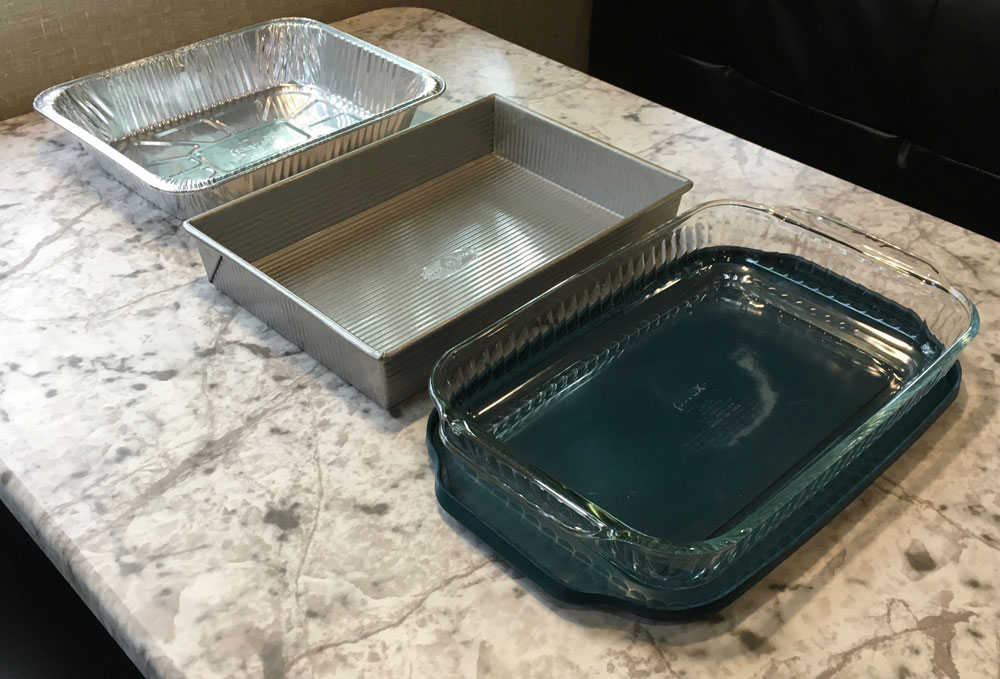 If you prefer not to travel with glass bakeware, consider using a metal baking dish. I use a USA Pan baking dish and really like it. While it does have a nonstick coating, you can keep cleanup simple by lining it with parchment paper. Or, if you really want to keep cleanup easy, use a disposable aluminum pan.
You'll also need several large spoons. You may find that for this recipe, a spatula makes the job easier. I like these Gloue silicone spatulas and use them just about every day. They are BPA free and heat resistant up to 450 degrees.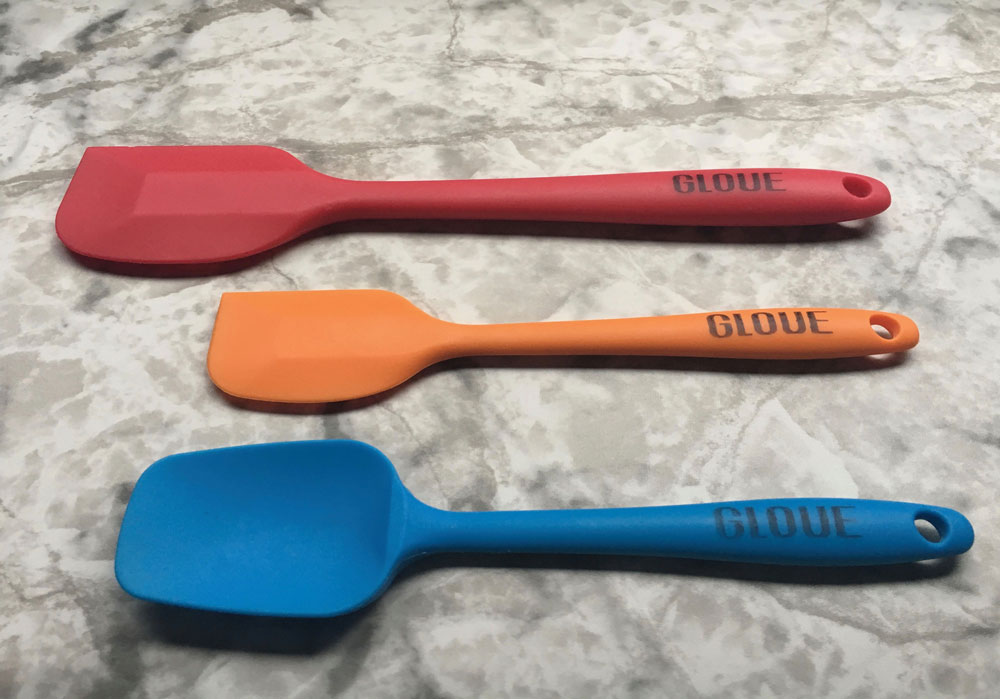 You can find all the baking gear used for this recipe on Amazon.
Note that the links in this gear section are affiliate links. If you choose to purchase from them there is no additional cost to you, but we earn a commission that helps enable us to continue sharing helpful information.
Scotcheroos Summary
Whether you call them Scotcheroos, Scotcharoo Bars or Scotch A Roos, these tasty Rice Krispy treats with peanut butter and chocolate are sure to be a hit. They are the kind of easy camping food I like to include in my list of favorite recipes. I hope you enjoy them, too.
What are your favorite camping treats? Leave a comment with your favorite crowd pleasing treat.