Cold Weather RV Camping Tips
We enjoy camping and try to extend our season into the late fall. Sometimes the weather can get cooler and you need to be prepared for cold weather RV camping.
One of our traditions is to camp for Thanksgiving in the Woods. But, camping at Thanksgiving sometimes means cold weather. After a few years of experiencing freezing temps, we have learned a few things to help ensure a good cold weather RV camping trip. With a bit of preparation, you can enjoy your time while avoiding issues like frozen water lines.
I'll share what we have learned for occasional camping in colder weather. If you plan to stay in one place for an extended time in cold weather, consider reading How We Prepare Our RV For Cold Weather Living by Ashley at RV Inspiration.
Note that I've added Amazon links for your convenience. These are affiliate links. If you choose to purchase from them there is no additional cost to you, but we earn a commission that helps enable us to continue sharing helpful information.
Choosing An RV For Cold Weather Camping
One of the things to consider when cold weather rv camping is your camper. After camping in a tent and our first camper, we decided that we should look for a better three season camper. You'll want to look for features like high insulation values in the walls, roof and floor, an enclosed and heated underbelly to keep tanks and pipes warm, heated holding tanks and dual pane windows.
We don't plan to do extended camping in subfreezing conditions. But there are times when we have camped in colder temperatures. We chose a Grand Design Transcend in part because of the Extended Season Protection Package that includes better insulation than some other campers and it has a heated and enclosed underbelly. We also like that the heating vents are ducted through the walls rather than the floor. It means we can put rugs down without interfering with the furnace. For us, it works well as a three season camper. One thing that would be helpful is if it had larger propane tanks like the two 30 pound tanks we had on our last camper. For more specs, check out the Grand Design Transcend Site.
If you plan to do more extensive winter camping, consider getting a four season RV. There is an article on four season RVs at RVshare that provides a good explanation.
Staying Cozy While Cold Weather RV Camping
One lesson we learned early in our camping journey was to have plenty of blankets in the camper. Even in the summer, you may encounter cooler weather in some locations. Warm blankets sure felt good at night when we camped at Rocky Mountain National Park. Be sure to bring along a few blankets you don't mind using outside by the campfire.
Most RVs have vinyl flooring. While it is easy to clean, it can feel cold. We put throw rugs down to make things a bit more cozy.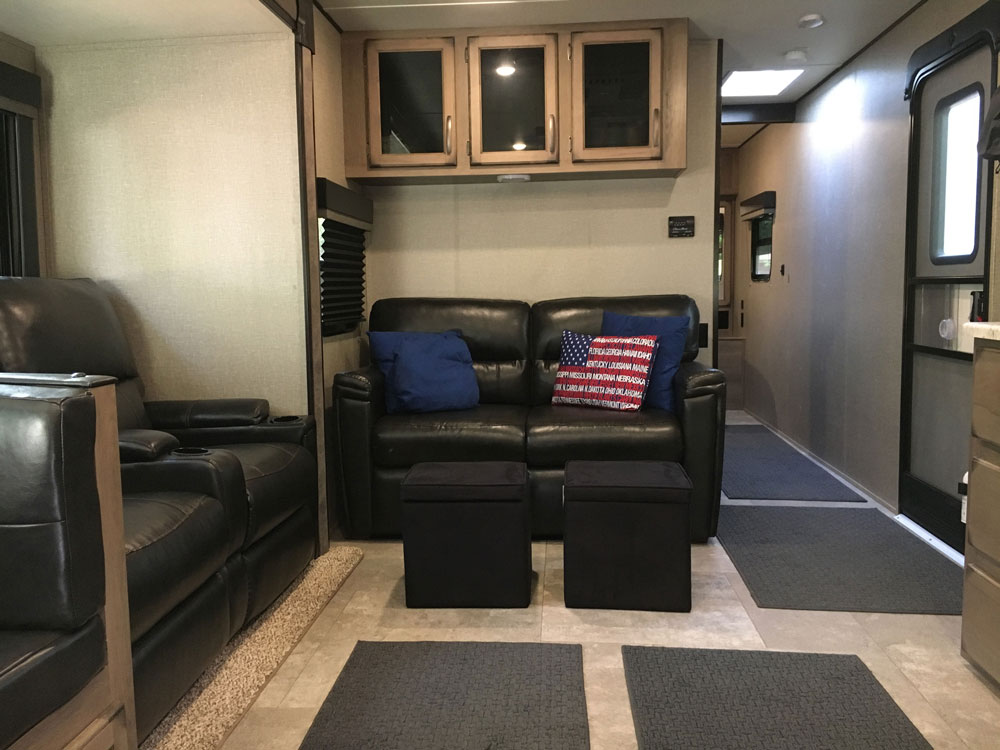 Some campers now come with an electric fireplace that provides heat. While we don't have a fireplace, we do use ceramic electric heaters. Even one set on a very low setting will quickly warm the small space of a camper. We have two electric ceramic space heaters. The one I prefer oscillates to spread the warmth around the room. We keep the electric heaters set low and have the furnace set to the low 60's. That way, heat can reach the underbelly keeping our pipes and tanks warm.
Note: if you are going to use a space heater, be sure to use caution. Don't place it next to anything flammable like curtains or bedding. Be sure that it will shut off if it gets tipped over. And, watch your overall energy consumption. If you are on 30 amp power, you may need to turn off the space heater before using other energy intensive appliances like the microwave or you may trip the circuit breaker.
One other thing to keep in mind is that you'll likely get condensation inside your camper if it is cold outside. This will happen wherever you have the least insulation. In both of our campers, it has meant water on the windows and window frames. To prevent damage, be sure to wipe the window frame as needed. You may also want to consider using a dehumidifier. We use DampRid which requires no power. I have heard some other campers having good results using Eva-dry which doesn't require chemicals but does need to be recharged periodically.
Cold Weather RV Camping Energy Needs
RV campers have a furnace that requires propane and electricity. Running your furnace can be pretty energy intensive. The two 20 pound propane tanks used on many lightweight campers can go pretty fast so keep an eye on your usage and keep your propane tanks full. If you have only one battery, the furnace will put a significant load on it. We usually camp with at least water & electric hookups. If you plan to stay in a location without hookups, consider adding to your battery capacity.
Keeping Water Running While Cold Weather RV Camping
One of the issues you'll encounter in cold weather camping is frozen water lines. A regular water hose will freeze. That means that you won't be able run water in the camper. Water expanding as it freezes may also damage the water hose and water filter. There are steps you can take to prevent problems.
Insulate your water hose. You can add foam insulation to the hose. While some insulation comes with an adhesive strip, you'll likely need to secure it with a strip of duct tape about every foot.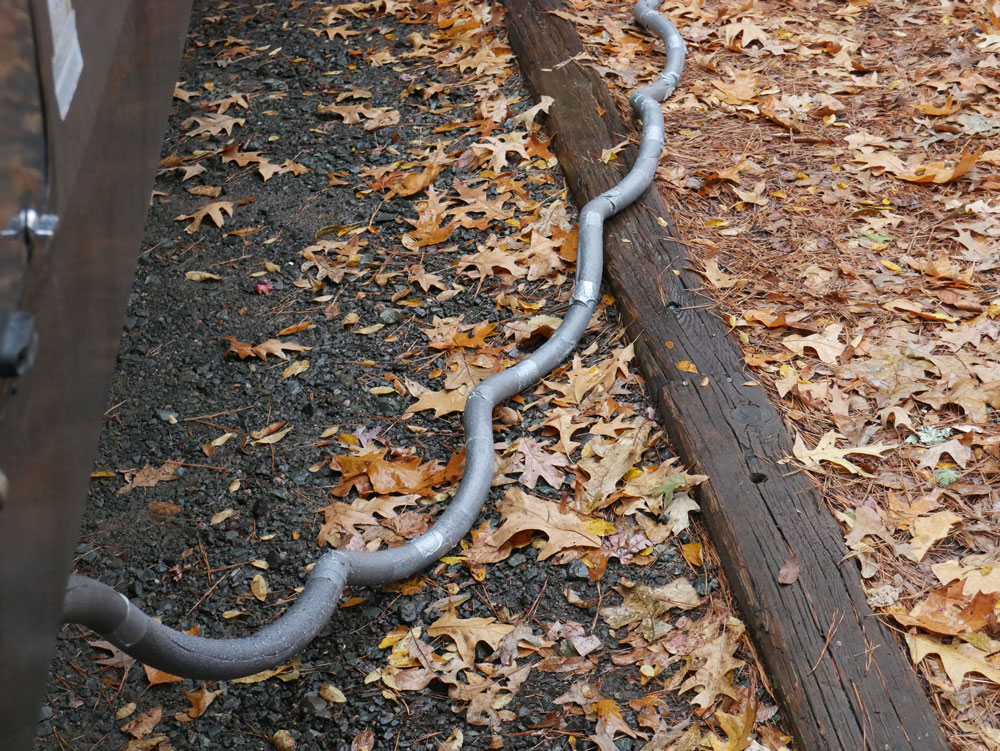 You can add heat tape under the insulation to warm the hose. A homemade heated insulated hose is the solution our friends Jaime and Melissa use and it works great. You can also buy a heated hose that comes with the heat tape already attached.
The weak points to a heated hose system are at the connection points at the spigot and at the camper. At the city water hookup spigot, place a bucket upside down over the water connection. You can add foam insulation to the inside of the bucket for further insulation.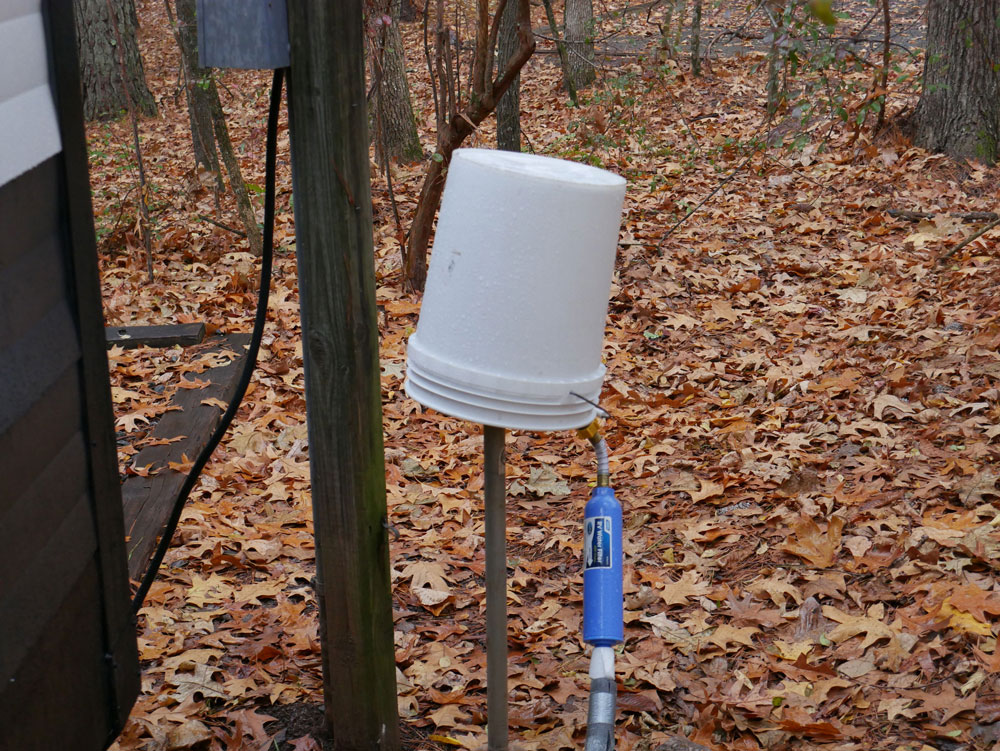 For additional protection for all of your water connection components, place a large plastic bag over the bucket and hose connections. An even better option is to purchase an insulated water faucet cover.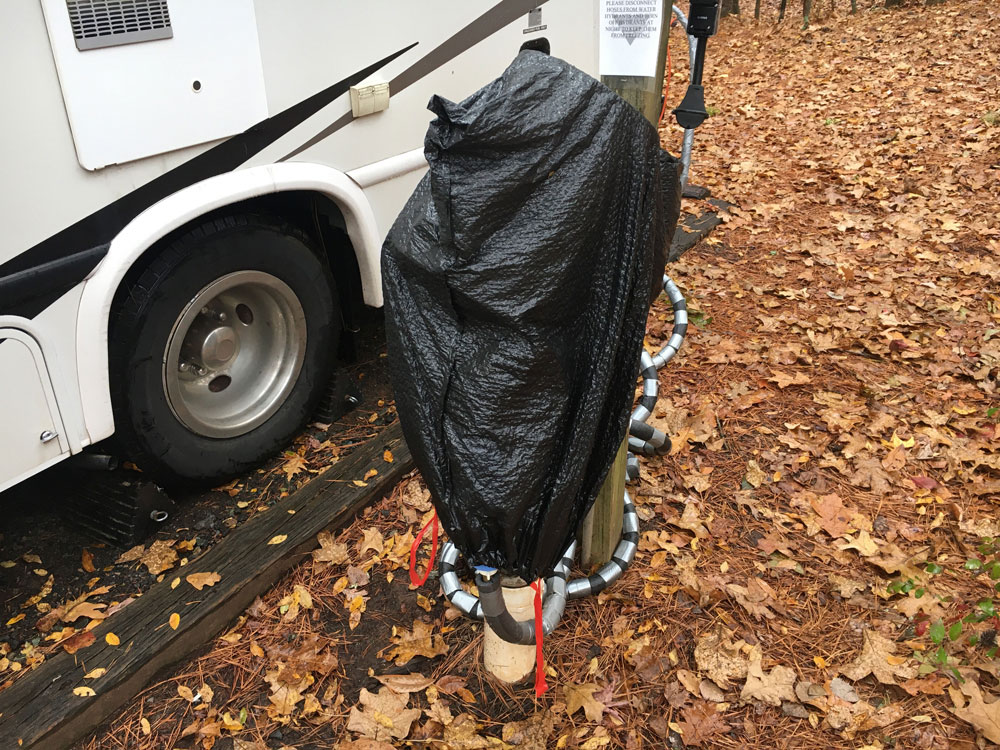 You may encounter a water spigot that doesn't allow you to use a cover or bag to insulate the hose connection. Consider your alternatives. At one campground, we tried using part of a pool noodle but it wasn't sufficient to insulate the connection. If you have a solution for this situation, we'd love to hear about it.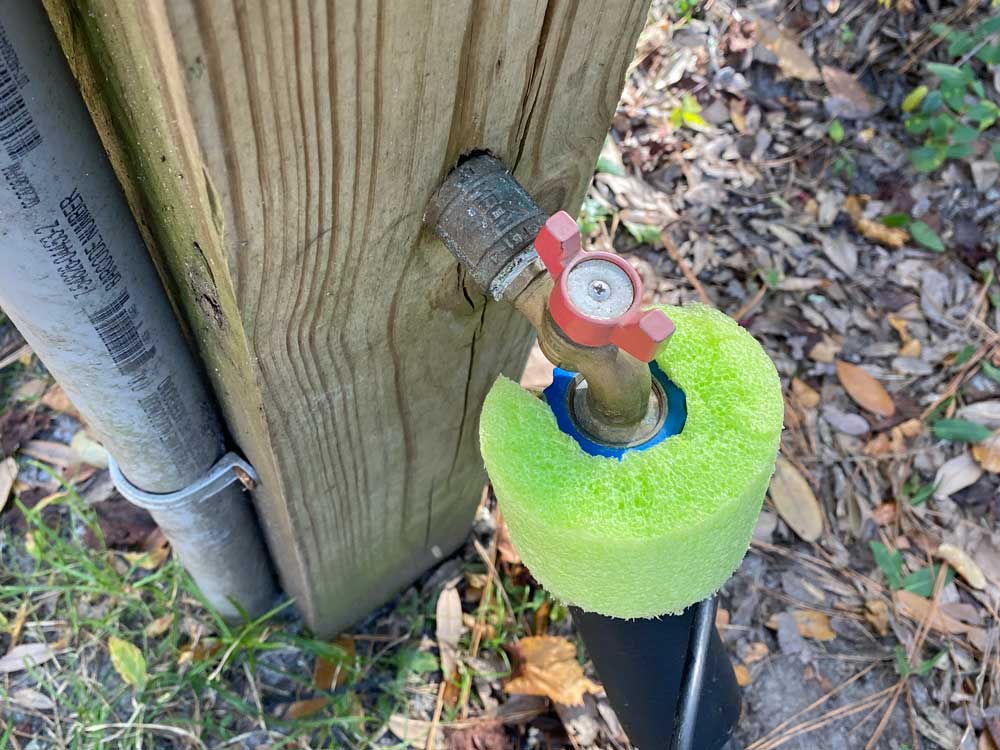 Our camper has the water hookup as part of a universal docking station inside a storage compartment. This is a nice feature for colder weather camping. There is an electric plug near the hose connection which makes it easy to plug in the heated hose.
If you have a heated area for the hose connection, try to ensure any extra hose is inside the camper to help keep it warm. Be sure that the hose is insulated up to the point where it enters the camper. And don't forget to add insulation to the entry point to keep cold air from entering the camper.
If temperatures are going to get extremely cold, consider removing your hose and bringing it inside. You can fill your freshwater tank and use that water as needed.
Inside the camper, open all of the cabinet doors under the sinks. That helps keep the plumbing warm. Turn on at least one faucet to a slow drip to keep water flowing.
Consider adding RV antifreeze to your black and gray tanks. Our colder weather camping trips tend to be after we have already winterized for the year. To de-winterize, we run water through all of the lines. It goes into the tanks providing some protection from freezing. If needed to protect your tanks, you can add antifreeze by pouring it into each drain.
Try to dump your tanks when the day is warm so that everything flows well.
Winterizing After Cold Weather RV Camping
When you are ready to head out, drain all tanks and the water heater. Shut off the heater well in advance so you aren't draining scalding hot water. Find your low point drains and use them. If you have an outside shower, make sure it is drained. If temps are going to be below freezing while you are on the road, winterize the camper. If the temps will be above freezing, you can wait to winterize until just before freezing temps are expected again.
For more details on how to winterize, you can check out our post How to Winterize a Camper in 5 Easy Steps. We also have a YouTube video covering How to Winterize a Camper.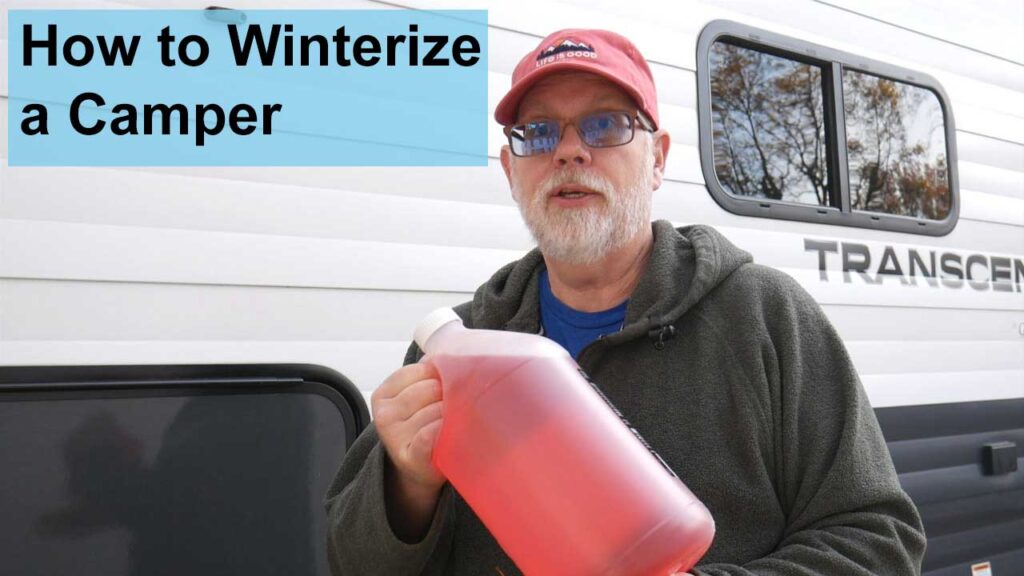 Products Mentioned
Here are the products mentioned in this article on cold weather RV camping. Note: these is an affiliate links. If you choose to purchase by using the link there is no additional cost to you, but we earn a commission that helps enable us to continue sharing helpful information.
Copyright 2019 Travel Trail Sail. All Rights Reserved.