Thanksgiving In The Woods
Thanksgiving in the Woods is one of our favorite camping traditions. Great food and friendship. I'm thankful we are able to continue this tradition.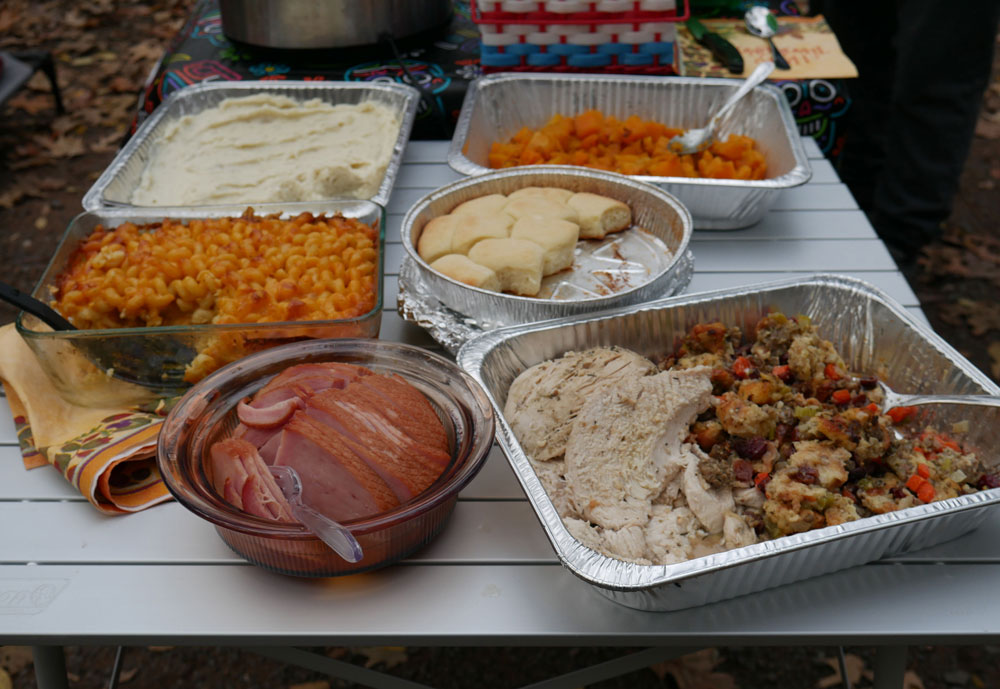 Thanksgiving in the Woods is one of our favorite camping traditions. When our son was a Boy Scout and I was a Scout Leader, our troop would put on a large buffet meal in the woods and invite families and friends to join in. We would use a large cooker to make several turkeys and hams along with great sides and desserts. After the meal, we would gather around a campfire to tell stories, sing songs and have a fun evening.
When we started RV camping, we wanted to continue the tradition. We gather with our friends and make a fantastic Thanksgiving meal. In addition to the great food, we hike, play games and tell stories.
This year, we had turkey and ham along with mashed potatoes, Parker House rolls, butternut squash and so much more. Our friend Jaime made his yummy mac & cheese. We brought our favorite cranberry recipe. Judy tried a new stuffing recipe that was a variation on a Hawaiian Sweet Roll Stuffing recipe from Geoffrey Zakarian. And of course there was pumpkin pie. Keeping up with the traditions from our scout troop, I used our dutch oven to make a peach cherry cobbler.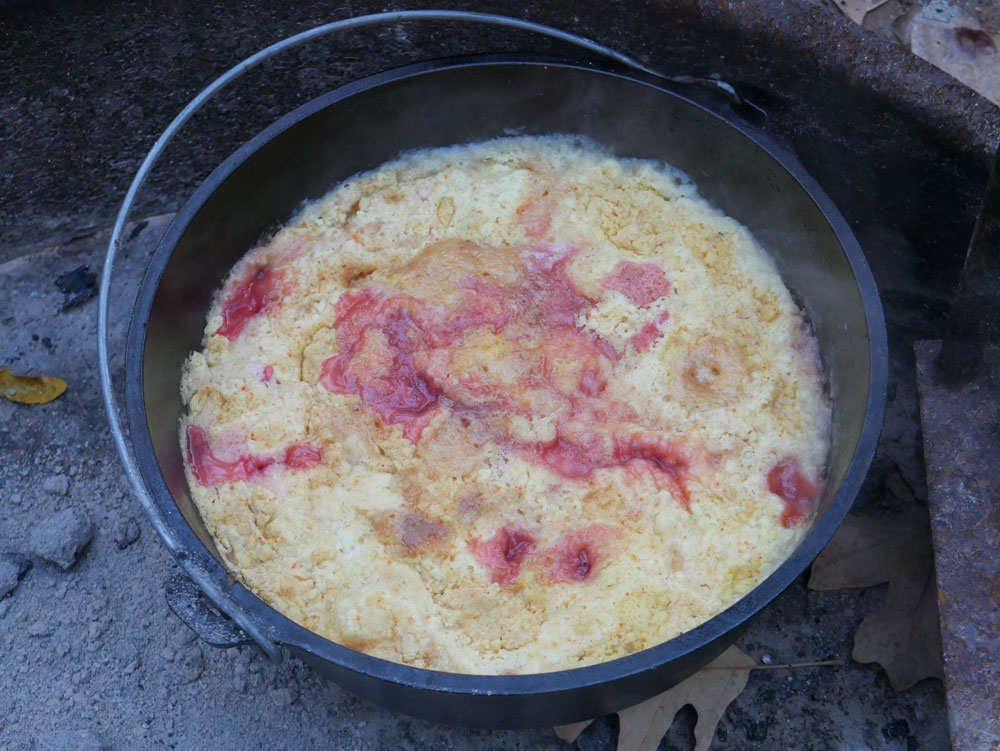 We have tried a few campgrounds for our Thanksgiving camping trips. The first year we met up at Huntington Beach State Park just South of Myrtle Beach which is a very nice campground. This year we were at Falls Lake Rolling View campground just outside Durham NC. It's a nice campground. Some of the sites have good lake views and there is a great hiking trail along the lake shore.
With camping at Thanksgiving, you can't guarantee good weather. This year, it rained the day before Thanksgiving and again on Saturday. The temperature with in the 50's during the day and in the 30's at night. You have to be prepared for colder weather camping. But as long as you take a few basic cold weather camping preparation steps, camping at Thanksgiving can be a great time.
When we were shopping for a new camper last year, one of the scenarios we envisioned was a cold and wet Thanksgiving. Our Grand Design Transcend 28MKS was the perfect camper for the job. On the days when it was too wet to enjoy a campfire, we could all still enjoy each other's company in the camper. With a dinette that seats four adults comfortably, two recliners and a couch that seats two, we had plenty of room. The ottomans Judy added to the camper provided additional flexible seating. Even Rita had her own space now that we added a portable dog bed.
I'm thankful for the time we get to spend together with family and friends. I am thankful for the meals we share and the that we can enjoy our time in the outdoors. I am glad we get to continue enjoying our Thanksgiving in the Woods tradition.
Copyright 2019 Travel Trail Sail. All Rights Reserved.