Four Steps To Living Your Travel Adventure Bucket List
Why Make a Bucket List. It can be fun and helpful to have a dream travel list. What are all of the places you want to visit and all of the things you'd like to try? We'll provide inspiration and a plan for making your travel adventure bucket list come true.
Our Family Fun Bucket List
It started out with a simple idea – go camping "Out West". Visit some of the top national parks; Yellowstone, Glacier, & The Grand Canyon. That evolved into a two month camping adventure. After that, we have taken road trips to Acadia, Smoky Mountains, Disney World, and more. We have had a lot of time together in the car. To help pass the time, we started to make a bucket list of the top 100 things we would want to see or do. Some of them were big; visit the Great Wall, the Parthenon, visit a Samurai Castle and the International Space Station. Others were a bit easier to do like go on a family picnic and camp at Disney World.
We made a list of 100 things we wanted to do. Looking back at the list, there are still a lot of fun adventures ahead. Over time, though, our tastes have changed and some of the items may no longer be a top priority.
The bucket list gave us a chance to have a conversation about what inspires us. It was a great family fun road trip activity.
Bucket List Travel Adventures
We actually have done some of the items on our original bucket list. We visited Acadia National Park, The Spy Museum in Washington, Universal Studios and the Biltmore Estate.
Some of the items on the list have been done by only one family member. I had the chance to do Busch Gardens Tampa. Andres visited Paris and saw the Eiffel Tower. Judy and Elena visited New York and saw Broadway shows. We visited Spain but did it in two separate trips rather than as one family trip.
I have stayed at every Walt Disney World Resort Hotel. As I traveled to each resort, I bought a pin as a souvenir. My collection is a nice memento of my Disney World Bucket List travels. While I haven't yet been able to all of the Disney Parks around the world, I just remember that someday I will.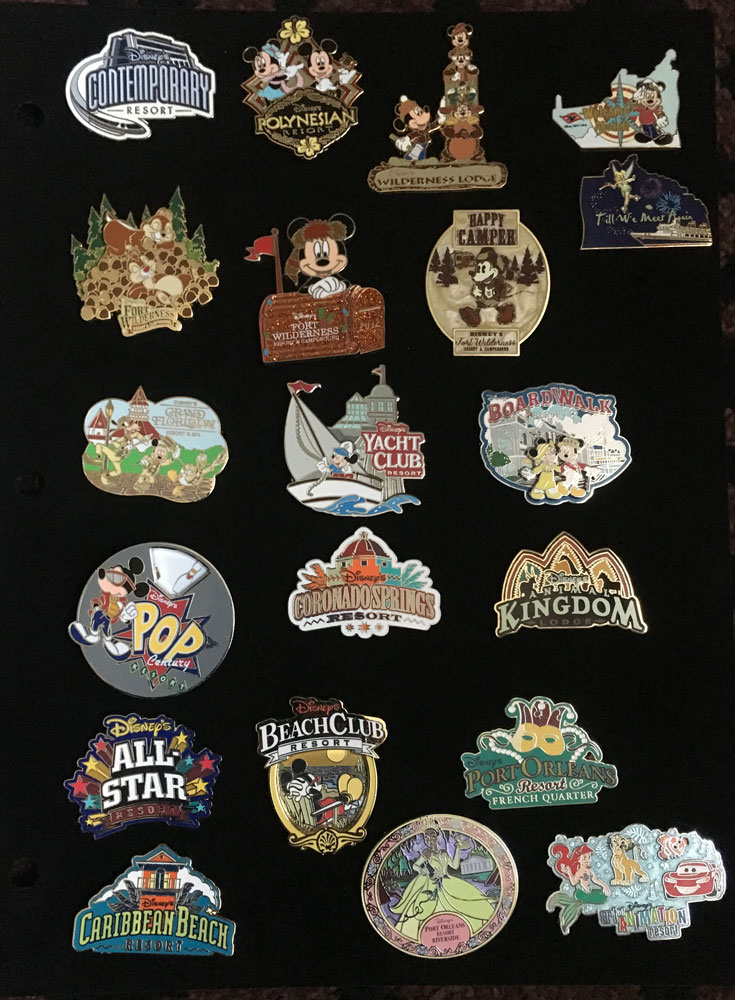 The Top Ten Things On My Bucket List 2020
I still have a very long bucket list. I took the time recently to review my list and pick the top ten things I'd like to do.
Do a Southern Caribbean Cruise that includes visiting the ABC islands; Aruba, Bonaire and Curacao
Visit Hawaii with a resort stay and cruise to several Hawaiian Islands
Do an Alaska cruise with an adventure trip to Denali
Take a sailing trip for at least one week in the British Virgin Islands
Visit Mesa Verde
Visit Mammoth Cave
Visit California and hike in Yosemite and Sequoia National Parks
Visit Norway and hike in a Norwegian National Park
Spend at least 30 days exploring the Florida coast in an RV
Do the Great Loop
Questions to Get You Started Creating Your Bucket List
Some people want to visit every national park. Others want to see a major league baseball game in every stadium. Some want to climb the 7 highest peaks in the world.
You might have an interest in genealogy and visit the places from your family history. When I traveled with some family friends, we had a fun detour in Sweden so that my friend's dad could see his ancestral home.
So, what's on your bucket list? Here are a few questions to get you started:
What destinations or experiences have you most enjoyed?
What is your favorite vacation memory?
Which of the following do you like visiting: theme parks, national parks, state parks, dude ranches, science museums, art museums, baseball games, hockey games, zoos, Broadway musicals, magic shows or something else?
What was your favorite meal?
What are you willing to tolerate to reach your goal? Long flights, airport travel inconveniences, extra immunizations, sleepless nights or long tiring travel days?
What do you like to collect? Patches, pins, stamps, shirts, hats, pictures or something else?
Do you like to drive or would you prefer to leave the driving up to someone else?
How would you most like to travel? Airplane, boat, car, train, bicycle, motorcycle, or another way?
Would you rather stay in a cabin, tent, RV, discount hotel, fancy resort, or somewhere else?
Do you prefer historic sites or seeing the newest attractions?
More Bucket List Travel Inspiration
If you need a bit more inspiration, you can start with someone else's list. Check out the 1,000 places to see series.
Watch The Amazing Race or John Ratzenberger's Made in America. Follow along with travel experts like Rick Steves, Rudy Maxa or Samantha Brown. There are also many great travel bloggers to follow for inspiration. If you like RV camping and sailing, you might like Gone With The Wynns or Roads Less Traveled.
Four Steps To Living Your Travel Adventure Bucket List – How To Make and Complete Your Bucket List
Step One: Early Brainstorming
Brainstorm your list. Just start writing. Keeping all of your thoughts in a notebook or journal can be really helpful.
Start to pay attention. Actively tune in to what you enjoy. Seek inspiration but also do some reflection. What works for others may not be right for you. This is about setting your own personal goals and getting to your bucket list of ideas, not about what might please or impress others.
Try sampling the activities you are thinking of adding to the list. Hike for a day on the Appalachian trail, then a weekend, maybe then for a week before you commit to doing the whole thing. See if you actually enjoy it.
If you need gear for your activities, try renting or borrowing it first. Find out what works for you and what you actually need.
Remember as you build your list. It might take a lifetime to complete. Or, you may never complete it. It's OK as long as you are having fun on the journey.
Step Two: A High-Level Plan
Now you need to start making your bucket list dreams plan a reality.
While I'm not big on New Year's Resolutions, I do like to have a plan made every year. I like the Having Doing Being approach Tim Ferris laid out in the Four Hour Work Week. And I like the time management ideas in Eat That Frog by Brian Tracy. Each year I pick a handful of things I would like to do. It's fun to have a dream list and it helps with getting vacation and personal development ideas.
Start with your high level objectives, the top things on your bucket list. Define how you'll measure each goal. If you are trying to visit all 50 states, how do you define a visit. Our definition is that we have to camp at least one night and do some kind of activity. Even though we had camped overnight in Georgia on our way to other destinations, we didn't add it to our map until we had a trip where camped at Don Carter State Park and visited local attractions like Dahlonega and Stone Mountain.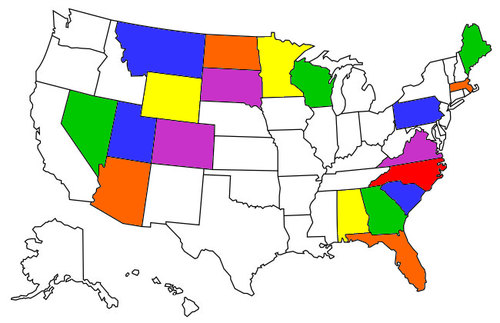 Step Three: Break Your Goals Down Into Small Steps
If you want to make them real, start breaking them down into smaller pieces. List the steps you need to take to accomplish the goal. These should be fairly big steps like identifying when you can visit, finding the best travel route and creating an estimate for how much the trip will cost.
Keep breaking down tasks until you come to the smallest thing you can do – preferably something that can be done in 15-20 minutes. You might get to the level of selecting a campground. You can further break that down into smaller steps like find five campgrounds proximate to your destination, read reviews, select a campground, finding the reservation website or phone number for the campground and call to make a reservation.
The key is to get to a list of things you can do in a short amount of time. As you work through the list, you are making progress toward your big goal.
Step Four: Set a Date
With a detailed plan in place, you can start setting dates and deadlines. Before you know it, you'll have completed one of your bucket list goals.
And, it's OK to work on more than one at a time. For my goal to stay at every Disney World Resort, I tried to complete at least two every year. At the same time, I could be working toward other goals. You don't have to do all 50 states or all of the National Parks in one trip unless that is the goal you define for yourself.
Leave a Comment
In the end, a travel bucket list is just for you. There isn't a wrong way to plan or make a bucket list. Have fun making it and enjoy the journey.
I hope this guide to creating and completing your bucket list was helpful. I can't wait to hear about your plans. Leave a comment to let everyone know about your bucket list goals.
Products Mentioned
I mentioned several books and videos in this article. For your convenience, here are Amazon links where you can check them out. Note: these are affiliate links. If you choose to purchase by using the link there is no additional cost to you, but we earn a commission that helps enable us to continue sharing helpful information.
Copyright 2020 Travel Trail Sail. All Rights Reserved.