Natural Bridge KOA Review
The Natural Bridge KOA is a good camping option for visiting the Natural Bridge. Natural Bridge/Lexington KOA is easy to access from I81 in Western Virginia.
Natural Bridge KOA Overview
While we used this as an overnight stop, this KOA would make a good place to spend a weekend or longer vising the area. Nearby attractions in the area include the Natural Bridge which is located in Natural Bridge State Park and Natural Bridge Caverns.
The campground was pretty wooded. There were a variety of campsites. Friends had described this KOA as being a bit more state park like than many KOAs and that seems like a fair description.
Natural Bridge KOA is designated as KOA Holiday. That is the middle of three designations: Journey, Holiday, and Resort. A KOA Holiday will have at least some sites with a brick patio, some deluxe cabins, and group meeting facilities. KOA Holiday campgrounds are geared toward staying a few days end enjoying the campground rather than having just an overnight stop.
Natural Bridge KOA is near interstate 81. Access from the interstate is pretty easy. With close access to an interstate comes a bit of road noise. However, the people at the campground were very quiet during the weekend of our visit.
Natural Bridge KOA Mini Review
Check out our Natural Bridge KOA Mini Review YouTube video where we show you its sites and amenities.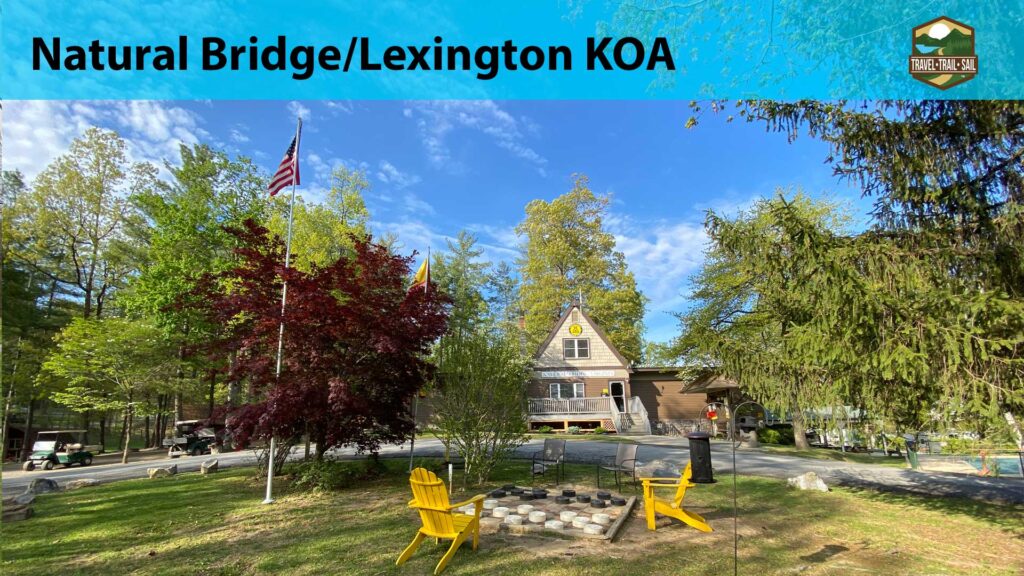 Natural Bridge KOA Activities
Natural Bridge/Lexington KOA is a nice campground and has some nice amenities. You'll find a swimming pool that is open during the summer.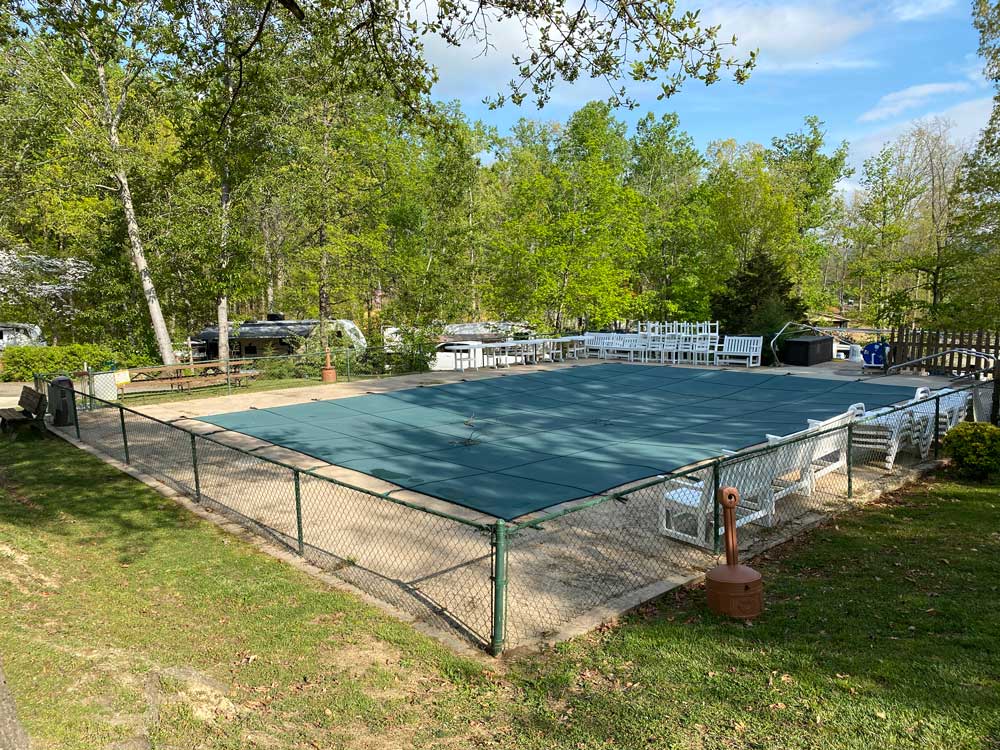 There is a playground. This was a busy place during our stay.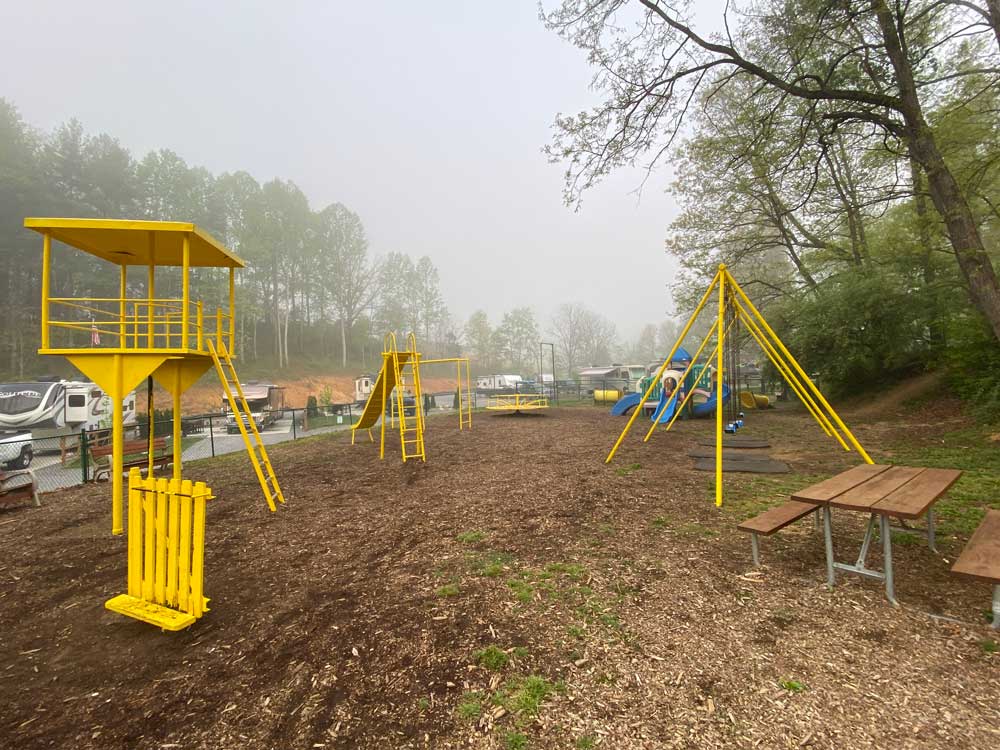 There is a small dog park located next to the playground.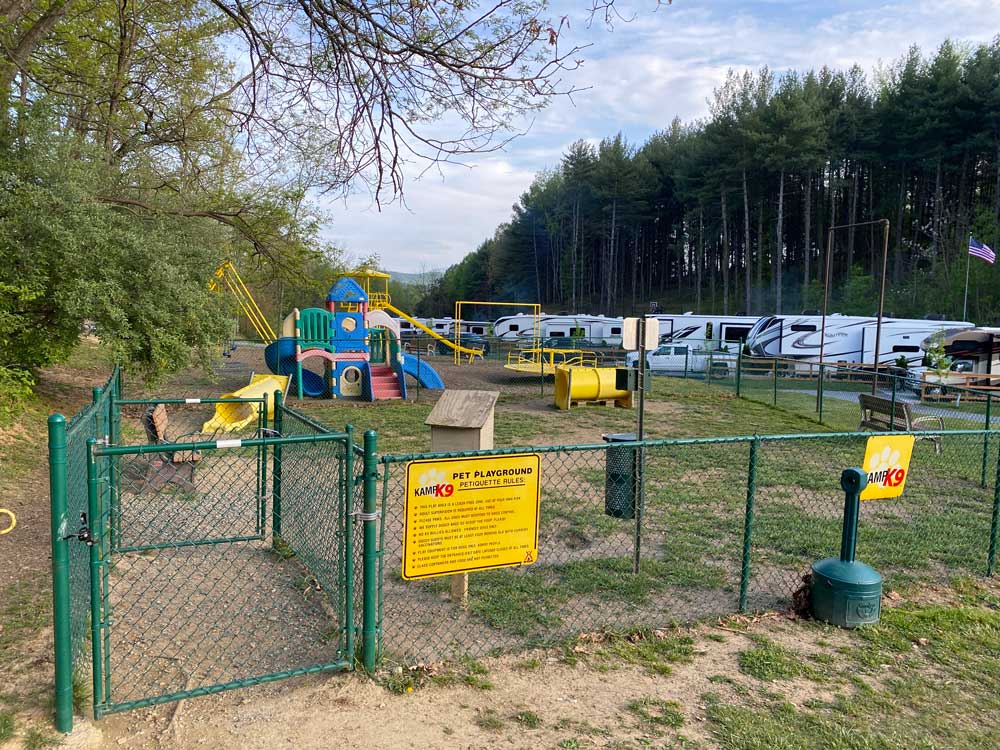 On the lower level of the main building, you'll find a nice covered gathering area outside and an arcade inside.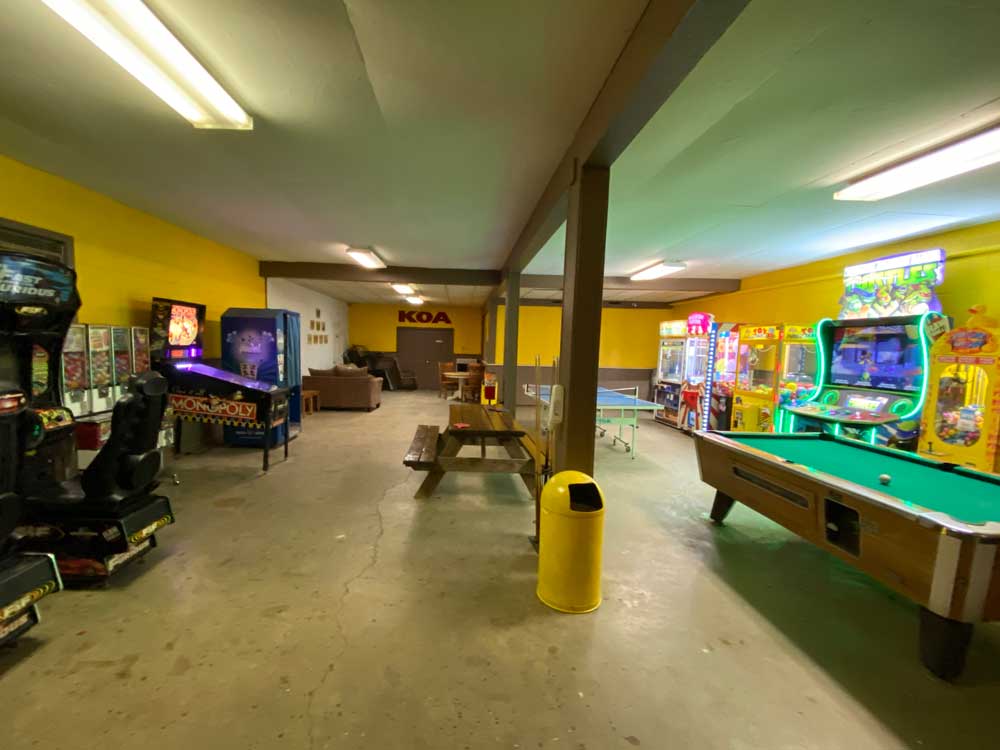 A short nature trail is also available.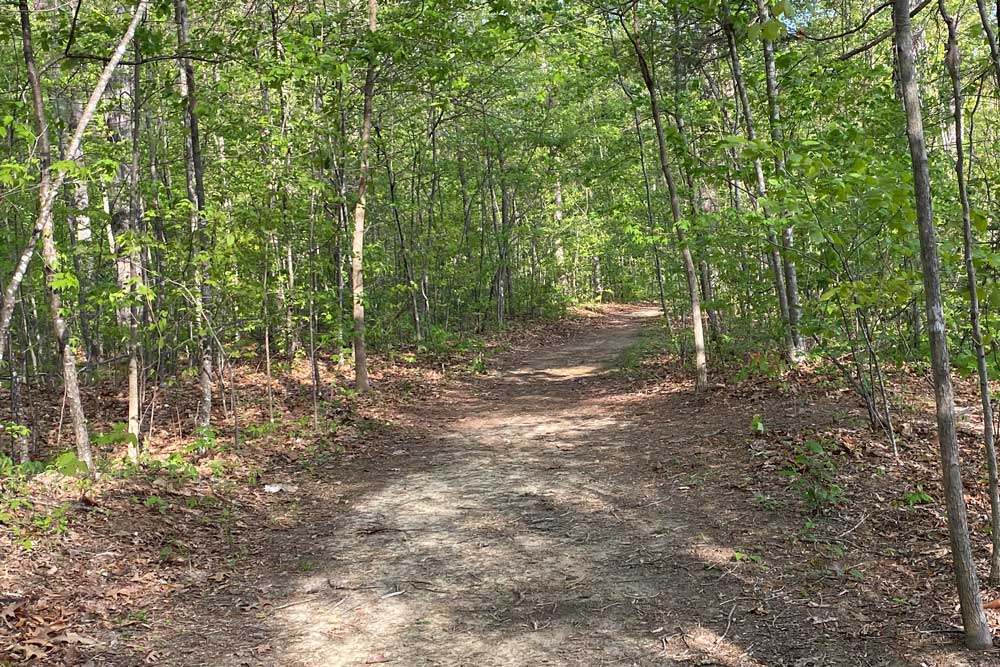 The camp store is among the better stocked campground stores we have encountered.
Natural Bridge KOA Sites
There are a number of ways to stay at the Natural Bridge KOA. A variety of different pull through and back in campsites are spread throughout the wooded, hilly property. Additionally, there are tent sites and cabins.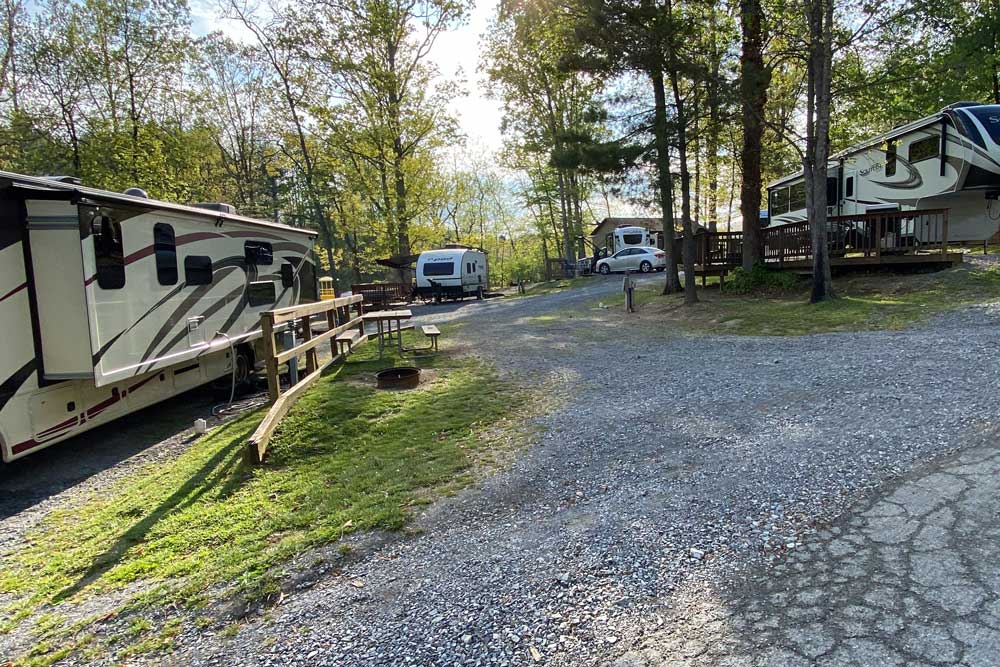 A few deluxe patio sites are available. These looked very nice. In addition to a grill and patio table, they included seating around the firepit.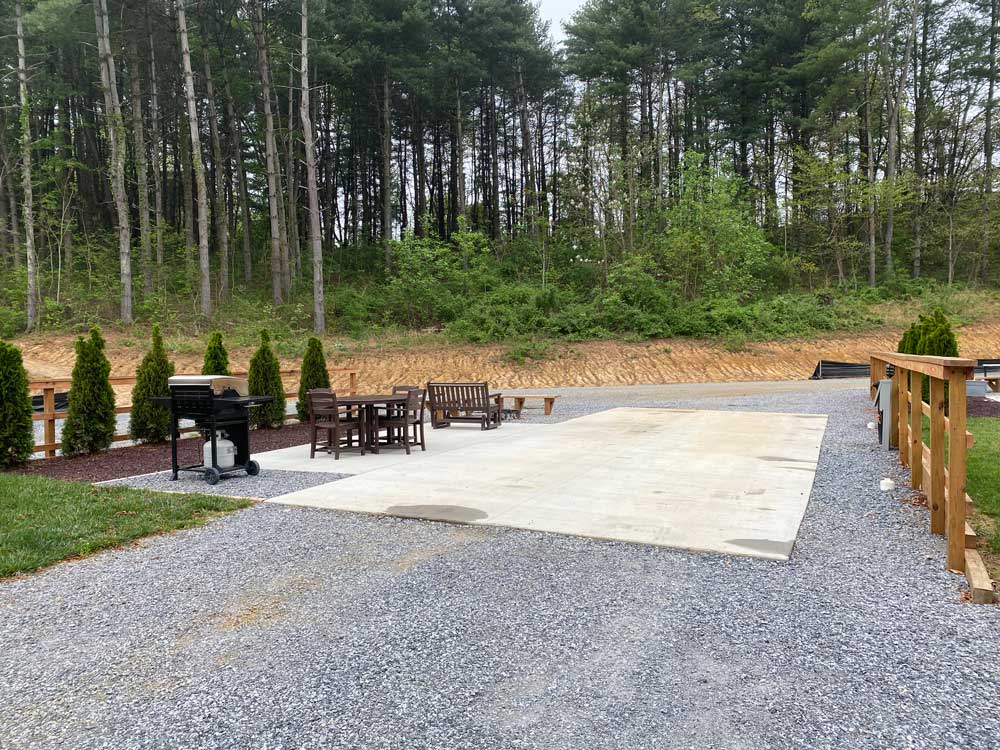 A few sites seem to be just a parking spot with hookups to the side of the campground road. These might work well for an overnight stay. However, our site was one of these and it felt a bit awkward to have a site without a defined border.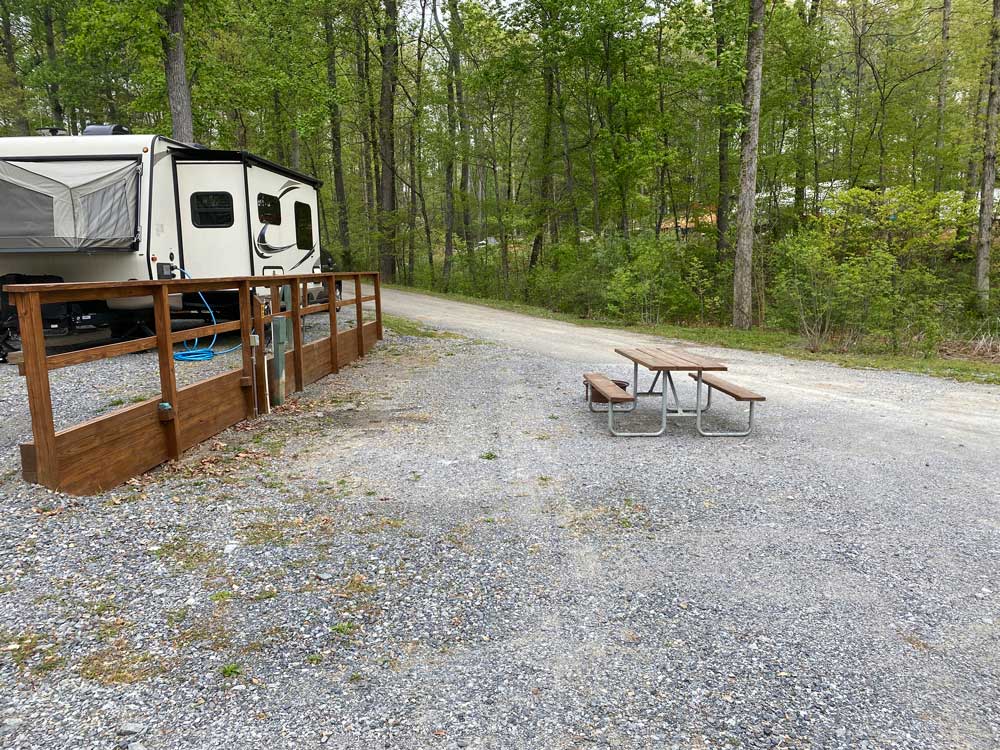 The tent sites were gathered in one area of the campground. They had a nice pad, picnic table, and campfire ring.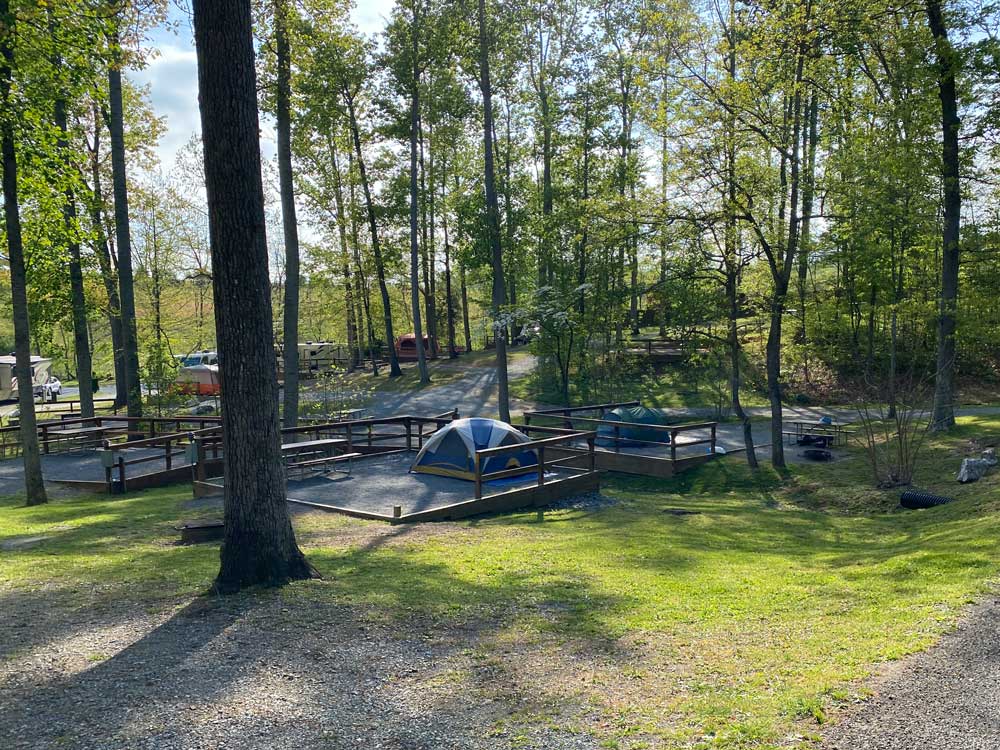 During our visit we saw construction on a new section of campsites.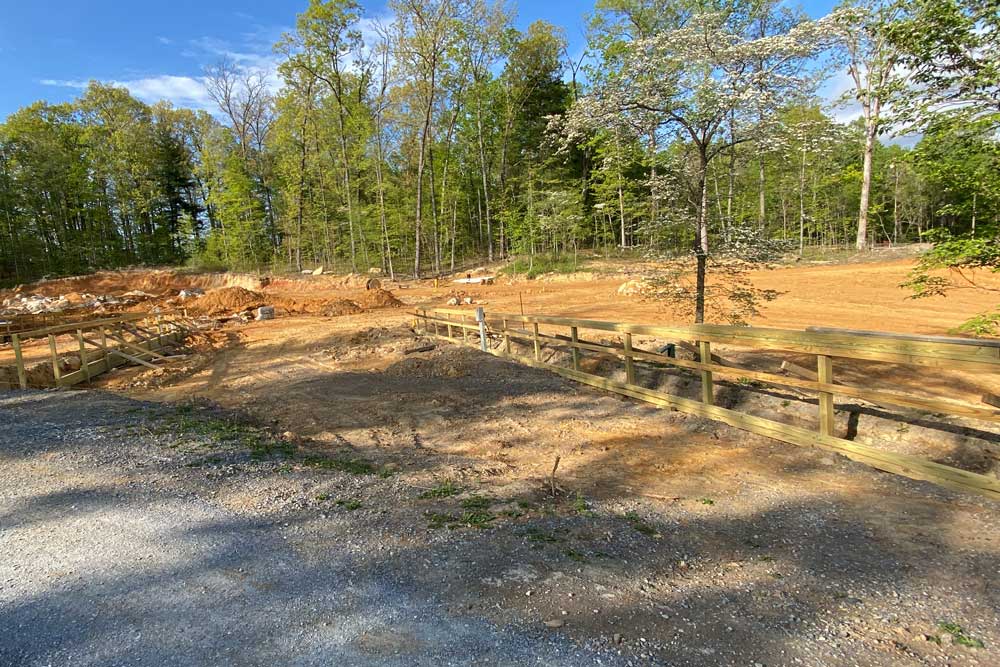 KOA Natural Bridge/Lexington has a few cabins available, too. There are several cabin styles and sizes available.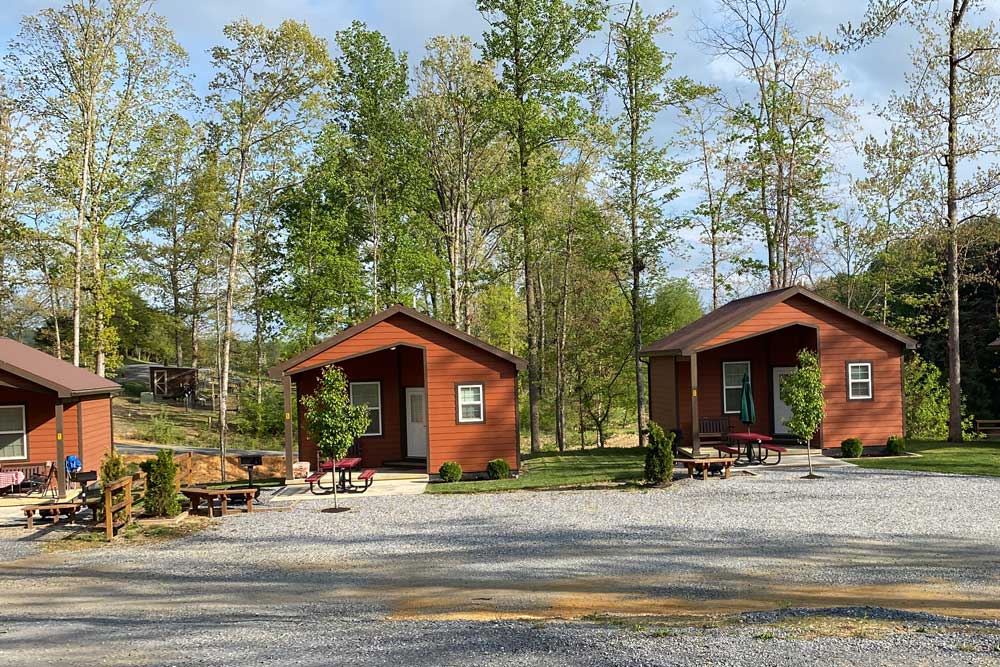 KOA Natural Bridge Staff
Our check in was smooth. However, we didn't have the chance to interact with staff much beyond the check in.
KOA Natural Bridge Amenities
Wi-Fi is available. However, it was very limited. Per their information "Wi-Fi signal is in the park but is not guaranteed at your site due to obstructions such as trees, RVs, etc. Streaming and downloading are not available." Our Verizon cell service was also limited and had only one bar. Cable TV is provided and has a good selection of channels.
A laundry facility is available. It is clean and has front-loading machines. During our visit, the facility was clean.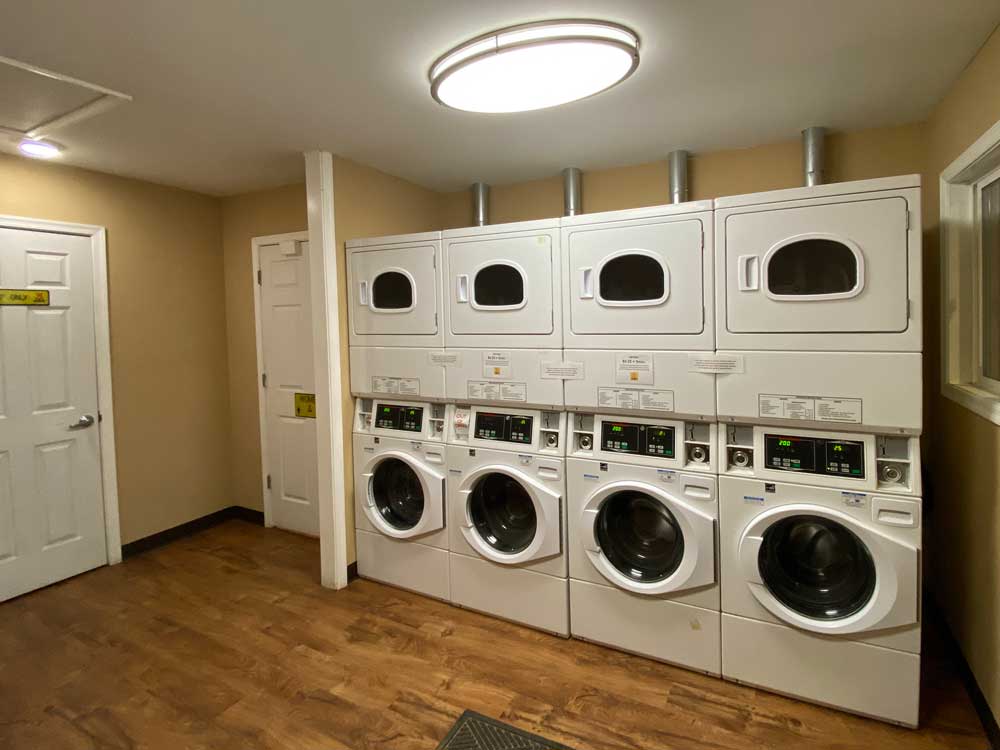 There are two bath house options available. One set of bathrooms and showers is on the side of the main campground building.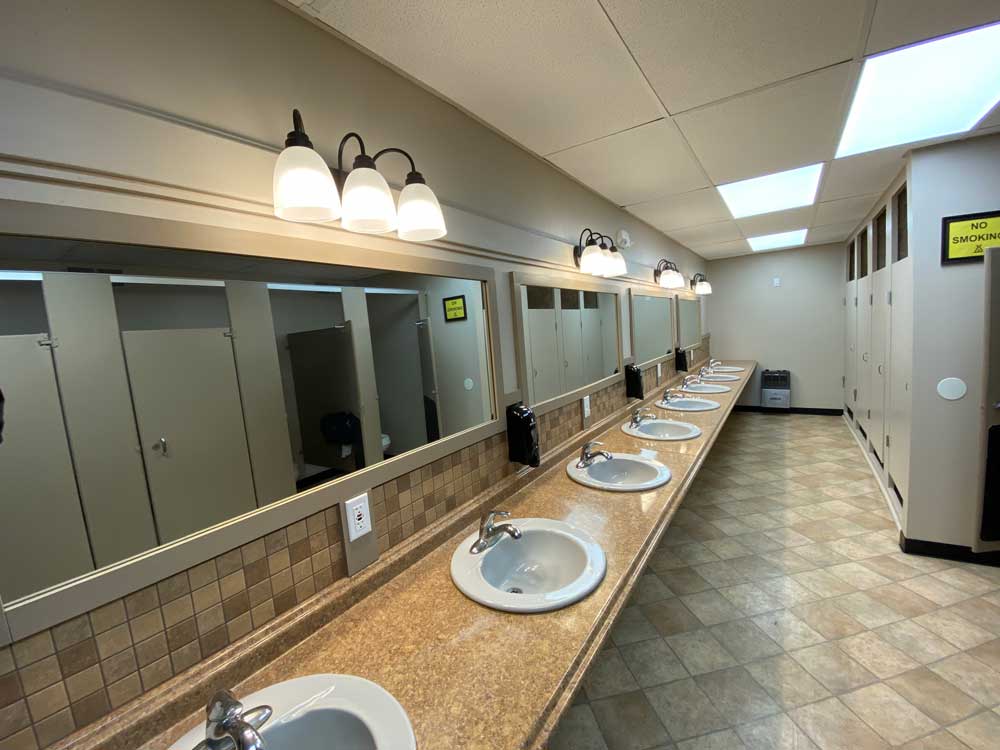 Showers were clean. It is nice that they provide a bench and hooks to hang your clothes.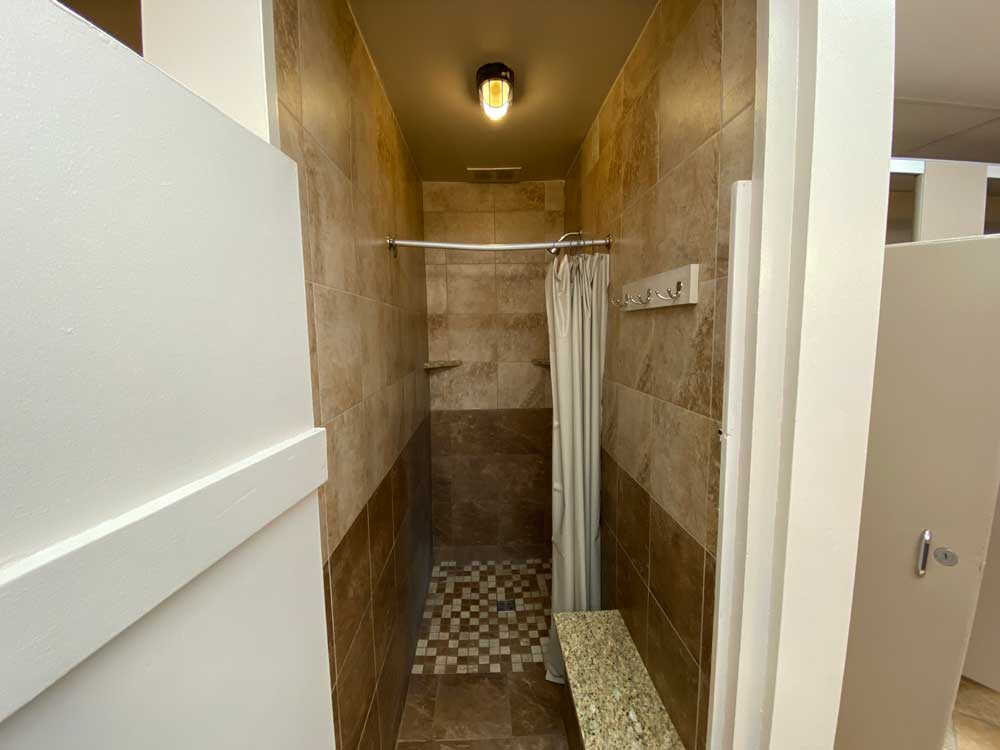 A second option is to use one of the three individual entry showers that are located in the same building as the laundry.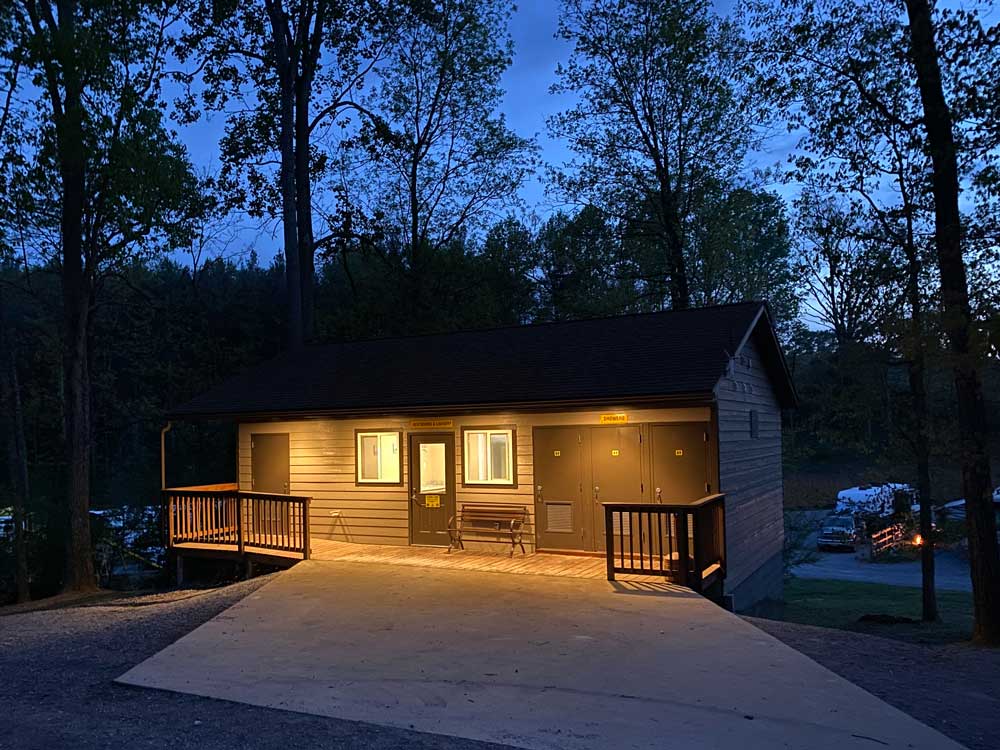 Natural Bridge KOA Directions
Accessing the Natural Bridge KOA is pretty easy. The address is 214 Killdeer Lane, Natural Bridge, VA 24578.
According to their web site, the directions are:
I-81 Southbound Exit 180B. Campground's entrance is right across from the off-ramp just to the left of the gas station.
I-81 Northbound Exit 180. Left on US 11 North and proceed under I-81 for 1/4 mile. Entrance is on left just before the gas station.
Follow the campground entrance road in and then check in at the office building. There is room for 1-2 RVs to temporarily park during check in.
Leave a Comment
I hope you found this KOA Natural Bridge/Lexington review to be helpful. Have you stayed here? We'd love to hear about your experience. Leave a comment to share your experience.
Copyright 2022 Travel Trail Sail. All Rights Reserved.