Camp Margaritaville Pigeon Forge Review
Camp Margaritaville Pigeon Forge is a very nice camping resort located near popular Pigeon Forge attractions.
Camp Margaritaville Pigeon Forge Overview
We enjoyed our stay at Camp Margaritaville. It was a relaxing place to spend a few nights in our camper.
Camp Margaritaville opened in 2021 with 176 campsites and a 79 room lodge. This isn't really a campground. It is more like a camping resort. The campground and lodge share a pool, restaurant, and bar. During our visit, we saw construction for additional amenities like a second pool and a lazy river.
Camp Margaritaville makes a great home base from which to explore Pigeon Forge. Popular attractions like the Old Mill and Dollywood are a short distance away.
Camp Margaritaville Features
Camp Margaritaville has a very nice pool with a water slide. The pool area has plenty of seating. And, there is a large hot tub. During our visit, we saw construction on a new area set to open in 2022 that includes a second pool, lazy river, and an arcade.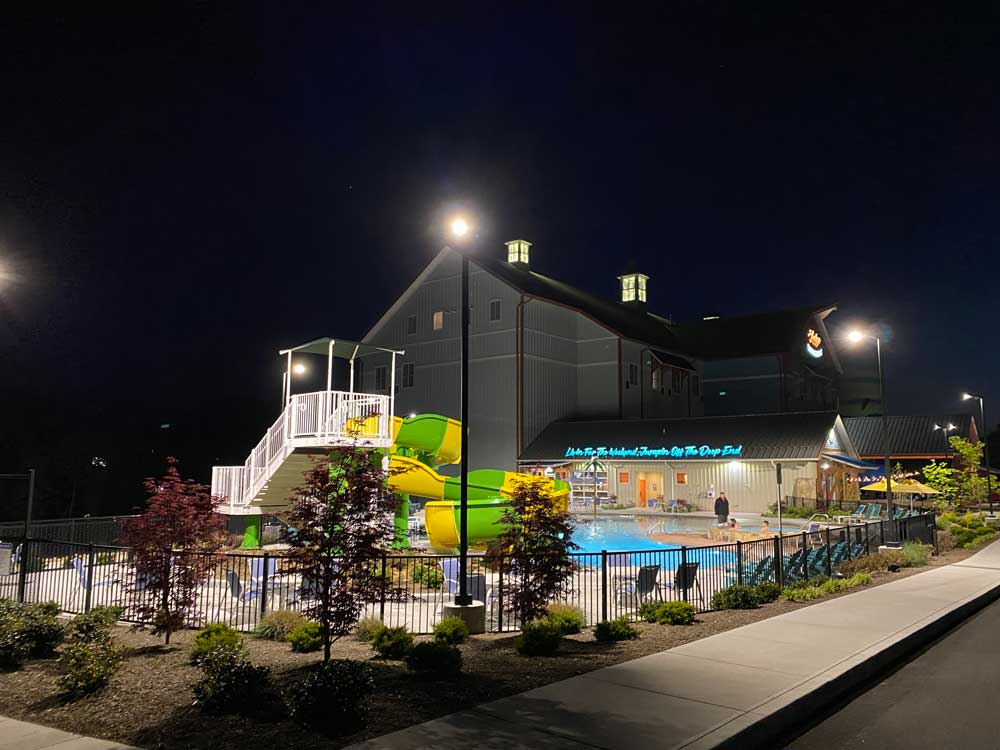 There is a bar located next to the pool. Of course it has margaritas along with other cocktails and some light bites to eat. We tried the Pink Cadillac and Perfect Margaritas which were fantastic. The menu includes items like pork nachos, salads, burgers, hot dogs, and pizza.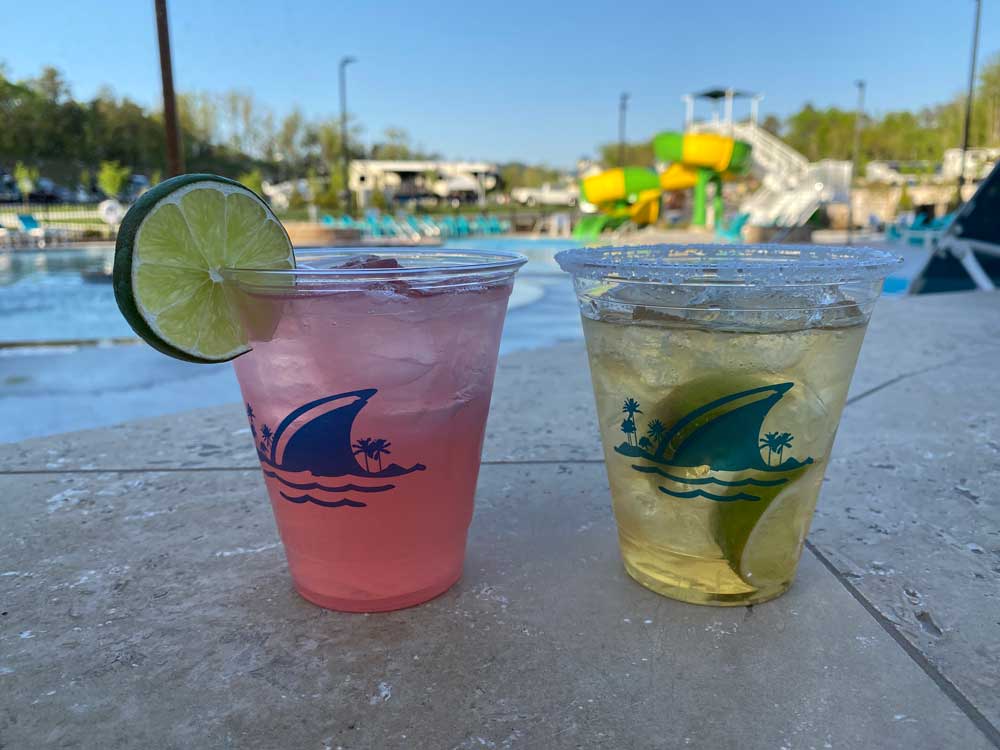 The lodge also has a restaurant. They can open a set of large doors to provide an inside outside flow. And, there is seating just outside the restaurant. Check out the Margaritaville menu for more details.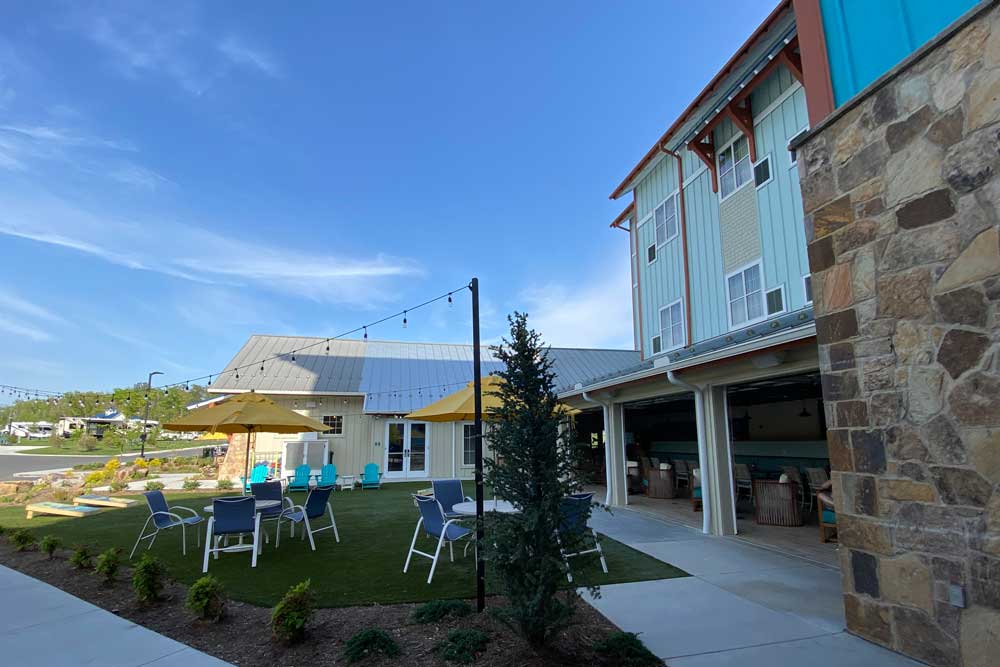 Camp Margaritaville has a nice playground.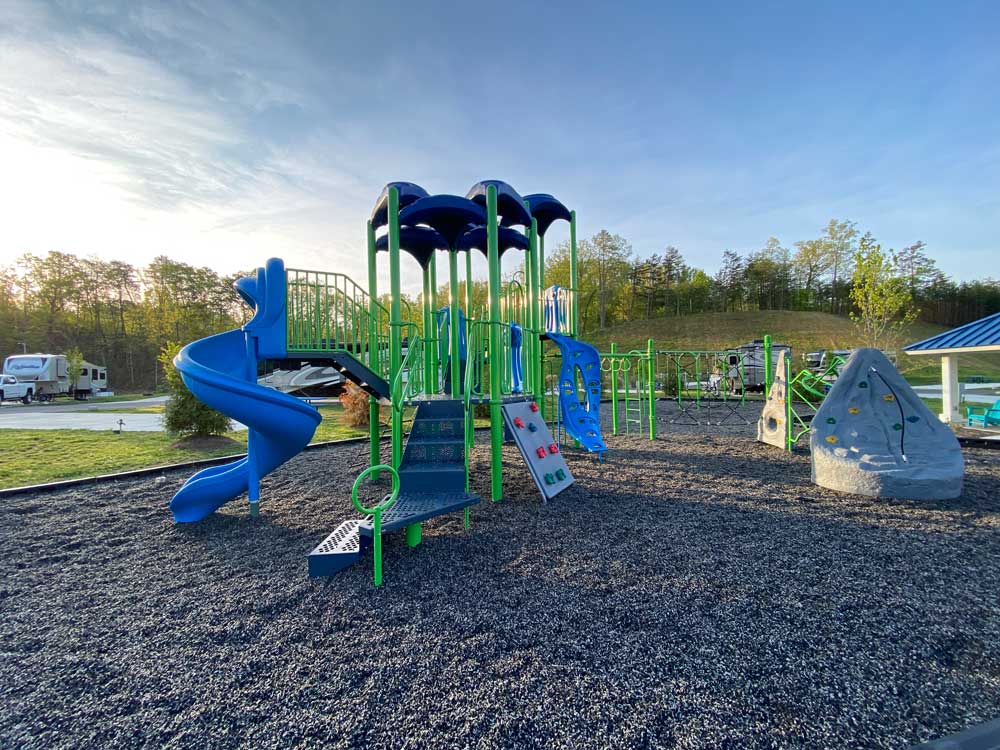 There is a dog park.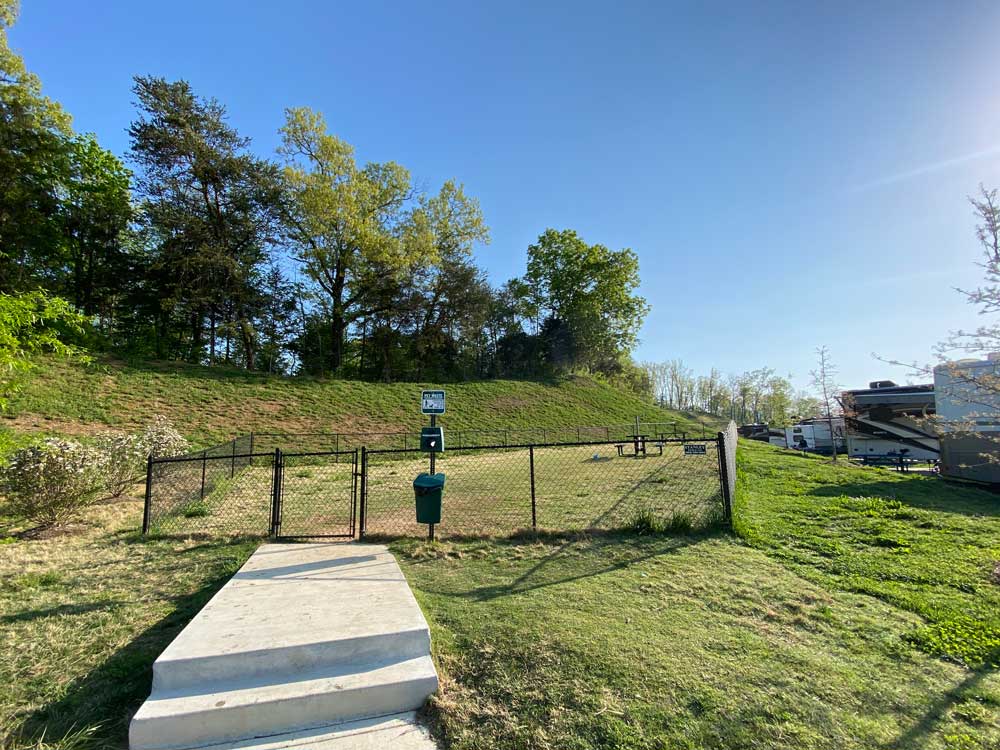 Camp Margaritaville Camp Sites
There are 176 camping sites. Each is a paved back-in site with full hookups including 50 amp electric, water, sewer, cable and Wi-Fi.
Each site has a picnic table and fire pit. Wood is available for purchase at the check-in stand.
Sites at Camp Margaritaville are divided into five types; standard, deluxe, premium, super site, and family. The super sites are larger and have an upgraded fire pit. The rest of the sites are all pretty similar. The main differences are location and site length. Standard sites range from 21-51 feet long while deluxe sites are 34-51 feet. Premium sites may offer a better view or access to amenities like the pool. You can see sites identified by type on the Camp Margaritaville map.
On this camp loop, the sites all looked similar However, they were identified as a mix of all standard, deluxe and premium depending on their proximity to the pool & lodge area. The first six sites in each row are priced higher than the rest of the sites on the same street.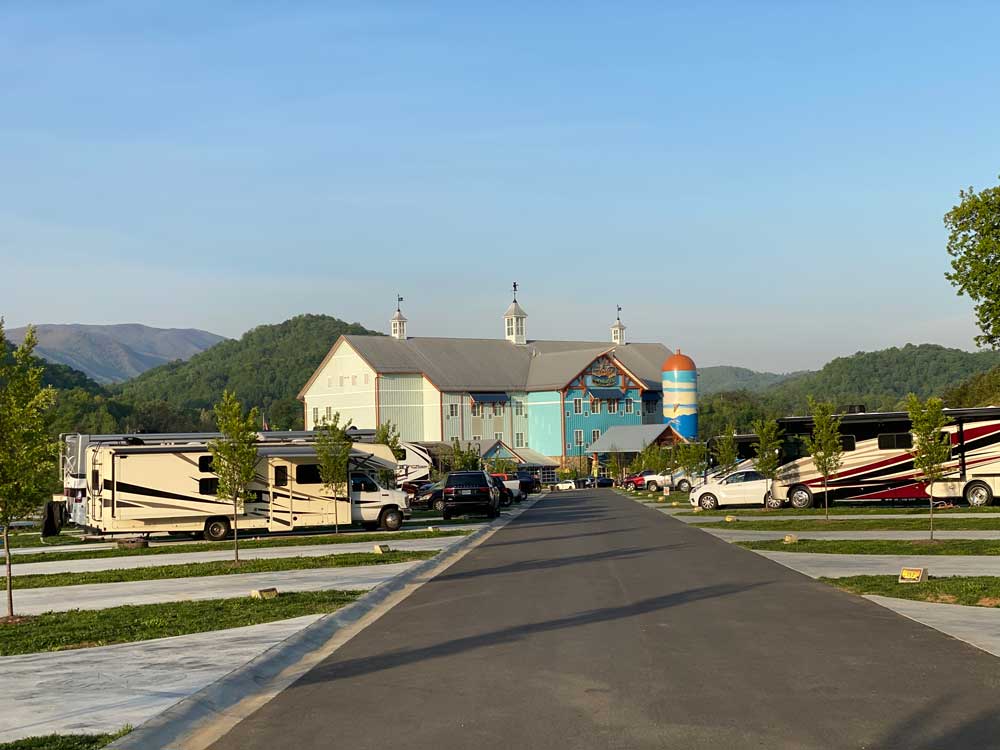 Site 160 is an example of a Deluxe Site.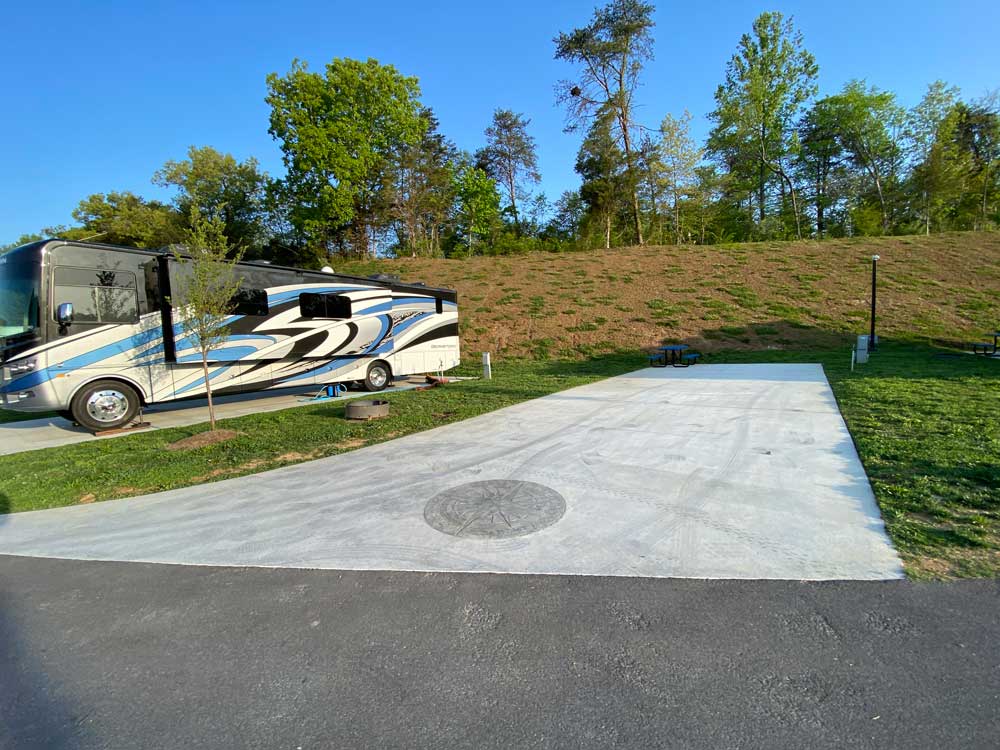 Sites 101-107 and a few others have great playground access.
Sites along a ridge at the entrance (3-22) may have nicer views.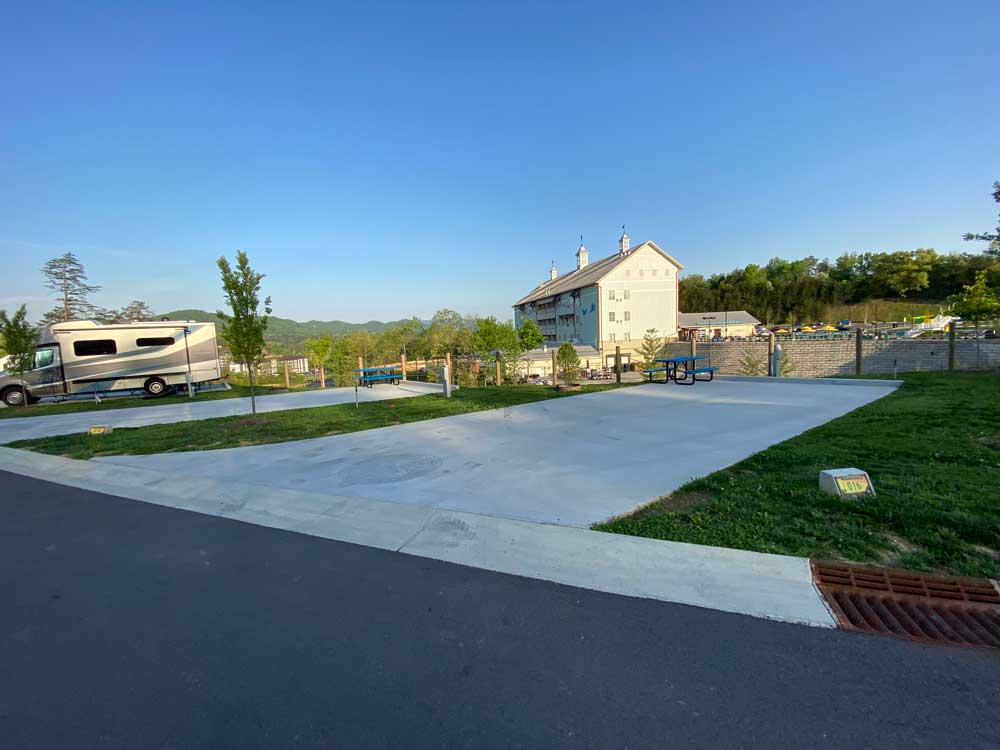 Sites toward the back of the campground are below a ridge and may be quieter than the sites near the lodge.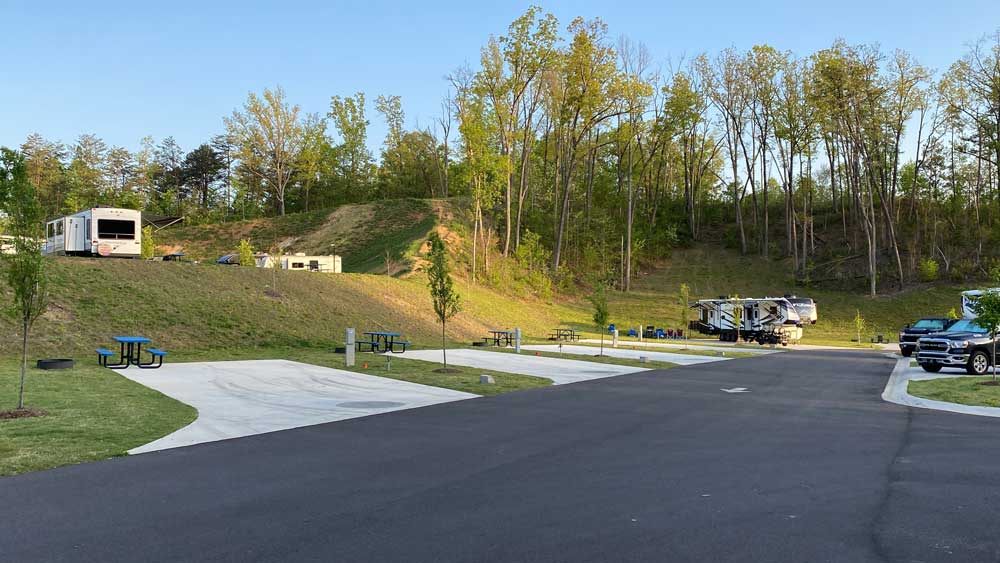 Camp Site Observations
Camp Margaritaville is a very nice campground. However, we did have a few observations that might help prepare you for a great stay.
The campground was very quiet during our April visit. It is set back from the main road which reduces car noise. We didn't hear any planes or trains during our visit, except for the whistle from the steam train at nearby Dollywood. Of course, if you are visiting during a school break or during summer, the campground may be a bit busier.
You can select a specific site. Depending on your priorities, it may make sense to select a specific site. Camp Margaritaville charges extra for site specific reservations. It's nice that they enable site specific reservations as many private campgrounds don't do this. However, many other campground options allow site specific reservations without the extra charge. It's up to you to determine if you need to pick a site.
Site are paved but not necessarily level. We used two leveling blocks to get level on our site. Many other campers reported having to do the same.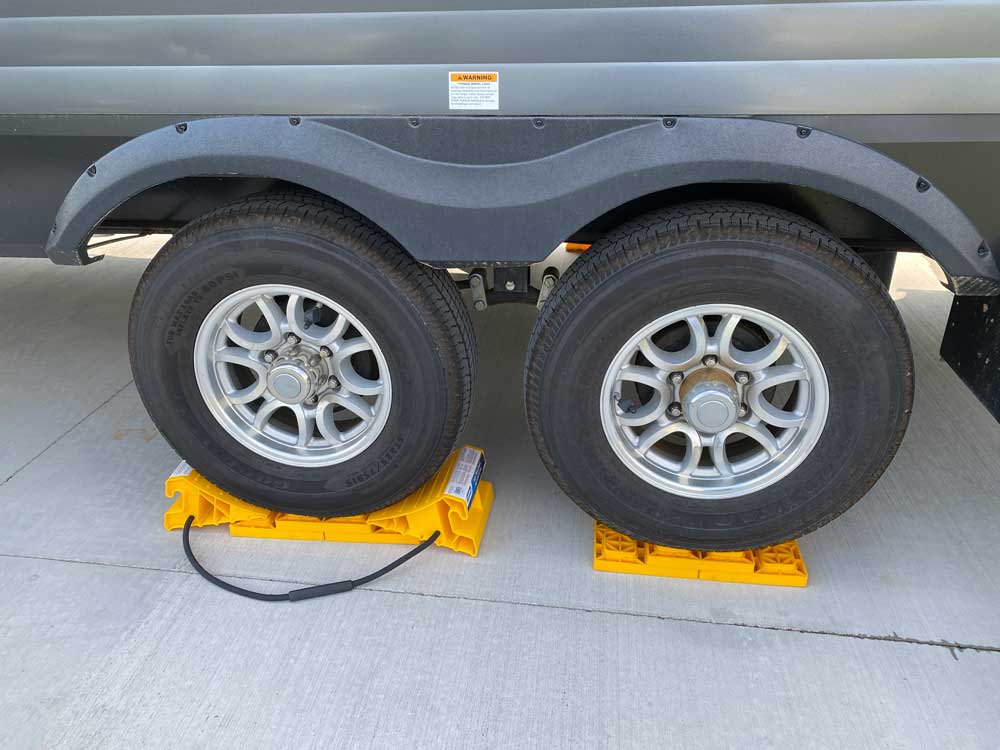 Our site wasn't quite long enough to park our camper and still have room for our truck. While we had a deluxe site, we had to park the truck nearby in a parking area.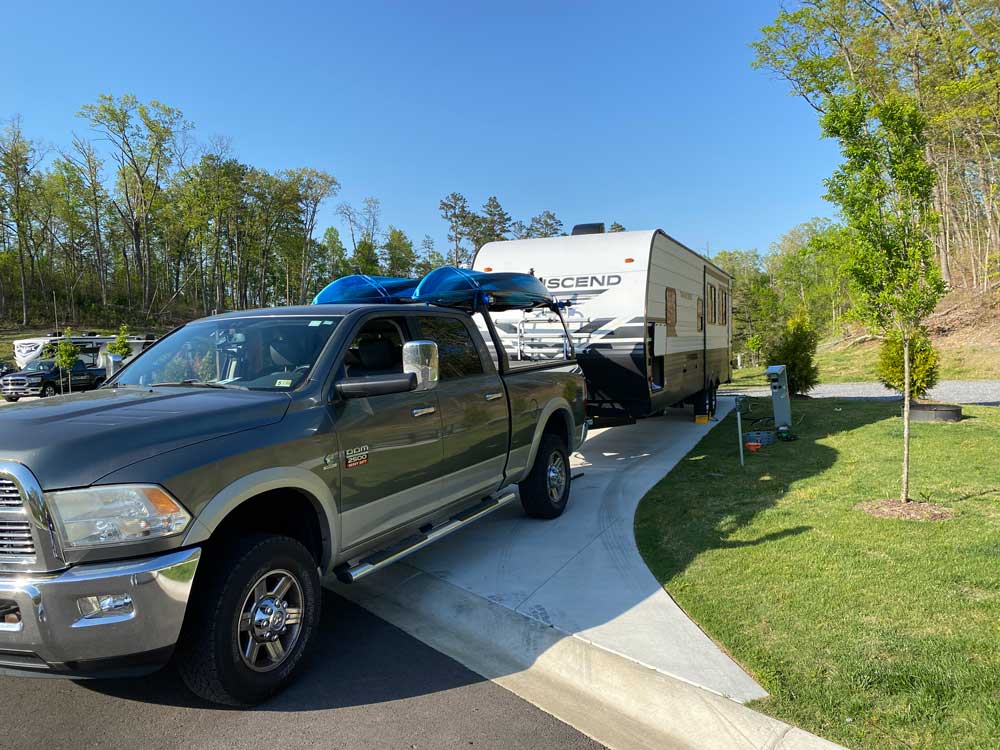 Site utility placement varied widely. Some were located mid-site while others were behind the site. Be prepared in case you need additional electric cable, water hose, or sewer hose lengths.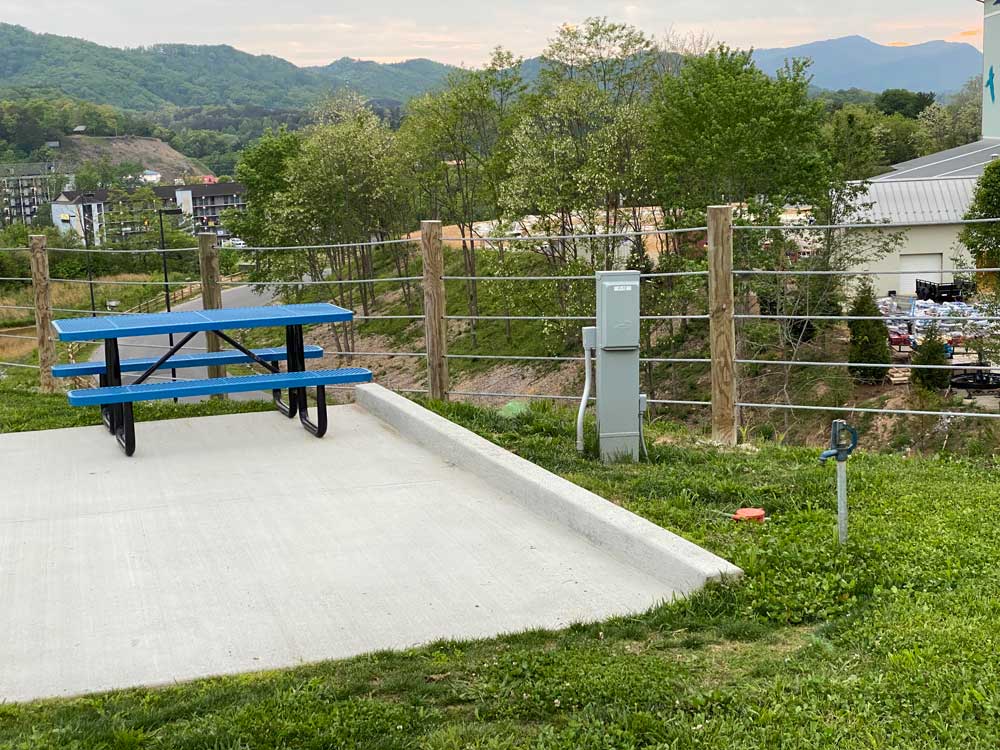 We have two sewer hose connections on our travel trailer, one at the middle of our camper and one toward the back. At Camp Margaritaville, it took a 30 foot hose (3 10-foot lengths) to connect the sewer hose connection at the rear of the RV to the site connection that was toward the front of the site. That is a long way for the hose to go. With the inlet several inches above ground, it made water flow an issue. While we tried to support the hose, the supports we use aren't meant for that long of a span. Next time, we'll be better prepared.
Camp Margaritaville Staff
Our check in was smooth. Staff members were visible and friendly. They often asked us about our stay and answered all of our questions.
Camp Margaritaville Amenities
Wi-Fi is available. There are multiple antennas throughout the park. We were able to stream content on Disney+ and YouTube with no buffering.
Camp Margaritaville has one nice bath house which is centrally located near the check-in and playground areas.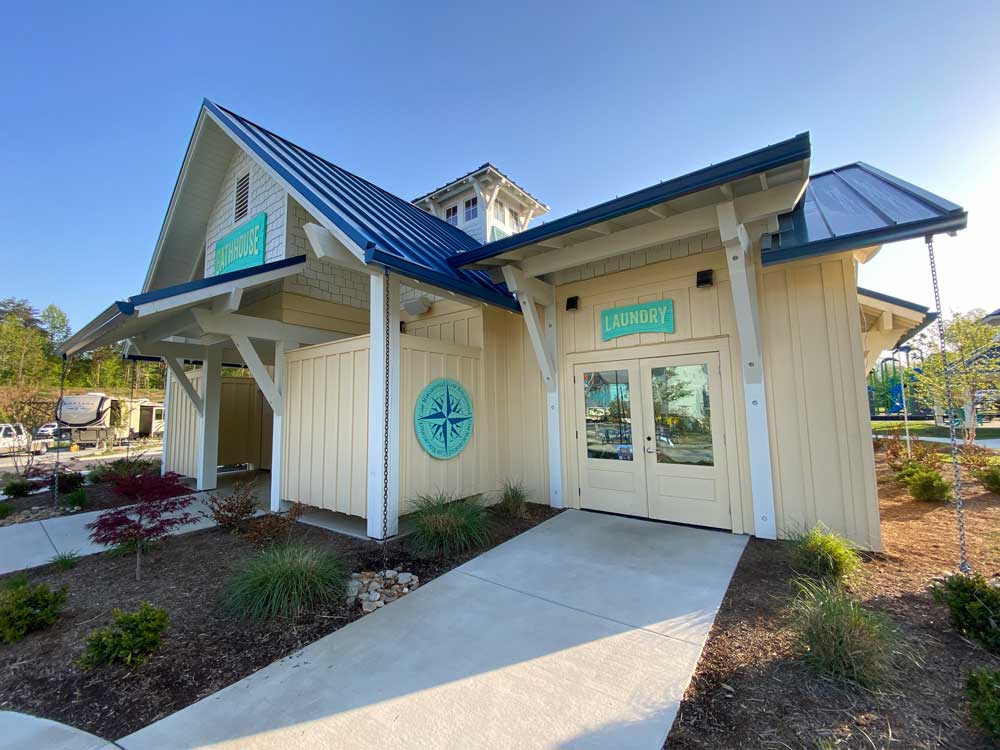 Showers were nice. An accessible shower is available.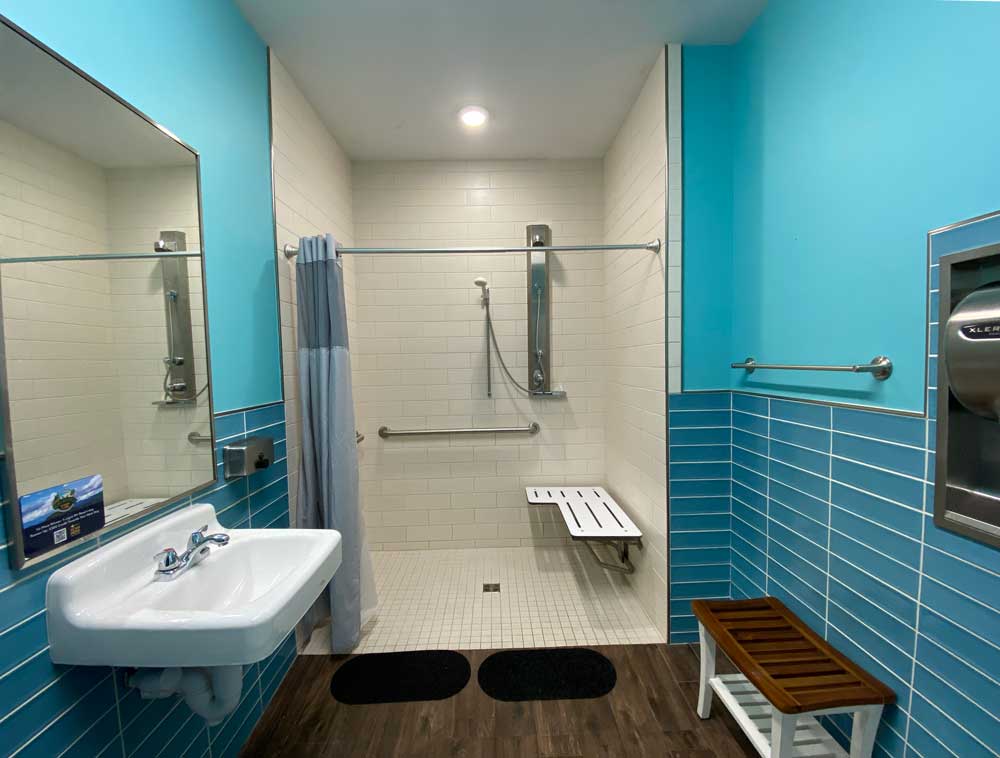 A laundry facility is available. It is clean and has multiple large front-loading machines. Washers and dryers each cost $2 per load.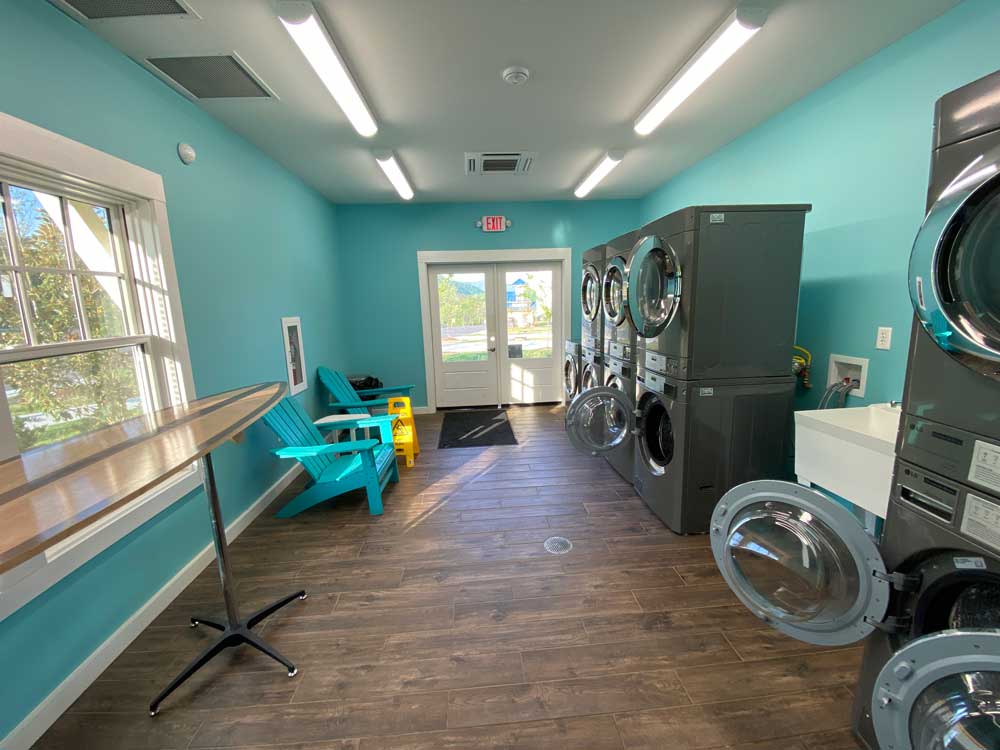 Things to do Near Camp Margaritaville
Camp Margaritaville is near some of the most popular Pigeon Forge attractions including the Old Mill area and Dollywood.
At the Old Mill, you might check out the Old Mill Shop where you can get some tasty pancake mix. Or, you might want to do a moonshine tasting at the Old Forge Distillery. There are plenty of things to see in the area.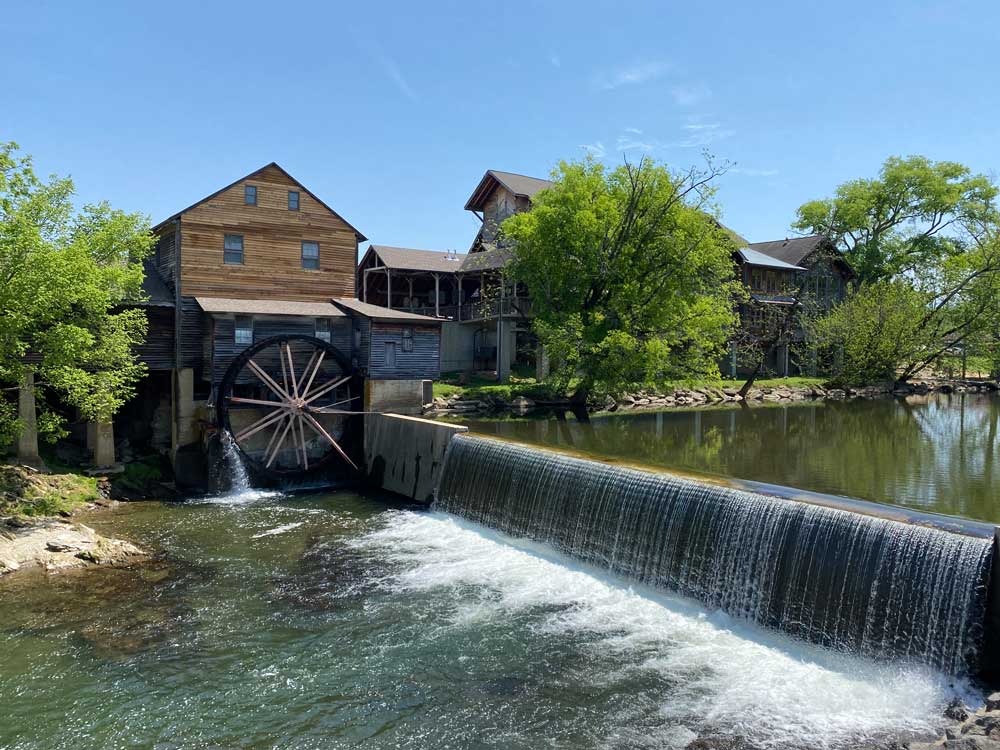 You could spend a fun day at Dollywood. There are many exciting roller coasters. Or, you could enjoy one of the shows. The coal-fired steam train is very popular. Be sure to get the cinnamon bread – and get some apple butter to make it extra tasty.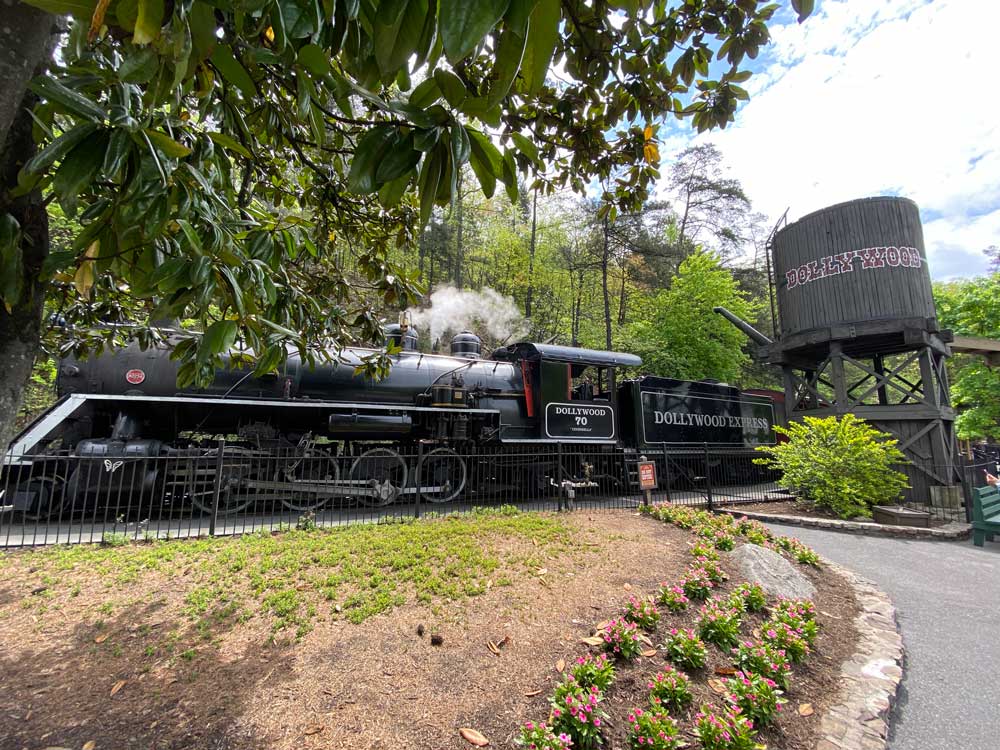 If you choose not to drive, you can use the Pigeon Forge Trolley that stops at the lodge.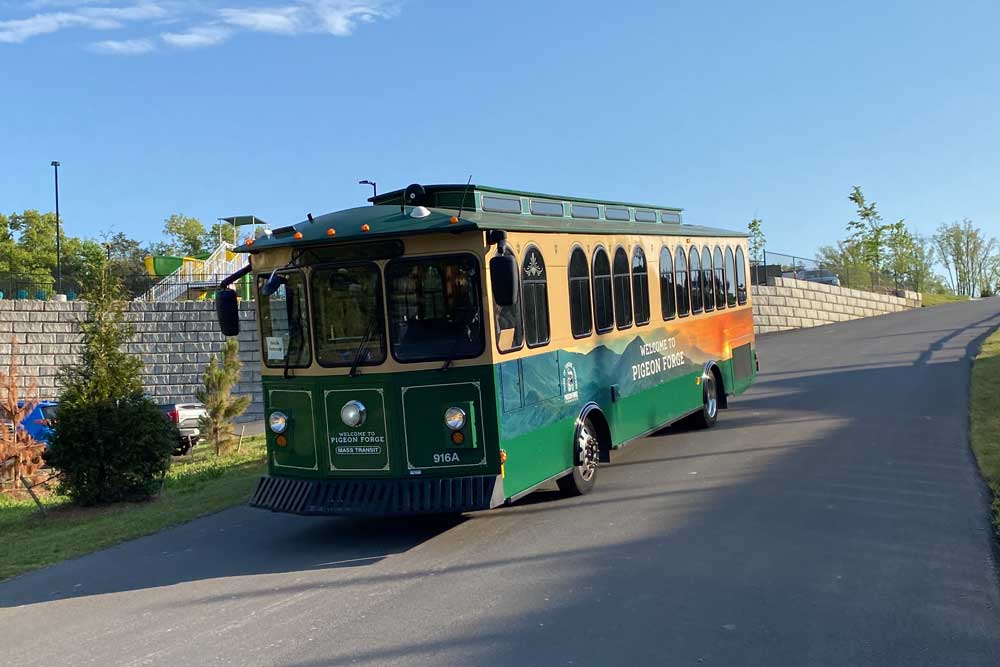 Camp Margaritaville Directions
Accessing Camp Margaritaville is pretty easy. It is off the parkway (321, 441, 73) that goes through Pigeon Forge. However, if you use the GPS on your phone, it is likely to guide you through a residential neighborhood. This might make the left turn from the parkway into Margaritaville easier but it seems odd.
The address is 149 Cates Lane, Pigeon Forge, TN 37863. Keep in mind that the campground is a bit of a drive from Interstate 40. This makes a great destination but might not be the best choice for an overnight stop.
One you turn on to Cates Ln, there is a hill to get to the campground check-in.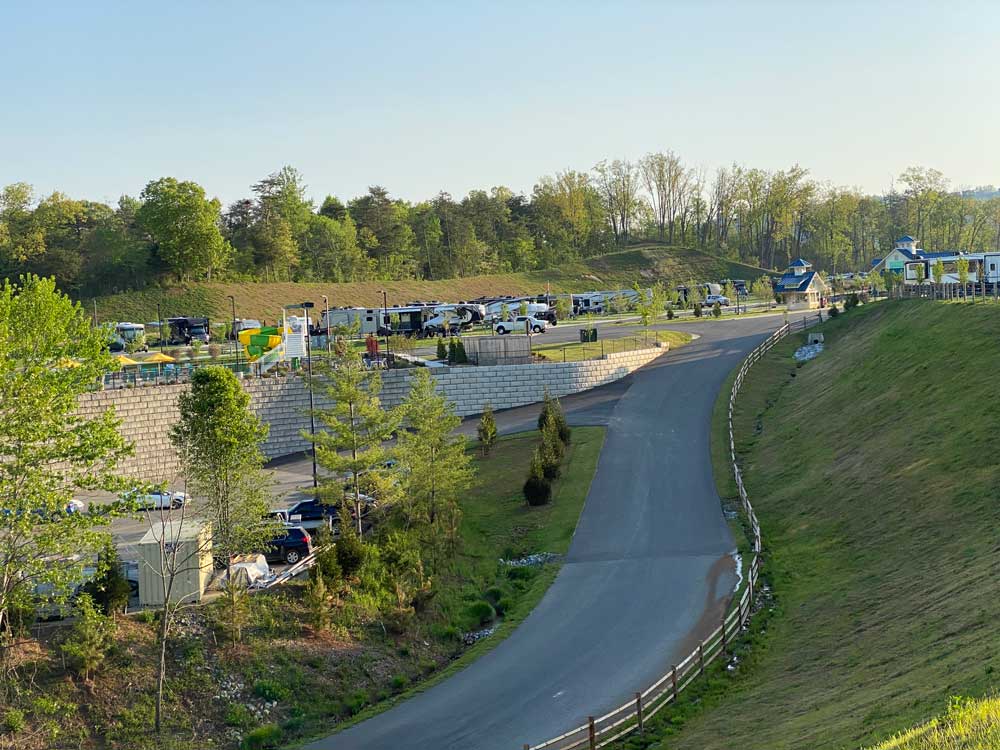 Check in at the office building. There is room for 1-2 RVs to temporarily park during check in.
Camp Margaritaville Review Video
Thanks for checking out our review of Camp Margaritaville Pigeon Forge. If you want to see more, check out our Camp Margaritaville YouTube video where we show you more details on this nice camping resort.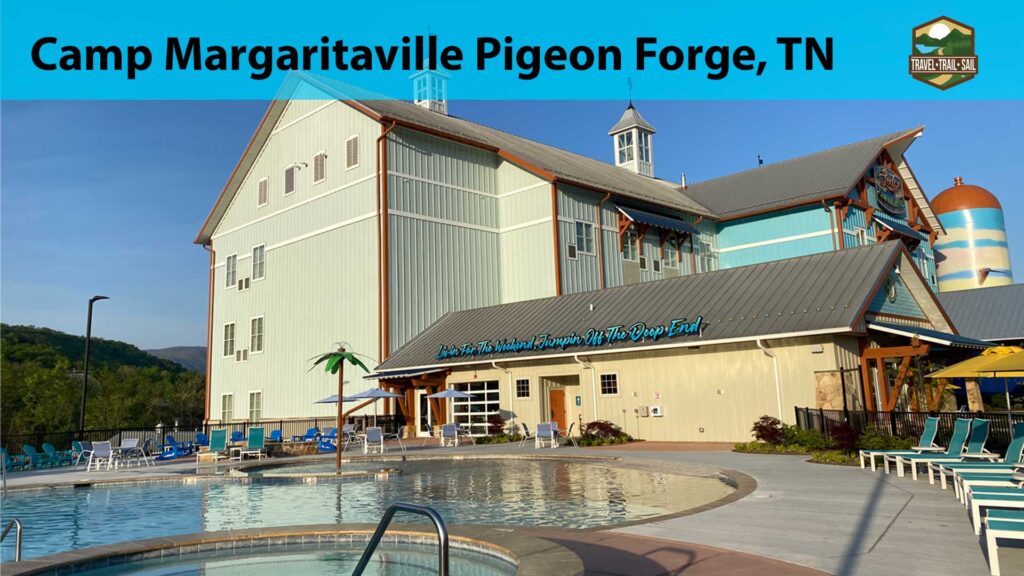 Leave a Comment
I hope you found this review of Camp Margaritaville Pigeon Forge to be helpful. Have you stayed at a Margaritaville campground? We'd love to hear about it. Leave a comment to share your experience.
Copyright 2022 Travel Trail Sail. All Rights Reserved.